Aug. 30: The new arena stage
The new arena stage being built in the FleetCenter right now is different from the No Security stage. There will be a large visual backdrop behind the stage, meaning no 360 degrees concept. The second stage is located on the other end of the venue, with a walkway in-between, like in 1999. The Stones are currently rehearsing at the FleetCenter, while the final decotaions of the stage are being finished.
Aug. 30: Boston press on the Stones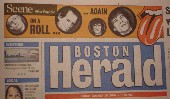 The Boston Herald has got The Rolling Stones referenced on their front page today, and inside they have three pages built around telephone interviews done with Keith a Mick while they recorded in Toronto. Also, there is a large advertisement for the Boston shows saying "Just released new blocks of seats", valid for the FleetCenter and Gillette Stadium. The Boston Globe is having a great feature built around the same Toronto interview as The Herald, still different bits, and also a "highlights" listing historic Stones shows in New England dated 1966 (Lynn), 1972 (Boston Garden), 1981 (rehearsals and club show), 1989 (Sullivan Stadium three nights) and 2002 (the toughest ticket in Boston rock history at the Orpheum Theatre).
Aug. 30: Heart of Stone
In today's Boston Herald interview Keith talks about the Toronto rehearsals, how they have tried out 130 different songs so far, and among these "Heart of Stone". "I never thought of playing that again really", says Keith. "But when I started to get into it, I thought 'Oh, this is better than I thought'. Now we may expect to hear the song on this tour, not only for lucky fans attending the Toronto club show !
Aug. 30: Chuch Magee remembered
The Boston Globe has got an insert today remembering Chuch Magee. "He left a big gap. We're looking for five guys to fill his place", says Keith. "But at the same time it was almost poetic. I mean he died on a flight case - flight case No. 17... behind the amplifiers where he's always taken care of business. I was there with him and he had all his mates around him."
Aug. 30: Keith Richards in Guitar World

Keith Richards is pictured on the cover of the US magazine Guitar World October 2002 issue. Inside, there is an article spanning some 15 pages from a recent two hours interview with Keith in New York, plus guitar tabs to "Brown Sugar" and "Honky Tonk Women", plus great pictures including a foldout. About the May/June Paris recordings earlier this year, Keith says they came up with 30 tracks, of which they mixed four or five. Also, there are plans for an outtakes and rarities box set later on. Don't miss this one, as Keith talks a lot, indeed very interesting.
Aug. 29: The Rolling Stones are now in Boston
Following six weeks of rehearsals in Toronto, Canada, the Rolling Stones moved into Boston, USA earlier this week, the city where the Licks World Tour will start officially on Sept. 3. Separate stages are currently being built at the FleetCenter and Gillette Stadium, and the Stones are expected to do the final rehearsals at these venues. See The Boston Herald.
Aug. 19: Keith Richards on Rolling Stone cover
Watch out for the Rolling Stone Magazine issue due out on Sept. 27, to feature Keith Richards on the cover. Meanwhile, check out the rehearsals article in the current Rolling Stone magazine, in which Mick is saying they might do thematic middle section at the arena shows, which could be five songs from a specific Stones album like "Some Girls". Another night, they could do an "Exile" theme.
Aug. 19: European Tour announcement in October
The Rolling Stones LICKS European Tour 2003 is supposed to be announced in October, at one of the stops of the US tour. Tickets will go on sale shortly after.
Aug. 19: Forty Licks details available
The details of the Forty Licks 2CD tracks are now available. Also, details of the single release, due out one week after the album, with airplay starting next week. See the Forty Licks pages.
Aug. 17: Can't You Hear Me Knocking and more last night
The Rolling Stones performed in front of 1,000 lucky fans and invited guests last night at a surprise gig in the the Palais Royale Ballroom, Toronto, Canada. The band sounded great, as they played songs such as "Can't You Hear Me Knocking", "Heart of Stone" and their new single "Don't Stop". Keith said "We are rehearsing", as he did "Happy". See the Palais Royale reports.
Aug. 16: Club show at Toronto's Palais Royale tonight
The Rolling Stones will play a surprise club gig tonight at the Palais Royale Ballroom, Toronto. Fans who went by the word of mouth got their $10 ticket and a wristband (to prevent scalping) at 7am this morning Toronto time. A total of 300 tickets were sold at the venue this morning - the rest of the around 1,000 capacity crowd will be invited VIP etc. Show start 8:30pm tonight according to the ticket. All you lucky guys to get in - enjoy the show - and please send your reports to IORR!
Aug. 16: Rumoured club show in Toronto tonight
If you are in the Toronto area then keep your eyes and ears open for a secret Rolling Stones club show tonigh. If it is on, it is expected to be announced on radio, and tickets will go on sale this morning at a still unknown location.
Aug. 15: Solomon Burke with The Stones at club shows
Solomon Burke is announcing he will warm up for The Rolling Stones at the Wiltern Theater, Los Angeles, Nov. 4 as well as at the Joint, Hard Rock Hotel, Las Vegas, Nov. 29. This means the Stones will probably play The Joint on the 29th, the day before the MGM show in Las Vegas on Nov. 30. See The Kingdom of Solomon Burke.
Aug. 14: World Tour to be named "Licks"
The Rolling Stones announced today that their upcoming World Tour will be called LICKS tying into the title of their double CD "Forty Licks" to be released by Virgin Records on Oct. 1.
Aug. 14: New Stones single titled "Don't Stop"
The new stones song Don't Stop, taken from the new Stones album Forty Licks, will be release as a single. See BBC News.
Aug. 13: Details of four new Stones tracks
Rolling Stone is reporting about the new Stones album Forty Licks. It will feature four new Stones tracks -- "Don't Stop," "Keys to Your Love," "Losing My Touch" and "Stealing My Heart". "They're not old tunes that we dug up or even things that were relatively new. These are new new," Mick Jagger told Rolling Stone. "'Don't Stop' is the single-y one. 'Stealing My Heart' is more like garage rock with a hook. 'Key to Your Love' is kind of like a soul ballad, but not very slow. It has a kind of 'Beast of Burden' tempo. And 'Losing My Touch' is Keith singing a ballad. And that is very slow." See Rolling Stone.
Aug. 13: New album titled "Forty Licks" with 4 news songs

The new 2CD album "Forty Licks" will be released worldwide by EMI Recorded Music's Virgin Records label on October 1, 2002 in North America (September 30 outside North America and September 23 in Japan). The album consists of two 20-track CDs (one ABKCO, one Virgin), including four new songs recorded with producer Don Was in May this year. See details about Forty Licks.
Aug. 2: The Stones pay respects to Chuch Magee
Mick, Keith, Charlie and Ronnie attended the funeral of their long-time crew member Chuch Magee last week, in Marquette, Michigan. Mick played "Amazing Grace" on harmonica, and Keith and Ronnie played guitar. See the AP report Stones Pay Respects to Crew Member.
July 31: Rolling Stones tour film in the works
Michael Apted, director of Enigma and many other films, is working on a documentary film about the new tour of the Stones. The film may be presented as the tour comes to Mexico City and the 100.000+ capacity Estadio Azteca.
July 28: "The Stones Zone" radio program by Bill German
Bill German, editor and publisher of Beggars Banquet, is announcing The Stones Zone, a radio program dedicated to The Rolling Stones. Check out samples of the radio program.
July 27: VIP ticket package offer anouncement today
The Rolling Stones official fan club will be announcing a special VIP concert ticket package offer today at 12 noon EST (New York) time, i.e. 6PM CET (Central European) time. The offer will be available for 5 days, and it is a package of a pair of tickets to all three shows in a city including the club show, plus VIP services. The package will probably have a high price, and the number of packages will be limited. See details about the Rolling Stones VIP package.
July 27: Gered Mankowitz photo exhibition in London
Gered Mankowitz has a photo exhibition at the Proud Gallery, Greenland Street, London from Sept. 17 till mid November. Also he has a book of his photos published on Sept. 12 by VO Books for £19.99 or a ltd edition with 32 extra pages for £100. Also, check out the special Gered Mankowitz poster offer!
July 25: Mick & Keith's collaboration with Peter Tosh reissued on CD
The 1978 Peter Tosh album "Bush Doctor," featuring Mick's duet on "(You Gotta Walk) Don't Look Back" has been reissued with 6 bonus tracks, including another version of the duet. The new liner notes feature several photos of Mick and Keith who served as executive producers.
July 25: ABKCO releases Stones sampler CD
ABKCO Records has issued a promotional CD featuring remastered versions of 21 Stones tracks, from It's All Over Now to Honky Tonk Women. The German-made CD, dubbed "Rolling Stones Remastered", uses the U.K. Out Of Our Heads/December's Children U.S. artwork on its cover.
July 24: Rehearsals go on at the Old Masonic Temple
The Rolling Stones continued rehearsals at a new location in the CTV studios, in the Old Masonic Temple, on Monday. As usual they are trying out songs not commonly played live before. See the Toronto rehearsals pages for songs and details.
July 19: Sad day in Toronto
Reports from the Stones rehearsals in Toronto are telling about the tragic death of the guitar technician Royden "Chuch" Magee, suffering a fatal heart attack during rehearsals last night. Chuch has been working with Ronnie Wood and The Rolling Stones for 30 years, as a sound engineer on works like the album "I've Got My Own Album To Do" (1974), then on Rolling Stones tours, and the recent shows of Ronnie in Dublin and London last year. Also, Chuch was with Charlie on his tour with the Tentet to Japan and USA last year. See the official Rolling Stones news and the Toronto Sun article on Canoe Jam.
July 19: Rehearsals in Toronto at Crescent School
The Rolling Stones are currently rehearsing at the Crescent School in Toronto. See report in the Toronto Sun, and the Rolling Stones reference page in Jam!
July 19: New album to be called "40 Licks"?
Recent rumours are telling that the title of the new Rolling Stones 2CD album will be "40 Licks", featuring 38 old and two new songs, the new single "Don't Know How to Stop" and Keith's country ballad "Where Can I Meet You?"
July 19: Mick & Keith on "The Simpsons"
Mick and Keith will star in the season premiere of "The Simpsons," which will air on Sunday Nov. 10 in the United States. Their episode, titled "How I Spent My Strummer Vacation," will also feature Tom Petty, Brian Setzer, Lenny Kravitz and Elvis Costello.
July 17: The Rolling Stones in Toronto
The Rolling Stones are now in Toronto, to start rehearsals for their upcoming World Tour. See Toronto's Pulse24.com and Canoe Jam.
July 16: The Rolling Stones Story on BBC2 tonight
UK radio BBC 2 will broadcast The Rolling Stones Story tonight at 8.30PM - 9.30PM. Available across Europe at 28.2 deg East+.
July 12: Stones days all over the world
Today Stones fans are celebrating 40 years of The Rolling Stones all over the world. See a list of some of the events, and check your local events for celebrations. Happy celebration!
July 12: Vienna world premiere on RS feature today
The Dolezal-Rossacher Production "Let It Bleed - 40 Jahre Rolling Stones" will be shown as world premier in Vienna, Austria at the Summer Stage (outside location) on Friday July 12 at 20:30.
July 12: IORR magazine no. 44 out now
The new It's Only Rock'n Roll magazine no. 44 was mailed out last week, and should have arrived to all members and subscribers by now.
July 12: The Rolling Stones moving into Toronto
The Rolling Stones will meet up in Toronto this week-end, staring rehearsals for the upcoming world tour. The rehearsals are expected to move into the Fleet Center of Boston one week before the tour start.
July 12: The Rolling Stones 40 years today
Today it is 40 years since The Rolling Stones performed live for the first time on stage at the Marquee Club in London. See the Rolling Stones story for details.
July 11: Iceland celebrating the Stones tonight
This evening there will be a tribute concert in Restaurant NASA in Reykjavik to celebrate the 40th anniversary of the Rolling Stones. The Ivy Legue of Icelandic rockers will be performing the early Stones songs among them Runar Juliusson from Hljomar, Ottar Hauksson of Pops and Bjorgvin Halldorsson one of the most popular Icelandic singers.
July 2: New Stones book by Bill Wyman
Bill Wyman will publish his new book Rolling With The Stones through Dorling Kindersley in the UK on October 21st. It has 14 chapters and runs to over 500 pages.
July 2: Stones festival in Norway July 12-13
The 40th anniversary of the Rolling Stones will be celebrated in Oslo, Norway on June 12 and 13 at Smuget. The cover bands "Sticky Fingers", "Little Boy Blue and The Blue Boys", "Wazoo" and "Midnight Ramblers" will perform live, and Stones live videos will be shown during the breaks.
July 2: The Decca Years photo exhibition in London
There will be a photo exhibition called "The Decca Years" at the Atlas Gallery, 49 Dorset Street, London running from Sept. 3 to Oct. 11, 2002. It will feature press photos, album cover shots and lots of photo outtakes. Photographers to be represented will be Gered Mankowitz, Michael Cooper, Ethan Russel, Peter Webb, Nicky Wright (first album sleeve), Jerry Schatzberg and Michael Joseph (Beggars Banquet).
July 2: ICE Magazine on Super Audio Stones
ICE Magazine is running a great and detailed story on the works of the ABKCO re-releases due out next month. Check the ICE Magazine web for details and getting a sampple, and also make sure to check their Daily News Flashes for more Stones collector news!
July 1: Stones photo exhibition in Washington DC
The photo exhibition The Rolling Stones: 40 X 20 opens Sept. 20 and continues through Oct. 26, 2002 at the Govinda Gallery in Washinton DC. It includes Gus Coral's photographs of the Stones' first tour of England, Gered Mankowitz's Between the Buttons photographs, Michael Cooper's Satanic Majesties era images, Michael Joseph's Beggar's Banquet session, and Dominique Tarle's photographs of their work in the south of France recording Exile on Main Street. Along with Fernando Aceves, William Coupon, Barry Feinstein, Claude Gassian, Bob Gruen, Art Kane, Eddie Kramer, Chris Makos, Jan Olofsson, Michael Putland, Ethan Russell, Mark Seliger, Dick Waterman, and Baron Wolman. See Govinda Gallery, 1227 Thirty Fourth Street NW, Washington DC, USA.
July 1: Stones documentary on German TV
The Dolezal-Rossacher Production Let It Bleed - 40 Jahre Rolling Stones will be broadcasted by German TV channel ARTE on Sunday July 14th at 20:40 - 23:15.