Keith Richards
Crosseyed Heart
---
These are the latest Rolling Stones news and updates for you! IORR is a non profit fan club run by fans for fans. All parts of the It's Only Rock'n Roll web site is copyright of The Rolling Stones Fan Club. When using information from this site, please include a reference to IORR and the main web address www.iorr.org.
---
---
The main IORR thread: Keith Richards solo album 'Crosseyed Heart' - out September 18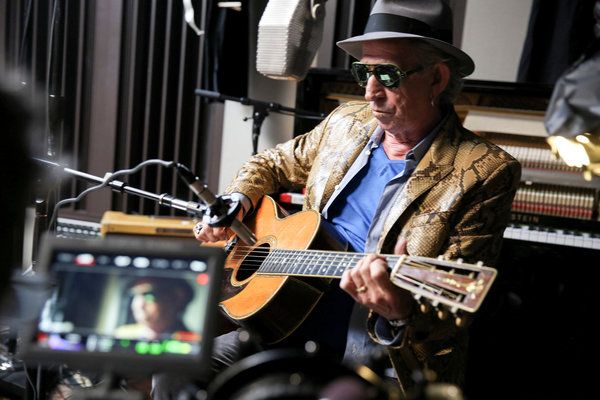 Keith Richards in studio recording his new solo album "Crosseyed Heart" 2015 - Photo by Jane Rose
Crosseyed Heart
Heartstopper
Amnesia
Robbed Blind
Trouble
Love Overdue
Nothing On Me
Suspicious
Blues In The Morning
Something For Nothing
Illusion
Just A Gift
Goodnight Irene
Substantial Damage
Lover's Pen
The new Keith Richards solo album "Crosseyed Heart" was released on Friday September 18, 2015.
---
From the RollingStone.com review:
Keith Richards' first solo album since 1992 opens like a fever dream, with the 71-year-old rock god croaking acoustic blues like Robert Johnson after burning down a half-ounce spliff. But it's a feint. "All right, that's all I got," he snaps just under two minutes in, before upshifting into his most eccentric and best-ever solo set. Crosseyed Heart is the sound of Richards following his pleasure wherever it leads, with a lean, simpatico team including longtime session pals Steve Jordan, Ivan Neville and Waddy Wachtel backing him up all the way.
---
IORR links:
---
External links:
---
Historic Keith Richards links on IORR:
---
If you have information, corrections, additions or comments, please send email. Thanks!
---
This page will change over the next few days, as you and other fans send reviews, set lists and reports. Please send your e-mail to IORR. Thanks! For details and great photos from the Rolling Stones and their World Tour get the IORR magazines.




It's Only Rock'n Roll 1980 - 2015
© The Rolling Stones Fan Club IORR