The Rolling Stones 40 years anniversary
Marquee Club, London, July 12, 1962
Today July 12, 2002 it is 40 years since The Rolling Stones did their first concert at the Marquee Club in London on Thursday July 12, 1962.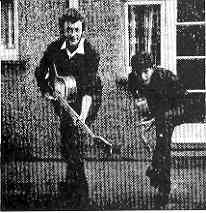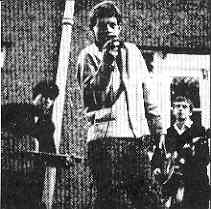 It was certainly not the first time Mick Jagger and Keith Richards played together. As Mick and Keith met in Dartford outside London, they formed their first band Little Boy Blue and The Blue Boys in 1961, with their mutual friend Dick Taylor (see photos) on guitar, plus their friends Bob Beckwith and Allen Etherington.
Meanwhile Brian Jones moved from Cheltenham outside London into the city, with plans to form his own R&B band under his new name Elmo Lewis. Brian advertised for band members in Jazz News, and got in touch with piano player Ian Stewart.
Back in 1961 it was not common with rhythm & blues at all in London or UK, but pioner Alexis Korner had his band playing the Ealing Blues Club with various people joining him on stage, with his band named Alexis Korner's Blues Incorporated. Among the many band members of Alexis Korner were Charlie Watts on drums. One night it is said that Mick and Keith joined in on stage with the band.
Brian and his band mates met up with Mick, Keith and their fellows, and their rehearsals moved slowly into what is today known as he Rolling Stones. By the spring of 1962 Mick Jagger did also vocals with Alexis Korner on stage, now performing every Thursday evening at the Marquee Club, back then on Oxford Street.
Alexis Corner's Blues Incorporated were booked to perform live on a BBC radio broadcast on July 12, 1962. As they could not fit in Mick as a 2nd vocalist, Mick could not be on stage at that BBC recording. However, the regular Thursday performance at the Marquee Club were now missing Alexis and his band, and this was the opportunity for what was Brian Jones and his band back then.
On July 12, 1962 The Rollin' Stones performed for the first time ever, at the Marquee Club, London. This was the band on stage:
Brian Jones (guitar)
Mick Jagger (vocals)
Keith Richards (guitar)
Ian Stewart (piano)
Dick Taylor (bass)
Tony Chapman (drums)
Several sources are listing Mick Avory as the drummer on this gig, but it seems like Tony Chapman was the actual drummer. Tony Chapman did actually play drums with Bill Wyman in his Cliftons that period. Mick Avory, who later joined the Kinks, was doing some rehearsals with The Stones, but he did not play that day.
This was what they performed that night:
Kansas City
Baby What's Wrong
Confessin' The Blues
Bright Lights, Big City
Dust My Blues
Down The Road Apiece
I'm A Love You
Bad Boy
I Ain't Got You
Hush-Hush
Ride 'Em On Down
Back In The USA
Kind Of Lonesome
Blues Before Sunrise
Big Boss Man
Don't Stay Out All Night
Tell Me You Love Me
Happy Home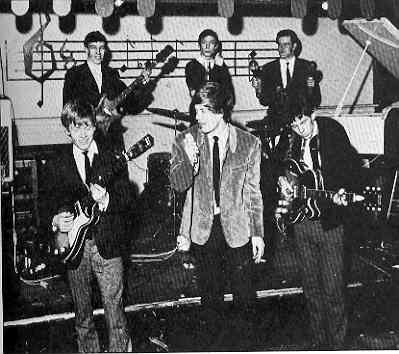 Charlie Watts had been asked several times to join the group, but having a regular job Charlie just did not want to risk his economies joining the group for the moment. During late 1962, Charlie did actually sit in on the drums with the Stones at times, but not as a band member. Meanwhile they were looking for a permanent bass player, and William Perks, more famous by the name Bill Wyman, was selected among others because he had the best amplifier. Bill joined in on stage first time in December 1962, while Charlie Watts finally decided The Rolling Stones were the place to be by January 1963. By then the group looked like the picture shown, i.e. Brian, Mick, Keith, Ian, Bill and Charlie. This photo is taken from of their early 1963 performances at the Marquee Club.
By the spring og 1963 the Rolling Stones were playing for a growing crowd of fans at the Crawdaddy Club, Richmond Station Hotel, as well as other clubs around London. By May 1963 Andrew Loog Oldham signed them up as their manager, moving Ian Stewart into the background, and the group was now a total of five, even if Ian by most fans is called the 6th Stone, and followed them on and off stage for the rest of his life.
The following years is the story of the greatest rock'n'roll band in the world, and like they say, The Rolling Stones are a way of life. Now millions of Rolling Stones fans are paying tribute to the band that has ment so much to them over the 40 years or so the band has been around. Happy birthday to you all! PS. For comments please send email to IORR.
James Karnbach: It's Only Rock'n'Roll
The Ultimate Guide to The Rolliing Stones
See the list of i Stones days and events, magazines, radio broadcasts etc. re. July 12
Talk to other fans celebratin the Stones on the Tell Me message board
See the latest IORR magazine IORR 44 out June 2002




It's Only Rock'n Roll 2002 -
© The Rolling Stones Fan Club Of Europe