Bill Wyman's Rhythm Kings
Telemarksgalleriet, Notodden, Norway
Saturday Nov 29, 2014
---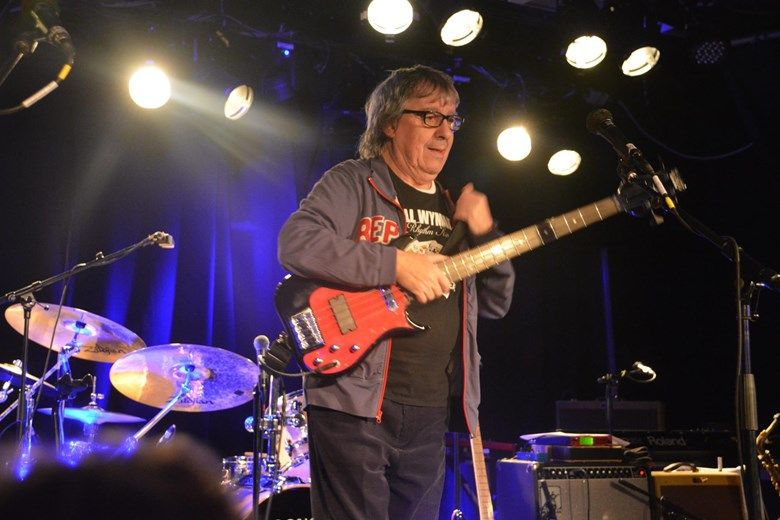 Photo by Bill Wyman at Gregers in Hamar, Norway. Photo by Stian Steinsvik
---
Report by Bjornulf Vik, Norway
I got the Bill Wyman tour dates and thought it was great he was coming to Norway this fall. But when checking the dates for my nearby cities Oslo and Drammen, I realized these where on the dates when I was in Australia following The Rolling Stones. So I let my row one ticket at the Oslo Konserthus fly away, sort of felt bad about it, but priority is priority. The shows in Oslo and Drammen were on Nov 21 and 22, when I was in Auckland for the final show of their 2014 tour Down Under...

But... during the tour in Australia, after the Hunter Valley show, I talked to my good friend Wilfried from France, and he told me he was going to Norway to see Bill Wyman. Not in Oslo but the week-end after. So I did not know about the date, but as it turned out, I later realized that was a show in Notodden, one and a half hour driving from my place in Asker, between Oslo and Drammen. As I headed home from the last show with the Stones in Auckland on Sunday Nov 23, my mind was mostly in the homesick mode, I was twelve time zone hours and 24 hours flying away from home. And the following week I spent every day trying to turn the clock back twelve hours...

So on Thursday my friend from France said he was coming. Really I said. I checked for Notodden tickets. They were sold out. Really! I was still heavily jetlagged, going to bed at 8pm or so. By Thursday I stretched the evening until 10pm, and by Friday I made it until 11pm. I still could not understand how I could keep away until way past midnight for the trip to Notodden.

So my friend arrived by Air France by noon Saturday. We had the usual concert meal in the afternoon, then set off for Notodden by 4:30pm. The weather was awful, dark, slippery, a mix of wet rain snow sort of stuff coming down, as we drove through Drammen, Kongsberg and on the way to the blues city of Notodden a cat tested my awakeness and I saved his life by a quarter of an inch. By 6pm we were in Notodden, and we soon found the place where Bill Wyman's Rhythm Kings were going to perform later this night.

The concert was set for the old industrial building Sliperihallen, these days called "Telemarksgalleriet". As we arrived they told us there were no tickets available. All sold out. There were a total of 700 tickets for the show, of which 250 were sold as dinner packages i.e. "julebord". The julebord is a large traditional Christmas dinner, very popular in Norway during late November and early December. The 250 guests for the dinner entered at 6pm, and we could see the "dinner setup" in the concert hall, with a space in the middle for the remaining 450 of the crowd.

Without tickets we headed downtown Notodden. That was a 10 minutes drive. Not a big place it took like 5 minutes of superfan detective work to find the band, and another half hour to contact the very friendly management. My good friend Wilfried is probably the number two superfan in the world for Bill Wyman, so he was very helpful in working on our request for tickets. Soon we were in. We also met the superfan number one, from Germany, she follow Bill Wyman and his band almost like I follow the Stones, so we had a lot in common. With the concert entrance secured we could rest, and it would soon be a show.

My last show with Bill Wyman's Rhythm Kings was at Glastonbury Friday June 28, 2013, the day before the Rolling Stones performed at Glastonbury. That was a great show, but in a large tent with a pushy crowd. I have seen Bill Wyman in a tent before, actually passing by Notodden on the way, as we saw him in Rjukan Sept. 15, 2007. Even if it is interesting to see Bill at these countryside small villages, in a tent, I would say it is much more comfortable to see him in a real concert place with great acoustics. But now we were in the industial hall of Notodden. The walls of Sliperihallen were echoing the loud talking of 250 guests drinking wine and aquavit for three hours, while the rest of the 700 people strong crown was crammed in the middle of this great old industrial hall, having beers and wine. I was on row one, right in front of Bill Wyman, holding on to the stage floor, with the two largest Bill Wyman superfans on each of my sides. It is always great to be at a show with good friends. Behind us seven hundred local Notodden fans...

The band took the stage around ten minutes to eleven. Before they came on stage we had seen they had taped the set list to the floor, then they removed three songs from the set list just minutes before show start, they also reorganized the finish. They opened with "Chicken Chack Boogie". Good old Bill Wyman's Rhythm Kings! Everybody was in a great mood, they did a great performance, and the crowd loved it. When Bill tried to talk to the crowd, he realized they just talked and talked through the songs, also when he was talking into the microphone, so he just moved back to his position and the band kept playing.

Nick Payn and Frank Mead played their saxophones with great emotions and performance. During the show Frank Mead moved over to our front center, took of his jacket, said he did not need it, then he moved into an amazing dance like a tornado on stage. Playing, dancing, making the crowd excited. It is great fun to see this band on stage - every time!!!

Beverley Skeete did some great vocals. I did not understand why they had to bring in another guest vocalist, but I realize that an original Supreme member is an attraction on stage, high heels at age 70 she rocked indeed - and she danced!

Terry Taylor and Albert Lee - two great guitar players that makes the travel worth it on their own, rock solid musicians. Henry Spinetti on drums - he was amazing. And Bill - well Bill was himself, like I have seen him over the years, in the back, enjoying his band, with a smile, watching the crowd, playing his bass just the way we love to hear it, and even if he is now 77 years old, he does not look a day older than last time I saw him, or the show before that...

They closed the show with "You Never Can Tell" with Bill Wyman on vocals. Then they returned to do the encore "Dancing In The Streets", with Mary Wilson on vocals. It was 35 minutes past midnight. It was way past my bedtime, as I was still pretty much on New Zealand time. We walked out with a big smile, like everyone else at the Notodden show. Then home by the car in the night, same bad weather, same rainy and icy roads, and we were home by 2am. Wilfried says "You must write a report!" I tell him I am off duty... He says he will give me his notes. I say OK I will write a report. It was a great evening and it should have a proper report. So here it is! For sure I will be back every time Bill Wyman is touring. His shows are great fun and great music. I will be there!
---
The set list
Chicken Chack Boogie
Too Late
Sweet Soul Music
Just You're Fool
I'll Be Your Baby Tonight
Stop In The Name Of Love (Mary Wilson vocals)
My World Is Empty Without You
I'm A Fool To Care
Good Rockin' Daddy
Talk To Me Baby
Rock The Joint
This Is A Man's Man World
Three Hundred Pounds Of Joy
Sugar Babe
That's Rock'n'Roll
Baby Workout
Dance With The Devil
Rock In My Arms Again (Mary Wilson vocals)
Don't Know Why (Mary Wilson vocals)
You Can't Hurry Love
I Just Want To Make Love To You
You Never Can Tell (Bill Wyman vocals)
ENCORE:
Dancing In The Streets (Mary Wilson vocals)
---
The band
Bill Wyman (bass)
Terry Taylor (fender guitars)
Albert Lee (music man signature guitar)
Beverley Skeete (vocals)
Henry Spinetti (trommer)
Geraint Watkins (keyboards)
Nick Payn (saxophone)
Frank Mead (saxophone)
Mary Wilson (special guest - vocals)
---
Links
---
Please send your show reviews and comments by e-mail to: [email protected].
The reviews will show up here soon! Thanks!
---
---
Selected pages related to Bill Wyman on IORR.org:
These are just a handful of old and new pages by IORR related to Bill Wyman and his projects. If you have information or suggestions related to more info about Bill and his projects please contact IORR by e-mail at [email protected] - Thanks!
---
Links:
---




It's Only Rock'n Roll 1999 -
© 2014 The Rolling Stones Fan Club Of Europe