Why Bill Wyman left The Rolling Stones
PS. This is an old article added to the IORR web pages in February 1996.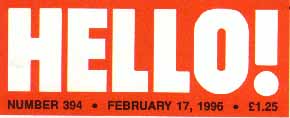 The weekly UK magazine HELLO! number 394, dated February 17, 1996, has got a nice feature on Bill Wyman. This magazine is dedicated to the royalties and other types of celebreties, with photos and reports at their homes, showing their bathrooms, all the nice and expensive furniture etc.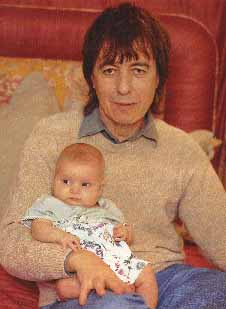 The Bill Wyman feature article is found on pages 4 - 12. There are lots of glossy photos,as Bill and his wife Suzanne Accosta (36) opens their new home in Chelsea, London to the magazine readers.
Bill is a very happy man, for sure, and these photos tells the reason why he left the Stones. He simply wanted to have a life 100% on his own, no tours, no recoding sessions, no travels, no flights, just a lot of family life and having kids!
Their first child Katharine Noelle was born a little more than a year ago, and she was just over 6 months old when Bill brought her to Wembley on Sunday July 16 last year. Mick was ready to let Bill guest play once Bill asked, but Bill never felt like jumping on stage. He had simply quit playing and working with the Stones, and wend a family man 100%.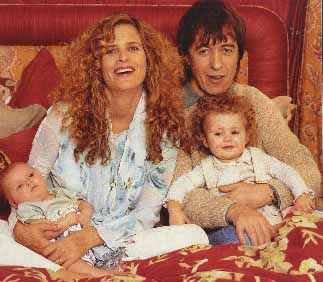 The magazine interview tells how Bill never had the time for this kind of family life in the 60', as he had very little time for his now grown up son Stephen. The couple just had their second daughter Jessica Rose, born last November, and as you may see, Bill is now totally lost into family life.
Well, may be during the next world tour, in 1998 or so, Bill will feel like jumping on stage again, who knows? At least, he tells he has been going into studio to work on his own recordings. So far half an album has been recorded. He is working on jazz/blues music from the 30's and 40's. As this kind of music is not really commerical, he is not sure if the works will ever be released.
Talking about Sticky Fingers, his successful restaurant in London, he tells there are plans for opening another restaurant in Manchester, probably in the spring, and then another restaurant in Glasgow.

---
Selected pages related to Bill Wyman on IORR.org:
These are just a handful of old and new pages by IORR related to Bill Wyman and his projects. If you have information or suggestions related to more info about Bill and his projects please contact IORR by e-mail at [email protected] - Thanks!
---
Links:
---