---
These are the latest Rolling Stones news and updates for you! IORR is a non profit fan club run by fans for fans. All parts of the It's Only Rock'n Roll web site is copyright of The Rolling Stones Fan Club. When using information from this site, please include a reference to IORR and the main web address www.iorr.org.
---
---

The Rolling Stones
Stade Olympique de la Pontaise, Lausanne, Switzerland
Saturday August 11, 2007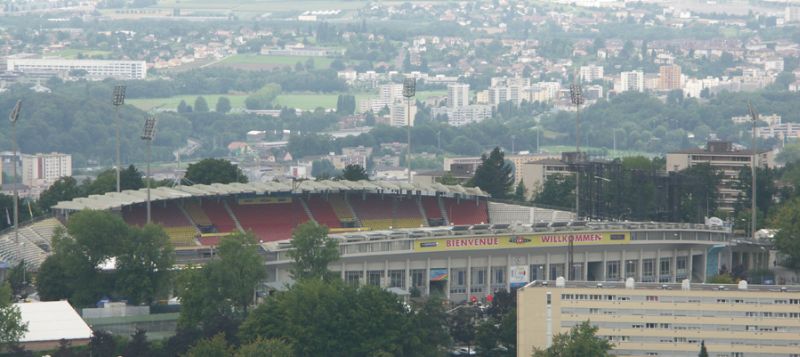 The set list
Start Me Up
You Got Me Rocking
Rough Justice
Bitch
Love Is Strong
You Can't Always Get What You Want
Midnight Rambler
I'll Go Crazy
Tumbling Dice
--- Introductions
You Got The Silver (Keith)
I Wanna Hold You (Keith)
It's Only Rock'n Roll (to B-stage)
Respectable (B-stage)
Satisfaction (B-stage)
Honky Tonk Women (to main stage)
Sympathy For The Devil
Paint It Black
Jumping Jack Flash
Brown Sugar (encore)

The Dandy Warhols   :  7:15pm -  8:00pm
The Rolling Stones  :  9:00pm - 10:55pm

---
IORR comments
This was the show for the Swizz people. While Deutche Bank spent four million Euro hiring the Stones for a show to please 700 managers and VIP's at a very secret and private Stones show in Barcelona a few weeks ago, the Swizz supermarket chain Migros did it the opposite way. They invited their customers to a big lottery and the show tonight in Lausanne for 42,600 people was in fact free for everybody. Even transportation to and from the show was taken care of, as the ticket was valid for transportation by bus and train to and from Lausanne on show day, plus also the day before and after. So Migros told their customers a great story about how a bonus can be paid back to the end user.

There were absolutely no sign of Migros posters or advertisement at the stadium. As you walked there you walked by a lot of posters and banners with titles of Stones songs, both famous and not so famous. Also inside the stadium there were these banners, but no Migros banners or ads.

As it was a free show, it was an easy organization. No special front of stage area, people could move around freely at the stadium. Great facilities, no special queues.

The Stones were on at 9pm sharp. After a couple of songs it was completely dark, and their show could be complete with bot visuals, video screen, the entire stage, pyro, and of course the music itself.

It was a strong show, same power as the Stones performed with in the Nordic countries earlier on. Keith was doing some strong guitar playing, great riffs as usual, Pait It Black one of the many highlights when you could see him taking front center stage, being the band leader, then camera and focus moves on to Mick and so on.

With 42,600 people in the stadium it was a very very packed stadium, but everything was very smooth. No pushing around, nice and calm security, great mood at the B-stage, and surprise surprise, they did a new and very interesting change, as they played "It's Only Rock'n Roll" on their way to the B-stage. The opening of that song could be Miss You or any other song really. It was some nice and gentle guitar & keyboards intro, playing with the crowd, as the band moved into a core group in their small center part of the stage, then IORR was on and they moved out and into the crowd. Respectable on the B-stage was another surprise. The rest of the show was as good as the beginning. Again a lot of happy fans. Even if the Swizz fans are not as wild and noisy as many others, they enjoyed the show a lot, and the Stones will for sure play with a full house next time they come back to Switzerland.
---
Review by Sjouke Hoving
Today, August 11 was a busy day in Switzerland. Whereas 800'000 people joined the Street Parade (a large kind of love parade with techno music) in Zürich, about 40'000 people (according to Swiss radio) went to Lausanne for the special MIGROS M-Cumulus offer, the concert of the Rolling Stones. Let's forget about the whole idea of winning tickets through a lottery by collecting adhesives etc. Probably a lot of tickets ended up at the real fans. After a whole week of torrential rains and flooding in Switzerland, today was dry and sunny. During the driving from Basel to Lausanne the weather only improved… we were early at the Stade Olympique de la Pontaise and it was easy to get in and get a place quite to the front at Ronnie's site. Unfortunately there was no FOS area and this was really bad. In the end the field was so packed with people that one could hardly move forwards or backwards.

After a long waiting the Dandy Warhols came up at 19.15 and played until 20.00. Quite arrogant singer and just one nice song (Bohemian Like You), but that doesn't make you a super band. In Dutch we have an expression for this – over het paard getild. I tried to make some photographs and that was the nice facing of the security people. No pictures, they said, as requested by the band. During the break I asked again, why it was not allowed to take pics and again, the answer was, the band doesn't want this. Well, even after arguing a lot with a officer of the security it was still not allowed. How do all these pics land on IORR? Just a bit after 21.00 however the Stones came up with Start Me Up, and many people took their digi cams out to take some shots. The security acted furious, and were really irritating the people. But apparently someone from the Stones camp came to tell security that pics were no problem. I'll put some up here.

But more important, the Stones were up and playing hard and aggressive, with crystal clear sound and Keith and Ronnie were top form. We got You Got Me Rocking, Rough Justice and Bitch (for the security ladies). Mick was talking a lot in French and German to please of the audience. First surprise was Love Is Strong, a great song that they could play much more, followed by You Can't Always get What You Want. The Swiss audience responded well to the songs, better than last year in Dübendorf. We got a very long Midnight Rambler, great version, especially Keith and Ronnie on fire. I'll Go Crazy with a major role for Lisa Fisher and Tumbling Dice were real crowd pleasers.

Then the Keith songs. I never heard You Got The Silver before, it was one of the highlights of the show. Wanna Hold You was ten, no hundred times better than in Nijmegen. A great set from Keith this time. After this we knew the way to the B-stage would come, there was a long intro, was it Miss You, or something else. It was IORR! So finally a change again… when they past we could read the rest of the setlist and we were in for another surprise. On the B-stage we got Respectable, great version and an old favorite song for me. Satisfaction followed, with a very enthusiastic audience. Then back to the main stage with Honky Tonk Women.

The show continued without surprises, Sympathy For The Devil, Paint It Black, Jumping Jack Flash and one encore, Brown Sugar. The last part of the show is still good, but they play a bit on autopilot here. Also, although still very energetic, they all looked quite tired (well not surprising after two years of intense touring). During the last songs Mick often had to take his water, and the voice was not that strong in the end. But all in all a great show again, great setlist, good audience. And perhaps the last time…
---
Review by Dean Goodman
Ronnie won a gold medal for his efforts at the Stones' gig on Saturday in Lausanne, the home of the International Olympic Committee. Once again, he saved the day with his athletic solo work on tunes like Midnight Rambler and Jumpin' Jack Flash, not to mention You Got the Silver.

In the group category, the Stones' performance was probably worthy of a generous silver. The show was a little slow getting out of the blocks, on Mick's account, and it seemed to lose momentum at times. Keith played like he had never taken a drug in his life. He often had the look of an earnest schoolboy doing his absolute best for a dissatisfied teacher.

It was a pleasing effort overall, definitely worth my decision to stage a 20-hour driveby to Switzerland, the first time I have seen them in this country. Certainly, Lausanne is spectacular, and I definitely hope to come back and investigate this lakeside resort in more detail (and with more money).

The show took place at a stadium ringed by official looking banners bearing the names of various Stones, some pleasingly obscure like Hearts for Sale and Summer Romance. These could also be found strung up on fences outside the venue, and were definitely worth stealing if you had good clippers (I didn't).

It began about 9, while it was still fairly light, with a rusty version of Start Me Up. Mick found himself at lyrical odds with the unseen backing singers, and then a few lines later was totally drowned out on a word -- kinda like an erring guest being rudely corrected by a dinner-table bore.

You Got Me Rocking was all Keith, with able support from his young companion. Love is Strong seems to begin a bit slower than it does on the album, giving it a tone that's almost menacing. Mick's harp work, on both this song and Midnight Rambler, was outstanding. On the latter song, the climax reached a feverish crescendo as Ronnie led the way. You Can't Always Get What You Want and I'll Go Crazy were also crowd faves.

During the intros, Mick made some remark in French about Lisa losing weight. I don't know about that, but I do know from personal experience that discussing a woman's weight with her is a losing proposition. He introduced Charlie as "the curse of the cantons" and jokingly vamped along on a version of Sex Machine as Charlie merrily soloed away.

Keith's solo set was solid, but I really wish he would strike out with a new second song. We're in the home stretch, let's have some fun...

The b-stage was highlighted by Respectable, but points off for a version of It's Only Rock 'n Roll that was all but smothered by the unseen vocalists. The warhorses did their job for an extremely all-ages crowd. With a chilly breeze picking up, Mick donned a knee-length coat for the encore, Brown Sugar. He was unable to complete his usual sprint across the stage because Keith was hogging the ramp on his side, forcing Mick to approach his chum in gingerly fashion, like a toreador facing a volatile bull. The two of them engaged in a kabuki-like face-off for the benefit of fans on that side.
---
Please send your show reviews and comments by e-mail to: [email protected].
The reviews will show up here soon! Thanks!
---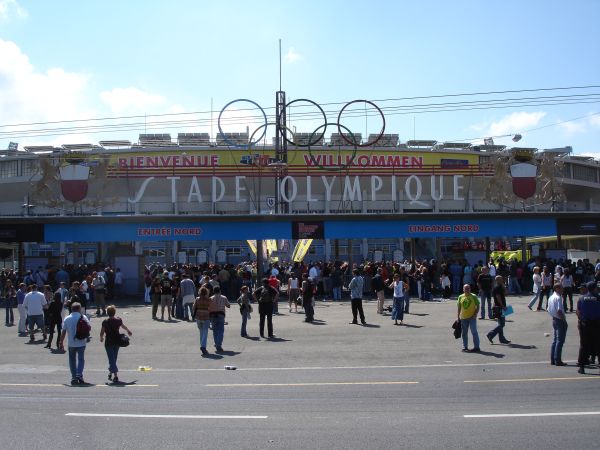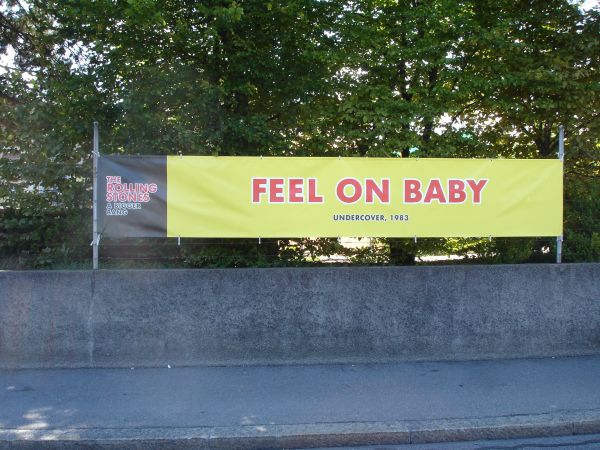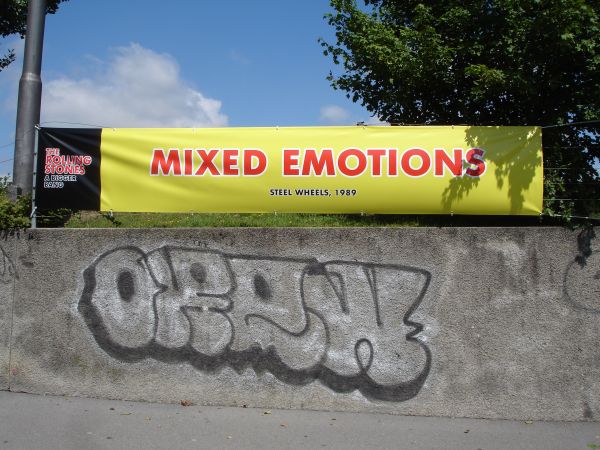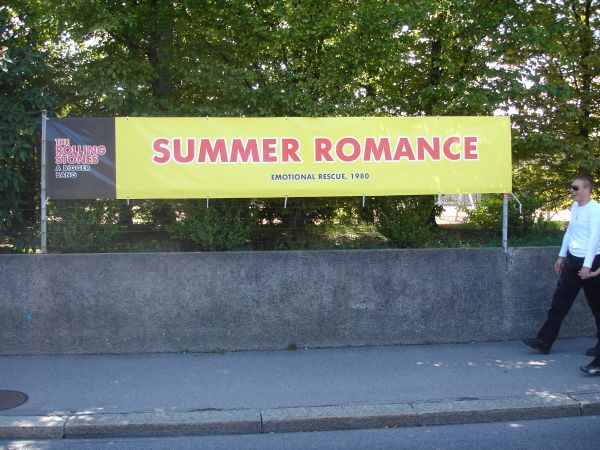 ---
IORR Forum comments and reports
Lausanne reports and comments
---
News links
---
Photos by IORR.
Additional photos by Frédéric De Mont.
---
The IORR magazine
For exclusive reports and unique high quality pictures from the Rolling Stones tour and more see the IORR magazines.
---




It's Only Rock'n Roll 1980 - 2007
© The Rolling Stones Fan Club Of Europe