---
These are the latest Rolling Stones news and updates for you! IORR is a non profit fan club run by fans for fans. All parts of the It's Only Rock'n Roll web site is copyright of The Rolling Stones Fan Club. When using information from this site, please include a reference to IORR and the main web address www.iorr.org.
---
---
The Rolling Stones
LTU Arena, Düsseldorf, Germany
Monday August 13, 2007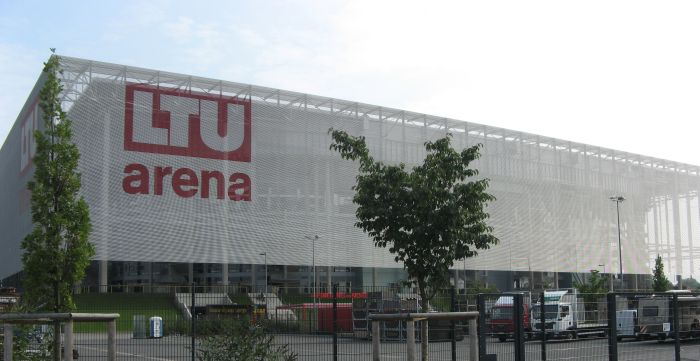 ---
The set list

Start Me Up
You Got Me Rocking
Rough Justice
All Down The Line
Let It Bleed
You Can't Always Get What You Want
Can't You Hear Me Knocking
I'll Go Crazy
Tumbling Dice
--- Introductions
You Got The Silver (Keith)
I Wanna Hold You (Keith)
Miss You (to B-stage)
It's Only Rock'n Roll (B-stage)
Satisfaction (B-stage)
Honky Tonk Women (to main stage)
Sympathy For The Devil
Paint It Black
Jumping Jack Flash
Brown Sugar (encore)

The Answer          :  7:15pm -  7:55pm
The Rolling Stones  :  9:05pm - 11:00pm

---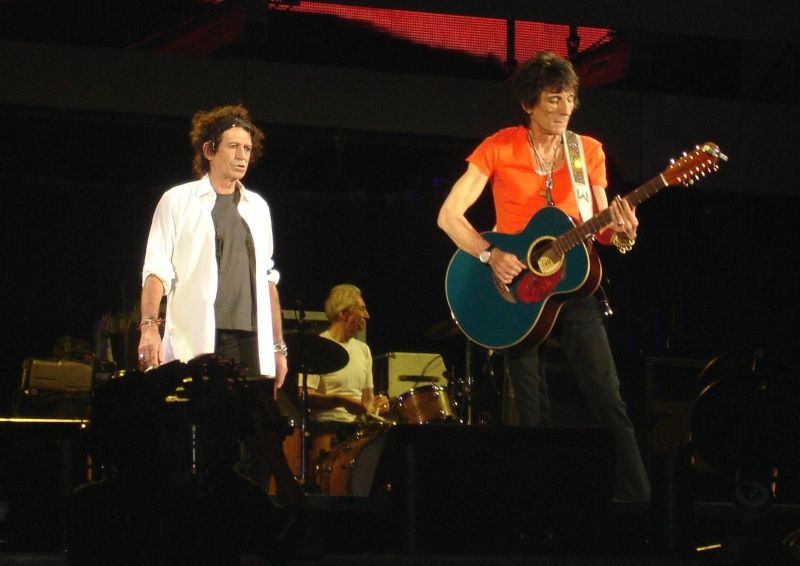 ---
Review by Peter Lacres
I was very lucky to have floor seats very near the left side of the stage. I've been closer to a Stones concert but I could see very clearly Charlie from the fifth row! Düsseldorf was a great concert. The sun was shing, the girls were smiling and the Stones were rocking and rolling as usual...

It was strange to see the stage turned in the big stadium. This place was lucky not empty and around 8 o'clock already a lot of people were seated. Nice organisation... no stress at the entrance, plenty of places where you could buy food and there were a lot of beer and cocktail girls walking around!

A beautiful night weather wise – with the roof open – and everybody was in an energentic mood including the Rolling stones.

Highlights of the evening for me were Can't You Hear Me Knocking (Ronnie was excellent), You Got The Silver by Keith (very slow), Let It Bleed and All Down The Line.

Forget about the people with their say over Keith. Keith was great and you could feel and see the energy between Keith and Mick when they were playing next to each other.

The show came to the usual end with lights and fireworks... Up to Hamburg right now!
---
Review by Jan Fiedler, Cologne
After my last stones concert in frankfurt I had mixed emotions by visiting this show, because in frankfurt keith wasn't good and the sound was awful. But I got a perfect stones show with a great sound, a quite good setlist and a Keith Richards on fire (His playing is the most important thing for me in a stones show). So I was very happy that he seemed very concentrated and gave the whole show very much.

It was my first time to hear Can't you hear me knocking and You got the silver live. And these two and paint it black were my personal highlights. Just Satisfaction doesn't sound good anymore on this tour, I don't know why. But all the other songs sounded like they have to sound.

The Introductions were very funny. As Jagger introduced Lisa Fisher, he said in german: Schönes Kleid..und schöne schuhe, sind die von deichmann? Everyone was laughing. By the way, Mick spoke a lot in german. Keith came out for the encore, just posed a few seconds, then he played the opening riff but his guitar was still off. So he smiled to the crowd, turned up the volume and played it again. For this tour, this was my last concert but I really hope it was not my last ever..
---
Review by Terje Eriksen
The boys back in Germany. And again, a show "tube'able" from the city center. I know Hamburg got a small walk from the tube station Wednesday (if you don't 'bus') but it is all a slight little 'something' to what we had earlier this summer (read Dean's post from Belgium).

The seating was same as in Frankfurt. A concert killer sometime. Security ready to kill if you even try to touch the rail. But not today. We moved inch by inch, ready to be attacked. But no one even lifted a finger. By the end of YGMR a few of us were already hanging over the rail. Strange that not more people moved forward. After Oslo this was like flying biz on a Stones concert. So calm. The boys had a ball again. Same as in Copenhagen and Oslo. You can see they are having fun. Charlie smiling and laughing. Keith being Keith, with a few mistakes, but a lot better than a few of the other shows. A few mistakes at Satisfaction and so on. Ronnie to die for. Mick, what can you say. Never seen him running like last night this tour.

'Let it bleed' and 'All down the line' as the specials ones today. 'Can't you hear me knockin'' was thrown in as expected after a couple of shows with Midnight Rambler.

No surprise from Keith. 'You got the Silver' sure suits him and the voice. Still don't know why we get 'I wanna hold you' all the time. I like the song, but a bit of rotation should be possible. Still hope I will get 'Little T & A' once again this tour, or 'The worst'. But I feel spoiled. Getting close to 60 different songs since Fenway Park.

B-stage as expected, the last set more or less as usual. Only surprise was the encore. Keith waited till the light was at him before he started. We are talking smiling to us before he starts Brown Sugar. Was like "I-read-the-boards - now-watch-this" Said it before, and to repeat myself. They are having fun. Can't wait for Hamburg. Thanks boys and Lisa!!!
---
Please send your show reviews and comments by e-mail to: [email protected].
The reviews will show up here soon! Thanks!
---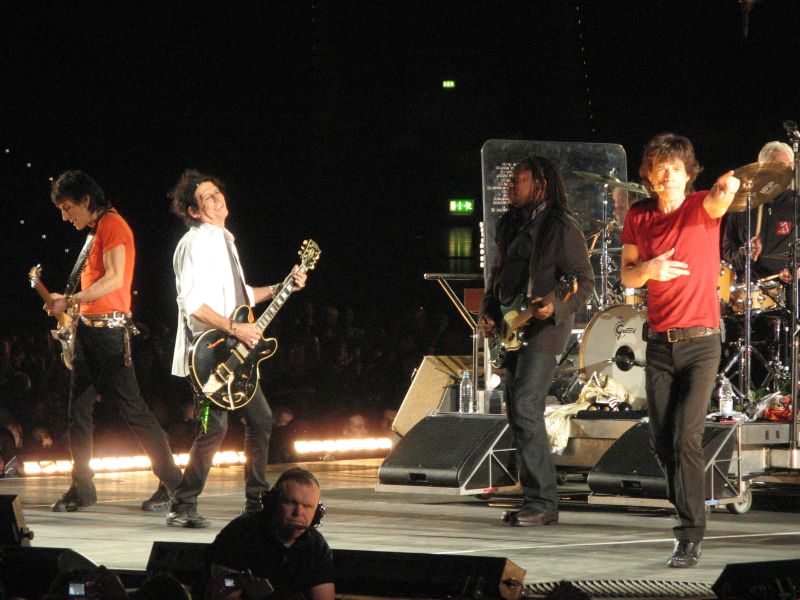 ---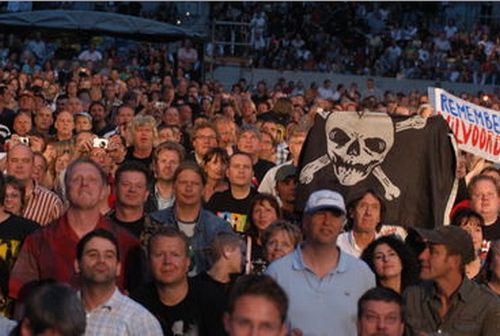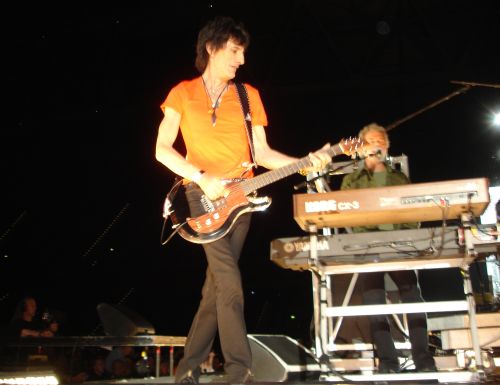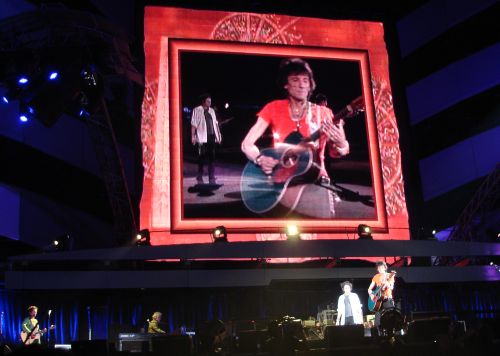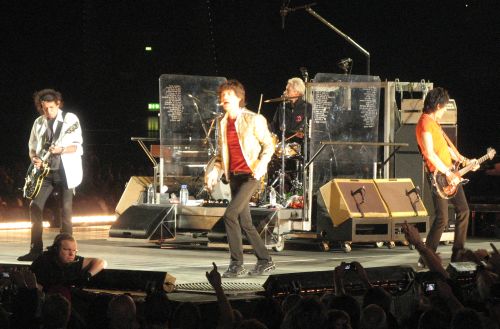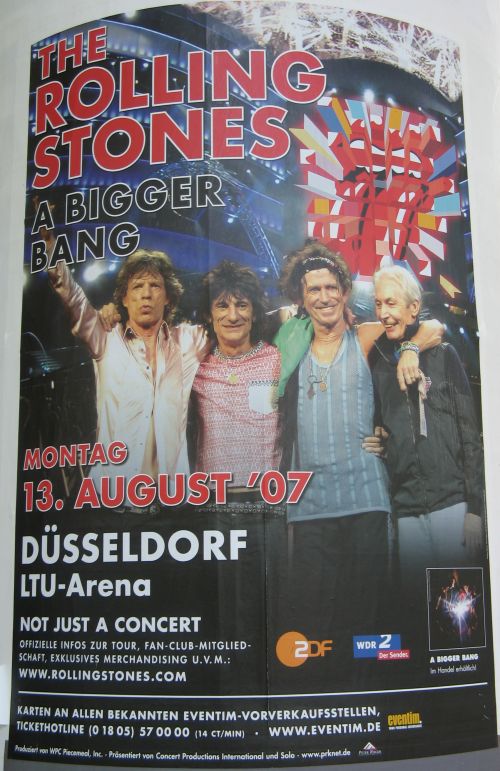 ---
IORR Forum comments and reports
Dusseldorf reports and comments
---
News links
---
Photos by IORR.
Additional photos by Detlef Neumann and Peter Lacres.
---
The IORR magazine
For exclusive reports and unique high quality pictures from the Rolling Stones tour and more see the IORR magazines.
---




It's Only Rock'n Roll 1980 - 2007
© The Rolling Stones Fan Club Of Europe