---
These are the latest Rolling Stones news and updates for you! IORR is a non profit fan club run by fans for fans. All parts of the It's Only Rock'n Roll web site is copyright of The Rolling Stones Fan Club. When using information from this site, please include a reference to IORR and the main web address www.iorr.org.
---
---

The Rolling Stones
Usce Park, Belgrade, Serbia
Saturday July 14, 2007
The set list
Start Me Up
You Got Me Rocking
Rough Justice
All Down The Line
Heartbreaker
You Can't Always Get What You Want
Midnight Rambler
I'll Go Crazy
Tumbling Dice
--- Introductions
You Got The Silver (Keith)
I Wanna Hold You (Keith)
Miss You (to B-stage)
It's Only Rock'n Roll (B-stage)
Satisfaction (B-stage)
Honky Tonk Women (to main stage)
Sympathy For The Devil
Paint It Black
Jumping Jack Flash
Brown Sugar (encore)
The Rolling Stones     :  9:30pm - 11:30pm

---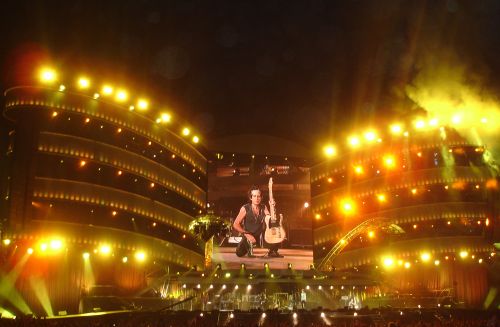 ---
IORR Comments:
This was one of the largest crowds this summer. The Usce Park was filled up. The fans had been coming in all day. The mood was great. Everybody was relaxed. The sun was shining, it was may be +30 C and great weather like it has been for quite some time on this tour now. The pivo - beer - was cheap and great, and the fans got it served in plastic cups, which was a lot safer than the one litre pivo plastic bottles they sold at the show in Budva. Anyway - on with the show...
The security was the strongest since the show in Moscow Russia 1998. The number of police present outside the venue was large. Inside there were police too, but they were not that visible. It is rather unusual to see that much police present, but they were all polite and just there to make sure everybody was cool and nice. Which was the fact as well.
For a virgin crowd never seeing the Stones before the Serbian crowd was great. Mick talked a lot in local language, and by the response he got it worked very well, in fact better than usual. Mick said welcome to everybody from Serbia, and then he mentioned quite a few of the neighbor countries as well.
Often Ronnie is the dominating guitar player during the first part of the set list, then Keith is taking over as the show is getting into the final stage. Tonight, however, the set list made more room for Keith early on, which is great because his riffs are the trademark sounds of the Stones.
Generally a great great show indeed. No reason to do a report song by song. "Paint It Black" worked very well tonight, the sound was perfect and the crowd liked it a lot as well. "Jumping Jack Flash" was great as well, while the first part of "Brown Sugar" was a complete mess to be honest.
When "I'll Go Crazy" finished Mick kept the pace up by shouting "Give it to me one time" ... then "two times" ... then "three times" ... then Mick said "Can I possibly get it four times?" and sure Charlie, Keith and Ronnie gave him an extra 4th time as well. Worked wery well indeed. At this stage of the tour the band is like a clockwork.
As "Jumping Jack Flash" finished Ronnie stacked his guitar upside down to the stage floor which seems to be his way of ending that song now, very special shut-out sound of his guitar as the song is finishing.
The band had left. The fireworks were gone. Then the standard tape started to run - Exodus - the crowd went nuts and may be there were more, but sadly the show was over. They had to go home. Belgrade was happy. Great show. Great crowd.
The names of the band members are spelled special here so that they make sense to read. They are spelled like this:
Mik Dzeger, Kit Ricards, Roni Vud, Carli Vots
Some remarks about the warmup acts:
Elektricni Orgazam was the first of two warmup acts. They were on before 6pm, and many fans were still enjoying food and drinks by the river of Dunab as they were playing. Then next up was The Answer - a band from Belfast. They were on from 7:45pm until shortly before 8:30pm. The vocalist said they were from Northern Ireland, and where they came from they were raised to be loud and so they were!
---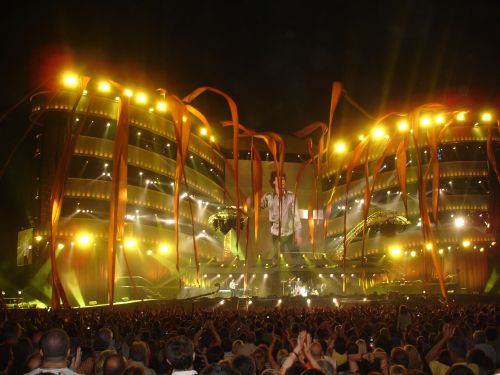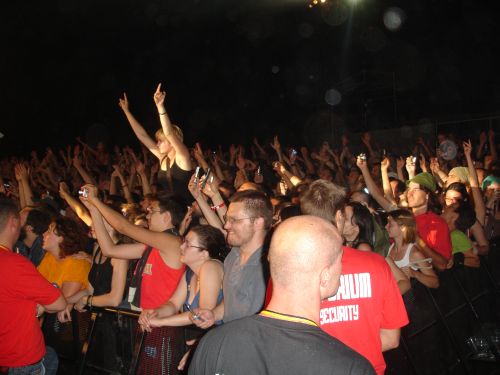 ---
Review by Voja
If anyone is interesting my opinion about Belgrade concert please read firstly my review of the show in Budva.

And I'll tell you I really eat shit in this text. I'm a ashamed! (Shame! Shame!) And I'm writing now only to make atonement of my sin.

And now I hate to must say Budva was excellent, but Belgrade was pure miracle. And in my craziest dreams I didn't imagine that in my hometown, in crazy Serbia I could see best Stones show ever. It was my 11 show (all tours except No Security) since '76. I have tons of bootlegs, for example ABB almost all on DVD, but this night was like highlights in Argentina or Holland. From beginning!!!!!!

Crowd: Large! Songs: 3 new (YGMR, All Down The Line, Heartbreaker). Security: never better.

Keith Richards? Uh. New man. He cut his mustache!!! Was I had that much wrong about Budva show? In wonderful green shirt he demonstrated all his best. SFD for example had solo like on original! You Got Silver so persuasive.

Mick Jagger? What I wrote how he spoke language from this area so much in Budva? Well tonight he outreached himself. And he understand all what he spoke! Do you want examples? (''Ja uzivam! A vi? – I enjoy! How about you? / And look this bravura: (To Lisa) ''Lepa ti je suknja…ali su ti sandale ruzne''- ''Your skirt is nice…but yours sandals are so ugly'')

O.K. Some could say that this domestic Micks speaking is cheap tricks, and that I fail on this. Don't be fool.

Here were incredible interchange of energy between Stones and crowd. And these first songs on set were so unheard for ordinary visitors. Even You Got Me Rocking, but from first tact something happened and band gave theirs best! For example YCAGWYW and Rambler were more then 20 minutes both in set.

All this I couldn't explain. Probably in some time in some place chemistry made it all. Yes crowd was massive, but same was in Athens'98 for example. I really don't know to explain.

What I wrote about ''Satisfaction'' in little stage in Budva. Tonight all crowds went crazy on that song. Too much Slovenians, Croatians, Macedonians and Mick mentioned Romanians also. And at last, in this late hours 3.30 A.M. I have to say I don't care because it happened in Serbia, Stones are good wherever, but tonight was special night. And band knows it I'm sure!
---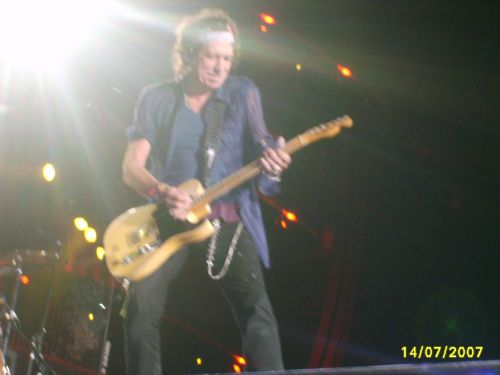 ---
Review by Vladimir Mihajlovic
This was my second Stones show (the first one being last year's second gig in London) and The Stones managed to exceed all of my expectations which were immensely high in the first place. Before ABB tour I had dreamed about seeing The Rolling Stones for nearly a decade. At that time I simply wasn't able to see The Stones due to various reasons. However, this tour changed all of that. First I managed to see them on their homeground, in London (which was something I could not forsee even in my wildest dreams) and now I finally got to see them in my own country which was something us, Serbian fans had dreamed about for ages, ever since the band was founded.

Unlike the London show where I had really bad seats, this time I got FOS area tickets and managed to come fairly close to the stage. While observing the stage before the show began I felt my heart pounding fast. I got goosebumps just by thinking about the fact that soon I would be able to see my heros show up on stage and that I would be able to see them clearly. This time they wouldn't be just faraway spots like in London.

When they finally hit the stage everything was just like what my childhood fantasies about their shows had been like. The band was on fire. I was on Ronnie's side and he looked great tonight and played a wonderful solo during Start me up. Mick was amazing to watch. The guy seemed unreal. As soon as the show took off it seemed that all eyes were on him and rightfully so. Charlie was amazing too see behind his drum kit. His drumming is the essence of The Stones' tightness.

You got me rocking was even hotter than Start me Up. It's a song that seems to have been made especially for live performance. It really got the crowd going. I just had to sing every single word of it. Keith made couple of mistakes during the song but they were harmless and the crowd didn't took much notice anyway.

All down the line and Heartbreaker were nice surprises considering that an all warhorses show had been excpected since this was The Stones' first show in the country. I especially loved the latter, Alll down the line sounding a bit messy to me (nevertheless it was great). Chuck did an awesome job on keyboards during Heartbreaker and Mick's vocals were top-notch. At one moment I felt as if I was transported to the shiniest realms of heaven.

You can't always get what you want followed and it was of course yet another highlight with a wonderful singalong.

Midnight Rambler was more than just a blues jam, it was magical, especially Ronnie's soloing near the end. He was absolutely on fire tonight.

I'll go crazy was an excellent tribute to the great master of funk and soul, embellished by heavenly vocals by beautiful Lisa Fisher (as Jagger put it:"Prelepa Liza Fiser").

Tumbling Dice was the key moment of the show for me because it took me to heights I deemed unreachable.

Keith's set was wonderful and very emotional with the crowd chanting his name over and over again. You could see that he was touched by it. You got the silver was a beautiful performance, especialy Ronnie's slide guitar work.

I felt like I was in trance during the rest of the show. The band totally blew me away. I really can't say which of the remaining songs made the best impression. Miss you got me dancing like crazy, Satisfaction made everyone scream their lungs out and Honky Tonk Women reminded me of how I had disovered the band. Sympathy for the devil sounded just devilish with everything turning into red and Mick becoming Lucifer himself for several minutes. The ending trio of songs was earth-shattering. Paint it Black, as dark as always, Jumping Jack Flash reminding us why The Stones are above everyone in the business and Brown Sugar as a perfect ending to what wasn't just a concert but an embodiment of freedom and faith in humanity and what's the most important rock and roll.
---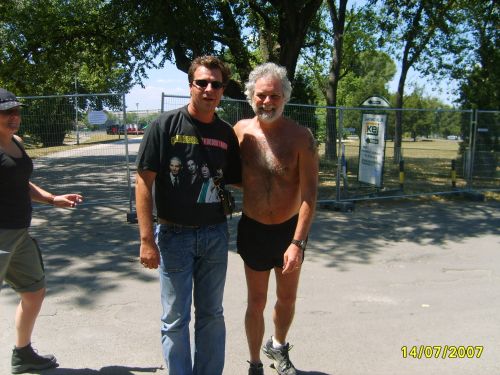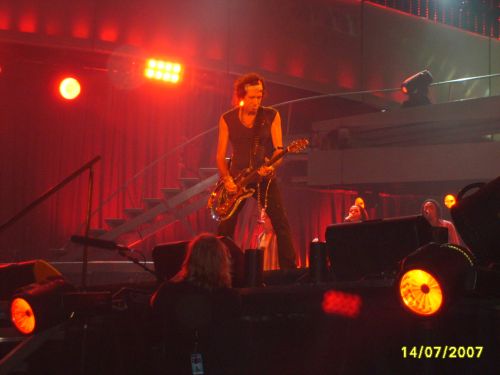 ---
Review by Rajko Dimitrijevic
After waiting 31 years to see and hear The Rolling Stones live it is difficult for me to write an unprejudiced review. I am not a ultra Stones fan but this was something really special. Everything (and I mean everything) was perfect. Rough justice is not my favourite RS song but Keiths and Ronnies dueling guitars were memorable. I read a critic about Stones concert in Germany recently stating that Keith was uninspired that night, but the other night his guitar was at his best. ITo put it in a nushell GREAT concert, GREAT SHOW and a question for all those who were not at Usce park: WHERE were you that night?????
---
Review by Kojo & Katarina
The first time I saw The Rolling Stones was 12 Years ago in Budapest, that was a night to remember. Now after all those years everything happened again. Preparations for this included watching DVD from forty licks where I concluded along with a friend (we where together in Budapest) that the music and playing is 'soft' so I didn't expect anything special (what a MISTAKE!!!) concert was everything that the Stones are, Mick was dancing, running, talking in Serbian singing like a sparrow, Ron was playing like crazy, Keith was Keith (enough sad) and Charlie, like a message from the crowd sad, 1000 Watts!

One more thing, if somebody told me that I will be going to Rolling Stones with my daughter I would call him crazy, but it happened! This is The Rolling Stones magic at work!
---
Review by Ivana, Belgrade
What a night!!! Belgrade was blessed with the most fabulous perfomance! After many, many years of waiting...

The Stones have always been immensely present in my life. I was exposed to their sound literally since the day I was born. I remember being three and listening to the then fresh released Steel Wheels record, and shouting the chorus of Mixed Emotions with my dad and telling the names of band members by the album cover. Some 10 years later I got strongly infatuated with their music and followed them ever since. The nineties were indeed a bad period for a Serbian Stones' fan. Political isolation and economical situation meant no concert in the country and thin chance to see them somewhere else. However there have always been people who went abroad to see them, most notably Vienna '90, Budapest '95 and Athens '98, which you could tell by the number of shirts from the previous tours sported in the Belgrade FOS. A chance to see them live finally came in Prague 2003. It was indeed a breath-taking experience for a 16 year old, even if I was standing pretty far from the stage. Priceless performances, of Gimme Shelter, Nearness of You & Happy by Keith, Little red Rooster on B stage and a fabulous version of Midnight Rambler made all the waiting worth it. The following years there have been many announcements by the local promo companies that there will be a Stones concert in my hometown Belgrade, and it took several years before the actual date was announced and was certain.

This time me and my dad were joined by the rest of the family, my mum & my 16-year-old sister (16 seems to be a good age for loosing Stones virginity :) ). This time we had the FOS tickets. We came round 6, the atmoshpere was still picnickish, with people sitting on the grass and with rock-concert veterans sitting on tent-cloths with foldable tables with beers :) . The opening acts Electric Orgasm (whose frontman is a huge Stones fan, the band even covered Out of Time in the past, to whom this all was probably a dream come true) and The Answer did well in heating up the atmoshpere though you could see that, even if the crowd was pretty amused, they were strongly saving their shouts and claps for the Stones.

Round 9:15 people were already begining to get really anxious and there was and electrifying energy present throughoutly. Something was telling that this is going to be a truly enthusiastic crowd. It all started with the bang, and the audience was shouting, screaming and jumping wholeheartedly from the first beat. People of all ages were singing every verse, fathers and sons, 20-30 somethings, 40-50 somethings, people of Stones' members' age in flocks as well, were all united in this fantastic gig. Mick was in the mood from the very start, willing to show the virgin crowd what he is capable of, showing the greatest arsenal of the trademark dance moves, Ronnie was in the element, he ruled the first part of the concert, and some of the Keith's expressions were priceless, you could see the pure joy of playing on his face.

The crowd loved You Got Me Rocking, and was so taken in that nobody noticed the problems. The thing that truly rocked was Mick's almost impeccable Serbian throughout the concert and Konacno smo stigli! Presrecni smo sto smo ovde! ( We finally arrived!! We're so happy we're here!) was greatly accepted. Rough Justice sounded great and there wasn't a feeling like it was a new album song. I was so happy All Down the Line (one of my Exile's favs) came into the setlist. Before YCAGWYW, Mick asked the crowd in fluent Serbian if they're up for some singing, followed by a huge "Yeaaah!". The crowd was ready to respond to every Mick's challenge. YCAGWYW was a great part of the gig also because there wasn't a true ballad in the setlist so the crowd cherished the moments on it.

I thought i couldn't hear a better version of Midnight Rambler than the Prague one, and here I was proved wrong. I just love Mick on the harmonica and the jam was superb. It was a highlight appreciated the most by the older part of the audience (with one guy 50ish fan shouting "Now some real stuff" as the intro progressed!!). I Go Crazy was great. The crowd gave huuuuge ovations for incredible Lisa on this one. Lisa was looking so ravishingly hot throughout the concert, changing a few dresses which each looked absolutely lovely on her and GOD WHAT A VOICE. Too bad they didn't do Gimme Shelter, i'm sure it would be just awesome. A great start of Tumbling Dice, a massive hit with the audience and then the introductions. Mick again flirts with Serbian, introducing Lisa: Prelepa Lisa Fisher! (Beautiful Lisa Fisher!) Jaka ti je suknja. Ali uzas sandale! (Your skirt rocks. But your sandals are awful!). It was followed by now enourmous disbelief of the audience about how many Serbian he is able to pronounce. I think he actually made more sentences in Serbian then in English. Fans loved the effort, even though he obviously read some from the paper, but, hey just learning how to pronounce all that in two days is amazing!! He introduced Ronnie as the "Beast of Belgrade".

Keith came up for the vocals, again said something incomprehensible in the line of "dunno the lingo, folks", saying something like "Italian, you know what i mean" with Italian accent, followed by "Welcome to the club", which was just the most touching remark of the evening. A great version of You Got the Silver, again most appreciated by people with bluesy preferences, was so emotional, and Keith's voice was really up for it. Followed by somewhat less succesful I Wanna Hold You, (I wanted to hear Happy again, but hey!).

B-stage moved with the sounds of Miss You, immediately recognized by the people, who were frenetically dancing and oooo-oooo-oooo-hing :D . I was standing right next to the B-stage aisle, somewhere in the middle of main stage and the place where the B stage would stand, and as they were passing, you could see a lot of young people like me, teenagers and twenty-something shouting in disbelief, jumping holding the fence surrounding the aisle, knowing every single lyrics by heart. B-stage performance was greatly welcomed by the first rows of the P2 section and it was the point the total ecstasy escalated. During It's Only Rock & Roll and Satisfaction it was all completely steaming, as with Honky Tonk Women during which they returned to the main stage. From the first beats of Sympathy, the crowd was whoo-hooing, and the performance was a feast both musically and visually. Hell never seemed a greater nor a more seductive club than at the point J .

Paint it Black was accepted so well it was incredible. They sounded so great on this one, and it was really feeling right. I was expecting the Bill Wymanish bass up-and-down slides in the last part, but i saw Darryl was doing his own thing with which gave it a different, still dark tone. Crowd loved it even more than the two songs of the Sacred Trinity that followed. Zelite jos? (Want more?), Mick cried before the JJF. Brown Sugar was the encore, i knew it was the last we'll be hearing from them, but the crowd shouted more and more. Loved the huge yellow ribbons for the end. With the fireworks people saw it was the end of the party and it left a huge number of 'em wanting more.

Comparing it to the Licks concert i saw, to me, it seemed to me that their playing is much more collected, and the sound fuller and god the connection with the audience was great on this one! Mick & Keith each went to the side bridges lots of times during the concert, Keith playing in the corners for the front rows ears was just priceless, and Mick running through the B-stage aisle towards the end of the concert. Ronnie had a few great moments and seemed to be having a lot of fun. Charlie again proved he is the greatest drummer, and he showed a sincere smile as he was leaving the stage for good.

The concert was a tremendously emotional one for many, as they have been waiting a long time, much more than me, for them to come to Serbian capital. As they had gone for good, you could notice a whole lotta pleased faces and whole lotta «Damn, whatta concert» in the audience. Some were still walking with disbelief that the truly greatest rock'n'roll band in the world finally came and gave such a performance. Can't wait for the next one that's for sure, and I hope I will have a chance to. Uzivate li?! (Are you enjoying yourselves?) Mick asked at one point. Itekako sam uzivala DZEGERU MICHE :D!!!!! Dodjite nam opet!!!
---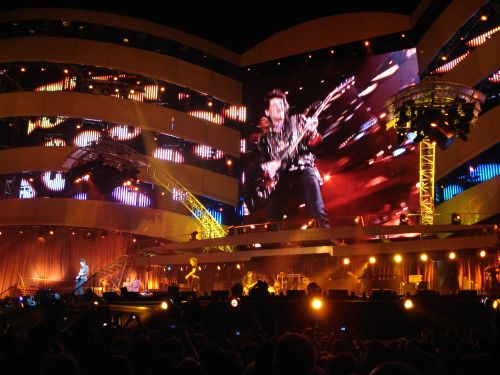 ---
Review by Adam, Slovenia
It took me quite a few years, but i've finally seen the Rolling Stones live in concert… It was a dream come true, and it was just as i was hoping it would be… Mick, Keith, Ronnie, Charlie and all the other musicians rocked in Belgrade, the set-list was amazing, the band in top form, nice weather, the organization was really professional and the crowd, wow, what to say about the crowd, there were this energy between the performers and the listeners, really amazing. The Stones noticed it too.

They started with Start Me Up, and that is one great opener, after that they sang You Got Me Rocking from Voodoo Lounge and it was amazing! That one truly rocks live. Rough Justice rocked as well and i'm only wondering why they didn't perform some more songs from the latest record as this is A Bigger Bang Tour… i'd really enjoy hearing Oh No, Not You Again or Back Of My Hand live… Anyway other highlights of the night were It's Only Rock and Roll, Satisfaction (amazing crowd singalong), Paint It Black, Jumping Jack Flash and the encore with Brown Sugar was amazing too. It was two intense hours of pure and unforgettable rock and roll, a very energetic performance and that's why the 65.000 listeners still wanted more, so there were a lot of fans screaming Angie at loud, but Keith kept nodding his head in a clear NO , not tonight J

I'll never forget this concert, the only way it could be even better would be if they've sang my all time favorite song Dead Flowers or if Sheryl Crow would've come out and rocked the place with them (a combination of both would be amazing too). J

I can only hope to see them play live over here in Slovenia, but who knows, it might happen one day…
---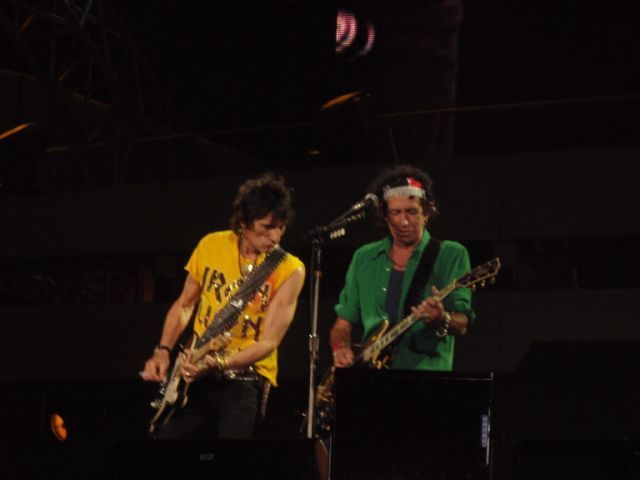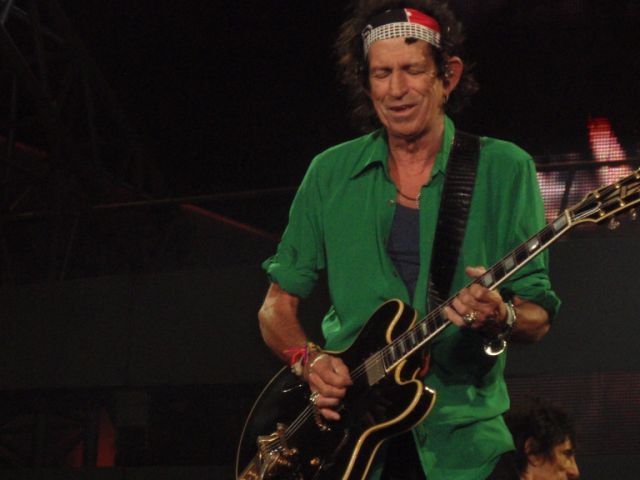 ---
Review by YoKey
This was my third Stones' concert, after Vienna '90 & Budapest '95. It was the first one for my wife, however, and she never stopped jumpin', shoutin' & clappin' her hands throughout the gig… well, as I did, too.

Belgrade show was at first planned to be performed at the City Hippodrome (some concerts were held there over past few years) but it was changed following the protest from the local Animal Protection Society, since the management of Hippodrome announced they have nowhere to move the horses from their stables, so they would have had to sedate them, because noise would make them panic – otherwise we would witness the live performance of Wild Horses, too :). The decision to relocate the concert place was good not only because of the animals, but because Usce Park is much better place for such events, closer to main bus and railway stations, much more parking places, and much more pleasant place to spend an afternoon.

There is a section of this park where over past decades foreign statesmen who were visiting Serbia have been planting seedlings of trees as symbolic gesture, and this section is called Friendship Park. Serbian press reported that Mick, Keith, Charlie and Ron planted there a seedling each prior to the gig (well, I believe they merely approved the action, I couldn't imagine them messing with spades in the dirt) and each little tree now bears a little metal plate at its basis with a band's member name on it. I still haven't had time to go and check it out myself, but the rumor is that Mick's and Charlie's plates were already stolen by fans unknown.

During the second half of the concert Ron wore a dazzling yellow t-shirt with inscription IRON LION ZION on it, written in Iron Maiden logo font :)) There was a banner in the crowd saying IT'S ONLY ROCK'N'RON. Some might disagree, but I think Ron was great that night, and the others too, although, yes, Keith appeared tired and out of focus at moments, but then other than that he was astonishing, and obviously happy and motivated. And when he addressed the virgin crowd with "Welcome to the club!" well… you should have felt that!

Mick did talk Serbian a lot to the crowd, much more than just a few words, and that was a pleasant surprise to everyone, because I believe it's a very difficult language for a native English speaker to pronounce.

Charlie appeared very happy at the end of the gig, and then he even threw his sticks to the crowd, which I couldn't remember he was accustomed to do.

The crowd was excited, and I believe that the band noticed it, and got inspired to do their best. Serbian internet forums are packed with hundreds (thousands?) comments of people who attended the concert, and my humble estimate is that 99% of these are just euphoric, and much of those come from the people who were not exactly huge Stones' fans, or just came there out of pure curiosity, and now they all tell us they're astound and happy beyond description. Anyway, I am happy, my wife and I just grinnnnnnnnnnn for days now.

God, we want more!!!!!!!!!! Greetz everyone!
---
Please send your show reviews and comments by e-mail to: [email protected].
The reviews will show up here soon! Thanks!
---
IORR Forum comments and reports
Belgrade show reports
---
News links
---
Photos by IORR, Zvonimir Sarar, Sasa Petrovic and Adam Kocijan.
---
The IORR magazine
For exclusive reports and unique high quality pictures from the Rolling Stones tour and more see the IORR magazines.
---




It's Only Rock'n Roll 1980 - 2007
© The Rolling Stones Fan Club Of Europe