---
These are the latest Rolling Stones news and updates for you! IORR is a non profit fan club run by fans for fans. All parts of the It's Only Rock'n Roll web site is copyright of The Rolling Stones Fan Club. When using information from this site, please include a reference to IORR and the main web address www.iorr.org.
---
---

The Rolling Stones
Stadi Olimpic Montjuic, Barcelona, Spain
Thursday June 21, 2007
The set list
Start Me Up
Let's Spend The Night Together
Rough Justice
Rocks Off
Ain't Too Proud To Beg
Streets Of Love
Midnight Rambler
I'll Go Crazy
Tumbling Dice
--- Introductions
You Got The Silver (Keith)
I Wanna Hold You (Keith)
Miss You (to B-stage)
Respectable (B-stage)
It's Only Rock'n Roll (B-stage)
Honky Tonk Women (to main stage)
Sympathy For The Devil
Jumping Jack Flash
Brown Sugar
Satisfaction (encore)
The Rolling Stones     :  10:15pm - 12:15am

---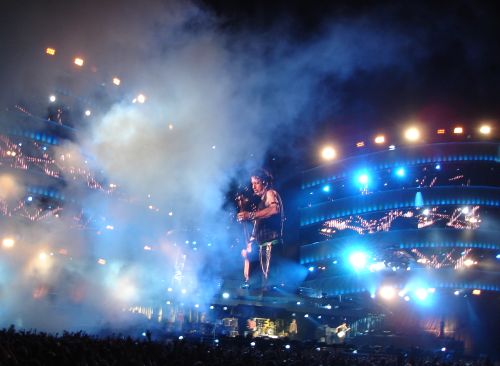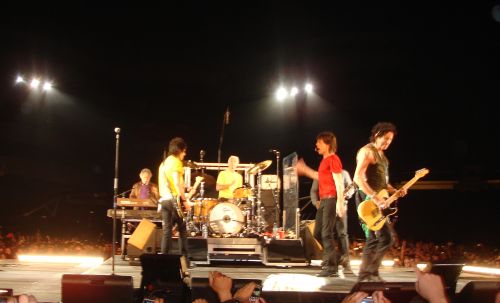 ---
IORR show comments:
If you can't go to Argentina to see the Stones then a show in Spain is a great alternative. As close as you get to the magic at River Plate Stadium Buenos Aires...
At 8pm the Olympic stadium in Barcelona was almost empty. The fans were still having drinks and meals in nearby bars and restaurants. At 9pm it still looked empty inside. May be 15,000 people. Why? Because the tickets and the posters promoting the show said "The Rolling Stones 22:00". No need to hurry. Enjoy your meals and drinks. This will be a late show!
The show started a quarter past ten. The stadium had filled up rapidly during the last hour. There were may be 35,000 or 40,000 people inside. Half an hour before the Stones were on you could sense the special magic of the night - the fans were singing oe - oeoeoeoe. Hands in the air. Expectations. Emotions. Can't wait for them to show up...
And there they were. Keith strong and powerful opening the show. Charlie and Ronnie showing up at the same time. Mick jumping and strutting few seconds later. His voice was dry and sounded like he was about to catch a cold. First two songs and it was the same. But then it was all false alarm, his voice got stronger and clearer as the show went on. No worries.
Keith kept a low profile on the first few songs, but as the show went on he came on stronger and stronger. He was great on the B-stage and fantastic on Sympathy, Jumping Jack Flash, Brown Sugar and Satisfaction.
Ronnie was introduced by Mick as The Rhembrant of rock. The Goya of guitars. And sure Ronnie was excellent tonight. Not making so much clowning around anymore but sure he is fantastic on every song they play these days.
"Streets Of Love" was magic. Great version. Mick strong on the vocals. The crowd singing along and making another magic moment.
"Midnight Rambler" made the crowd go crazy. Singing, dancing, the band was jamming along, Mick said "publico fantastico" and sure that was how this night was.
When Mick was out on the Ronnie side wing during Tumbling Dice someone threw an Argentina flag to him. Mick gracefully picked it up, carried it back to the main stage, kept it while still singing, then placed it with Charlie's drums. Shortly after Keith did the same trip and picked up a Stones T-shirt.
Keith got a five minutes ovation as he took center stage for his set. The crowd was singing oe - oeoeoeoe - and Keith for sure had a moment where his eyes got wet of emotions. Muchos Gracias he said. I have a show to do. Then he did the most powerful version of "You Got The Silver" ever done on stage. I mean this was absolutely magnificent. His voice was outstanding and his interpretation was unique. Thank you Keith please keep the song in the set. Ronnie did all the guitar playing of course, backed by Blondie. Keith without any guitar as usual.
The B-stage had "Respectable" as the absolute highligt. Everybody was on their feet jumping and dancing.
The last four songs were played with maximum power and intensity. Best part of the show and a joy to see the fans dancing along. Perfect start of Satisfaction, and luckily they had opened up so that the hundreds waiting oustide the golden circle could come inside and much closer for this great closing song of the night. As the two hours show finished a quarter past midnight, we knew Spain had got the best show of the European tour - so far!
---
Review by Jordi Sánchez, Barcelona
My wife Blanca, some friends and I, we have just arrived from the gig of the Stones in my city and I can't sleep... his songs are still in my head. I have seen the Stones 5 times always in Spain since 1990 (Urban Jungle Tour). I will see them next 28 in Madrid and next 6yh of July in Rome.

It has been a fantastic show. Start me up, Rough Justice, Let's spend the night together (Mick was great there). Ain't too proud to beg was a big suprise because I have not had the occasion yet to hear it live and I could not belive it. We have heard very weird songs they have played quite few times... You got the Silver for example where Keith was singing without guitar and Ronnie playing the acoustic (keith "Sparrow" also played I wanna hold you). Before singing these two songs all the crowd started shouting and applausing Keith during two large minutes. Keith was quite suprised and happy.

The Stones have played a terrific "Midnight Rambler", Rocks OFF (Mick was great then), from Bigger Bang they played Rough Justice like the most of the cities but the suprise was Streets of Love.

Lisa Fischer was great in the James Brown version (I´ll go crazy) and when they went to the "stage B" they have played. amongs others, It's only rock and roll, Honky Tonk Women and I think that Respectable too. but the sound was not very good being there very close to first line of "stage b". And then I took the great pictures as seen below. People went mad and It was quite difficult to take those pictures but for me it was again another dream to see the stones very close... not as close as when I see them on the Urban Jungle Tour in 1990 (being 18 years old - 17 years ago-) when I was just in the first line and I had the opportunity to appear on the TV when the show was passed in a Spanish TV (T5). I still have the videotape and I can't recognise myself (so young!).

My great surpise was Tumbling Dice, one of my favourites Stones´s song ever that I have seen they have only played in Lyon during this tour.

What more... the same fantastic songs we always want to hear and that they are obliged to play: Sympathy, Brown Sugar, Satisfaction and Jumpling Jack Flash.

To sum up, fantastic show. I go to bed.. se if I can sleep. Madrid and Rome are wating for me ... and the Rolling Stones too.
---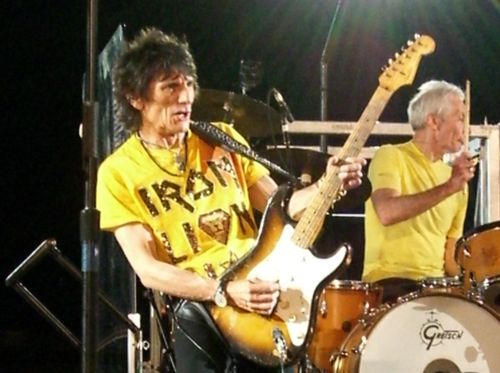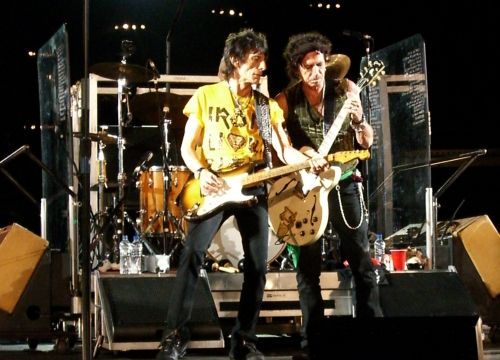 ---
Review by Susanne and Isabella, Vienna/Austria
After the superb show in Lyon we went to Barcelona by train. We were wondering how the spanish audience would be - this was to be our first show in Spain. On the day of the show we arrived at the stadium at about 1 p.m. Only a handfull of people were there - sitting on the dusty stones. We joined waiting. Doors opened at about 6.30 p.m., we rushed over the field, Keith side front row. There we stood for another nearly 4 hours - although the back of the FOS area was nearly empty, it was very, very tight on the front. The stadium filled up very late, just a short time before the Stones started to play.

And finally it was time for "Start me up" - the audience danced and sang from the very first moment. Many young people there. Mick in great shape as ever, liked his vocals on "Streets of love", one of two "New" songs on this tour (The other one was "Respectable", perfectly played on the B-stage).

Keith got better and better after the first songs and, after minutes of ovations for him, he gave us "You got the silver" in a way I´ve never heard before (it was even better than in Lyon). You just had to close your eyes and listen - it was so full of emotions. Just love that guy! Many things were thrown on the stage, one time Mick acted like dribbling with a football - Barcelona and football....

We got another great "Rambler", one of my favourites. They could play it each show. "Satisfaction" as the encore started with a "Pre-Intro" before the Riff - a Bassriff played - sounded great. The crowd really was enthusiastic - we all had a lot of fun. See you all in San Sebastian!
---
Review by Roger Valsells
The Stones finally did it un Barcelona ! After all last year changes and cancellations I was really worried until last minute.

Stadium was not sold out but the 90€ ares where I was it was packed with hard core fans from all over. It surprisred me how many argentinians where attending the show !

Midnight Rambler for me was the highlight Mick was gerat on harmonica. Also loved Rocks off and Ain't too proud to beg. Miss you was horrible.

KEITH: wasn't looking to good but Was feeling really well. He still can riff !

RON: was he there ?

MICK: the incrediboy !

CHARLIE: the best insurance you could get.

Bye Barcelona Helló Donosti !
---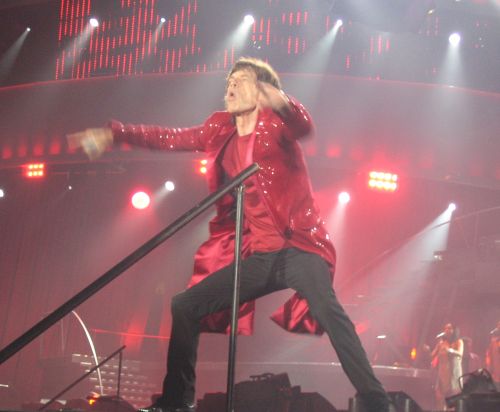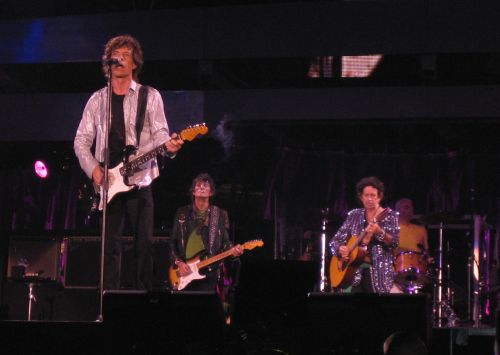 ---
Review by Manuel Espinosa Cazallas
In first place, THANK YOU, Keith. Yes, you got the silver... you got the gold and you got my soul.

The Rolling Stones always give us splendid shows. The night was perfect. Mick jumping and running and singing, Ronnie playing, Charlie making a drum solo and Keith with the present for us.

And the people singing and jumping and going mad all the time.

The next is San Sebastian.
---
Please send your show reviews and comments by e-mail to: [email protected].
The reviews will show up here soon! Thanks!
---
IORR Forum comments and reports
Barcelona reports & comments
---
News links
... coming ...
---
Photos by IORR, Jordi Sánchez and Manuel Espinosa Cazallas.
---
The IORR magazine
For exclusive reports and unique high quality pictures from the Rolling Stones tour and more see the IORR magazines.
---




It's Only Rock'n Roll 1980 - 2007
© The Rolling Stones Fan Club Of Europe