---
These are the latest Rolling Stones news and updates for you! IORR is a non profit fan club run by fans for fans. All parts of the It's Only Rock'n Roll web site is copyright of The Rolling Stones Fan Club. When using information from this site, please include a reference to IORR and the main web address www.iorr.org.
---
---

The Rolling Stones
Estadio de Anoeta, San Sebastian, Spain
Saturday June 23, 2007
The set list
Start Me Up
Let's Spend The Night Together
Rough Justice
All Down The Line
You Got Me Rocking
Ruby Tuesday
Can't You Hear Me Knocking
I'll Go Crazy
Tumbling Dice
--- Introductions
You Got The Silver (Keith)
I Wanna Hold You (Keith)
It's Only Rock'n Roll (to B-stage)
It's All Over Now (B-stage)
Satisfaction (B-stage)
Honky Tonk Women (to main stage)
Sympathy For The Devil
Paint It Black
Brown Sugar
Jumping Jack Flash (encore)
The Rolling Stones     :  10:20pm - 12:10am

---
Review by Susanne and Isabella, Vienna/Austria
One hour back from the show in San Sebastian - what to say....

We were there at about 12.30; fortunately it was not that hot that you could expect being in Spain. So the waiting this time was more comfortable. No FOS section. At 18.30 the doors opened and we went straight ahead, Ronnieīs side this time. We catched 3rd row at the catwalk corner.

The show started at about 22.10 with the usual "Start me up". At the beginning the sound was not as good as in Barcelona, but it got better after a few songs. The setlist had no surprises except a long awaited "Ruby Tuesday", which we liked very, very, much. Also we had again a really great version of CYHMK (instead of the Rambler) - perfect and bluesy harmonica by Mick and another great solo by Ronnie.

Keithī set was again "You got the silver" (thank you Keith!!!!) and "I wanna hold you" - this time he interpreted it really good. But Keith, you have so many more great songs - letīs hear some of them! What about "Connection"??!! Well, on with the show.....

We also really enjoyed to hear "Paint it black" again (although Mick missed some lyrics..). When Keith took off his guitar after the song he lost it and it fell down. When the stage was about to move to the B-stage there were some problems to get it started - nearly half of "Itīs only RockīnīRoll" was finished when it started moving. But the boys came back safe....

This was show number 8 of this tour - see you all at number 9 in Lisboa!!
---
Review by Manuel Espinosa Cazallas
The show in Donostia was great. The band was powerful. The age is a empty concept for they. There was people from all the north of Spain and from France too. Mick speak us in spanish and euskera, very nice.

About the set, was good, they played "All down the line" for the first time in Spain , "I'll go crazy" is a great tribute with Lisa Superstar, "Ruby Tuesday" and "Paint it black" was pretty, I think that "Satisfaction" working best in the final set altough the crowd jumping and singing in any case.

Finally this was a super special concert for me. It was the first time that my son Sergio went to a concert of the Stones. We passed it very well and I am happy.

The next for me is Madrid.
---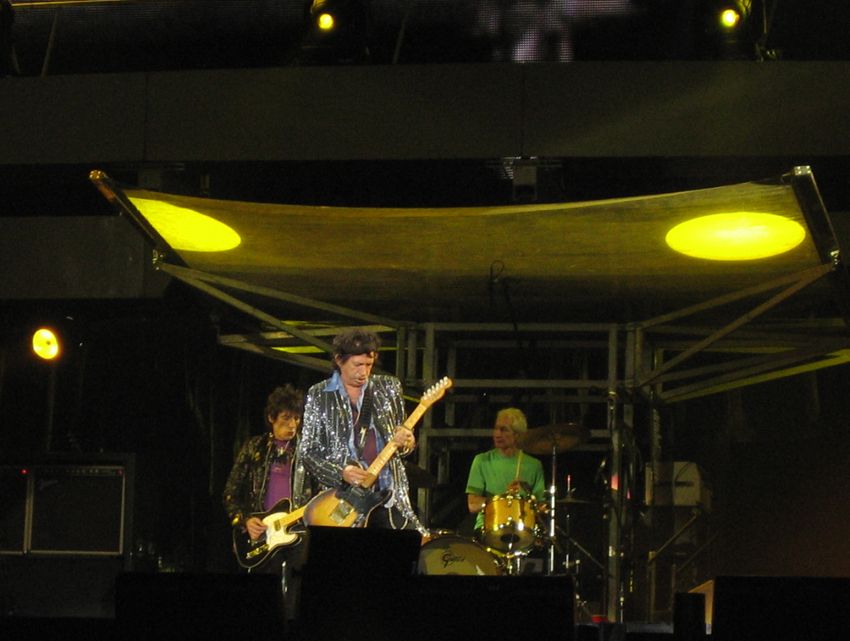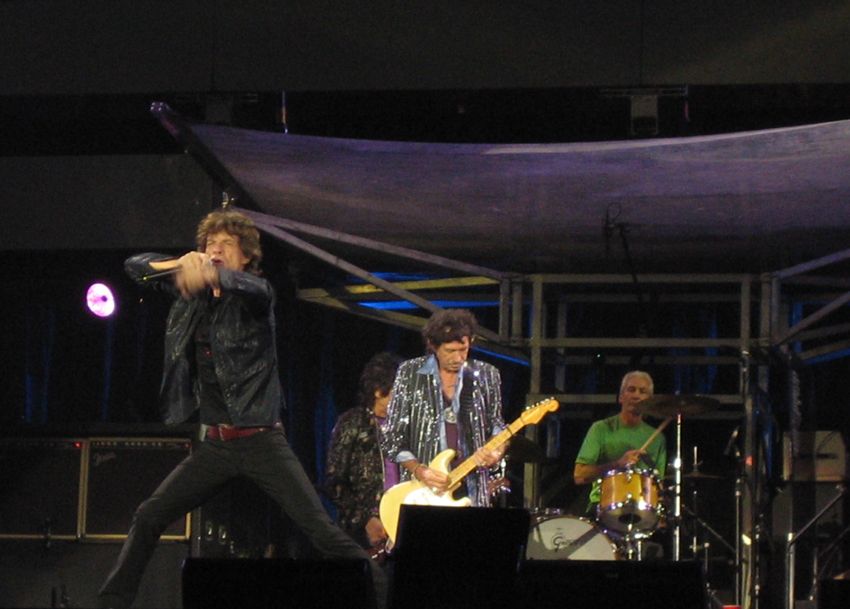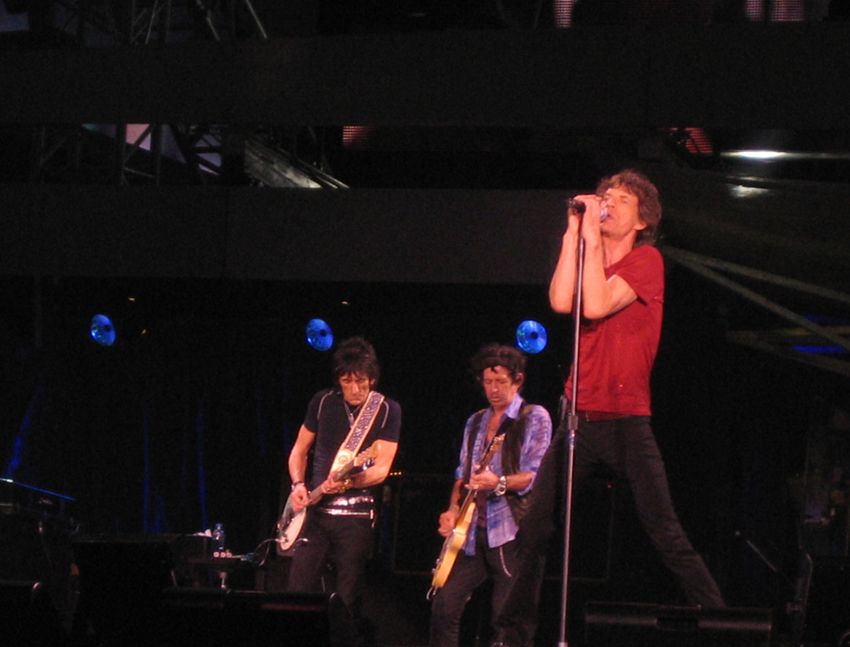 ---
Please send your show reviews and comments by e-mail to: [email protected].
The reviews will show up here soon! Thanks!
---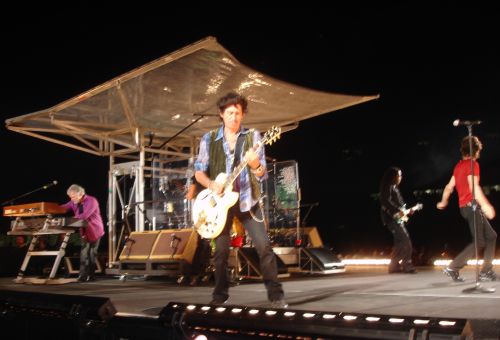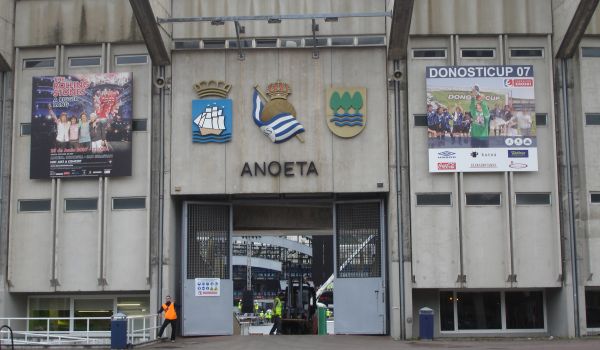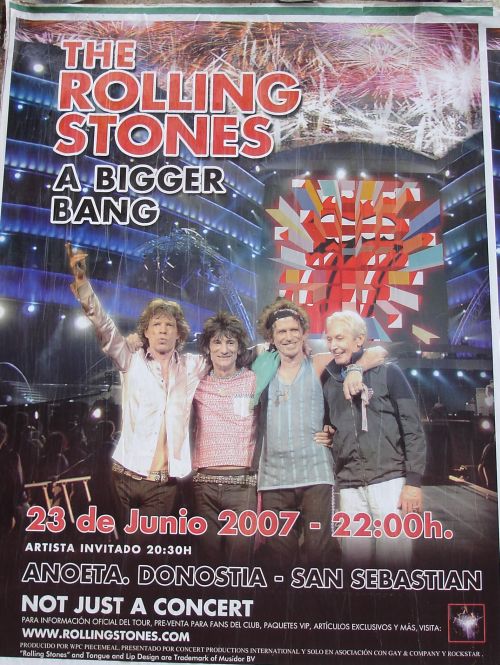 ---
Pre-show comments
The Rolling Stones have been in San Sebastian before - on tour. Those who read the "It's Only Rock'n Roll" fan club magazine might remember the report during the summer of 1998: And then they were three... When they arrived from the cancelled show in Milano 1998 they flew into San Sebastian to stay there for the Bilbao show approx 100 km away. Mick went to heal his voice, while Charlie, Keith and Ronnie enjoyed San Sebastian. Now they are back to San Sebastian for their show tonigh. Mick is here too this time, all over the front page of the local newspaper El Diario Vasco, with a great great smile. And inside the paper six full pages of Stones pictures and stories. The Stones are in town indeed.
---
IORR Forum comments and reports
San Sebastian reports & comments
---
News links
---
Photos by IORR.
Additional photos by Manuel Espinosa Cazallas
---
The IORR magazine
For exclusive reports and unique high quality pictures from the Rolling Stones tour and more see the IORR magazines.
---




It's Only Rock'n Roll 1980 - 2007
© The Rolling Stones Fan Club Of Europe