And then they were three...
The Nuremberg show brough us a healty Keith Richards, but Mick got problems with his voice. The following show in Milan, Italy was cancelled last minute, at about 10am in the morning, show day June 16. Many fans had arrived to the stadium from all over Italy and other places during the day. The Rolling Stones checked out of their Milan hotel in the afternoon, and flew to the next destination in Spain, for the Bilbao show.
Charlie, Keith and Ronnie went to Spain, to stay in the tourist spot San Sebastian, to be ready for the show at Bilbao on the 18th. Mick stayed behind to cure his laryngitis. As the Rolling Stones met the press at the airport in Spain, they were down to three people in the band...
On the 17th Charlie went to the famous Guggenheim museum in Bilbao. The Spanish press was busy making photos, and Charlie made the front pages of several papers the day after. In the late afternoon of the 17th, Mick was still far from being ready to sing on the 18th, show day, and the Bilbao show was cancelled through radio reports at 7pm.
Once the cancellation was official, the stage crew started to take down the quite ready stage at the San Mames stadium. This was to be a very special concert to celebrate the 100th anniversary of the Athletics club in Bilbao. But sad to say, during the night all traces of what could have been a great Stones show was all gone. And the Stones themselves, that is the three of them, had left Spain for the next destination Brussels, Belgium.
Hopefully Bilbao will get their Rolling Stones show later on in September...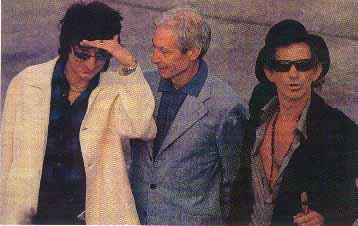 It's Only Rock'n Roll no. 33 - June 1998 - © The Rolling Stones Fan Club Of Europe