---
These are the latest Rolling Stones news and updates for you! IORR is a non profit fan club run by fans for fans. All parts of the It's Only Rock'n Roll web site is copyright of The Rolling Stones Fan Club. When using information from this site, please include a reference to IORR and the main web address www.iorr.org.
---
---

The Rolling Stones
Stade Gerland, Lyon, France
Monday June 18, 2007
The set list
Start Me Up
It's Only Rock'n Roll
She's So Cold
Bitch
Monkey Man
Let It Bleed
Midnight Rambler
I'll Go Crazy
Tumbling Dice
--- Introductions
You Got The Silver (Keith)
I Wanna Hold You (Keith)
Miss You (to B-stage)
Rough Justice (B-stage)
Get Off Of My Cloud (B-stage)
Honky Tonk Women (to main stage)
Sympathy For The Devil
Brown Sugar
Satisfaction
Jumping Jack Flash (encore)

The Rolling Stones     :  9:10pm - 11:10pm

---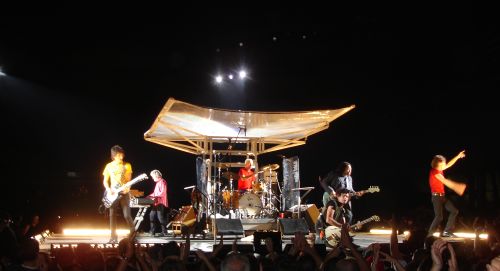 ---
Review by Howard of Chicago
My study of the Stones began in Madison Square Garden on November 24, 1969 on the famous Gimmee Shelter tour. Since then I have been at every North American tour with the exception of 1971 but the best shows have been in France, Marseilles in 2003 and Lyons yesterday.

My daughter and I arrived at 14:30 where we immediately began preparation for the physical ordeal of sprinting to the stage by downing several beers and tequillas ... a combination used by many American athletes. We met some very amiable Stones fans including Frank of Los Angeles who had unfortunately been hit by a truck several years ago but is wising using his personal injury settlement to follow the Stones from continent to continent including New Zealand and Australia. Also present was a very nice young woman from Italy who runs a wellness center devoted to massage.

French organizational talents were very evident. The gate accidentally opened at 16:30 and for one hour I was in simultaneous body contact with five people. People were not positive about the Belgium concerts and said that it was very doubtful that Keith would live beyond 2007. We got some good advice to go to the Ronneee side of the stage.

Gates opened at 17:30 and the running of the bulls a/k/a Stones fans ensued. Amazingly, pockets were not searched and cameras were omnipresent. My daughter managed to get in the first wave of fans secured a place in the front row along the rail about ten feet from the center point of the stage. Good work Meg!

The long wait began and I took advantage of the limited window of opportunity for le pee pee prior to the filling of the stadium.

Next to us were very agreeable fans from Paris and Lyons. The general concern was about Keith. People said he appeared highly medicated and zombie like in Belgium and that he was paying the price for forty plus years of hard living.

The show started at 21:15 with Start Me Up. Keith looked totally out of it. He seemed to be grinning at no one in particular and kept coming over to Ronnie for support. However, the amazing thing is that he turned it around! The epiphany was when he sang You Got The Silver without any instrument and did it an amazingly clear coherent and lyrical voice. That was the moment that brought the fans to their feet ... of course they were already standing up.

After that it just got better and better. For me, the high point (aside from the young French woman so close to me that she was dancing with her hips into my waist for two hours) was Get Off My Cloud and hearing 24,000 French people join in. The energy continued and Mick was on a roll with Jumping Jack Flash;

Merci Lyons et Merci Stones.
---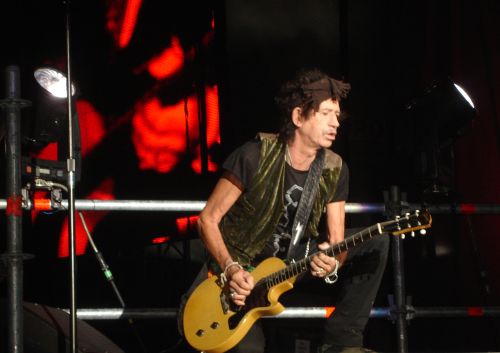 ---
Review by Susanne and Isabella, Vienna/Austria
So what shall we say - after this superb Paris show could we expect something even better? YES, we got even more, something incredible, we got the best show so far. This was the most impressive setlist we have heard since Werchter. We got She's so cold, Bitch, Monkey Man, Let it bleed (Tears in my eyes, it was so great). An overwhelming Rambler, Mick's harmonica longer and more intense than in Frankfurt, and Keith made us the biggest of all presents: You got the silver, oh my God, we were over the rainbow, absolutely speechless. He sang so clear and with much intensity from the heart. Thank you Keith!!!!

Get off of my cloud on the B-stage - it was a great experience to see the boys coming nearer and nearer (we stood front row at the B-stage this time). After the stage moved down, you were supposed to shake hands with them. We were so impressed, we could hardly move. When the stage was about to return, Keith did not recognize it so Mick kicked a little against his foot - funny to watch. Also the sound at Stade Gerland was fantastic. So Barcelona here we come - ready for another sensational setlist.
---
Review by Dean Goodman
I'm not too "jaded" to declare that Monday's show in Lyon, the band's first in this southern French city in 25 years, was easily the best of the tour. Inevitably, all eyes were on Keith, who has been the weak man of the band for some time. Presumably his meds kicked in, because he played with a degree of conviction and authority, though some solos seemed a little tentative. Things looked a little ominous at the outset when he took to the stage in sunglasses -- what was he concealing? But he tossed them shortly after the photographers had left.

Wisely, he ditched the guitar for a decent rendition of "You Got the the Silver" and even attempted to play along on the verses of "Wanna Hold You." Perhaps most amazingly, he deigned to address the supportive -- if not overly demonstrative -- crowd in its native tongue. He greeted us with a lusty "Bonsoir!" and finished up with a heartfelt "Merci, merci beaucoup." After someone, evidently, yelled out I love you, Keith responded, "Love you too. I'm short on love."

Maybe word of the caustic reviews on these pages had filtered back to him. If so, it's proof that critical analysis, no matter how harsh, is more helpful than sycophantic paeans to Keith's omnipotence. Now, he just needs to hire Charlie to dispense some fashion advice. Our Keef donned a brown headscarf tied at the front with a bow. He looked like a cleaning woman, or Madonna from the "Borderline" video.

Mick was in fine form, considerably more athletic than in recent shows. But he committed some egregious miscues. He was half way to Barcelona before he belatedly realized he'd better sprint back to the center and start singing "Monkey Man." I don't know why he didn't let the band play an extended intro, since that's the best part of the song. He was also a little late coming in on "Get Off of My Cloud" on the small stage.

Other notes. Ronnie arguably got the loudest, longest cheers of the evening. Decked out in his Iron Lion Zion t-shirt, he looked good and played well, though his shred-solo on "Tumbling Dice" was unusual. Charlie's drum solo was an epic in the making. Something seemed to go wrong with the intro to "Sympathy for the Devil" - not sure if it was the drums or the keyboards that fell silent for a brief moment during the intro.

The set list, obviously, was completely revamped -- good to get three consecutive tunes from "Let it Bleed." I'll take "Midnight Rambler" over "Can't You Hear Me Knocking" anytime. Still, it's not like the new songs are completely new additions to the live canon. Hopefully some tunes will receive their world premieres soon in order to justify this tour.
---
Review by Marc Lafferayrie
The resurrection of the King of Riff.

After Werchter, a simple draft and Paris at 80%, i didn't know what to expect for a show in a "small" town with 30000 persons in a 45000 stadium. With the Stones you can't be predicitve, the show was awesome : 8 different songs between Lyon and Paris,i guess it is a new record. I talk about 2 stadium shows in a row (Twickenham got 6 or 7 different songs).

After Starsailor, i notice 2 acoustic guitars and ask myself what song will be play. The stadium is not full but the weather is fine and the vibrations just good.

Start me up : the sound is already clear but will improve until the perfect sound. It's only R&R : first surprise, Keith is good and near the end of the song, when the audience begin to sing "only R&R" spontaneously, i see on Mick's face his smile or "THE" smile meaning : it's gonna be a good evening" and i'm not wrong.

She's so cold with the images of the past on the screen : fantastic, even the end is perfect in time.

Bitch : Keith is on fire and Mick more and more relax

Monkey man : tonight i'm with my elder daughter and Let it bleed is her album. Mick is late to begin the song and swallow the first sentence; This is the first "mistake" of the evening i can notice.The version is gorgeous and the sound between Ron on slide and Keith on rythmic is phenomenal.

Mick grabs an acoustic guitar and i think Sweet Virginia is the next one but no it's Let it bleed - i just can't believe it -

Midnight Rambler : the dream goes on, a huge version with a fantastic audience. I make a long "film" on this one with my camera, may be 4 or 5 minutes.

I'll go crazy : ouch, at last they stick again on the Paris set-list after 6 different songs.

Tumblin' dice : what can i say...nothing...no voice, no word to describe even in french

Intros : Charlie does a solo, a real one longer than in Paris and more structured

And now i discover the second acoustic guitar in the Ronnie's hands and he got a bottleneck!? And the best moment of the evening with a fabulous You got the silver. Keith is in heaven but i'm higher : i got this complete song in my camera and i have to do a single DVD with this single song for the posterity.

Wanna hold you : Keith reads the lyrics on the prompter and everything goes better. He even says Bonsoir and Merci beaucoup without english accent like Mick does.

Miss you to follow (Under my thumb would be greater but YCAGWYW) : the end is a little bit confuse, that's the second tiny "mistake".

Rough justice : great

Get off my cloud : very fast tempo and Mick sings the 2nd verse twice, last already forgiven mistake.

HTW to the main stage and the "warhorses" : great solos, Keith focused all along, Mick in a delirium...everything above perfection.

Some more details : Keith didn't use his white Gretsch for all the evening even on Wanna hold you, could he be better on differents axes? Ron wore a wonderful T-shirt Iron Lion Zion for the intros. Lisa wore a kind of Lacroix dress for the end of the show.

After the show i met some french fans and we all hug with tears in our eyes. All in all this 54th show would remain as one of the best at least in a stadium and i saw in the past Barcelona 98, Chicago 05, Paris 06...real vintages... My next one will be Budva then London 3 to finish with 56 shows, my year of birth.
---
Please send your show reviews and comments by e-mail to: [email protected].
The reviews will show up here soon! Thanks!
---
IORR Forum comments and reports
Lyon reports & comments
---
News links
... coming ...
---
The IORR magazine
For exclusive reports and unique high quality pictures from the Rolling Stones tour and more see the IORR magazines.
---




It's Only Rock'n Roll 1980 - 2007
© The Rolling Stones Fan Club Of Europe