---
These are the latest Rolling Stones news and updates for you! IORR is a non profit fan club run by fans for fans. All parts of the It's Only Rock'n Roll web site is copyright of The Rolling Stones Fan Club. When using information from this site, please include a reference to IORR and the main web address www.iorr.org.
---
---

The Rolling Stones
Stade de France, Paris, France
Saturday June 16, 2007
The set list
Start Me Up
Let's Spend The Night Together
Rough Justice
All Down The Line
She Was Hot
Waiting On The Friend
Can't You Hear Me Knocking
I'll Go Crazy
Tumbling Dice
--- Introductions
Happy (Keith)
I Wanna Hold You (Keith)
It's Only Rock'n Roll (to B-stage)
It's All Over Now (B-stage)
You Got Me Rocking (B-stage)
Honky Tonk Women (to main stage)
Sympathy For The Devil
Satisfaction
Brown Sugar
Jumping Jack Flash (encore)
The Rolling Stones     :  9:20pm - 11:15pm

---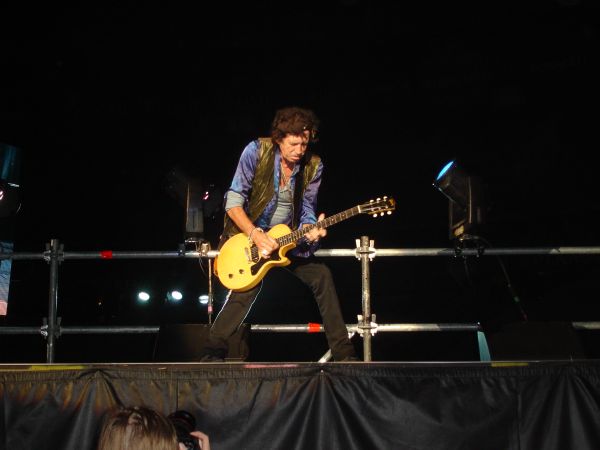 ---
The IORR report:
Paris is now officially added as city number three where you could expect, or rather get for sure, a great, great Stones show. The other two cities are of course London and New York City, in that order. No offense to Buenos Aires...
First you get spoiled with great songs like "All Down The Line", "She Was Hot" and "Waiting On A Friend". If you have seen many many shows of this tour you think this is great really great but may be for a change you would not bother to write up a show review. After all this is Paris, and an extra beer would be much better than writing up another routine review.
But that was before they did "Can't You Hear Me Knocking"... I mean that song developed into something superior to any average show, any average song, any average crowd. Fact is a song is a combination of the crowd and the band. For sure the band was on tonight. But so was the crowd. Fans had been coming in from UK by the Eurostar, by trains and cars from The Netherlands, Belgium, and of course most fans from France. This was the show for European fans, not just for Paris...
"Can't You Hear Me Knocking" was one of the best versions they have done ever. Charlie did his minimalistic drumming. Barely touching his drums, yet keeping the beat going. Keith did his equally minimalistic riffs, just to add the undertone to what was coming. Mick did the great harmonica. Bobby did a wonderful long and emotional saxophone solo, and Ronnie, he ruled the song. The crowd and the excitement grew with the song and as you looked around you knew you were part of a great great song and a great great night. Mick thanked Ronnie of course and made tribute to Bobby as well.
"I'll Go Crazy" managed to elevate the excitement. A great number two of the night. The crowd just loved it.
Keith did his two songs in a perfect way. Nothing more. Nothing less. The B-stage rocked. And the rest of the show was just like the beginning just great.
Paris, Paris, thank you, thank you. Such a great contribution to Stonesland. Best show of the 2007 tour for sure. And the sound, by the way - perfect.
PS. Satisfaction back on the main stage is so much better when you can't make it to the B-stage because it is so far away from the front of stage area. Having Keith up close doing the Satisfaction guitar solo is half of the show. And when he comes over to give you the solo of "Sympathy For The Devil" as well then it means you don't want to go home after the show. Just remembering the great moments, talking to friends, sharing memories, shaking hands, and dreaming about the next show...
---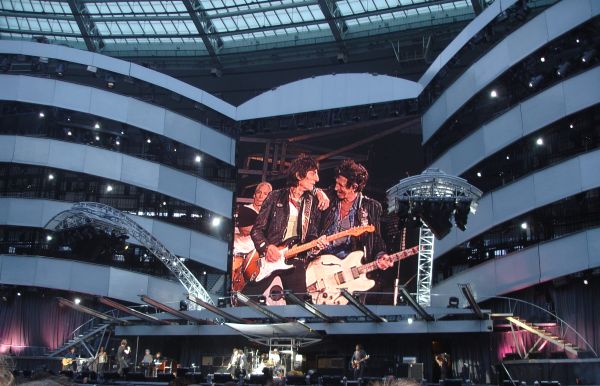 ---
Review by Georges Bon
The Stones made their fourth gig at Stade de France since the stadium was built. They had already performed at this venue in 1998, 2003 and 2006. The 2007 show was as great as the previous ones. Of course, I attended all of them. Each time I was in a different part of the stadium. In 1998, I was on Keith's side in the golden square. In 2003, Ronnie's side in the golden square. In 2006, much further in the rear, after having to exchange tickets and, in 2007, Keith's side in the golden square. As a matter as a fact, it seems that Keith's side is less and less factual. Keith performs most of the time in front of Charlie's drums and goes to Ronnie's side more than he did years ago. The Stones were great on the four shows at this venue. However technically the sound seemed to me somewhat a bit diverse. In 2003, echoes could be heard. In 2006, the sound was perfect. In 2007 it seems to me that it was fairly as good as the previous year.

The weather cleared up just before the show. The Stones came on stage at 9:20 p.m. Charlie was the first one that I saw. Then Keith began to play Start me up on the edge of the stage. He looked different than the last time I saw him in Werchter. His performance was great, as usual. And so was Mick's. After Let's spend the night together, Mick said in French " on va s'éclater, … merci d'avoir attendu", which is something like: "We are going to have a high time. This is the 2nd gig in Paris for this tour. Thanks for having waiting that long". Between She was hot and Waiting on a friend, Mick said in French that the new French Prime Minister was in the audience. As a result, the audience started booing loudly.

"I go crazy" as a tribute to James Brown was one of the highlight of the show. Before playing Happy, Keith said "nice to be back". He looked in a good shape. On B stage the band was closer to the audience. Mick noticed that now he could see the colour of someone's eyes. I enjoyed the whole show.

Tonight was great. The night before, I could talk to Ronnie at the Art Gallery in Paris. The day after to-morrow I see the Stones in Lyon.
---
Review by Peter Lacres
Apart from the fantastic rehearsels in Vilvoorde and two shows that I've seen in Werchter and Nijmegen, Paris was a great, great show... a fantastic show from Start Me Up until the fireworks!

Right from the start, I rarely saw them open with such energy during the European Bigger Bang Tour!

Keith was present onstage, making jokes with Charlie, Ron and even Mick. In Werchter he wasn't able to run onstage but I saw him running towards the sides of the Stage and he made great contact with the audience.

What can I tell about the others? Charlie was just cool. I was standing on the left stand, seventh row and I could see very well Charlie. Ron was in shape and Mick, Mick is just being Mick. A great performer and he was surprised of the negative behaviour when he announced that the Prime Minister of France was present. Let's call it typical French and the event shirt had a great front but no back design. I bought it but I didn't really care because I saw the best show so far of the 2007 Tour. In a word: "Rocking Amazing".

The Boys are in shape and it can only be better from now on. Keep on rolling!
---
Review by Salar
just a few remarks..i will right the whole review, song by song, later..to tired now..just came back to Cologne, driving the whole night..anyway (STOP- TooTough here, salar "driving all night" - haha, he sat in the back, I WAS DRIVING!!!! And Mr. Guy Mocket (Thomas M.) was my co-pilot again) smiling smiley But the rest of salars words here are absolutely true) - ON with reading now)

The Paris show: After being in Frankfurt and having wittnessed the horrible desaster sound and the problems keith had, which ended in the worst Stones gig I saw ( and I saw more than 30 so far),I was nervous and afraid of making another bad experience... but..Paris seems to be the Place where the Stones can`t do any wrong.

After seing last years gig in Paris as well, which most of you judged as one of the best gigs from last year, I never ever expected them to equal the high quality from last summer..but, man they did...I mean, they nailed it..from the very first verse to the last note. First of all....the sound quality...to me it comes almost close to perfect... You could her every single note crystal clear and crisp..and.., another sensation to me: tonights gig was a guitar driven show !!! as it should be.....Chuck, the backings, the horns...were hardly to hear..like it should be..Jaggers singing, fantastic and crystal clear and loud..and both guitars..and I mean really both guitars could be heard really loud and well...from the very first song till end...

Now Keith....yes, he is the one who has at least physically changed most compared to the other band members...the others look and behave like last year...but Keith has somehow changed since then, like he suddenly became "old" or something....who knows if it has to do with the surgery or medicine use or whatever...his face expressions, his walking, his whole gestic, mimic has somehow changed and not to positive IMO...BUT: His playing tonight was on top of the game..he was leading the first 5 songs...all rockers by the way....we just had one ballade plus one jam session song(Knocking) the rest was Rockn Roll at its best..keith was working hard, he was focused and concentrated..you could feel, he was trying to give his best..and he succeeded IMO...the only little low points, so to say, were his 2 songs when he forgot the lyrics....yes he missed a note here and there...like he does on evry show...but he was full on fire..he was playing the guitar with power and could be heard very well...for example,never saw and heard such a perfect version of Rough Justice..just as sharp and clear as the studio version....Keith & Ron were duelling each other as they did on many songs tonight.

Start me up was close to perfect from him...the Sympathy solos were fantastic..just brilliant...it was a 100 % improvement compared to the Frankfurt show....( more details later) Ron Wood....he is the sensation this summer so far, IMO, yes, he must be sober by the way...rarly saw him playing so concentrated...and: to my joy his guitar could be heard all over the stadium as clear and as loud as Keiths guitar playing..Yes, last night was the rebirth of The Stones as a guitar driven Rock&Roll band...similar to 1982...believe it or not....I was there..I saw..I heard, I felt it. Saw the first time "Cant You hear me knocking" being performed in a stadium...Woowww..as if they have never ever done anything else...this is how the song should be playd...Jaggers dark harp solo made me shiver...then Ronnis solo....this was like being back in the 70s with Taylor..he was close to perfect..the song ended to soon...as it was such a joy to hear & watch them performing it. Great versions from "She was hot", ( why did they hide this song for almost 24 years from us...play it regularly from now on please. All Down the line...Waiting on a friend...don't know where to start..most of the songs were brilliant tonight.....and even the cover song from James Brown, which is not easy to play due to all the changes in tempo was fantastic....

and again: after Wednesdays Frankfurt disaster...sound & Keithwise, I mean, it was embarissing being in Frankfurt, I wished all the press people, all "The Stones have finished", or "keith is not able to perform brilliant anymore" sayers should have seen last nights Paris gig...they all, really all would say: "We are sorry..we were wrong..the Stones are on top of their game again". I mean,if there has ever been doubts...Yesterday the Stones ruled and proofed they can still put on a 2 hour stadium performance in front of 60.000,which is worth to be called: The greatest Rock`Roll show on earth....not more, not less !!more to come soon.

P.S....The Stade de France must have something special building wise....IMO it is the best place for open air shows, at least soundwise...have you ever been in a 80.000 capacity stadium in which you almost have no place where the sound can not be heard crystal clear and very loud...close to Perfect IMO...so was it 1998, 2003 and 2006. So if you have that kind of brilliant sound + the fact that the sound crew made their homeworks well this time by finding the right balance. Singing from Mick and the guitars dominant...by putting backings ,horns and Chuck in back, you have a good chance to enjoy the show...and then you have a totally concentrated band..I could feel they wanted to deliver a fantastic Show..and they did... Now i have no doubts that the 3 London gigs will be another highlight for me.. I mean it can not get wrong if they do perform like yesterday in Stade de France.

Rolling Stones 2007 in Paris....as good as in 2006...and in 2003 !!! Any questions left.. feel free to ask...
---
Review by Dean Goodman
"I don't know what I'm doing," Keith admitted near the end of "Happy" during the gig at the Stade de France on Saturday. His enbarrassing performance on this song, not to mention the totally flawed intro to arguably his signature song, "Tumbling Dice," could be classed as Exhibits A and B for the argument that the Stones are running on fumes. Without Mick holding it all together, this locomotive would have derailed years ago.

The worst thing is that the crowd laps up everything Keith does, completely uncritical like some doting parent over their misbehaving toddler. He basks in the glory knowing full well that he can get away with delivering a third-rate performance.

"You want another one?" he asked after finishing the song. "You must be mad. I love you."

For me, it was very depressing, and I might have walked out had I not gone to the trouble of flying in from Los Angeles a few hour beforehand.

I don't think he got a single couplet right on "Happy." Fortunately, the 27 musicians and dancing girls on stage were able to cover up for him. His singing was OK on "I Wanna Hold You" -- just as long as he didn't attempt to play at the same time. The ending for "She Was Hot" was also abortive, but that could have been a group effort.

For all that, it wasn't a terrible show as such, largely because the crowd was excellent (apart from the guy next to me who decided to clap along to every song, which must have annoyed the guy on the other side who was taping the show with elaborate audio gear). Mick clearly feels at home in Paris. And kudos to Charlie, who wore red socks, a white shirt and a fetching pair of blue pants.

Other points: "All Down the Line" was great, with Keith deservedly taking center stage towards the end of the song; loud boos after Mick noted that the "nouveau prime minister" was in the crowd; video close-ups of Lisa's crotch area and ample thighs during "I'll Go Crazy" were gag-inducing; "Waiting on a Friend" is a drag -- too jazzy, and rather pointless as Mick lets Lisa sing the trademark falsetto parts -- why bother?
---
Review by Wouter, Holland
After Nijmegen this was my second show of the tour. I got FOS tickets Ronnies side and what an invention this is. I walked in the stadium around 19:30 hour just when Starsailor started and i had a beautifull view of the stage because you are always close to stage in the FOS area. No more waiting in line all day :-) In the upper deck there were big parts "taped of" with black plastick and the tongue logo on it. I'd say the stadium was around 90% sold out. It took a long time for all the people to get to there seats and i feared it would be a very lame crowd because to me all those empty seats didn't look that inspiring BUT fortunately i was wrong!!! About fifteen minutes before the show started people started to do the wave and after about two rounds the whole crowd joint in. This is always such a great biuld up to the show because everybody is yelling when the wave comes by and it unites the crowd and everybody is getting excited. At 09:15it was show time and the intro started.

1. Start Me Up - The came out rocking. They were all really enthousiastic and played great. Keith played great, Ronnie had a good solo and he was again like in Nijmegen, looking really sharp. It is no longer a surprise of course but i have to mention Jaggers perfomance on this song and the whole show. This man is unbalievable, what a energy! Like in Nijmegen i was just in awe looking at him. He really knows how to work a crowd. If the crowd is really into it already or needs the extra push he is always making people forget about everything and get them all fired up. Clearly the greatest front man ever IMHO

2. Lets Spend The Night Together - A surprise for me. At first i wasn't that excited about it because i heard it on every B2B show and i thought it was ok then but nothing special. This time however i really liked it! Great version and i was singing a long with loike it was my favorite version the Ed Sulliven show in '66 (or '65:-))

3. Rough Justice - Decent. Great Rocker and at the right place in the set list. Keith did another solo on it and played a great one. I was paying a lot of attention to Keith tonight because of his dissapointing performance in Nijmegen. He played good however and i thought he was really back playing i hoped he would.

4. All Down The Line - Another great version! I really like hearing that song this tour. I hope i'll hear it in Barcelonq again. Keith rocked on this one and Ronnie played a great solo but was a bit low in the mix.

5. She Was Hot - Like ADTL great to hear and like Nijmegen it was a bit shaky. Jagger doesn't really know the words and he is reading it from the monitor all through the song. He spend a lot of time looking at Bernard and Lisa while singing and looking like "He you guys, i know it see, i got it right". Really funny to see! 6. Waiting On A Friend - Second surprise of the night. Beatifull song and beatifull version. Keith hardly played on this song. Great solo by Tim Ries. It got a decent applaus at best though...

7. Can't You Hear Me Knockin' - Keith played a improvised intro and played it a bit long. He looked like he didn't really know what he should play. Jagger was looking at him when he would go to the next part and play the signature lick so that Jagger could start his lyrics. At the next part of the song when the samba loop is played Keith was late with his little lick so Ronnie played it. As they showed both of them on the big screen you could cleqrly see Keith being angry at Ronnie and saying "That's my part!". Ronnie just looked like he was just helping him out. After the usual great solo of Bobby Keys and Jagger it was time for Ronnie. From the first note on you could hear this was going to be beautifull. He had a great sound and Keith looked at him him and smiled and liked it. It was the best solo i have heard him play on this one. It was so controlled and just beautifull. After the song Jagger thanked Ronnie and also gave him a look that he really liked it.

8. I'll Go Crazy - One of my favorite James Brown songs. Jagger is always good on these type of songs and Lisa is just phenominal. The crowd loved Lisa's singing!

9. Tumbling Dice - This a prefect spot for TD right after I'll Go Crazy. Jagger kept the crowd excited with the usual "are you ready?" and "ooohh yeeaaah". Keith started the song perfectly after the last "oohh yeeaah" and i thought the place would go wild becquse of the momentum. But.... Something happened i never saw before, Charlie completely missed the beginning of the song. Keith kept playing, the bqck up singers started and even the lights did there usual thing before finnaly Charlie began. It killed the momentum, for me, but of course Jagger stept up and it was all forgotten.

10. Happy - After the sad perfomance i saw in Nijmegen i had good hopes this time because Keith played great on the first part of the show. Unfortunately he got lost again. He started the first verse of Happy with the firts two lines of the second verse then back to the first verse again or something like that. After a minute or so he had no idea where the song was going and during Happy or WHY he even said something like "i'm making it up as i go along".

11. Wanna Hold You - Terrible version again; he had no idea what to do; He played some sort of solo but i didn,t make any sence. Ronnie looked really annoyed and went over to Chuck as if to ask if he knew what Keith was doing. It was really sad to see Keith playing and seeying him struggle. After his set he thanked the crowd and said something in the context of that he knew he is struggling and can't remember the song and that he just gave it his best. On one hand it sort of helped to know that he knows he is slipping away but on the other hand it's so sad to see him like that.

12. It's Only Rock 'n' Roll (to b-stage) - Like in Nijmegen, Keith was again on fire on this one and playing great licks. Good version and the crowd loved it.

13. It's All Over Now (b-stage) - They nailed this one again and it is so funny to see them struggle on songs like she was hot or even a bit on ADTL but always nailing this one like they played it on every tour. Always a good crowd pleaser!

14. You Got Me Rocking (b-stage) - It replaced Satisfaction on the b-stage. Great version and it rocked the stadium

15. Honky Tonk Women (back to main stage) - Always a crowd pleaser.

16. Sympathy For The Devil - The stage is really beautifull on this one. Keith played a different guitar on this one, probably because of the failure on wednsday. he played a different kind of Gibson. I don't know which type so we have to wait for pictures of this one. It helped however because his sound was much better and he played great solo's. Not he usual notes like on he did on the last couple of tours. He went over to Blondie and was "saying" the notes as he played. This is usualy a sing that a guitar player is really into the song and keith sure was into sympathie this time!

17. Satisfaction - The place went crazy!

18. Brown Sugar - Like with TD they had all the momentum. I said to my brother in law that on the Licks tour he f#cked this one up royally in Amsterdam and Vredenburg. And like then he did it again this time. He played the intro four times instead of three. The band recoveredquickly and were back on track. It killed the momentum for me but i don'y think the most part of the stadium noticed.

Encore : 19. Jumpin' Jack Flash - It rocked as always. Keith had a great sound. He however missed the signature lick after the first verse but the recoverd quickly. Ronnie looked annoyed again and just walked away from Keith.

All in all a much better show then Nijmegen. Jagger was awesome as always, Ronnie was really sharp again and playing really great, Keith was good but just terrible on his own set again and Charlie was apart from the intro on TD great as always but he, a man steady as Charlie can skip a beat anytime he wants. After Nijmegen i had my serious doubts but after Paris i have good hopes for Barcelona again!!!!
---
Review by Pierre "Rob" TWIS
Paris ! I arrived in the Stade de France around 18h30. The rain fell around 17h but suddenly, by miracle, the sky was cleared up.

Present in the same place in 2005 for U2 concert in a SDF full like an egg, we notice rather quickly that the Stade de France is not sold out. The high bench are neutralized and covered with black tarpaulin with the Rolling Stones tongue. The huge galleries closer to the scene, formerly filled by U2 fans are completely empty. The french newspaper "le Parisien" and "France Info Radio" talks about 45.000 to 55.000 spectators for this evening. That's must be true.

We only attend the any end of Starsailor show, the sound was clear.The singer is excellent, but the mission is impossible.... The band is obviously happy to be here, opening for the Stones. Starsailor receives a real ovation, deserved I think.

21h20. Here they are. A riff is piercing the sky, Start me up !. The second miracle is there, Stones are back in Paris, in 2007, after 45 years of career, onstage in front of my eyes. Stones, citizens of the world. The sound is clear and powerful, it is a good surprise. I will remember a long time the interrogative murmurs and sometimes the mocking laughs (cruel with my owns ears) which punctuate this beginning of the show all around me. Until CYHMK, Keith was lost. Purely groping. Mick keeps the house, and Ronnie is very concentrated. Rough Justice is quite good, all Down The Line too. Very powerful version. With She Was Hot, a little wobbly, Stones confirm resolutely rock'nroll show option. Love that. Mick is perfect, but occupies less space. It remains most of the time in the center of the stage, guard of the fort and band cohesion, close to Keith and Ronnie. Keith disappears durably from the screens. Waiting on a Friend is a little disappointing version with my taste, rather dull. It misses the sweetened nonchalance of the original version. But CYHMK atomic version, great Ronnie on this one.

2 days later, I still find with difficulty the words to describe the homage paid to James Brown. Lisa is really a great great singer. I'll Go Crazy play the Stones. The audience too. Ovation. Perfect Tumbling Dice, with this evening the New Orleans magic groove The set of Keith ? I kept in memory the splendid version of Happy in Rio in 2006. The version of this evening is only one very pale copy. The variation is abysmal. Nothing good, the song and the play of Keith is catastrophic. Same thing during Wanna Hold You. The moment is painful. Mick return for a very good IORR, B-stage witj It' S All Over Now ! I am 15 years old, and Jagger is a genius, You Got Me Rocking (average version) and Honky Tonk Women which charms the assistance. A true shock on Sympathy For The Devil. The lights are superb, Mick overhangs the scene and crowd. The guitars are trenchant, perfect tempo. Satisfaction ! Keith is on the left and plays, still and still. Mick seems surprised, he can't sing the refrain. But the final is very good. Rock' N roll in Paris . Keith completely misses Brown Sugar intro. The bomb is defused. Too bad. A recall and only one, Jumpin' Jack Flash, but a very very good one. JJF is really the greatest rock' n roll song of all times. It is already finished. Ovation for the 4 Stones. I look at the stage that roadies already start to dismount. Will they come back in Paris ?
---
Please send your show reviews and comments by e-mail to: [email protected].
The reviews will show up here soon! Thanks!
---
IORR Forum comments and reports
Paris reports & comments
---
News links
... coming ...
---
The IORR magazine
For exclusive reports and unique high quality pictures from the Rolling Stones tour and more see the IORR magazines.
---




It's Only Rock'n Roll 1980 - 2007
© The Rolling Stones Fan Club Of Europe