---
These are the latest Rolling Stones news and updates for you! IORR is a non profit fan club run by fans for fans. All parts of the It's Only Rock'n Roll web site is copyright of The Rolling Stones Fan Club. When using information from this site, please include a reference to IORR and the main web address www.iorr.org.
---
---

The Rolling Stones
Lia Manoliu National Stadium, Bucharest, Romania
Tuesday July 17, 2007
The set list
Start Me Up
Let's Spend The Night Together
Rough Justice
Rocks Off
You Can't Always Get What You Want
Midnight Rambler
I'll Go Crazy
Tumbling Dice
--- Introductions
You Got The Silver (Keith)
I Wanna Hold You (Keith)
Miss You (to B-stage)
It's Only Rock'n Roll (B-stage)
Satisfaction (B-stage)
Honky Tonk Women (to main stage)
Sympathy For The Devil
Paint It Black
Jumping Jack Flash
Brown Sugar (encore)

The Rolling Stones     :  9:25pm - 11:20pm

---
| | |
| --- | --- |
| | "You're sweaty, you're thirsty and your temples are burning. Is this how Amstrong felt when he stepped on the moon? ... He saw a cold valley the size of a football field. You saw a hot valley in which expectations of a lifetime merged into an explosion of magical sounds and never-before-seen colors." |
---
IORR Comments:
A heatwave hit Romania and the area by today. The authorities were late when issuing a heatwave alert yesterday, so the organizers might use that as an excuse, but Romania have heatwaves every sommer, exceeding +35 C, so there is no excuse for not having enough water available to people. All liquids were taken away from fans as they entered the gates. The mountains of discarded water bottles have never been higher. But inside the stadium the supply of water and drinks had collapsed. The queues were endless, and people who queued did not know that the water and drinks were sold out several places before the Stones hit the stage. The temperature in Buchurest city reached +40 C in the shade daytime, and it was as high as +60 C at the ground level many places. Inside the stadium it was +38 C during the Charlatans set and by midnight it was +32. Several people blacked out at random places on the field due to dehydration. When you organize a rock show for 60,000 people, charge money for it and take away their water then you are in charge of supplies inside. In Bucharest the organizers failed severly and this is not good at all.
On with the show...
The stadium was packed. Another 1,000 tickets were released on show day, as they noticed 500 seats on each side of the stage could be used anyway, they were not blocked as expected. The Charlatans sounded great. They left the stage shortly before 8pm, following a 45 minutes set. Their final song was "You're so pretty", but they did not say thank you or enjoy the Stones or anythink like that, they just disappeared. Strange.
The moment they turned the lights out you knew this would be a great show. 60,000 pairs of hands in the air. Hot sweating bodies next to each other. Fans packed tight but yet everybody very polite and nice, enjoying this unique moment in time, the biggest rock show ever in Romania. The sound was clear. Keith was on 100%. His first riffs of "Start Me Up" surely made a lot of fans leaving the water queues and rushing for their best spots. Seconds after Ronnie and the rest of the band joined Keith on stage. Mick had a jacket on for the sole purpose of throwing it off shortly after show start. The band sounded great but they had another musician tonigh - 60,000 fans on backing vocals...
For those who saw the great show in Belgrade Serbia three days ago it was hard to think of a show that would be just as great, but every time the Stones get such a fantastic and willing crowd the rest is easy. The rest is up to themselves, and they were all big smiles tonight. Mick was drinking water from a large number of water bottles around, and they had a large fan blowing a nice breeze on stage on each side, as always, plus fan systems on front stage as well. This helped a lot, but you could see the heat put a strain on the band, which makes it even more impressing when they still perform a 1 hour 55 set and include long songs such as RAMBLER and CAN'T ALWAYS GET WHAT YOU WANT.
Mick was playing the crowd and during RAMBLER the crowd would do anythink Mick said. Mick said Ooooh! and he got Ooooh! back. Mick whispered and the crowd whispered back. This great interaction with the crowd is what keeps the band still touring. At the end of Rambler Keith walked over to Mick and gave him a big hug - what else can you do after having witnessed such a great crowd interaction? By the way Keith did his share as well on Rambler. This is now a majestetic rock/blues happening they share with the crowd every time they do it, new crowds, old crowds, a great success wherever they do it.
The authorities had extended the metro hours so that it was running until midnight. Thank you very much! Dehydrated fans were drinking bottles and bottles of water as they walked out of the show with big smiles on their faces. Who cares about lack of water as long as you have witnessed the greatest rock'n'roll band in the world? And when you walk out of the show the Romanian press give you the first taste of what is to come - special papers with many many great pictures and reports from the show. Today and this week Romania is Stonesland for sure!
So in one or ten or hundred years what will be told about this show? The heat? May be. The great singing and performances on "You Can't Always Get What You Want" and "Midnight Rambler" - for sure!
---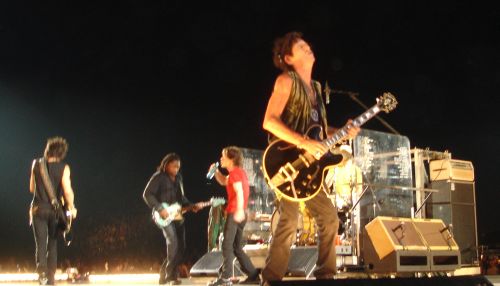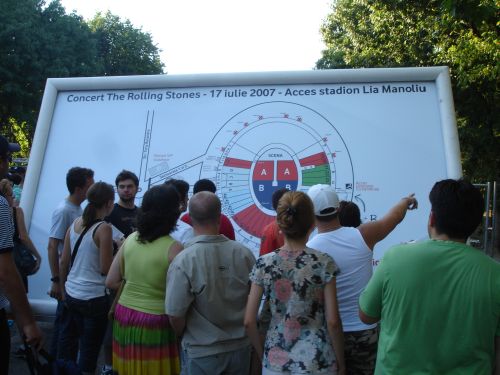 ---
Review by Gabriel Chirion
A day of history for Bucharest. The stadium looked like an anthic theatre. Some 1000 extra tickets sold by the promoters in the day of the concert, anyway the huge stadium was packed. People from everywhere: Romanians, neighbours ( Bulgarians, Moldavians, Serbs ), also French, Scandinavians, British. A big celebrations on a hot summer evening.

A great Start Me Up, then Mick started his Romanian dialogue with the audience, which continued all evening long, on every corner of the stage, also on the "B-stage". "Buna seara, Bucuresti! Salut, Romania !"

Let's Spend The Night Together was great; Keith played with his eyes closed... a beautiful solo and a biiiig biiiig smile comin' to his face...

I never thought I could her a better Midnight Rambler than the "Get Yer Ya-Ya's out version", it happened to me yesterday. Tumbling Dice was beautiful, Keith running all across the stage to greet the beautiful crowd. Ronnie throw his pick to the crowd then continued playing with bare fingers.

Mick introduced the band speaking mostly Romanian; he started with the beautiful Lisa: " she has a beautiful dress but look at those cheap shoes " ( also in Romanian ).

The "B-stage" set the crowd on fire, Mick talkin' Romanian and waving a Romanian flag, followed by a great Satisfaction. Sympathy was superb, and the crowd really exploded at Paint It, Black. The final was a pure celebration.

Mick ? a school boy happy to meet new friends and learn a new language. Keith ? absolutely great, inspired, smiling. Ronnie ? beautiful performance but what a great actor/comedian he is. Charlie ? you know... nothing but perfect. And the crowd ? Well a lot of friends of mine have seen the Stones for the first time; still under shock, they are packing suitcases to go to Budapest, still they don't believe it was real. Another bunch of lazy people who didn't attend the show, hearing the stories and comments they are studying the roadmap trying to get a show they would never forget.

What more can I say ? Thank You Rolling Stones
---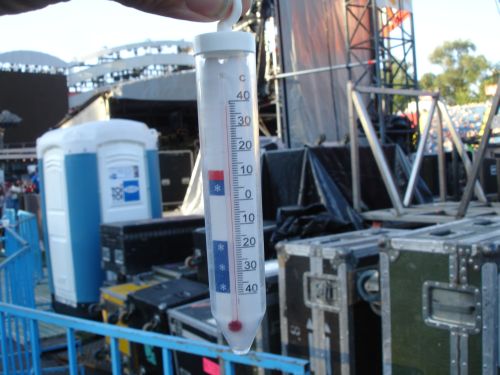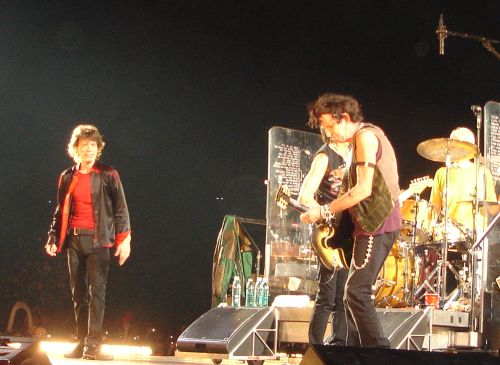 ---
Review by Dean Goodman
After reluctantly skipping Belgrade to attend my brother's wedding, it was a relief to jump back on the Stones train in another new, reasonably exotic market.

The stars of the show were the fans, a boisterous bunch who braved yet another 39 degree celsius day to pack the stadium. The water quickly ran out, and the beer lines were tortuous, so most were doubtless parched by the time the Stones took the stage about 9:25 p.m. Still they were a hardly lot. It's a pity the Stones have waited until the last few weeks of their career to play for the first time in these wonderful countries of New Europe.

Where else do fans cheer loudly as soon as Keith starts to sing "You Got the Silver," and then clap their hands in the air throughout the song? Keith grinned a lot during the two-hour gig. Looking at him close up on the b-stage, it sometimes seemed as if he'd just got the punchline to a joke he heard 30 years ago.

He had fun dueling with Ronnie on "Rough Justice," a song that could really go on forever. It's a gem that belongs up there with the warhorses.

Mick was in good spirits, but wisely chose not to expend too much energy running around, often seeking shelter in front of two giant fans on the stage. There was one worrying moment during "Rocks Off" when his throat must have dried up because he started coughing and had to rush to the drum kit to grab some water. But he bounced back and led the fans through excellent renditions of "You Can't Always Get What You Want" and and a truly epic "Midnight Rambler."

His Romanian was hit and miss, according to my local friend. "I'm happy to be here for the first time. Thanks for the warm welcome," he said at the outset.

After "I'll Go Crazy," he chanted (in English), "There's only one thing I can do now. There's only one thing I can say now" a few times before Keith launched into "Tumbling Dice."

During the intros, he said (in English), "I definitely need to buy a flat here."

On the downside, "Let's Spend the Night Together" is a total drag, with the off-stage backing singers drowning out Mick and the band.

After the show, the local newspaper handed out special editions with a few pictures from the show, and of fans arriving earlier in the afternoon. The Pulitzer-worthy prose included this instant classic: "You're sweaty, you're thirsty and your temples are burning. Is this how Amstrong felt when he stepped on the moon? ... He saw a cold valley the size of a football field. You saw a hot valley in which expectations of a lifetime merged into an explosion of magical sounds and never-before-seen colors."
---
Review by Ana-Maria Comanescu
Excited as I was for the Rolling Stones concert, I couldn't help being a little discouraged due to the awful organisation. There were hundreds of people in line for drinks and a few other hundreds on the stairs I was supposed to descend that were squishing along with me, trying to find their seats. After a few struggles, I was seated quite close to the stage and I noticed the view was great. Unfortunately, the heat was unbearable and the sky just wouldn't get dark for the Stones to come out.

Then, finally the moment came. Flashes of images came up on the screen and then -- I heard Keith's guitar as he came onstage. Suddenly, nothing mattered anymore -- the lights, the screaming that of course I took part in, the heat... The Stones were there.

It was only after this momentary pause of deep thoughts and happiness that I noticed that Ronnie and Charlie were onstage as well. What woke up from my daydreaming was the familiar singing voice of Mick and before I knew it, I was echoing the chorus of "Start Me Up". After the opening, Mick greeted the crowd in Romanian and people seemed to enjoy it. Then, "Let's Spend the Night Together" was absolutely stunning, as well as "You Can't Always Get What You Want". "Midnight Rambler" followed up, keeping up with every expectation -- Mick was amazing and the crowd was repeating all of his "Oh yeah"-s and other noises. "Tumbling Dice" was great and the fans had a laugh while Mick was dancing with Lisa and he casually rested his hand on her butt.

The band introductions were fun, especially when Mick told Lisa in Romanian "Ce rochie frumoasa ai, dar ce pantofi ieftini!", meaning "You have such a beautiful dress, but your shoes are so cheap!". Then Keith started singing the beautiful "You Got the Silver" and then the more lively "Wanna Hold You". The B-stage performances were amazing, "Miss You" and "It's Only Rock'n'Roll" were greatly received by the fans. Of course, it was "Satisfaction" that made the crowd go insane -- everyone was chanting along with Mick.

"Honky Tonk Women" was like a short break and then everyone was once again singing along with Mick the lyrics of "Sympathy for the Devil". "Paint It Black" was absolutely fantastic and it kept the fans going wild. "Jumpin' Jack Flash" was great all the way and then finally, "Brown Sugar" started. We knew that it meant the end of the concert, but who had the energy or the will to be upset? Keith's performance was awesome and Mick was running around, shouting thanks to the Romanian fans that were more than unwilling to let them go.

"Brown Sugar" was the moment when I thought for a split second about the sum-up of the concert. Mick had been absolutely crazy, Keith had been incredible (just as I'd expected) and Ronnie and Charlie had given more than perfect performances. And when the end came, I clapped and cheered until my throat ached and still went on shouting. They deserved it. Then, the gorgeous fireworks exploded in a "bigger bang" -- just as if to make us be sure that the whole thing hadn't been just the best dream ever.
---
Please send your show reviews and comments by e-mail to: [email protected].
The reviews will show up here soon! Thanks!
---
IORR Forum comments and reports
Bucharest reports
---
News links
---
Photos by IORR.
News links by Gabriel Chirion.
---
The IORR magazine
For exclusive reports and unique high quality pictures from the Rolling Stones tour and more see the IORR magazines.
---




It's Only Rock'n Roll 1980 - 2007
© The Rolling Stones Fan Club Of Europe