---
These are the latest Rolling Stones news and updates for you! IORR is a non profit fan club run by fans for fans. All parts of the It's Only Rock'n Roll web site is copyright of The Rolling Stones Fan Club. When using information from this site, please include a reference to IORR and the main web address www.iorr.org.
---
---

The Rolling Stones
The Puskas Ferenc Stadium, Budapest, Hungary
Friday July 20, 2007
The set list
Start Me Up
You Got Me Rocking
Rough Justice
Ruby Tuesday
You Can't Always Get What You Want
Midnight Rambler
I'll Go Crazy
Tumbling Dice
--- Introductions
You Got The Silver (Keith)
I Wanna Hold You (Keith)
Miss You (to B-stage)
It's Only Rock'n Roll (B-stage)
Satisfaction (B-stage)
Honky Tonk Women (to main stage)
Sympathy For The Devil
Paint It Black
Jumping Jack Flash
Brown Sugar (encore)
The Rolling Stones     :  9:15pm - 11:10pm

---
---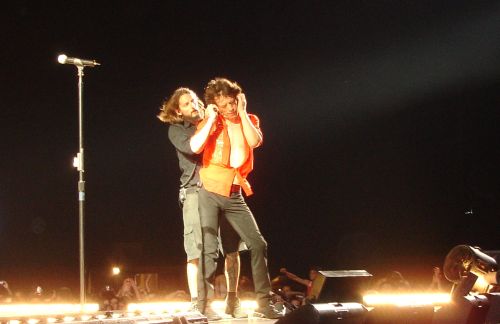 ---
Review by Dean Goodman
A few years ago, Michael Jackson played in Romania, and greeted his fans, "Hullo Budapest!" Mick could have been forgiven a similar sin during Friday's show in the Hungarian capital. The set list was virtually the same as the one in Bucharest, the crowd was equally as enthusiastic despite the killer heat, and the band even wore pretty much the same clothing.

Mick's Hungarian comments were met with deafening silence on at least two occasions, forcing him to ask in English first, "Would you like to sing with us?" and later, "Are you having fun now?" The answer was a resounding "Yes!" on both occasions. Keith played it safe, observing, "I will not attempt Hungarian."

The show got off to a good start before we even entered the gates, with organizers handing out free bottles of water (though omitting to provide any waste bins). So we were fairly well prepared for another 40-degree sizzler.

The playback on this show will be interesting. On "Start me Up," it seemed to me that Mick started singing "You make a grown man cry" when he should have been singing a verse, and he tried to make the words fit the space, with awkward results.

I stood on Keith's side for the first time in ages, and got the full blast of his guitar on "You Got Me Rocking" - so much so that I almost forgot that I hate that song. Keith had a blast, and he seemed to want to play the same chords on the next one, "Rough Justice," which began in wobbly fashion after a brief delay in which he held his right arm in the air and mentally thumbed through his riff encyclopedia trying to remember which one to play.

"Ruby Tuesday" was a crowd-pleaser, fulfilling the Stones' ballad quotient for the night. It also seemed to begin a little haphazardly.

Once again, getting to the small stage was a breeze. For once, they dressed in nice bright colors, Mick in red, Keith in royal blue, and Ronnie in yellow. Charlie, described by Mick as "the whacker of Wembley, the beast of Budapest," may have been the victim of bad intelligence concerning his clothing choice. He usually dresses in the colors of the country's flag. But in this case, he was decked out in green like Kermit the Frog.
---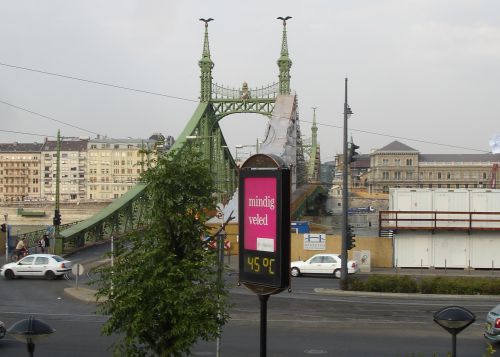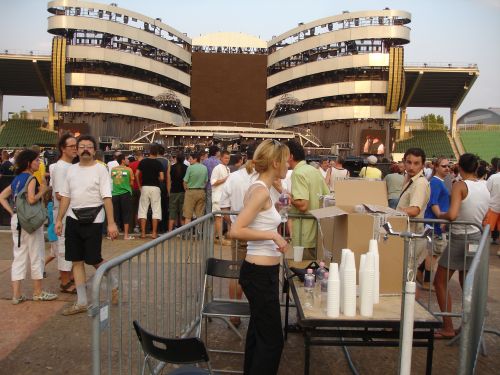 ---
Review by Chris Tresper, Vienna
There's an old saying: If you don't have anything good to say, say nothing at all. Well I have never agreed with that and that's the reason why I'm even writing a review for this concert.

But let's start at the beginning. Hats off to the Hungarian authorities. Not only did they let the people into the stadium later (as they said due to extraordinary weather conditions in order not to make the fans wait too long) [42° Celsius in the shade..], they also handed out free water bottles, they didn't take away your water when you walked into the stadium (just took off the caps) you also got free ice cream on entering. They really did their best to make it easier for the fans to endure the incredible heat.

So far so good....

The opening act The Charlatans were quite ok, nothing to be remembered though. The Stones started a little after 9pm. The sound was good but what started out as bad show really got worse with every song (a few exceptions of course). I myself have seen around 40 Stones show, some incredibly good and some standard but never have I seen a worse one than today (which hurts because Budapest 95 was my second Stones show and one of the best I've seen...).

They started with Start Me Up and during the middle of the songs Mick decided not to wait for the band but rather start singing "You make a grown man cry" way to early - the band didn't follow him for about 30 seconds (which to me seemed like an endless time) and so the song was ruined. I don't know why Mick even has ear monitoring (this is DEFINITELY not the first time I've seen this happening).

Next up was You Got Me Rocking. No big mistakes but rather sloppily played.

THEN it started to get really bad. Keith tried to start Rough Justice, then stopped, then put his hand into the air and told the band to wait for him, then looked around like he didn't know where he was, who he was and what song was about to be played and then a few seconds later started a song that only VERY remotely sounded like Rough Justice. The band somehow managed to follow but not one second did the song really rock (like I've seen so many times before)

Next up was Ruby Tuesday. A song I love and was really happy about. As soon as Keith had started the intro Mick all of a sudden started singing the first verse, thus completely ruining the beautiful intro....

Then a standard setlist followed which I won't describe in detail. I kinda liked "I'll Go Crazy" even though Lisa's singing was once a lot better. I enjoyed You Got The Silver but have to say that Keith just singing without a guitar is not Keith and only Ronnie playing with a little backup from Blondie didn't really sound good to me...

All in all not ONE song really was tight and rocked (even Midnight Rambler which usually ALWAYS kicks butt this time was so badly played (guitar wise I mean, Mick's harmonica was awesome) that you couldn't make out those famous parts where it gets slower and then faster again, it just sounded like some band rehearsing the song...)

I have to say hats off to Mick Jagger who is still an awesome performer with a great rock voice and incredible spirit and knowledge how to entertain a crowd of thousands - BUT when a band plays sloppily like the Stones did today in Budapest, there is not much one can do to make it a good concert.

I have tickets for Brno and I REALLY REALLY REALLY hope that the show will be better - this is not how I want to remember MY Rolling Stones...
---
Review by David Lang
I arrived to the stadium at 15:30, two hours before the scheduled opening of the gates. Fortunately, the weather wasn't as bad as I expected, clouds hid the sun so after all the wait was bearable. Then at about 17:40 they let us in. After a big hurry I catched a very good place, right behind the B-stage barrier, about 15 metres from the main stage. Charlatans started quite early, at quarter past seven, and played nearly for an hour. It wasn't bad, but I remember almost nothing of it, thanks to the following hours. So they went off, and at 21:17, after the intro, Start Me Up kicked off. Great sounding, and ecstasy in the crowd. Mick was really on fire, and to top it all, he said at least a dozen sentences in Hungarian, which the crowd honoured very well. The best were (in translation): "it's a long time we haven't met - you're still pretty" (to the crowd), "beautiful clothes but cheap shoes" (to Lisa, after I'll go crazy).

The setlist didn't have many surprises, I think at places they visit so rarely (comparing for example with London or Paris), they're expected to play lots of warhorses, so hits that everybody knows well. It ended up with only 18 songs, which made me a bit unhappy (last year in Vienna they did 21), but anyway, it was a unique experience I'll never forget, and if they happen to tour again in Europe (I'm sure they will), I won't miss the opportunity to see them again.
---
Review by Susanne/Vienna
As you might know, I'm doing all shows of this European Tour 2007. So I can compare the Stones' appearances - and their show in Budapest was not one of their best. No sparks were flying, not even during "Sympathy" and "Rambler", some of my very favourites. That Keith messed up "Rough Justice" completely is simply the truth, no offence against him. And you know, I love that guy. Seems he has his good and bad days. As anybody else of us sometimes.

Maybe it was also the heat (although Mick seemed to feel better than in Bucharest) - the boys just played their set, they played it fast, they did not seem to enjoy it - in my personal opinion. So for myself I'm looking forward to Brno, hoping for a better show and (maybe?) some new songs... Come on boys, remember Vilvoorde!
---
Review by Hegedüs Attila, Budapest
It was hot!

As many may know a heatwave hit Hungary the other day and stayed during the show too. It would not Fade Away. We arrived at 8 during which time the warm up band completed their set. In the stadium it was +35 degrees, but it was somehow bearable. The stones finally hit the stage at 21:18 with a 'slow' but great Start Me Up. YGMR and RJ (whose first riffs were confused by Keith) were not too fast but they rocked as well as the other mainly old songs. We got excellent versions of YCAGWYW and MR. Mick was excellent as well as the rest of the band. Mick spoke a lot in Hungarian which went down well. B-stages performances rocked too esp. Satisfaction-great version. The warhorses were loud and rocked.

So, how can these guys over 60, above 35 degrees and beyond their 130 ABB shows do what they do with so much energy? It seemed as if they had been doing one of their first shows. Thanks guys, see you in Bruno!
---
Review by Stickydion, Athens, Greece
The Stones rocked, once again...

(A) THE BAND MUSICALLY/ MY IMPRESSIONS SONG BY SONG:
START ME UP: excellent loud opener, as usual. High energy.
YOU GOT ME ROCKING: sloppy Keith's intro, the rest of the song much better.
ROUGH JUSTICE: Keith became "victim" of his own haste. A haste that was obvious during the first songs. His intro- mistake on RJ affected the whole band's performance, for a while. But only shortly… Ronnie's job was the "key" for the clear song's recovery.
RUBY TUESDAY: nice, solid version.
YCAGWYW: Great version, nice Ronnie's solo.
MIDNIGHT RAMBLER: Mick seemed to be a bit startled by Keith's haste (yes, once again!). Keith started playing fine, but he did it early. Mick had just started playing harmonica and he obviously was proposing to play it a bit longer, but, hey, one – two minutes later band's good team work made "Rambler" the well known bursting song…
I'LL GO CRAZY: Lisa's time… Nothing more, nothing less.
TUMBLING DICE: It was almost faultless. In addition, it was the starting post for Keith's real betterment.
YOU GOT THE SILVER: very good Ronnie's play, very emotional Keith's singing.
I WANNA HOLD YOU: Just OK the first part, better the second part.
MISS YOU: Well, i know many people want to kill me for saying that…Well, even me hate to saying that as i NEVER liked this song (believe me, when listen to Some Girls album i'm starting from #2 track)… But… But, ladies and gentlemen, this was best song's version i have heard in years. The reason? Guitars much more louder and "mellow" than the usual, on this…
IORR: IMO on the entire ABB tour the song does sound really strong and the particular gig just confirmed this "rule". Nice Keith's solo.
SATISFACTION: strange, unusual Keith's intro. Although i love "different things", especially on "classic" songs, personally i didn't like it. But i liked Keith's solo on the song. It was an welcome "reparation" to me…
HONKY TONK WOMEN, SFTD, PAINT IT BLACK: strongly played, good Keith's solos on HTW and SFTD.
JUMPING JACK FLASH: Almost perfect!
BROWN SUGAR: not the best version i have heard, but not an weak one.
(B) IN GENERAL TERMS, WHAT I LIKED AS FOR BAND'S PERFORMANCE: Their solid elements: High energy, high standards, good team spirit... The Stones i love are still the Stones i see and hear! Simply, the best live rock band.

( C ) IN GENERAL TERMS, WHAT I DESLIKED AS FOR BAND'S PERFORMANCE: In general terms? Actually, nothing... If i was taking three- four weak moments or three sloppy Keith's intros on an entire Stones concert to heart, then i would have bad impressions even from 1981!

(D) AUDIENCE: Really enthousiastic, from the first to the last concert's minute. Remarkable number of young people.

(E) SPECIAL EMOTIONAL MOMENTS (TO ME) Budapest gig was my girlfriend's second Stones concert. She was in raptures! Now i'm sure: she is really a fan...

Thank you Budapest (BTW, what a city!). Thanks boys.
---
Review by Stefano Treviso, Italy
I came in the hot Budapest with other eleven friends of mine that i want remember them forever for the happy 3 days spent togheter around the night and the day of budapest : toni,igor,musci ,geppo,panoz,robi rossi , cesare ,zagor , bent ,carrets,il lega . We wait for the concert at Széchenyi Thermal Bath wacthing the beautifoul girls, drinking cold beers ,eating gulasch and other delicious food and of course having a swim in the historical pool and talking about rolling and our favorites songs.... we find hungarian girls really funny and really "belle" at the doggy beach but is another story.........we also see to the Four Season Mega Luxury Rolling hotel in the centre of the city in front one of the best bridge of Budapest , we many fans waiting for some rolling staff.......

For me it was the 10th time i see the Rollling . About the songs the best played are Tumbling Dice- Midnight rambler - You got the silver ( zabrinskie point soundtrack a great italian film with a "magnifica" song wich also the first with keef solo voice ) and Ruby Tuesday too. All the concert goes ok with other classics and strong version as the very well and dark at voodoo time Paint it Black . I wonder about ear "waiting on a friend" or "dead flowers" or " beast of burden " but i have to wait for another tour and the fact is the rolling stones have many and many mervallous songs that everyone that came on IORR to give us his emotion have a set list i think about 40 songs if is enough ...........;

I find mick and ronnie ok - charlie is always ok - but keef seem a little older than in the 2006 ( i see him in milano-paris-vienna-munchen ) he have to drink and eat more lighter because only if keef is ok rolling are ok. The crowd not sing as he have always to do for me at a rolling concert , anyway another great night we the rolling another great gig around the Europe. So long to everybody come in the old Puskas to see the greatest rock'n roll band of the world. Some great picture of mine in Budapest.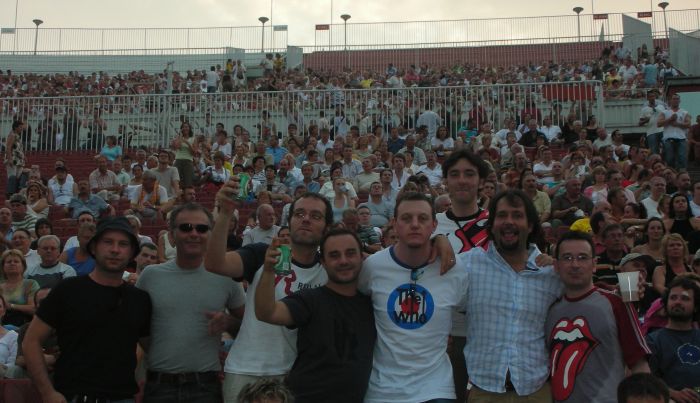 ---
Please send your show reviews and comments by e-mail to: [email protected].
The reviews will show up here soon! Thanks!
---
IORR Forum comments and reports
Budapest reports
---
News links
---
Photos by IORR.
---
The IORR magazine
For exclusive reports and unique high quality pictures from the Rolling Stones tour and more see the IORR magazines.
---




It's Only Rock'n Roll 1980 - 2007
© The Rolling Stones Fan Club Of Europe