---
These are the latest Rolling Stones news and updates for you! IORR is a non profit fan club run by fans for fans. All parts of the It's Only Rock'n Roll web site is copyright of The Rolling Stones Fan Club. When using information from this site, please include a reference to IORR and the main web address www.iorr.org.
---
---

The Rolling Stones
Outdoor Exhibition Centre, Brno, Czech Republic
Sunday July 22, 2007
The set list
Start Me Up
Let's Spend The Night Together
Oh No Not You Again
All Down The Line
Love Is Strong
You Can't Always Get What You Want
Midnight Rambler
I'll Go Crazy
Tumbling Dice
--- Introductions
You Got The Silver (Keith)
I Wanna Hold You (Keith)
Miss You (to B-stage)
It's Only Rock'n Roll (B-stage)
Satisfaction (B-stage)
Honky Tonk Women (to main stage)
Sympathy For The Devil
Paint It Black
Jumping Jack Flash
Brown Sugar (encore)
The Rolling Stones     :  9:00pm - 11:00pm

---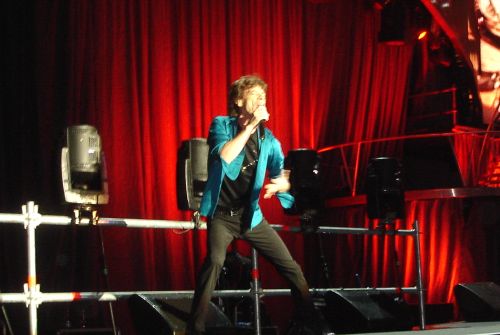 ---
Review by Dean Goodman
Keith almost atoned for his many sins on the tour when he delivered one of the best lines I've heard in years, midway through his set during the band's show in the almost-dry Czech burg of Brno on Sunday: "It's nice to be back ... wherever we are."

I must confess that similar thoughts had occurred to me when my train got in from Budapest just 4 hours earlier: "Where am I?" and "Should this town be allowed to exist if it's missing a vowel?" But, as Keith would say, "On with the show."

Set-list watchers will be happy that "Oh No Not You Again" and "All Down the Line" were returned to the line-up, while "Love is Strong" was resurrected. Truth is, Keith's intros on the first two were rather insipid. He played with his back to the crowd a lot of the time, and only really started coming to life during "Midnight Rambler." God knows what he was singing on "Wanna Hold You."

And Mick's delivery was uncertain on "Love is Strong." But I hope he keeps working on it. It is a great Keith song, after all. Mick otherwise performed like a pro, and it was clear he was putting some thought into tunes like "Let's Spend the Night Together."

The crowd didn't seem as rabid as those in Bucharest and Budapest. The weather did not help. It rained a bit before the Stones took the stage, and there were some intermittent drops a few songs in. Local serfs bounded on stage to mop up the rain. Otherwise, conditions were considerably less taxing than in those sweltering cities, and a rainbow added to the pleasant karma. Most of us stood on what appeared to be a carpark in some sterile exhibition complex a few tram-stops from the city. Some bleachers were set up on the sides.

The b-stage was at the same level as the main stage (which also seemed a bit higher than usual?), and was ringed by a wide security area, so their venture into the masses wasn't much of an intimate affair. To echo other reviewers, "Satisfaction" sounds defanged when played on the b-stage, and Keith is just phoning it in. But the crowd sings along (badly) in a state of ecstasy anyway.
---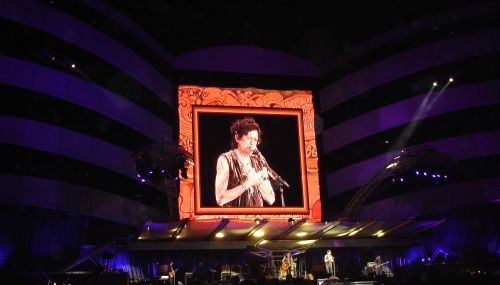 ---
Review by Pawel Gajda
So what shall we say - after superb Praha 2003 show could we expect something even better? YES, we got even more, something incredible, we got the best show so far. This was the most impressive setlist we have heard since start tour. We got All Down The Line, Love Is Strong (First Time in this tour ), You Can't Always Get What You Want (Tears in my eyes, it was so great). An overwhelming Rambler, Mick's harmonica longer and Keith made us the biggest of all presents: You got the silver, oh my God, we were over the rainbow, absolutely speechless. He sang so clear and with much intensity from the heart. Thank you Keith!!!!

Satisfaction on the B-stage - it was a great experience to see the boys coming nearer and nearer (we stood front row at the B-stage this time). After the stage moved down, you were supposed to shake hands with them. We were so impressed, we could hardly move. When the stage was about to return. Also the sound at Brnenskie Vistaviste was fantastic. So Warsaw here we come - ready for another sensational setlist.
---
Review by Chris Tresper, Vienna
It seems like the Stones do in fact read reviews. After the overall bad response they got after the Budapest show tonight's show in Brno was probably one of the best I have ever seen. Musically AND setlist wise.

They really did mix it up today. First off we got Let's Spend The Night Together, then Oh No Not You Again, then All Down The Line and THEN the big surprise Love Is Strong. Every single song tonight was played in an awesome way and really rocked hard. Mick was ever so good, as well as Ronnie who kicked ass tonight AND Keith was back in shape. Charlie cool, calm and collected as always...

A killer version of Midnight Rambler which sounded like back in 69 was what really was the highlight of tonight. There were of course a few minor flaws during the show (I mean come on, it's the Rolling Stones...) but such a good show is definitely NOT ruined by a few mistakes.

Tonight in Brno I even sang along all the big hits like somebody who saw them for the first time, which showed myself that I was really enjoying the show a lot.

Thank you boys for once again proving why you are the Greatest Rock 'n' Roll Band In The World.
---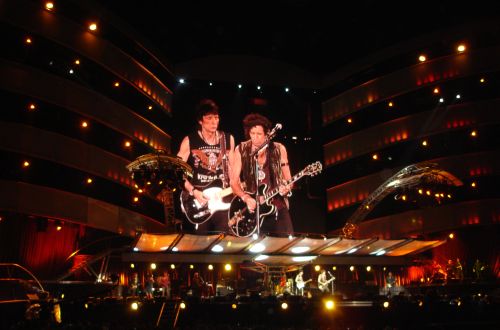 ---
Review by Susanne, Vienna
So hey, did the Stones read all those "not very friendly" (!) reviews and bad critics in the newspapers about Budapest? It seems to be so, because Brno was a 180 ° tournaround.

Despite some rain now and then the Stones rocked again from the very beginning, and after a long pause we got another two new songs on this tour "Oh no not you again" and "Love is strong" . So great to hear those! Of course another "indifferent" version of "Honky tonk women" and "Brown sugar" - come on Keith, you MUST know how to play it!!

But all in all it was a great show, my feelings were back - "Rambler" and "Paint it black" blew my mind as they should. I even enjoyed "Satisfaction" this time. The crowd, except those on the front, was very passive, people on the seats were hardly getting up and dancing. For sure it was not the Stones' fault.

See you all in Warszawa!
---
Review by Isabella, Vienna, Austria
This was my 13th show of this summer tour. I didn't expect too much after the rather weak show in Budapest, but it was kind of a homeplay for us Austrian people, 2 hours from Vienna.

After Budapest we were also talking about the setlist and that it was time, to change some songs (at least for us travellers). I can't tell how happy I was to hear the beginnung of Oh no not you again - I love that song, more than Rough Justice! And I was even more ecstatic, when they started playing Love is strong. Yeah, that's what we want to hear!!!

Unfortunately the stage was so high this time that we could hardly see anything, if they didn't come to the front. And Keith often stood behind. During Tumblin' Dice, when Keith was at the right end of the stage, Mick had to remember once again Ronnie, to come to the front. Ronnie stood near Charlie, with the back to the audience, a cigarette in his mouth.

All in all it was a great show, with the usual mistakes. But I love the mistakes, they keep a Stones-Show interesting. For example, Keith stops playing to make a pose or lough into the audience - that's a Stones-Show.

Yesterday he completely messed up the Intro of Brown Sugar. It is always amazing that after all those years this is still possible. But it's possible with Keith - and that's why I love him. Otherwise I would go to a Eric Clapton-Concert.

Imagine they would play a perfect concert, without any mistakes; what would we have to discuss?
---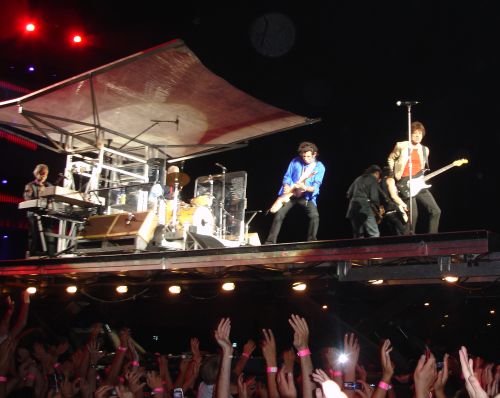 ---
Review by Bronislav Simonik
Altough just a bit fed up of the organization and promotion in our city I was lovely pleased past the first tones of the Star me Up. What came next was simply excellent. After last two slightly cold tours (Prague 98 and 03) heated the stage like in 95 by the famouse Voodoo Lounge. Next followed in America restricted Let's Spend the Night together… But what came after I'd never heard before . More than 10 minutes long Midnight Rambler. The crowd was excited. Its cheap to describe whole show song by song. Great was the part started on the movable stage and culminate with diamonds as Sympathy.., Paint it Black, Jumpin Jack Flash and the "obvious" Brown Sugar. Simply one of the best tours in CZ.
---
Review by Hegedus Attila, Budapest, Hungary
As I have been at several Stones shows standing at different places on the venue I reckon one of the best places to enjoy the concert is halfway through the B-stage somewhere in the middle. Because you can say the whole stage as well as the band close. This time in Brno I was standing there some 25 meters from the main stage. There was a separated area on the venue for those who were willing to pay a little more money for the show. Therefore it was enough to go to the event 25 minutes before Start Me Up to watch the band closely. By the way the hotel where I stayed was 500 meters from the stage so I didn't have to walk to get there a lot either.

As I was at the Budapest show as well, I can compare both of them. Definitely the Brno show was better musically many of the songs were played more precisely-it may have been due to the great weather conditions apart from a little rain-secondly we got gems such as Let's Spend The Night Together, All Down The Line, Oh No, Not You Again, and Love Is Strong. In my view Mick was great as usual however he confused some lines, and once his mic wouldn't work, Keith was I think very exhausted - he can't have recovered from the heatwave in Hungary. Keith had even difficulty in finding his mic before starting You Got The Silver. The original lyrics of Wanna Hold You is different from what we listened to. By and large, weather conditions severely affect a show that's why I think this was better than the one in Hungary.

Charlie and Ronnie were excellent especially, Charlie at ending the songs. The B-stage performances and the warhorses rocked too like in Budapest. As for the crowd they weren't as mad as in Hungray. The reason? Hungarians had been waiting for the Stones for 12 years...

One more comment: as far as I noticed the last 12-13 songs of the setlists will never change, which may bore those who go to not only one concert. Why not include 19th Nervous Breakdown, The Last Time or Dead Flowers instead of Miss You or Paint It Black?
---
Review by Jan Mertl
For the fifth time in history the Stones pleased the crowd in the Czech republic, for the first time they did it outside Prague in the moravian city Brno.

The security was not very tight tonight, maybe also because of the fact that the crowd size was not one of the biggest considering this being an outdoor show. And it also appeared initially that it could have been a rain show, so the crew was very busy before the show start making the stage as dry as possible after some showers taking place at about 8:00 or so. And even if it rained slightly during the first part of the show, generally the weather was kind to both peformers and crowd, with mild temperature and rain completely disappearing while the band was playing Tumbling dice and following songs.

So here we come to the setlist, which was a nice variation with gems like You got the silver, Love Is Strong, Oh no not you again and Lets spend the night together. Even if it is obvious that the Stones do not take a risk by omitting the majority of warhorses, it is nice to see the setlist undergoing changes. The only drawback of current setlist is only one song from the new - A Bigger Bang - album. This kinda undermines the impact of its release and because this album is a great one it should be played more often. However with such a large catalogue of songs, the resurrection of some older tunes has similar effects - because they could be considered as new being left in the shelves for so long. Still it would be nice to include e.g. Back of my Hand as a blues number, She saw me coming instead of "bridge song" Miss You etc.

The band playing overnight was tight and overall sound has been great. The highlights of the show in my opinion were Midnight Rambler with great harp solo, Love Is Strong (even if it did not went totally flawless, but for a "new" song in the setlist it sounded very cool), Sympathy for the Devil with Keith playing nearly full solo, great Charlie drumming on Satisfaction and Paint It, Black. They did 19 songs in the set, one plus to the now usual 18 songs, even if they played both You Can't Always get ... and Midnight Rambler.

Considering band members, Mick is, as said here many times before, a stunning performer, working the crowd strongly and singing with passion. Being in a Front of Stage section, I was able to see him enjoying the rhythm and riffs on several songs. His voice is strong, which is quite miracle considering his age and number of shows he did durins his life and especially in last ten years. And this night he was not "relying" on backup singers too much and leaded the band through the songs. He was outstanding on Midnight Rambler, Paint It, Black, and all the warhorses. He also managed with success more difficult songs like Let's spend the night together and Love Is Strong, both not being vocally easy.

Keith was playing OK, it could be clearly seen that when he was photographed by the press or filmed by the crew he posed with big grins, riffs and leg kicks. During the first part of the show he (maybe also because of that occasional slight rain) he mainly stood in front of Charlie. And then after introductions he delivered great vocals of You got the silver without a guitar, and during Wanna Hold You he played proper solo with a unique timing. Maybe he feels a little bit tired sometimes, which is a cause of occasional bum note or late solo start (such as in Honky Tonk Woman). However, with such a big number of setlist changes and being on a road for so long, it should be acceptable. But he clearly is very aware of what is going on, every time, and he played in key all the time. After all it is a live show, pure recordings could be listened at home. Keith Richards clearly remains to be a soul of this band.

Ronnie has improved a lot since the last year, he plays those high pitched solos in many songs, the highlights being You can't always get what you want, All down the line, etc. He also seems to team more with Mick, working the crowd on the B-stage. Comparing his playing now and e.g. in the eighties, he is able to do a lot of solos and play tightly with the band. Also the great fills in Jumping Jack Flash and Start Me Up were very nice.

Charlie is without any doubt the solid rock behind the Stones, doing extensive drumming all night and receiving huge ovation during the band introductions. He even plays a little drum solo during those, which is very nice. And the increased usage of deep drum during some songs keeps the sound modern, crisp and with exceptionally exact timing. This serves sometimes as "atomic clock" for the other band members - currently it is in my opinion Charlie Watts who keeps the timing together with the help of Mick signaling for guitar solos and song endings and Chuck Leavell control from behind the keyboards.

The crowd was nice, sometimes however a little bit quiet. Mick talked to us several times in Czech. To conclude, it has been a great, above-average show. For sure it was a very nice evening, with great musical moments and sound. If the miracle happens and the Stones will be on the road ever again, for sure I recommend to go and see in till it lasts. We, Stones fans, are lucky to see our band performing a lot during the last years, so we are maybe sometimes too puristic and too critical. Let's see it clearly – the Stones are without any doubt able to deliver great show, great sound (especially – no other band has sound like the Stones today) and are able to renew the setlist with surprises. And all the band members are great performers. It is amazing how far they evolved the rock and roll.
---
Review by Petr
First of all a couple of words about the organization. It was obviously a big mistake not to choose Prague for the concert – from the assumed 60 000 attendants only about 25 000 showed up. It was the fifth concert of the Stones here and there were always 80 000 – 120 000 people in the crowd before. Another thing is, that the campaign was second to none – three weeks before the show, when it was obvious, that the tickets don't sell, there appeared some A2-sized posters here and there. Well, I think that the poor attendance didn't affect the show in any respect, at least not for me.

About the venue – the organizers didn't really care much about the people, but that is normal here. What a shame. The whole area was sloping down from the stage. Standing right in front of the stage I didn't mind, but poor people in the back, what did they get to see? Luckily the stage was quite high. There was only one entrance to the standing area – in the rear part, people with the FOS tickets had to struggle through the whole regular standing first. The only block of toilets (unbelievably undersized) was behind the standing area. Considering that events like this one are not so rare here, I don't believe it is a lack of experience.

Okay, those were some of the details and now….21:00 – a Bigger Bang and… Start Me Up! All the bad things mentioned above are forgotten, the Stones are here and they rock! The sound was perfect from the very beginning, boys in a great shape. Start Me up, Let's Spend the Night Together – energic, great. Then two little surprises – All Down The Line and On No Not You Again and then a big surprise - Love Is Strong. Honestly not the best version I can imagine, but it was the very first time I've heard it live and it is truly a great song, thanx for it!

During this first part of the show Keith spent most of the time close to Charlie, sometimes played with his back to the audience, Ronnie was definitely the main guitarist. Being a huge fan of Keith, I was a bit worried, but it all changed as the show proceeded. Ronnie was simply great, I have never seen him play so well before. Very loud, very bluesy and in a great mood, he kept on smiling and throwing picks into the audience, sometimes like five during one song. You Can't Always Get What You Want – Keith finally came close to the edge of the scene, but since it rained a bit during this song, he backed off soon. Midnight Rambler – definitely the highlight of the evening. Very strong and bluesy version. Very long, everybody on fire, the audience went nuts.

I'll Go Crazy – I didn't know the song but it was great, I loved it! Lisa was unbelievable, Mick did a little dance with her. Tumbling Dice – great again, Keith perfect, he walked to the side stage, there he crouched down and played for a while. He got a great applause, which obviously pleased him, he grinned and bowed and ran back. After that Mick said in Czech – Let me introduce you to my band. Well, a bit selfish, but fun. Generally Mick spoke a lot of Czech between songs and when I say he spoke, I mean it – he didn't only say Hallo, how are you doing tonight and so on, he got into some advanced sentences and his pronunciation was really nice. Well, Czech language is really difficult and considering that Mick does this in each country – almost unbelievable.

Then Keith got to the mic, the applause didn't end, Keith smoked his cigarette, grinned, bowed and said his usual - It's great to be here, wherever we are. Keith's set…what shall I say…we got the silver, we got the gold. Just amazing, it was the best performance I have ever heard from Keith. This song is so great and this particular version can not be better. Thank you, thank you, thank you. Well, it is also important to mention Ronnie, whose support on the acoustic slide guitar was just perfect. I don't think they plan to release any of the European shows on DVD, which is a pity – this one song itself would be a reason for it. Please, give us the silver on DVD! Then Keith sang I Wanna Hold You, which was standard I would say, he played guitar during the intro (well, he simplified the chords, as much as I noticed, he only played power-chords on the bass strings), then he stopped playing while he sang, which was good I guess, he sang great.

Then Miss You (not one of my favorites, actually the only song tonight I would rather exchange for some other) and the stage moved to the B-stage. As much as I love The Bigger Bang stage, I think it is their best, I don't think that the B-stage works this time. During the previous tours they walked to the B-stage and had a chance to strike fans' hands and the stage itself was an island they could move around and people could see them from all directions. This time they ride a couple of meters above the audience and half of the crowd (closer to the main stage) can only see the structure behind Charlie's back which covers the view of the whole stage. The stage is quite high (or at least in Brno it was), so there is no real personal contact at all. And so during It's Only Rock'n Roll and Satisfaction we only got rare glimpses of Mick's, Keith's and Ronnie's backs, which could have been better I guess. But the songs were great, both Keith and Ronnie on fire, Mick performing great. During Honky Tonk Women they thankfully returned to the main stage and usual gems followed ...

Sympathy, Paint it Black, Jumping Jack Flash and Brown Sugar.All of them were truly great - Sympathy as devilish as the last year, Paint It Black is really my favorite. As much as Keef wasn't seen much during those first couple of songs, he was very "visible" now and he performed great. Mick was running back and forth all the time, singing absolutely perfect. He is just the very best frontman ever. Whoever saw the Stones live must admit it. Keith doesn't run so much any more, he moves a bit slower, but he's got a great soul and heart and everybody must just love him. Ronnie – I already wrote it – he has never been better, he obviously enjoys himself. And Charlie? Well, honestly I didn't get to see much of him behind his drum kit, only when the stage moved, but he played great as usual and he did a wonderful drum solo when Mick introduced him. It lasted for like one minute. Okay guys than you for spending the night together with us and please, please come back!
---
Please send your show reviews and comments by e-mail to: [email protected].
The reviews will show up here soon! Thanks!
---
IORR Forum comments and reports
Brno reports
---
News links
Lidovky : Historie dorazila do Brna
Lidovky : Rolling Stones zahraji Brnu
---
Photos by IORR.
Thanks to Axel Schumacher for news links.
---
The IORR magazine
For exclusive reports and unique high quality pictures from the Rolling Stones tour and more see the IORR magazines.
---




It's Only Rock'n Roll 1980 - 2007
© The Rolling Stones Fan Club Of Europe