---
These are the latest Rolling Stones news and updates for you! IORR is a non profit fan club run by fans for fans. All parts of the It's Only Rock'n Roll web site is copyright of The Rolling Stones Fan Club. When using information from this site, please include a reference to IORR and the main web address www.iorr.org.
---
---

The Rolling Stones
Sluzewiec Hippodrome, Warsaw, Poland
Wednesday July 25, 2007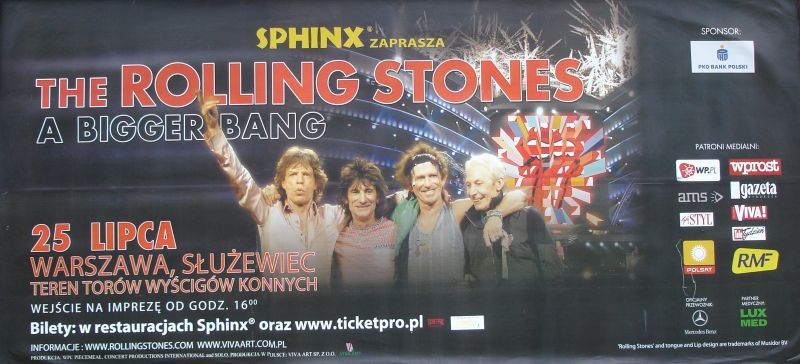 ---
The set list
Start Me Up
You Got Me Rocking
Rough Justice
Ain't Too Proud To Beg
Love Is Strong
You Can't Always Get What You Want
Midnight Rambler
I'll Go Crazy
Tumbling Dice
--- Introductions
You Got The Silver (Keith)
I Wanna Hold You (Keith)
Miss You (to B-stage)
It's Only Rock'n Roll (B-stage)
Get Off Of My Cloud (B-stage)
Honky Tonk Women (to main stage)
Paint It Black
Jumping Jack Flash
Brown Sugar
Satisfaction (encore)

First warm-up (local)           :  7:00pm -  7:20pm
Steve Harley and Cockney Rebel  :  7:35pm -  8:10pm
The Rolling Stones              :  9:15pm - 11:15pm

---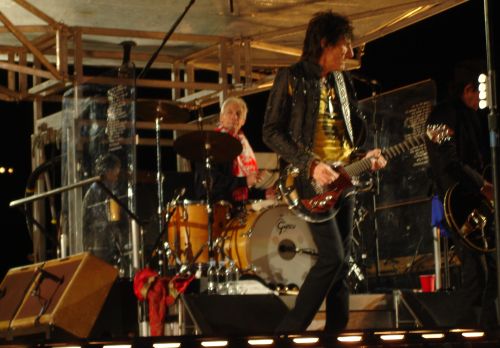 ---
IORR Comments:
The temperature had dropped 10 degrees C per show going from 40 C in Budapest to 30 C in Brno and tonight 20 C late afternoon, and around 15 C by the time the show was over. A clear sign of the fact that the tour is going north.
There was a first warm-up act that performed for 20 minutes. Sort of rap/soul. May be local? Then Steve Harley and Cockney Rebel did their first of two warm-up acts for this tour. They performed seven songs in about 40 minutes, starting with "Here Comes The Sun", and finishing off with their hit "Make Me Smile (Come up and See Me)".
Two minutes after Steve Harley and Cockney Rebel left the stage the crowd was asked for one minute of silence, in memory of the tragic accident on Sunday where 26 Polish pilgrims died in a bus accident in the French alps. The crowd went absolute silent. If a needle was dropped you would have heard it. No cellphones. No noise. Thanks to a great crowd who made this moment of respect at a time when entertainment was on the bill.
At 9pm the stage was ready. Local crew got busy with a stagerunner, probably the first one of this summer tour. Around five local security guys swarmed around the stagerunner, but they did not seem to get a firm grip on him, and it sort of looked out of control. Then they did not know what do do with the runner, wandered around a bit on stage, then they found their way out right front.
Fifteen minutes later the lights went out and another version of A Bigger Bang live was on. Crystal clear sound. Crystal clear and sharp Keith on "Start Me Up".
"You Got Me Rocking" is a true rocker many like. Tonight Ronnie added some extra improvised guitar playing that made the version probably the best of the summer tour. Keep it on Ronnie!
The crowd started to sing "Happy Bithday Mick", knowing Mick's birthday is very close, just 2-3 hours away by midnight. Mick was taken by surprise, made a big smile, looked very happy, and made a deep bow in appreciation of the birthday song.
It was cold, and it had been raining heavily earier today. During "Rough Justice" and also during "Love Is Strong" there were some rain, not much, and as "Love Is Strong" finished, the stage was swarmed by crew cleaning up the wet stage floor. Unlike in Brno, where they cleaned heavily, this time Mick actually commented on the many extra people on stage by mentioning "the cleaning crew in action".
"Ain't Too Proud To Beg" was probably not as great as in Budva but it was still as great as it use to be when you are lucky to be at a show where they play this rarely played song.
"Love Is Strong" seems to be in the set permanently. It is very strong indeed. The fans love it. Mick's harmonica playing is outstanding. The guitars are great, Ronnie is great, and we look forward to seeing this song in the set at every show. Thanks!
Lisa made some extra great work on her singing during "I'll Go Crazy". Seems like quite a few songs tonight got that little extra touch. That is what makes this extra special show...
Keith said it was great to be back for the 2nd time. Then he probably thought about Warsaw not Poland, as they played two shows at the Cultural Palace of Warsaw in 1967, then Chorzow - another city in Poland - 1998. It was their 3rd visit to Poland, and every visit is an important moment in time for the Polish fans. Anyway, he also said "You're so cool" when talking to the crowd, which is a fact indeed for the Polish crowd. Very cool. Great in fact. Keith did "Silver" - perfect as always, then "I Wanna Hold You", which probably should be just the way it is, sort of unpredictable.
When the B-stage arrived the fans had flocked around it for some time. The security was in great control before show start as for who went where and what wristband color you had, mind you there were many, but as they went to the B-stage suddenly everything was very liberal, which was great. And when they omitted Satisfaction and did "Get Off Of My Cloud" we knew it might be 20 songs tonight, or may be something totally different. Someone was throwing a scarf with the Polish red and white colors onto the B-stage. As usual it was placed by Charlie's drums, and Charlie put it on. He though it looked great! As you can see from the picture.
As they arrived back to the main stage we normally get "Sympathy For The Devil". Not this time. There was a long break of may be a minute. Yes that is a long time at a show. Then Keith started "Paint It Black". Many people do not like the way they do and sing "Sympathy For The Devil". It is sort of mismatch with religion to some. It was a nice way of showing respect to a country in three days of mourning following the tragic bus accident that killed 26 Polish pilgrims in the French alps on Sunday, by taking this song off the setlist tonight.
As always they catch up somehow when they omit a song or a theme. During "Brown Sugar" Mick said something about going to St Petersburg. May be because that is what they are doing, for the next show, may be because that is taken from Sympathy... Also, on Satisfaction Mick walked the upper ramp like he usually do on Sympathy, still not dressed in red of course.
What do you call as a show that is great from start to finish? A great show? Or may be even greater? Thank you very much to all the fans in Poland. You're so cool!
---
Reviews
... coming ...
---
Please send your show reviews and comments by e-mail to: [email protected].
The reviews will show up here soon! Thanks!
---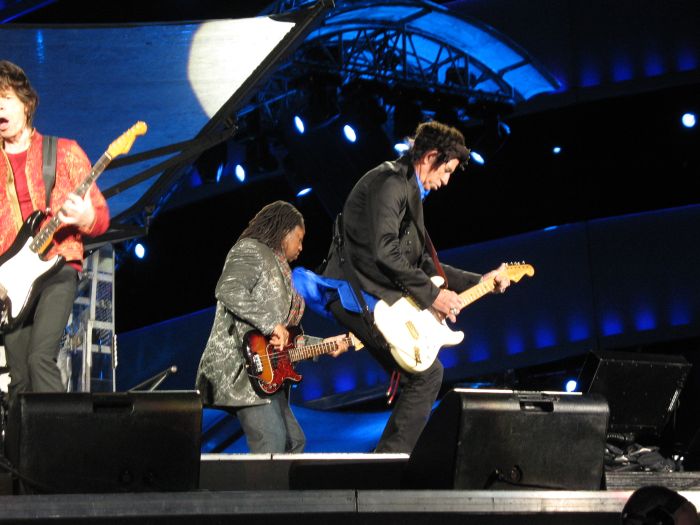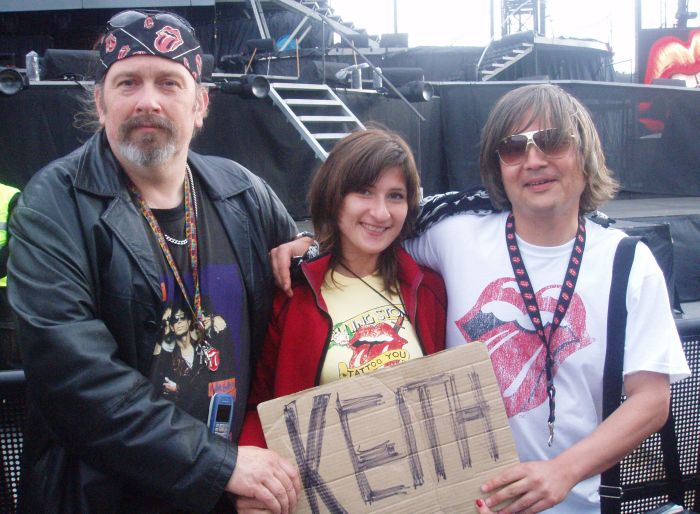 ---
IORR Forum comments and reports
Warsaw reports
---
News links
---
Photos by IORR.
Mick/Darryl/Keith photo by Siw Grindaker.
Fans photo by Magdalena.
Thanks to Kim Halling Mortensen and Axel Schumacher for news links.
---
The IORR magazine
For exclusive reports and unique high quality pictures from the Rolling Stones tour and more see the IORR magazines.
---




It's Only Rock'n Roll 1980 - 2007
© The Rolling Stones Fan Club Of Europe