---
These are the latest Rolling Stones news and updates for you! IORR is a non profit fan club run by fans for fans. All parts of the It's Only Rock'n Roll web site is copyright of The Rolling Stones Fan Club. When using information from this site, please include a reference to IORR and the main web address www.iorr.org.
---
---
The Rolling Stones
LICKS of North America - Memories
Tuesday Sept. 3, 2002 - Saturday Feb. 8, 2003

These are the memories from fans, shows, songs and events during the shows in USA and Canada Sept. 2002 - Feb. 2003.
For reviews and set lists of each and every of the 50 shows played so far during the Rolling Stones LICKS world tour in North America see the 2002 tour pages. To follow the Stones LICKS tour through the world see the 2003 tour pages.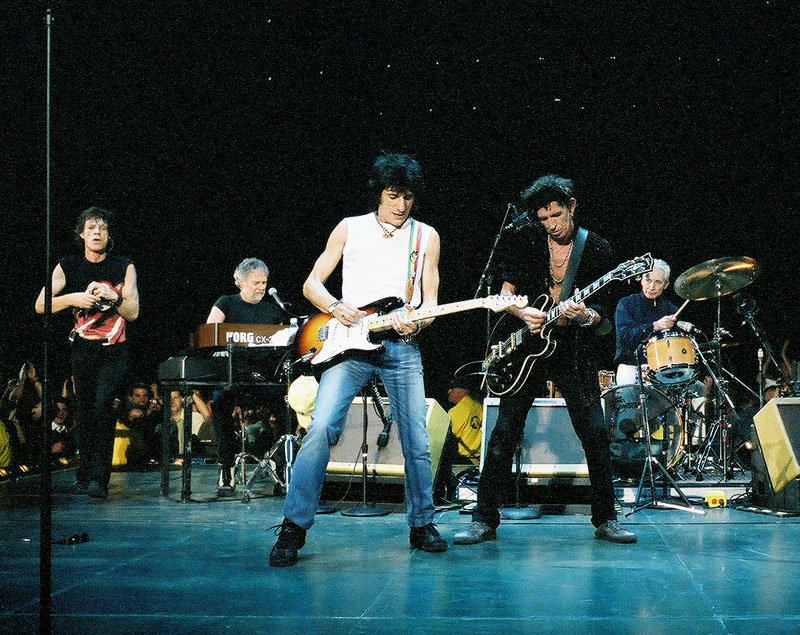 The Rolling Stones in San Diego, CA, Thursday Nov. 14, 2002. Thanks to Harold Colson for the great photo!
---
Little Paul Body:
Wow. Seems like it was just yesterday when the North American part of the tour opened. fall gave way to Winter and now the Old Men are on their way the other part of world. Since I didn't see all of the shows, all I can say that the ones that I did see were special: Anaheim because it was the best out door show that I had ever seen, they were kicking it that night, choogling like an off scheduled train. Ahhhhh, San Diego, in '98 I saw them through the rain and the wind and they were great, but this November in doors they rocked hard in funky place. They rocked so damn hard that night that I forgot to bounce over to the Krespy Kreme place next to the venue to get my fix. The Old Men were food enough. I have a special place in my heart for San Jose, I just dig the name. The show this time was real hot, that night they were hitting that note........smiles all around. That night they did the best version of "Can't You Hear Me Knocking" that I had heard until......Boss Angeles, maybe everyone was paying too much attention to the movie stars, I wasn't, I see them all the time but the Stones only come around now and then, so that night my focus was on them, I stood and moved and grooved for the whole show because I have to give them their props because they might be the last band around that was influenced by the old masters. You can still hear it because Charlie swings, baby. You know, I miss them already. Would love to see them in Paris. So all of who saw them we should be glad, maybe they didn't play our fave songs but that's all right. So to the Jag, Keef, Charlie My darling, Ronnie B. Goode, Chuck L., Bobby Keys, Darryl, Lisa "Fine as Wine" Fisher and the mighty horn section.........merci beaucoup a million times, cats and kitten, it was a wild ass ride. To the fans: We had a ball didn't we? Oh yes, thanks to IORR, also. Stay rocking and I will 4ever be.....Mean, Moody and Magnificent
---
Robert Bagel:
My main motivation for writing reviews is that it is a way of keeping in touch with people I know who are Stones fans. After the Comiskey Park show last September, an old friend who moved to New Mexico about 10 years ago called me and said, "Why didn't you write about Comiskey?". We used to talk only on the day when new albums were released starting with Voodoo Lounge, but lost touch. Now I'm back in contact with him.

When I got home from OK City, there was a message on my machine from a friend I went to university with because he said he went to the MSG show, heard about a good site that has Stones info and then saw my name under reviews. I have not talked with this guy since 1983!! That 19 years is a record, but I just want you to see -- even more than the power of the Stones -- the power and meaning of the IORR website that makes things happen.
---
Brian Stones Countie:
The Tour Started Here In Massachussetts On Fire With The Exile On Main St Album Theme On Sept 5. It Was Great to Hear Songs Like Loving Cup Rocks Off Rip This Joint. It Was Just A Great Opening Night. I Feel They Should Close The Tour Hear In Boston In September Where It All Began!!!!!!!!!!! Stones Still The Greatest Band In The World.
---
Nathan Mulkey:
I am so glad that these guys are still playing rock and roll after all this time. The Licks tour brought my third and fourth stones shows for my lifetime. I am 24 yrs of age and am thankful to have witnessed the greatest Rock and Roll band of all time.

I attended both a stadium show and an arena show on the Licks tour. I only can hope that I will witness a club/theater show in the future. I envy all of you that have seen them in that environment along with the obscure set lists. I saw the Atlanta and Nashville shows and I will provide a highlight from both. In Atlanta the highlights for me was the absolutely loose jam on what seemed to be an eleven minute Midnight Rambler and Mick singing the original "high" melody line on Angie just like on Goats Head Soup. He usually refrains from singing the high range portion to this song but belted it out that night. From the Nashville show the highlight for me was hearing Keith perform The Worst and also hearing a four song set from "Exile" highlighted by Sweet Virginia. Hopefully the Stones will come back to the south soon. Thanks to IORR for all the detailed coverage. It is without a doubt the authority Stones website. Cheers!
---
Chip Dayton,New York:
I've just enjoyed four Licks shows,the Thursday 1/16 HBO warmup my most recent. Many,many highlights of all. That was my seventeenth Stones show, but I thought I'd go back to review my 1st Stones show here, which was in July of 1966 at Forest Hills in Queens, N.Y. The band made a grand entrance arriving by helicopter just behind the stage. They rushed on in a frenzy and to my complete surprise you could HEAR them above the screams. (I never heard a note at two Beatles shows before). Jagger wore a jacket with a pattern of a tree up the back, totally unique then. I think Brian played his Firebird the whole show, not sure with Keith, but certainly no constant guitar changes like today. Wyman stayed to the side, never moving. The featured album was their new one "Aftermath". Standout songs included "Paint it Black","Under my Thumb" and my favorite of the night;"Stupid Girl". "Satisfaction" had been the THE hit from the summer before and the song that "brought the house down". Although I had a great time, never in my wildest imagination did I think the Stones would be the biggest interest in my life 37 years later.
---
Jim Ball:
It was always the other guy who got the pick or Charlie's stick, but that was cool to see how excited people were when they came up with it. In '89 the guy next to me shed a few tears when he got Charlie's stick, what a true fan! On a cold, lucky Tuesday in Chicago on the 21st of January a show that will go to my grave with me. The day before the show I struck a deal with a scalper and treated myself and my wife to 3rd row in front of Ronnie. Since it was the first show after the HBO gig, the boys were loose, joking around and having a blast. Mick tossed his water bottle and the chick in front of me was laughing at me because my shirt was dotted with water. After Gimme Shelter, Keith was center stage and tossed his pick which sailed directly toward my wife. She dove into the row behind us and after a scuffle came up with Keith's pick! I just kept yelling NO WAY, NO WAY! I couldn't believe we were going home with a pick Keith used on his big black Gibson to give us a wicked Gimme Shelter. I would have been totally satisfied with getting wet and going home with the prize pick my wife got. But wait, after the encore, JJF, I was waving my arms at Charlie and he threw his stick right toward me. My wife ducked or it would have nailed her in the head. It was my turn to go diving in the row behind and I came up with the stick. The tip is 1/3 broken off, cracked in one place, and notches, nicks and basically beat to hell. Charlie your the best! Stones Forever, I Love You Guys, Don't Stop and thanks for the Chills down my spine whenever I tell this dream come true!
---
Jan Macmillan:
My love and devotion to The Stones for over 30 went up yet another level, almost felt like I was in the movie Groundhog Day, wake up another Stones show! Oh Yeah, one of my top 3 things to do in life!!! Fortunate enough to catch the Palais Royale show, dead center 4' from the stage so I could watch Charlie, but Mick kept on getting the way, no problem! "Heart of Stone", "Can't Turn You Lose", "Hot Stuff" and of course one of my all time fav stones tunes "Can't You Hear Me Knocking". So what if it was hot! A kind of shaky ACC show pulled out some gems "Manish Boy" and "Thru & Thru". The hits laden Sky dome Show was excellent, the band was in fine form. No better way to started 2003 of by going to Montreal to help me start celebrating my 25th anniversary of first seeing The Stones (Buffalo July 4, 1978). Ronny was amazing, his playing has never been better and they did "Rocks Off". . Thank you for great new memories! Keef Riffin'!
---
Jim Dooley:
As a veteran of the Stones stadium shows since '78, the opportunity to see them at Staples Center in Los Angeles - on my Halloween birthday no less! - was incredible. It was the best Stones show I have ever seen. If I had to pick a particularly memorable moment, was hearing them absolutely NAIL CYHMK? but the show was fabulous from start to finish! Here's wishing the Boys a great European/Asian tour, and please make it State-side again soon!
---
Kurt Schwarz:
It took me almost five months, but I finally completed my personal Stones tri-fecta. Club/Arena/Stadium. Though not quite in that order, The Aragon Ballroom in Chicago (Club), Ford Field in Detroit (Stadium), and HP Pavillion in San Jose (Arena). I can only say this: I haven't missed a North American tour since 1981, and this is the best yet. In three shows I saw a total of (61) songs. (39) DIFFERENT Songs! (3) DIFFERENT Openers! (3)DIFFERENT Encores! (4) DIFFERENT Keith Songs! (1) Special Guest - BONO! And tons of new memories. Get ready World, save your money and your energy, start working out now, because here they come and you don't want to miss it. Thanks, IORR
---
Ron Blank:
The Rolling Stones not only epitomize rock and roll but they are the catharsis for evoking a modern cathedral where thousands may come together for a few hours and rejoice in a common spirit. I go to their concerts because no matter what is happening in my life, I know that I can reach a higher emotional state that doesn't leave me for several days. The ticket purchasing experience, lining up to get in, buying souvenirs, waiting with anticipation, the explosion of emotions when they come on stage, the 2 hour concert that rushes by in a blur, and then coming down in the hotel afterwards are all tokens of my existence that I treasure for months and years afterward.

The first stadium show in Boston was a special high because I had seen the last stadium show in Cologne in 1999. I was not to be disappointed. They played their hearts out for probably the longest show of the tour to date. It was our first view of the stage (who can forget the corn?) and it was cleaner than any stage since 1981-82. The backup singers didn't appear until the fifth song (haven't we been asking for this?) and the entire focus was just on the four members of the Rolling Stones. I was amazed by the music and the experience.

My next Licks show was the first of 2003 in Montreal. I still cannot believe what I saw. It was an incredible fury of sound and vision that went over us like a hurricane. How can men at their age do this? I'm amazed by their youthful exuberance. The sound system was also noteworthy as from my vantage point, the guitars were absolutely the loudest I have ever heard at a concert! I have wanted to see and hear such a show forever and I was rewarded by something very special.

We are going to Tokyo with the Fan Club package in March. Then we will see another stadium show in Copenhagen, a theatre show in Stockholm, and then wrap up with an arena show in Rotterdam. What a year ahead! If they keep up the energy of the Licks tour in 2002-03 to date, we are in for a year to remember! Of course, going to the temple of the Rolling Stones will always be memorable but when they make it as exciting as they have on this tour, how can you lose?
---
Tom Rathbun - Alpharetta, GA:
What a wonderful year for Rolling Stones fans in North America, young and old. The kids got to see the greatest rock and roll band in the world perform at, arguably, their best. The weathered fans got the re-affirmation they needed to support their allegiance (as well as some gems in the setlist). In the end, those who criticized whether or not the aging Stones still had it, were humbled by the amount of energy the band had, the conviction by which the songs were delivered and the unanimous critical acclaim by the press. They are still the Greatest Rock and Roll Band in the World.
---
CARDIFF GIANT:
Well, I was lucky enough to catch six shows....and so many great memories. Incredible to hit the trifecta to open the tour with all three Boston shows. WOW.... I had great seats for all three, capped off by 7th row center on the floor at Orpheum. My friend and I now boast that we had better seats than Presidential candidate John Kerry. The Massachusetts Senator was one row behind us and over to the left..ha, ha. And we got out tickets from the Stones fan club...what a deal. Just the atmosphere all that week in Boston was great. The shows were all so different and made that much better because it was the tour kickoff...Truly a surprise around every corner...Arena, stadium, theatre....who else could do it but the Stones?...Talked to Don Was on the street around the corner from the hotel...great conversation about the Stones recent albums and other stuff... Joined by Leah Wood for a brief moment as she said goodbye to Don before heading home to England... Got Charlie's autograph at Gillette Stadium before the show...He and his wife came out on the field before the opening act just to look at the stage!!!... Saw the Stones leave the Four Seasons, hung out with other crazy fans, listened to rehearsal in the street near the back alley at the Orpheum...on my birthday no less. Caught Buddy Guy's broken guitar string as he threw it into the crowd at the Orpheum show during his warm-up set. ..Stood in the rain just a few hours before the September MSG show to get great floor seats from the box office and was right on the edge of the b-stage getting great photos all night... Almost identical seats at Cleveland and Montreal... Nearly 20 rolls of film shot and so many great photos from the tour. Got to spend so much time with friends and family at the shows...My uncle and cousin after the Cleveland show..My uncle in his multi-tongue button down shirt and Stones beret....a priceless photo... the electric atmosphere in each city...the excitement inside each venue... the anticipation for the Stones to come on stage...the great music selections played during the intermission between the warm-up act and the Stones...Trying to see the setlist written out on Charlie's plexiglass...Hearing so many great songs...Some for the first time LIVE!!! ... All the souvenirs I paid too much for...but getting every ticket at face value in great locations....the free confetti from the end of each show... The drive to Montreal with my buddy who is as big of a Stones fan as me...the great conversations about songs...shows...the band ... A LOT OF LAUGHS....Good opening bands... Buddy Guy, Pretenders (w/ John McEnroe at MSG), Elvis Costello, Les Respectables... Watching the MSG HBO show at that buddy's house as he and his band played a great Stones setlist in the living room before the show... Wanting to see every show... Waiting for the next one...Hoping for more tours...Wishing money and travel was no object... Always looking for that next Stones fix......Keith's riffs...and joy...Mick's harmonica....and fire...Charlie's beats...Charlie being Charlie...Ronnie hitting a home run on Can't You Hear Me Knocking...The way the band swings on a good night...That hot sweaty night at the Orpheum...That setlist.... That intensity...Midnight Rambler at Gillette and Cleveland...Thru and Thru (world premiere) at MSG in September... Goosebumps every show...I could go on and on...
---
Sharon Rowell:
Seen every U.S. tour since NY in 1964, but never the way I saw them in Los Angeles, Halloween 2002.... 4th row just off to the side.....I felt like they were in my living room. .. I threw a kiss at Keith and he looked me right in the eye, and touched his heart. Not a day has gone by that memories of this amazing show don't linger...and by the way Mick has never been in better voice, his singing only improves with age.
---
Greg Regna:
I GOT SOME SATISFACTION...GETTING TO SEE THE STONES 7 TIMES ON THE US TOUR..ONE OF MY FAVORITE MOMENTS IS WHEN I HAD FRONT ROW BY THE SECOND STAGE IN NASHVILLE..MICK & THE BOYS CAME OUT ..I WAS 6 FEET FROM MICK,,AND HE JUST ROCKED..IT WAS THE CLOSEST I HAVE EVER BEEN TO THE BOYS..IN OKLAHOMA I HAD 8th ROW BY THE CATWALK & GOT HIGH FIVES FROM MICK,,KEITH & RONNIE..OF COURSE CHARLIE JUST WALKED BY WITH A BIG SMILE ON HIS FACE..THANKS YOU TO THE GREATES ROCKnROLL BAND IN THE WORLD..HOPE TO SEE THEM BACK IN THE GOOD OLE US OF A,,,THIS COMING FALL....
---




It's Only Rock'n Roll 2003 -
© The Rolling Stones Fan Club Of Europe