---
These are the latest Rolling Stones news and updates for you! IORR is a non profit fan club run by fans for fans. All parts of the It's Only Rock'n Roll web site is copyright of The Rolling Stones Fan Club. When using information from this site, please include a reference to IORR and the main web address www.iorr.org.
---
---
The Rolling Stones
San Diego Sports Arena
San Diego, CA, USA
Thursday Nov. 14, 2002
The set list:

Street Fighting Man
It's Only Rock 'n' Roll
If You Can't Rock Me
Don't Stop
Bitch
Love In Vain
Let It Bleed
Monkey Man
Midnight Rambler
Tumbling Dice
Slipping Away
Happy
Start Me Up
You Got Me Rocking
Can't You Hear Me Knocking?
Honky Tonk Women (with Sheryl Crow)
Satisfaction
Neighbours (B-stage)
Little Red Rooster (B-stage)
Brown Sugar (B-stage)
Jumpin' Jack Flash (encore)

Show time: 9:25 p.m. to 11:30 p.m.
---
Review by Brad Jones
It could not have been a better night for a Stones show! An Indian summer night was the setting and the sellout crowd was primed!

The Cheryl Crow opening set was a perfect Southern California choice, and as each song was introduced, the reception grew warmer right up to the finale "There goes the Neighborhood", which had all standing and cheering loudly!

When the Stones hit the stage, I could only imagine what surprises were in store! SFM and IORR had the crowd up and roarin', and as the opening set progressed it was clear that Mick had the SD audience in his hands! "Love in Vain" was played perfectly, and each selection followed with great attention to musical detail as both Keith and Ronnie seemed really up for this show, as they hit their marks flawlessly and exceeded the standard call with standout performances.

The show progressed to the B-stage with lively performances of "Neighbors" and "Brown Sugar" and wrapped up with an encore of "Jumpin' Jack Flash". The late start time may have precluded another encore, but the crowd went away satisfied, having seen The Greatest Rock 'N' Roll Band in The World and leaving this hardcore fan wondering how I'll make the 2003 shows in LA or Phoenix!
---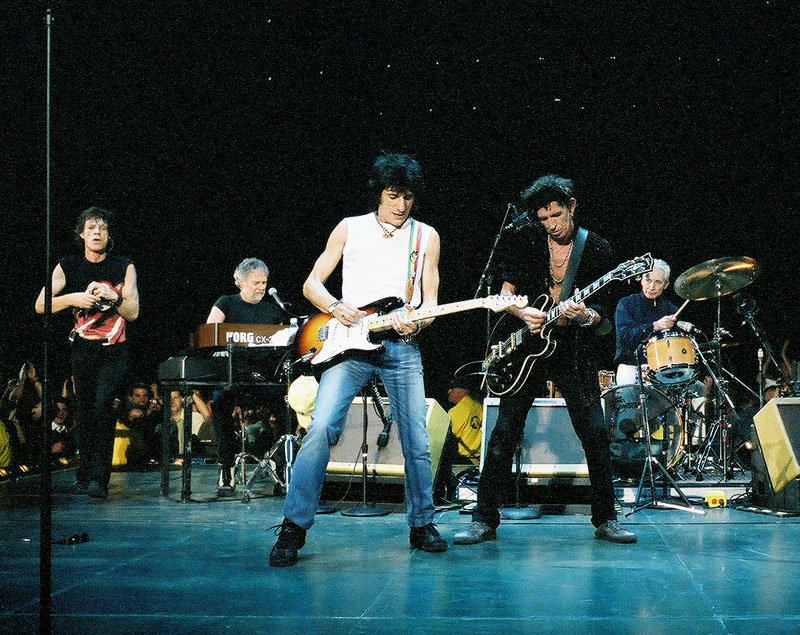 ---
Memories of San Diego by Little Paul Body
All this hype about the World's Greatest Rock and Roll, ain't no hype. When the Stones are on, they are like James Brown: They Don't Take No Mess. They might not be hip, they might not be on the radio, they might not play the songs we want to hear or any off that other stuff but make no mistake, they can still ROCK. Tonight proved it.

Street Fighting Man: Tonight they took me back to '68, when this song was sneaking though the airwaves. Somewhere the ghost of Sweet Brian was smiling down.

It's Only Rock and Roll: Hey you wanna hear some Berrychuck grooves, this one does it. They smoked on this one.

If You Can't Rock Me: This sounded a lot better now than it did in '75.

Don't Stop: A cool song and live it always goes over real good. Hey, it's the Stones.

Bitch: They took this one to another level because the Uptown Horns were cooking and the Jag was doing his thing.

Love In Vain: A major highlight as beautiful as the version from '69 and as tough as the one from the '72 Tour. The Jag was really into this one. Keith and Ronnie B. Goode were doing their weave thing.

Let It Bleed: I don't remember them doing this in '69, at any rate it never sounded better.

Midnight Rambler: This song ended the "Let It Bleed" set. By this time the band was really hitting that note because they smiling and the music was grooving. Still one of the scariest songs ever put on wax, sometimes it get kind of Las Vegas but that's all tight.

Tumbling Dice; Maybe my fave Stones song and tonight they nailed it to the wall. I wasreally digging Charlie and he is truly amazing.

Slipping Away; All this talk about Keith losing a step, well tonight he was right there on this song. His voice sounded....well like Keith and that's good.

Happy: Ronnie B. Goode, echoing Mick Taylor and sounding real good. This song is always a great rocker when they hit it and tonight they hit it.

Start Me Up: One of the last really, really great car radio songs, live this always cooks. man, those guitars and drums making that pizzaa wiggle.

You Got Me Rocking: You can tell that the Jag loves doing this song, the audience was rocking, so he has good taste. Once again Charlie was a monster.

Can't You Hear Me Knocking: Started off kind of tentative but was they hit that groove....GOOD GOD. The Jag was evil on the harmonica and Ronnie B. Goode nailed long gone Mick's riffs and added a few more of his own.

Honky Tonk Woman: The Jag and Sheryl Crow get nasty. I can say this, I have seen the Stones a few times and I have never seen the Jag smile and enjoy himself as much as have on this tour.

Satisfaction: The war house. The song that will live forever. Still sounding great.

Neighbors: ROCKED THE B STAGE.

LIttle Red Rooster: Maybe the best version I have heard them play......ever. Took me all the way back Shindig '65.

Brown Sugar: Bobby Keys blew his brains out on the solo. WOW. This song works great on the B stage.

Jumoing Jack Flash: Like Keith once said, how could he not like playing this song. This was the last song, it seemed a little longer like they didn't want to go but they had to go. The added horns gave it a nice touch.

Once again Charlie got the most applause, Darryll Jones is finally getting his props and Keith even introduced the Jag. Ms. Fisher looked like trillion dollars. Somewhere Muddy and the Wolf are saying the boys did all right. I got back the wonderful Comfort Inn, turned the tube and who was the Charlie Rose Show? The Jag that's who. A perfect end to beautiful night.
---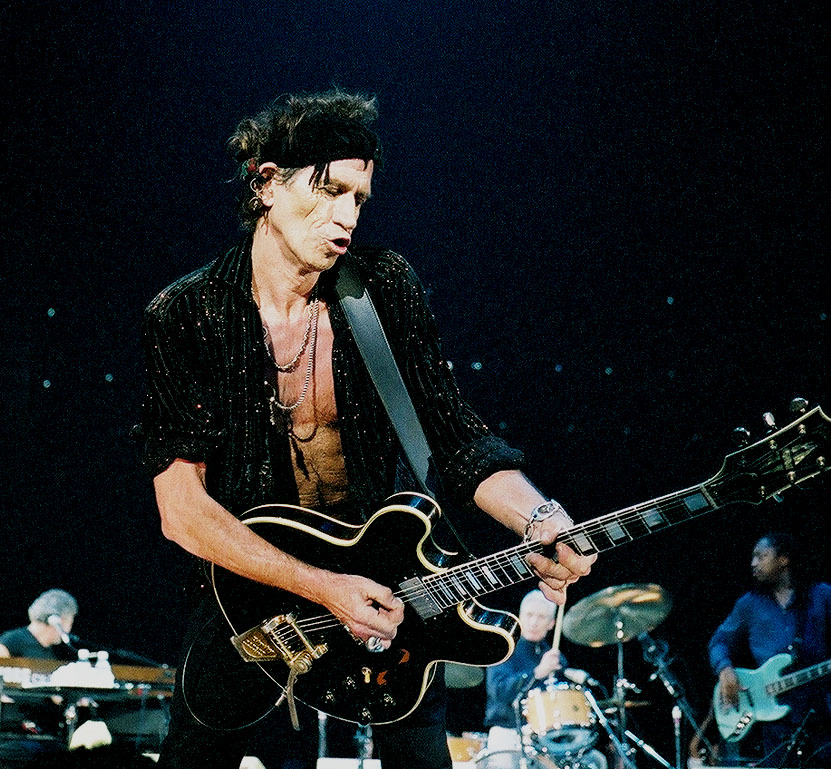 ---
Review by Mike Gaffrey ("GAFF")
What a f**king show!!! Sorry for the expletive, but I'm still bouncing off the walls from last night! Got to the Arena parking lot early and went by pole E5 looking for the Shidoobee party, but saw nobody I recognized and my wife was getting cold so we went inside to check out our seats. Here's the deal...I had floor section H, row 7, seats 19 & 20. I figured these would be great seats for the B stage, but when we got down there, we found that the seats only went to 18; no seats 19 & 20. The people checking ticket stubs on the floor said Sorry, we can move you back a few rows if you like. NO THANKS! We went up to the inside ticket window and the girl apologized and upgraded our seats to row 18, Keith's side, right next to the catwalk! YIPPEE!!! Met the lovely Susan Anton (gawd, I loved her in the 70's!) and had my picture taken with her. Tolerated Sheryl Crow's set, then it was time for the real show to begin...

When they hit the stage with SFM, my wife and I immediately rushed up to the front of the stage and were able to stay there for almost the entire song. I have never been so close to the band in my life! Took about a dozen pictures while I was up there, then was told very politely by a security guy that it was time to return to our seats. I was able to run up there a couple more times during the show to snap another couple pics and I can't wait to see how they came out. The whole show kicked ass! I dug every minute of it.

Didn't press any flesh when they came down the catwalk. It seemed that right when a band member would get in range, they'd turn around to slap hands with the folks on the other side. Oh well. One of the crew gave me a guitar pick, so that was cool, but I missed out on a copy of the set list by about a minute. All in all one of the best nights of my life and THE BEST show out of the eight I've seen since 1981. Real highlites were SFM: Excellent choice for an opener and played LOUD! Love In Vain and Let It Bleed from the main stage with Ronnie playing beautiful slide. Monkey Man and Midnight Rambler were outstanding as always.

This was the first time I've seen Keith do Slipping Away and it was absolutely beautiful, and, of course, Happy was great. Little Red Rooster on the B stage was a nice selection. I was right behind Charlie for the B stage numbers and I couldn't help but be amazed that I was so close to him. After all of the old black and white film I've seen of the Stones doing Rooster (and other numbers), it was real special being able to watch this masterful gentleman work his magic on the drums and remind myself that this is the same Charlie who was on the original recordings I've been listening to for 25 years, posed with a donkey for the cover of Ya-Ya's, etc, etc. There is something so special about this band and I feel so blessed to be able to still see them perform live. I cannot imagine what my life would be like without our beloved Rolling Stones. SHIDOOBEE!!!
---
In the press
---
Thanks to Dean Goodman for set list information.
Thanks to Harold Colson for photos!
Thanks to Axel Schumacher for links information.
---
This page will change over the next few days, as you and other fans send reviews, set lists and reports. Please send your e-mail to IORR. Thanks! For details and great photos from the Rolling Stones and their World Tour get the IORR magazines.




It's Only Rock'n Roll 2002 -
© The Rolling Stones Fan Club Of Europe