---
These are the latest Rolling Stones news and updates for you! IORR is a non profit fan club run by fans for fans. All parts of the It's Only Rock'n Roll web site is copyright of The Rolling Stones Fan Club. When using information from this site, please include a reference to IORR and the main web address www.iorr.org.
---
---
The Rolling Stones
Private show for the Kraft Family
Gillette Stadium, Foxboro, MA, USA
Monday September 21, 2021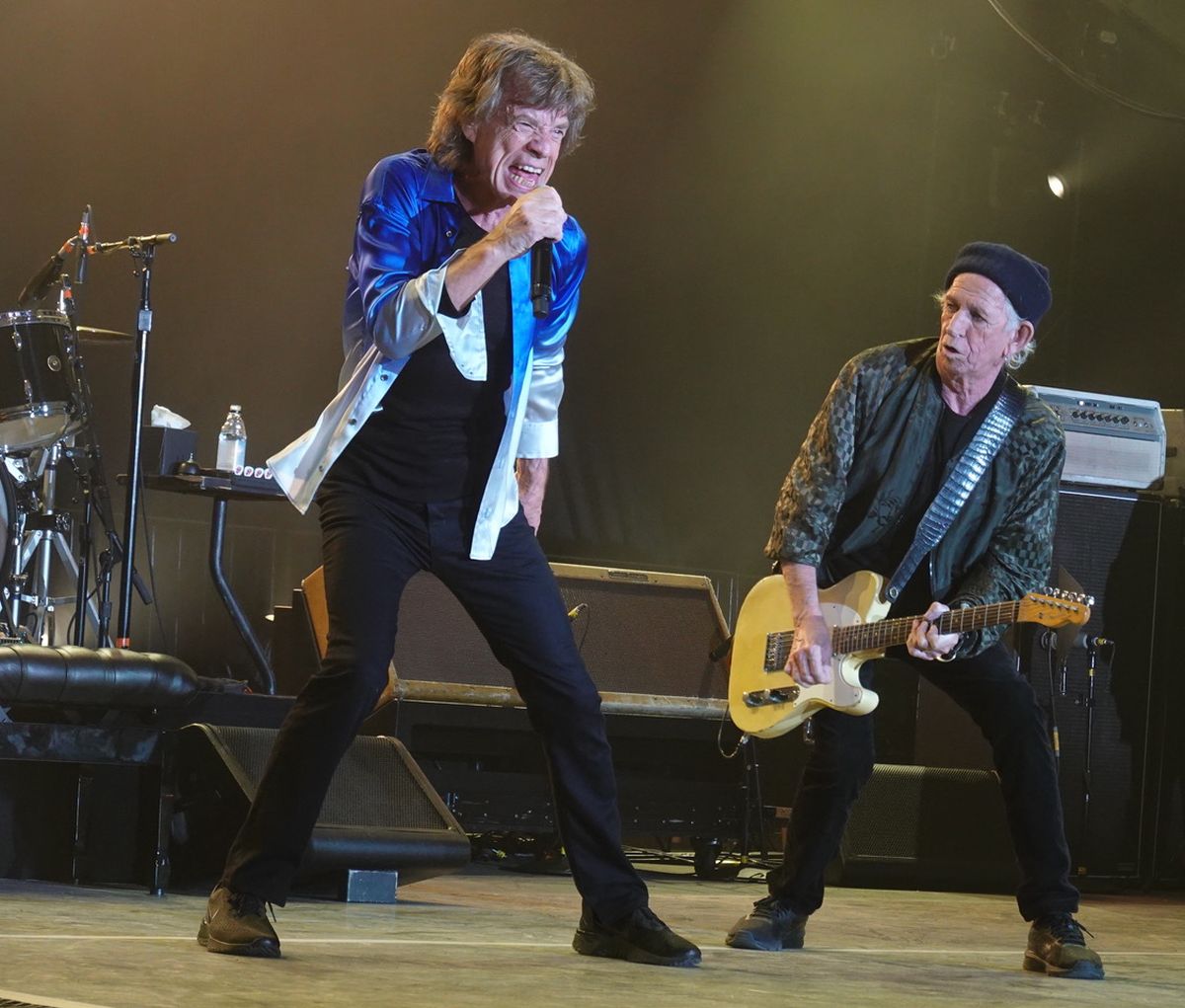 Gillette Stadium September 20, 2021 - Photo by Hendrik Mulder
---
The set list
Let's Spend The Night Together
Tumbling Dice
Under My Thumb
Trouble's a Coming
Ghost Town
You Can't Always Get What You Want
Midnight Rambler
-- BAND PRESENTATIONS
Miss You
19th Nervous Breakdown
Start Me Up
Gimme Shelter
Sympathy For The Devil
Jumping Jack Flash
Satisfaction
Show start :  9:02pm
Show end   : 10:38pm

---
Pre-show info and live comments:
The Rolling Stones private show at Gillette Stadium Foxboro/Boston Sept 20, 2021
---
Reports please!!!
Please send your comments, reviews, links and more to:

[email protected]

IMPORTANT! Reports and pictures are welcome, but please send them as soon as possible after the show. Updates of these reports pages will mainly be done within 2-4 days after the show has been performed. After that it is on to the next show of the tour, and there will normally not be time for any more updates of older reports pages.
---
Review by Hendrik Mulder
What a historical and emotional night it was in a tent at the Gillette Stadium on September 20. We entered the venue at 20.30, had to give our names and proof of full vaccination and found our way to the tent. The very first Stones gig since 2019, the first show of their 2021 tour and, unfortunately, the very first show without Charlie Watts.

Robert Kraft came on stage at 21.00 and did a short introduction speech about the stones playing in Gillette for the first time in 2002 and that this was for his recent big birthday adding that every Birthday is a blessing and he wanted everyone attending to embrace life and enjoy the moment with the greatest rock and roll band in the world.

2 minutes later the Stones were on; we expected a very standard short setlist with only the well known songs but what a surprise it was: Let's Spend The Night Together as opener!

Mick was looking great and powerful as always, Keith with a black beanie on his head, Ronnie's hair re-growing strongly after his treatment this year and Steve, with sunglasses, smiling all the time.

After Tumbling Dice there it was, Charlie being honoured: Mick, Keith and Ronnie, huddled together arms around each others shoulders, obviously touched. Mick mentioned that it was their first tour in 59 years without Charlie Watts. That they miss Charlie so much, miss him as a band, miss him as friends, many memories and he was sure that he will be missed by everyone who ever attended a concert and he would like to dedicate this show to Charlie. Ronnie added: "Charlie we're praying and playing for you"

After these emotional words we got another unexpected song: Under My thumb. It was with this song that I paid a bit more attention to Steve: his drumming was, as expected, more firm and robust, but absolutely not too loud and certainly not as dominant as he was with the Winos.

After this it was time for " A song we never performed before on stage, only at home and recorded ages ago and will be on the rerelease of the tattoo You Album. An obscure cover called Trouble's A Coming" This song circulated in trading circles for a couple of months but it's a safe bet to say that no one in the audience ever heard this one before! The yet unreleased outtake version has a nice falsetto but Jagger didn't do that tonight. Makes me wonder how the version on the rerelease of Tattoo You will be…..

Next was the premiere of Ghost Town, which worked out really well with great harmonica and good audience participation. Then Mick said happy birthday to Robert Kraft and said that Its so nice to play for someone even older than we are" After You Can't Always Get What You Want we got Midnight Rambler; really miss Charlie on this song. The band introduction was very interesting too. Steve Jordan was introduced as "a great friend of Charlie and the first show with us, Steve Jordan" Steve, being very humble, stayed at his drum kit.

Another highlight of the show was the 'saxophone weaving' between Tim Ries and Karl Denson on Miss You, stunning! 19th Nervous Breakdown is a keeper and then we got the usual warhorses like Start Me Up, Gimme Shelter, Sympathy For The Devil, Jumpin' Jack Flash and as ecore, Satisfaction. Interesting detail: Street Fighting Man was mentioned on the setlist but wasn't played. Quite surprisingly Brown Sugar and Honky Tonk Women weren't played, which you would expect in a private show.. Time for the bow: first with the entire band, then Keith all but disappeared and I got the impression he needed a little encouragement to come back out to bow as just a three without Charlie.

We had an amazing night; my advice: I feel the best way to honour Charlie is go out en see 'em!
---
Review by KSAM
I posted the videos and pictures I took over on the Fanwall and asked if some technically savvy person could put them out here on IORR for all of you. They did and now I'm reading lots of stuff born of my decision to share.

After arriving, meeting up with my old school chums over a beer with other Stoners at the elevated bar across the plaza from the stadium opening, we sauntered up to the gate drawn across the field opening. Someone had pointed out Bjornulf Vik to me from the bar. He was down at the gate. I wanted to introduce myself and thank him for his passion and drive. After every show, I eagerly anticipate reading his thoughtful and heartfelt musings and wanted him to know all the good he's done in my musical life. Alas, he was gone like a ghost when I arrived, so I'll thank him here: THANK YOU, Bjornulf. You're a special person!!

How did I get in? Jedi mind tricks and moves like Jagger! Things were planned out in advance and lady luck rode with us. I must give mad props to my pal who conceived of the plan. He sprung it on me at the last minute and we dropped into lockstep, weaving like Keith and Ronnie and made the impossible possible. Suffice to say I can't say more as sometimes facts may have unintended consequences. Rest assured nothing untoward occurred during this magic act, no walls were scaled, and no laws were broken. You could actually try this at home!

After the magic carpet ride into the stadium, we casually moved up the side of the tent and ducked into the back where the open bar and food was set up. From there we practically ran into the stage area of the tent and set up shop about 40 feet in front of the middle stage. We arrived on scene during the final stages of Under My Thumb, the third song on the set.

I'm so happy that Mick posted the video tribute of the band at the beginning of the concert dedicating the show to Charlie. We missed that live. My first inkling of the Stones was a babysitter blasting Get Off of My Cloud repeatedly with the volume at #11 in '65 or '66 when I was in grade school. I hated it…it scared me. I was a fledgling Monkees fan, but of course I was too young to understand. Fast forward to my 15th year on the planet and I purchased my first new Stones album on release, Goats Head Soup. Still one of my all-time favorites. I fell in love with the Mick Taylor Stones and still pine for them, although equally love the Brian years and totally in sync with the Ronnie era. I love Ronnie's work with The Jeff Beck Group and the Faces. All this is to say each era has been different, but more importantly, near-and-dear to my musical heartstrings. The Rolling Stones are my favorite band of all time. Period. I have others on my Pantheon, but the Stones are middle top step!! I say all this simply, so you know where I'm coming from as I reveal my thoughts about the show on Monday.

I've seen a thousand live shows in my life. Many in stadiums, etc. but more in local clubs. In the before times, I was a regular on the Cambridge/Boston/Somerville music circuit here in eastern Massachusetts. You can plop down 7 or 15 bucks on a Tuesday or Friday night at the Lizard Lounge in Cambridge and see songwriting, musicianship and technical dexterity that will leave your jaw dragging on the floor. Don't tell too many people about it. It's our own world and when it all opens back up, I'll be there again. I say this to let you know I'm not only a fan of the Stones but have a very long, involved, and critical (in the best way I hope) expertise as a music aficionado like all of you, so you will have to take my word that whatever you think about what you saw on those videos, my words should weigh more in your ultimate opinion of Monday's show. They wrapped up Under my Thumb and our grins stretched from ear to ear. Mick paced back and forth and introduced a cover tune, Trouble's a Coming. It's always special to hear a first-time performance. On the first strums I recognized the tune from the Fully Finished Studio Outtakes. From our middle front vantage point, the sound was amazing. The sound board team deserves mention.

Let me point something out I have always thought about but never really vocalized. Listening to live rock and roll is very different from playing an album where every nuance is tightly controlled in the studio by obsessive engineers and producers. Live is the true test in my opinion. As a rock tune hits you, it should be like eating an amazing piece of your favorite cake made by your mom. The finest ingredients, fully mixed in the right order and temperature, cooked perfectly and sprinkled with love. Eating the ingredients separately like flour, raw eggs, lard, would be wholly unsatisfying. Likewise, trying to parse out individual ingredients for commentary after eating said cake, would be fruitless. I say this as I've read many comments on the newest member of the band, Steve Jordan. I really didn't know much about him leading up to the show. I've since brought my knowledge up to speed through Wiki, etc. Let's get this out of the way now. He's not Charlie Watts and that's alright with me. I loved Charlie Watts deeply. He and Keith (first) were always my favorite Stones through my teen and twenties years. I came to appreciate all of Mick's towering achievements a bit later, but no less passionately. I'll forever miss Charlie and how his wings never melted in the '70's when he flew too close to the Sun that were the Glimmer Twins I'll never know, but he did and recovered and prospered and his swing will be forever loved and missed. Standing there live, it's true that Steve is a much more muscular drummer than Charlie. But it really, and I can't stress this enough, really worked. There was a rockier sound and it sounded fabulous. We can't go back and change things. If I could, Brian and Bill and Mick Taylor and Ian Stewart and Nicky Hopkins and Bobby Keys, and mostly Charlie all would have been on that stage Monday. What we had LADIES AND GENTLEMEN, (were) THE ROLLING STONES!!! Not some substitute or whatever someone could think up, the real deal in the flesh.

Let me say something about my videos, please. As mentioned, when we first arrived, we were dead center about 40 feet out halfway between the stage and soundboard. The sound was amazing. All instruments were balanced, and all the players were in stunning form. Instant impression is that this was an amazingly tight iteration of the Stones and it truly worked for me!! We did venture to the back to grab a beer at the open bar and upon returning, there were more fans crowded into the space where we vacated. We were able to find space a bit to the left and perhaps a bit closer. The sound there wasn't the same. A bit louder and harsher but not at all bad. Whenever I go to a concert, unless hanging with my wife or friends, I tend to move around in search of the best sound. I was so deliriously happy to be where I was on earth at that moment, I just stood there grinning and didn't move off to find that sweet spot again. I have an older iPhone 7 ( I know people, don't judge, I'm a victim of inertia!) and it does an admirable job but is not state of the art. Again, my location wasn't in a "sweet spot", and you must also know that phones/cameras must have been announced before we got there as being prohibited as no one was holding up their phones taking pix or vids. Where we were standing was immediately to the left of Charlie Baker, the governor of Massachusetts. When he pulled out his phone and started videoing, a security person tapped him on the shoulder and asked him to stop! He's 6 foot 6 or something ridiculous so he provided cover for me on that side! I had to hold the phone low, close to my chest and couldn't concentrate on framing, lighting and focus like I would normally, so what we have is what we have with lots of meandering and heads bobbing. I know how to shoot, just couldn't. Additionally, I was also in a somewhat altered state, so forgive me my trespasses!! All this babble is so you know what you saw and especially what you heard on those videos was representative of what I saw and heard but please know that they are not an accurate record. And…...the drumming was louder as we were closer to the PA system. Back further, it all was seamlessly mixed and sounded amazing. Rest assured, Mick and the boys know what they are doing, have always been incredibly successful following their own muse, so for that I am grateful and accepting of their choices in music.

In all their no longer so ragged glory were Keef, Mick and Ronnie strumming, picking, strutting, and singing in top form. Hear this: they were in top musical, and what was obvious... top physical, form all night! Keith was all business from the get-go and his riffing was driving the music beautifully. Ronnie's dexterity on lead and rhythm fantastic. Weavers both looking and acting and most importantly playing many years younger than their actual ages which is a testament to their passion and professionalism. They both first-and-foremost consistently perform in service of the song and for that they have my true admiration. All shows are different. Will Keef not seek the limelight on the entire tour? Who knows, but he was there in rare form, full of concentration and didn't miss a riff or fill the entire night. After reading "Life" can we not all be amazed at these accomplishments in 2021?!

How about the master of ceremonies? Mick strutted and preened. Paced back and forth. No real gymnastics but in full command. Dressed from head to toe in tight black clothes he looked buff. As I stated over on the Fanwall, he's not a young man, but you couldn't tell that by watching him on Monday. His vocal phrasing taking advantage of every ounce of his talent and delivering to everyone's delight! At one point he faced the crowd mid-song (can't remember which now) and slightly crouched forward and began shaking or fanning his arms and hands rapidly. I shouted, "he's testifying" and my pal confirmed that was indeed what was happening. Amazing. Wish I had a video of that!!! The man has been working out so he can still deliver a fully realized, professional show to you every night. His contribution to the musical cake cannot be determined solely based on the videos you have seen. He is arguably the single most important driving force in the history of popular rock and roll music and still delivered the goods on Monday, September 13, 2021. I do believe we all owe the continued existence of The Rolling Stones, now in their 6th decade, to the iron will of Mick Jagger.

Who was in the band other than Keith, Mick, and Ronnie? Darryl Jones on bass, Chuck Leavell on piano, Steve Jordan on Drums, Bernard Fowler on vocals and percussion, Sasha Allen on vocals, Karl Denson on Sax, Tim Ries on sax/keys, Matt Clifford on keys/French horn. Let's face it... The Stones always have the best people with them and these musicians, some of them very long-time participants, are the best.

I won't run down the entire show but let me say that every show has highlights and new stuff is always exciting to me. The previously mentioned Trouble's A Coming a highlight for me. The entire presentation with emphasis on guitar work in Living in a Ghost Town was fantastic. It really got me moving out on the floor! The pick of the night was 19th Nervous Breakdown. What a rendition, again emphasis on guitar work. The snippet I uploaded was too short and doesn't do the number justice. There was a dual guitar section where Keith and Ronnie stepped up and played to each other. Dissonant tones on the verge of punkiness. I was dumbstruck. My pal and I looked at each other in amazement. My personal highlight of the night. I know there is lots of discussion on the war horses. Well, they're war horses for a reason. I too would like to hear a night of rarities, but this is reality and the new tight, sound put enough of a twist on the rest of the night to wake up my senses and make me appreciate what these guys can deliver. And did they ever. We have no complaints to report!

And a note on the crowd: This party was thrown by the owner of the New England Patriots. A complex person. We locals do appreciate that he pays the band that won 6 Super Bowls and I, of course, truly appreciate him putting the band together on Monday night! The attendees were a highly monied and well-heeled bunch and but doesn't make them bad people. Among them were many highly accomplished people in their fields including the biotech exec who founded Moderna, etc. While they may not have been the IORR salt-of-the-earth fans, most were highly appreciative of the show and were bopping and dancing along. I also heard Peter Wolf (every appearance of his is a masterclass in showmanship) was in attendance, but I didn't see him. In the before times, it wasn't unusual to see him enjoying or participating in the local music scene I wrote about earlier rather regularly.

Well, that was way effing too many words. I did say I'm a bit of a social media luddite, so maybe I was saving it all up for this night?! All in all, I felt like I was carrying a torch for all The Rolling Stones lovers and fanatics out there with my good fortune. We're on to St. Louis!
---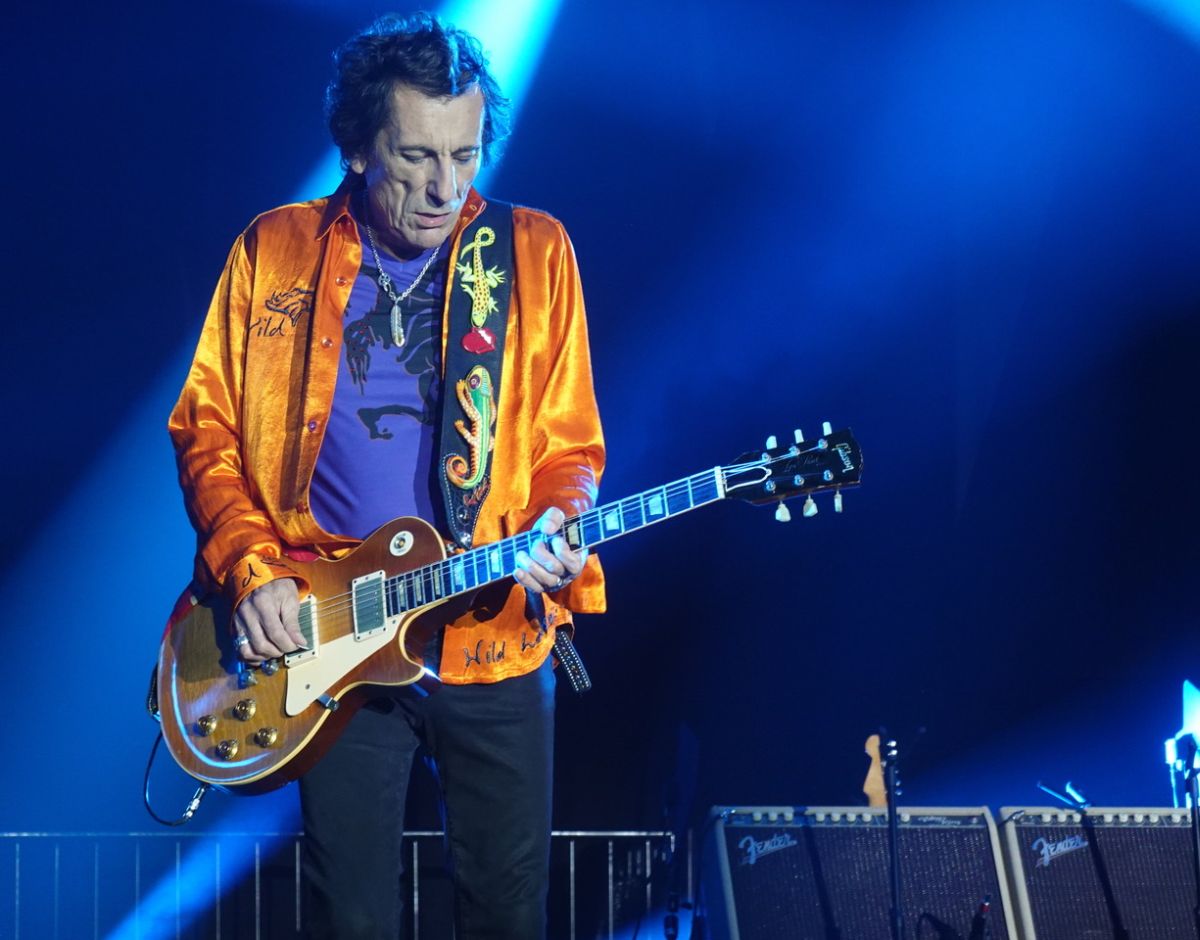 Photo by Hendrik Mulder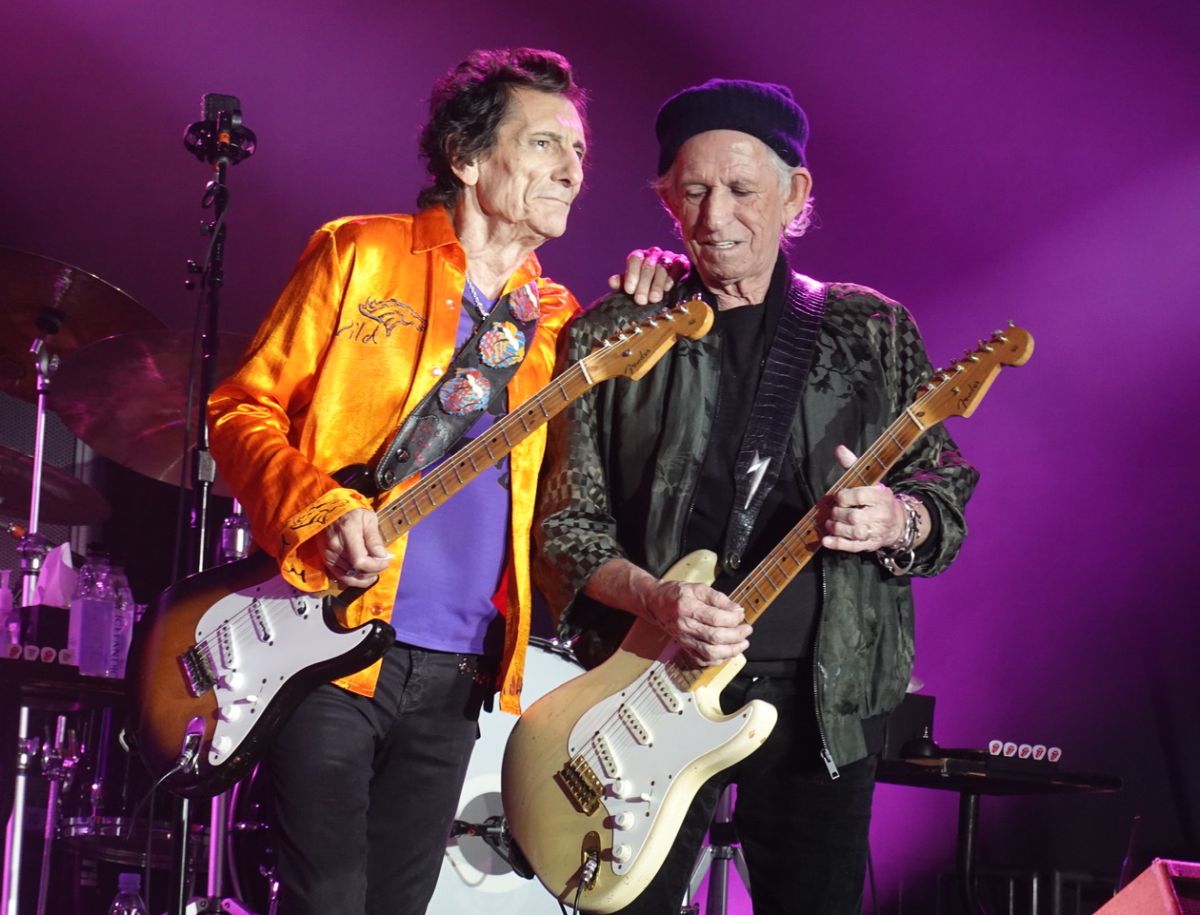 Photo by Hendrik Mulder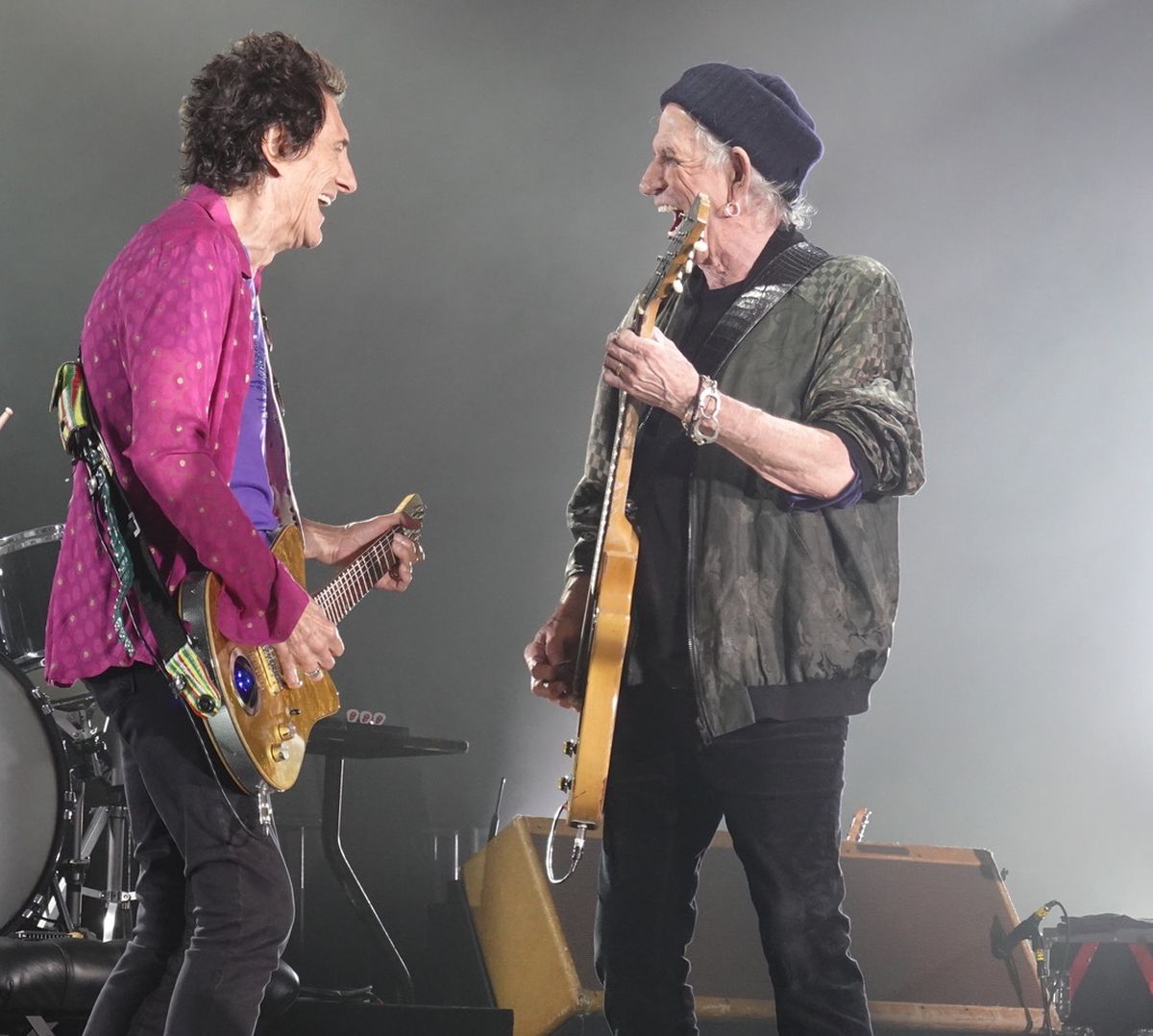 Photo by Hendrik Mulder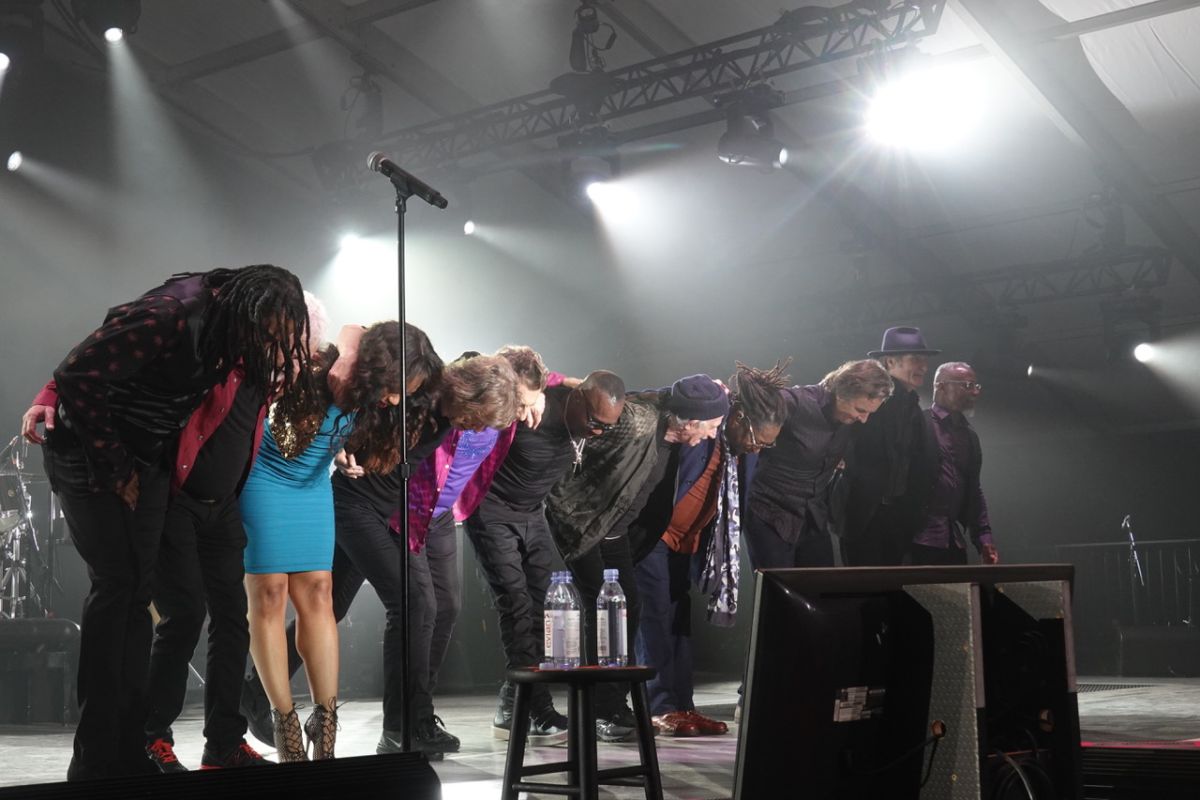 Photo by Hendrik Mulder
---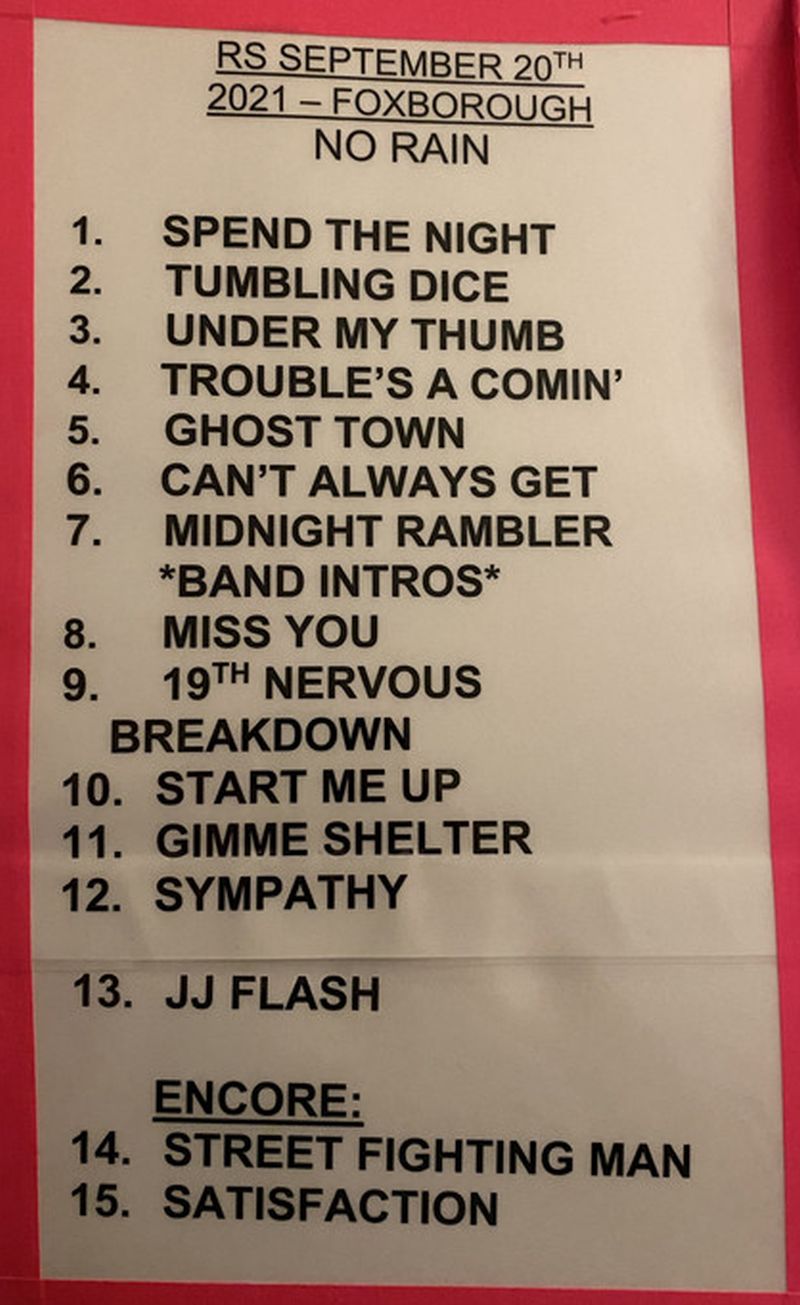 Set list. PS. Street Fighting Man was NOT played. Thanks to Hendrik Mulder.
---
Videos
---
Reports
---
This page will change over the next few days, as you and other fans send reviews, set lists and reports. Please send your e-mail to IORR. Thanks! For details and great photos from the Rolling Stones and their World Tour get the IORR magazines.




It's Only Rock'n Roll 1980 - 2021
© The Rolling Stones Fan Club IORR