---
These are the latest Rolling Stones news and updates for you! IORR is a non profit fan club run by fans for fans. All parts of the It's Only Rock'n Roll web site is copyright of The Rolling Stones Fan Club. When using information from this site, please include a reference to IORR and the main web address www.iorr.org.
---
---
The Rolling Stones
U Arena
Paris, France
Thursday October 19, 2017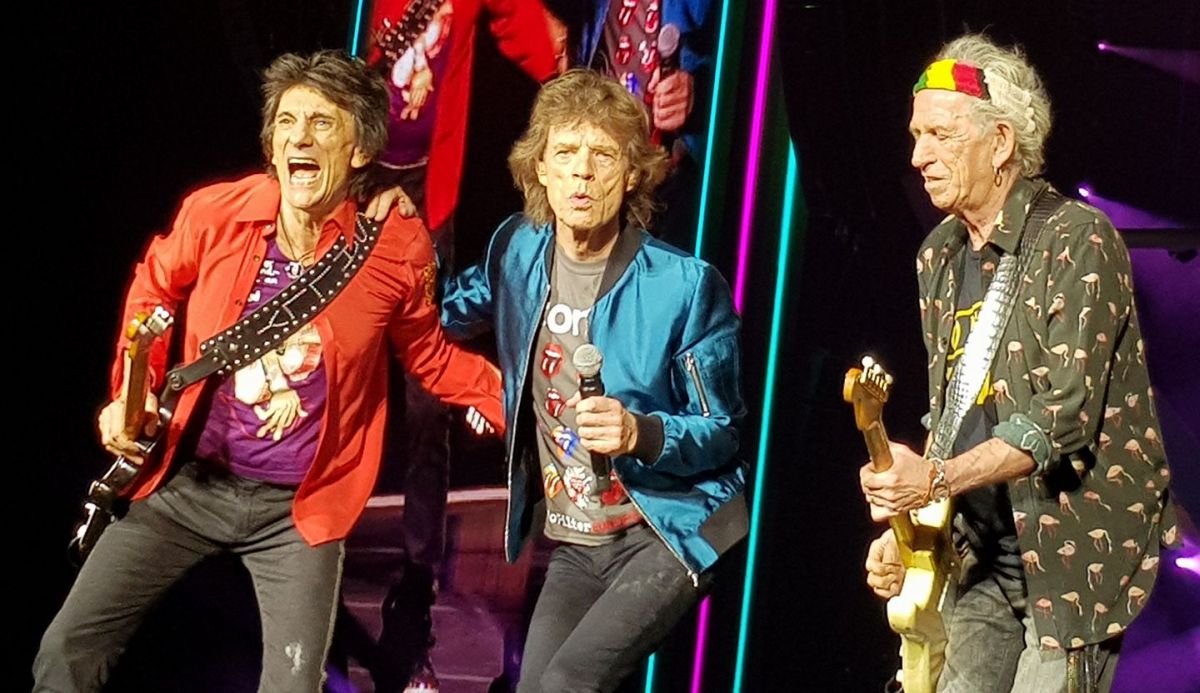 The Rolling Stones live at the U Arena, Paris, France, Thursday October 19, 2017 - Photo by John Frusch
---
The set list
Sympathy For The Devil
It's Only Rock'n Roll
Tumbling Dice
Just Your Fool
Ride 'Em On Down
Under My Thumb
Let's Spend The Night Togehter
You Can't Always Get What You Want
Paint It Black
Honky Tonk Women
--- Band introductions
Happy (Keith)
Slipping Away (Keith)
Miss You
Midnight Rambler
Street Fighting Man
Start Me Up
Brown Sugar
Jumping Jack Flash
--- Band off stage
Gimme Shelter
Satisfaction
---

Show start :  9:02pm
Show end   : 11:13pm

---
Pre-show info and live comments:
Paris France 19-October-2017 Stones No Filter live show updates
---
Reports please!!!
Please send your comments, reviews, links and more to:

[email protected]
---
Review by François Galaup
Heaven and Hell.

For me a real FANTASTIC show tonight ! All the band in connection with just enough of concentration and relaxation.

Highlights : Let's spend the night together have warm up the show / Midnight rambler with fantastic guitars playing / Brown sugar with all the band gone in another world ...

But a incredible bad organisation with something like 75% of the first in queue passing the security without any control . And a lot of FOS OR ticket holder lost in the arena without their badge, so they have to go back at the entry To get it.

Good sound in the FOS OR area, hope it was the same for everybody. Now waiting for the 22nd and 25th.
---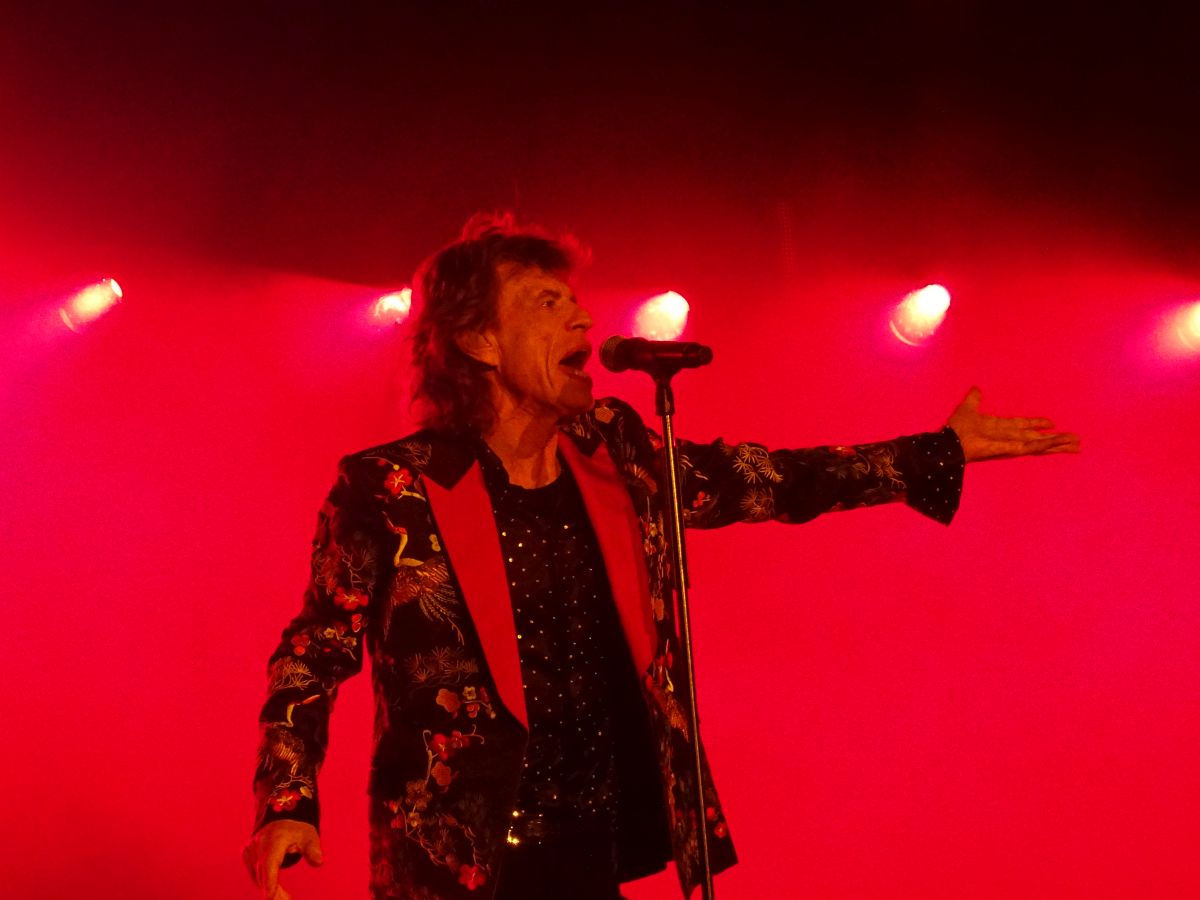 Photo by Bjørnulf Vik
---
Review by Benjamin Delambre, France
10 years ago I was 18 and I thought that my 8th Stones show in Lausanne, Switzerland, was my last Stones show ever. I'm 28 years old today and I am celebrating my 27th Rolling Stones concert, in the same city where I saw them the first time in 1998, Paris.

The organization tonight at the U Arena was terrible. I had No Filter PIT tickets and couldn't get inside the PIT, the security didn't want to let us in. People with No Filter PIT, Fosse Or, or General admission had to queue at the same location outside: Gate 33. We were all mixed and no one knew how to join our category. After many "fights" with the security, they finally let us access to the PIT, I chose the catwalk as always, not too close from the stage because it is very high.

When I buy Rolling Stones tickets, I usually don't choose the first dates of the tour, because I know that they get so much better after a few shows! For this No Filter Tour, Paris #1 was my first show. This time, I tried to watch the less videos as possible on YouTube because it ruins the surprise. I didn't even know what kind of setlist we were going to have tonight (except the first song).

To resume tonight's show, it was fantastic! Sympathy For The Devil works so good at the beginning of the show, even better than Jumpin' Jack Flash or Start Me Up. I got very emotional during the two first songs, like I was discovering the band! By the way, I really love this new stage, I find it very modern. In my opinion, the highlight was Midnight Rambler. The best version I've ever heard? Maybe! The other highlights were Paint it Black, YCAGWYW and Gimme Shelter to mention just 3 songs… The intro of Brown Sugar is often missed by Keith but today it was perfect!

Keith's set was beautiful tonight. Happy was very strong and Sleeping Away was very honest, played and sung with his heart.

Tonight, I found the show so much better than the Ole Tour shows, like they are now having so much more fun than before. And less pressure? Well I don't know how they can get better than tonight. Can't wait to see them again on Sunday and Wednesday with, hopefully, a better organization from the Arena.
---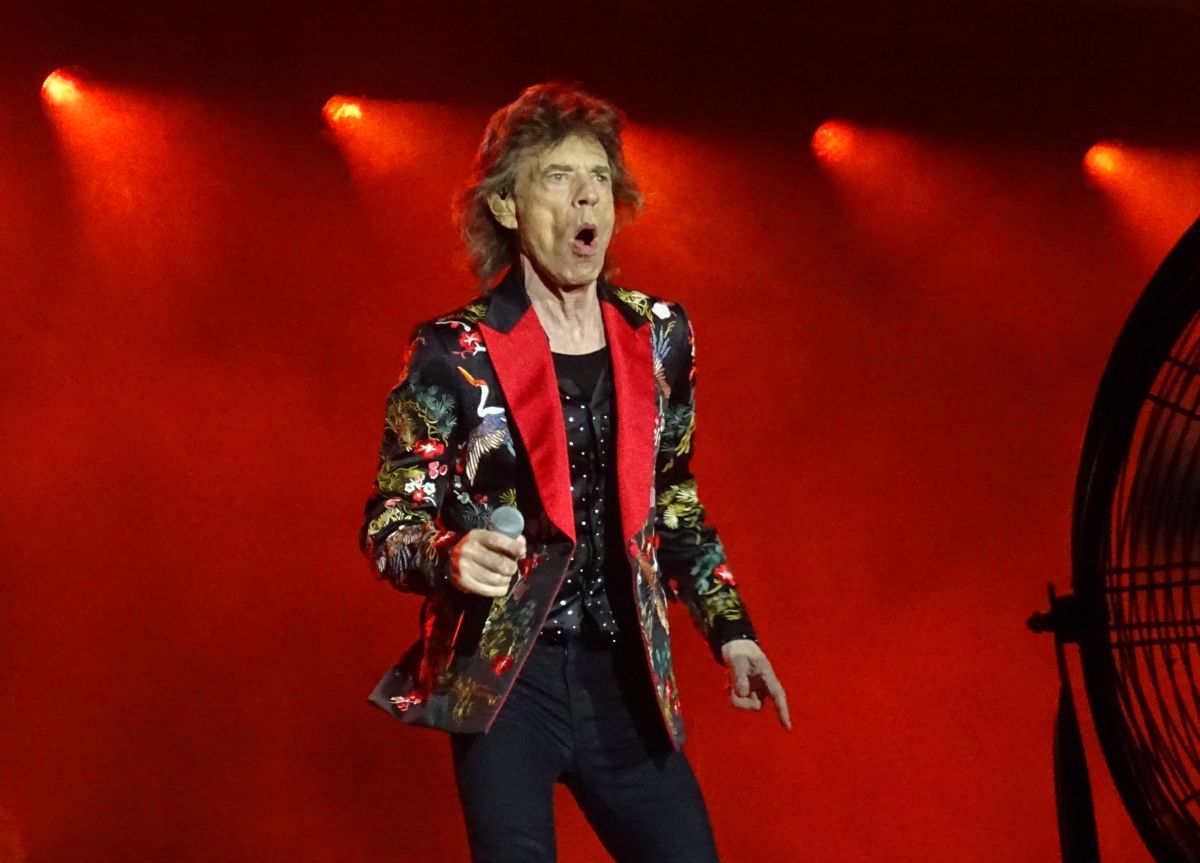 Photo by Bjørnulf Vik
---
Review by Dean Goodman
The Rolling Stones' first Paris show marked a respectable baseline from which to judge the next two performances at the newish U Arena.

The two songs in the rotation - 1966's "Under My Thumb" and 1967's "Let's Spend the Night Together" - have been done before on this tour (and a million previous tours), so they cast an early sense of bathos over the proceedings. Opportunities are running low if you ever want to see "Dancing with Mr. D" again.

The highlight was probably the crowd. They were hungry for the Stones, and spontaneously clapped in time to anthems like "Paint It, Black" and "Honky Tonk Women" without waiting for Mick's cue. The band picked up on this enthusiasm. Keith, for example, didn't really say much when he took the solo spotlight: He just stood there, basking in the glory (and some cheers from the Argentine section).

Musically, everyone seemed to perform to expectations, though I didn't care for Charlie's drumming all over Keith's winding down of "Tumbling Dice." Chuck's piano intro on "Sympathy" was extremely wobbly. I think it had more in common with the piano on "Against the Wind." Ronnie was all steely-eyed focus, as usual, and Keith was back in take-no-prisoners mode. He got so focused on playing a solo during "Slipping Away" a few meters up the catwalk that he missed his vocal cue, though Bernard came to the rescue.

Mick danced and sang a storm, and he again tossed his sweaty Stones shirt into the pit. It's interesting watching Charlie on the big screen as he in turn studies Mick shimmying on the catwalk and provides a rhythmic soundtrack just like a drummer in an old-school strip club. It's particularly evident on "Midnight Rambler." Once again, I'd rate "Satisfaction" as the musical highlight, with Mick chanting "Satisfaction Oh Yeah!"

Despite France's problems with terrorism, security at the venue was more theatrical than practical. A lot of heavily armed paramilitary types slowed the pace of the crowd and herded us into pointless bottlenecks that would have made us easy targets for suicide bombers. Past the bottlenecks, fans faced long queues and aggressive security pat-downs. The venue staff seemed quite efficient under the circumstances, and plenty of help was available for those taking public transport.
---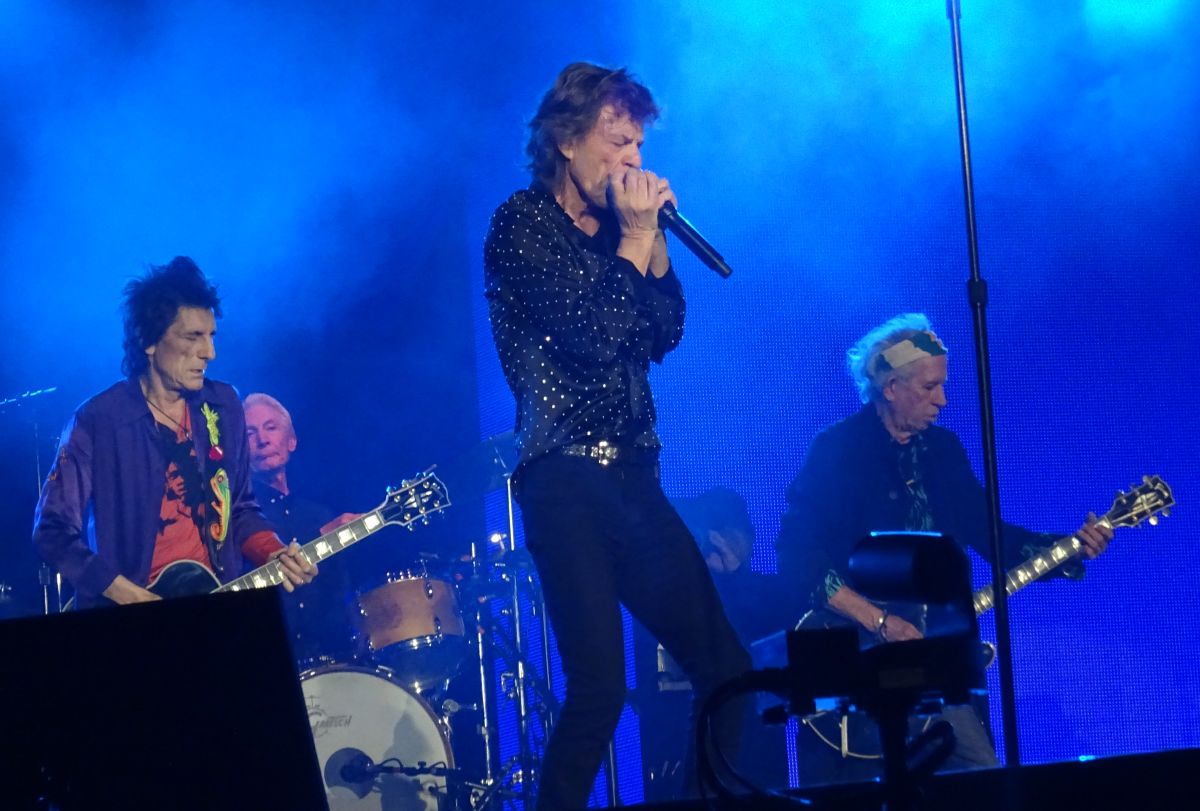 Photo by Bjørnulf Vik
---
Review by Maud Brunner
My third Stones show.

The U Arena is really a nice place. impressive ! The sound was very good and clear even if we have sometimes a little echo.

After the (very) average SDF 2007 and the mixed concert of Paris 2014, again for me a half-hearted show, but well "less bad" than I expected after reading some posts on IORR.

Too often, songs seem to float, it is clear that the band do things as they came along because Keith is unpredictable. Very often Mick scrutinizes him, almost worried ...

Keith has missed Brown Sugar, Under my Thumb (and not good Chuck Leavell piano) and even JJF was not really transcendent. Ronnie was pretty good, but seemed to tire in the second part of the show. Charlie is good tonight, hits less hard but keeps his inimitable groove.

Jagger is fantastic, an incredible showman ! And what a voice.

The audience was good, but rather calm, and not really motivating for the band. I have not seen a lot of fans under 25 years old ...

Let's spend the night together (with a strange Chuck Leavell sound again), Just Your Fool, Ride Em On Down, Sleeping away (great) and Street Fighting Man were my highlights. I found Midnight Rambler a little confused.

For me, a good 3/5 for a concert that was good but not really unforgettable. I expected something better. The band has weakened and plays more slowly but will remain forever (for all that preceded) a true legend in the rock history. Long live the Stones !
---
Photo by Bjørnulf Vik
---
Review by Bjørnulf Vik, Norway
For the Paris shows I stay near La Seine in the Defense area, 2.3 km i.e. 1.5 mile from the arena. I was late for the show, too much work to do, leaving at 5:45pm, so rather than walking the ways I yet did not know well, taking half an hour in theory, I decided to take the metro one stop from Esplanade de la Defence to the end station Defense. A large queue at the only ticket machine, I waited patiently for my time. Right next to the ticket machine there was sitting a homeless man my age, keeping us company while queuing. I did finally get my ticket, one stop by the metro, then passing the massive Defense Arch. The security was significant, armed with automatic weapons, and with multiple police at all critical areas. You feel safe but also you worry about the massive security reasons.

This was the first event at the brand new U Arena in Paris. They were probably still adding some paint and the final touch of bits and pieces, as doors did not open until shortly before 7pm. For me the security went smooth, I was in within ten minutes, but other doors took longer, as it seems. So many fans on travel inside the venue, not just from France, but also from other countries across Europe, as well as Japan, South America, USA, Canada and the rest of the world. Paris will be the "Stones Mecca" for a week or so now.

By now I know every little detail of the show preparations. The final tuning of the guitars, and the final checks marking three minutes to go before show start. At 9:02pm the lights went out, the stage turned all red, and Mick was up front singing the opening of "Sympathy For The Devil". The crowd was 100% into the show from the start, and the band got lots of great ovations all through the show. Mick did not have to stumble through words in a language he did not understand that well, as his French speaking seemed to flow naturally.

The stage seemed a bit higher than normal, and they had added more monitor screens, so that there could be more text for Mick to see, also a large blowing fan, and transmitters, camera people etc, so that a front view was blocked by all sorts of items. Still, nobody cared, well certainly not me. I could see Charlie smiling, the rest of Charlie dissapeared behind all the stuff on stage.

"Under My Thumb" works well, I like the tempo and the way they play it now. Then "Let's Spend The Night Together", Mick is by Chuck for the start, Keith on backing vocals, we are still early in the set, but the show is already powerful, and the band is all smiles, playing so well. Every time Keith is doing his backup singing, he walks over to the microphone, then he walks back to his position halfway between the microphone and Charlie.

"You Can't Always Get What You Want" - many things to say about this song, but every night I enjoy the classic Hammond organ playing added by Tim Ries, sitting next to Chuck on this song.

"Paint It Black"... Mick vocals so strong, and he handle the microphone stand like a punk rock singer, great to see every night, the song and the crowd reactions is one of the highlights at every show.

Keith is delivering a strong set every night, no reason to change these two songs, but still, may be, there might be a surprise from Keith on Sunday or Wednesday next week?

"Midnight Rambler" is so strong as usual, but like many nights before, the best and most powerful song tonight is "Street Fighting Man". It is so great, and they play it so strong and with so many emotions, there is no side effects, like with drugs, the only side effect is they keep me awake after the shows while I dream about how well they perform it.

Mick has decided to be the "bad buy" for the 2nd time since Arnhem. First he is throwing water, then at the end of "Jumping Jack Flash" he throw his T-shirt into the crowd, just like he did in Arnhem. I just hope nobody got hurt, a T-shirt will always have many hands trying to get it in the crowd, especially when it is the one Mick had on for half of the show.

"Satisfaction", again great, long, with Keith tuned as high as possible, and then it is all over at 11:13pm. Charlie is throwing his drumsticks, the one arriving on my side I could jump up and grap, diving over people next to me, but I am done with that stuff. Half a dozen fans fight down to the floor for a minute, holding on to the stick, then in the end there is only one fan left, the others give up, and the stick has got a new owner.

The exit out of the venue was as amooth as you could expect from a brand new arena. No bottleneck out throuh the many wide open doors, I was out of the arena in 10 minutes, and on the metro at Defense soon after. As I walked out at my next stop metro station two minutes later, much to my surprise, the homeless man was still sitting right next to the ticket machine, now there was no queue ten minutes before midnight. I thought how different the past few hours had been for the two of us.
---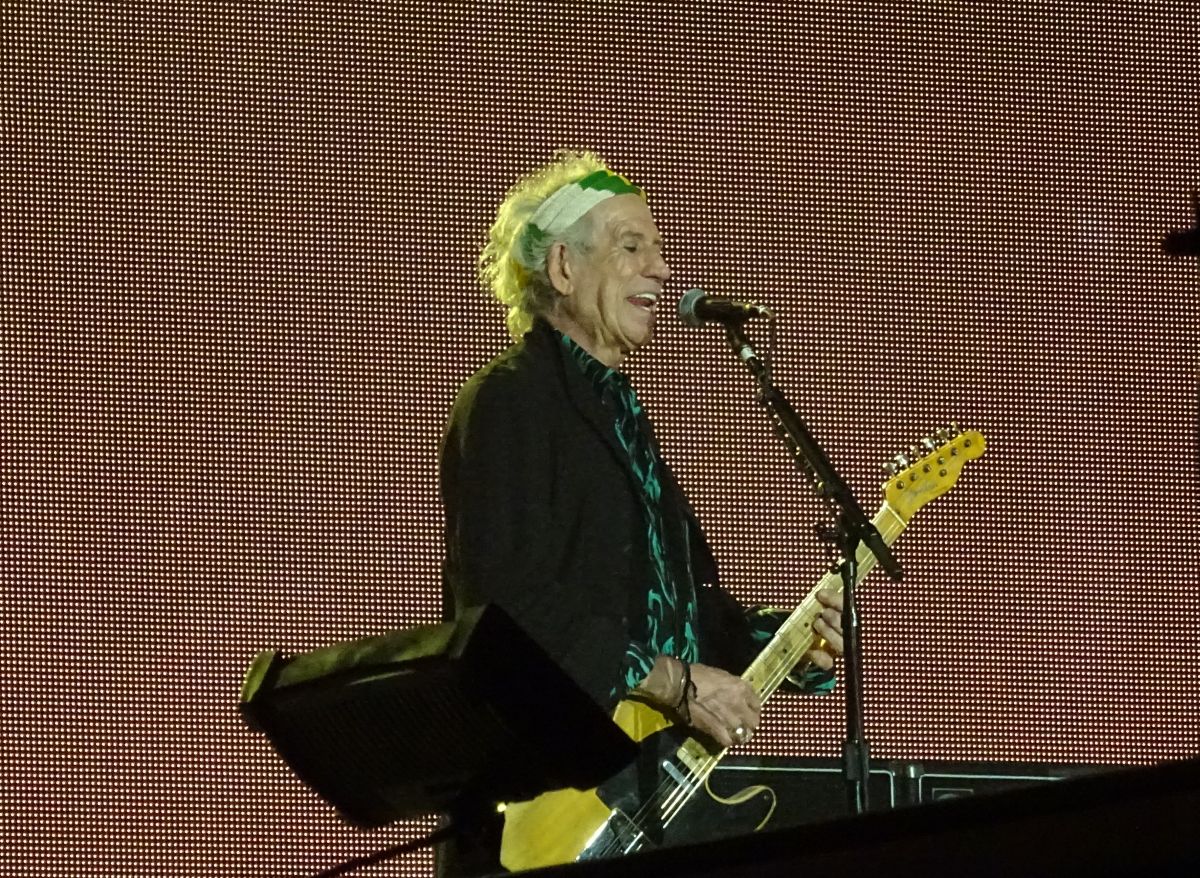 Photo by Bjørnulf Vik
---
Review by Eric Champarnaud
Last night the Rolling Stones played the first of three dates in Paris, wrapping up their 2017 No Filter Tour.

I had been very apprehensive because let's face it, Keith has been spotty for a while. And I'm being generous. I've seen some clips where he is absolutely catastrophic, and the last few times I saw them he had some pretty embarrassing moments. The good news is that the "Obergruppenführer" was mostly good throughout. Now, he doesn't play much anymore, which might explain it, and his parts are simplified to extreme. But it works, thanks to Ronnie who is picking up the slack.

Ronnie gets shat on a lot, because he isn't Mick Taylor. Then again Mick Taylor hasn't been Mick Taylor in four decades either, so there's that. Ronnie might not have a recognisable style but it meshes perfectly with Keith's and his goofy demeanour always livens up the stage when things get a little rough. And that's the beauty of this band: even with the predictable set-list, the army of backing musicians and Chuck Leavell acting as musical director, it still remains shambolic and on the verge of collapse at any moment, despite Charlie's solid backbeat.

I think we can all agree that Charlie is awesome. He's not a showy drummer, that's for sure but he knows how to hold down the fort and he knows how to swing. Tumbling Dice is a great song but could be a run of the mill Stones rocker without Charlie's subtle sway. Deservedly, he's the one who broke the applaud-o-meter during the introductions.

But the star is obviously Mick Jagger. I have come to the conclusion that the man simply isn't human. How someone still moves like this at 74, for two and a half hours, is just staggering. His singing was incredibly strong throughout, and he doesn't get enough credit for all the nuances in his voice. His blues shouter timbre is the one he used the most, but his falsetto is also perfect, and so is his country snarl or his softer ballad croon. He addressed the crowd in French throughout the night, making references to the current French political climate and calling us all virgins as this was the first event held in this brand new venue, the U Arena.

As I mentioned, the setlist was unfortunately very predictable. They had started the tour by playing surprises like Dancing with Mr. D and Play with Fire, which would have been welcome last night. The two blues covers went down really well but could have been replaced by those two numbers instead. The vote song was Let's Spend The Night Together, which was ok but the weak choice in a panel that included Bitch and Let it Bleed. Everything else was a by-numbers Stones show. Satisfaction, Paint It Black, Start Me Up, Jumping' Jack Flash, Miss You... The only clever change on this tour is using Sympathy for the Devil as an opener, which seems obvious but hadn't happened before to my knowledge. I'm hoping that the next two shows will change things up a little.

But even with that minor complaint, it was a great gig. It's always such a joy to see them, and those occasions will get rarer as they are approaching eighty. Whenever I see them I always leave the venue a little sad, knowing that, as they say, "This Could Be The Last Time". This time I left "Happy", knowing that I would see them twice more in the next few days. Because no matter their mediocre late-career records, no matter their own failings as musicians (*cough*Keith*cough*), no matter their predictable setlist and no matter who wants to pick up their crown this year, they remain The World's Greatest Rock And Roll Band.
---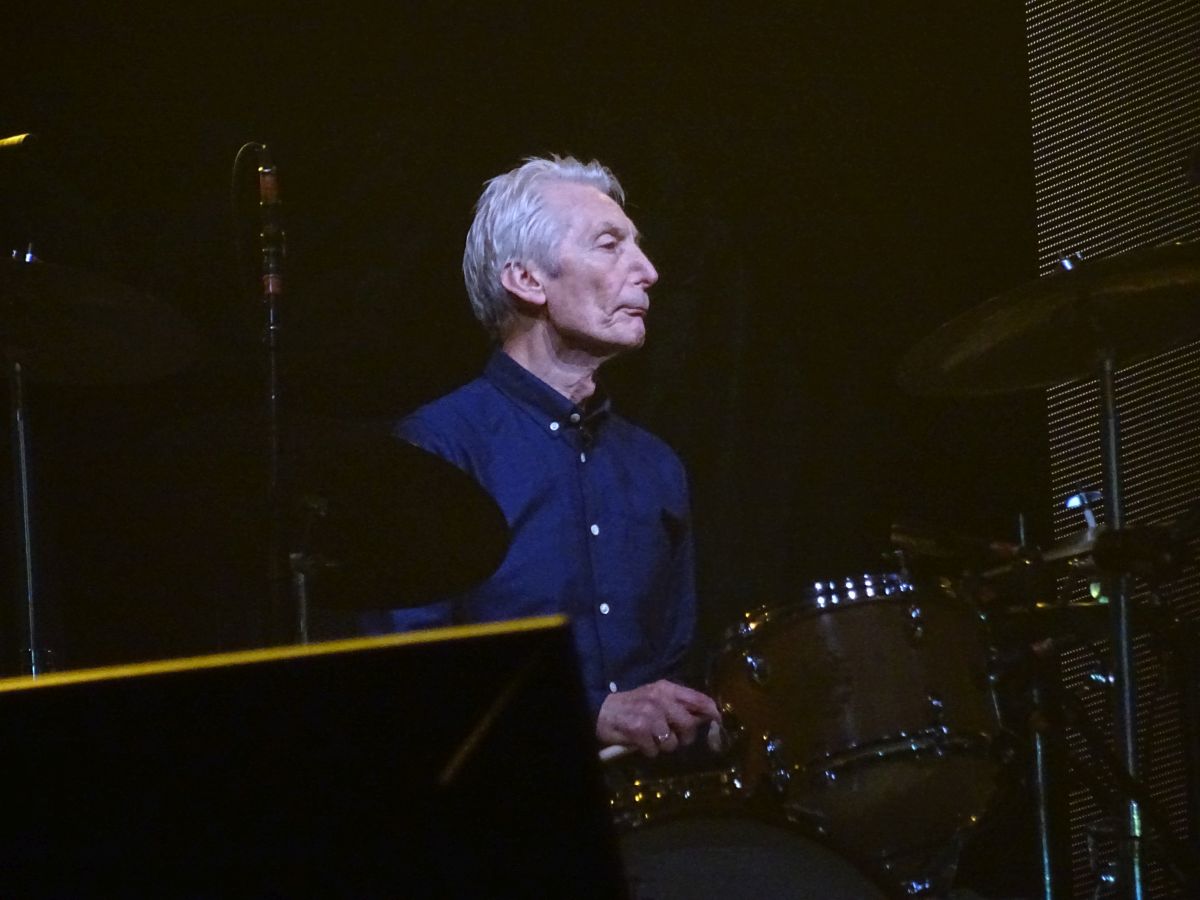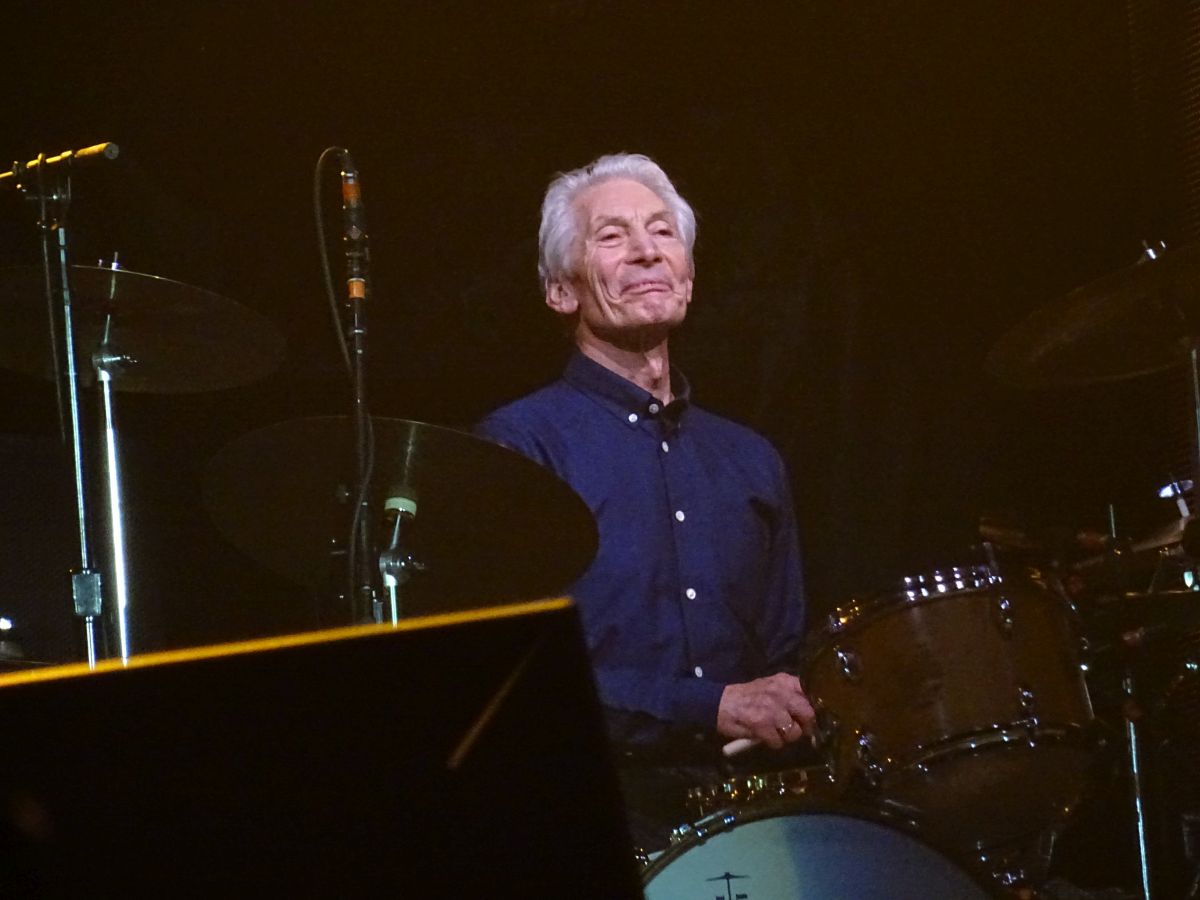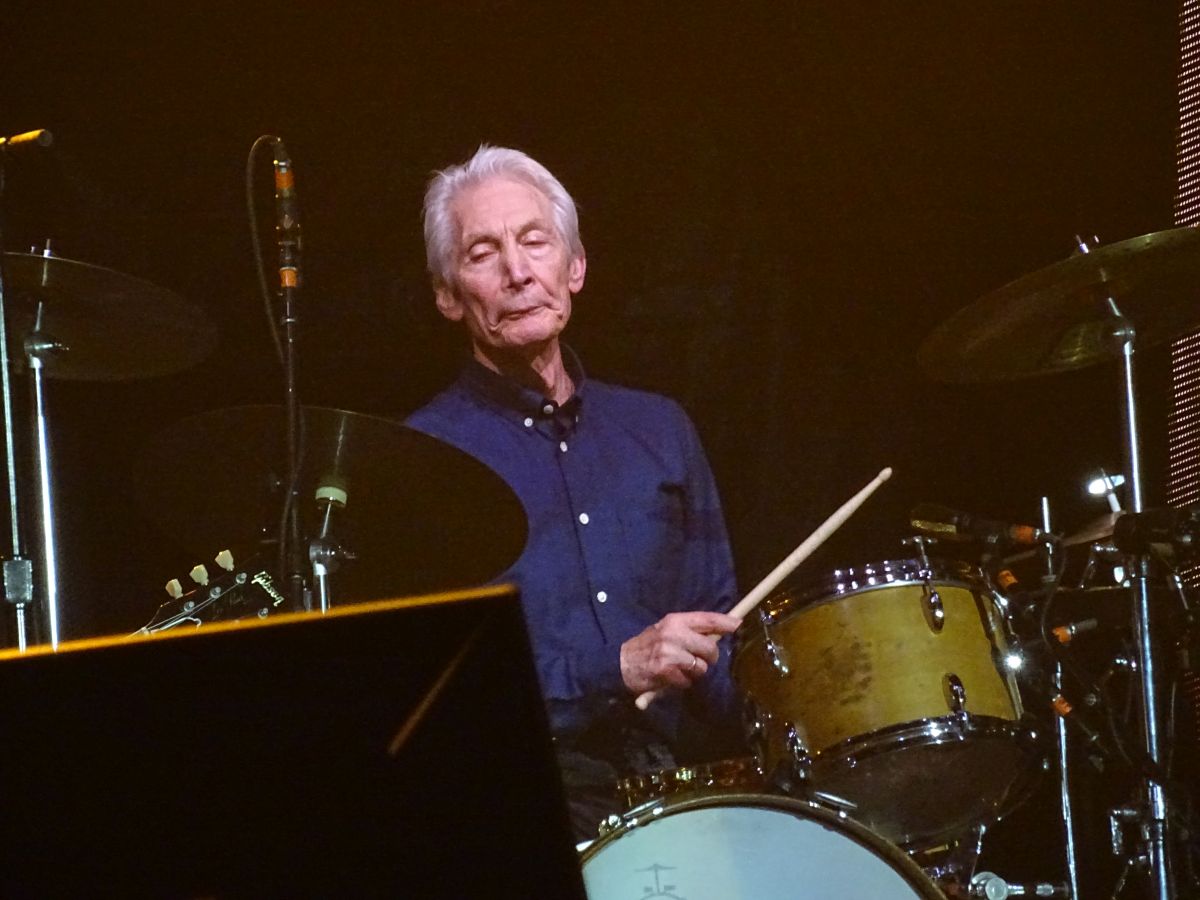 Photos by Bjørnulf Vik
---
Review by Alwyn Welch
So the last leg of Europe 2017, also known as No Filter for some reason I still don't understand, begins a three show run in Paris.

Paris is kind of a "third home" for the Stones, after London and New York. Obviously they recorded here many times, some great sessions and music. Various band members have had apartments here; Mick has a chateau a couple of hours outside town. Mick didn't tell us how many times they have played Paris, unusual for this tour. I haven't had time to count exactly how many – a lot for sure.

The U Arena is brand new, covered, designed for rugby, squeezed into a small piece of land in the La Defense area of Paris – conveniently at the end of a Metro line and less than 10 minutes by the express RER line from Place Etoile. So much easier to access than the Stade de France, despite the high levels of security. Until you tried to get into the arena that is … OK it was the first ever big event there, so I'm hoping for fewer unnecessary delays and confusion inside on Sunday. We will see… I did wonder if the staff had worked their 35 hours this week and so had stopped.

Paris by the way, despite the recent terror attacks, seems totally normal. I heard a few folks from far away were not going to visit due to the perceived risks. It felt no different to any big European city to me – more visible security, but otherwise as friendly and fun as ever. Don't believe all the fake news put out!

The new Arena which works very well for gigs – the shape for rugby is narrower than football and I felt the arena was smaller than a typical football arena like Amsterdam. The sound from my place was good, like every gig on this tour that I've attended. I think it being adapted a lot for each song, mixing keyboards or bass or someone's vocals up and down as needed.

The No Filter stage fits inside well, dominating one end of the floor. The main stage is higher than would be good for people close-up – but I'm guessing this is to allow people and equipment underneath. Maybe it's a sign of the band's ages but apart from Mick there was only one foray all the way down the catwalk for Ronnie and Keith. They go half way, then retreat back a lot – a bit late once in Keith's case during his "set" and he had to wave to Bernard to come in with the next vocals. No panic, just in control of proceedings in a way some might not expect.

The playing is getting better and better. The odd slip; the odd bum note; the odd vocal miss (or ad lib?); but nothing to suggest we should worry about the ability of the band to keep on playing for a very long time. I've said this before – it takes time for a team to slip into smooth gear, despite 3 of them now playing together for 55 years (!!) and 4 of them for 42 years and 5 of them for 35 years. It just takes a few gigs to get back into it, and these tours are inevitably short.

Highlights were Under My Thumb (which I love in this reincarnation); Rambler (another seemingly extended jam and improvisation led by Mick); Slipping Away (the only ballad, beautiful); and the two blues numbers (go on Mick, throw another in and make it 3 – they are only short and you all clearly enjoy them and so do we). We really enjoyed the sax solos tonight – maybe the jazz atmosphere of the city inspired.

I felt Brown Sugar, again, was a bit of a grind. I suspect any song four before the end would be the same – everyone is tired; they've played it live a thousand times before; summoning up the enthusiasm can get harder. The adrenaline rush for the last three songs keeps them fresh and lively. Interestingly Street Fighting Man, not played as much as Sugar, stays as fresh and energetic as ever. Keith mouths the words "but to play in a rock'n'roll band" and grins – how apt. Of course the sentiment of the song remains as relevant today as 49 years ago when it was written.

Overall it a very rocking and loud gig, only one ballad, maximum intensity and fun. The crowd was great and dancing up to the rafters (or struts or whatever holds the huge roof-up). Thanks to everyone involved: the Big 4; the slightly smaller 7; then 100 others on the tour team (its not really a tour party these days). You guys know how to put on a great show, 150% proof rock and roll entertainment. Don't Stop!
---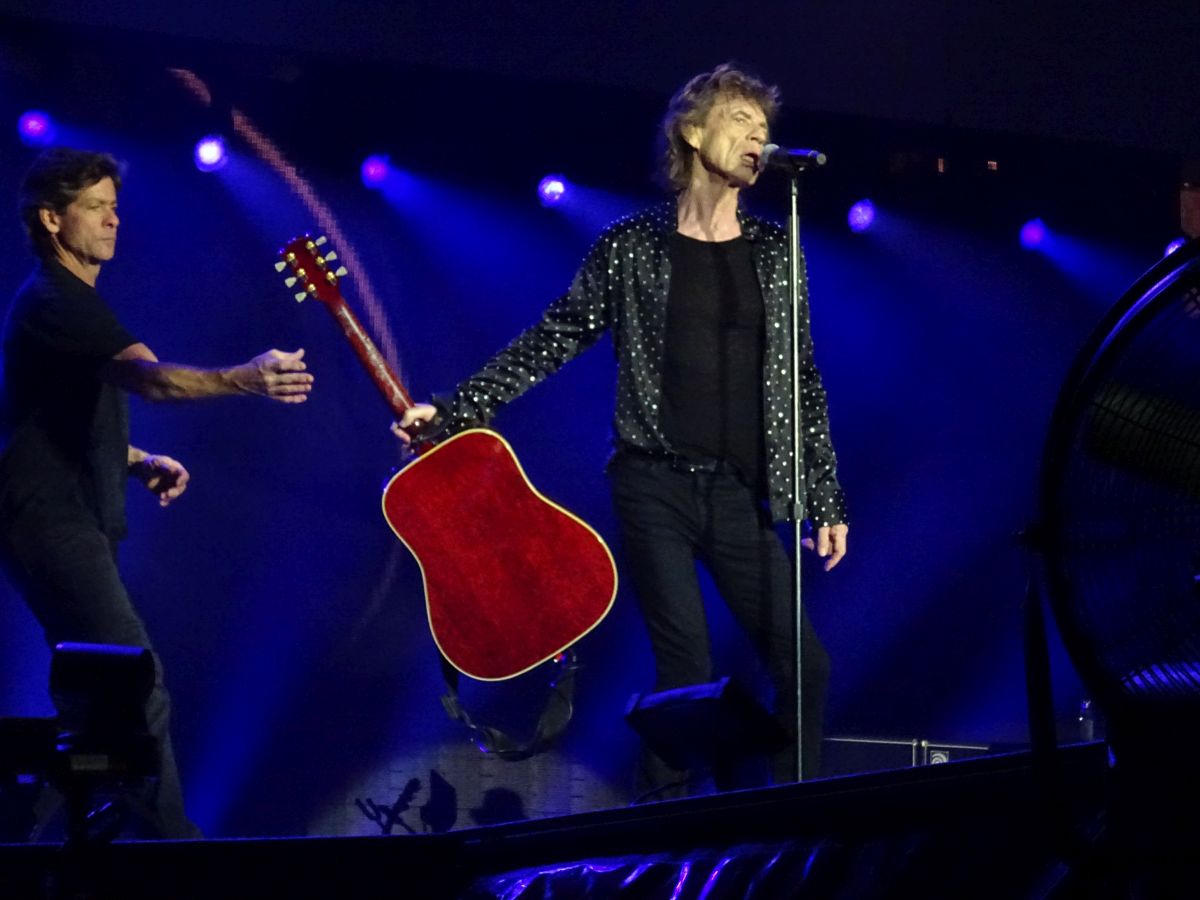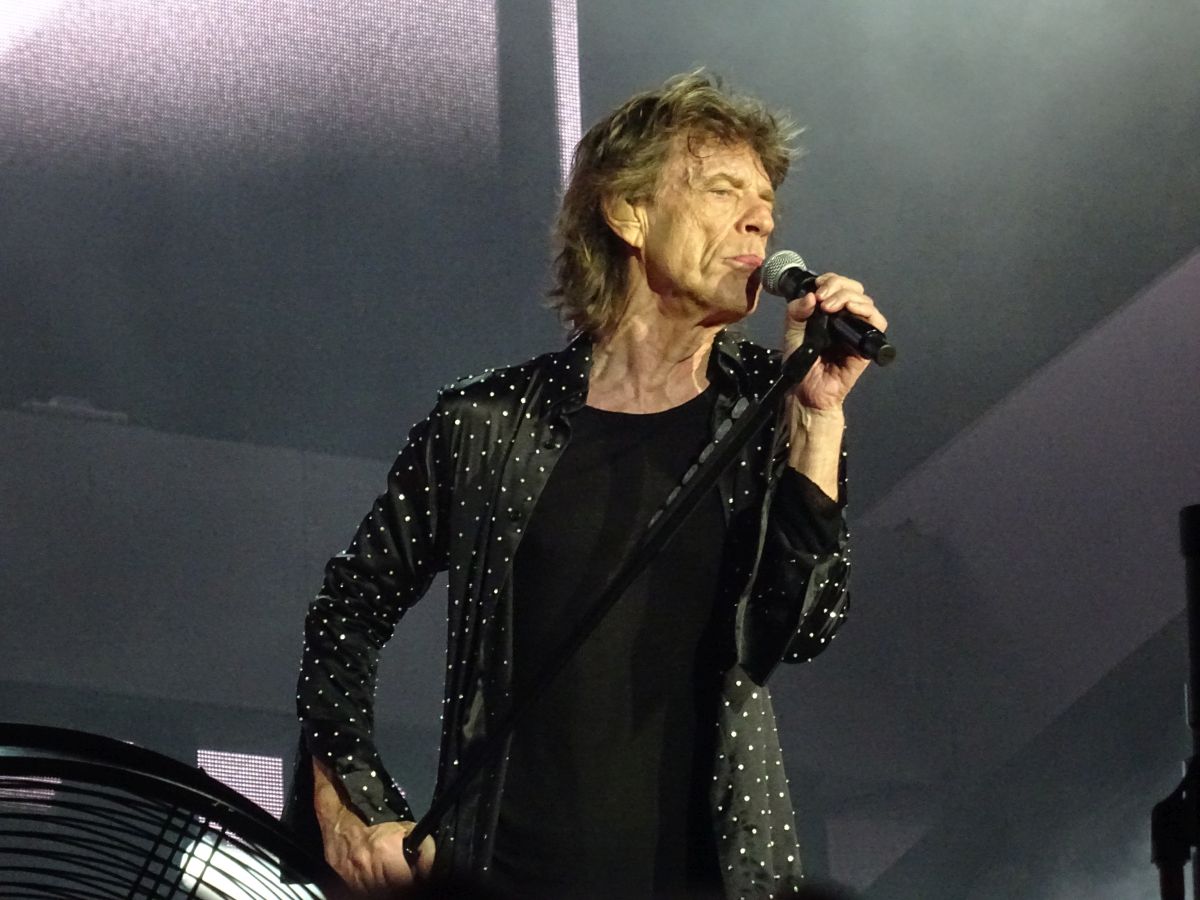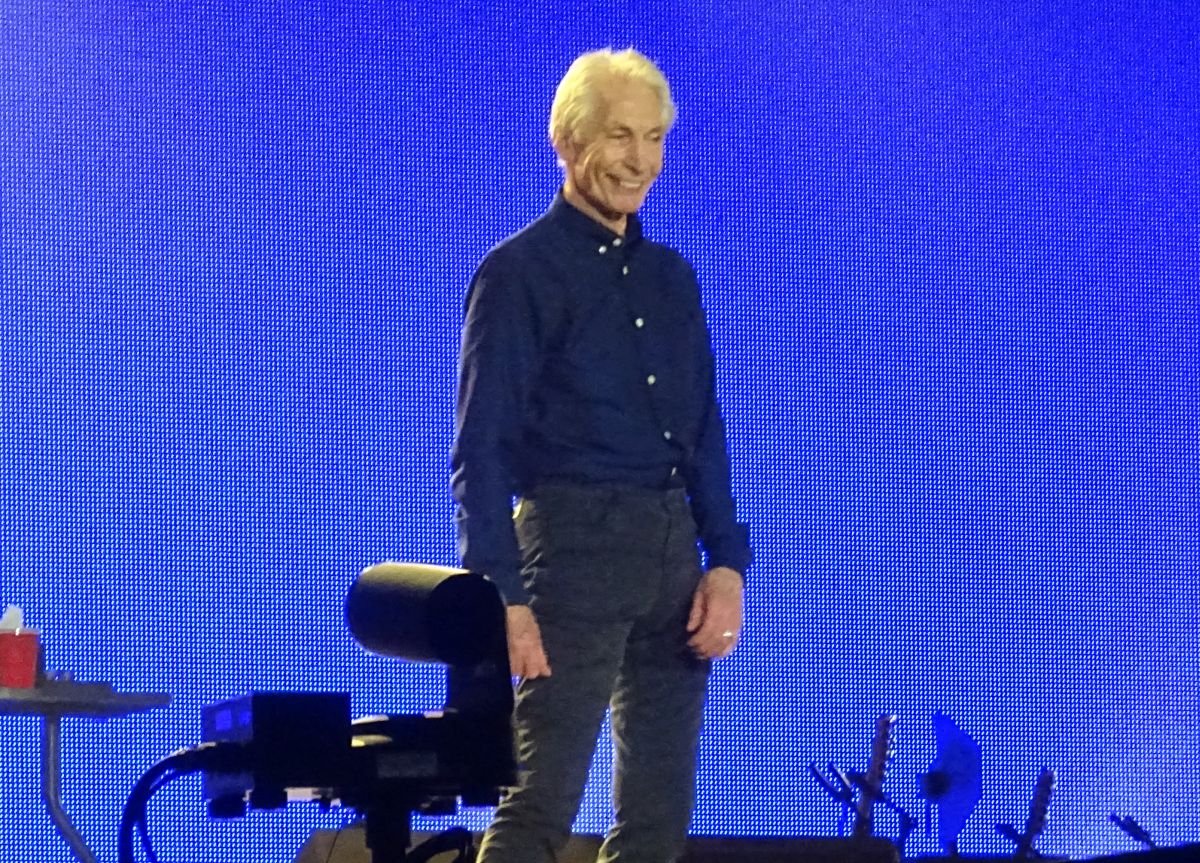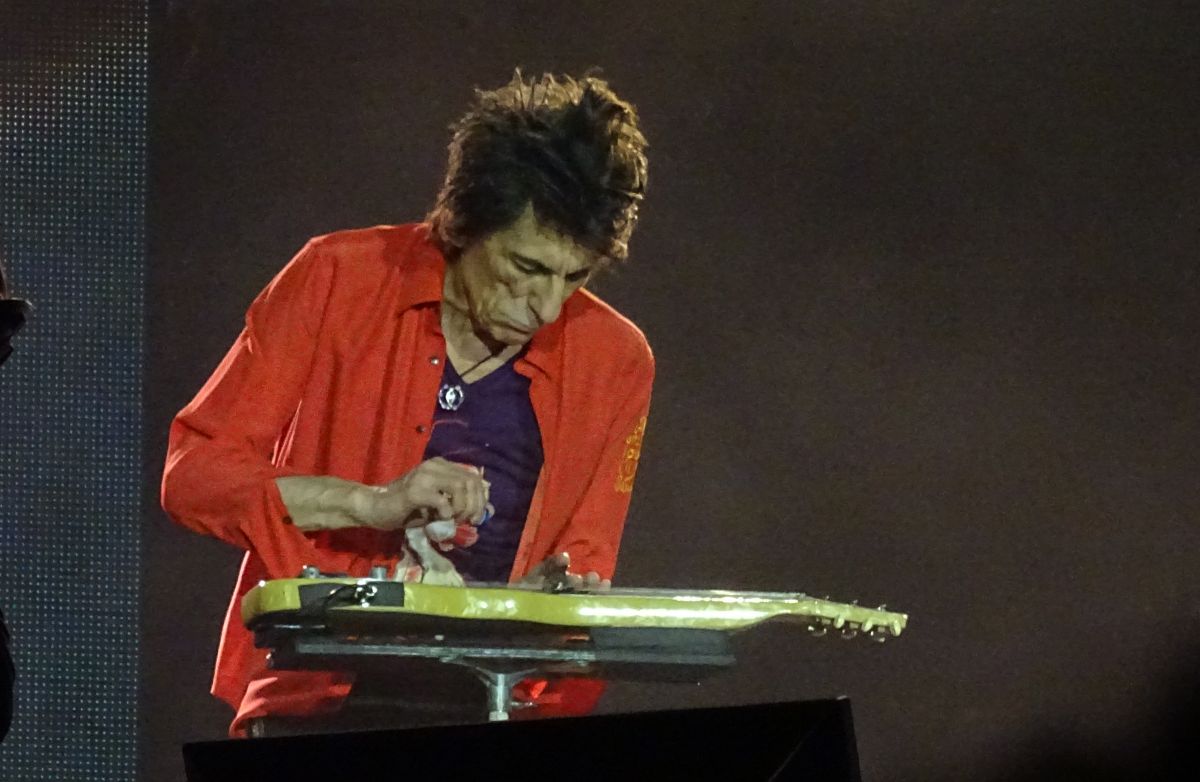 Photos by Bjørnulf Vik
---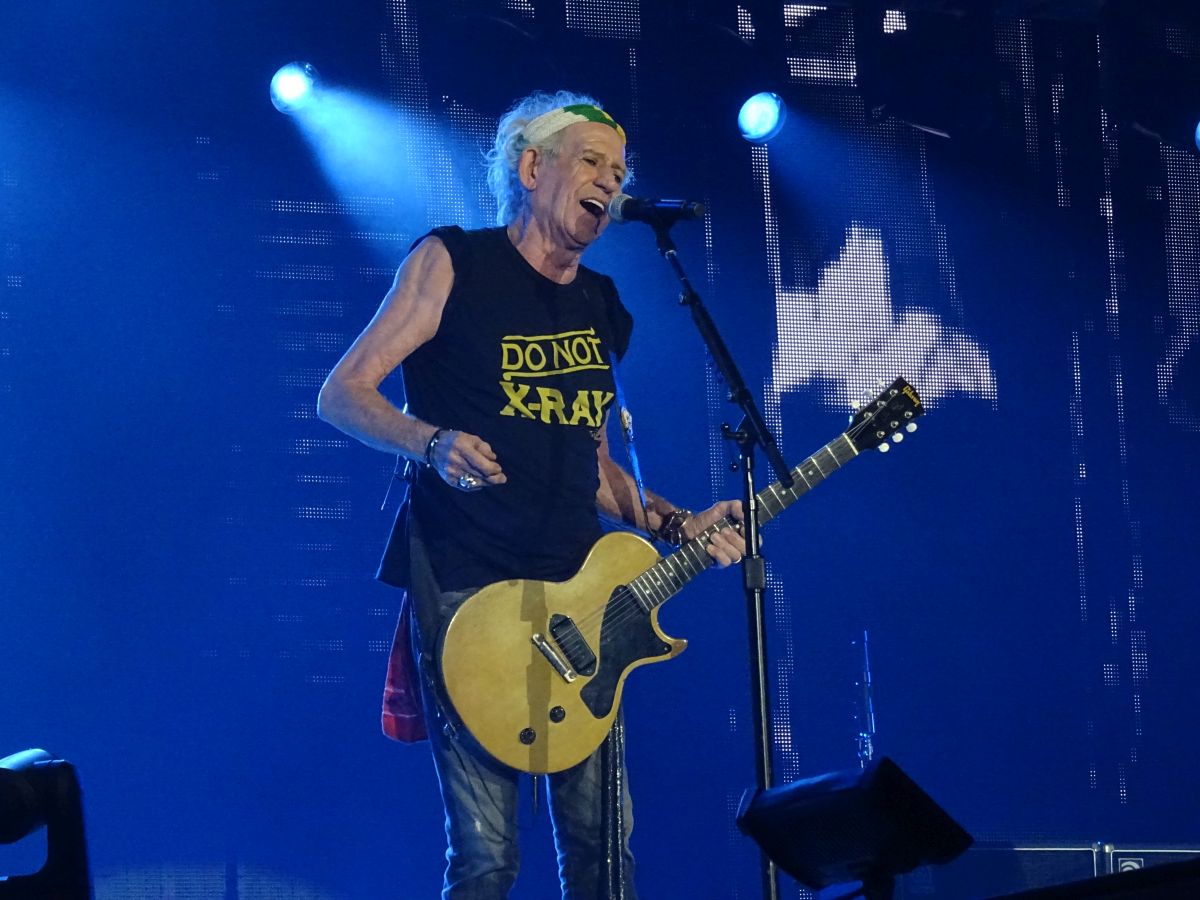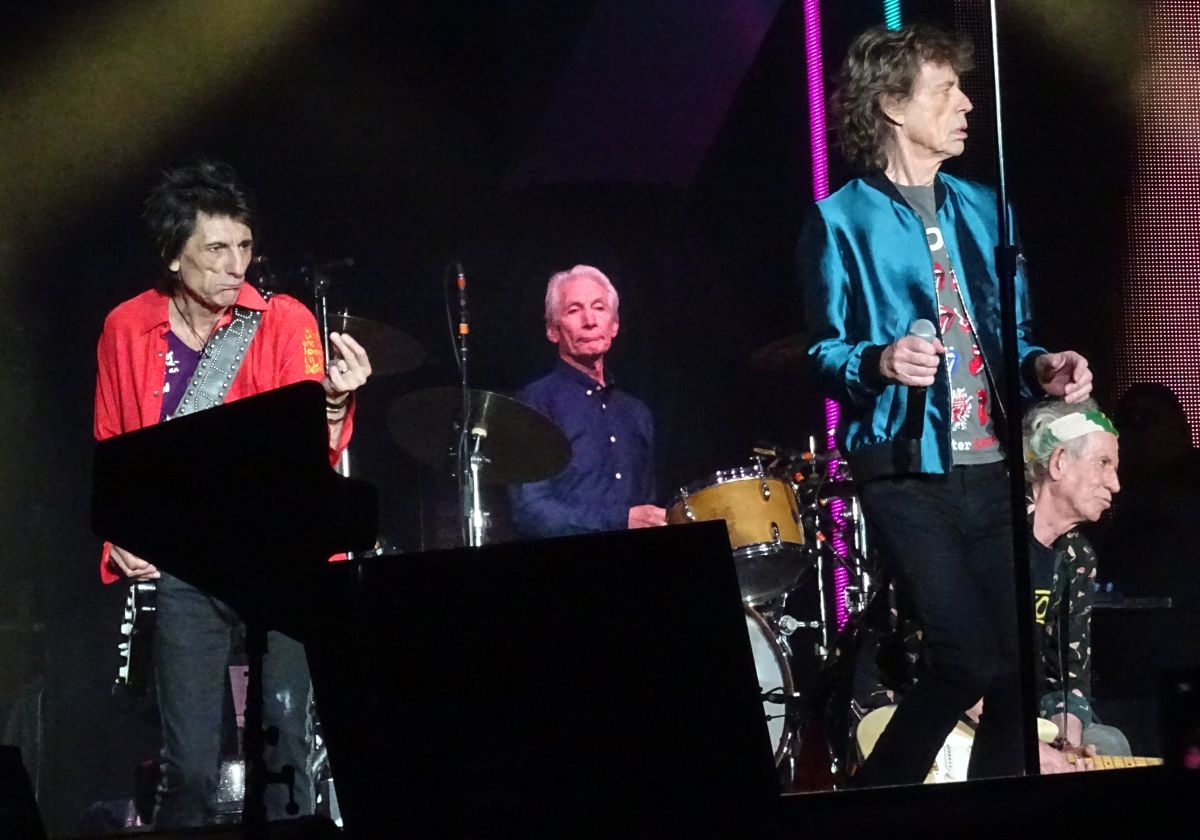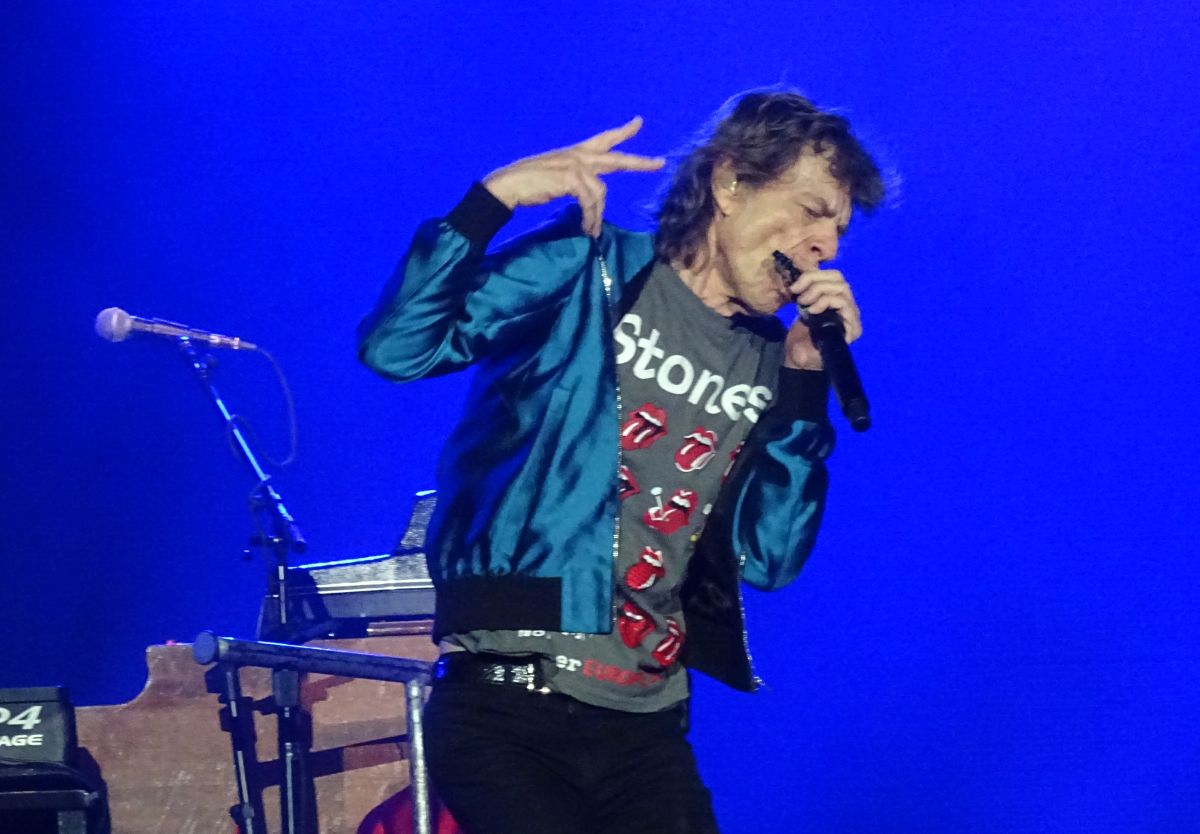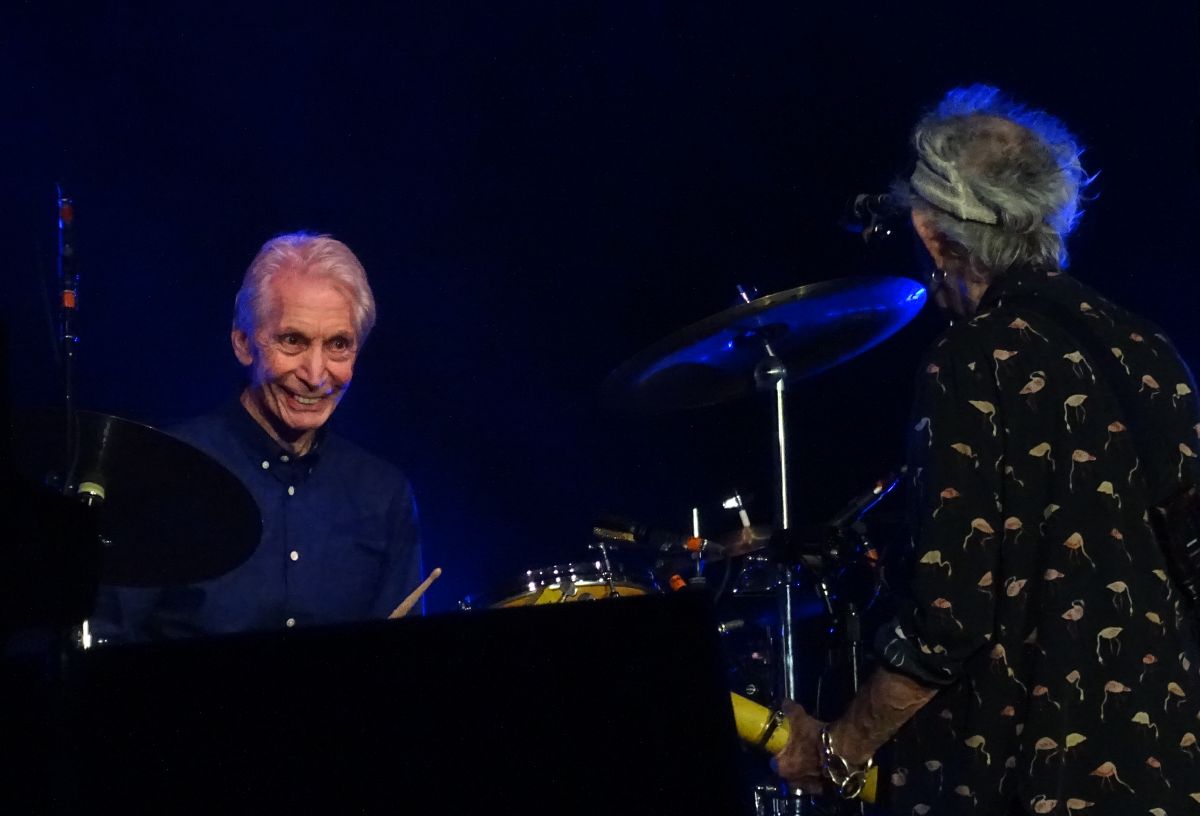 Photos by Bjørnulf Vik
---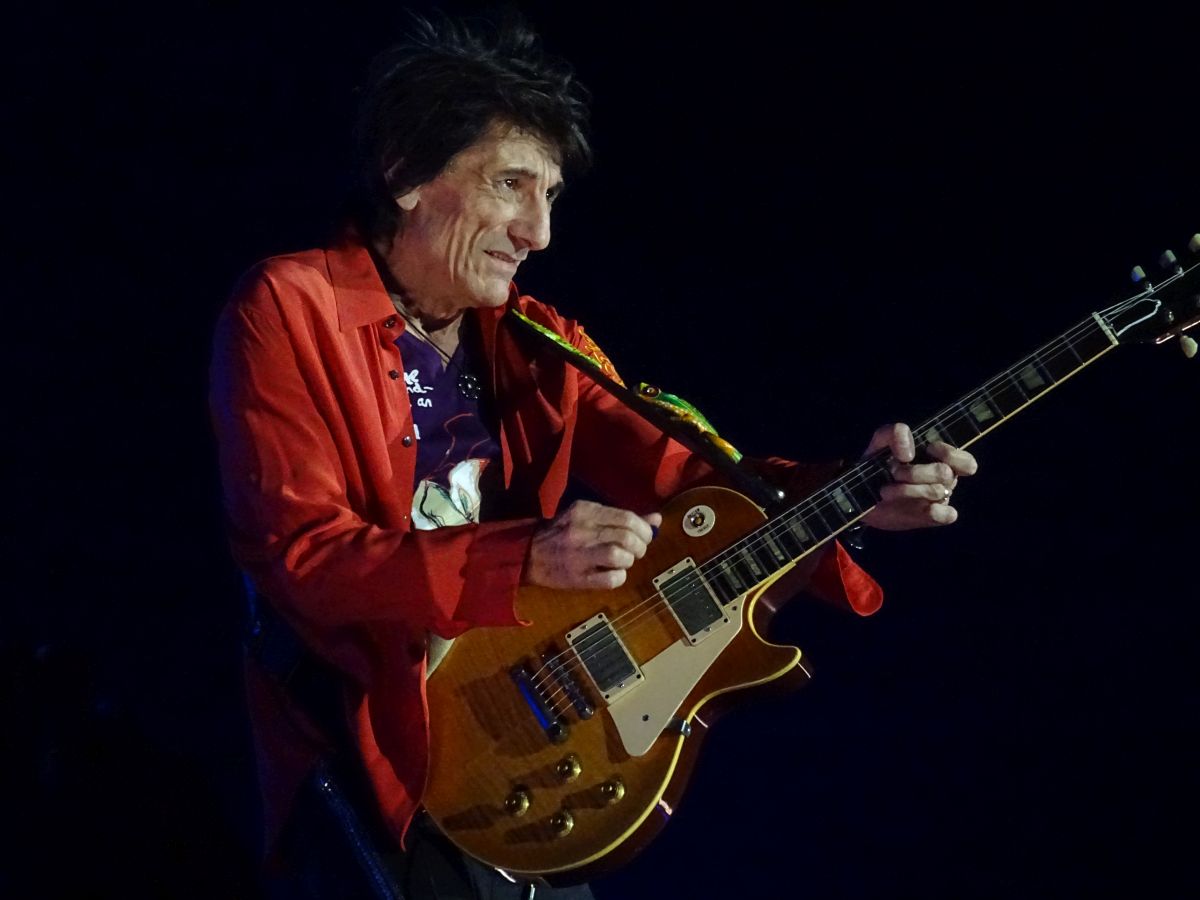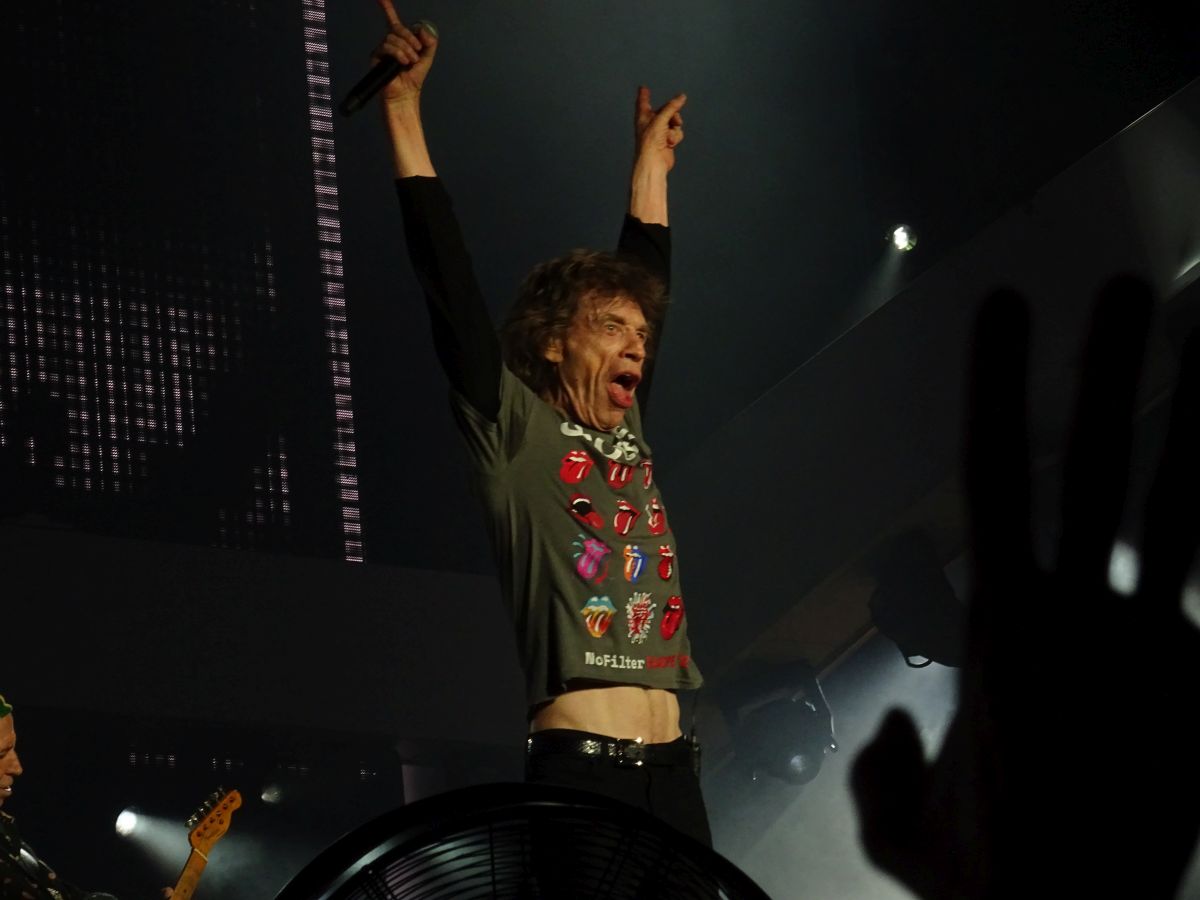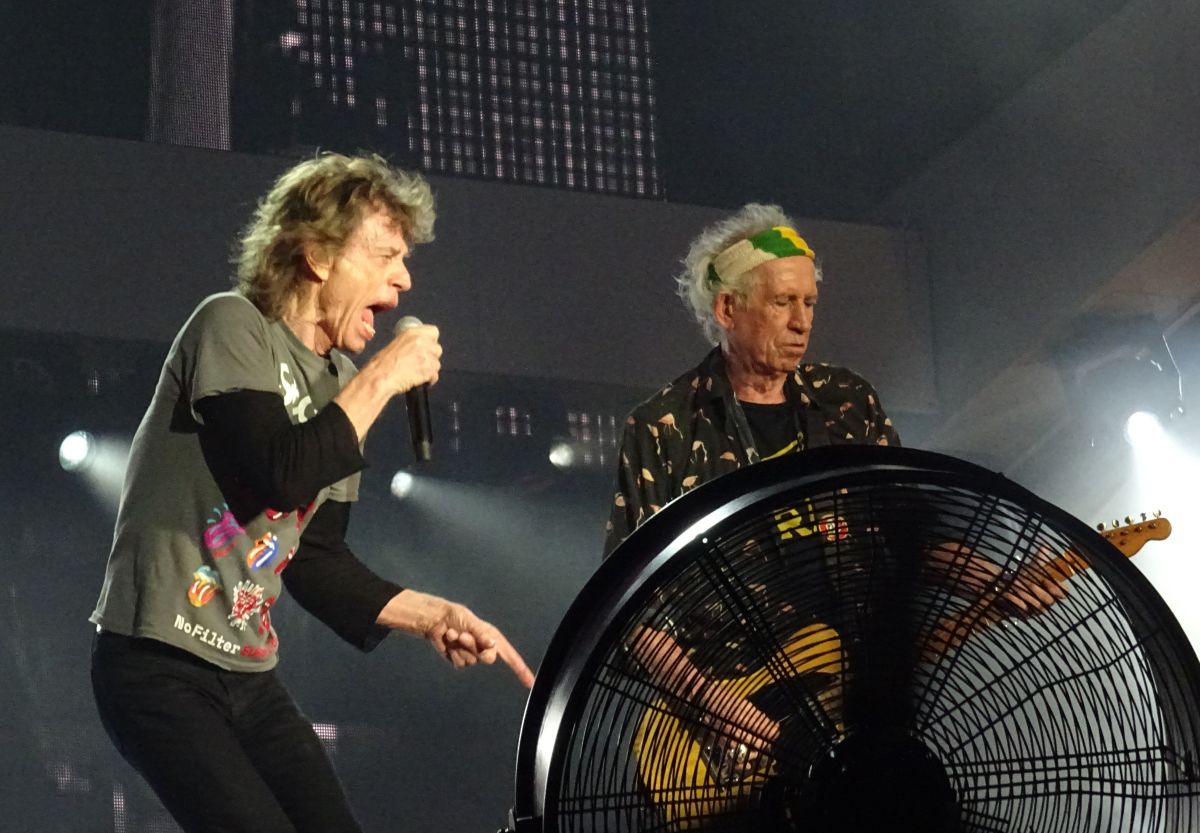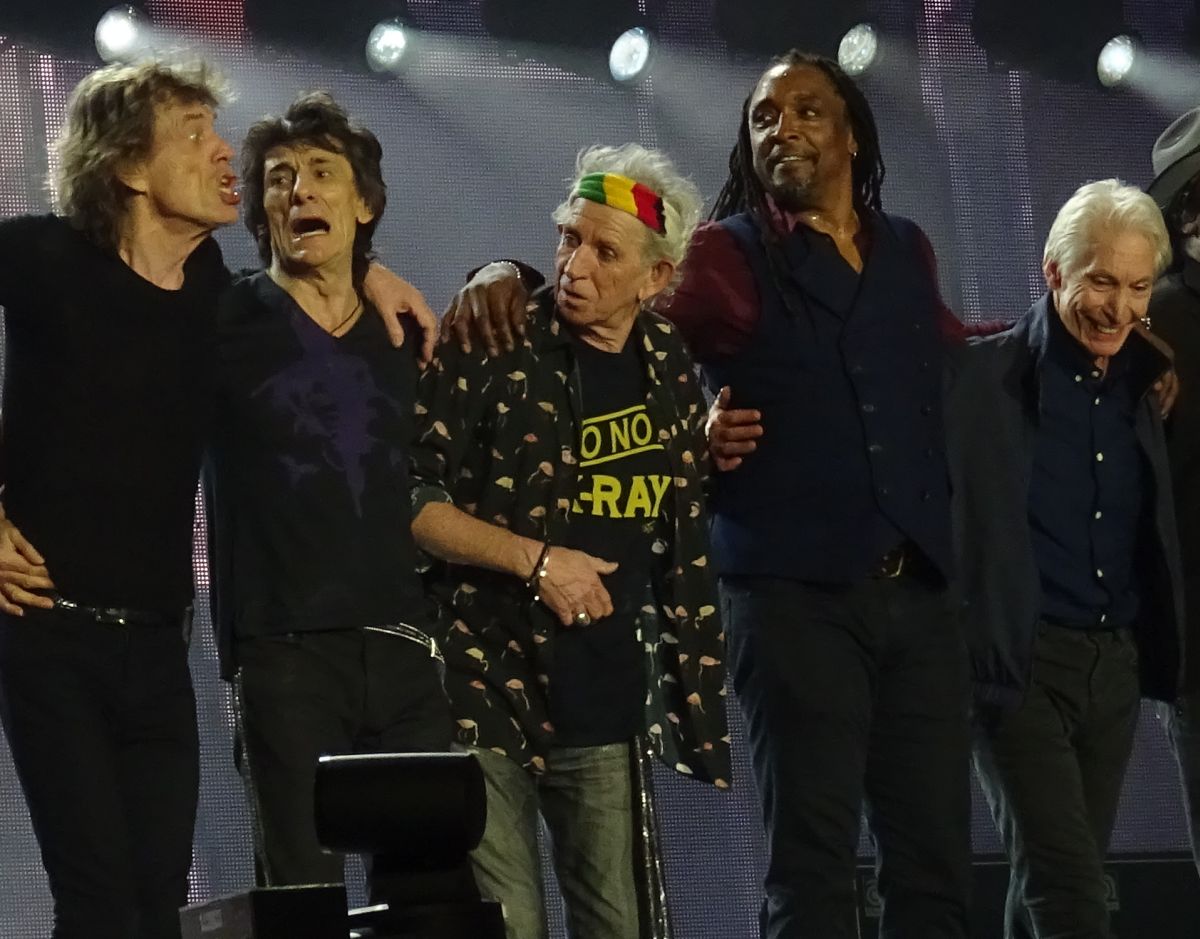 Photos by Bjørnulf Vik
---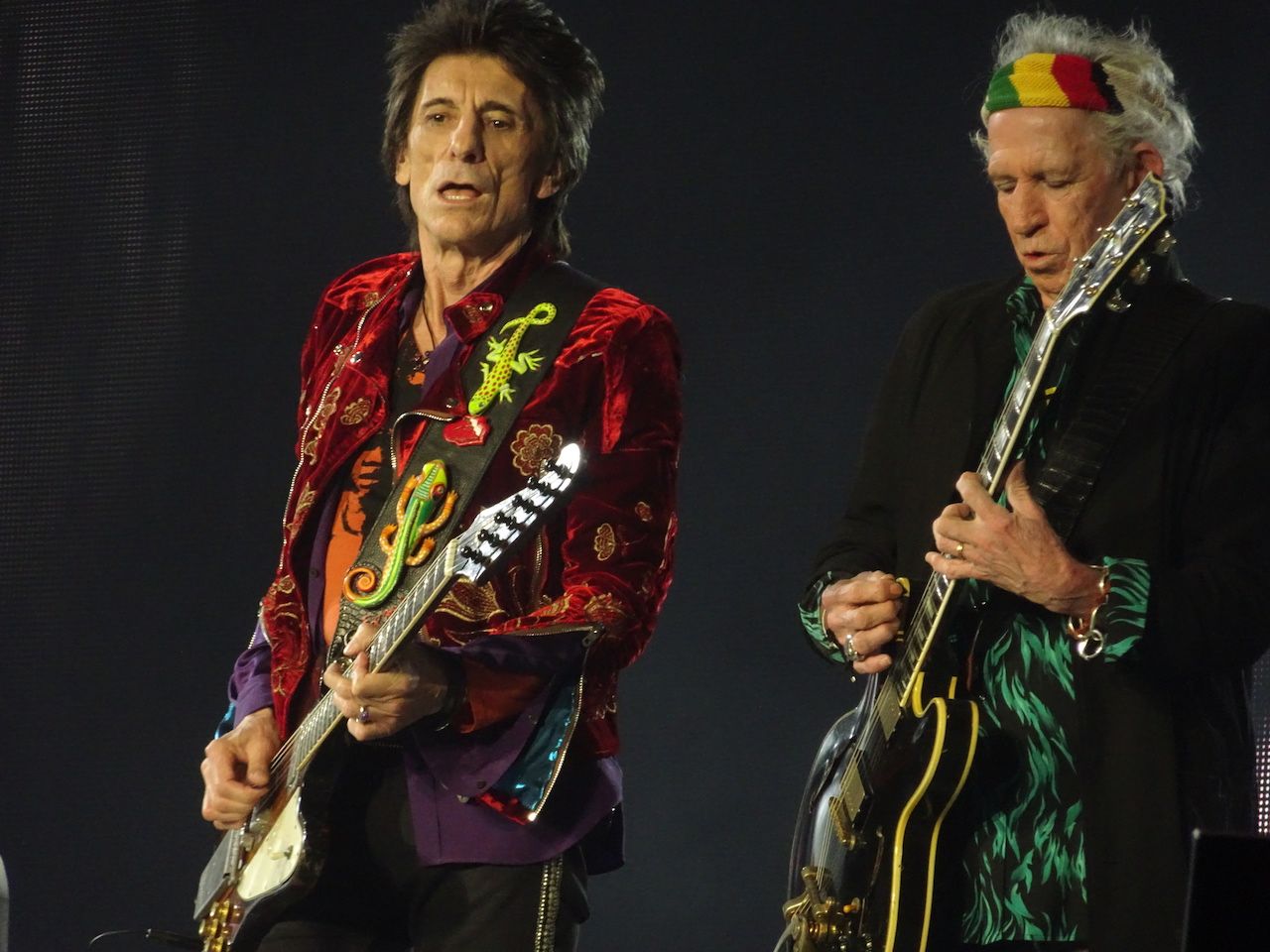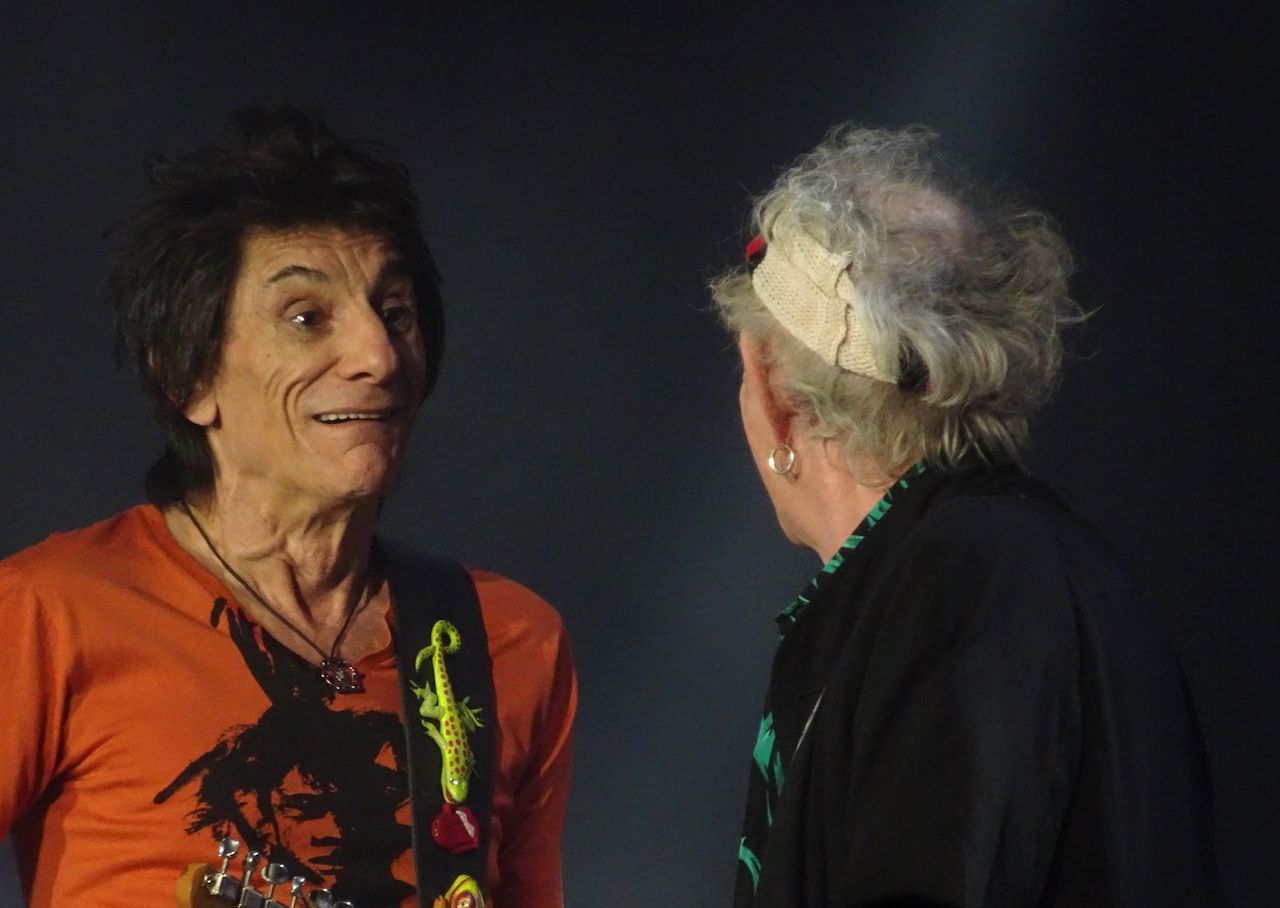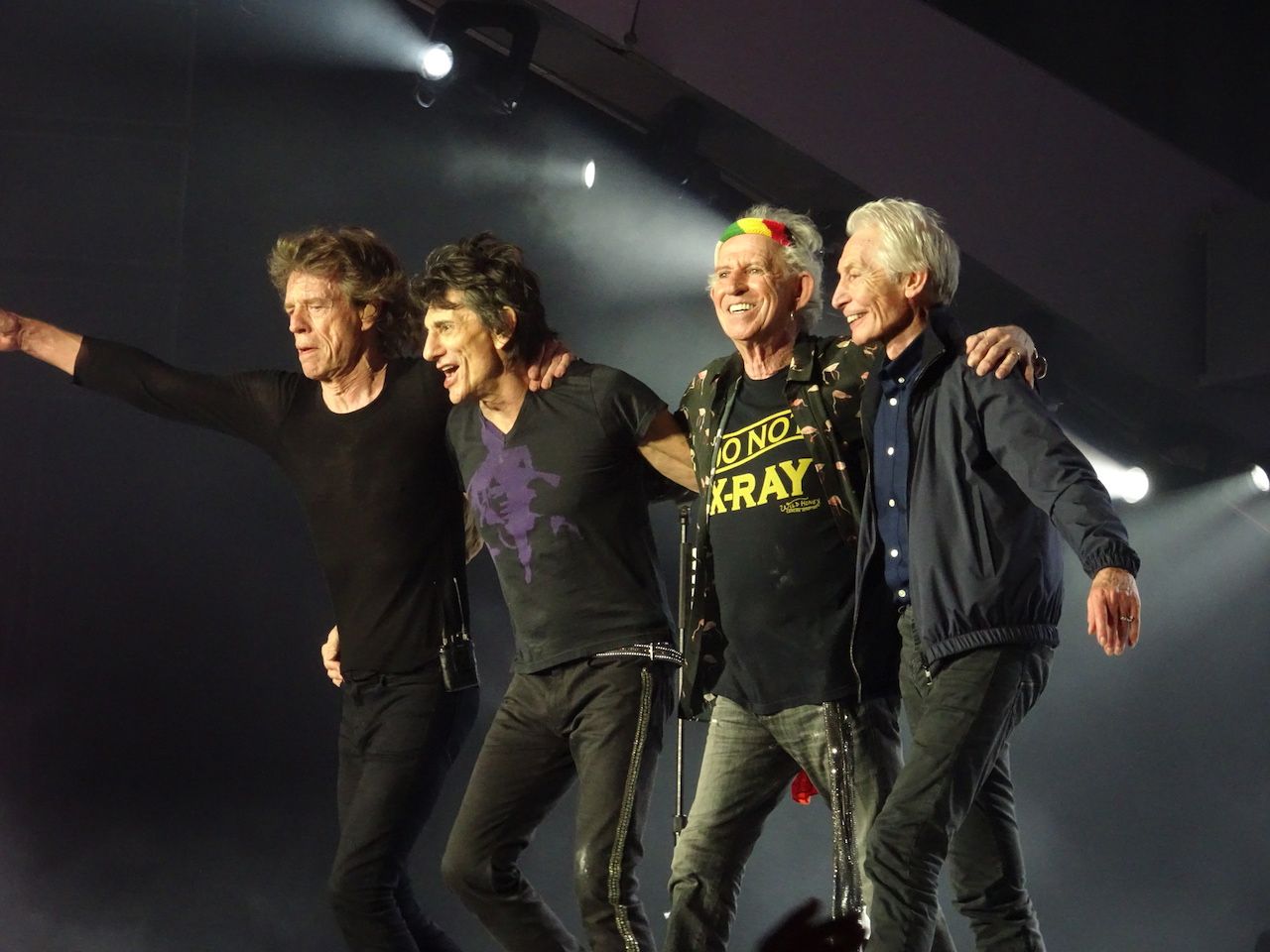 Photos by Hendrik Mulder
---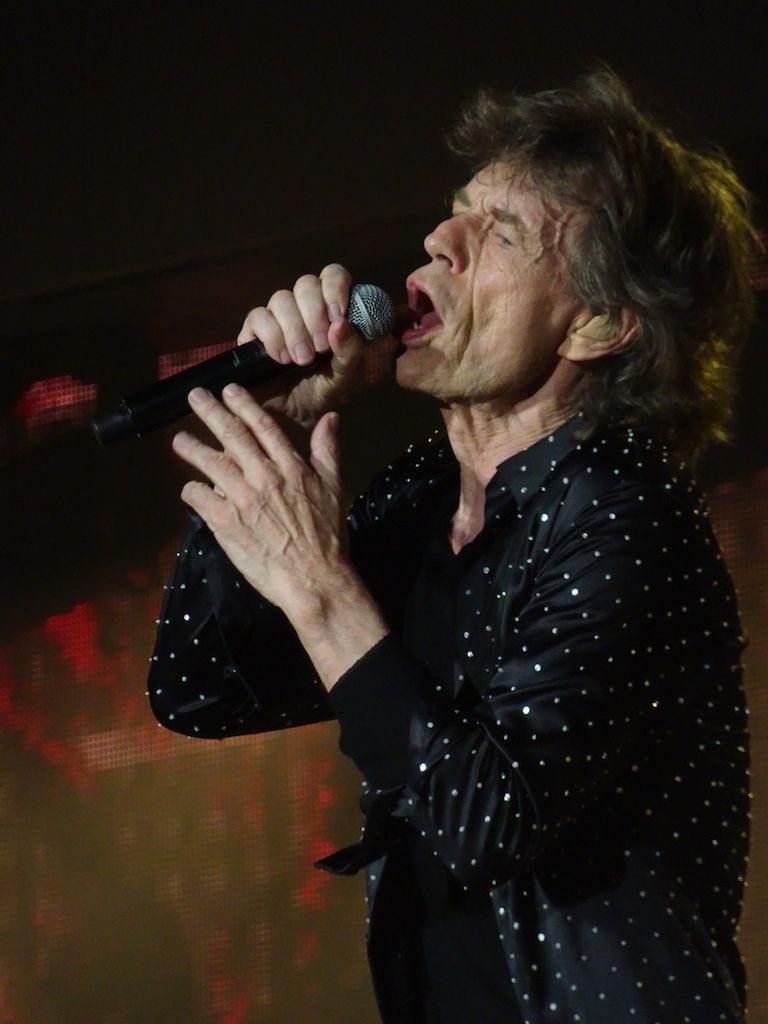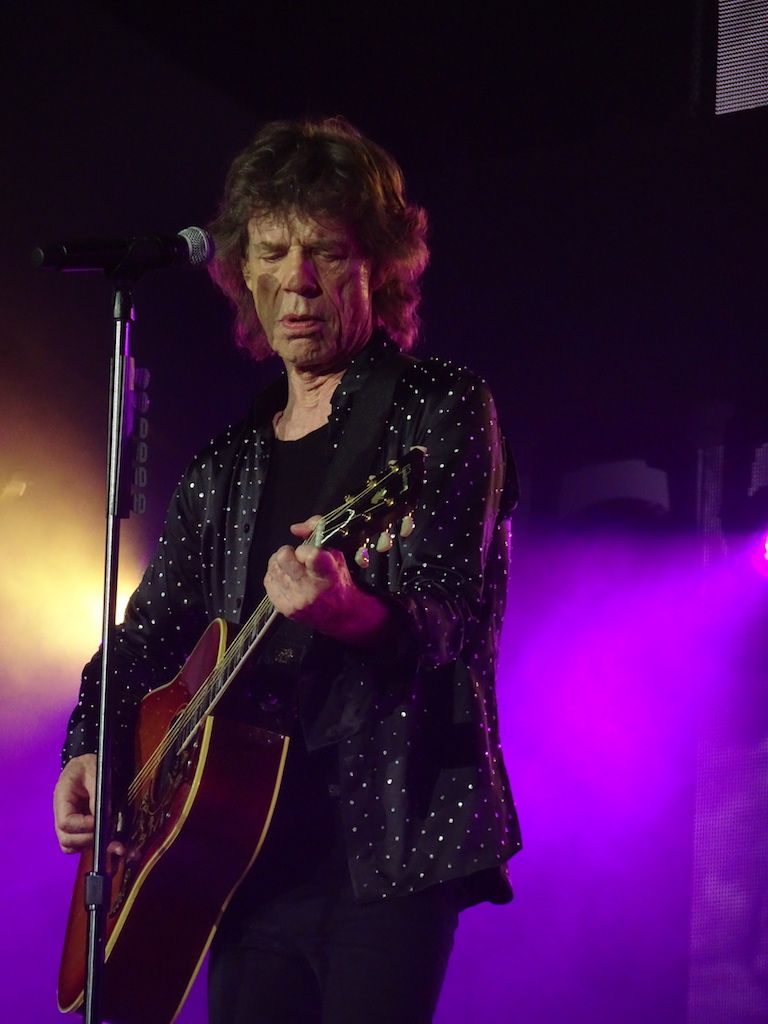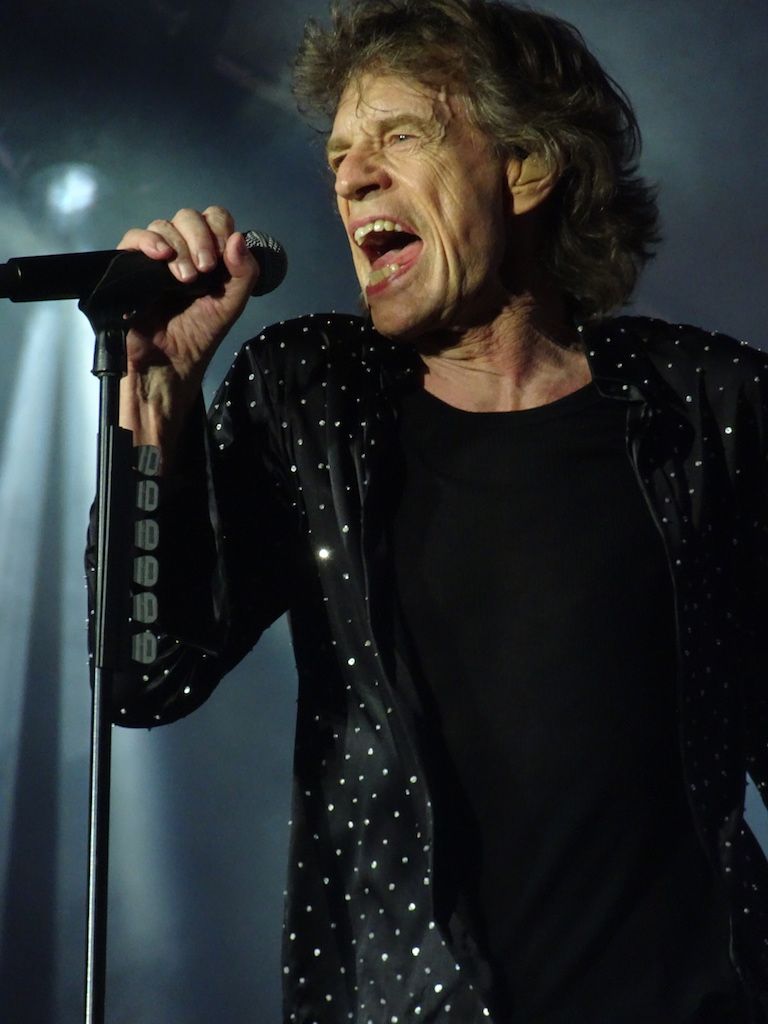 Photos by Hendrik Mulder
---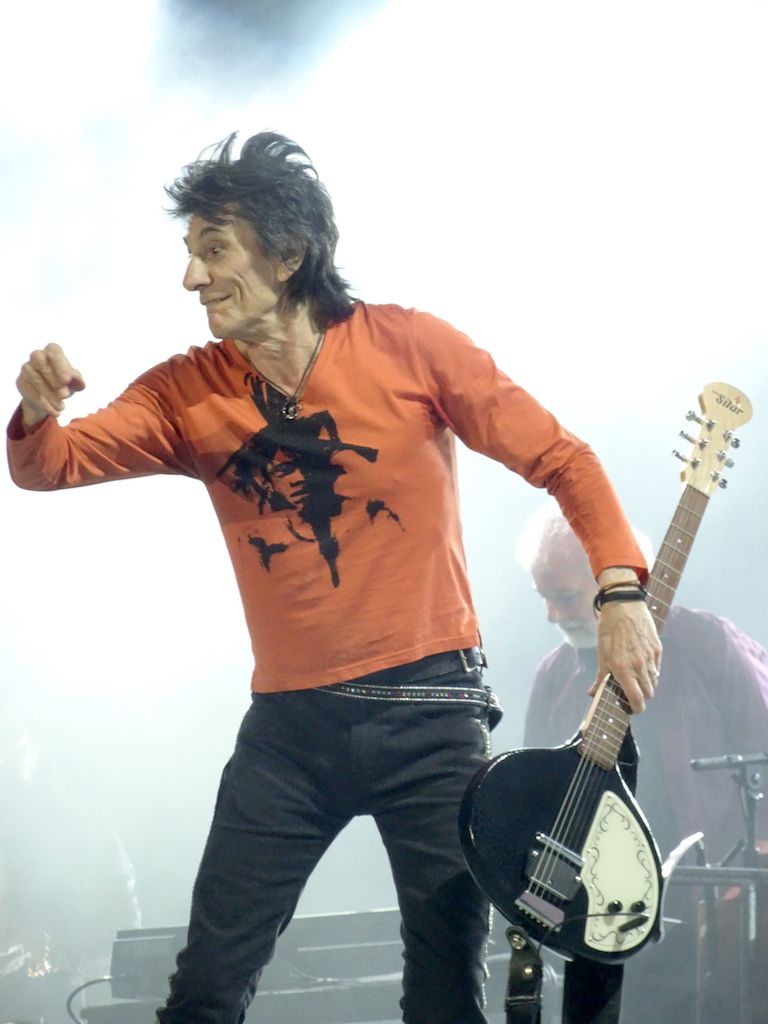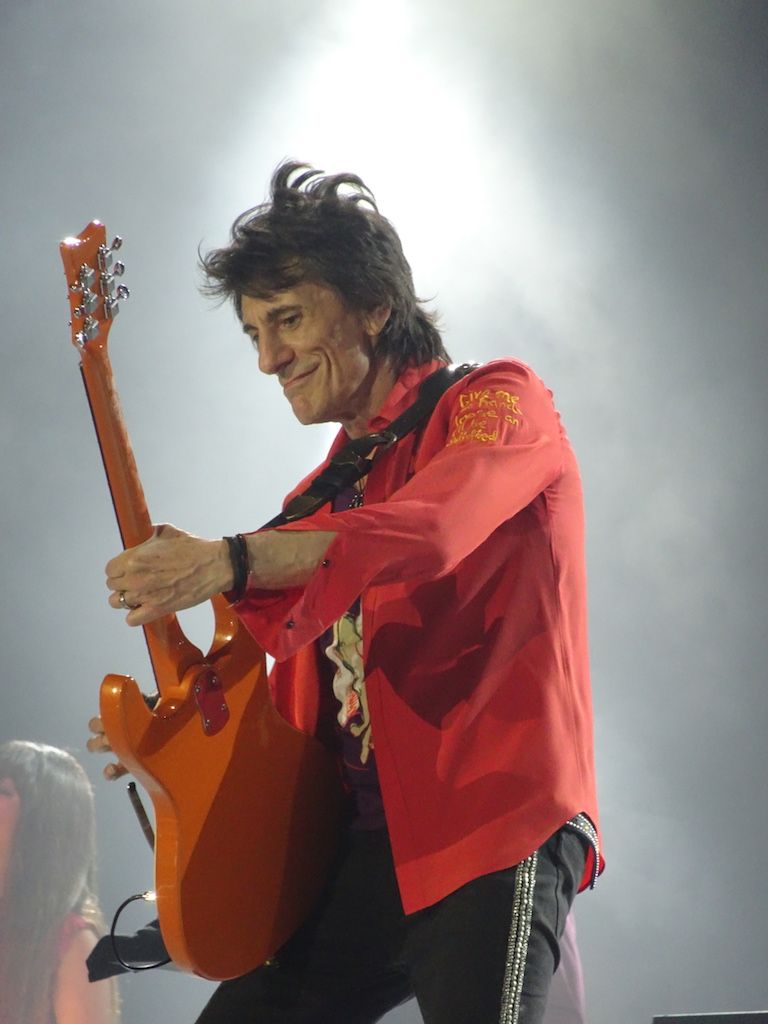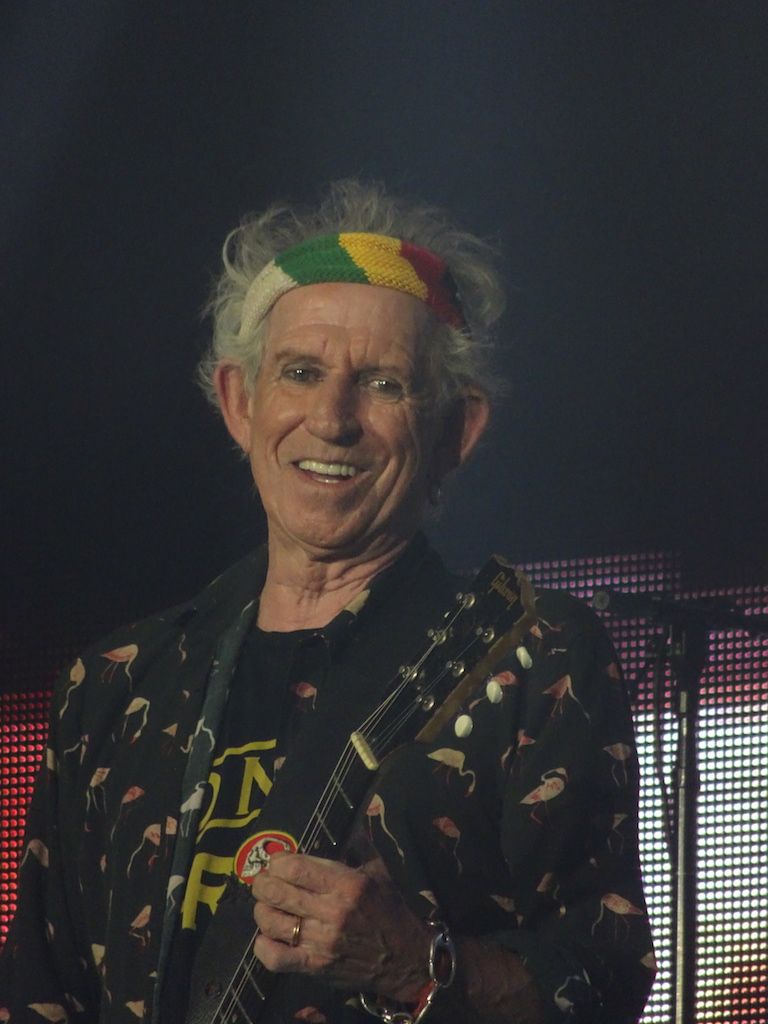 Photos by Hendrik Mulder
---
This page will change over the next few days, as you and other fans send reviews, set lists and reports. Please send your e-mail to IORR. Thanks! For details and great photos from the Rolling Stones and their World Tour get the IORR magazines.