---
These are the latest Rolling Stones news and updates for you! IORR is a non profit fan club run by fans for fans. All parts of the It's Only Rock'n Roll web site is copyright of The Rolling Stones Fan Club. When using information from this site, please include a reference to IORR and the main web address www.iorr.org.
---
---
The Rolling Stones
Gelredome
Arnhem, The Netherlands
Sunday October 15, 2017

The Rolling Stones live at Gelredome, Arnhem, The Netherlands, Sunday October 15, 2017 - Photo by Bjornulf Vik
---
The set list
Sympathy For The Devil
It's Only Rock'n Roll
Tumbling Dice
Just Your Fool
Ride 'Em On Down
Dancing Withy Mr D
She's So Cold
You Can't Always Get What You Want
Paint It Black
Honky Tonk Women
--- Band introductions
Happy (Keith)
Slipping Away (Keith)
Miss You
Midnight Rambler
Street Fighting Man
Start Me Up
Brown Sugar
Jumping Jack Flash
--- Band off stage
Gimme Shelter
Satisfaction
---
Show start :  8:44pm
Show end   : 10:59pm

Pre-show info and live comments:

Arnhem The Netherlands 15-October-2017 Stones No Filter live show updates
---
Reports please!!!
Please send your comments, reviews, links and more to:

[email protected]
---
Review by Wilco Schepen
Well, it was certainly worth the 120 kilometer ride to Arnhem to see the Stones at the Gelredome. I was so happy to get a late ticket for the pit and standing row 3 I enjoyed the show so much. They started at 20.45 and what a show it was! It is so nice to be close, you can really see what's going on on stage. The guys were having fun. We got a nice surprise with Dancing With Mr. D and She's So Cold, both were done very well. Midnight Rambler was even better than Amsterdam, it kept on going. Mick was dancing and really great tonight, pushing Ronnie up front for yet another solo and again. Charlie wore his orange socks again and an orange t-shirt under his white shirt. Keith was also on fire. He messed up the opening of Brown Sugar, but seeing Mick and Ronnie looking at each other was worth the mistake. It was so hot at the Gelredome that Mick started throwing water, thanks so much Mick, we really appreciated it! My 44th show and they gave me satisfaction!
---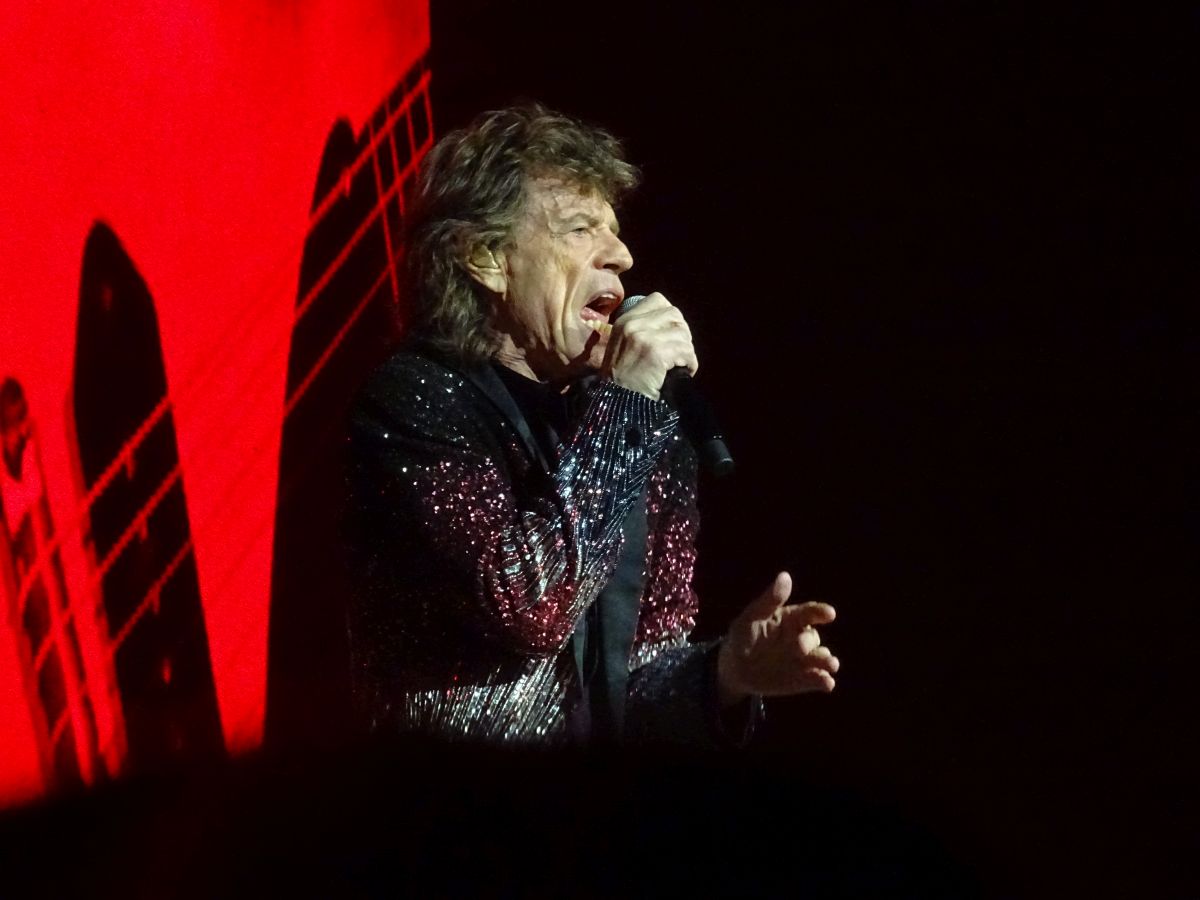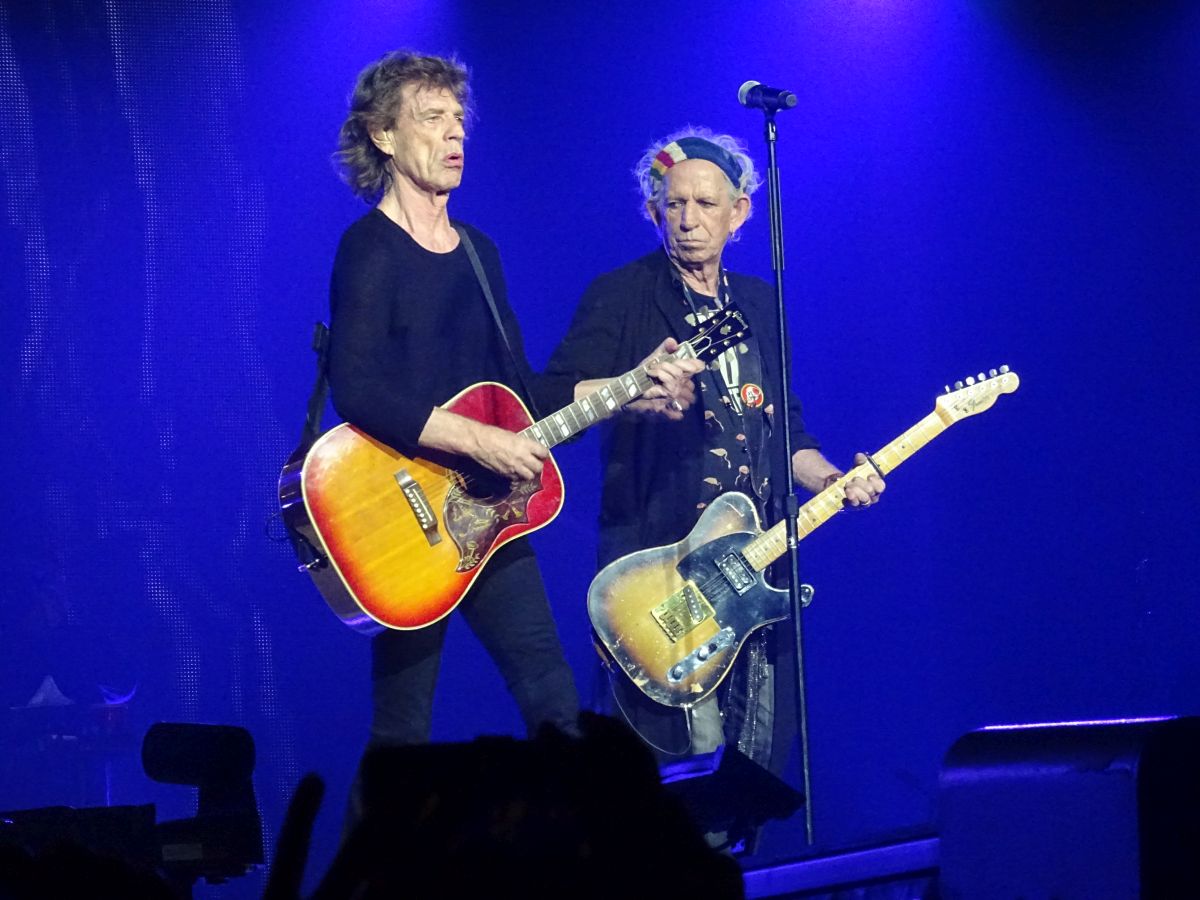 Photos by Bjørnulf Vik
---
Review by Leo & Danny
The 9th concert it was for me in Arhem. Mick was awesome, the energy he displays, whooooow. A 25 year old would not be better! Keith was Keith, a unique person in the world of rock 'n roll, brilliant! Charly was the quiet man in the background, humble as always when being introduced by Mick, a true gentleman. Ronnie was top! It was great. Mick was thanking the crowd for still showing up, he reminded us hat the first ever stones gig outdise the UK was in Holland (the Kurhaus in Scheveningen, The Hague in 1964). We missed the voice from Lisa, though her replacement was very good but Lisa has become part of the Stones' inventory and she cannot be replaced!
---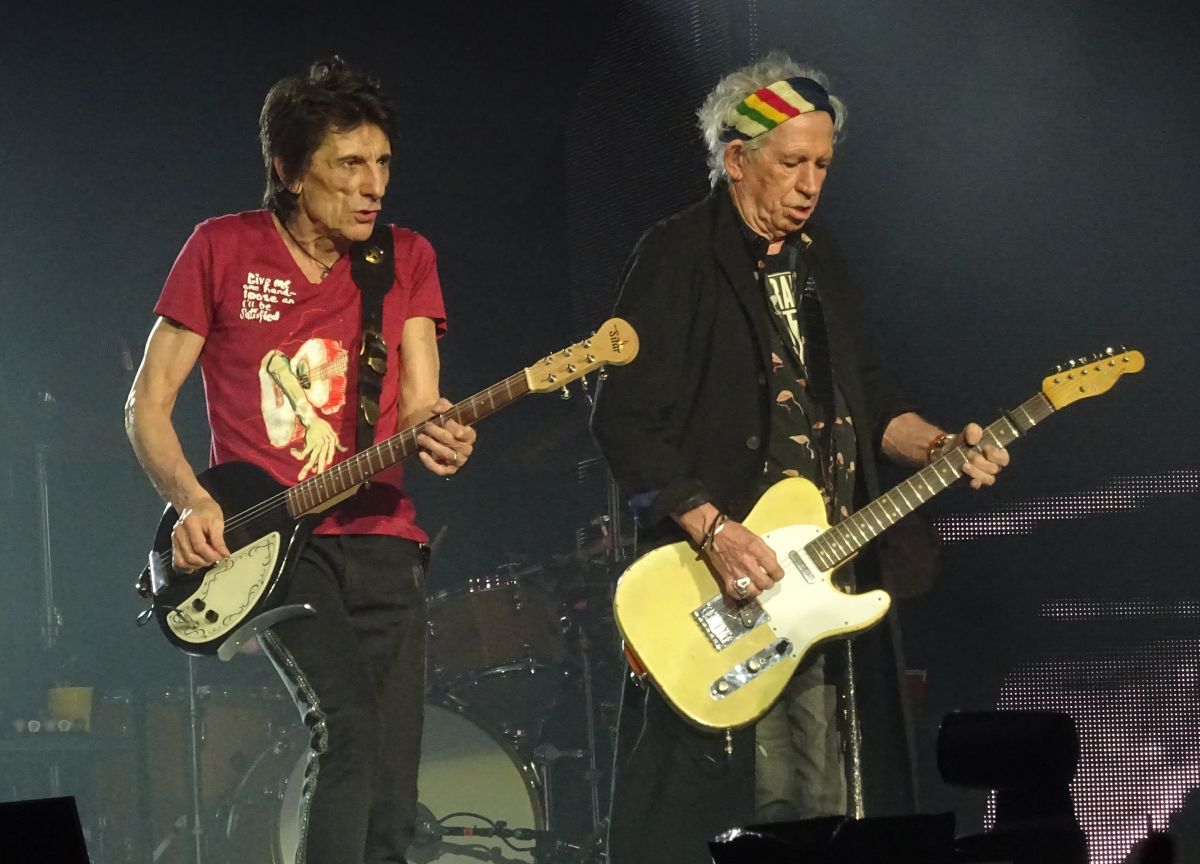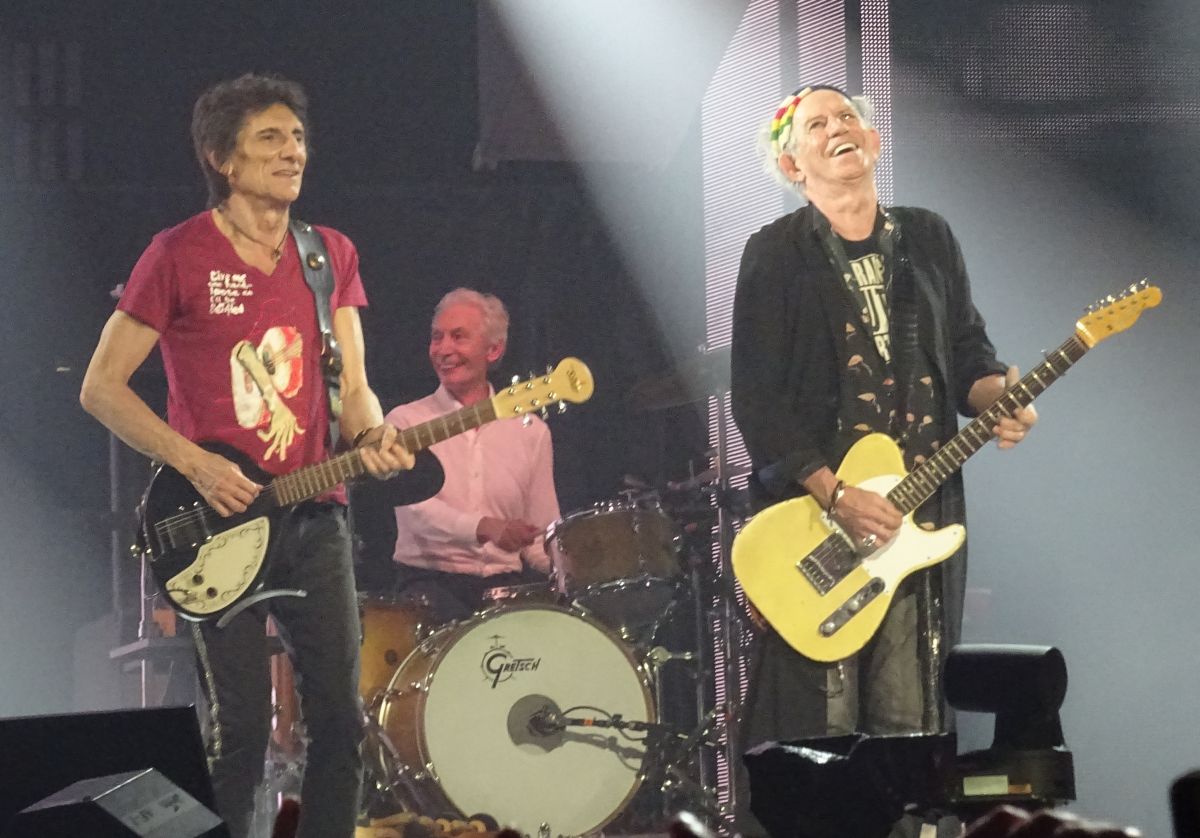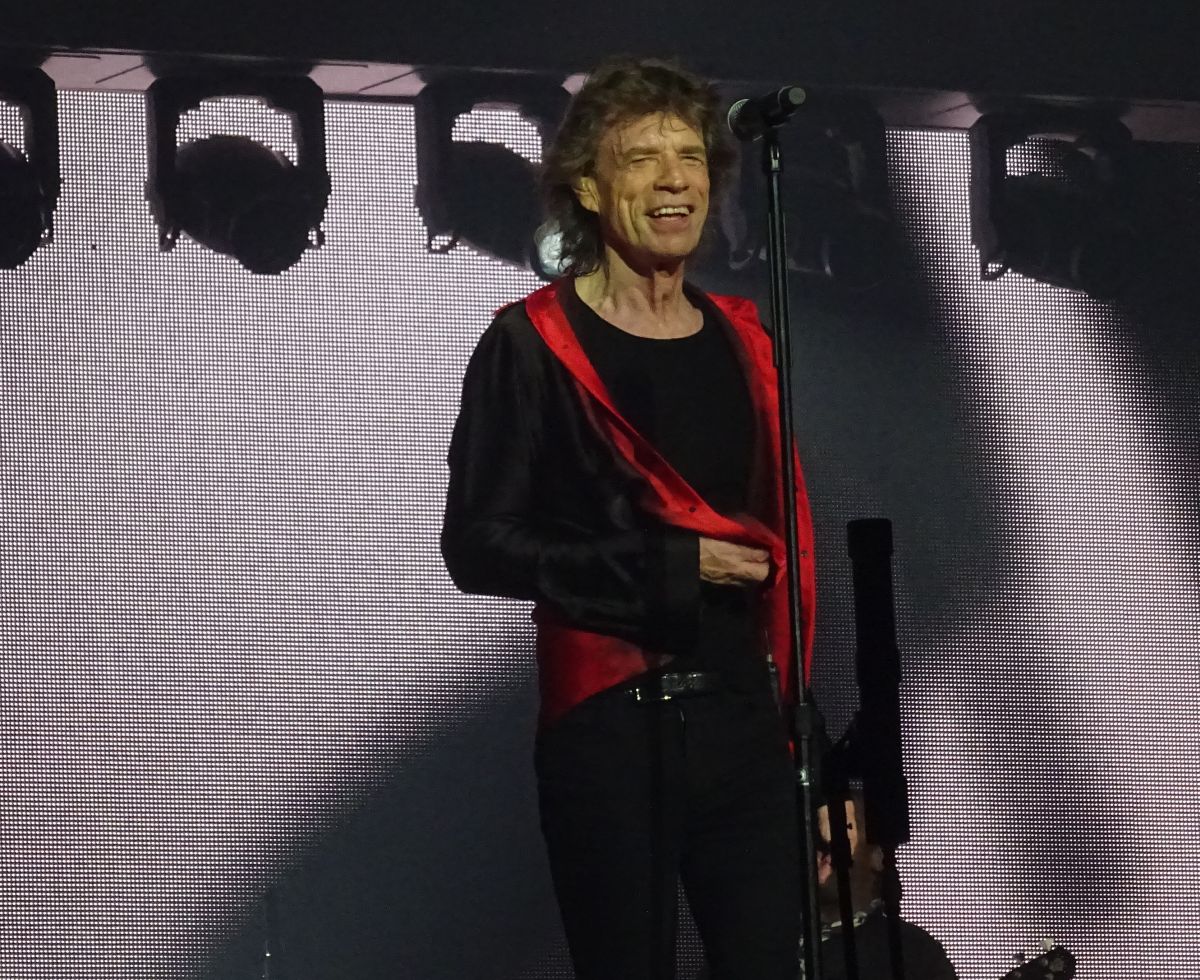 Photos by Bjørnulf Vik
---
Review by Bjørnulf Vik
Usually I fly home between the shows, but this time I went directly from the show in Stockolm to Arnhem, via Amsterdam. As soon as I was out of the train station in Arnhem, I knew this was special Stonesland for my three days stay. The city center was small, and it seemed like "everybody" was drinking or dining at the local main square Korenmarkt. With the location near Germany, and Friday evening, fans came early, like me. Saturday was building up the Stones wibe all over the small city, and even if Arnhem is not Lucca, it was so different to have the Stones in a small city rather than the big cities where a million or more people might not know who is in town. By Sunday, show day, there were Stones shirts and fans all over the city of Arnhem, and all bars were packed.

A assumed they had 11pm curfew like in Amsterdam, so the show started as expected just before 8:45pm. The first surprise was "Dancing Withy Mr D". A great song, and after a break since they performed it, it sounds great. "Goat's Head Soup" is one of my favorite albums, and I wish they could play more songs from that album. "She's So Cold" was performed with great energy, and Mick was all over.

As they were about to start the two blues numbers, Ronnie had problems with his guitar. Eventually he came back on stage, but then he went backstage once more. Keith then took action, moved over to Mick, and started to do some improvised blues guitar playing. Mick was watching Ronnie, and wasn't really ready for an improvised blues jam while waiting for Ronnie. These days the show is so set and predetermined, I wish they could do more improvisations, like in the past days, and this was a true "lost opportunity". Then Ronnie was ready, and they were in tune with the set list.

The guitar Ronnie use for Happy was in place on stage before Mick started the presentations, so it was no surprise that we got "Happy" and "Slipping Away" in that order, as usual. Great versions again, and to my surprise very few had their mobile phones in the air during the Keith set. Then Mick was back for "Miss You".

The temperature in the Gelredome was hot like cracy. I was in my T-shirt only, but I wanted so much to loose it and be with no shirt. Still Mick were back after the Keith set with three layers of cloths; his thin technical black sweatshirt, the black "Stones" T-shirt, snd a jacket. Miss you made him warm, so the jacket was soon gone. Then we got to the best part of the show "Midnight Rambler" and "Street Fighting Man". The interactions with Mick, and the way Ronnie, Keith and Charlie is following Mick, his moves, and his singing, and the way Keith is playing his guitar, makes this set so powerful.

Then the moment comes, when Mick is moving back from the extended stage, he is half way back to the main stage, sweating like crazy, and he is starting to get rid of the all to tight T-shirt, probably size small or very small... With a large effort the shirt is off, then he dries the sweat in his forehead with the shirt, eyes rolling for a second, and then, he throws the black "Stones" shirt out into the crowd on the Keith side of the No Filter Pit. I am thinking "Mick! What are you doing?" I haven't seen Mick trowing anything into the crowd, except for water, in many, many years. Not even his guitar pick, it does always goes down to the stage floor, not out into the crowd. This is probably due to security. Somebody will probably be the happy owner of the shirt, but there are many hands in the crowd, there will be a fight for sure. Then Mick grabs a bottle of water, throwing water into the Keith side, as seen in one of the photos, then also throwing water on Ronnie side, sure he is pumped by now!

The crowd was great. I did some photos, but believe me, most of the time there were hands in the air. Even if I am tall, most of my pictures would have been hands in the air if I did not plan when and how to make the pictures.

A final note about Keith's guitar playing. I have watched Keith close at every show. Usually they turn up his volume a lot halfway into the show, and he use all the energy and PA power there is. Tonight he treated the guitar strings with some gentle touches as well at times. This made the sound image more interesting. Just like Charlie barely touch his drums and cymbals at times, making the drumming more interesting, dynamic and minimalistic, all we hear from Keith is a clear and not so loud blast some times, which makes the song and the playing more interesting. Then in the end, of course, as Satisfaction is closing the show, there is only one thing that is important - power!

We walked home to our hotel in the warm summer night in T-shirts only, with great memories from the show. We agreed that Keith loves to start some songs like "Start Me Up" with a twist, like the Browd Sugar" initial, may be for fun, may be to tease, but on purpose, and even if some was predictable, he is there with the right riff within a second or two. These are not errors, but on purpose. Also, for those who think Mick is having a headache when he is placing his hand ion his forehead, looking like in pain, that is a dancing gesture he is doing during most shows. All in all, they do know what they are doing, and they are just fine these days. Paris will be three shows in seven days with more variations, different songs, old habits, new memories. I am happy whatever I get, but I am sure Paris will make a special week still.
---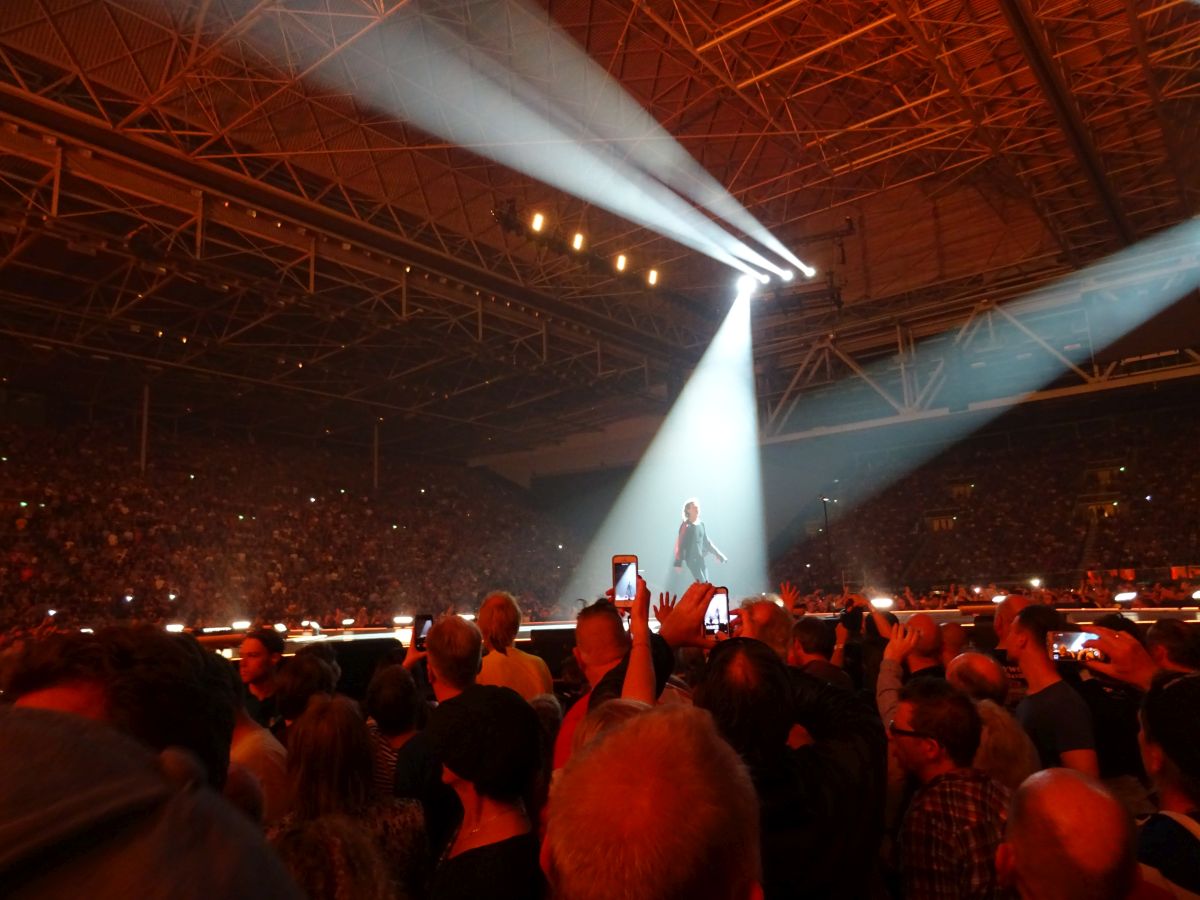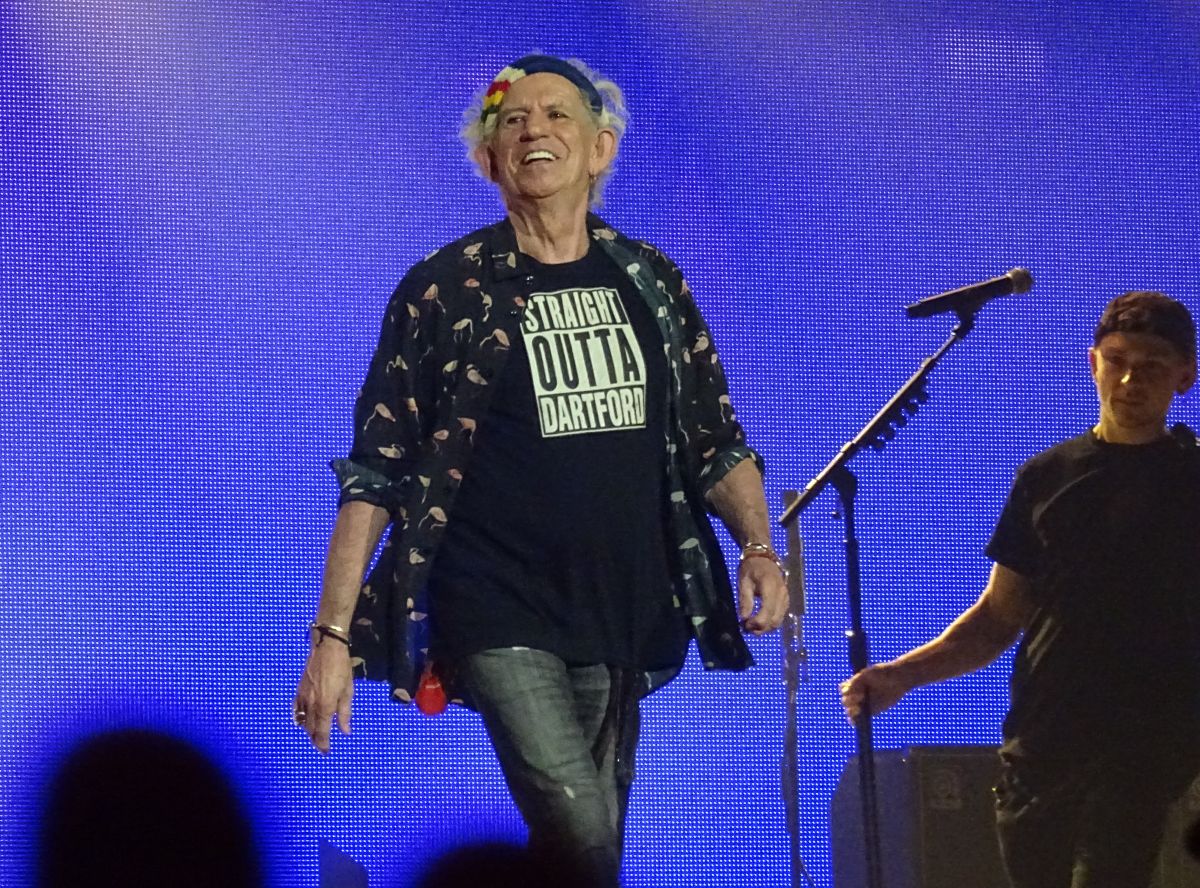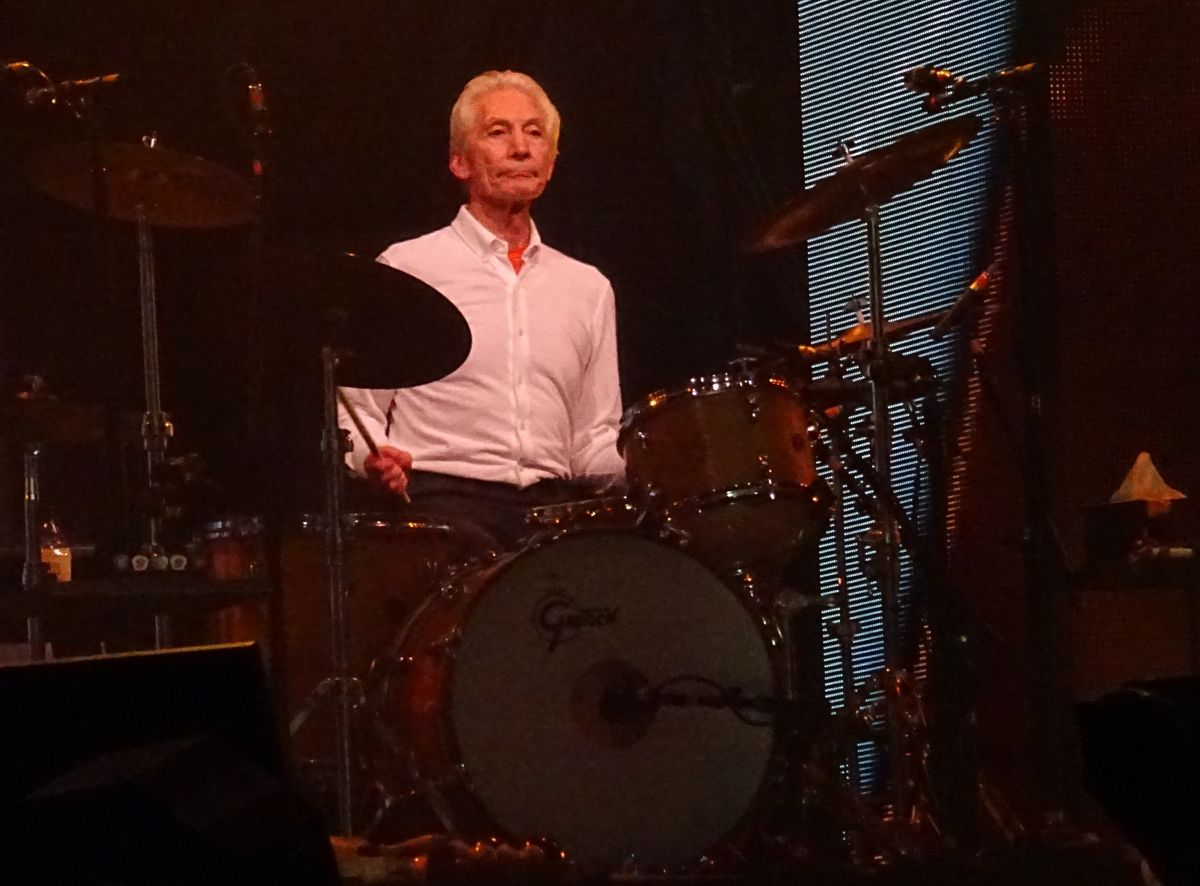 Photos by Bjørnulf Vik
---
Review by Dean Goodman
It's amazing how a live - and lively - audience can make a difference. After the funeral at Stockholm, we got something resembling a party in Arnhem, thanks in part to an influx of Brits, Germans and others.

The Stones as a whole played much better, although Keith's guitar work remains an inconsistent weak link. As a vocalist, however, he is shaping up as the premier rock balladeer of his generation. His rendition of "Slipping Away" was much more heartfelt than the jokey version he delivered in Stockholm. It's clear that he reflects on his wonderful life as each word forms in his brain and passes through his lips. The closest comparison would be Johnny Cash's reworking of "Hurt," recorded when Johnny was a few years younger than Keith is now. At the end of "Slipping Away," Keith simply said, "Thanks, guys." And that seemed real, too. I think Keith's personal highlight each night comes when he ceremonially hands the harp to Mick before the blues set. It's a small but significant symbol of friendship and respect.

Alas, we got a repeat of Spielberg with a disastrous intro to "Brown Sugar." I think it's a Charlie-Keith thing, maybe Charlie mistimes Keith's slow-motion intro? Hopefully incessant video autopsies will shed some light. This time Keith didn't pack a tantrum, and the song regained its footing. Paradoxically Keith had earlier played the first two chords of "Brown Sugar" when he was supposed to do "Start Me Up." By the way, when I say "alas," I don't particularly mind that they bollocks up songs they've played a million times. It makes life interesting.

Keith started off well. He took to the stage with a combative look on his face, and made the "Devil" much more fearsome. It's just tough for him to remain consistent, and the contrast with his colleagues is stark. Mind you, Mick had a little snafu, too, attempting to end "Sympathy for the Devil" a little too early and having to repeat a few couplets after getting guidance from Chuck who also brought Charlie in for a safe landing. But Mick's voice sounded great tonight, also. I'm sure some folks will have had issues with the acoustics, though.

And the heat. My God, the heat. "I got to tell you," said Mick. "It's bloody hot. But nice." Also nice for the person in the pit on Keith's side who caught the sweaty Stones t-shirt that Mick took off, wiped his face with, and tossed into the crowd when doing "Street Fighting Man" from the catwalk. This is a man who doesn't let his guitar picks land in the crowd. I don't think I've ever seen him give away an item of clothing, but he was certainly desperate to beat the heat. I also noticed some elderlies being led away from the pit by medics.

Of course it made perfect sense (not) to play the poll-winner "She's So Cold" on such a night. "I think we should do one of the others," Mick moaned. At one point he started clapping his hands in the air. The audience took this as its cue to start clapping also, but I think Mick was just doing it to make sure everyone on stage was on the same page. It occurred to me that these ballots are a nice way to shower some respect on Ronnie, let him perform songs that he recorded.

Ronnie seemed less than thrilled to be plagued by guitar issues that delayed the start of the blues set. He got a working axe seconds before Mick and Keith were getting ready to start without him. I didn't bring my metronome, but it seems the blues songs are faster than the others, which is another paradox. Maybe that's why I like this tantalizingly brief interlude. And yes, I caved in and bought the "Lonesome and Blue" album/DVD/bonus track combo in a Belarus supermarket for about $5.

"Dancing with Mr. D" made a welcome return. Other highlights included "Street Fighting Man" - the new "Midnight Rambler"; and "Satisfaction," where Keith got so carried away on his soloing that he had to go over to Ronnie to get back into the song.
---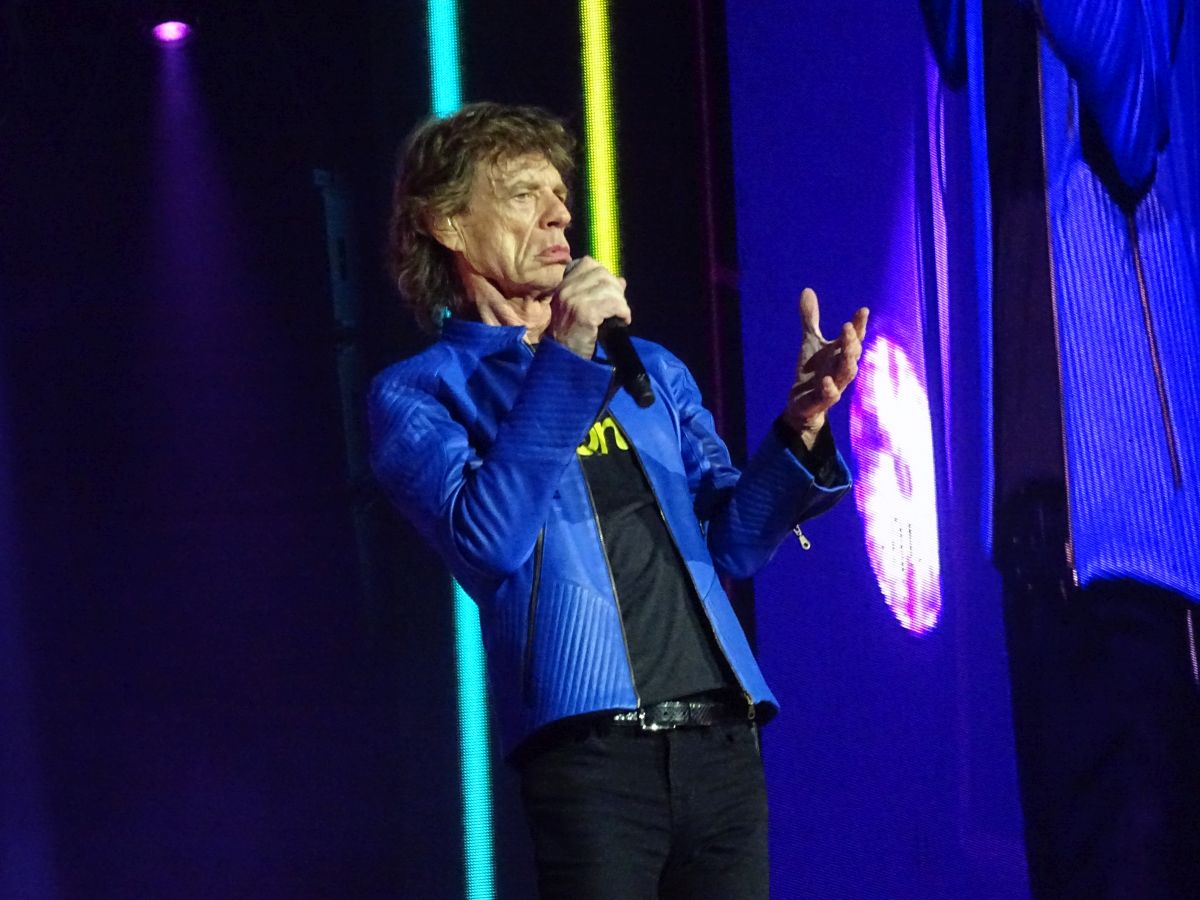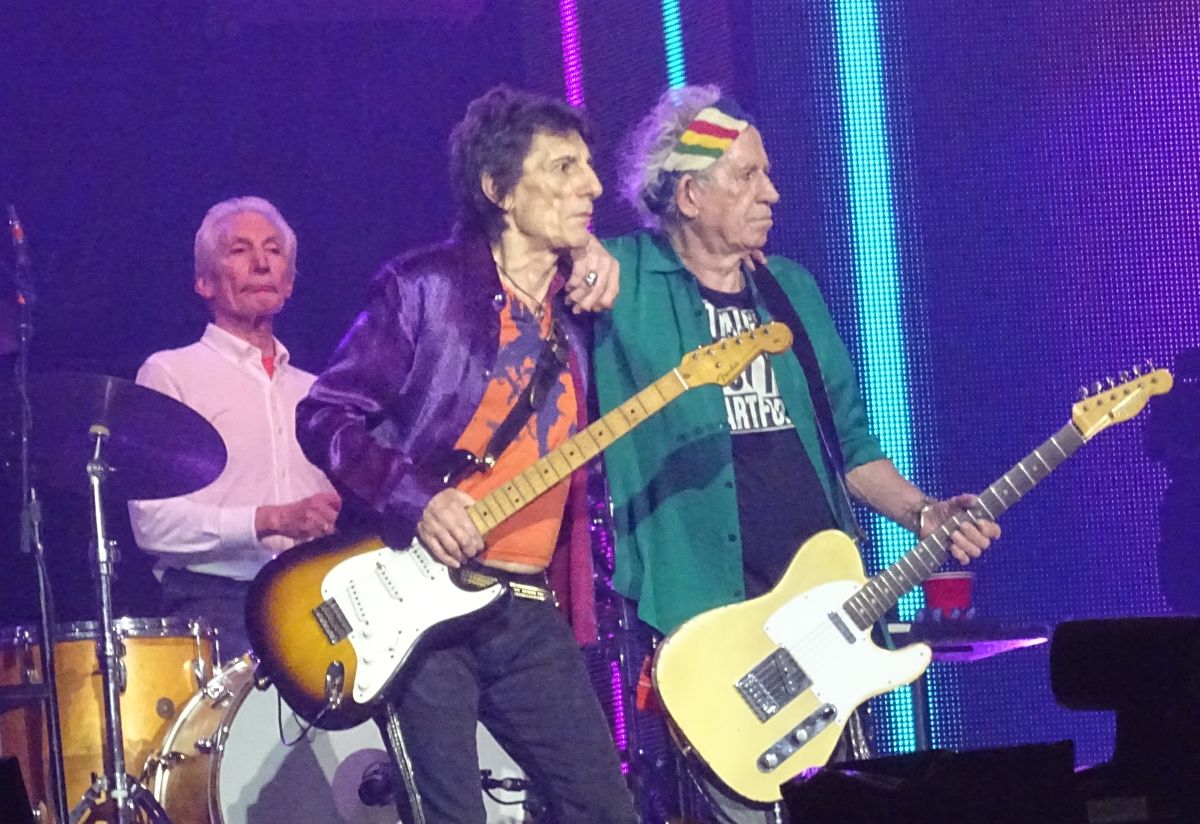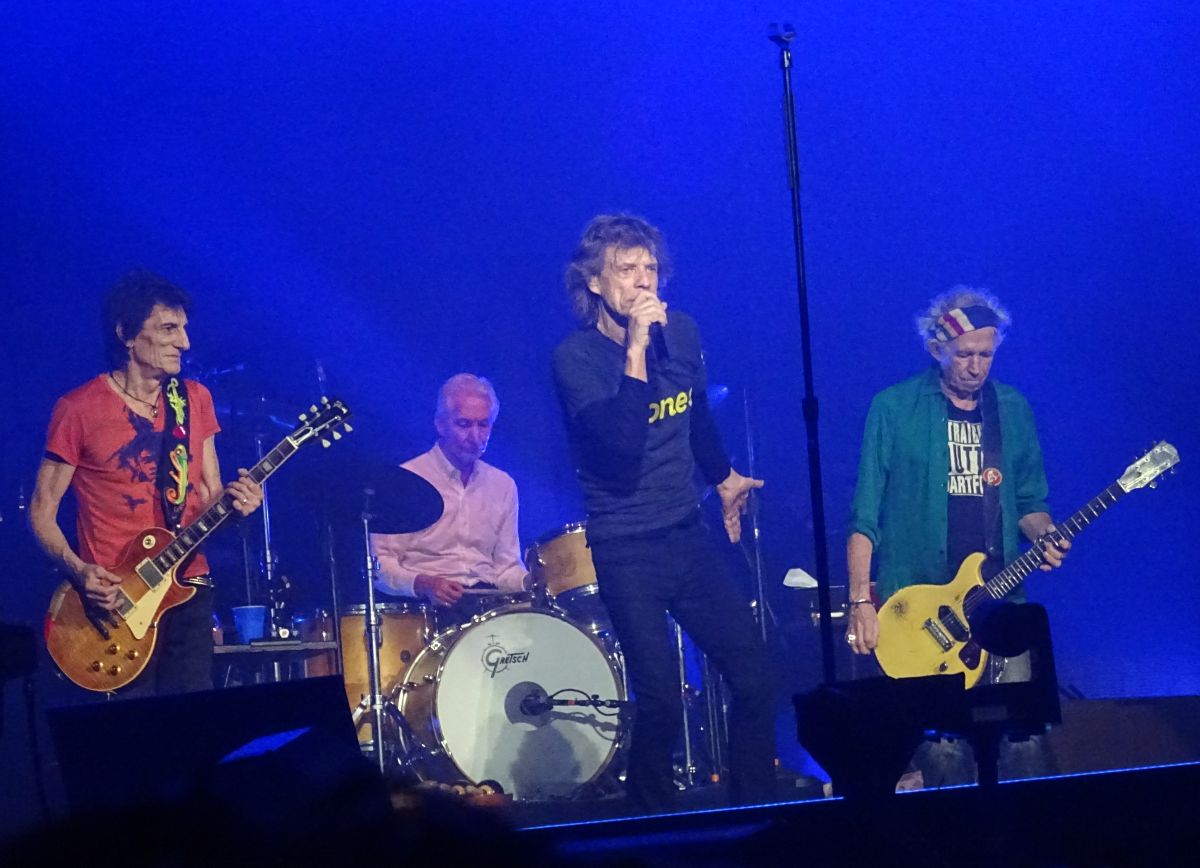 Photos by Bjørnulf Vik
---
Review by Jeff Seidel
What an atmosphere as we hit the streets of Arnhem, twas as if the band took over the whole town!! Tshirts everywhere, fans playing songs in the streets. Slipping away was definitely a highlight as you felt Keith Richards take a slow song and infuse it with all the passion he has for the music and his fans. The rare Dancing with Mr. D had a special energy, while even Mick himself seemed surprised at the choice of Shes so Cold (why are we playing it??). All the way in from Israel to celebrate my birthday, and the night was capped as i caught Charlie Watts drumstick at the end of the show (attached pic). Streets were rocking afterwards like a promo video, except with the Stones its all real!!! On to Paris!!!
---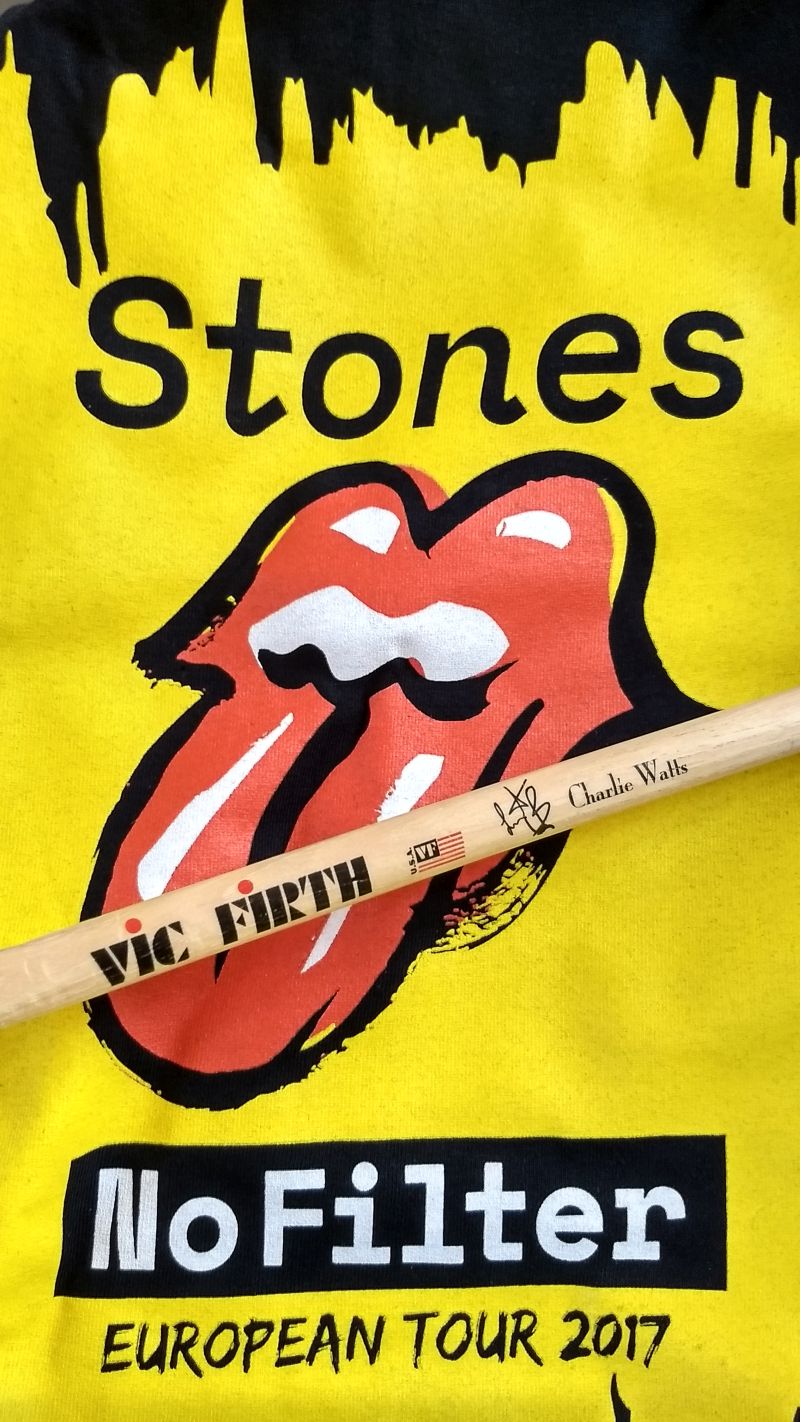 Photos by Jeff Seidel
---
Review by Jerrie Klaris
This was my 60th show of the Stones. So a little party for me and my wife. The tickets were birthday presents from my wife for me. We were standing at the ground. Arrived at 1900 and walked in in a few minutes the parking was very close and it was free (hahaha still Dutch).

The show started again early and I was wondering what they will play for the 6th and 7th song. I was surprised with Mr D great song and don't know if I hear it live in the past. After that She'so cold last time for me was with the Bigger Bang great song and was from the begin period when I became a Stones fan in 1978. It is still amazing how the for old man enjoy playing and rocks the smile on Keith's face the enjoying of Charlie banging the drums the condition of Mick and the ragging Ronnie on Midnight Rambler on his guitar.

Don't ever say they do it for the money the tickets are expensive I know, but they still enjoy it. It is not only a show to see the Stones because being a Stonesfan. It is still a great band on stage. The show in Amsterdam the crowd was better I think. I was standing in the back so I had a good overview of the Gelredome. I told my wife the Dome explode when they start Paint it Black just like in Amsterdam, but it didn't. Well for the two of us it was a great show.

I think he sounds was better then Amsterdam because it is smaller. So my 60th show in lifetime and the last for the No filter tour. There are three to go in Paris 4/5 hour drive it is possible, but I had to work and the venue is big. Maybe next year the UK. good memories from the past like London en Dublin.
---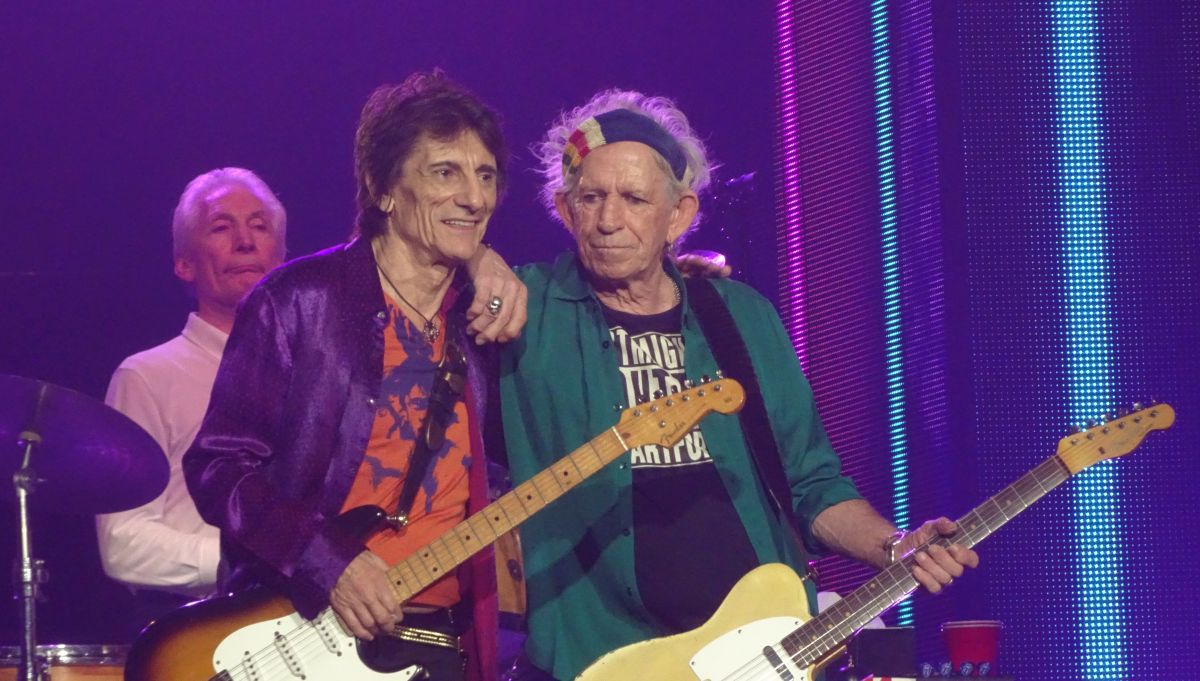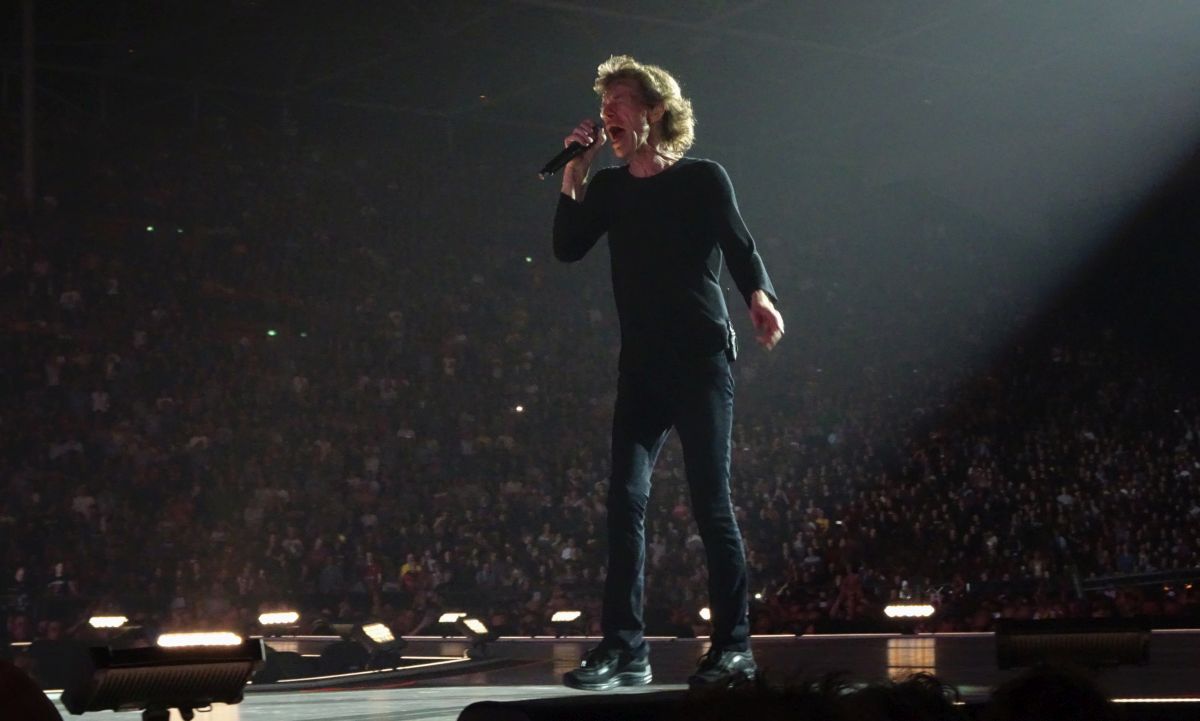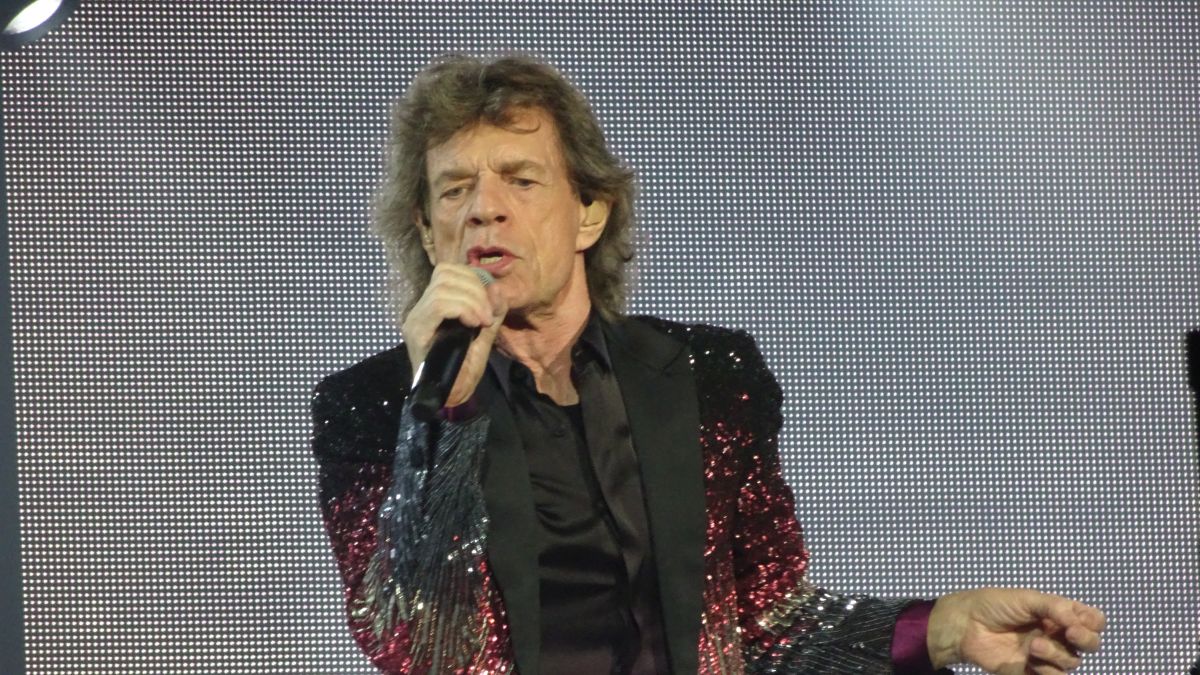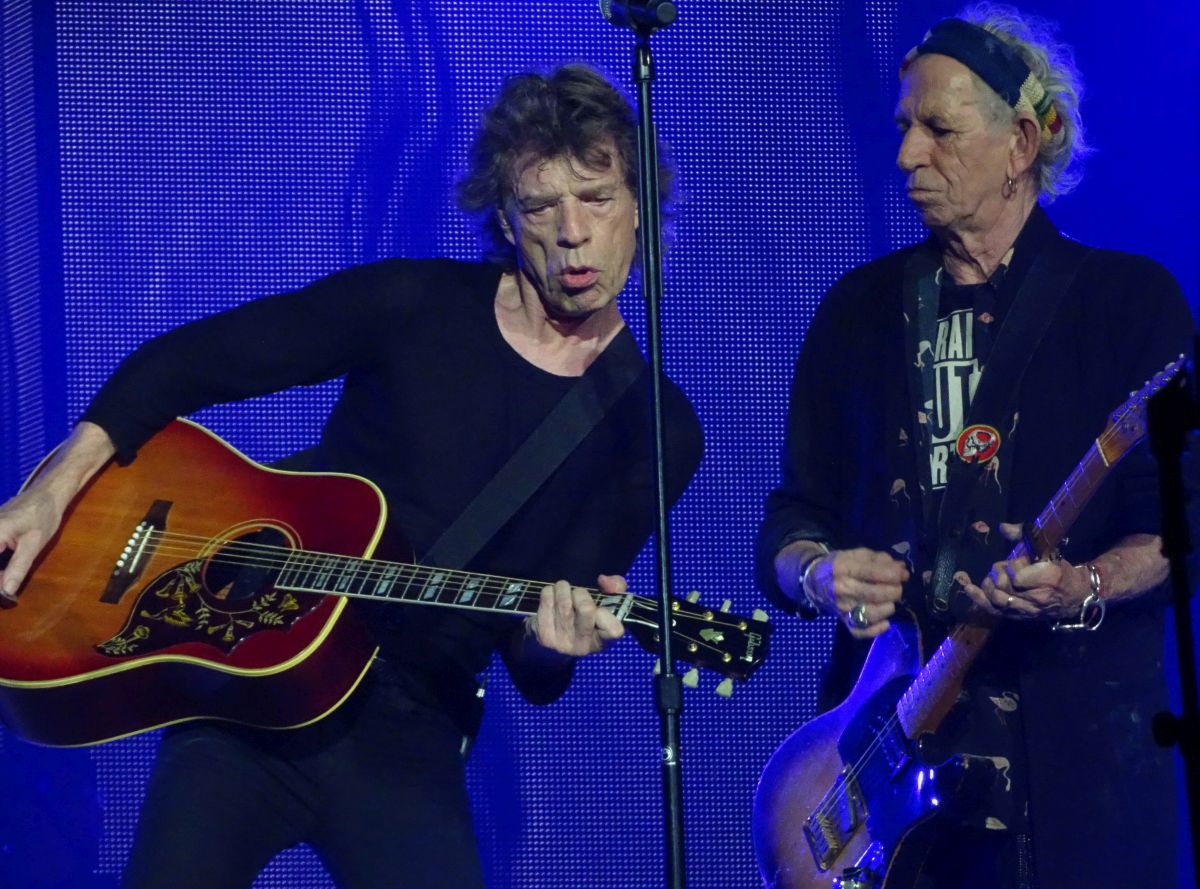 Photos by Roderick Keur
---
Review by Michel Hayen
For me it was the 15th concert and I have to say, it was an amazing one! Probably partly because of the fantastic experience in the PIT. There was so much going on on stage, that I didn't know where to look sometimes! Really great. A few things I want to say:

1) Don't let the youtube videos misguide you. I have to say, I was a little sceptic about this one, because of what I saw from previous concerts.I thought they may be over the top, and it might get a little embarrassing. Well, happy to conclude that this was not the case, on the contrary!. The boys really did a great show and are still able to entertain 10 thousands of people, easily. About the youtube video's: it's not comparable to a live experience (especially in the PIT). It also looks like it that the video's are a little bit 'slower' than live.

2) From now on (will there be a next one?), it's PIT for me only. What a great experience! Enough room to move around, not waiting in queues, see the stones in person, not as puppets on a screen. Sure, it's not cheap, but worth the money.

3) To put it bluntly: F*** all critics (also on this forum), and all the Keith bashers. I read your analyses from the concerts, and it irritates me a bit to be hones. Just don't go if the musicians don't meet your standards, find another band to support. This is music, not science. Sure, they make mistakes, I see that too, but it really doesn't influence the experience, it even makes it better. It's great to see an experienced band to see how they solve these things. And let's face it, the Stones never were a band that plays everything flawless. It's their strength, and one of the reasons we all like them. One of the highlights of the show is to see how Mick deals with the Brown sugar 'mess up' from Keith (going to Chuck, see the eye contacts with him and Ronnie). Believe it or not: they are humans too. My message to all criticasters: guys, just enjoy the show and don't judge the Stones by 'technical flaws' and wrong notes here and there, etc. Just 'feel' instead of try to rationalize everything. I had tears in my eyes a few times because I just absorbed the whole experience and enjoyed every moment of it intensely. This even happened to me with 'Slipping away', and a normally don't like this song very much. Now it hit me. That is something I will never forget.

4) The PIT 'management' sucks. There's really no point in first filling up one area, and then let people in the other one, once the first one is full. It just stresses people out, not necessary. Let people decide where they wanna be, and close the area when it's full. Simple as that. PS; we were at Ronnies side, which was great, seems Keith tends to go to Ronnie, now and then.

5) Setlist: as hardcore fans, we want to see and hear 'rare' songs. We got 'Dancing with Mr D', and She's so cold'. They could do some more of these less known ones, but let's realize that 80% of the visitors are NOT hardcore fans. They want to hear the warhorses. I think that's fine. I can't hear MR and GS enough, even after a million times. I liked SFTD as an opener, worked well.

For me personally, this was a top 3 Stones concert. The other 2 are: Landgraaf 1995 (first one for me and immensely impressed), Vredenburg (because of 'club' character and setlist). This one deserves a spot in the top 3 list, because of the PIT experience and the impact it had on me.

I was very impressed and hope to see them one more time next year. Thank you, Rolling Stones for all the great music.

A very, very grateful fan.
---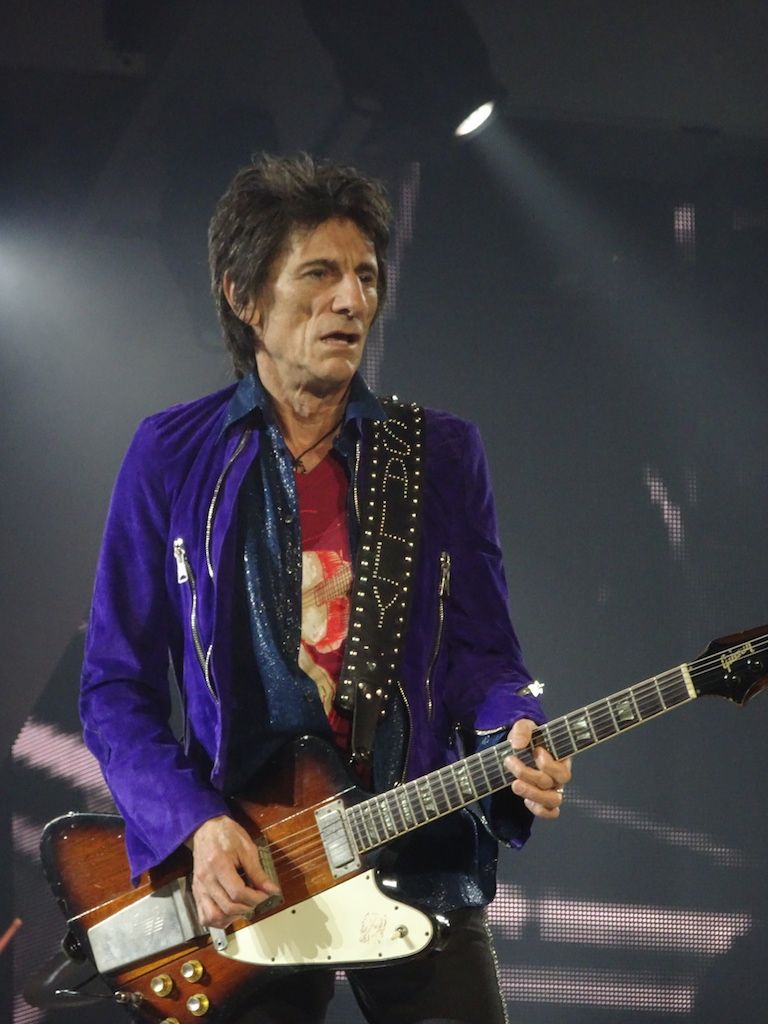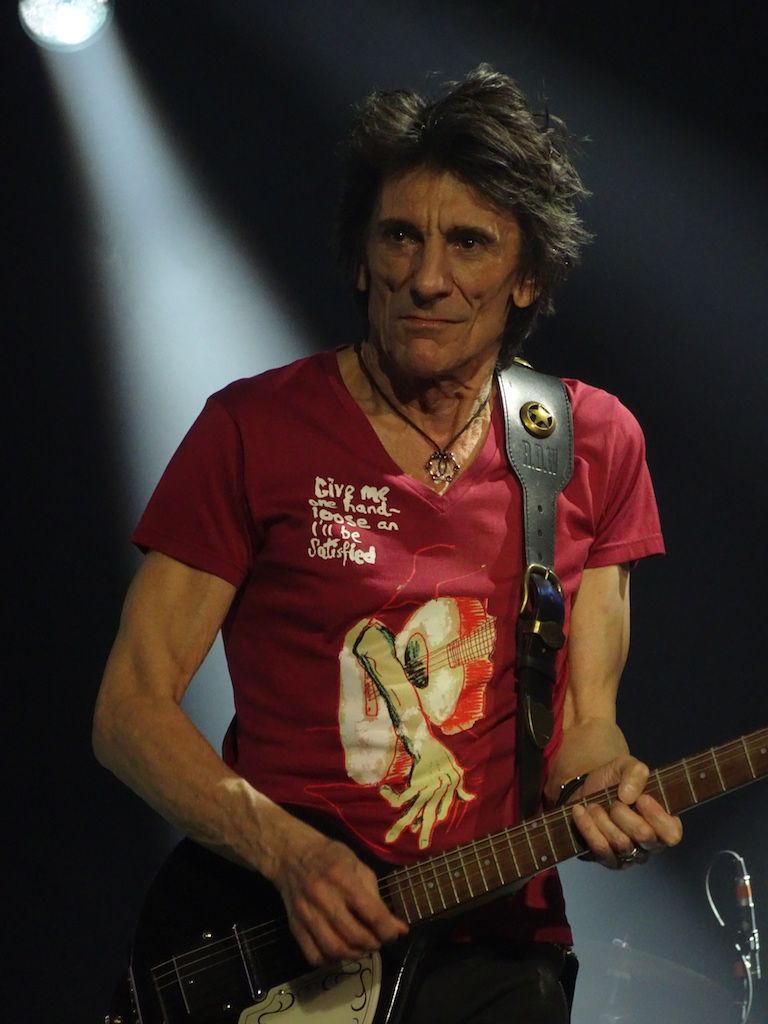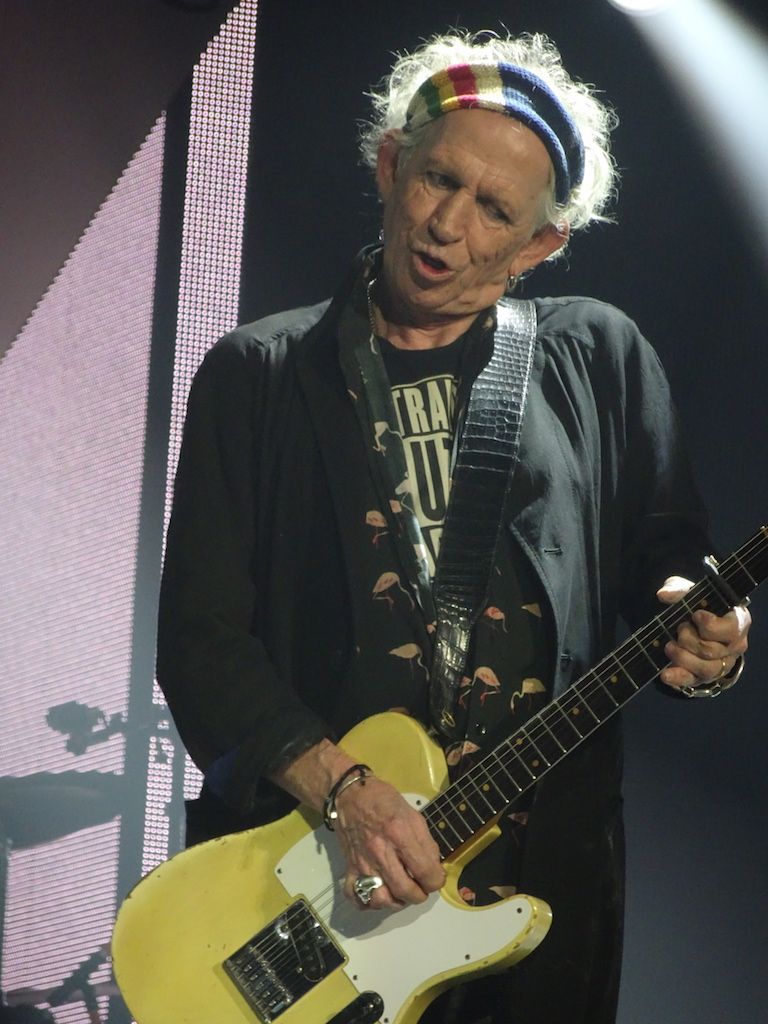 Photos by Hendrik Mulder
---
Review by Jeroen Starink
What a beautiful sunny and hot day it was!! Lots of Stones fans in the innercity of Arnhem. Nice to meet some people from the Dutch Stones fanclub whom i went to Hamburg with again.

My 4 th and last No filter gig. It was hot outside, and today the Stones were HOT. Not too may people it holds, about 35,000, the Gelredome. i felt it was an intimate gig, even though i had seats in the back (entrance H). I had a good view on the stage and dound was allright,good.

Sympathy blew me away, very powerful stuff from Keef n ronnie. Great opener for Arnhem.

Good to hear Dancing with MrD again. Oh, i love that song. She's so cold...Loved it when the stones did not get much applause when he announced the winning vote: oh, we better choose anther song then. . It started bit weak, but ended like a classic. Great.

Keefs set was, for me, wonderful again. He was smiling a lot and having fun

The whole gig was very good, not great. Miss you was boring.. Brown Sugar became a shipwreck, but the band delivered and it ended great.

All in All..another Great Stones experience.. I left before Satisfaction to meet friends at the busstop. I was stopped by stewards outside. did not know why, until i saw some expensive cars and vans waiting. Please move on,move on. ofcourse i did not. I knew.. the stones will hit the cars in a few minutes..and yes...Gone with the wind.

Girlfriend from my best friend had never seen the Stones before. When i asked her how she liked it. She did not say much, but smiled and had sparks in her eyes.

I feel sad, The tour is over for me. Maybe next year 4 gigs in the UK for me??? Hope so...

Enjoy the band while you can!!
---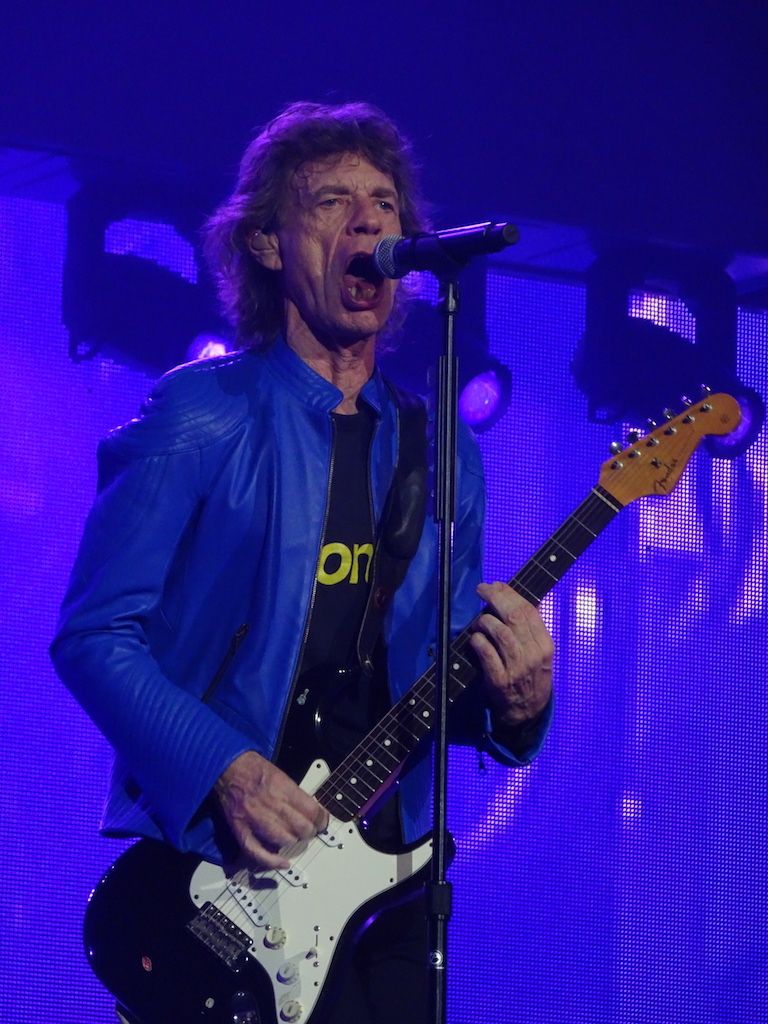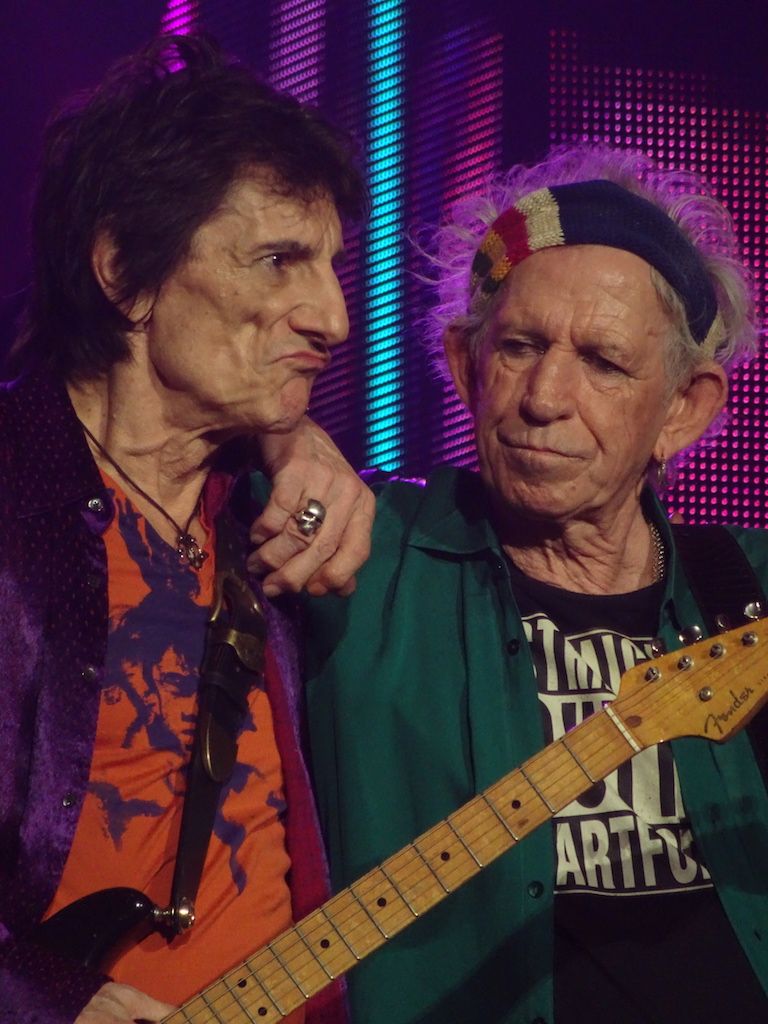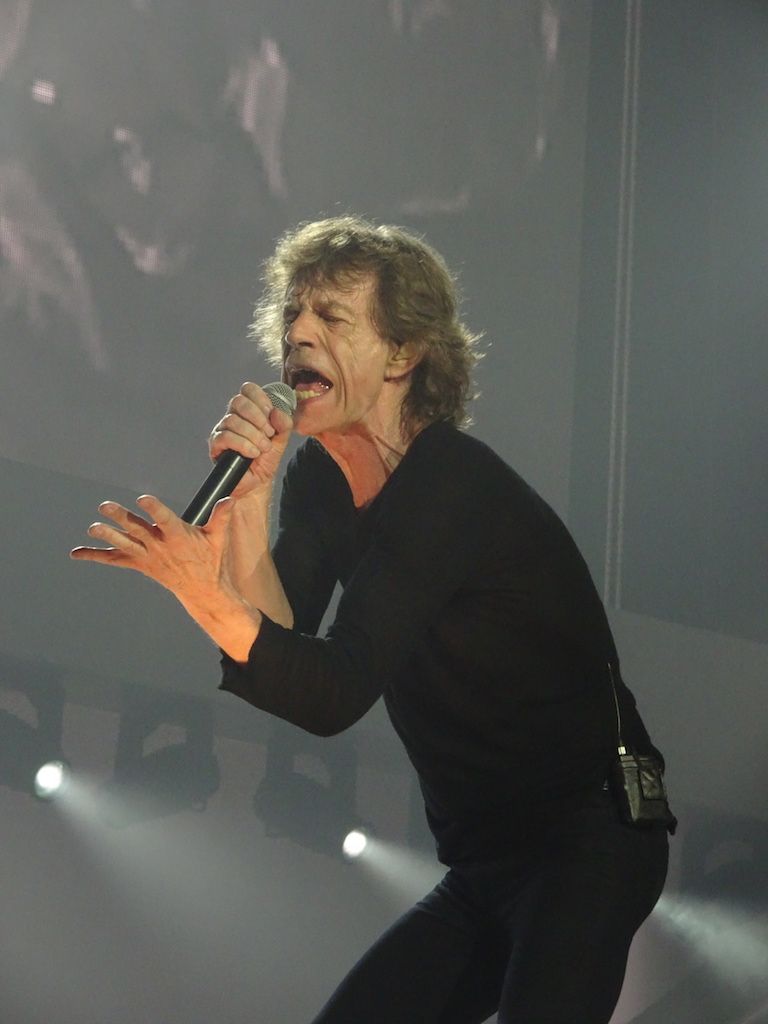 Photos by Hendrik Mulder
---
Review by Pawel Trzcinski
It was my 7th time on this tour and 19th in total shows of The Rolling Stones. I'm so exciting after every show telling my friends how they are so strong and better and better. It doesn't matter what they play and what they doesn't play anymore.

That show in Arnhem was a total energy. My 5th time in the "pit". I'm always jumping and dancing and having fun almost all show. I love eye contact, chemistry between Keith, Mick, Ronnie, Charlie and rest of gang

I had a late birthday that night (born in May), because I caught Keith's pick after Jumping Jack Flash and Charlie's drum stick on the end - very lucky!

Best moment was in Midnight Rambler with great interaction between Mick and crowd with screaming "ou"!!! and "ma ma ma ma ma ma" Revelation of this tour is how good are high hits including Start Me Up, Brown Sugar, Satisfaction, JJF, HTW, PIB.

Also Dancing With Mr. D is fine way to keeping smooth sound longer.

I hope to see them again on the last show 25th of October!

Keep on rockin' TroubleMakers
---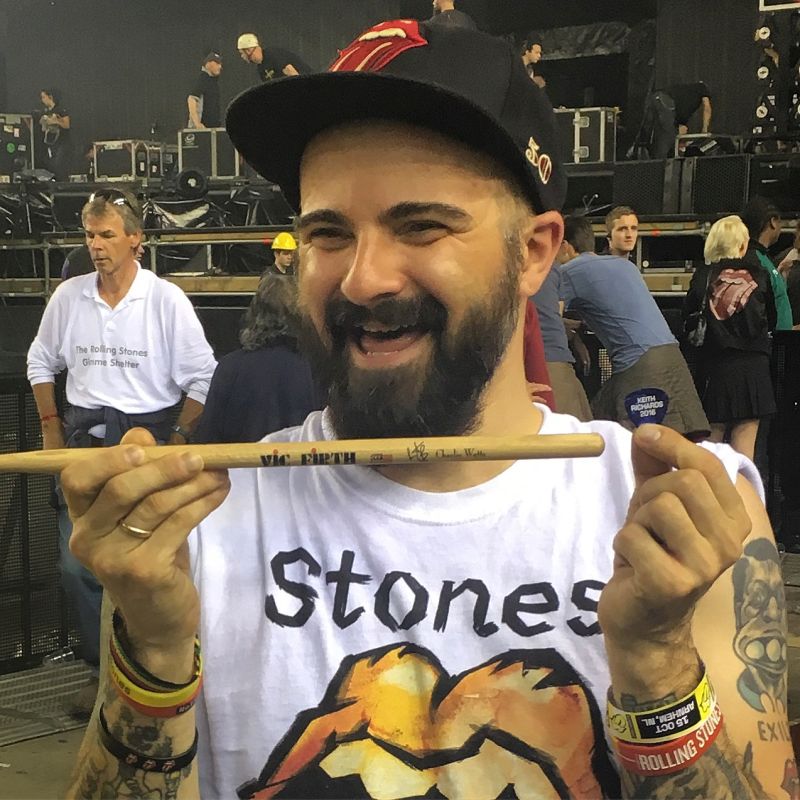 ---
Review by Ron van Elten
We did 5 shows this tour, all pit. And for me Arnhem was the best so far. We had a meet & greet in Dusseldorf with the band, and they were verry nice. We where in front row pit in Arnhem, and Keith posed a fiew times for my girlfriend Daisy. The band is realy progressed now in the tour, and they are having a real good time on stage. The sound in the Gelredome in not the best, but the band was. My credits so far for this tour, go all to Chuck, and Ronnie. Thay keep it very much together like real leaders. Mick is something else, the only performer in the world ho has so much respect from all the people!!! the energy how he moves, and his power is stll magic ! I know it, The stones really keep me happy!!!!
---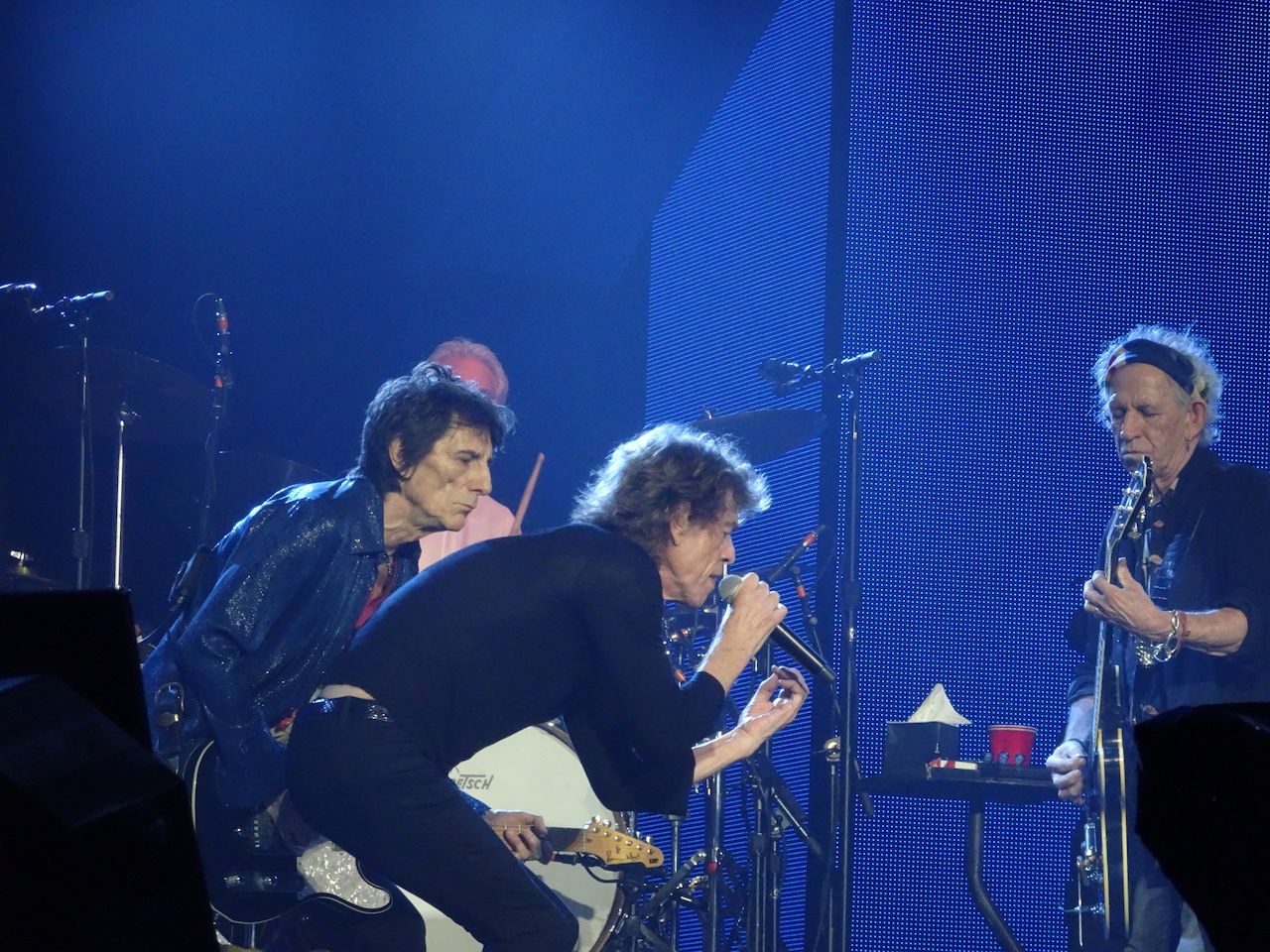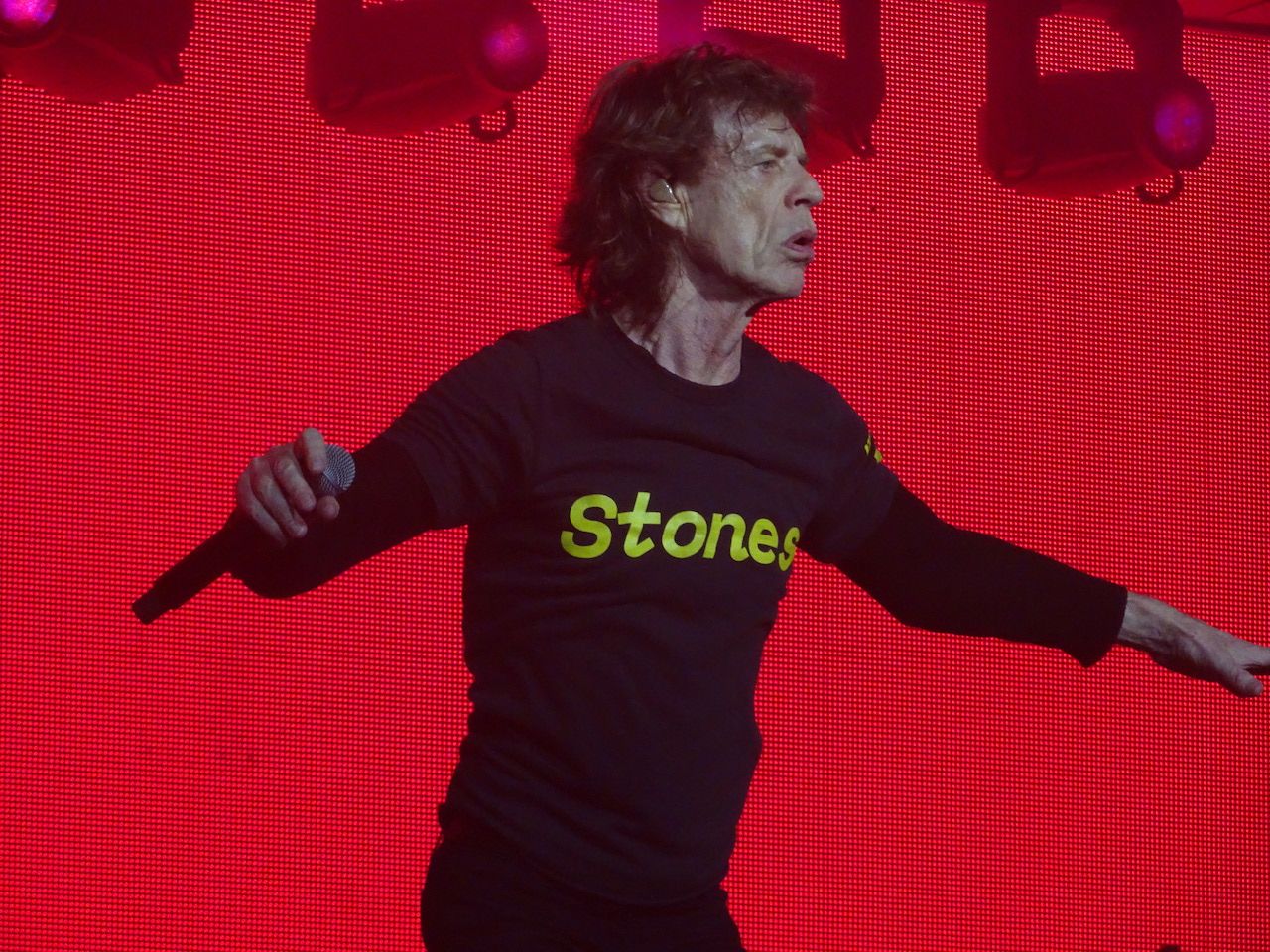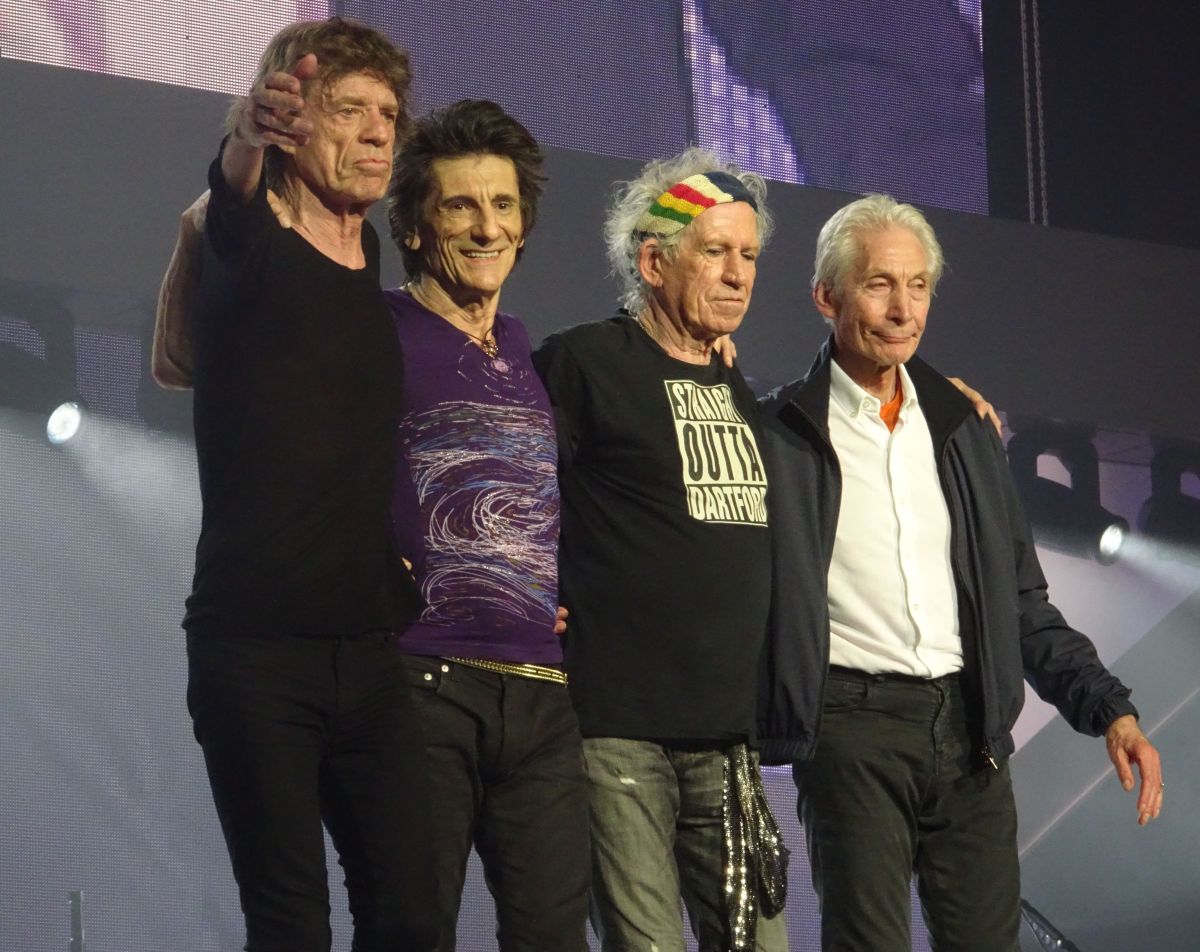 Photos by Hendrik Mulder
---
Review by Rob Goossens (RG on IORR)
The Arnhem show was one of the best i've seen on this tour. In a very hot venue the Stones played Dancing With Mr. D. and She's so cold (songvote) as surprises of the evening. Mick's words after announcing the songvote were 'or should we play another one', which was a reaction to the mixed emotions of the crowd to the winning song. And that isn't strange if 'All down the line', 'Rocks off' and 'Just my imagination' were on the list as well. They played the song rough and strong tough.

Some fine moments during the show: Mick threw his shirt away during "Street Fighting Man", and a several times he thrown water to the audience. Keith start the intro of Brown Sugar, while Start me up was on the setlist. After two chords he knew he was wrong. Keef's Satisfaction opening was brilliant and the crowd went crazy.

After the gig I saw and spoke to a lot of happy people. The band is still rocking! However I hope on some new songs on the setlists of the Paris shows.
---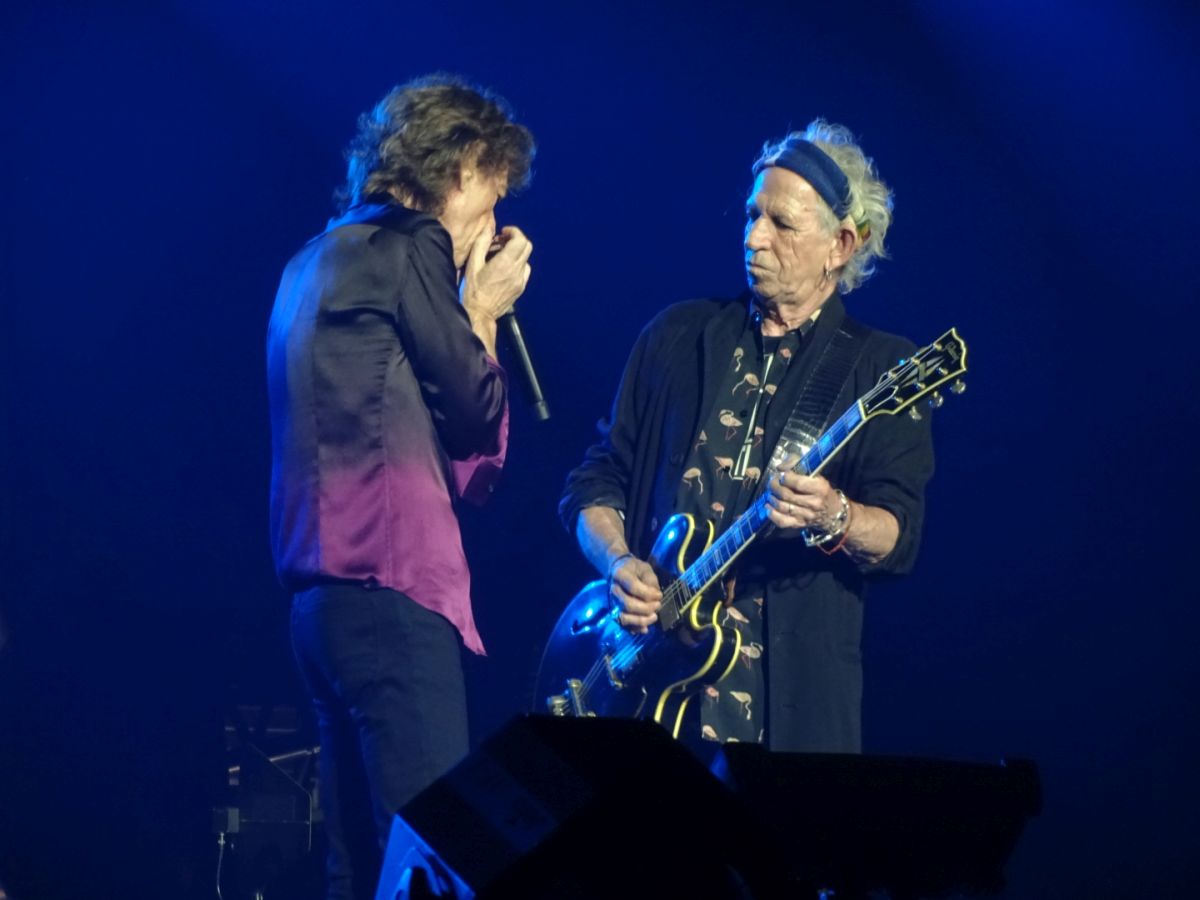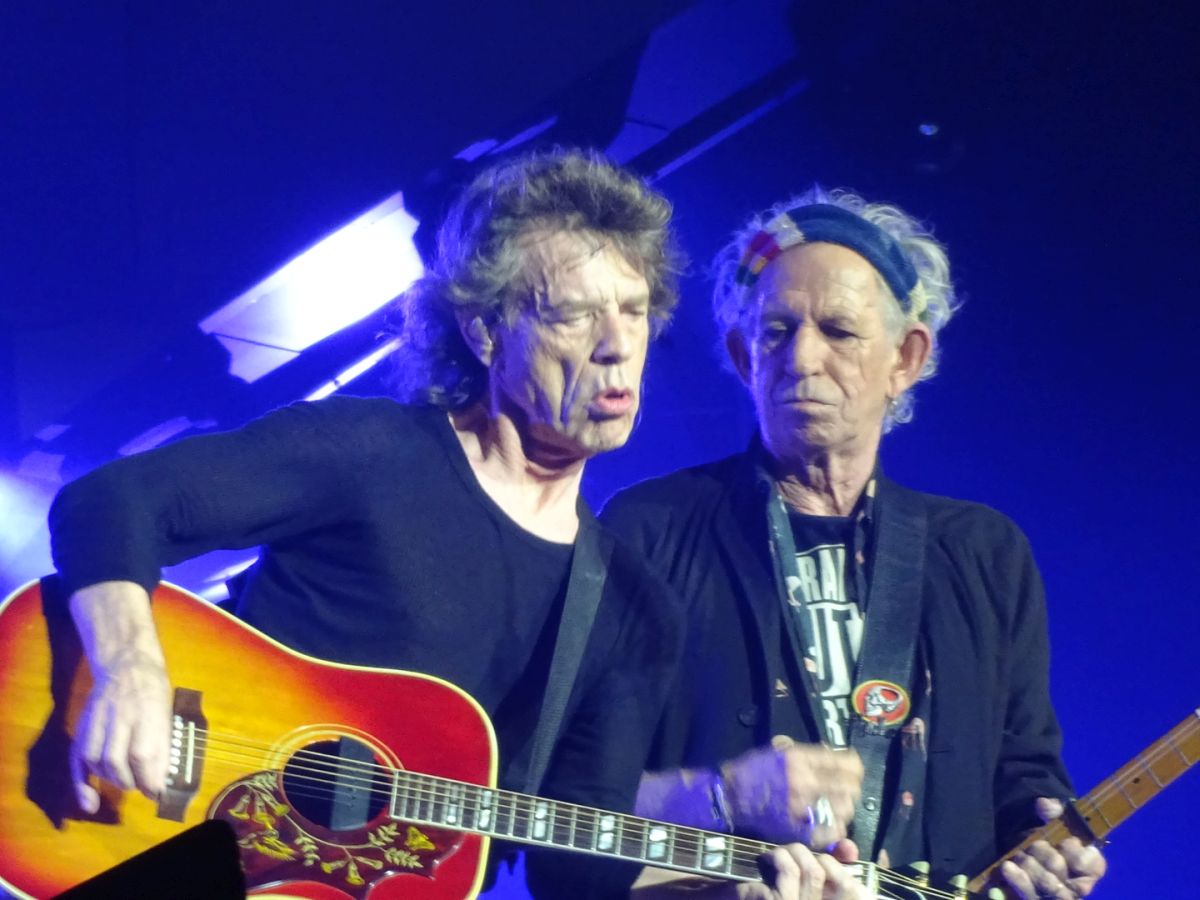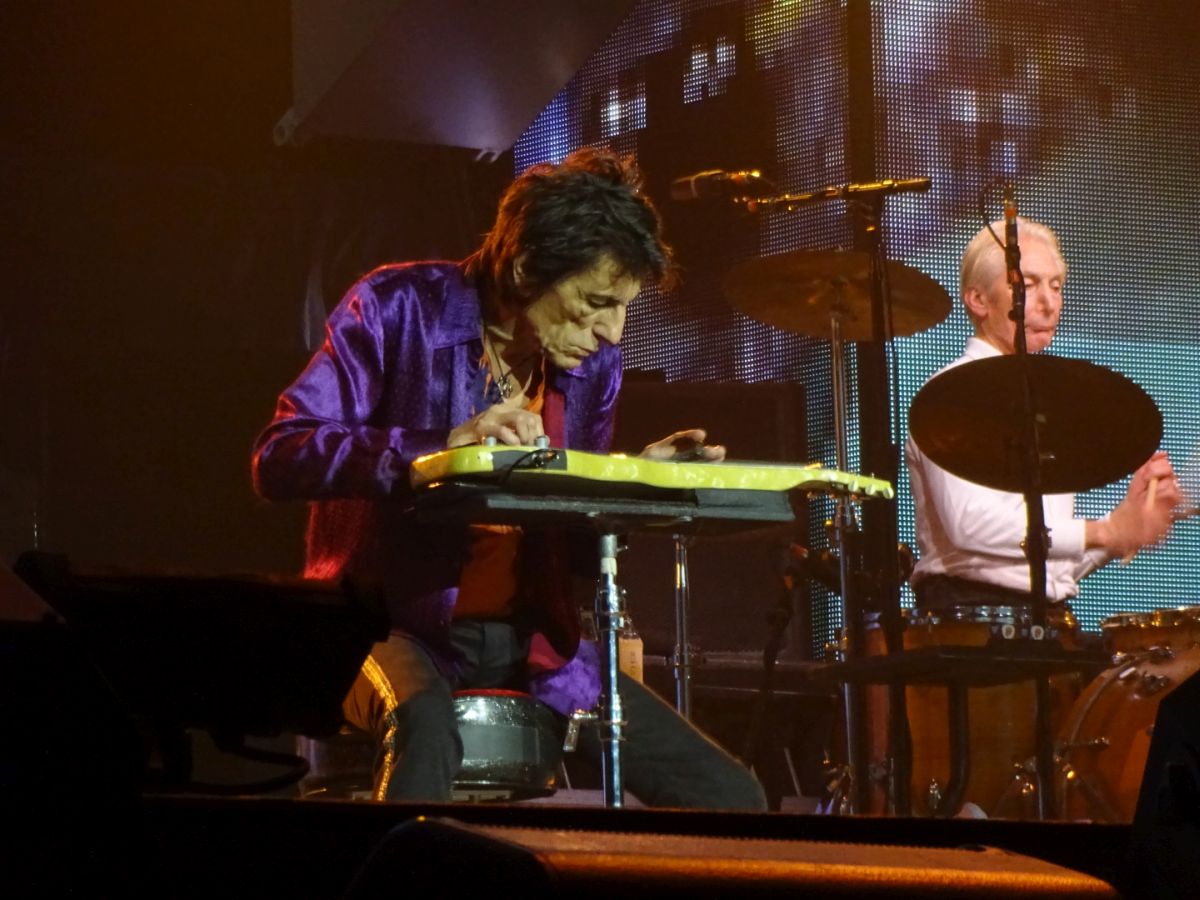 Photos by Wilco Schepen
---
Review by Johannes Tümmers
What can I say!! It was a phenomenal show! Came back at night at 2 in the morning, slept for 4.5 hours and off to work. Well,compared to Düsseldorf, this show was more intense, I feel. That might be subjective, as it was the second and last show for me on this tour, but at least concerning the crowd, this holds true! People were really enthusiastic and cheerful, even in the back where we had lucky dips tickets for general standing. I choose to stay in the back, because in Düsseldorf, the echoes in the middle of the field were really heavy. So, for me and my son, this show was better also soundwise.

And the band - folk, just incredible! One of the highlights for me clearly was Keith's ballad, Slipping Away - he sang this with so much intensity, seriousness and sincerety that it was a sight & sound to behold forever. It brought tears to my eyes. Midnight Rambler was particularly and beautifully mean this time. This song for me is some kind of inner sanctum of this band - it's the Stones at their best! The two blues songs from Blue & Lonesome are fixed into the setlist and quite rightly so - 2 x very tight, 3.20 minutes of superb Blues numbers, excellenty interpreted - with greetings from the heart & soul of The Rolling Stones! Then we got Dancin' With Mr. D and She's So Cold. Again, very intense and rocking, particularly She's So Cold. Mick was unbelievable and very into it. Of course ha always is, but several times this evening I thought that he was more than 100% committed - he really was into it! The last 6 songs were just one punch in the face topping the other. I can't think of any other band playing Rock'n'Roll with this sheer intesity, force, competence and joy that The Rolling Stones. Period.

One word about virtuosity: I don't go to a Stones gig and expect them to play flawlessly. Rock'n'Roll is not really about beauty and harmony. Funny enough, just because this band plays almost without exeption at the edge of catastrophy - this music only then really becomes alive. And this is one of the most difficult things a musician can try to establish during playing live. It's exactly what the Stones are doing since more than 55 years! I'm so proud to be their fan! And how lucky have we been for fucking 55 years? What a band!
---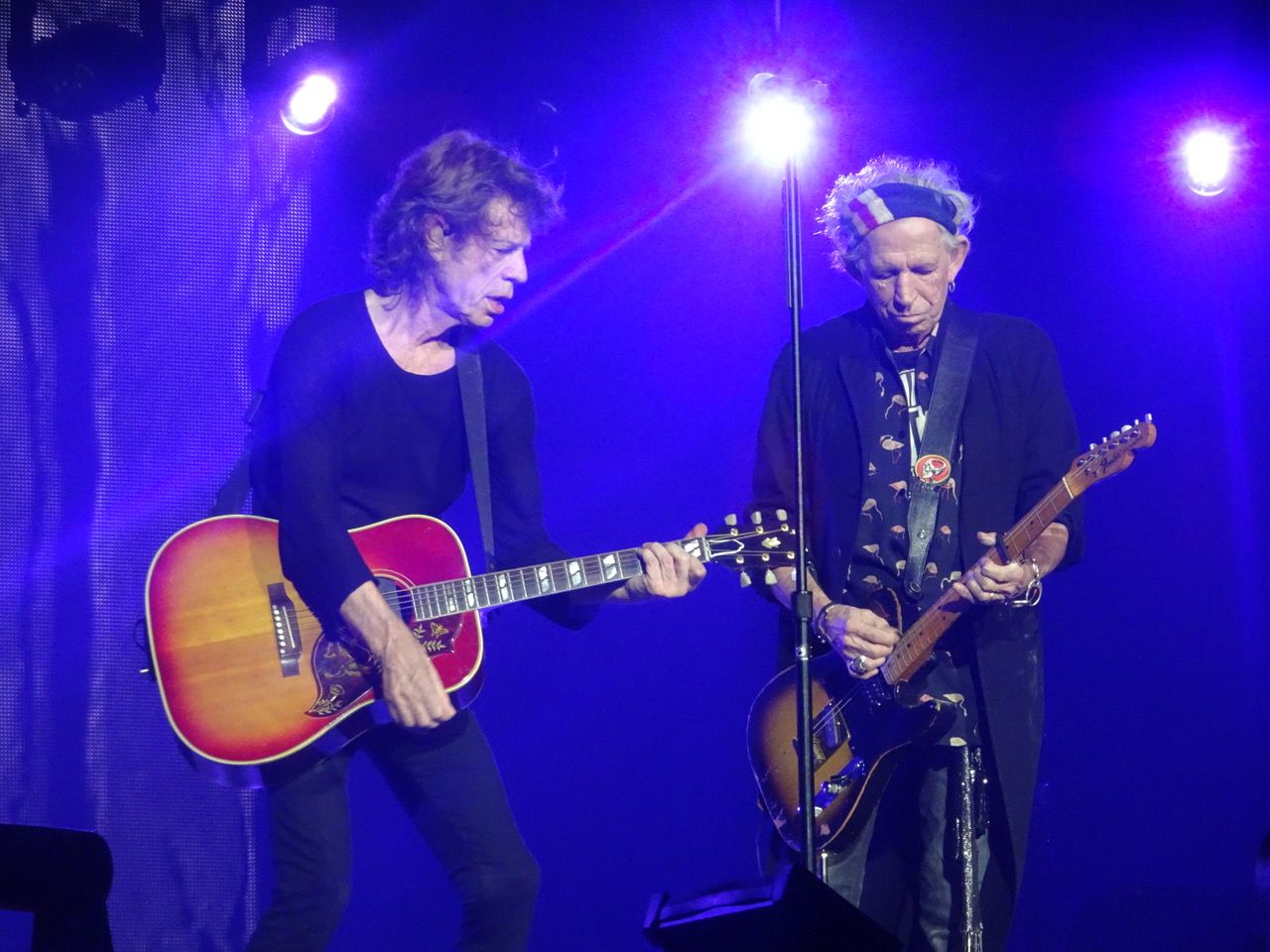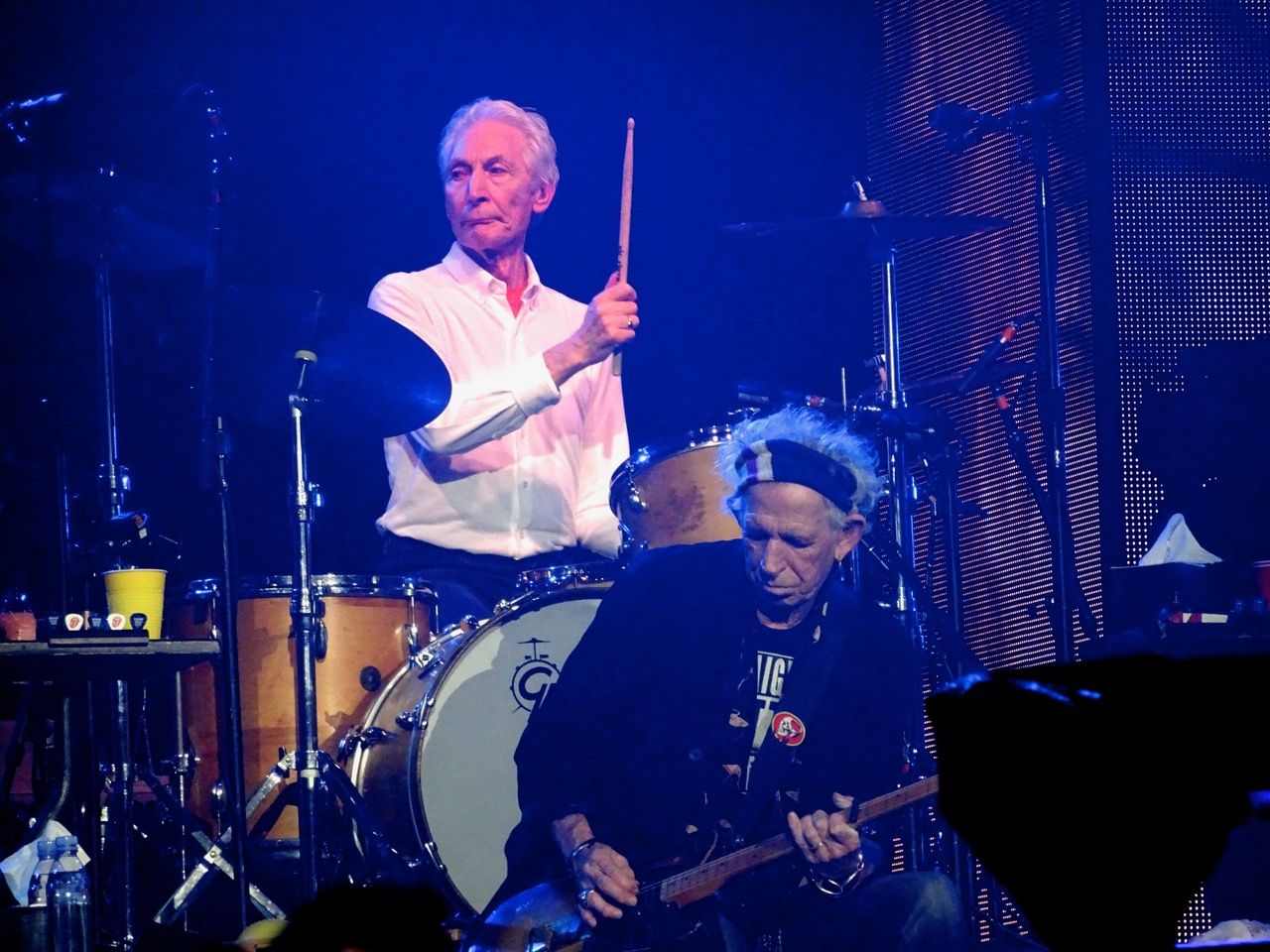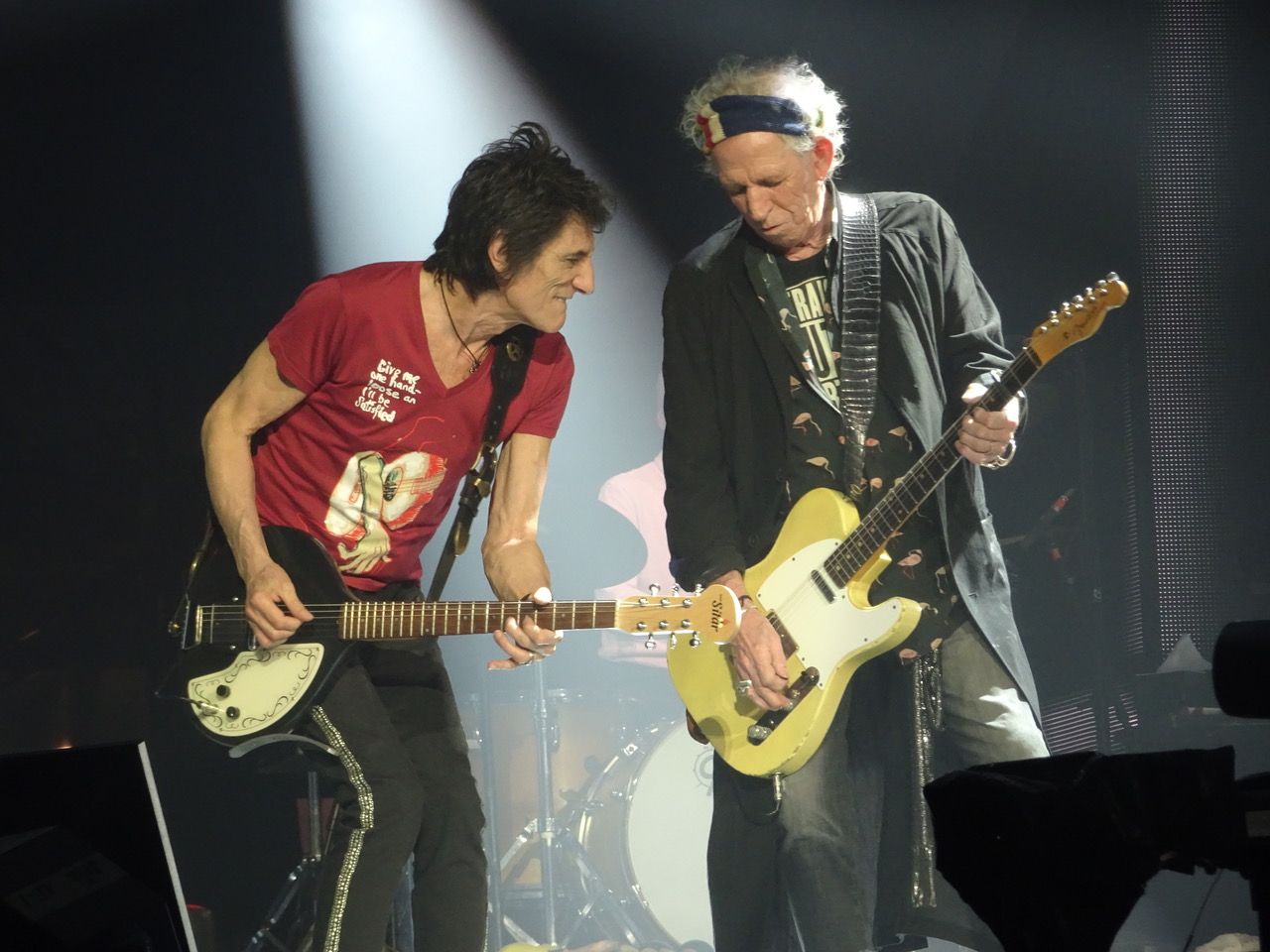 Photos by Klaus Lauterbach
---
Review by Judith van Kol
Okay I am still exhausted from yesterday but I really like to share my view.

My son and me took the line at 14.30. In front of me a Polish father and daughter wo were there from 4 am! We came in at 1600 but the Stones wanted to do a late sound check so it was about 6pm we could get in. Hearing sound check was great and after each number the waiters were yelling and clapping loudly.we had a good place on the rail, premium on the edge Keiths side.

Inside we saw that very strange filling from Pit. First it was Ronnies side filling up. On Keiths side there was a barrier. Just before Leon Bridges started the people for Keith side came in. They forcing the barriers aside and security get angry. Then there were just en few people in. After a while it was filling up mostly with celebrity's. you can see it from mace up and clothes. I think that Keith knew it because he was very often on Ronnies side. During the concert some people get drunk in that Pit. I was glad that I stood Premium. People were also walking around and leaving early there.

Leon Bridges was good! And he got a good response from the crowd too!

So, but that was the beginning and the Stones...

With sfd the crowd screams so hard I couldn't hear the music anymore. The crowd was very enthusiastic: singing, clapping and dancing, great atmosphere. During Hony Tonk there was a lady on the neck of a man with only her bra and trousers on. Mick and keith ignore her but Daryll was laughing.

Mick was incredible. He was dancing like mad. Throwing water in public on left and front side. It was very hot inside and a saw three women faded out. Mick throw even his shirt in public! Al the arms that were reaching! From 'she is so cold' it was like a lucifer burnt him on. Lots of dutch speaking, and yes, he tasted the Arnhemse meisjes.

Keith singling and playing was good. My son is a huge keith fan and he wanted so much more than two songs. Me too.

There were lots of kids inside. Very young also. Sound was very, very hard. My ears still ringing now. (Yes, i know that I must wear ear protectors)

I am not sure wich song it was, I thought satisfaction but in the end of the song Keith and Mick hooked arms with each other. Big smiles and more interaction between them than Amsterdam.

You got to move during Rambler.

Ronnie was more impressive in Amsterdam.

Charlie, you can see his arms punching with such power on drums.

Satisfaction one big crazy...I am sorry but can't find the words in English to express that.

And I realise now there was no firework! (Or I really lost my memory now)
---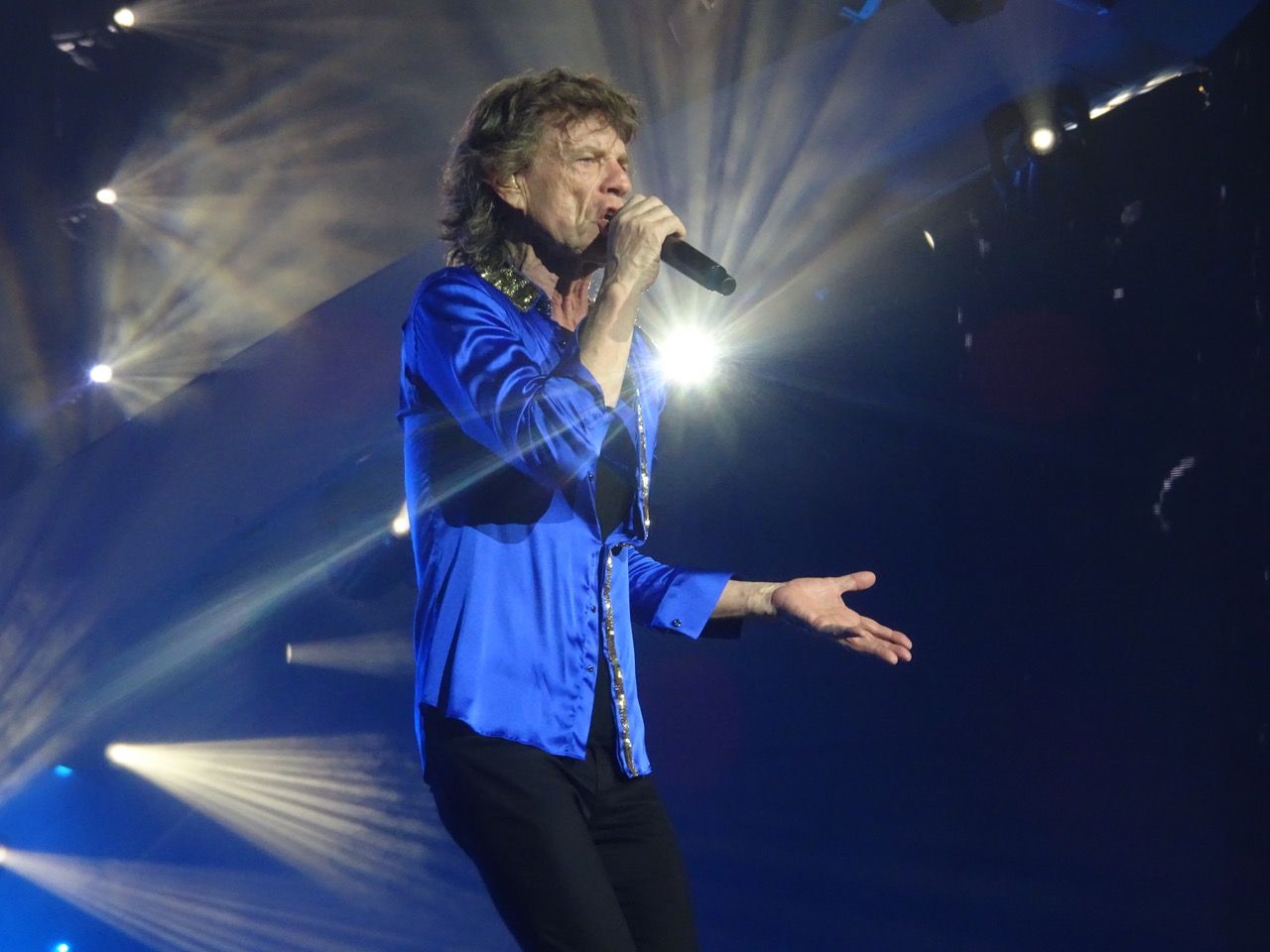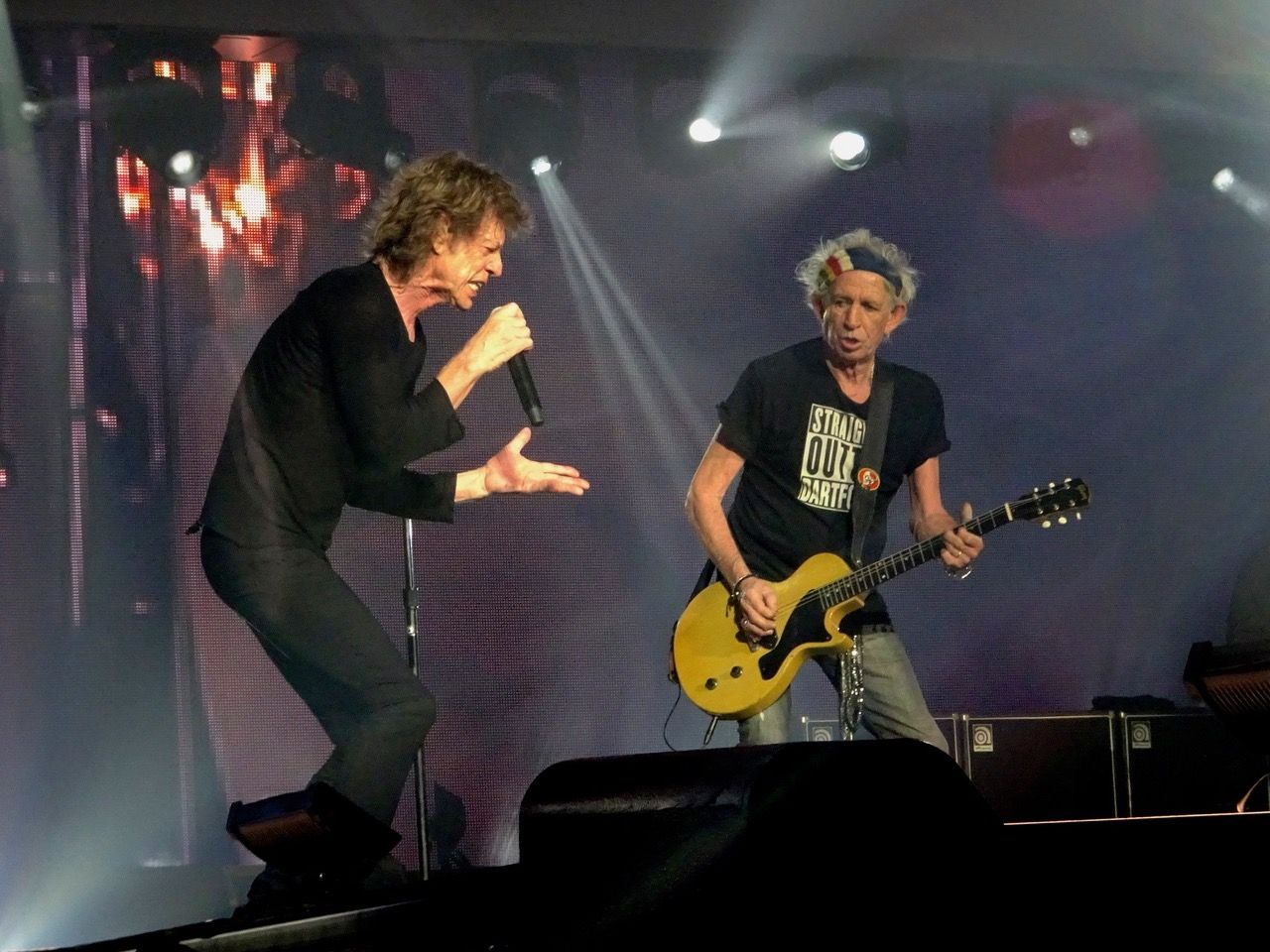 Photos by Klaus Lauterbach
---
Review by Sjoerd Olrichs
Many have wondered why Arnhem was chosen to do the second concert in The Netherlands of the No Filter Tour. We might never have known, were it not that during the concert Mick introduced the band's highly energetic guitarist as Ronnie "A Bridge Too Far" Wood. Okay, that makes sense (?!?).

The visitors were blessed with a very, weather wise, beautiful Sunday and that was clearly noticeable around the GelreDome Stadium. Fans were very relaxed and "hanging around" comfortably.

Around 16.30 suddenly order patrol people asked people to step aside, which resulted into a kind of human welcome "gate" and yes, the reason was clear. The band and family had arrived from Amsterdam in the meanwhile familiar black limousines. Fans were waving to blinded windows, but could catch a glimpse of (possibly, it all went very fast) Mr. "A Bridge Too Far". So now everybody could mentally prepare on what was to come.

The GelreDome is much smaller than the Amsterdam (Johan Cruijff) Arena, which gave it a more intimate feeling. Looking from the No Filter Pit position the people "at that back" didn't really look all that far away. When Mick, Keith and Ronnie came to the far end of the catwalk for sure those people must have felt they were pretty close by.

Like in Amsterdam the show started with the perfect "warm-up" song Sympathy For The Devil, followed by the swinging It's Only Rock "n" Roll and Tumbling Dice. Than it was "back to the old days" when the band's repertoire was dominated by Blues songs. Both Just Your Fool and Ride 'Em On Down had a good swing and were a joy to listen to. Many also enjoyed the somewhat peculiar (well, who cares what I think) Dancing With Mr. D. Thanks to the people's choice on the very popular Stones App, Arnhem was given a No Filter premiere song, the very well received (and my personal choice) She's So Cold! The band clearly enjoyed doing this one! I couldn't resist battering my voice.

YCAGWYW, Painted Black and off course Honky Tonk Women were very well received by the audience. Although Keith said during his intermission doing the always happy Happy and moody Slipping Away (with well timed backup support from Sasha and Bernard), that he recognized many faces "from before", the fast majority of people didn't come from the big cities, but were, with all respect, local people. And for them it for sure was a feast of recognition when the big hits session started and lifted everybody to higher spirits and ultimately to a kind of exhaustion when Mick finished Satisfaction in an amazing ecstasy. Charlie's orange socks were only visible during the band introduction by Mick, but what would we (and not to forget ... the Stones) do without his ever reliable solid drumming!

Although 73 years ago some incomprehensible decision-making took allied armies a bridge too far, we owe a big thanks to so many Americans, Canadians, English, Polish and Dutch who gave their lives to allow us to enjoy great Rolling Stones concerts! Will we see you again in The Netherlands?
---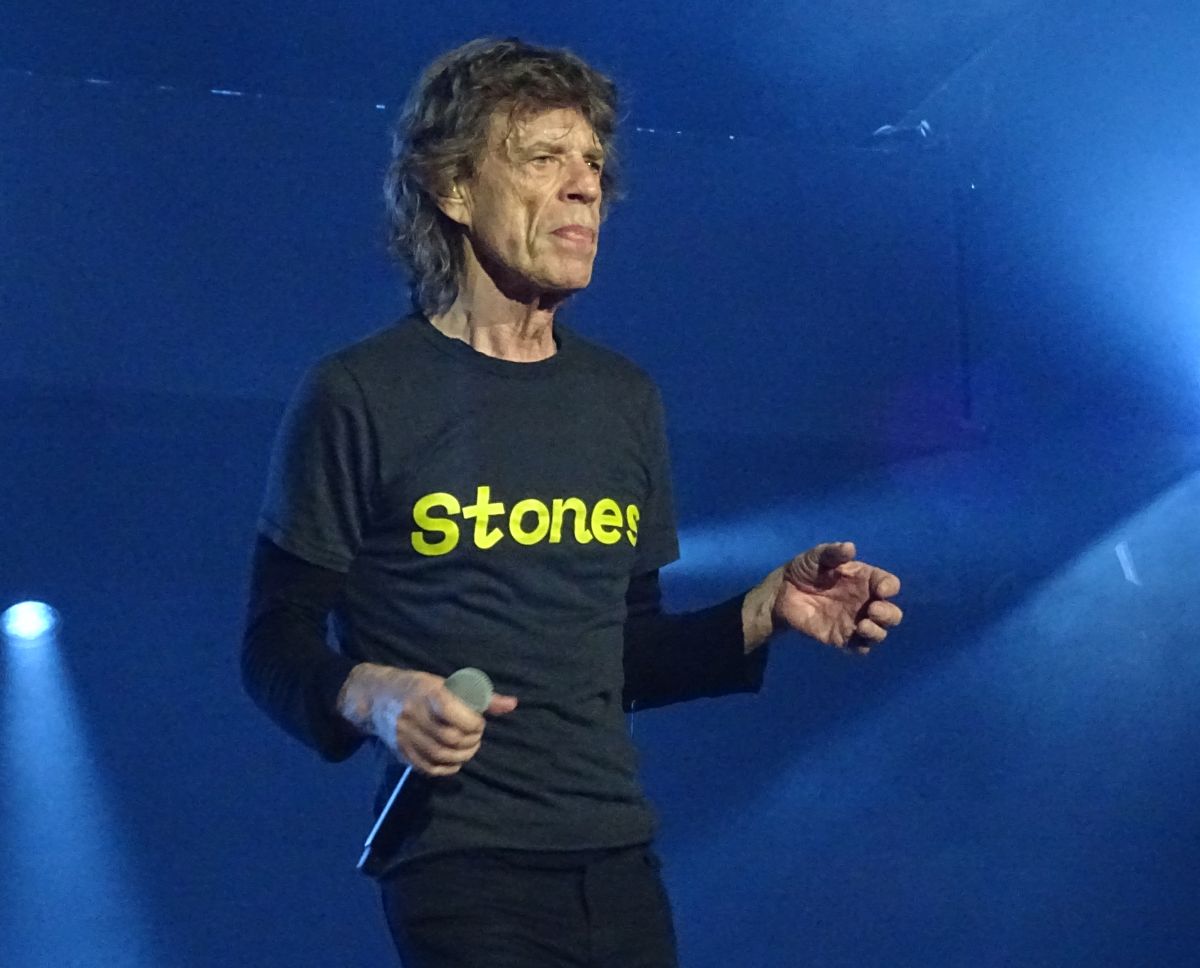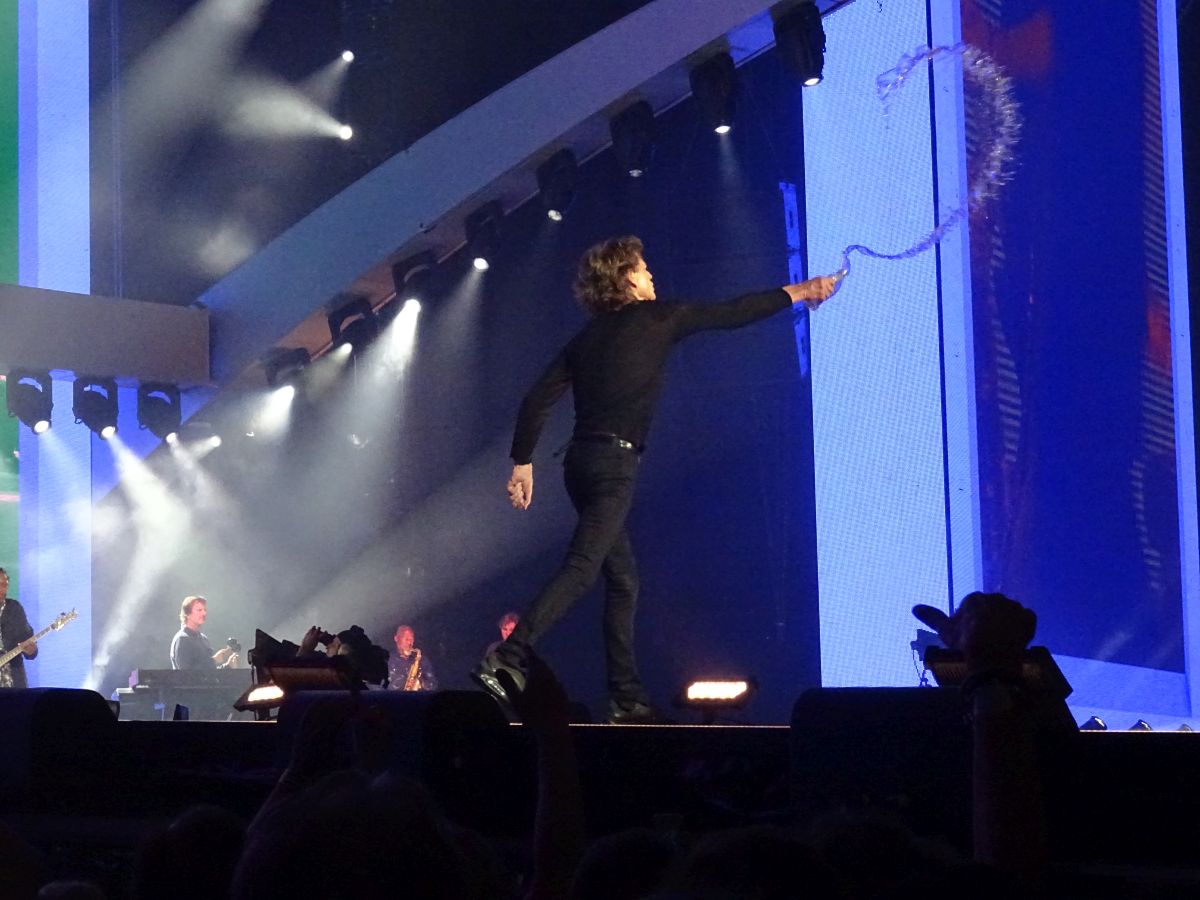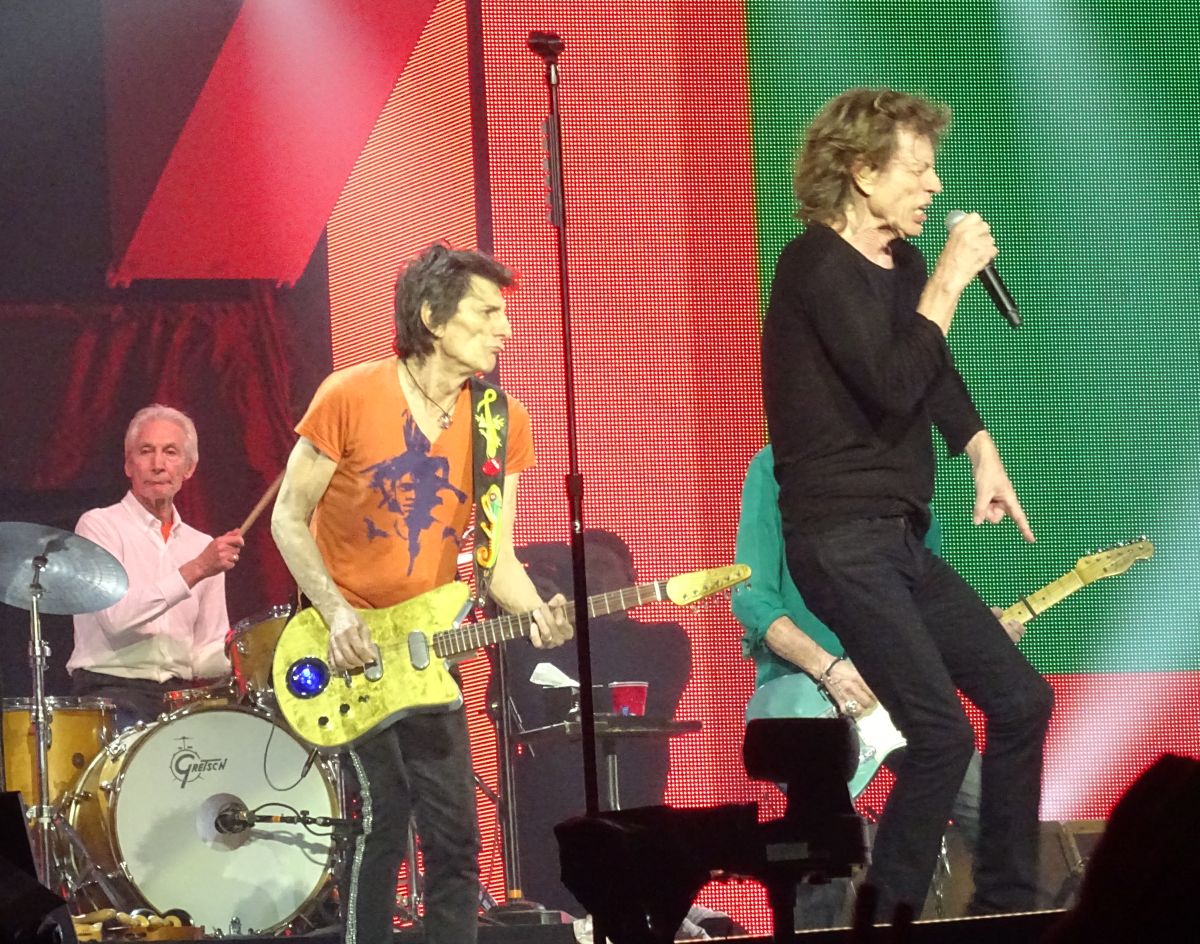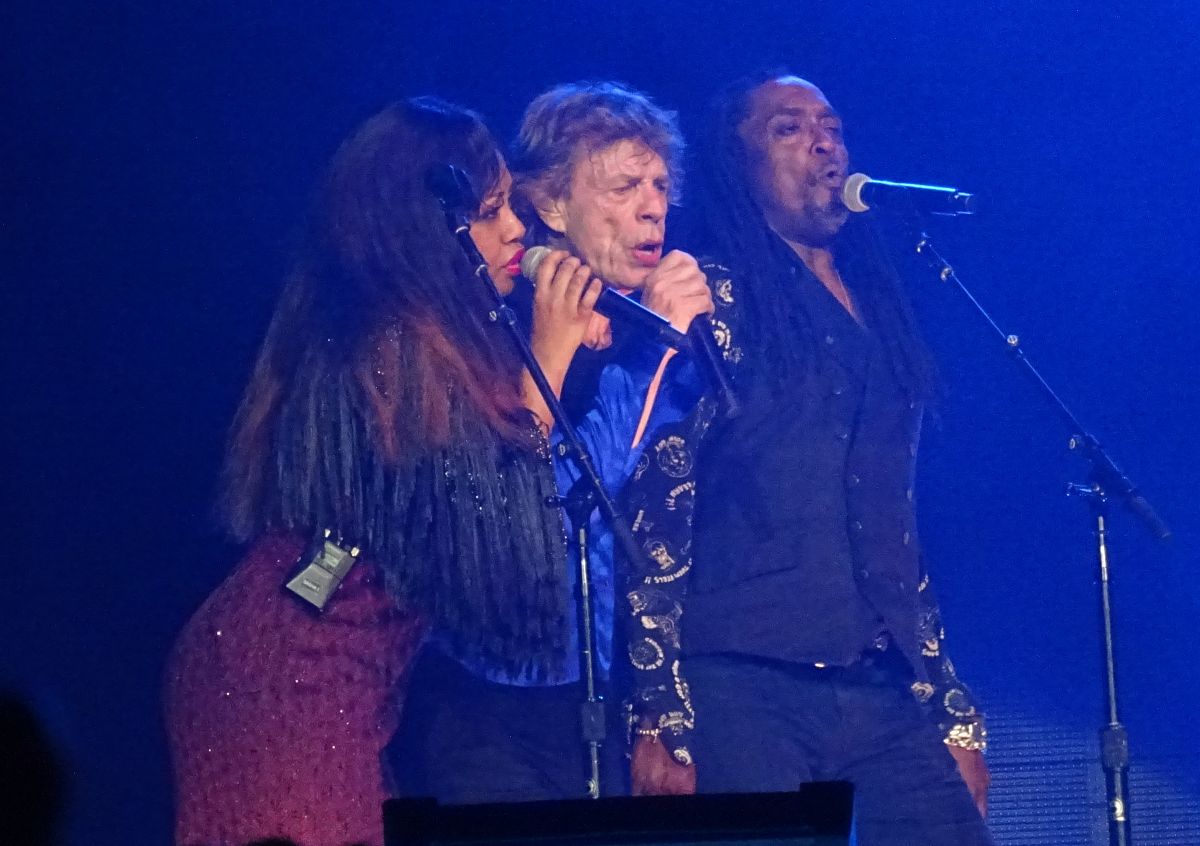 Photos by Bjørnulf Vik
---
Review by Rene Spork
Well,well, the Stones in Arnhem (in the Gelredome), my birthplace. A beautiful day to hang fire or for waiting on a friend. Leon Bridges opened the show at 19.30 hours. A good soul-singer, but the sound wasn't ok. The Stones came up at 20.45 hours sharp and played until 23.00 hours. The sound of an indoor venue never gets as good as that of an outdoor venue, but the Stones started full of energy, an energy shared by the enthusiastic crowd of all ages. Highlights: Just your fool (very good) started with a midnight rambler teaser and was followed by Ride'm on down. Dancing with mr D., She's so cold, Paint it black and Midnight rambler were best of the evening. Some mistakes took place during 'the grand finale', but hey, we were ok and the Stones are here to stay, at least for another year (2018).
---
This page will change over the next few days, as you and other fans send reviews, set lists and reports. Please send your e-mail to IORR. Thanks! For details and great photos from the Rolling Stones and their World Tour get the IORR magazines.