---
These are the latest Rolling Stones news and updates for you! IORR is a non profit fan club run by fans for fans. All parts of the It's Only Rock'n Roll web site is copyright of The Rolling Stones Fan Club. When using information from this site, please include a reference to IORR and the main web address www.iorr.org.
---
---
The Rolling Stones
Estadi Olimpic
Barcelona, Spain
Wednesday Sept. 27 2017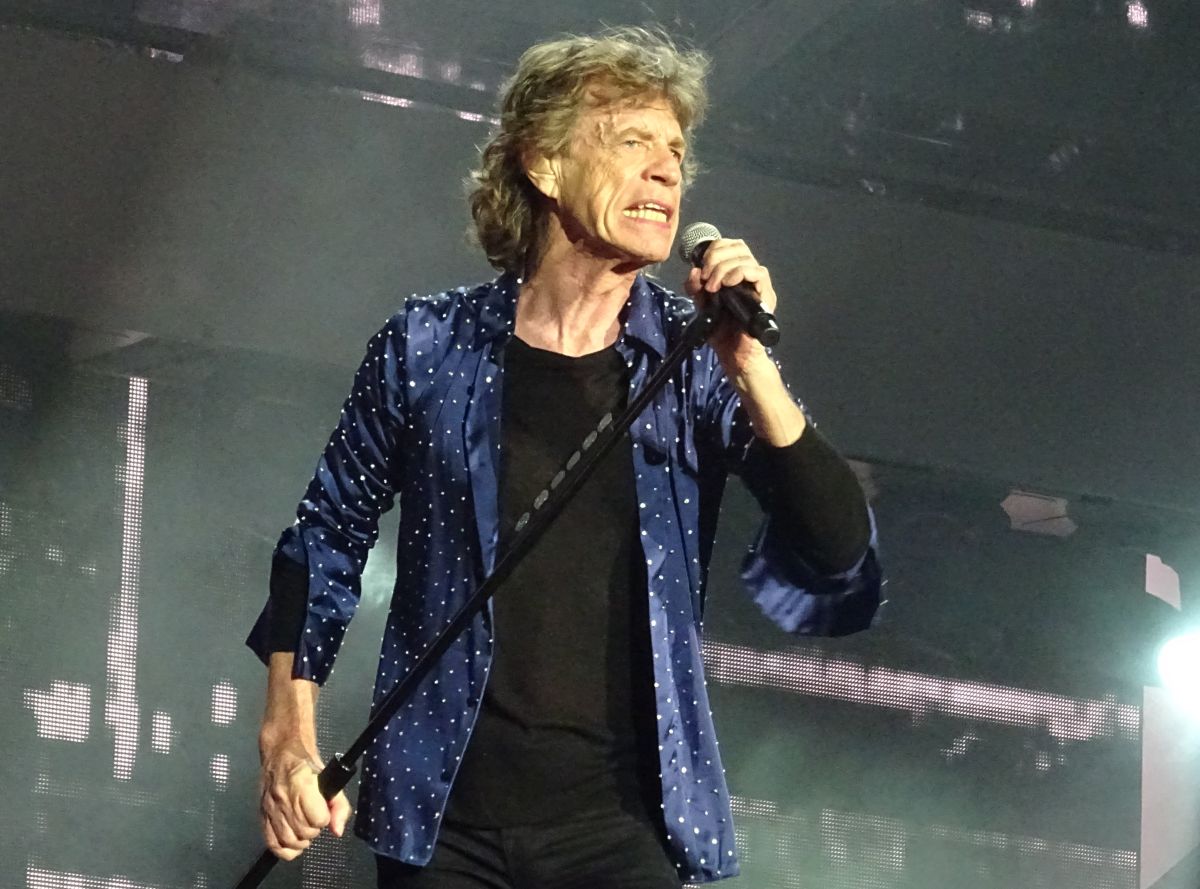 The Rolling Stones live in Barcelona, Spain, Wednesday Sept.27, 2017 - Photo by Bjørnulf Vik
---
The set list
Sympathy For The Devil
It's Only Rock'n Roll
Tumbling Dice
Just Your Fool
Ride 'Em On Down
Under My Thumb
Rocks Off
You Can't Always Get What You Want
Paint It Black
Honky Tonk Women
--- Band introductions
Happy (Keith)
Slipping Away (Keith)
Miss You
Midnight Rambler
Street Fighting Man
Start Me Up
Brown Sugar
Jumping Jack Flash
--- Band off stage
Gimme Shelter
Satisfaction
---

Show start :  9:17pm
Show end   : 11:30pm

---
Pre-show info and live comments:
Barcelona Spain 27-Sep-2017 Stones No Filter live show updates
---
Reports please!!!
Please send your comments, reviews, links and more to:

[email protected]
---
Review by Dean Goodman
The much-anticipated highlight of the European tour almost lived up to lofty expectations in Barcelona on Wednesday. I had thought it might be La Plata #4, an unofficial continuation of the Argentine craziness, but it was more like São Paulo #3 where fans were genuinely excited and rowdy but also focused on their smartphones. Life in the pit was a little too quiet for me, so I moved back about halfway through the show, and had a lot of room to get jiggy with it.

In that regard, I would have to declare the Madrid crowd of 2014 more enthusiastic than the Barcelona crowd of 2017. But don't get me wrong, Spain is still the coolest place in Europe to see the Stones as young Spaniards exercise their birthright as natural-born Stones fans. My big regret in life is that this was only my 3rd Stones show here. There's also something exciting about seeing a show in an Olympic Stadium, although the Barcelona one was somewhat bland.

As for the Stones, they could sense the fervor, and Keith was genuinely taken aback when the stadium echoed with Argentine-style chanting during his set. I didn't pay too much attention to any technical shortfalls. I think we have established by now that Ronnie and Mick are in the driver's seat. At this point, the Stones are on a series of victory laps clearly past their Olympic heyday, but they are still world champions.

One funny moment came as Mick was about to do his spiel about the vote. Before he could get a word in - and before the ballot appeared on the screen - Keith launched into "Rocks Off," which is probably my favorite Stones tune. I always get a little misty-eyed when Mick emotively sings "The sunshine bores the daylights out of me." As for the vote, we all know that it has the credibility of a Kenyan election endorsed by John Kerry, so I don't think anyone cared too much that Keith was quick on the trigger.

I have finally allowed myself to enjoy "Sympathy for the Devil" even as Mick came in a little late and was forced to sing "Let me please ..." I can also pretend that I am hearing "It's Only Rock'n Roll" and "Tumbling Dice" for the first time. They're not bad! And those blues songs almost make me want to buy the record. I don't think people would complain if they did 3 songs. Keith has made a point of ceremonially handing Mick his harmonica before "Just Your Fool," which is a cute moment of tenderness.

I don't want to say it's all downhill from here. Paris will surely be a blast (metaphorically), but it will take a lot for our northern European friends to beat balmy Barcelona.
---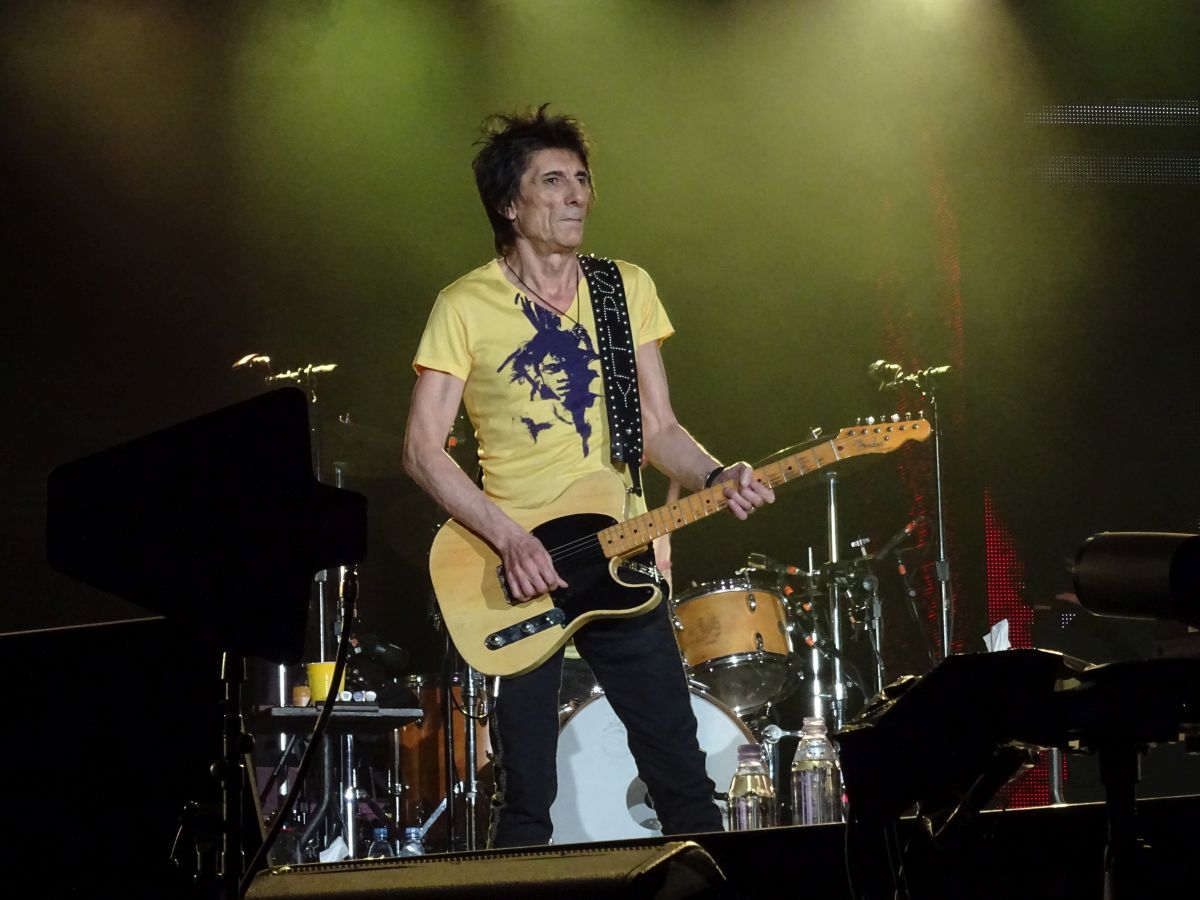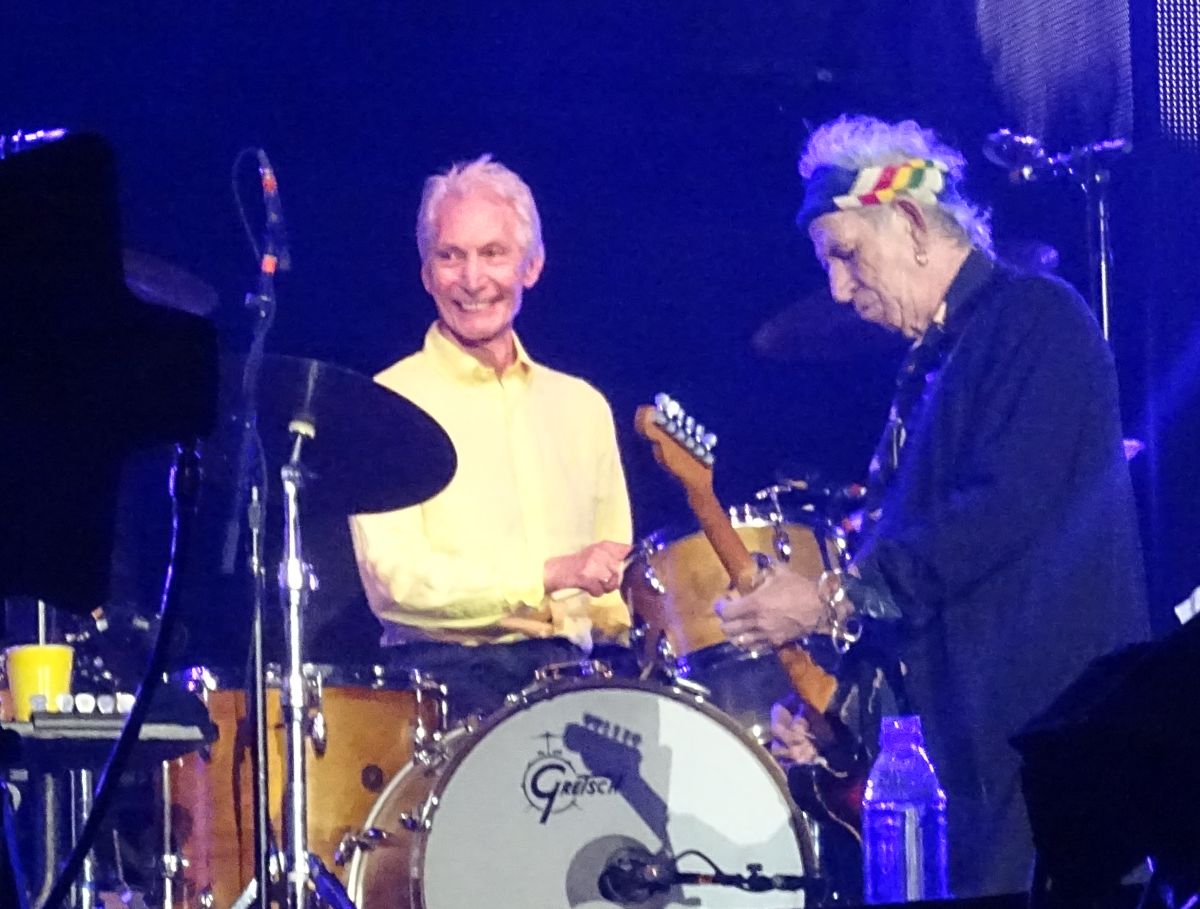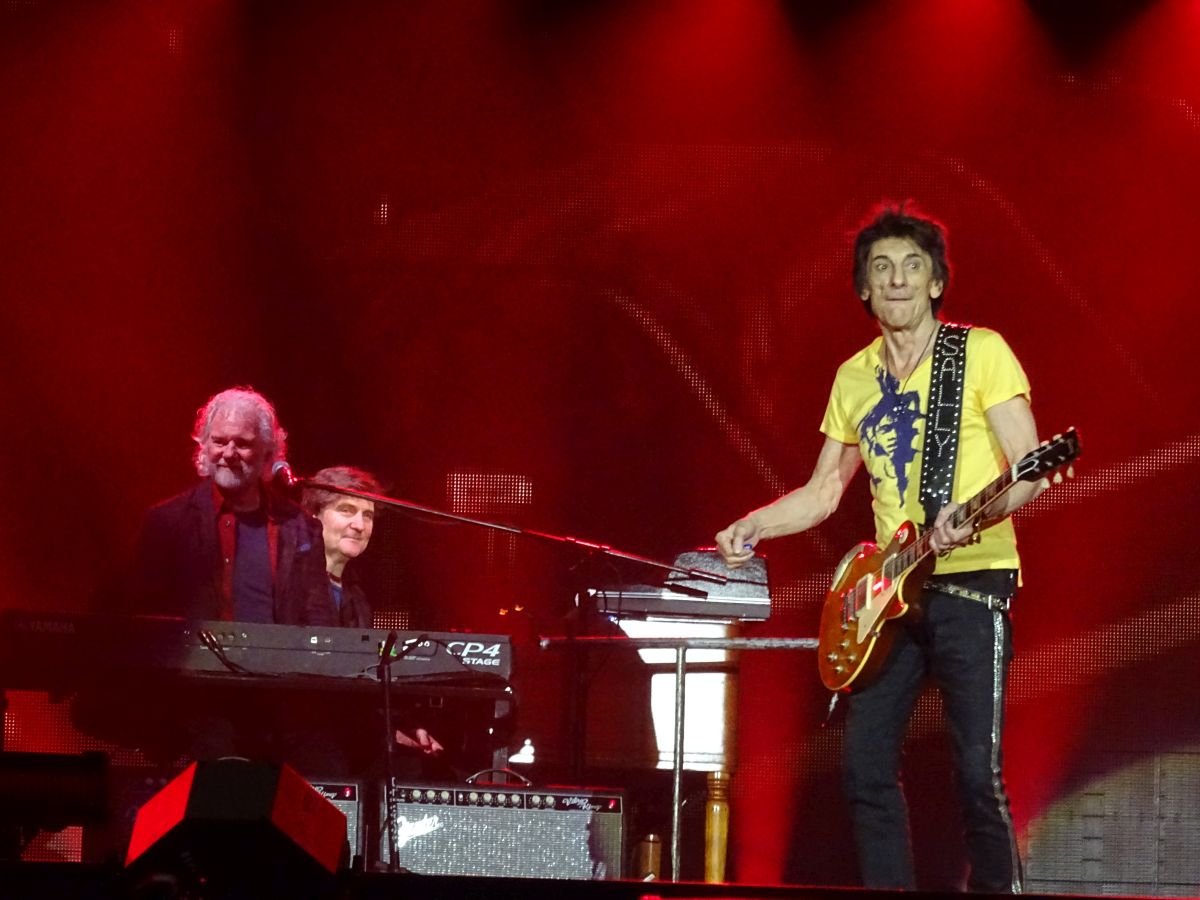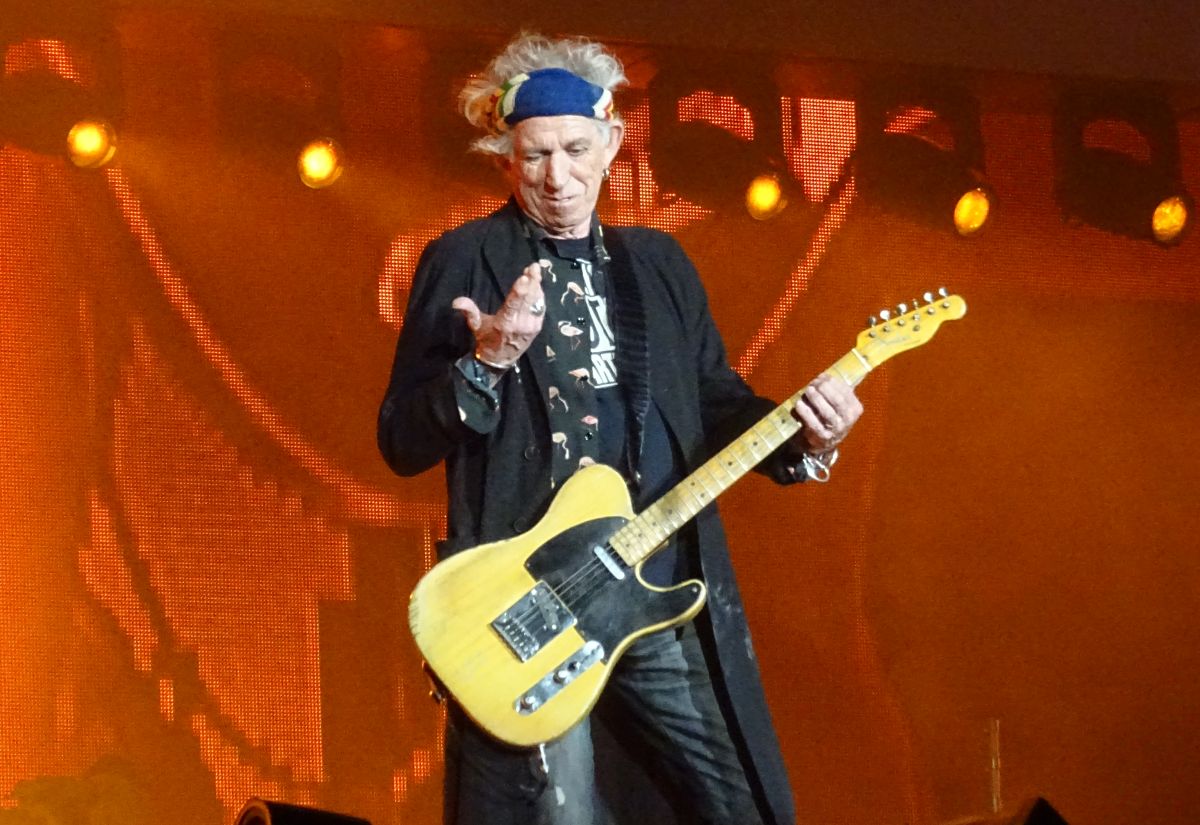 Photos by Bjørnulf Vik
---
Review by Roger Valsells
If somebody told me back in 1982 when I discovered the Stones that 35 years later I would attend my 20th show with my teenage son, I would call him crazy. If somebody told me then that I wouldn't need to spend a small fortune to buy a vinil record and that I could hear their music through the phone anywhere in the world, I would call him crazy. But if that same fool had told me that the Stones would be performing for ever, I would call him a wise man.

The Barcelona Olimpic Stadium is not the best venue to see the Stones. The sound in Lucca was much better !! Keith wasn´t looking to good but was feeling really well? The rest of the band where looking at each other as if he was going to colapse any moment. Keith even had to sat down by Charlie's drum kit in the middle of a song ! He got better and better as the show went on and he got very emotional when the crowd cheered him befor HAPPY. Charlie was relieved when the show ended, he was clapping at Keith like saying "you made it!" The highlit of the show for me was Midnight Rambler. So much funny improvisation going on !!

PS. Midnight Rambler improvisation was awesome !!
---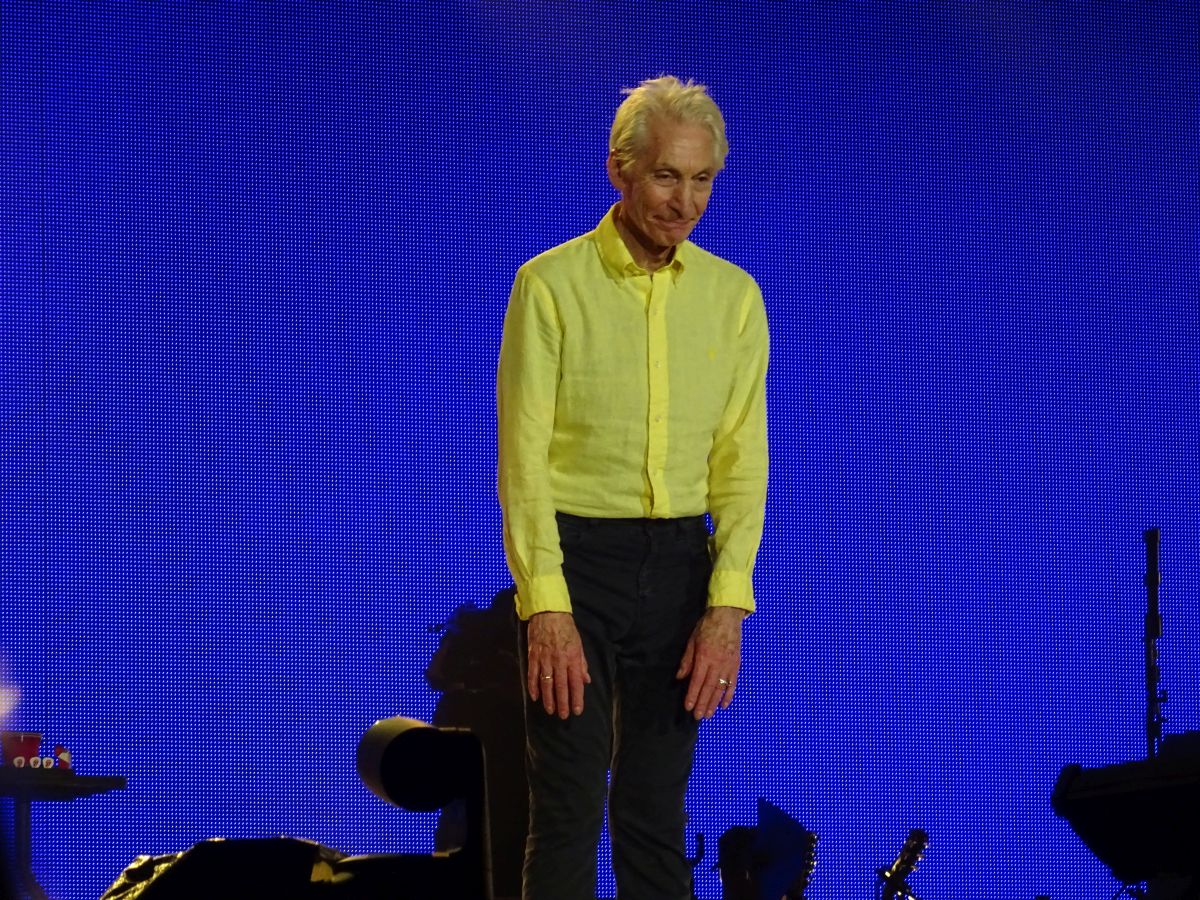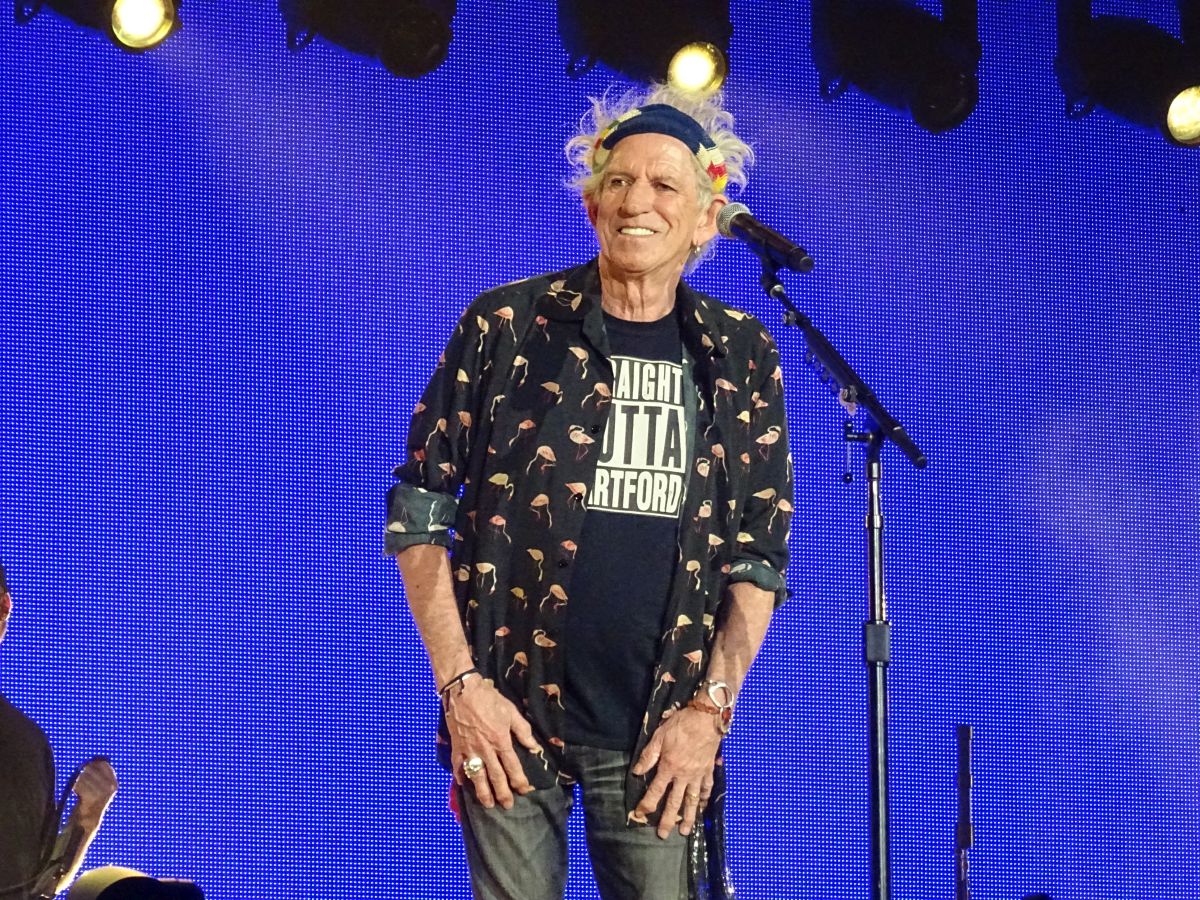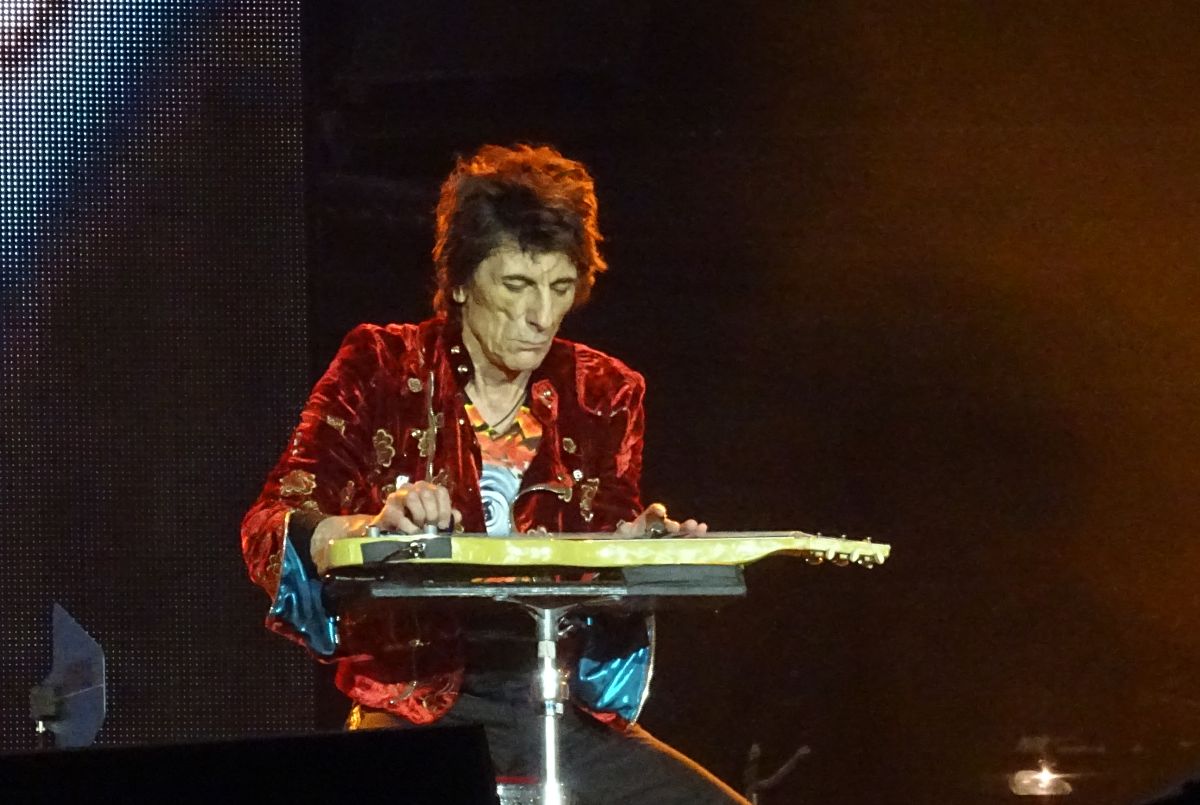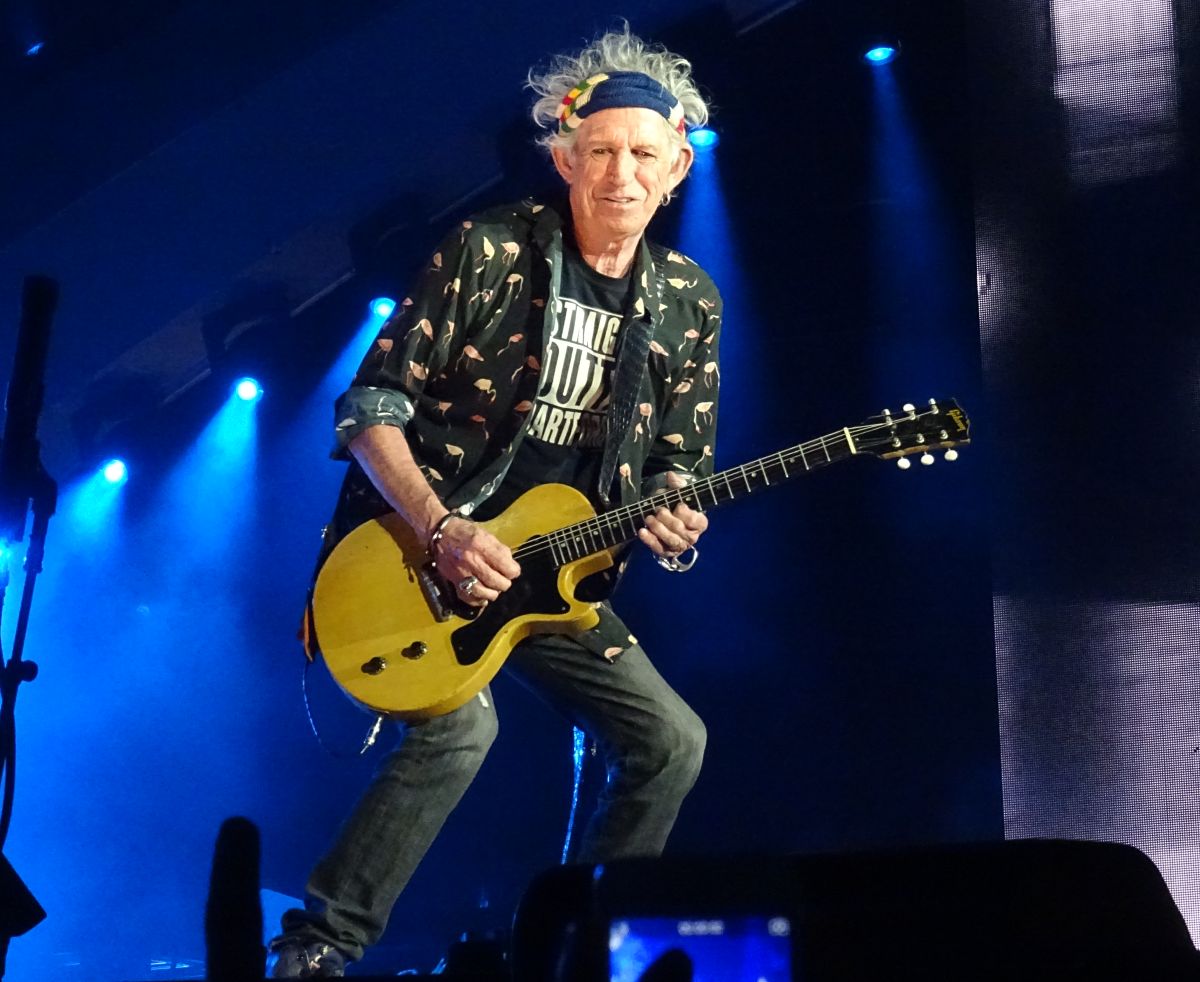 Photos by Bjørnulf Vik
---
Review by Alwyn W
I don't know if it was the relative warmth; the lack of wind and rain; the enthusiastic Spanish, Catalonian, even Argentine crowd; or being the 6th show of the No Filter Tour so the band had settled into a rhythm. But this Barcelona gig ranks up there as one of my top 10. The Stones were on fire, playing with huge passion and vigour, and delivering great versions of every song. They seemed to be really enjoying themselves, their own performance on the night, and the waves of emotion pouring back from the audience.

Mick of course worked his ass off, and for those getting close-ups of his face there were many lovely expressions being thrown in different people's direction on stage and in the crowd. Keith was in very fine form indeed, answering critics with some beautiful playing and only a couple of slips. Ronnie, exuberant in a city where he has a home. Charlie as strong as ever, despite his small frame.

Highlights included Under My Thumb, a little different arrangement to the three times I've heard it before, with almost the marimba sound of the studio original. Rocks Off, surely the best ever start to an album, where Keith started off with that power E chord before Mick had explained the whole on-line voting process. Slipping Away, taken more slowly, with some very delicate guitar from Keith and Ronnie. The two blues songs really rock – they can't last more than 3 minutes each, so why not add-in a third. All the crowd may not know them, but they love them.

Barcelona's Olympic stadium is both badly, and well designed, for big gigs. Getting in was not easy, lots of checkpoints, mostly very ineffective but delaying everyone. The tannoy said "no bags" but there were many inside. It's a long walk out after the gig, although downhill, and little public transport close to the venue. Still on a warm and dry night, not a problem.

We were lucky and in the Pit, which was small with plenty of space on Keith's side. The really great part about the stadium is there is no big sound reflecting surface at the end away from the stage – so the sound was really excellent again. Apparently on stage they had great sound as well on the night. The almost 60,000 fans gave full voice at times, and looked amazing from the top of the first tier.

Being Spain we saw some contingents of travelling Latin American fans (and friends), especially from Argentina. Their Ole Ole chorus when Keith was introduced was taken-up by everyone, causing another moment of emotion for the riffmeister himself, and a slight delay in proceedings. It is when you see that, and Charlie, that you realise that the two of them are probably naturally shy people thrust into the spotlight for 55 years and coping with it in different ways. Ronnie and Mick are the opposite, bathing in the adulation and again in their own ways handling the strains of living their lives in the public gaze.

As we come to expect, the supporting musicians and singers gave their usual assistance to the gig. Very loud and staccato bass playing; piano chords starting the whole gig; great saxes and French horn; and supporting vocals. Bernard was mixed a little lower it seemed to me – he had been unwell for the past few days, but the show must go on! Tim's Miss You solo was exquisite.

The local news here was all about Catalonia wanting to run their own independence referendum and the Spanish Government trying to stop it. We'd heard about street demonstrations but saw nothing; certainly no street fighting men. I don't think Mick referred to it in his Spanish words (did he say some things in Catalan?), although he did talk about the effect of too much local food. Keith pointedly mentioned Catalonia a few times – the old rebel never dies in him.

Next stop for us, after a small diversion to see Tim Ries play with some Flamenco players in Pamplona, is Amsterdam. Back to the colder north of Europe, but at least it will be indoors… I hope. And of course the crazy Dutch fans.
---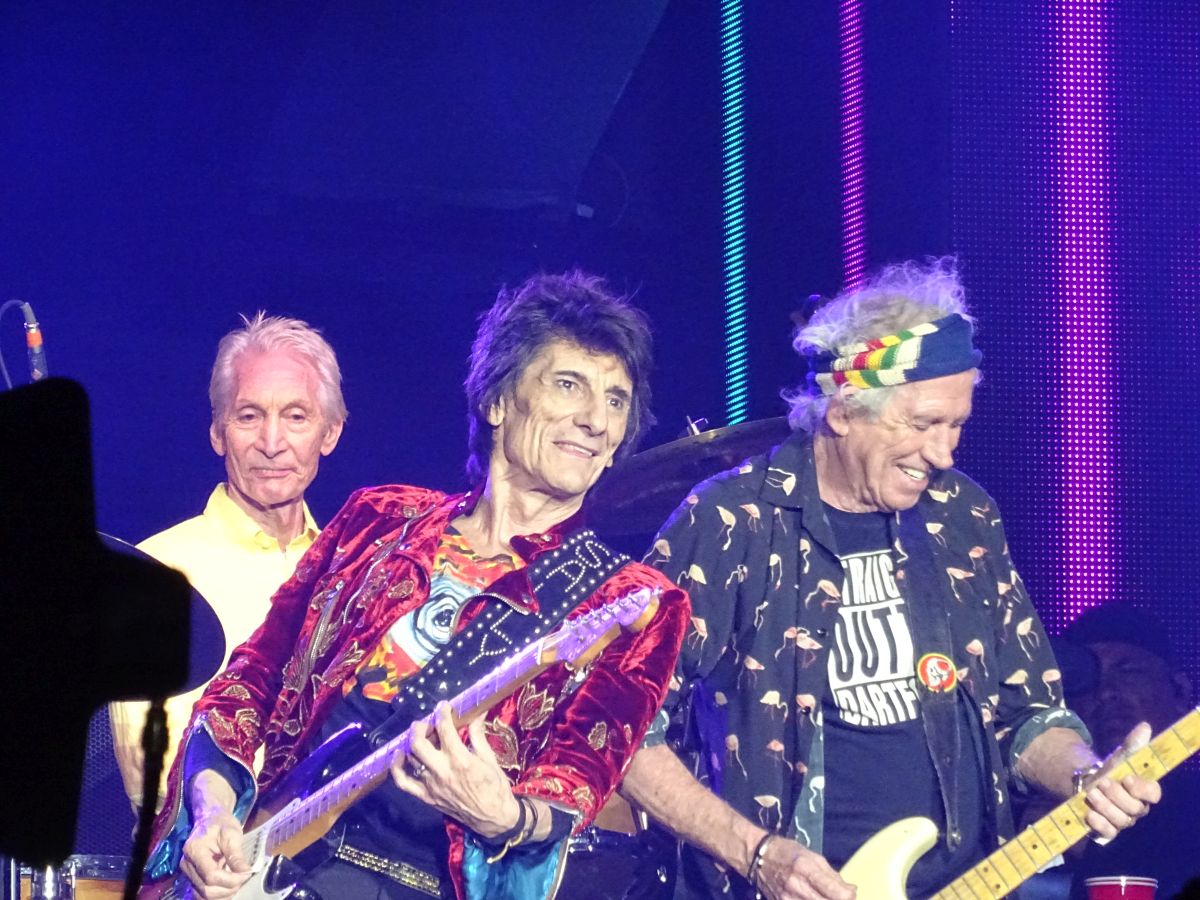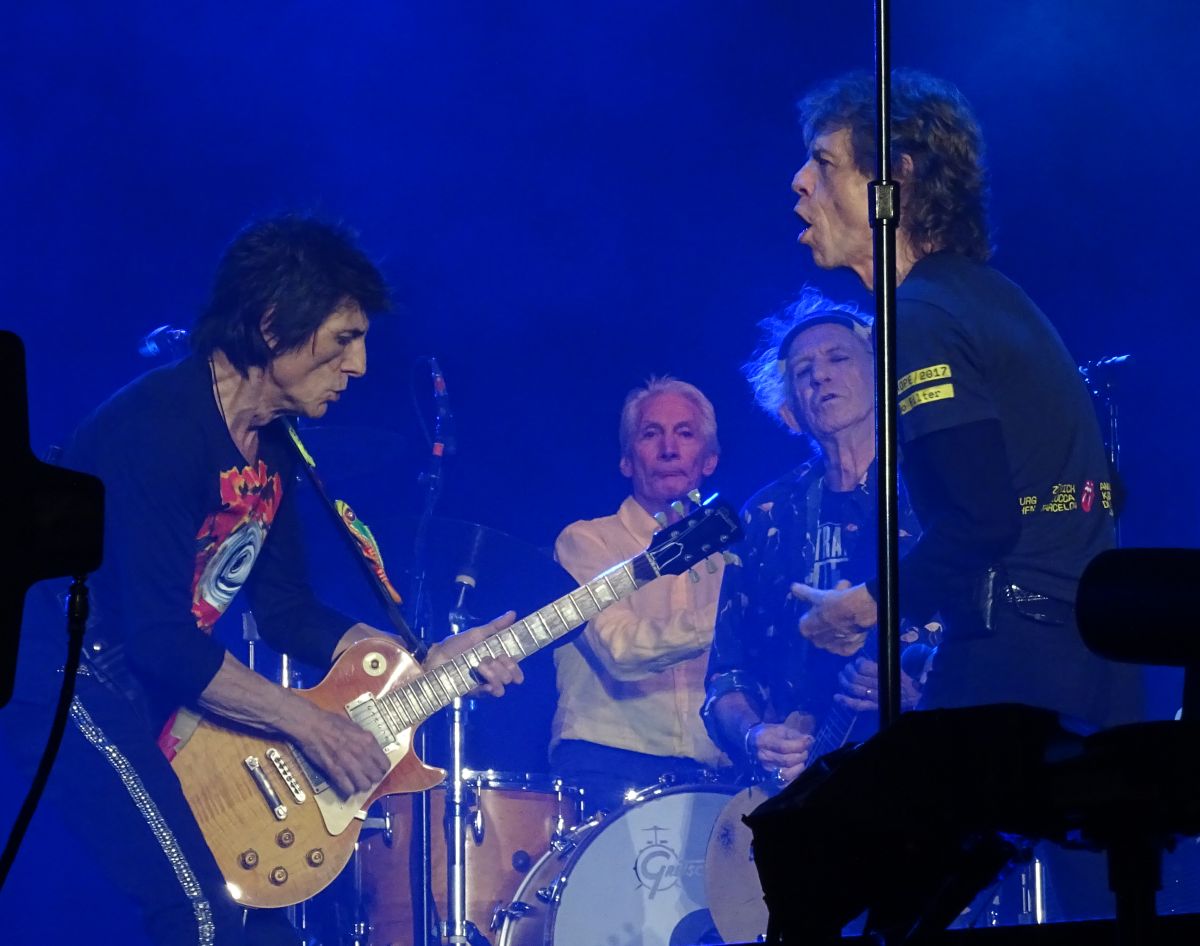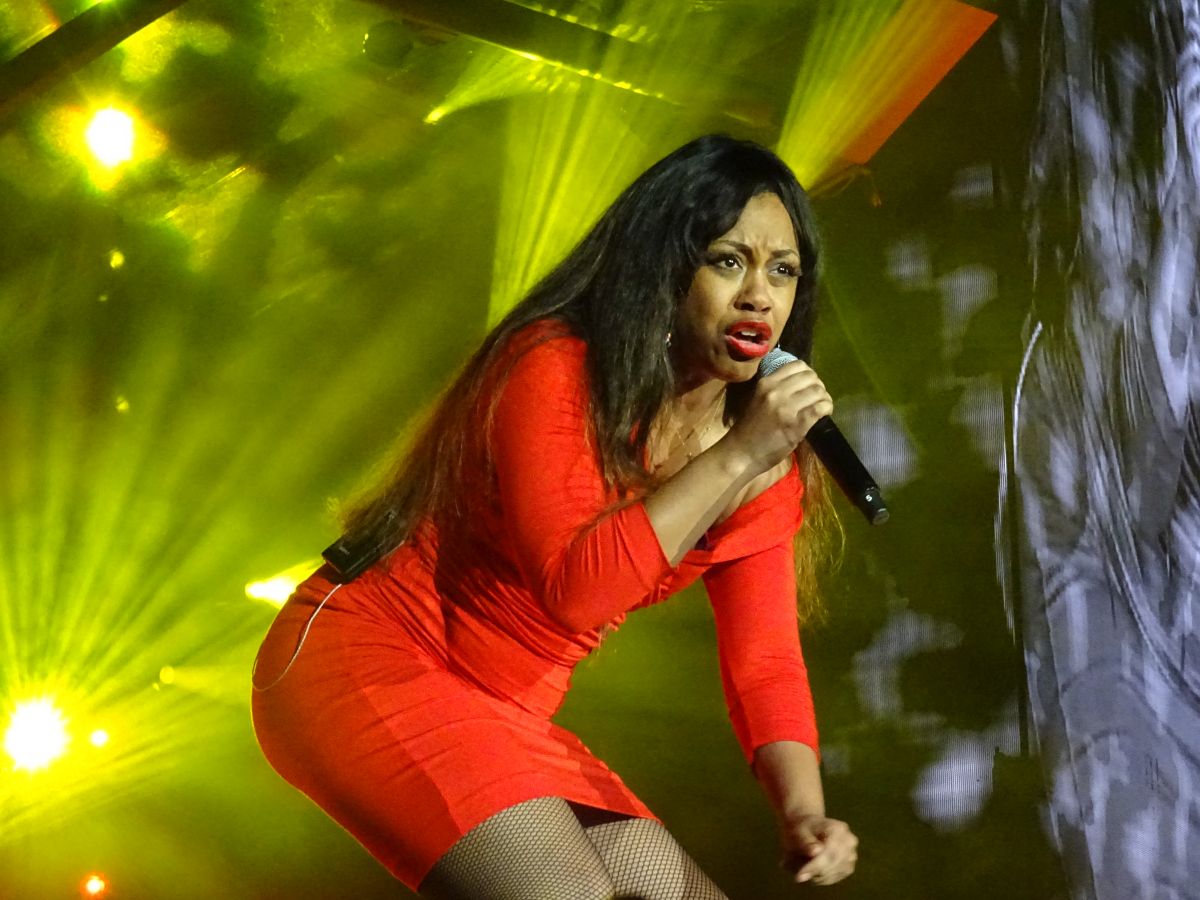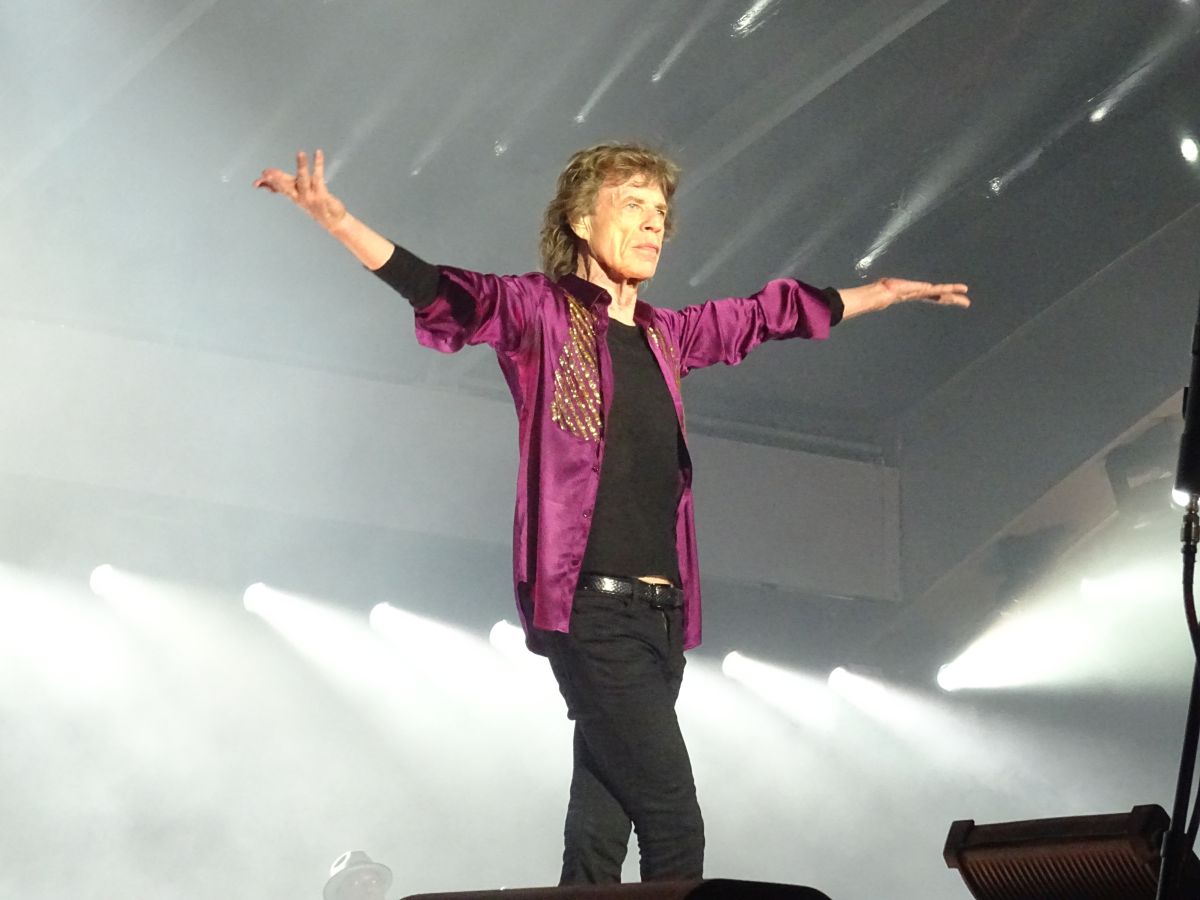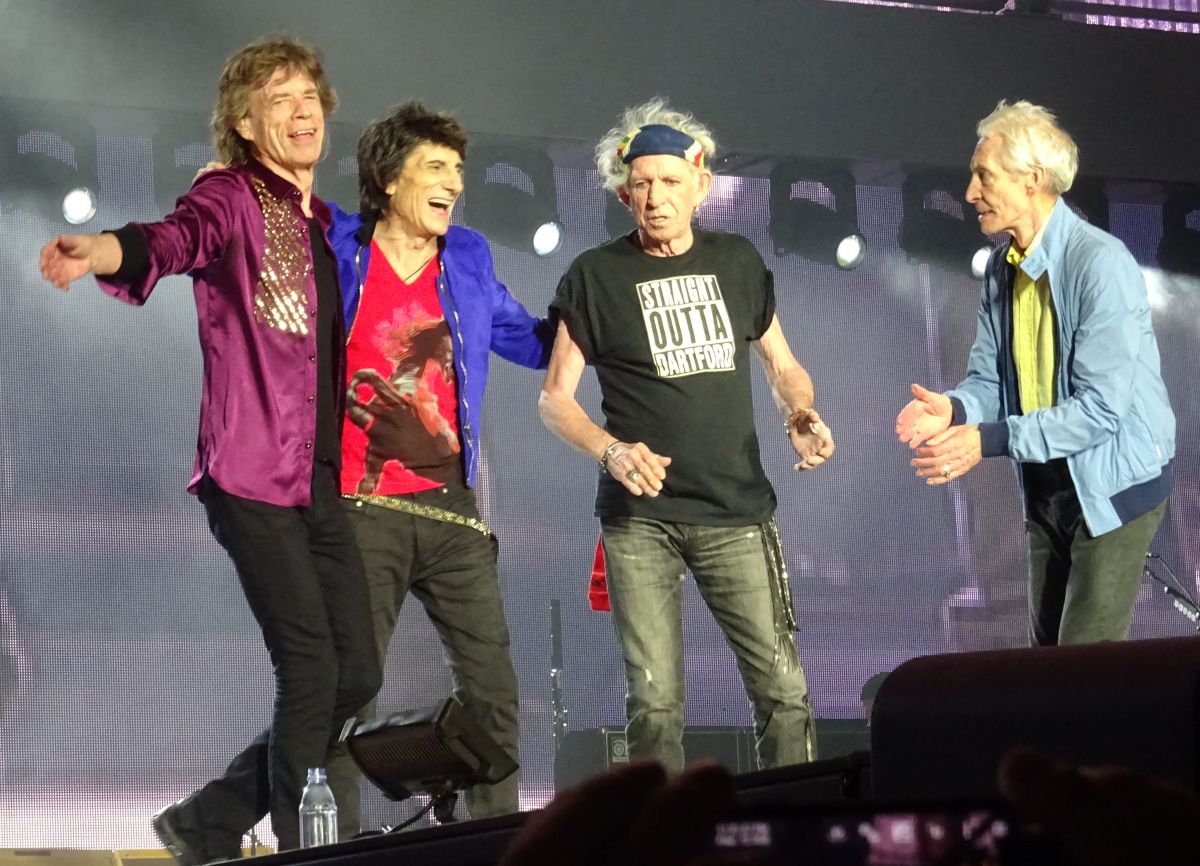 Photos by Bjørnulf Vik
---
Review by Bjørnulf Vik, Norway
The number is four... Quatro... "4" ... That is what The Rolling Stones are all about. Just like we all have problems walking, if you do remove one of our two legs, The Rolling Stones will stumble if one of the four of them are not up to the levels we do expect them to be at all times. So far they have all been up and running at the level I am expecting on this tour. So no worries, they are all great, and the tour is just as great as I could expect at this stage.

By the time we arrived into Lucca Italy last week, the 5th show of this tour out of 14 shows in total, I felt there was nothing more to say about their performances. I mean their "performance", in the meaning of "how they do perform on stage" on this tour. I am pleased, I am happy, I get exactly what I am on travel for, following this amazing eternal band. They play what I like, they give me great musical satisfaction two times per week on this tour, and I am spoiled by being in the "no filter pit", watching every face expression and moment of time where they interact as a band and as individuals. In short, they are just great!

For the Barcelona show I selected a picture of Mick as the "home page picture". I felt Mick was working "extraordinare" in Barcelona. Mick is driven by the crowd. He is all over and he see and hear the crowd giving him great feedback out to the isles and to the wings, by making face impressions, moves, yeah yeah and oh oh, and the show is taking on to a great level as Mick is driving the crowd in a great way, or may be it is the other way around.

"Under My Thumb" feels like a reggea song, it has got a strange rhythm but I like it. "Rocks Off" - just play it more! "Satisfaction" as the closing song? Yes. You can see that this greatest and most famous song of them all have got all the momentum they need for the final song. It is like a space rocket taking off. The moment Keith is hitting his guitar strings on "Satisfaction", the crowd goes crazy. Then it is all up to the rest of the band to work the crowd. Mick running up and down and all over, making sure nobody is in their own world sending text mesages or thinking about work matters. Show focus! Ronnie moving around a bit like Mick, still adding many great parts to Satisfaction. Charlie, driving the song forward with odd smiles in his own perfect way, these days dressed smart in a proper shirt and not just like an ordinary guy with a T-shirt. The rest of the band driving the song forward, until at one point, we all know it is going to happen, when Keith is walking up front, taking a look at his band mates, a nod, almost like nobody have to say or see or do anything, except Keith, and the show is over, at 11:30pm sharp...

On a side note... I worked my way out of the show in half an hour, fast, to a nearby bar on Placa Espanya, where I stayed on this travel to Barcelona. I was resting with a Estrela beer, and a big smile on my face. As the bar was filling up with Stones fans arriving from the show, I got to chat with two fans arriving thursty like me. They were from Manchester UK. It turns out one of them was like five years older than me, not much really, but here is the story... He had seen The Rolling Stones in ballrooms in his home town Manchester in 1964, 1965, 1966 and on... We talked about how those shows were back then. With Brian Jones. With the girls screaming, standing on the chairs, how lucky we are to have the band around more than fifty years on. Back then nobody analyzed who was sitting down or who was hitting the wrong or right notes or what was going on technically. It was a blast of 25 minutes and it was over almost before it started. Now it cost may be a zillion more to see the band, but they are a zillion more popular, and I wish they last for a zillion more years to come!
---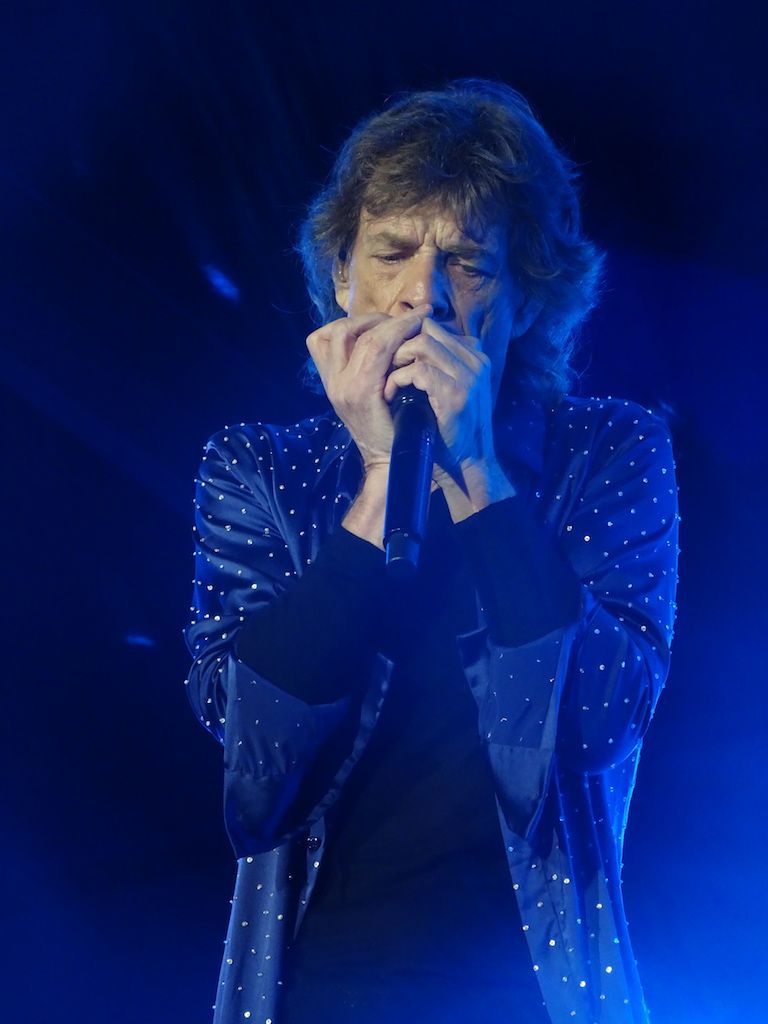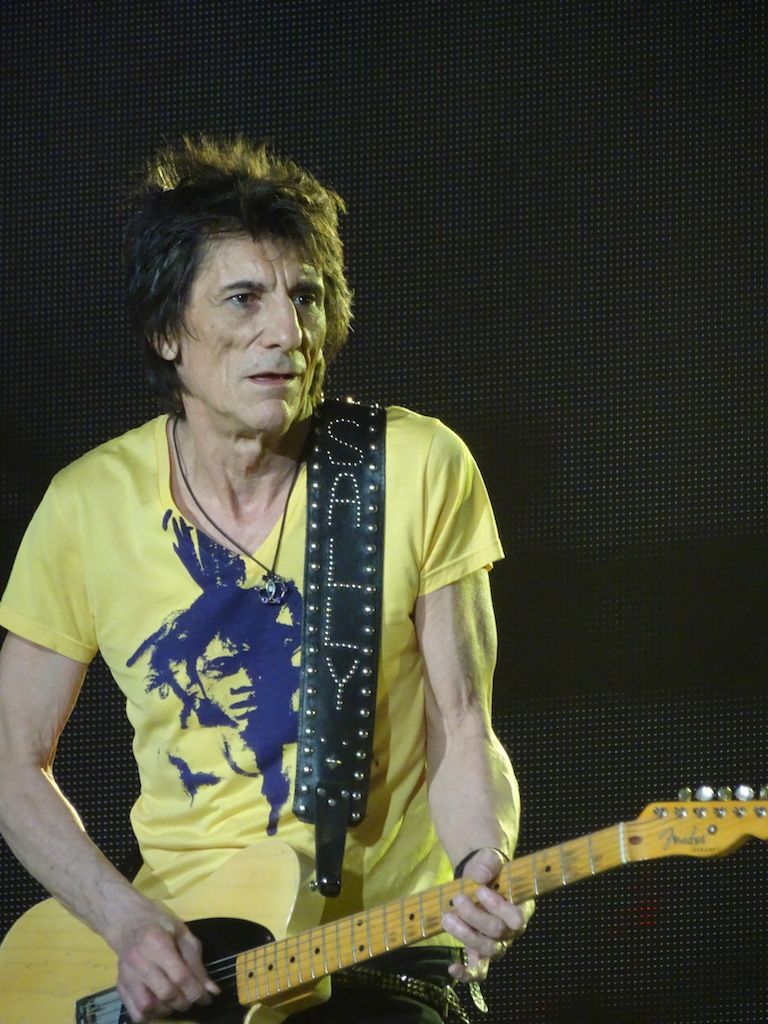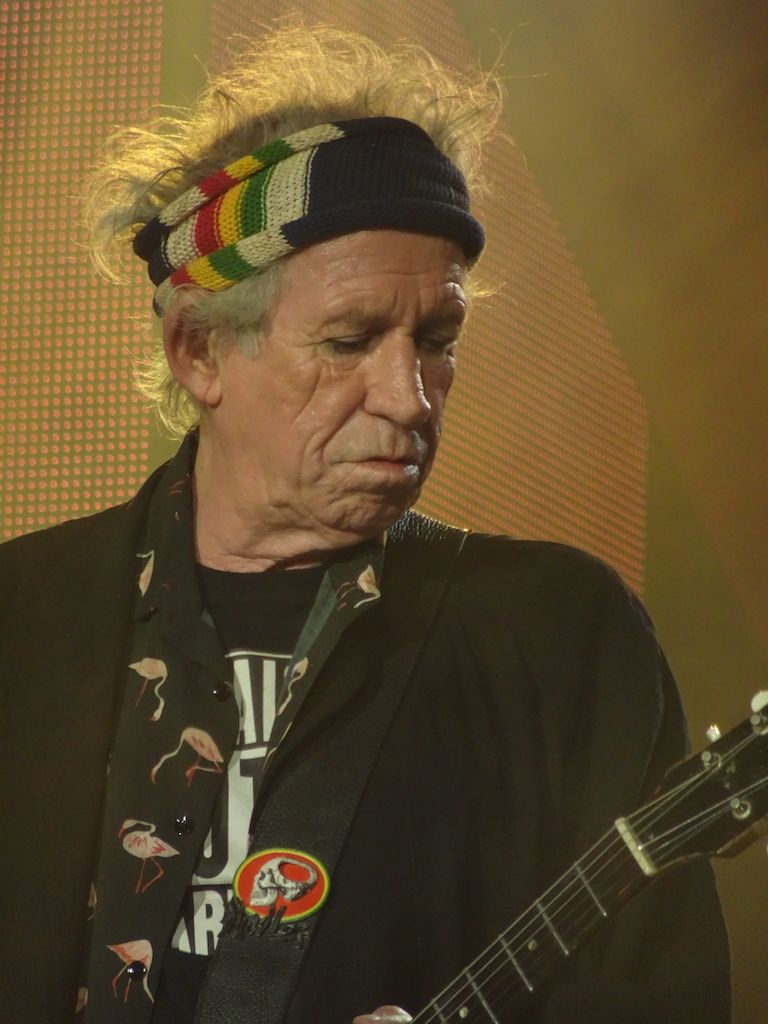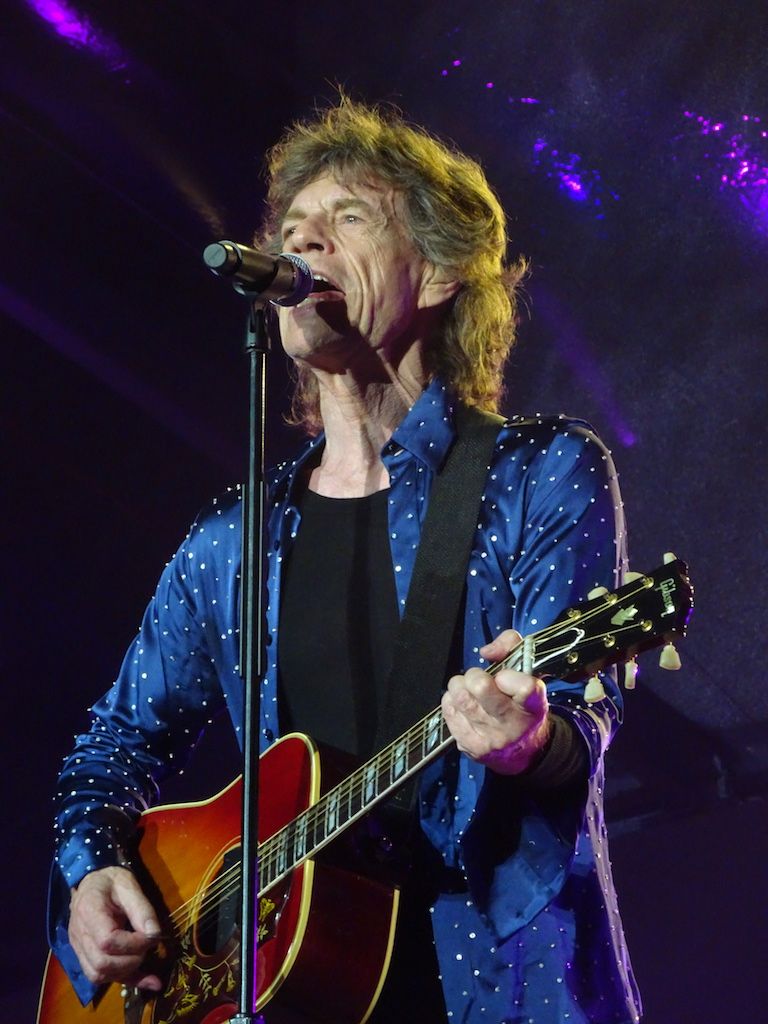 Photos by Hendrik Mulder
---
Review by Ian Dickman
This was my 19th Stones concert I took my girlfriend to the concert and I can honestly say I thought they were superb I think starting with sympathy for the devil works very well. Watching Mick how can he still perform like that at 74 I see no reason why he can't carry on for a couple of years.

Highlights of the concert was paint it black, start me up and the greatest song ever written Jumpin Jack Flash. Loved the two blues numbers as well.

As for the other members I thought they were great I know people find fault with Keith's playing but the man has severe arthritus must be difficult to play when you've got a disadvantage like that I thought he was very good.

Thanks for a great concert guys and see you soon.
---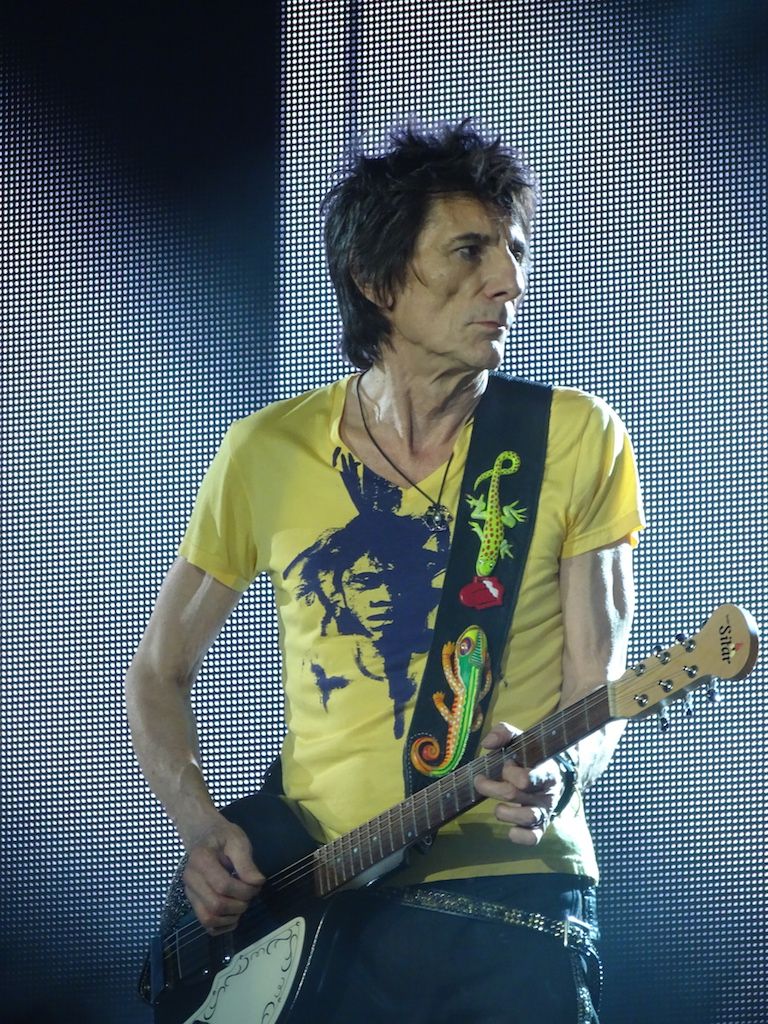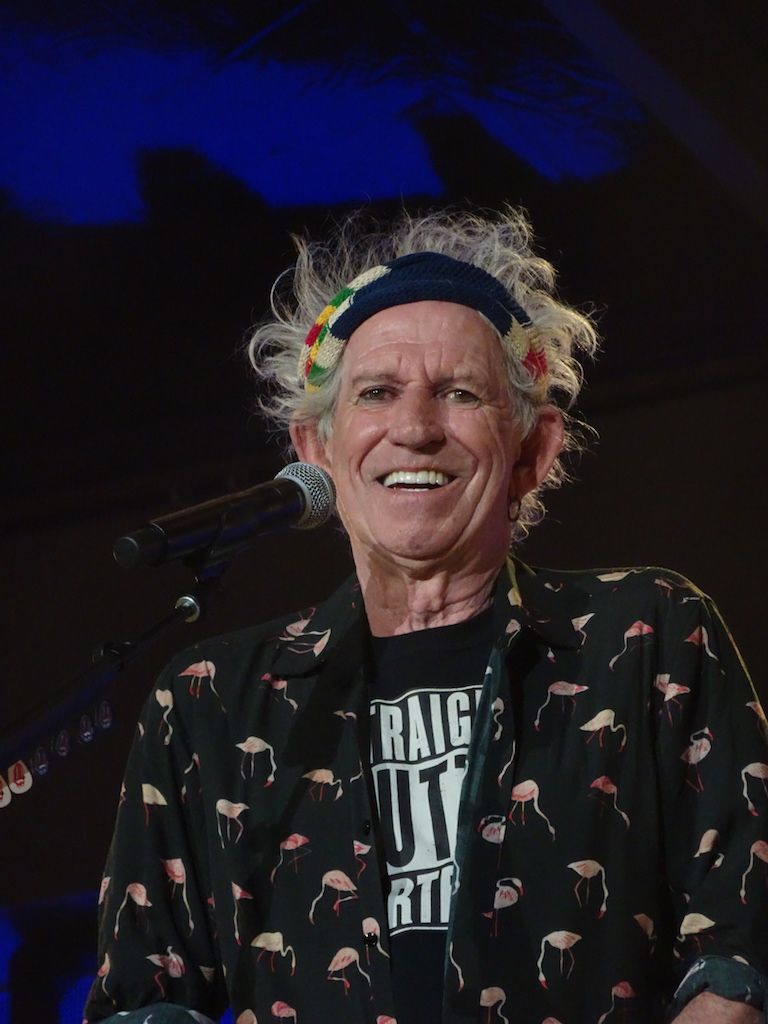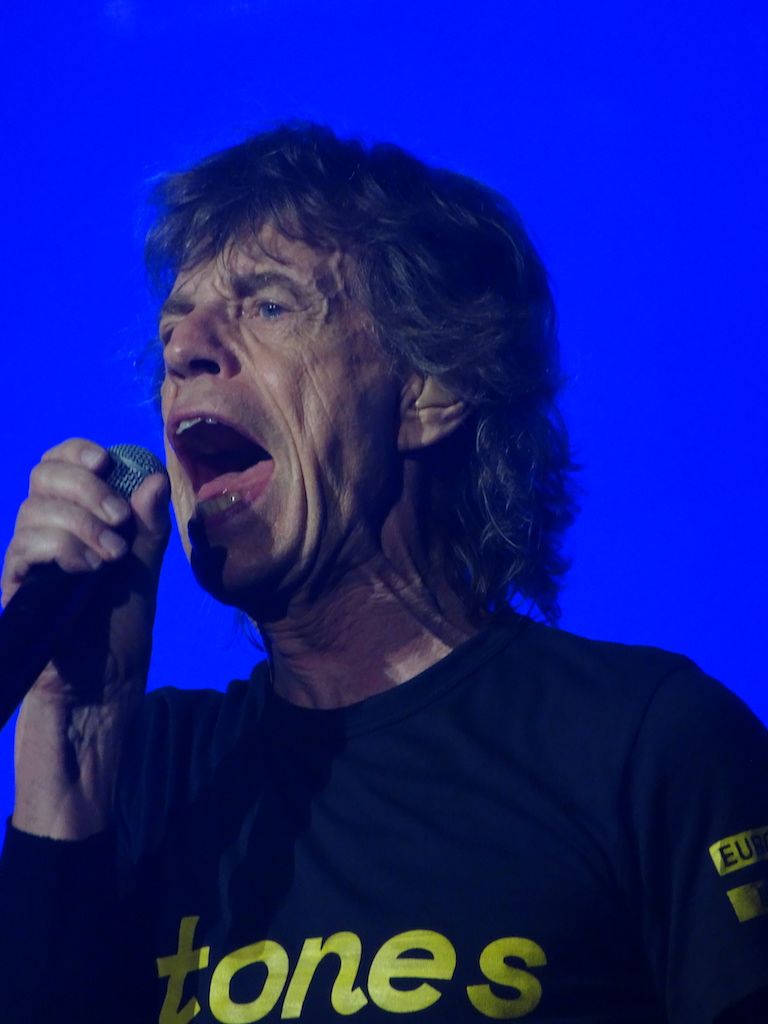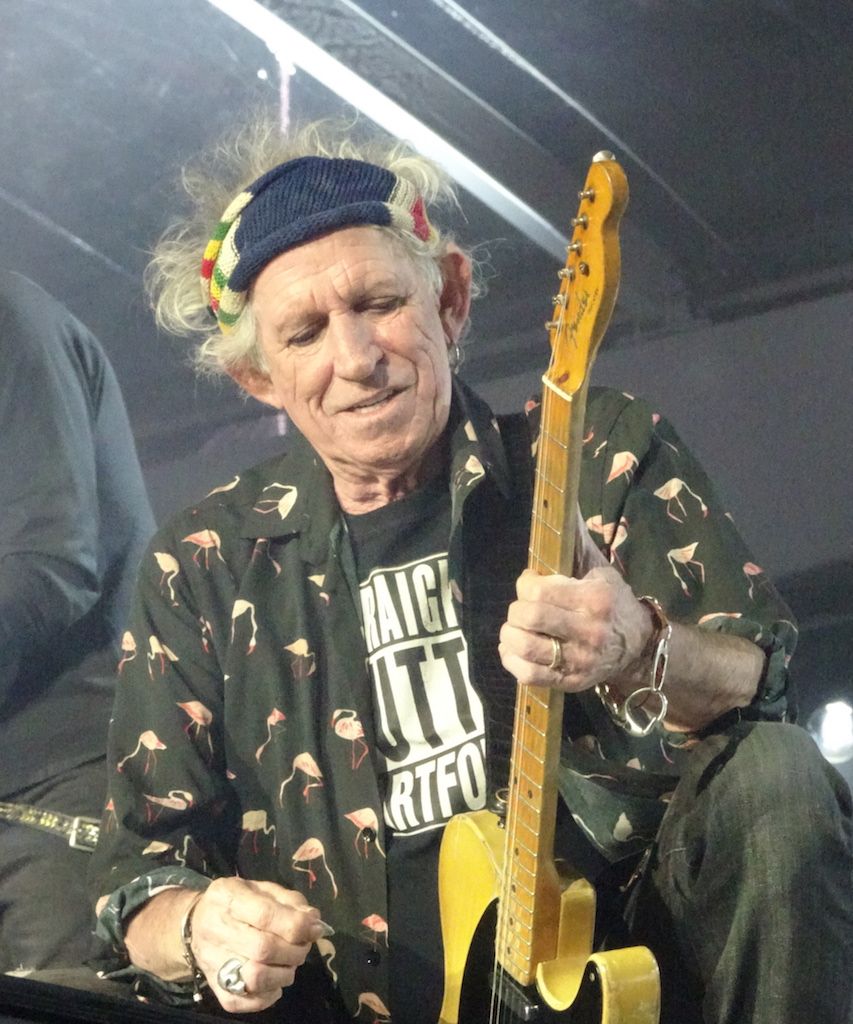 Photos by Hendrik Mulder
---
Review by Jose Luis Muñoz Muñoz:
First of all I want to say that the show last night in Barcelona was fantastic. It's been my tenth Stones show and I've to admit that this one has been one of the best three Stones shows I've ever seen.

Maybe the only disappointed thing is that the people were not as enthusiastic as they use to be in Stones show in Spain. But anyway I think Spain still is one of the best places for seeing the Stones in Europe.

The first two songs began maybe a little bit ofusced, but when "Tumbling Dice" came, it was a different show from this point.

In my opinion the sound was excellent, clear and powerful since the beginning, at least from the place I was. you could distinguish Mick's voice and all the instruments easily and clearly.

"Under my thumb" was excelent in my opinion, one of the highlights of the show.

"Rocks off" was the most voted song, at least this was the conclusion, because Keith started it before Mick coud introduce it.

Keith's set was great. After Mick introduced him, he was very emotioned during some minutes when the crowd cheered him for a while. He could hardly speak. I admit I was very emotioned too.

After Keith's set the show went on very powerful, all the songs sounded perfects.

I love they've put in the set "Street fighting man", I didn't understand why they had quitted it. It's a great song and it works amazing in the shows.

The band continues stronger as ever, the rock machine still works at 100%. Let's hope they continue in that way.

Thank you Stones!!
---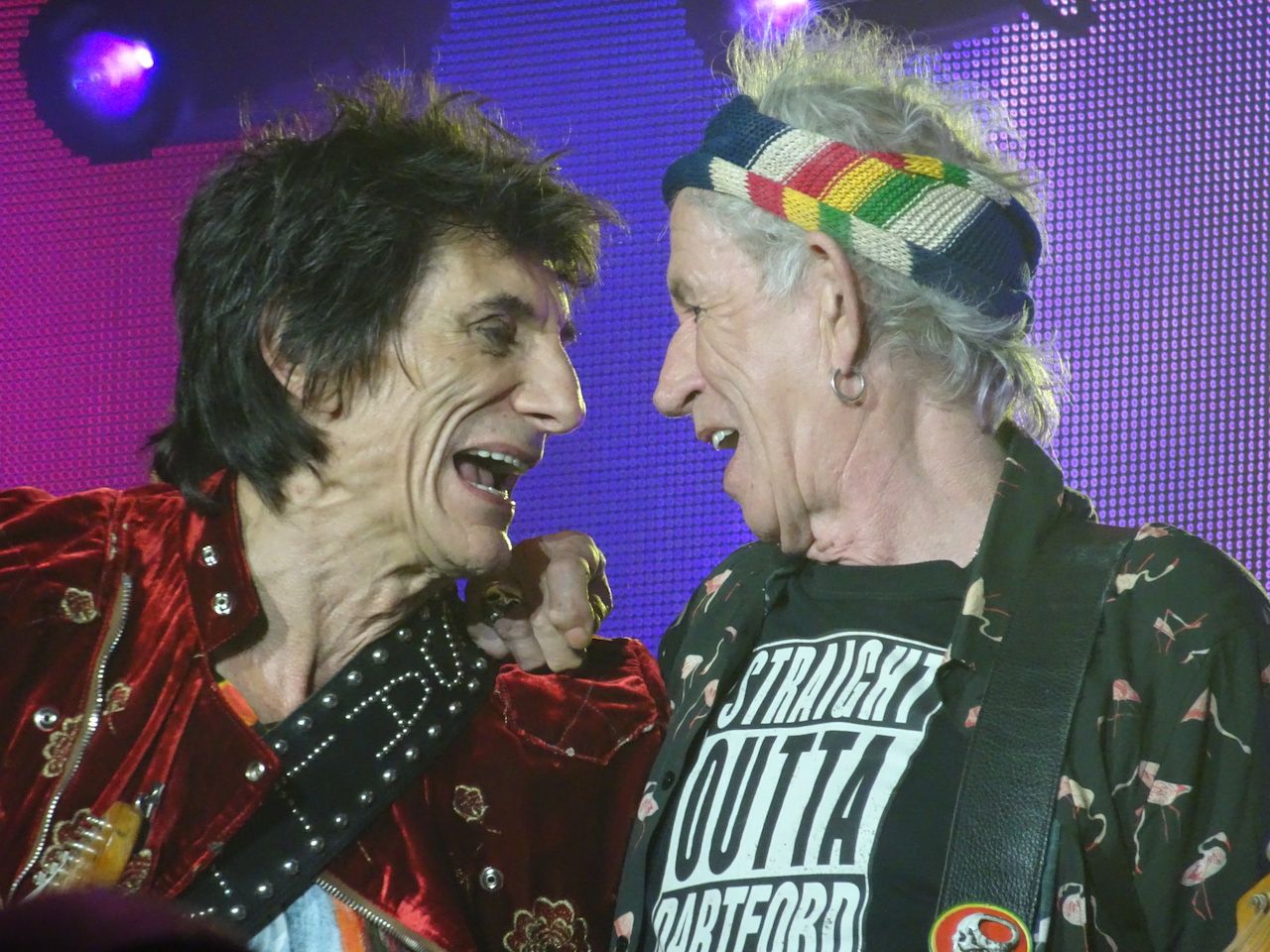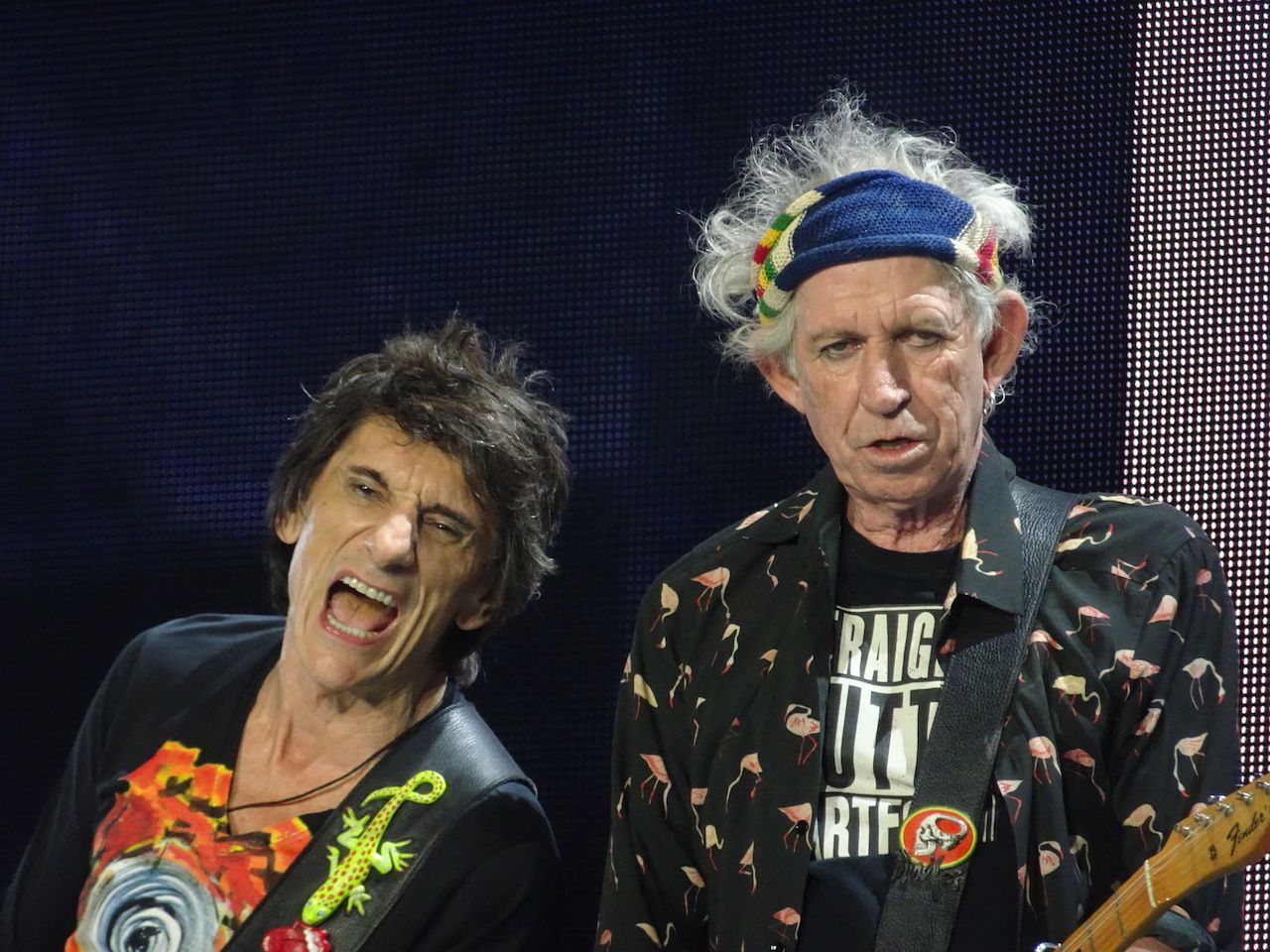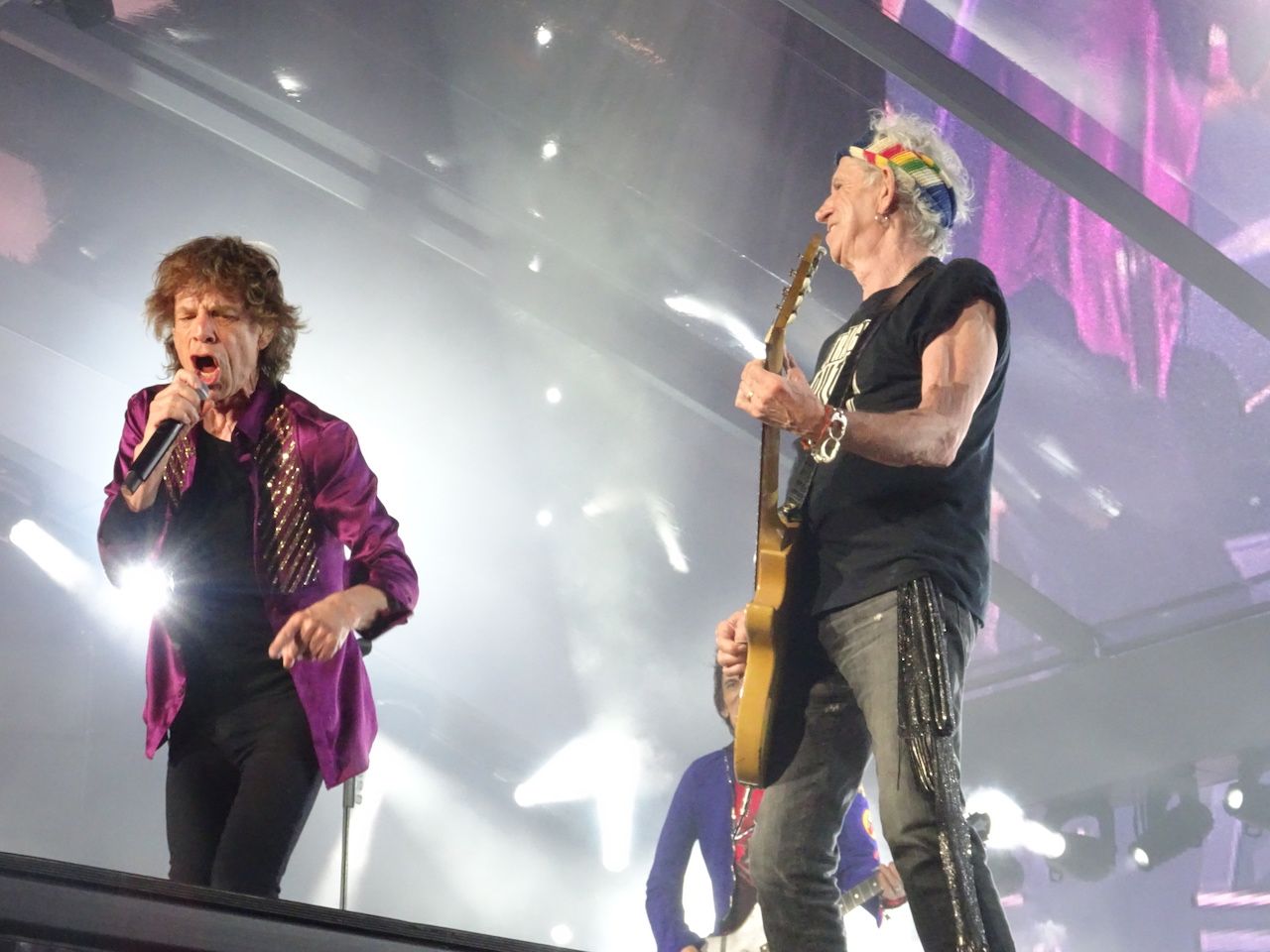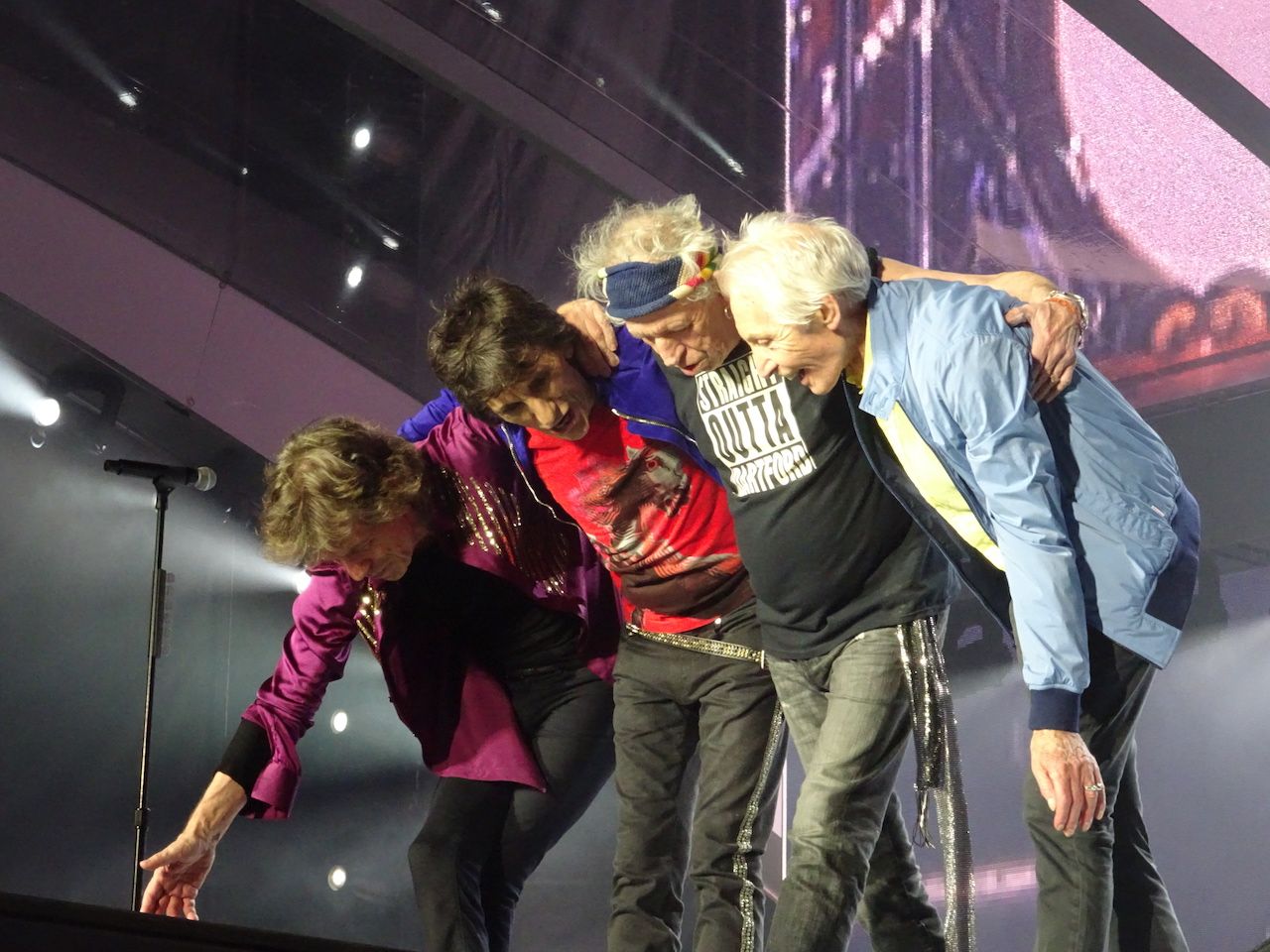 Photos by Hendrik Mulder
---
This page will change over the next few days, as you and other fans send reviews, set lists and reports. Please send your e-mail to IORR. Thanks! For details and great photos from the Rolling Stones and their World Tour get the IORR magazines.