---
These are the latest Rolling Stones news and updates for you! IORR is a non profit fan club run by fans for fans. All parts of the It's Only Rock'n Roll web site is copyright of The Rolling Stones Fan Club. When using information from this site, please include a reference to IORR and the main web address www.iorr.org.
---
---
The Rolling Stones
Amsterdam Arena
Amsterdam, The Netherlands
Saturday Sept. 30 2017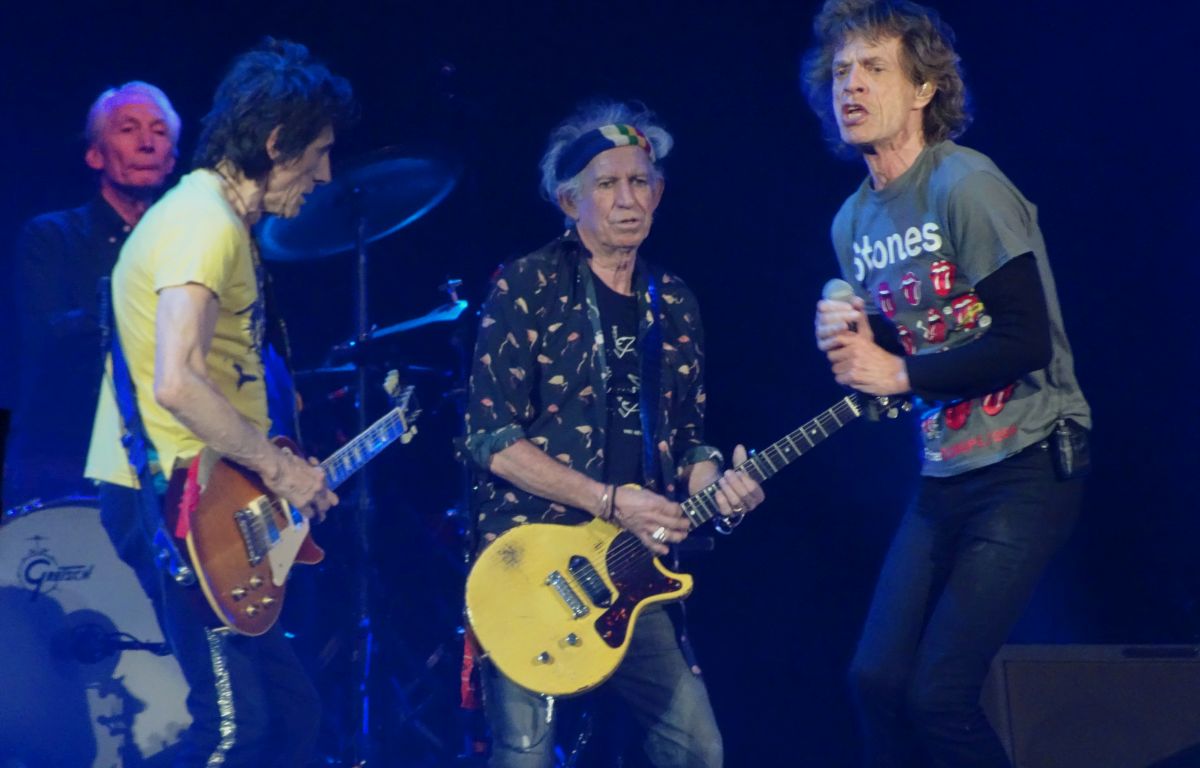 The Rolling Stones live in Amsterdam Arena, Amsterdam, The Netherlands, Saturday Sept. 30 2017 - Photo by Roderick Keur
---
The set list
Sympathy For The Devil
It's Only Rock'n Roll
Tumbling Dice
Just Your Fool
Ride 'Em On Down
You Got Me Rocking
Shine A Light
You Can't Always Get What You Want
Paint It Black
Honky Tonk Women
--- Band introductions
Happy (Keith)
Slipping Away (Keith)
Miss You
Midnight Rambler
Street Fighting Man
Start Me Up
Brown Sugar
Jumping Jack Flash
--- Band off stage
Gimme Shelter
Satisfaction
---
Show start :  8:50pm
Show end   : 10:59pm

---
Pre-show info and live comments:
Amsterdam The Netherlands 27-Sep-2017 Stones No Filter live show updates
---
Reports please!!!
Please send your comments, reviews, links and more to:

[email protected]
---
Review by Bjornulf Vik
"Sympathy For The Devil" is the perfect opening song. First they shut down the music on the PA, and turn off the lights. Then we get a quick screen switch, in a matter of seconds, where they wipe out what was there, and a buzz sound, like the past opening sounds for a few seconds. Then the opening of "Sympathy". The percussions. It is all dark, then red in flames. Then Charlie is climbing up on his drumkit, joining in on the rhythm. It is still dark/red. Then Mick is walking up front, first teasing the crowd, the fans are already singing Ohhh Ohhh, Ohhh Ohhh, and Mick is filling, in in front of the background vocals of Bernard and Sasha. Then, we all know the moment, Keith and Ronnie are walking up, like a pair, on each side of Mick. Keith is barely touching his guitar, but still, those few chords, they are so loud and strong, and "Sympathy" is shifting from an ordinary song into a true Stones opening masterpiece. Then, after just a fwe seconds, Keith walks back, Ronnie is staying, and Keith will do several more solo spots up front, and also out on the walkway into the pit. It was warm in the indoor Amsterdam Arena tonight, and the way they played "Sympathy For The Devil" makes it hot, hot, hot.

Mick is saying they have been performing eight times in Amsterdam Arena. So I have been in this "echodome" the same number of times, including the five nights back in 1998. There were times at the show tonight when I thought the echo was sort of strong, but then I concentrated on the music and what they did on stage, and I was fine. Trying hard to follow all band members at all times makes you busy, especially when Mick is out on the extended platform, Ronne is at one of the front sidewalks, while Keith is also doing a walkabout. The crowd is making some noise, but most of the time they are relatively quiet, with a big smile on their faces. Actually, I was surprised to see so many smiles. We do have all our face impressions, some smiling always, some more like normal. But... in Amsterdam Arena, behind me and around me, there are so many smiles. Also, after the show, not one person complaining, everybody talking about the Stones with a smile and with emotions.

"You Got Me Rocking" is one of my favorites. So basic yet driving strong with a great rhythm by Charlie. Ronnie on slide. And since they played it at Angel Stadium when the "Angels" in Anaheim had been winning the series some years ago, it always remind me of that show... "I was a pitcher"... Next up is "Shine A Light"I used to play "Shine A Light" hundreds of times from 1972 and onwards, driving my girl friend now wife crazy, and now, 35 years later, I have it live on stage again, not often but again. What more can I ask for? I was tired at home before going to A.dam this morning. I wanted to have the week-end at home, but my focus drive and emotions pulled me to the airport and down to Amsterdam this morning. When I am at the show I know why I do this, these are memories for a lifetime. Ronnie doing some great solo playing on "Shine A Light", stepping forward and shining. Such a great performance in my mind.

So I am happy and satisfied by the time they have performed seven songs out of twenty. The rest is just a matter of enjoying the show, song by song. I know what is coming, but still I love it, love every song. Not just "Street Fighting Man", the monster song every night, but also all the others. For those who count the number of split seconds the band members sit down (why that is important I don't know), I can tell that Ronnie was sitting down for twentysix seconds at the beginning of "You Can't Always Get What You Want", probably because he does not have anything to do while Matt Clifford is playing the horn... Also, Keith was sitting down for a twenty or so seconds at the beggining of "Miss You". After all, Keith does not play much at the beginning of "Miss You", there are already two guitars up front already, as Mick is with his guitar next to Ronnie.

You could pick any song. The entire band was so strong. Not just the four of them, but the entire band of eleven, including Chuck, Darryl, Bernard, Sasha, Matt, Tim and Carl. And the crew, including Pierre, always seen through his silhouette on the dark stage the last 20 minutes before they are on, tuning the Keith guitars again and again, and all the other crew members who are doing a great job at the shows. There was an argue right next to me just before the show started. We felt uncomfortable, and it could easily have escalated. But... within half a minute, the closest security person catched the moment and sorted it out. Everyone settled down and no worries. We do take these shows and our security and comfort for grannted, but we should keep in mind there are many many highly professional people, hired by the Stones, and their organizers, taking care of our security, in order for us to enjoy out favorite band.

Knowing Amsterdam Arena is a bottleneck transport wise, I slowly sneaked backwards in the direction of the exit as they performed Satisfaction. By the time they did the final bow, I was out in a couple of minutes, and on the train station ten minutes later. May be this was the last time I saw the Stones in this arena, may be they will be back in three years time. Anyway, it was a great show, I know I keep saying the same every night now, but they are playing well, they hardly take breaks between songs, they are shifting the excitement from the stage on to us, in the crowd, and we try our best to return the magic to the band on stage. In short - A great show!
---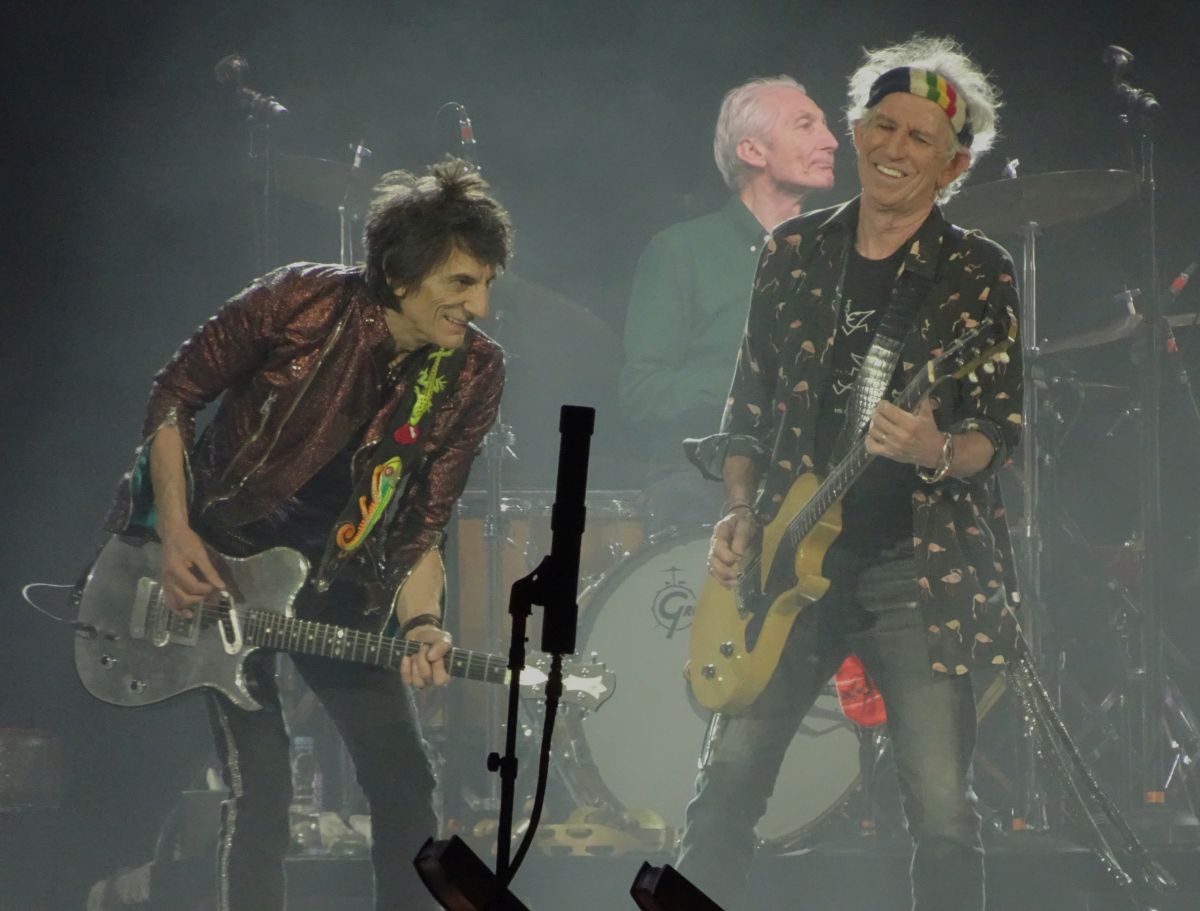 Photo by Roderick Keur
---
Review by Alwyn W
Mick said it was their 38th show in Amsterdam; for me it was my second. And everyone there was treated to more than a show – it was a spectacular.

The regular occupants of the Amsterdam Arena are soccer team Ajax (pronounced aye-axe); I think Mick mentioned something about them in Dutch. Well the Stones maybe took inspiration from the cleaning product with the same name and really cleaned-up here.

My first show in Amsterdam was during the Bigger Bang tour. The sound wasn't great, with so much echo that it totally spoilt support band Toots and the Maytals. Tonight was very, very different, at least on the floor. Way up above us there were a line of black inflatable tubes stretching across the roof – I'm guessing those are to absorb sound, and that combined with the Stones resident experts, meant that it sounded great.

Getting in before the show was a slow process. Clearly recent events mean every bag and person is searched: it's like getting into an airport but all done by hand. I'm afraid that the venue's security manager under-estimated the number of people somewhere – but at least in the long queue we didn't get wet as the rain had stopped. Inside the roof was on – no temperature, wind or rain tonight.

Two more moans, both about some local fans. Clearly the health and nutrition system in the Netherlands is excellent as there are a lot of very tall people to try and avoid standing behind! They also seem very fit: it must be all the cycling. Secondly, more seriously, why do people pay all that money to see the Stones and then spend half the evening trying to talk by shouting at each other? Irritating to those around them trying to listen to the music.

The Stones themselves ….. well they looked, felt and sounded very together. From close up you can see all the expressions shared between them, the cues, the laughter, the encouragement to extend a solo etc.. It was like watching old friends. At one point Charlie laughed so much I worried that he wouldn't be able to play. Keith has a new job – passing Mick his harmonicas. Ronnie is deputy crowd encourager. Charlie keeps time with the precision of a metronome, but with a whole lot more passion.

Someone on stage told me after the show that they all felt the audience's positive emotions right from the start. Live rock music needs that feedback to take a good performance and make it special. Well that happened tonight. If this is the last Stones show in Amsterdam (no, I'm not making that prediction, who would dare?) then it was a great way to go out. If they return in 3 years then they've just set the bar even higher.

For me four songs stood out. Firstly Shine a Light, which I just heard for the 3rd time. The first time was almost exactly 20 years ago in Norman, Oklahoma, where it also won the "fan choice/web-vote". I don't remember how good it sounded then – last night it was really great. You'd never have thought that they hadn't played it live for a while, and it is not exactly a straight 12 bar blues.

Secondly Rambler. Again tonight it shone out; more improvisation in the structure, more jamming, more interplays between the whole band. I think Mick enjoys stretching out songs where he plays an instrument, and he certainly played this well tonight. Ronnie and Keith were also giving it everything they had. Charlie of course can be taken for granted – a very unwise thought - as he handled the varying rhythms of Rambler with expertise.

Next on to You Got Me Rocking. I've not been the greatest fan of this over the years, but maybe absence makes the heart change and after a gap of 7 shows I really enjoyed. I supposed if they'd reverted to their 60's joke of playing a bit of Popeye the Sailor Man behind the crowd's screams then I'd have loved it last night – it was that type of show.

Finally Street Fighting Man. Such energy from Keith's opening chords, then Mick gesticulating for the rapid switch into the first verse, to the anthemic words about revolution – somehow still relevant 49 years after the anti-war demo in Grosvenor Square. They ended-up with an almost jazz fusion, or Cream-like, jam at the end. Intentional? I've no idea but it all worked.

So 45,000 fans or so were treated to a spectacular show last night in Amsterdam. There was a real buzz leaving the Arena. Of course most of these people only ever see the Stones when they visit Amsterdam, and its been 10 years I think. But whether it was their first Stones gig, or they are one of the select band of travelling fans, like camp followers from an age long ago, this was another to treasure. Thanks to Mick, Keith, Charlie and Ronnie. Thanks to all the other musicians and singers in the band. And thanks to all the others who make this possible. You know who you are!
---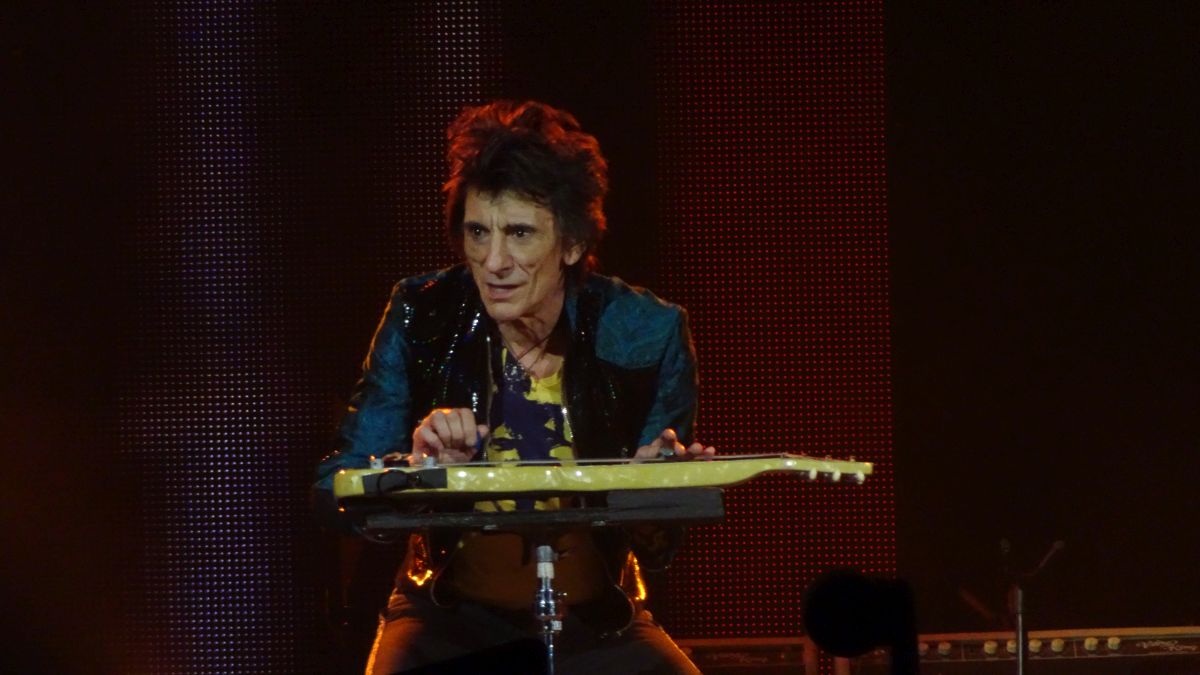 Photo by Roderick Keur
---
Review by Michel de Bruin, The Hague
What a great show! Opening SFTD was "kippenvel" Followed by a very straight rocking Its only Rock and Roll. Bluesy Tumbling Dice. My favourite was Shine a Light! I got the feeling that they were playing all songs very fast and not too long. Which I think helped to get the show into a fantastic gear. The gitars were very very loud. Keith was as always giving the songs the right touch by playing in his tempo. Love that. The songs get more bluesy and rockin. Ronnie was playing some great solo's. He was realy on fire. Charlie as solid as a rock. And Mick..... yes all is already being said about him. He is from another planet. No one in the music world today can do what he does. He gets better and better very time. I like his style now more than in late 70ths and '82/'89. The Blue and Lonesome songs were very well played. In a huge stadium playing these old bluessongs is not easy to get the audience that bluesy feeling. But they did it and they did in a way no other band can do. Superb!

SFM was rocking, tight and loud. Brown Sugar, Jumping Jack Flash and Start me Up played with so much energy and rocking fun. One of the reasons why I love the Stones. You can't sit still... you have to move like Jagger (or do the Keith gitar swing). What a great show, what a great night. I am so proud at the Boys. At that age and still on fire. They are still leading the Rock and Roll live industry. Only one wish left.... a Blue and Lonesome tour in small venues!!!
---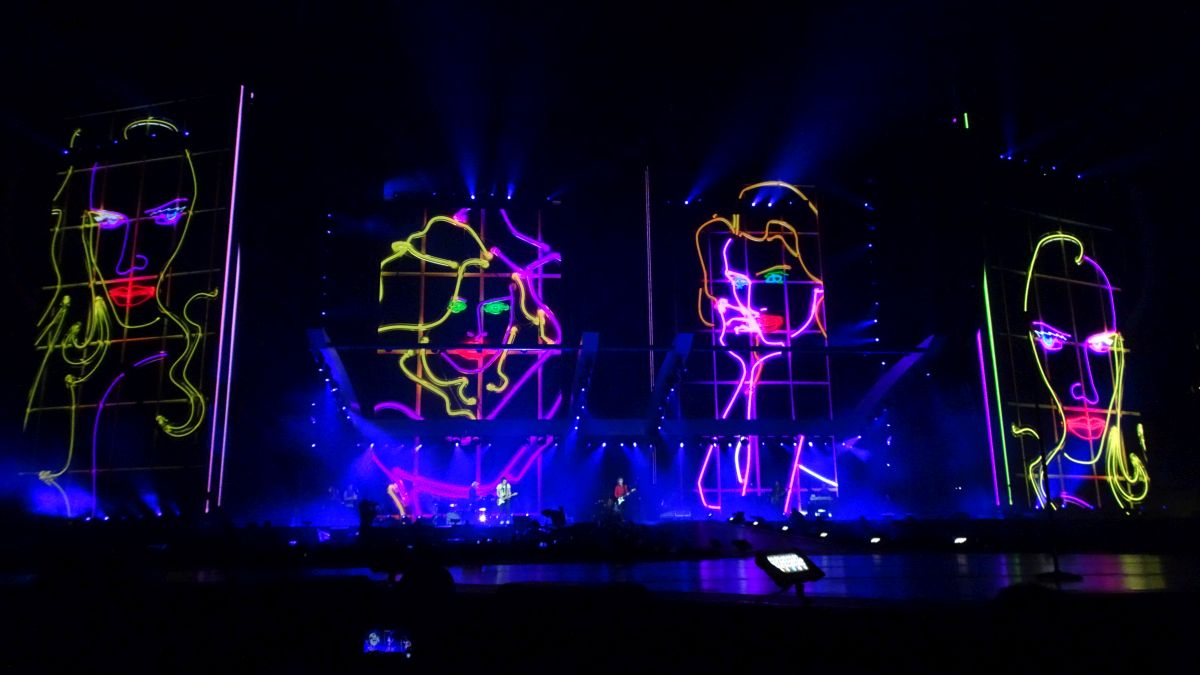 Photo by Roderick Keur
---
Review by Simon Emmerson
This was my only gig on this tour and it was one I almost didn't make! Glad I got to the pit with my good friend Steve. I am happy to report the guys on terrific form. That intro with sympathy for the devil really wets your appetite for what's to come. The two blues numbers are great ,and it would be nice to have a couple more! Keef was on fire and playing with such energy and enthusiasm, he was really on top form. The highlight for me was Slipping away, lovely and full of emotion. Keef made a joke about Charlie's orange socks and that got a big laugh. Mick spoke a lot of double Dutch which the audience appreciated. I really enjoyed Shine a light, quite amazing really! If this is my last Stones show it was a real belter. My son Charlie was supposed to be here but he was there in spirit! You can't always get what you want. But thanks to the Stones for a wonderful show,it was just the tonic I needed.
---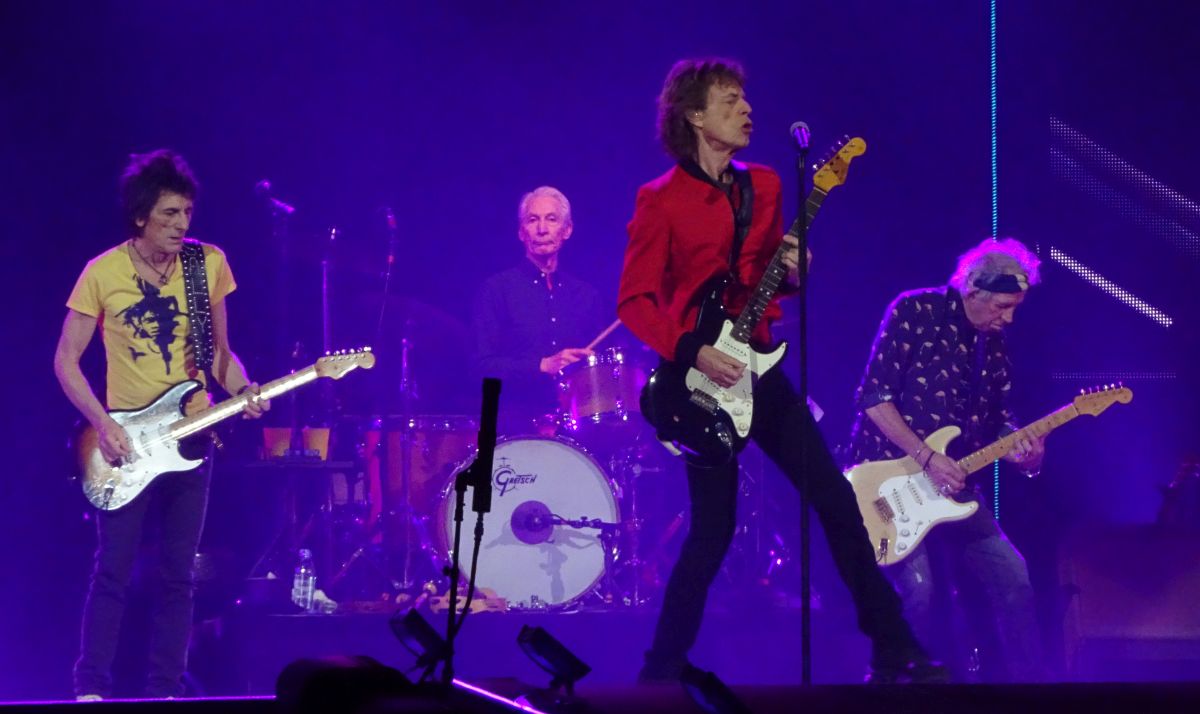 Photo by Roderick Keur
---
Review by Dean Goodman
The Rolling Stones have played the Netherlands thirty-eight times, with eight of those stops at the Amsterdam Arena, Mick told us on Saturday night. The latest show marked my first at the unloved indoor venue since their 1998 Bridges to Babylon five-pack. It was a relief to learn that the Dutch government has since declared the arena a Dave Matthews-Free Zone. Maybe the Stones could have redone "Memory Motel" to atone for the Matthews Massacre but we got a few other surprises instead.

The pleasant one was vote-winner "Shine a Light," although it sounds too secular with just the piano. We need Tim Ries to do Billy Preston's gospel organ fills. Still, we've been privileged in recent days to get two of the best songs from "Exile" as special treats. There's still a couple from Side 3 that I'd love to hear. The unpleasant surprise was the return of "You Got Me Rocking," two days after an IORR analyst had tempted fate by declaring that the tour would be judged a success simply by the song's exclusion from the set list. Well, what do we know? People seem to like it, a couple of fist pumps and "Hey, Heys!"

The crowd, inevitably, was quieter than at Barcelona and Lucca, possibly one of the quieter ones on the tour so far. Folks in the pit really only started to come alive for "Honky Tonk Women." Things were more exciting when I moved to the back of the floor towards the end of the show. The best crowd barometer is the reaction when Keith is at the mike. I was waiting for a round of Olés from the small but dedicated Argentina contingent to spread across the arena, but didn't hear anything. Instead Keith got to do his twofer in relative peace and quiet, which is fine. He did manage to squeeze in an apologetic pun - "Thank you very Dutch."

Everyone on stage seemed in good spirits. Keith's grins lit up the arena during the blues segment and "Shine a Light," while band leaders Mick and Ronnie "Rembrandt" Wood frequently cavorted together. Mick earned some groans after wondering how the Ajax football team was performing. "Just asking," he said. "Midnight Rambler" clocked in at 12:10, and it could have been the first time on tour that Mick didn't end it with "And it hurts." Maybe folks at home have already discussed this, but "Satisfaction" seemed to go wobbly towards the end during some Keith soloing, forcing Mick to cut short a stint on the catwalk to return to the stage and monitor its progress. This is not a criticism, if indeed it even happened. My brain is fried from sensory and physical overload well before the two-hour mark, and I marvel at the Stones' ability to stay focused.

As you'd expect in the Netherlands, the organization was very efficient and the trains ran on time. I will miss the outdoor venues, but a good roof can be useful at this time of the year especially in a region where gimme shelter is more than just a song.
---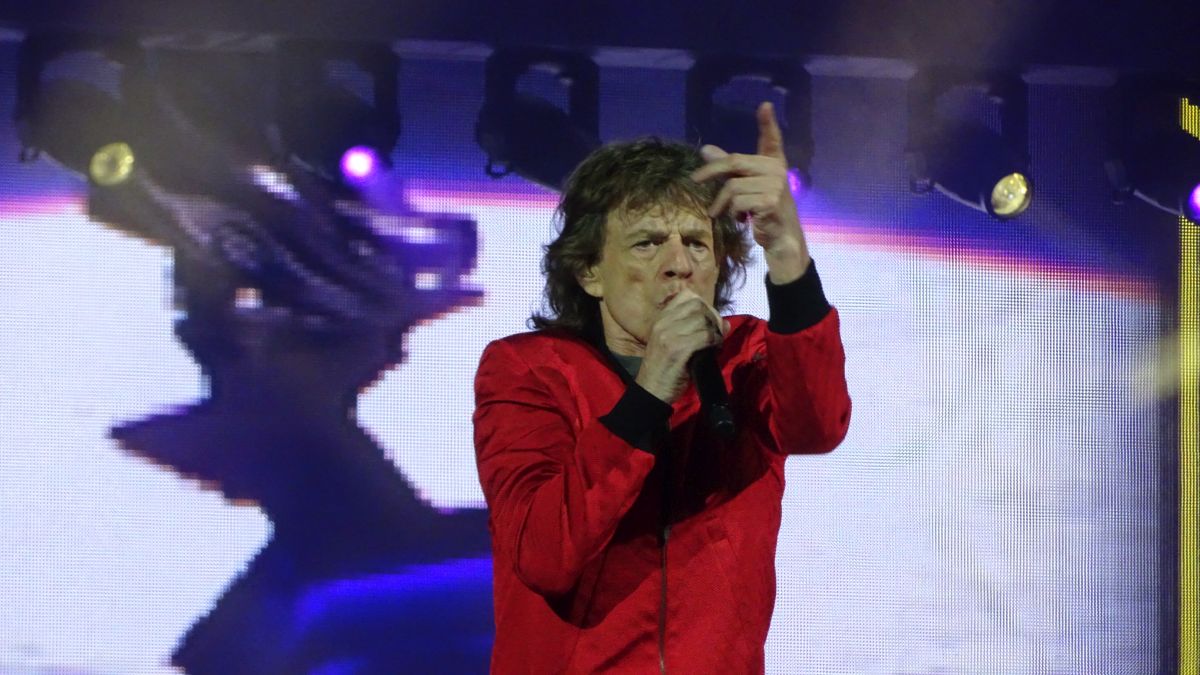 Photo by Roderick Keur
---
Review by Jeroen Starink
My 3rd stop on this tour. No picket ticket! And what a GIG !! The gig was so full of energy,focus and fun. My idea of Stones Heaven happened in Amsterdam Sept 30!! first of all thanks to TooTight, who bought my premium standing ticket! i could get it on the day of the gig,thanks to yvonne, a woman from Germany i stood in line with.

The Stones were so great in Amsterdam!!i was 3rd row on Keefs side in the Pit and could see all the nods, gestures and the little eye winks from especially Mick n Keef. I noticed the fun Keef n ronnie had. I had tears in my eyes most of the time.

Had to laugh when Jagger followed Sasha during Gimme Shelter and was looking at her ass. Ronnie n Keef watched jagger with a smile on their faces. Brilliant.

You got me Rocking was a surprise, Shine a light was brilliant, SFM rock n roll heaven, Slipping was more than Heaven. Keef sang Slipping so beautiful, i watched him closely. He had tears in his eyes and breatherd immensely to sing it with emotion. Very beautiful.!! I could mention all the songs, they were all GREAT.

Keith played his utmost, esp in SFM. You had to see his face and his smiles. also during Brown Sugar,JJF and satisfaction. i could go on and on. The Stones gave their utmost and were very, very good.

When the Stones gave their final bow, Mick n Keith stood closely together. Holding eachother. So nice to see!!

Saturday night the Stones were ,once again, the Greatest Rock n Roll band in the world. !!

Thanks to the Stones, for giving me one of the best nights of my Life.
---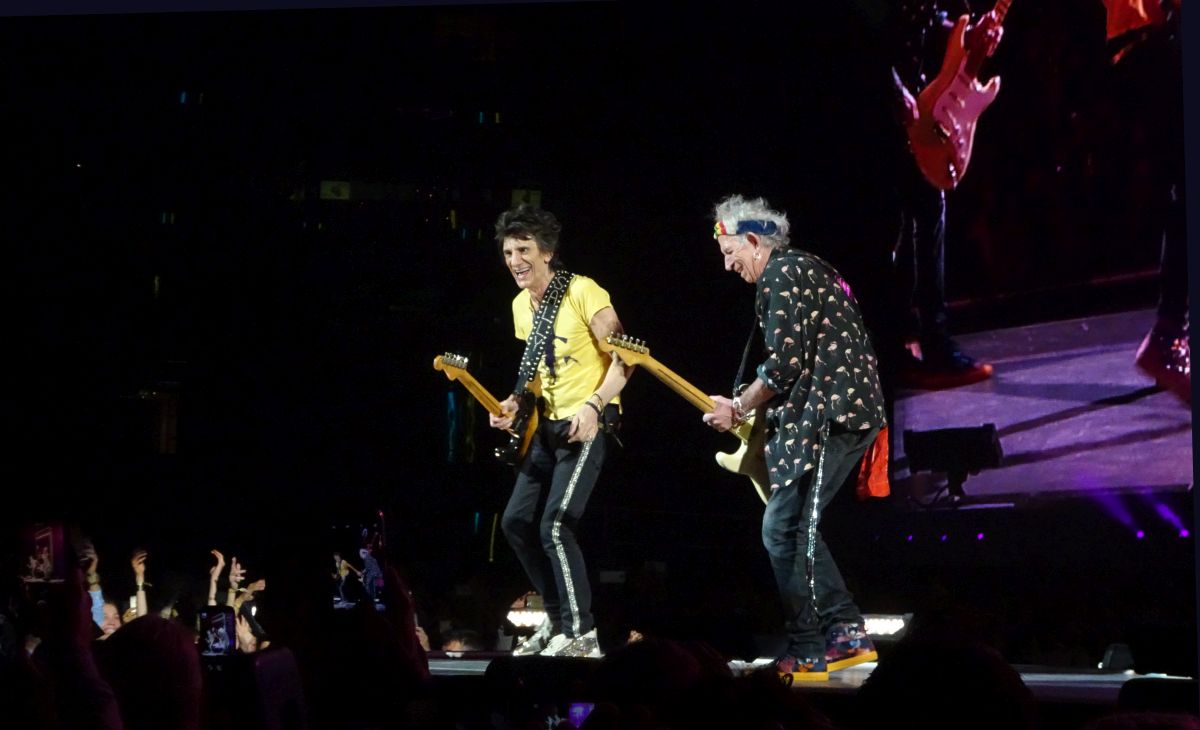 Photo by Roderick Keur
---
Review by Jerrie Klaris
This was my 59th show in lifetime. The last one 26 of august in 2007. More than 10 years later ``Time waits for no one`` and it won´t wait for me. No Lisa No Blondie and RIP no Bobby.

The shows from 2012 till 2016 I only follow from the internet on youtube and the IORR site. The last in the Netherlands I didn't see because I don't like the fields like festivals. I expect nothing this evening but it is amazing that Jagger and co still rocks at age of 74. All 4 together 294 years old.

I will sign for that energy at that age. I read the show start 21:19 in Barcelona and went 20:50 for a smoke and a drink. Suddenly I hear the tones of Sympathy and ran to my seat with my daughter. It was here third show and on the way to the Arena I play all the songs from Barcelona.

She was hoping that they play Ruby Tuesday and Dead flowers. That songs she can sing all the text. I tell here that there was no chance the do it. The sound was good in the arena I had in 1998 one show seats and it was horrible, it is now so much better.

I like the Blue and lonesome songs. I prefer a other song instead of "You got me Rocking" but it was played well. I was looking around, I always do with songs they don't play much and "Shine a Light" was not well known. I see in the section I was sitting a lot of people age older then 60. With "Paint it black " the audience exploded. I like the middle off "Midnight Rambler" and "Miss you" also different. Great songs which never bored.

After the end of Satisfaction we run to the parking and arrive home 10 minutes after midnight. Great show nothing special for the die hard but glad I was there. Bought the tickets in the afternoon on the Dutch marketplace from a guy in Eindhoven. It were hard copy credit card formats nice souvenir.

Before the show drive from Rotterdam to Eindhoven and back to Rotterdam to pick up my daughter A long drive for 2 tickets he said. He didn't know I travel to the US and China only for a show and back in threedays several times hahahahaha.

Next week Arnhem looking forward to this show. Back on the field again.
---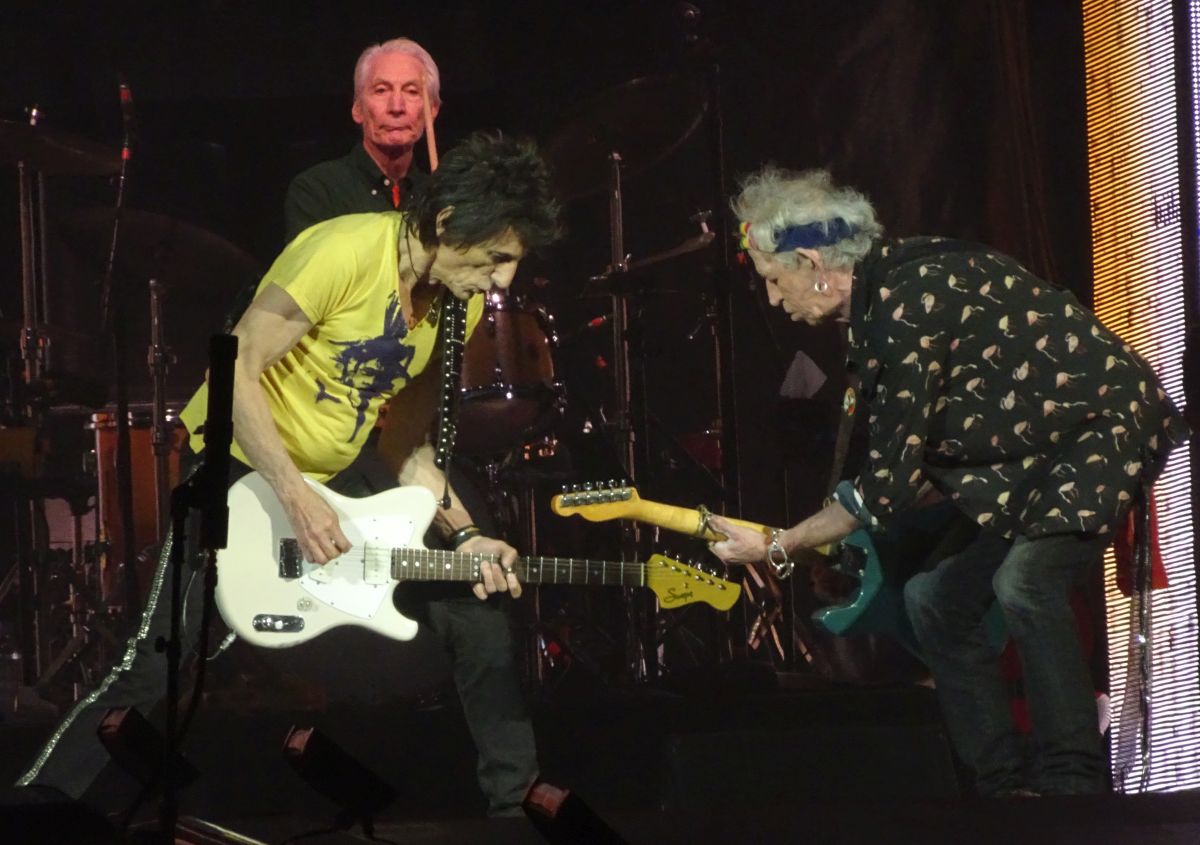 Photo by Roderick Keur
---
Review by Michael Getzner
Another great Stones concert!

As Keith Richards has said it many times, the Stones are still on a journey and want to find out how long they could put their show on the road. This is Stones 2017; certainly, nobody knows how far in the future they can carry what they apparently love to do. However, we know how the Stones sound like in 2017: Raw, edgy, volume to the maximum, some riffs/solos reduced to the minimum, fun and laughter on the stage, fun and laughter in the audience. Forget about the bum notes, there are 60,000 fans screaming, dancing, having a great time, fans of all generations– from the very young ones to folks of the Stones' age (increasingly fewer of the old ones, at least in the standing areas). Plus, the Stones really work hard on the stage, make no mistake. Mick Jagger was on the catwalk quite a lot, seemingly enjoying himself while directing the movements of thousands of hands in the air. Ronnie Wood is up for more burdens with playing the guitar. Charlie Watts, the living metronome, seemed strained while taking a sip from his orange juice. And Keith Richards still delivers these great riffs with the highest possible energy.

The show started off with the well-known set of Sympathy, IORR, and Tumbling Dice. The first chord of Mr. Richards in Sympathy says it all: loud, no more filters, plain and simple. By now, it seems to me almost all songs are more-or-less sing-along songs, with clapping hands so loud you even could only partially hear the sound from the stage. Next the blues numbers Just Your Fool and Ride 'Em All Down, personally, highlights of this tour for me.

Next a song that somewhat divides the Stones fan community into a smaller group that likes this song, and a larger one that thinks this song is somewhat dreadful: You Got Me Rocking! Yes, I admit, I belong to the first group who likes this song very much! Excellently played, sharp riffs and licks, it seems the Stones are willing to go the very last mile for these 2 or 3 songs they change with every show.

The choice song, Shine a Light – this gospel-inspired hymn even for those who are not believers. Well, we certainly belong to the Church of Later Stones…. Again, a wonderful rendition of this great song.

Paint It Black brought everybody's hands up in the air, and Honky Tonk Women sharp and just how it should sound.

After the band introductions, Keith's set with Happy and Slipping Away. While the first one certainly made everybody happy, it seemed that many around me couldn't appreciate the second one. Some took their phones and started to look up messages in WhatsApp… Personally, I think this song is a gem that is sung with emotion and feeling, and a very good live choice.

Now, we are in the second half, like a very long, steaming home stretch with the most iconic songs they ever wrote. To mention just one: Street Fighting Man is incredible. Smiles all around, hugs, laughing after the final bow … and fresh air in the cool Amsterdam night.

Two remarks:

- The sound was somewhat ambivalent with echos (not like in Zurich where you could hear every note played).

- O.K., everybody should do what he/she likes; you can even buy a ticket of EUR 180 but instead of listening you could drink beer at the bar. But can we somehow limit the use of smartphones? No hands in the air, little dancing, instead bright small screens. Yes, I know that Youtube videos are great for those at home, but still… A guy next to me apparently came for the show only to film his girlfriend while Mr. Jagger sang and danced at the catwalk directly behind her…
---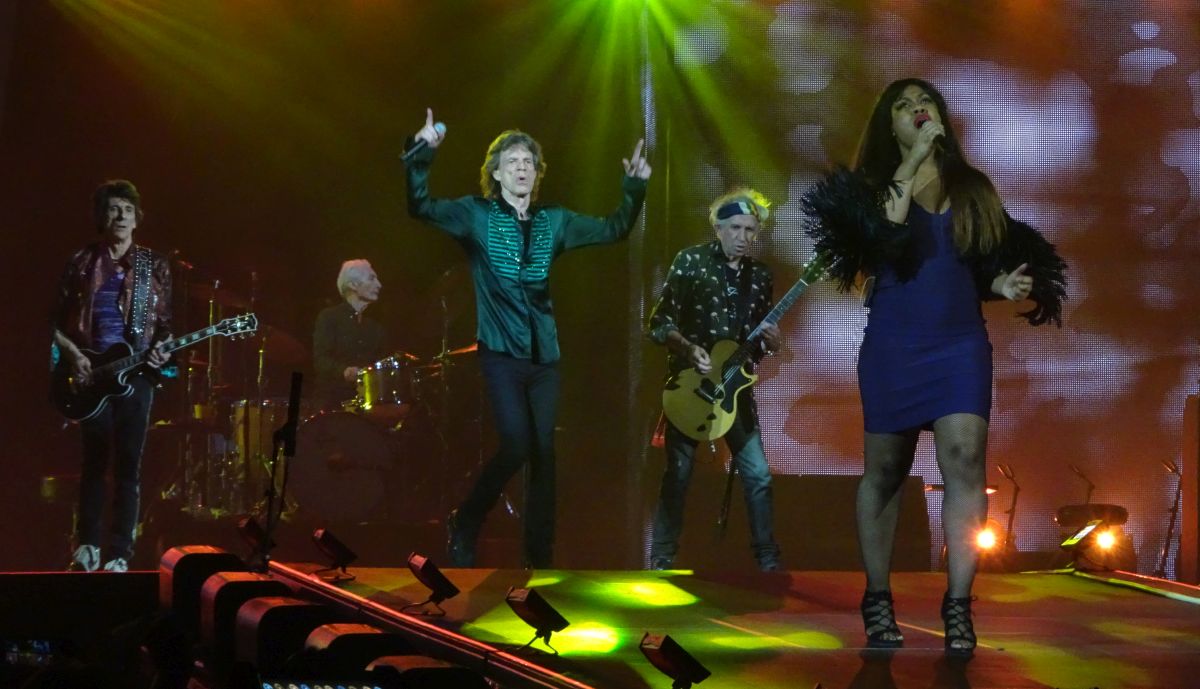 Photo by Roderick Keur
---
Review by Sjoerd Olrichs
Good morning world! I just woke up from a beautiful dream. It was about a special party in Amsterdam and the live band there was the Rolling Stones. The last time that I saw them in real life was in Cuba and for me that was the "final" highlight of my "career" as a Rolling Stones fan. At least, that is what I thought. But beautiful dreams sometimes become true, they say. The Stones were back in Amsterdam. So did I really wake up from a dream this morning or was it all true after all?

Anyway, the Stones were playing in the sold out Amsterdam Arena (recently renamed to Johan Cruijff Arena) and yet again made history by putting down a great show. And when I say great, it is because not only the setlist was a like a colourful box of tasty English liquories, but also the musicians were a colourful mix of wild boys who, during the course of the concert, more and more just let it go, which caused the show to gradually change into a crazy franzy, a smashing fountain of joy. Ronnie dancing all over the stage, happily interacting with fans, Keith at times making the freakiest moves you can imagine, and Mick, well, we all know that there must have been a printing mistake. 74? You must be kidding, 34 you mean. The "dinosaurs" of rock 'n' roll? No way, you mean off course the "frontmen" of rock 'n' roll, still, even after 55 years!

So far I had followed the No Filter tour via IORR (Thanks BV!) in many possible ways and already had become more and more excited during the course of the past couple of weeks and hardly could wait to see them in my birthtown, Amsterdam.

After the show a fellow Stonesfan friend came up to me and said that he had just returned from Barcelona, but that the Amsterdam show was the best of the four concerts that he had visited so far. Lucky me!

Honestly, to me it didn't really matter, what songs they were going to play. I only hoped for a great party. Apart from the two songs from the great "Blue and Lonesome" album, still there were a few real surprises, likes the fans choice "Shine A Light". Even Mick appeared to be taken by surprise a little. Beautiful song. And if I am not mistaken (off course I'm not), "You Got Me Rocking" was done for the first time during this tour. A great rock 'n' roll party song!

I don't want to go into details too much, but I thought "Miss You" was done with a lot of power. By "just letting it go" actually each and every song started off with a lot of power (Street Fighting Man … WoW!, Start Me Up … BanG! and so on) and continue so all the way to the final song, "I Can't Get No Satisfaction" …! This was it, the ultimate rock 'n' roll party!

Take care men! See you again in Arnhem!
---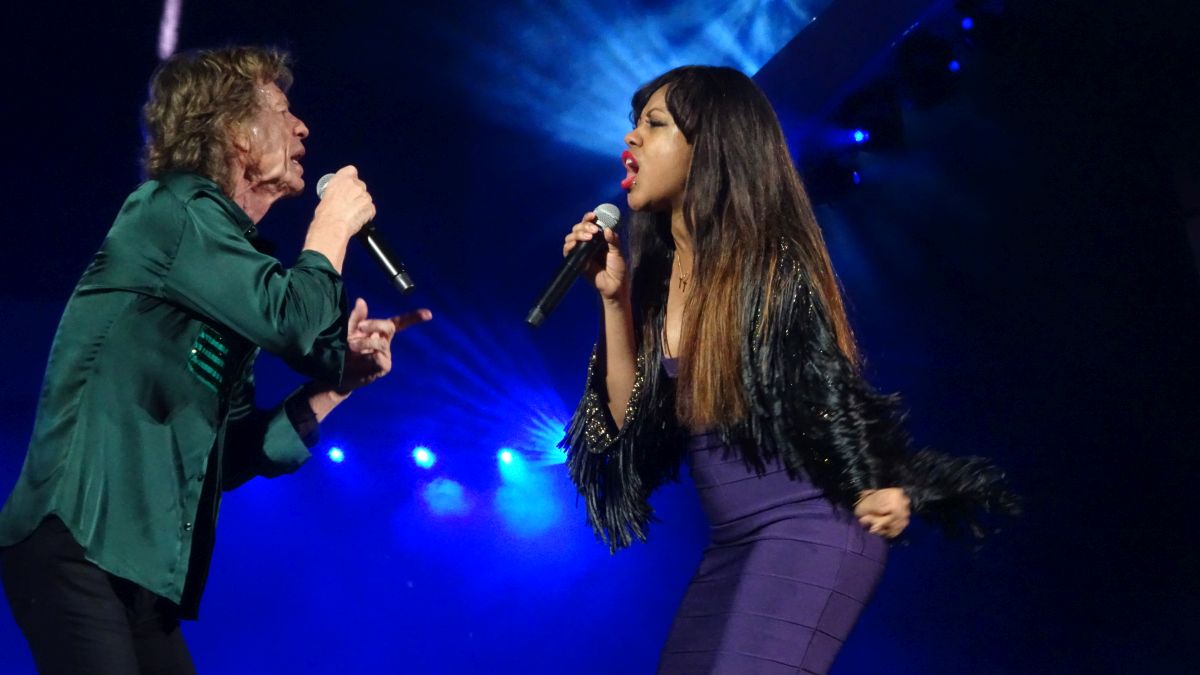 Photo by Roderick Keur
---
Review by Richard en Herman Makkinga
Had a great night yesterday in Amsterdam. It was my 13th Stones show since 1982. My last one was also in the Arena in 2006. I promised my son, he's 12 now, that if the Stones would come again to Holland we would go together. I think is good part of education.

We had great Seats with good view and after a long wait to get t-shirts we were ready for the Stones. Well they did not disapoint us!! We really liked the kick of with Sympathy for the devil. The sound in our possition almost across of the stage was very clear and not too loud. We loved the stage too and had a very good vieuw on the left videoscreen. We loved "You've got me rocking", the bluessongs and were happy with the vote of Shine a light. Although Ronnies first solo was not really good the song was great!!

It was also great to listen to Keith's set. He really surprise me with his good performance and singing. Although he makes mistakes his sound is unchangeable and we love him! For me "Street fighting man" was also great! Man what a wall of sound!

Overall a very good setlist with Stones in good shape in an Arean with for Dutch understanding a very enthusiastic audience. Surprisingly I saw no young kids at all! When driving home we had a big smile on our face. After this great evening it is clear that they are still the greatest live band in the World!

Thank you Mick, Keith, Ron and Charlie!
---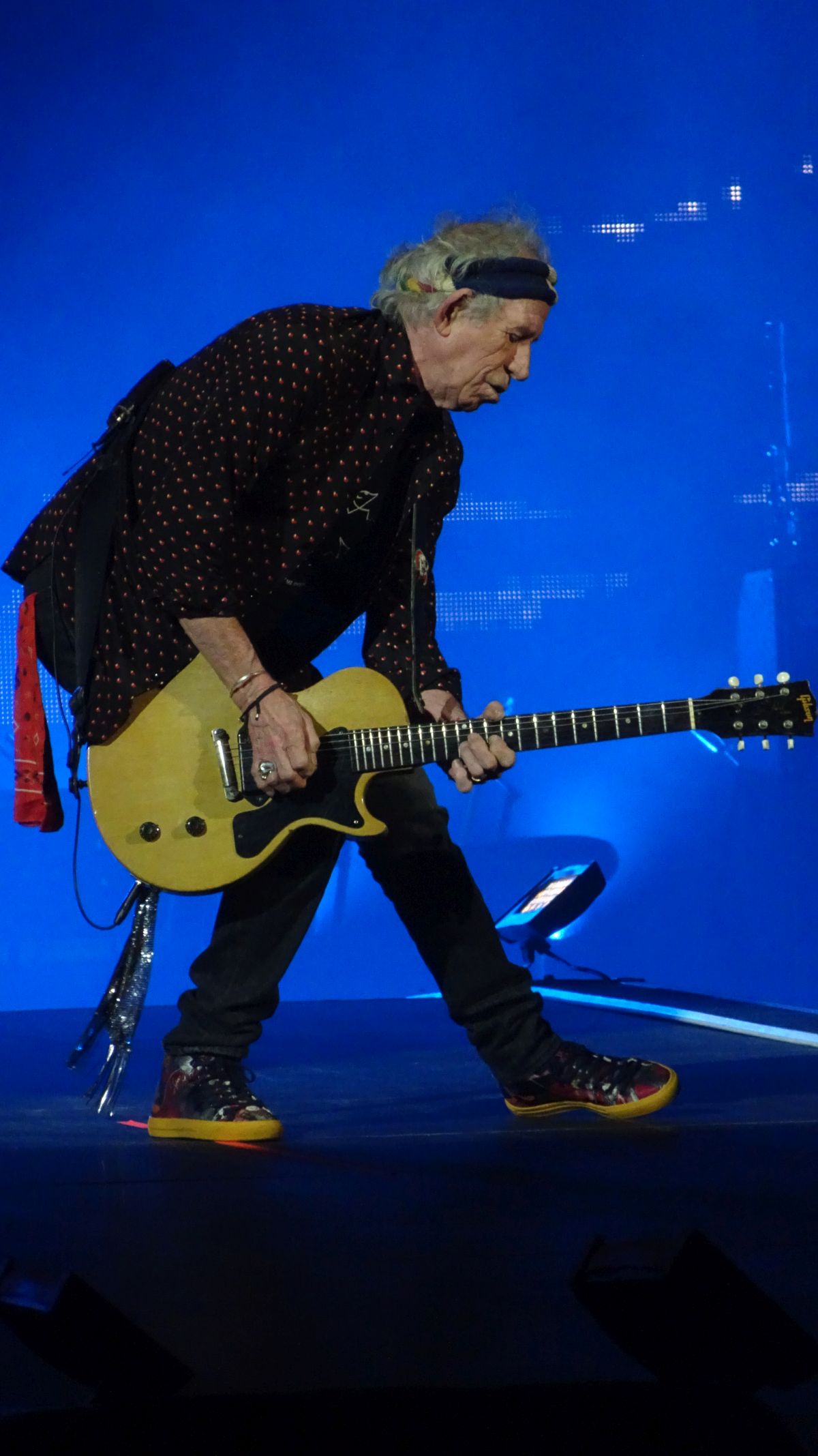 Photo by Roderick Keur
---
Review by Derek Di Perri
In my review of the Lucca show, I suggested that the Stones drop "Sympathy For The Devil" from the setlist because of Keith Richards not being able anymore to play the solo properly.

Well, in Amsterdam it was a complete different story.

When the opening sequence of the song started and Mick Jagger stepped on stage, everyone in the seating section I was in stoop up as well, and the tension immediately started to build up. As soon as Keith Richards played his first chord, everybody was already electrified. Keith Richards' sound was so thick and crisp and powerful, and I can't really see how anybody could complain for it being too loud. In my opinion, by definition Keith Richards cannot ever be too loud in the mix.

Even if Amsterdam's Arena acoustics are generally rated as lousy, the sound of the Stones was great, especially the guitars'. That was so different from the last time I had attended a Stones' concert at the Amsterdam Arena back in 2003, which by the way was pretty much lackluster gig overall.

Anyway, Sympathy For The Devil got everybody rocking, Keith's solos were just fine, and after the song ended I had a very clear impression that we were in for a really great show.

I was right.

"It's only rock'n roll" and "Tumbling Dice" were both very energetic and performed at a lively pace, and the two usual blues numbers (seems that "Hate To See You Go" has already been dropped for good from the setlist, unfortunately) confirmed to be a highlight of the show. As in Lucca, I've been particularly impressed by "Ride 'em On Down", which sounds so more powerful than on record.

Unexpectedly, "You Got Me Rocking" followed, and this rendition definitely lives up to the song title. You could easily tell that Keith Richards and the other boys in the band were totally on fire.

The chosen "vote" song of the day was "Shine A Light". That was the second time that I was to attend a performance of that song live, the former one being at the O2 in London in 2007. Amsterdam's version was solid, even if Ronnie Wood sounded uneasy with the solos. He sounded much better in the following number, "You Can't Always Get What You Want".

"Paint It Black" worked flawlessly, and "Honky Tonk Women" displayed great interplay between Keith Richars and Charlie Watts. I didn't enjoy as much Chuck Leavell's keyboard solo, but that's a minor issue.

The most compelling and exciting part of the show started right after the band's introductions, when Keith Richards took the microphone for his two - songs set.

Firstly, he "broke the ice" with the "thank you very Dutch!" line, which he allegedly couldn't resist telling out.

After the cabaret, he played "Happy" (which worked very well) and one of the most intense, unforgettable and heartfelt renditions of "Slipping Away", which was so powerful that it literally moved me to tears.

While Keith was playing this masterpiece, a lot of people in my seating section went to buy beer and started chatting about their own stuff, not paying any attention to what was happening on stage. Well, to be honest I felt really sorry for these people.

A lot has been said about Keith Richards leaving a kind of a testament with "Slipping Away"; I personally wouldn't go that far, but it can't be denied that in this tour there's something special about the way Keith sings and plays this particular song.

When Mick Jagger came back on stage, it was time for another victory lap of warhorses. "Miss You" and "Midnight Rambler" set the mood for what was about to come afterwards. While the former, as always, got the crowd going and gave to Keith Richards and Ronnie Wood an opportunity for their fair share of posing (they didn't play a lot in this number, and at a certain point Keith Richards even sat on Charlie Watts' drum pedestal while Jagger was working the crowd), the latter was played in a slower fashion but kept that dark bluesy feel and featured a very nice interplay of the rhythm section during the intro part.

"Street Fighting Man", on the other hand, was scarily brutal, and of course I mean in it a good way. We all know that here we're talking about one of the greatest rock songs of all time, but in this tour the Rolling Stones really turned it into a monster. Gig after gig, they are playing that number with a drive and an energy that simply cannot be matched by any other act in the world. In Amsterdam it was unbelievable, something out of this world, I dare to say.

"Start Me Up" as well got a refreshment treatment in this tour, and Amsterdam's version was nothing short of excellent.

Then it was "Brown Sugar" time: Keith Richards almost got the riff wrong, but once again that was an ordinary misstep which no one really cared about, and rightfully so. The song was energetic and a little sped up in comparison with the Lucca and (especially) Hamburg gigs. When Karl Denson took his solo, Keith Richards and Ronnie Wood both approached him the way Keith Richards used to do with Bobby Keys. Of course that was a complete different story, but it was nice to see such encouragement to him from Keith's and Ronnie's part.

When the song was over, Mick Jagger (who is also getting better and better and was in splendid form in Amsterdam) asked the crowd if they were ready for a little bit more. What a question! After we signalled that we were indeed more than ready for more, "Jumping Jack Flash" blasted out of Keith Richards' guitar. And what a great version it was! That was almost unreal. It was The Rolling Stones pushing full cylinders, giving it all and playing rock'n roll like no other will ever be able to do. I should well be used to it, but that was just incredible.

As for the encores, both Mick Jagger and Sasha Allen did a great job in "Gimme Shelter", and the two guitar attack in the final part (which is my favourite part of this incredible song) worked perfectly.

However, as "(I Can't Get No) Satisfaction" started, I couldn't really fully enjoy it, because I knew that after that song the show would be over, and I just didn't want it to stop. By the way, there were no flaws in this version, the whole crowd was rocking out and, just like me, everyone in the house really would have liked the gig to go on even afterwards (which we all knew was not going to happen).

Both atmosphere-wise and performancewise, I rate this gig as the best one I've seen on this tour so far (unfortunately I will be able to attend only one more show), and easily as one of the best ones out of the 25 Rolling Stones concert I've attended so far.

You really can't write this guys off: they still have it and they're showing it as the tour is progressing: if they keep getting this better concert after concert, the Paris gig is going to be something crazy!
---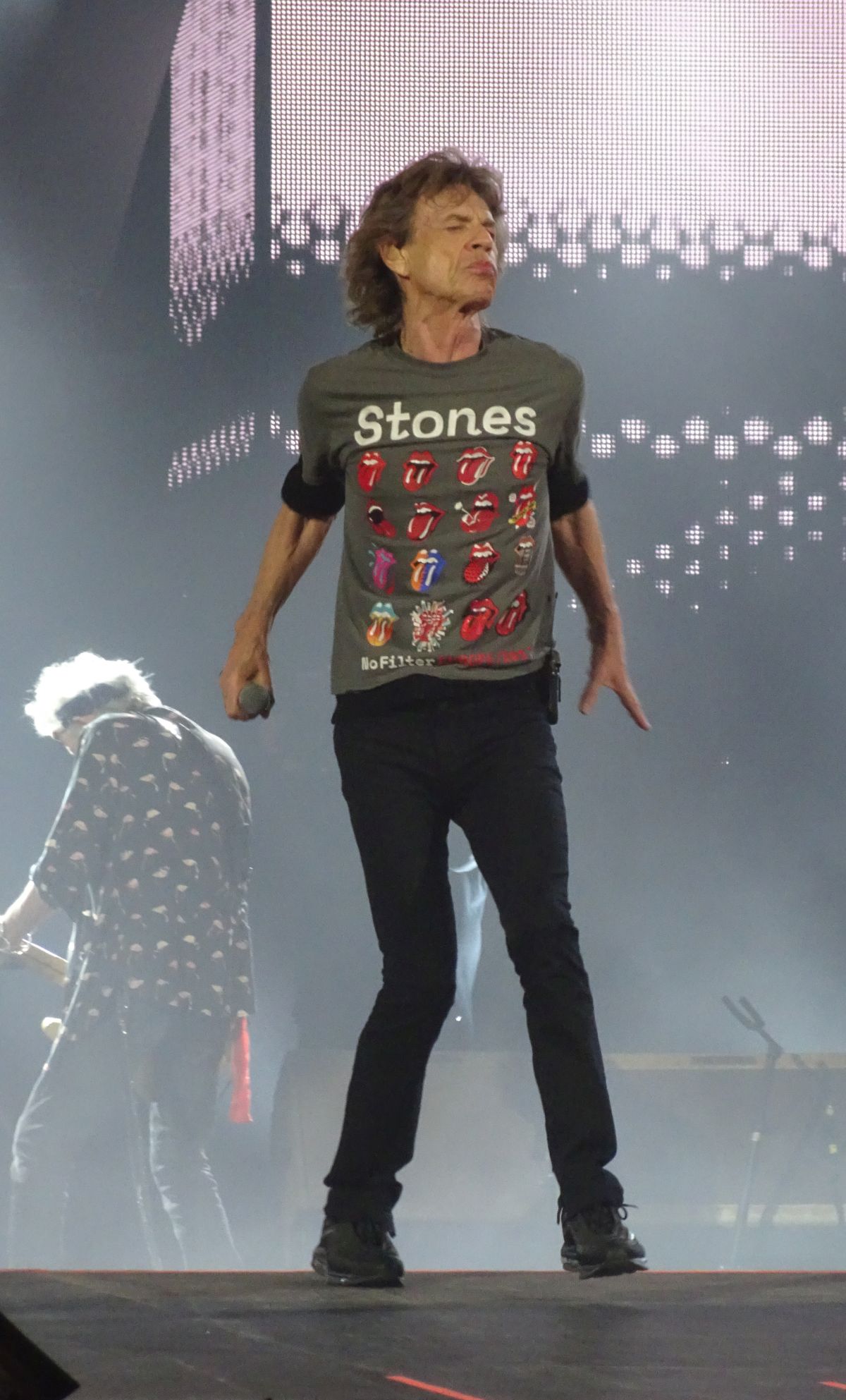 Photo by Roderick Keur
---
Review by Rob Mueters
I don't know how often I've seen The Rolling Stones playing live but this was by far the coolest experience.

It's not just the concert that gives you a boost but everything around it does give it too. The way to the stadium, we had a 2 hour ride by train, the people you see all dressed up with Stones collectibles, the many languages you hear at the stadium, the official merchandise stores, all these facts make it also a day which you 'll never forget.

The support act for tonight is a band called "De Staat". Nice music but can't really make the Stones fans warm.

After the support act it's just about half an hour when the tones of Sympathy for the devil reach the speakers. Mick shows first and sings the first lines. Then the rest shows up. Really great opening. A Rock and Roll evening has just started.

The setlist is well chosen. Great songs with one of my favourites "Shine alight" as the voted song. One great big happening from the beginning to the fireworks. Mick, Keith, Ronnie and Charlie made the audience crazy. They really still do after all those years.

With wet eyes from exitement we realize that this was another milestone in our live. Thank you Rolling Stones for a great night. I really hope this wasn't the last time.

On the next day we went for a high tea to the Amstel hotel in Amsterdam. We knew Mick was staying there but we thought that he already checked out. When we were done eating we went outside. There was a crowd of people waiting outside the hotel. After a minute we were also witness of Mick leaving the hotel Thrilling!!
---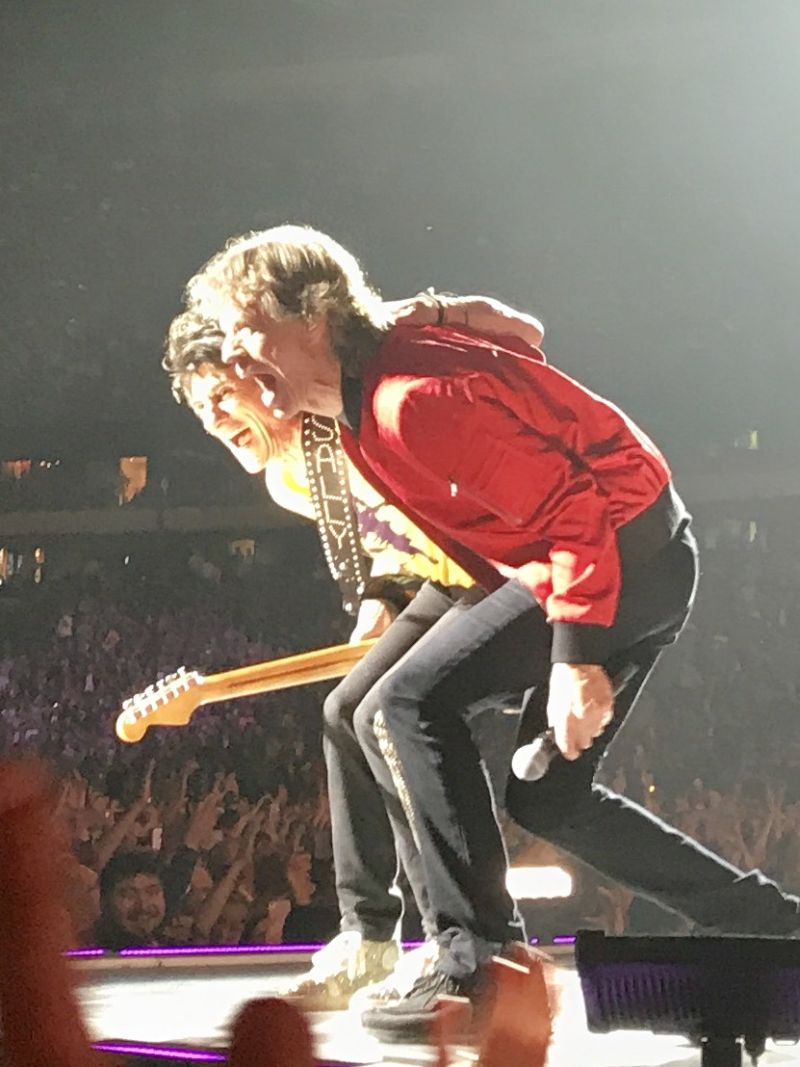 Photo by Marco Peper
---
Review by Miguel Kaskatanas, Spain
Well, this has been my show number 36, so I think it's time to do my first report, right?

It's my 4th gig on the tour, in Hamburg with my wife, Lucca with her, my little children and with some friends, Barcelona a lot of friends fans, and Amsterdam with a couple of friends, every show is different, and what I feel in each concert too.

The Arena is packed, my ticket is in the tier (it's all I could get), but the vision is perfect, it's so different to see it from here.

Start the show, darkness, lights of phones "uhhhh, uhhhh" who says that Sympathy is not a good start? "Please allow me, introduce myself ....", can you have more class?, first moment to know how the concert will be, the solo guitar in Sympathy .... ohhhhh, Keith is here tonight, fantastic!!!

It's only rock and roll, Tumbling Dice, just make me confirm that we are going to have a great show tonight, also "the couple of songs" from Blue and Lonesome that work so well in live

First surprise of the night, You Got Me Rocking, I've seen it too many times, I'd prefer another, but, what's happening tonight? They don´t play it with the autopilot, play it with the heart, what a song!!!, Keith, Ronnie, Ronnie, Keith, the best version I've seen in years.

Voting, I feared Out of Control, but I do not think they will play it after Rocking, yeahhhhhhh, Shine A Light, what a precious thing, I want to cry, moving!!!!

Honky Tonk Women is another proof that this concert is special, that the guys are very, very fit, also Paint It Black, what they play so nice in this tour.

On the set of Keith, the usual, Happy, so well started, perfectly .... but, what happens at the end? Keith on the catwalk play, and play, don´t wish end the song., enjoys as a child!!!

Slipping Away is the song that usually I liked least of the set of Keith, but in this tour they are playing it sooooooooo nice.

Miss You, and then for me, the 2 moments of the night, Midnight Rambler and Street Fighting Man, I do not know how to explain it, I do not know how to play the guitar, I do not even know about music, only I know when I like something or not , but Keith and Ronnie again, like in the old days, doing those guitar solos, those games, playing the songs that way they never sound the same and they're always unique ..... I guess you understand what I want say.

Start Me Up amazing, and in Brown Sugar, Keith does a great job, Jumping Jack Flash played to perfection-

Gimme Shelter, was the worst of the night, both Keith 's intro, and the moment Mick - Sasha, I still do not know if they were joking or did not understand each other that night.

And Satisfaction, eternal, rocker, powerfull, with the Arena coming down, What`s can I say? It's my last show, what I spent on taking my kids to Lucca make me to not go to more, but it's probably one of the 5 best concerts I've ever seen.

I want to go to final show in Paris, but I do not know if I can, being realistic, I will not ..... but I can not leave it here, after this concert, they are so fit, they sound so good, Charly, Mick, Keith .... RONNIE, They are incredible. Love you boys!!

Well what can a poor boy do?
---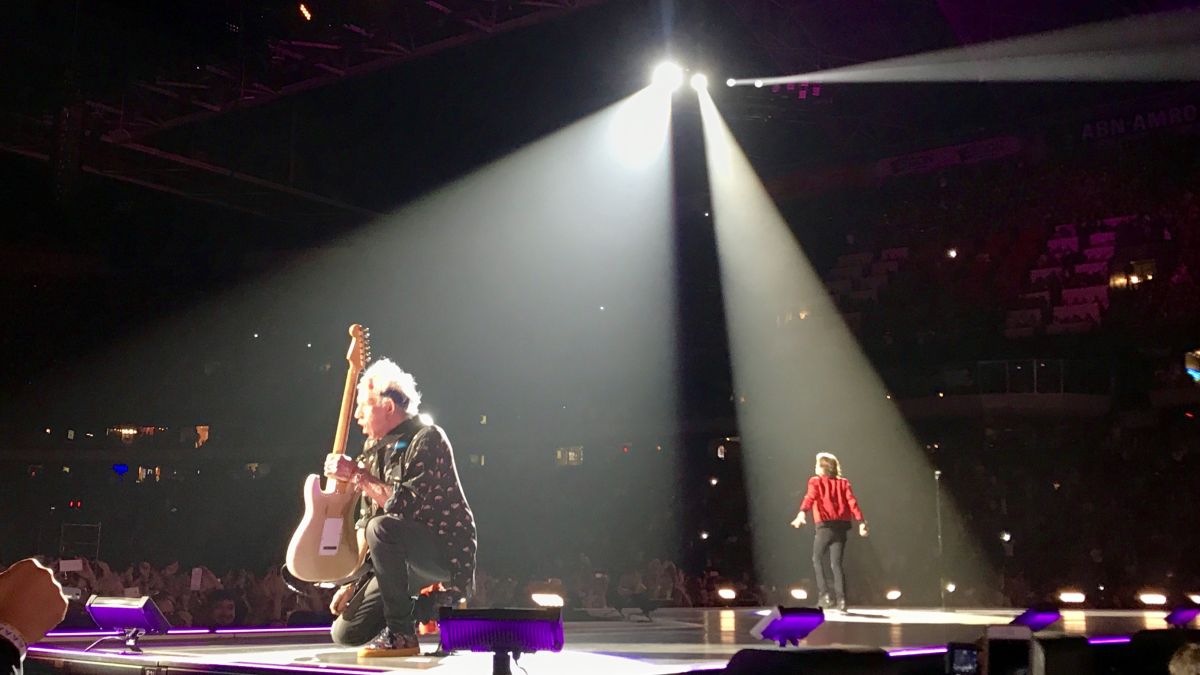 Photo by Marco Peper
---
Review by Jay Rusniak
I flew to Amsterdam with a Premium Standing ticket and expected to wait a long time in order to get a good spot. Lucky for me, I was seated on the plane next to a lovely lady who had an extra Jumpin' Jack Flash package ticket, so I was allowed early entry and didn't have to wait nearly as long as I thought I would. This was my very first Stones show, so I wanted it to be good.

I met some Dutch and German people while waiting and had a good time in line. We ended up being the first people walked out onto the field, which was a weird experience. I guess they're trying to avoid anyone being trampled. I made a mad dash for Keith's side of the stage. We sat down in our spots and waited for three hours for the tattered old boys to conquer the crowd, yet again.

The opening act was god-awful. Need I say more? I think everyone would agree

Sympathy is a really effective opening song. Keith's first chord's are SO loud and when he hits them the lights all go bright; it's a really cool moment. Only Rock and Roll and Tumblin' Dice were done well. The two blues songs were especially good. I would say Paint it Black was forgettable. I don't really care for the way that song comes across live.

Honky Tonk Women was interesting. I guess Keith's guitar just completely stopped working at one point. He left the stage after yelling in Charlie/Ronnie's direction and was absent for a good 30 seconds. I remember seeing Mick look back from the catwalk wondering what was going on with the music. I actually didn't notice the song suffer much.

Another interesting moment came when Keith had his back toward my direction and I saw Mick give him a really goofy look right in front of Ronnie. Ronnie started cracking up. It looked like the boys were having some fun.

Next, the intros and Keith's dad jokes. "Thank you very Dutch." Happy sounded great, but Slippin' Away was exceptional. "All I want is ecstasy" gave me chills. Keith's voice was great.

Miss You gave Keith a little break I guess, but he came back mid-song. The second half of the concert is incredible. Hit after hit. Brown Sugar and Midnight Rambler were the highlights for me. BS sounded fast and everyone was dancing. The encore came and Keith introduced Gimme Shelter, which was incredible to see live. Sasha's version is powerful. I wish they played Satisfaction a little faster, but it still sounded so badass.

Leaving the concert I was convinced I probably saw one of the best concerts of all time. If this wasn't an amazing concert, what is? It was an incredible sight seeing Keith dance with his guitar and express the chords he was playing with his face. Talk about a legend. He was so good in Brown Sugar, it's something I'll never forget.
---
This page will change over the next few days, as you and other fans send reviews, set lists and reports. Please send your e-mail to IORR. Thanks! For details and great photos from the Rolling Stones and their World Tour get the IORR magazines.