---
These are the latest Rolling Stones news and updates for you! IORR is a non profit fan club run by fans for fans. All parts of the It's Only Rock'n Roll web site is copyright of The Rolling Stones Fan Club. When using information from this site, please include a reference to IORR and the main web address www.iorr.org.
---
---
The Rolling Stones
Indianapolis Motor Speedway
Indianapolis, IN, USA
Saturday July 4, 2015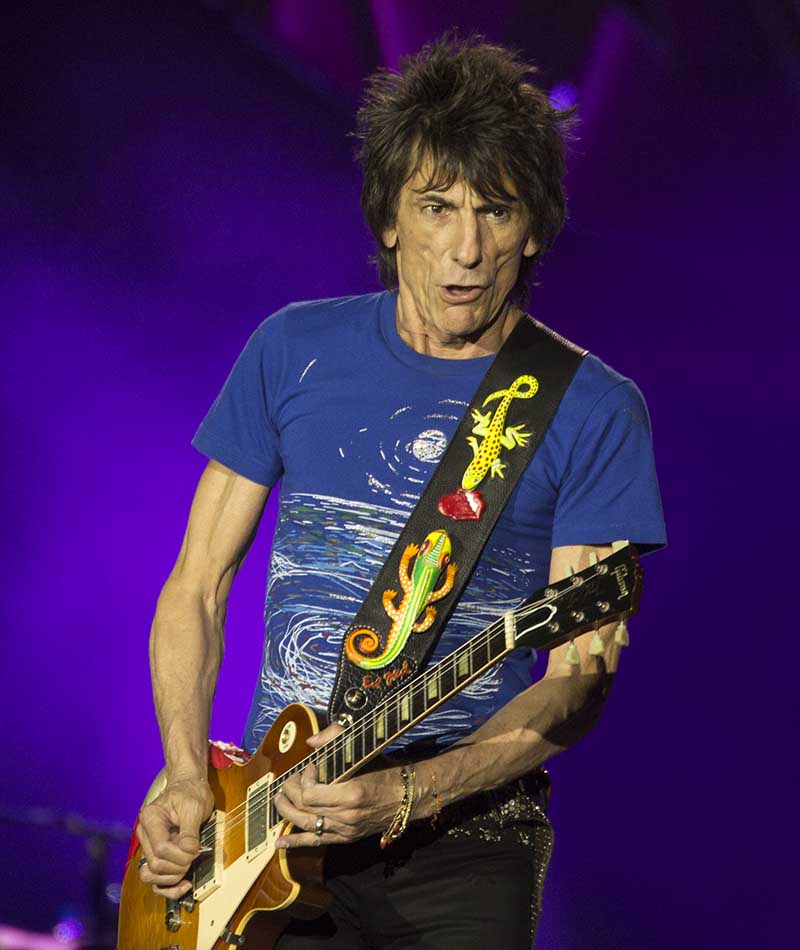 Ronnie Wood at Indianapolis Motor Speedway - Photo by Jim Pietryga
---
The set list
Jumping Jack Flash
It's Only Rock'n Roll
Let's Spend The Night Together
Tumbling Dice
Out Of Control
Let It Bleed (by request)
Wild Horses
Bitch
Honky Tonk Women
--- Band introductions
Before They Make Me Run (Keith)
Happy (Keith)
Midnight Rambler
Miss You
Gimme Shelter
Start Me Up
Sympathy For The Devil
Brown Sugar
--- Band off stage
You Can't Always Get What You Want (with choir)
Satisfaction
---
Show start :  9:27pm
Show end   : 11:38pm

Fireworks start :  9:38pm
Fireworks end   : 11:57pm

---
---
Review by Dean Goodman
Opportunity lost. What could have been a pretty cool festival with some great rock 'n' roll bands on the bill at a unique venue ended up being a ho-hum Stones show with a useless opening act before a sedate crowd at what Keith likes to call "just another shed."

Even the post-encore fireworks got a bit boring after 10 minutes.

While I love this sort of GA experience in Europe or South America, it really doesn't work in the USA, where Stones fans are older, grumpier, fatter, more disabled and sensitive: "Hey! Don't step on my blanket!" One elderly Stones first-timer behind me complained, before the Stones hit the stage: "I thought this would be a Stones, '70s peace-and-love concert, and I'm really disappointed."

Anyway, I was rather pleased with myself because I beat the heinous traffic by taking my AirBnB host's bike for 30 minutes each way along 16th Street. And I got to park for free with the cool motorcycle dudes. Logistics at the venue were very easy. Everything was well signposted, and the genial security guards didn't notice that my VIP pass was from another show.

Yes, it's cool - on paper - that the Stones played the International Motor Speedway. But once you are on site, you don't get to grasp the immensity of the place because you are in a small part of it, and staring at the stage. If you look around, you don't see much. It was a similar experience at Louisville and on the Copacabana.

I missed the first opening act, alas. But I made an effort to see Rascal Flatts. I had no idea that they had covered Canadian rocker Tom Cochrane's most excellent "Life is a Highway." Now, can I possibly try to erase this nugget? Yes, they are just as bad as you'd expect. Three dudes who spend too much time at the hairdresser, then go home to jerk off in a mirror, the main one stuffing his mouth with donuts at the same time. Let us never speak of them again.

The Stones came on with an unusual hiccup. The announcer said, "Ladies and gentlemen," but there was an awkward silence as they gathered on the stage and waited a few long seconds for the rest of the introduction.

I didn't get the feeling that the crowd - at least in the Gold section - was hugely motivated. I'm sure others will, quite rightly, have different opinions. The sound may have been an issue for those further back. Charlie's drums echoed around the venue from time to time.

Mick's joke-writer gave him a couple of one-liners, including one about Tom Brady and "deflategate," which I can't be bothered trying to explain. Much better was Mick's observation that the Stones-branded race car did 200 laps. "I know how it feels," he said.

More interesting was what Mick did NOT say. He usually notes the first time that the Stones played in the city and thanks the fans for sticking around. Not this time in what was an implicit nod to to the Stones' relatively poor track record in Indianapolis.

"Let it Bleed" was the night's curiosity, the best choice in a very weak ballot. But that didn't stop a slob of a woman near me yelling for one of the other contenders, "Dead Flowers," for the rest of the concert.

Keith was a bundle of energy, coming all the way out to the tip of the b-stage at the end of "Happy," and then running back to the main stage. However the song got off to a rough start as he appeared to want to play "Before They Make Me Run Again." Others may have a better analysis of his latest senior moment.

Mick also loved the catwalk, at one stage during "Honky Tonk Women" stopping to point at a supermodel-esque schoolgirl just in front of me - although an annoying elderly woman was convinced she was the object of his interest. Dream on. He also did the selfie thing with a cellphone that will probably never be reunited with its owner.

I tried to look away as Lisa Fischer hit the catwalk to do her thing on "Gimme Shelter." There are a lot of gullible folks out there lapping up her wailing. Maybe they can each send me $1,000 and become first-round investors in my new fly-by-night investment company, Madoff Redux.

We got an extra 90 seconds of "Midnight Rambler" (clocking in at 13 mins), thanks in part to Mick singing a few lines of Robert Johnson's "Come On In My Kitchen." He also added some Otis lyrics to "Satisfaction."

"Bitch" - this has been done 3 times in a row. There are other songs on that record, Mick.

Will we ever learn why Mick handed Ronnie a bottle of milk during the intros? [Addendum: I have been apprised of the history of this custom. No more nasty messages please, or I shall ask you questions about the Ashes.]

So the show that a lot of nervous people avoided because of crowd-control fears went off without a hitch, and now we have the more-manageable stadiums to round out the U.S. leg. I'm glad I made it here if only because Indiana now becomes the 32nd state in which I have seen the Stones. And that will probably be it.
---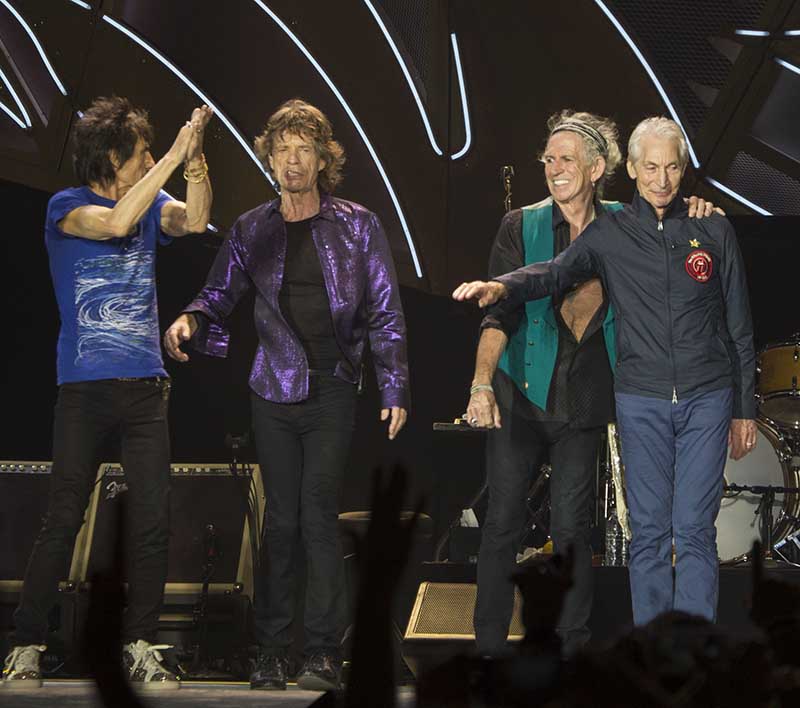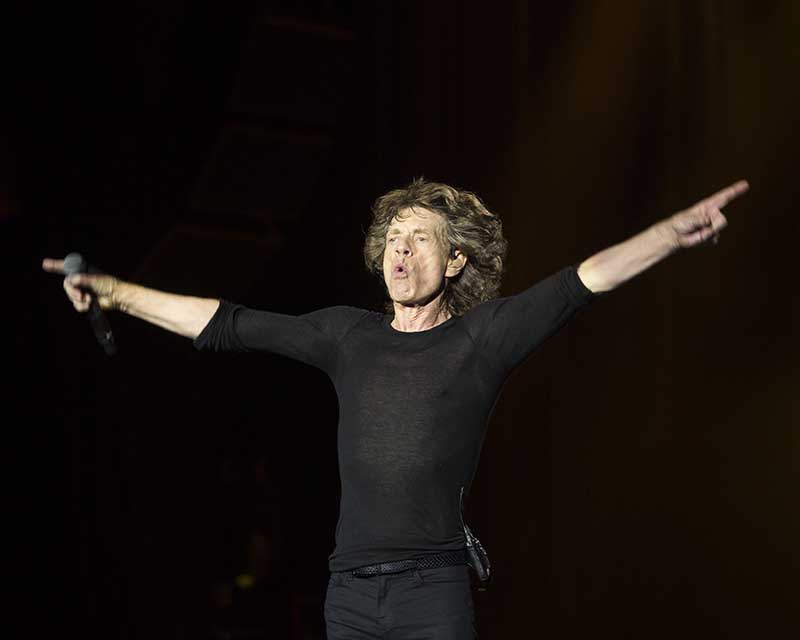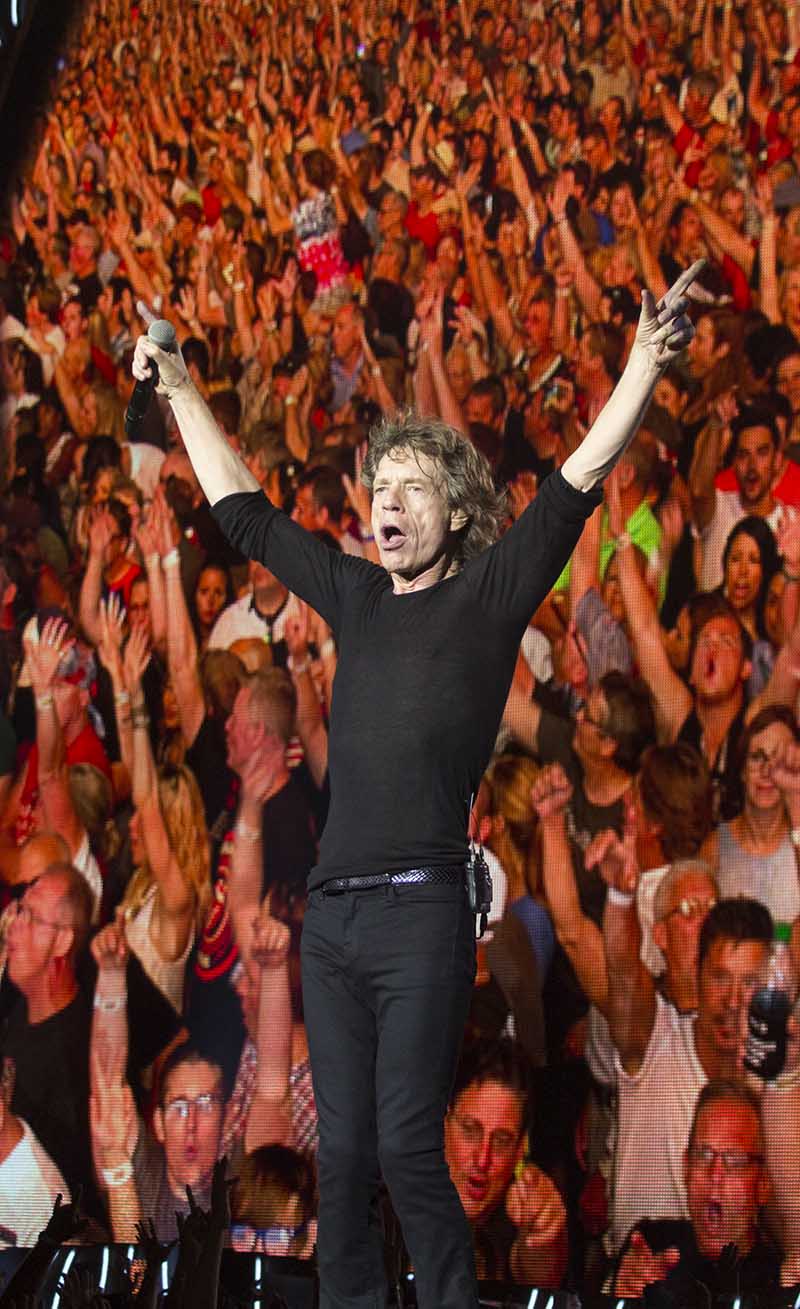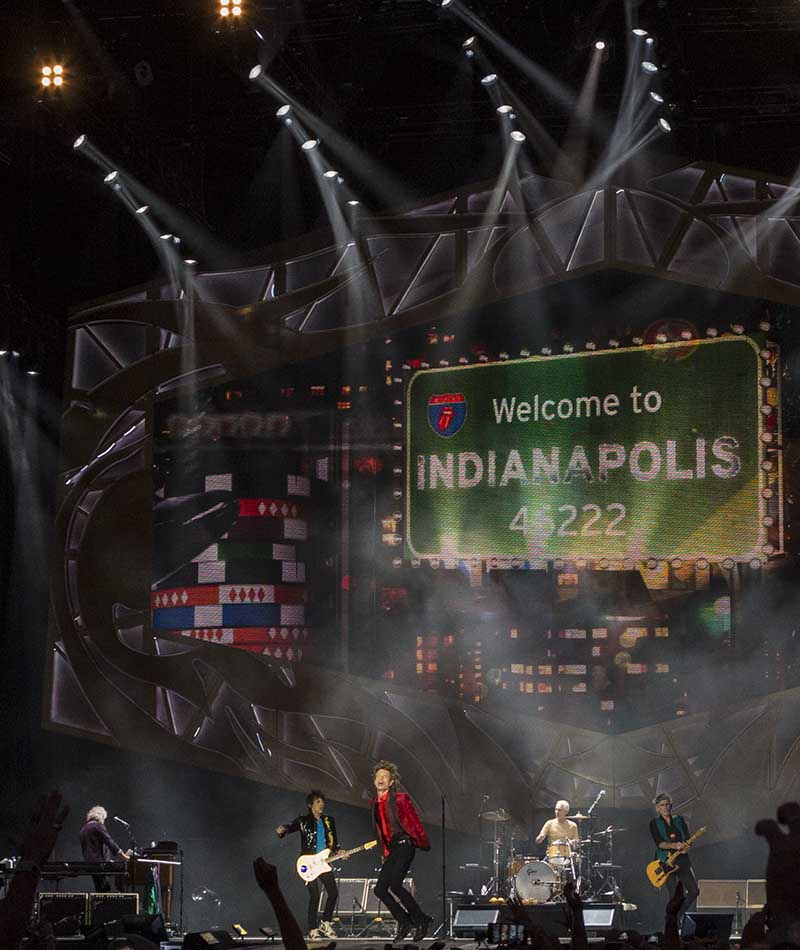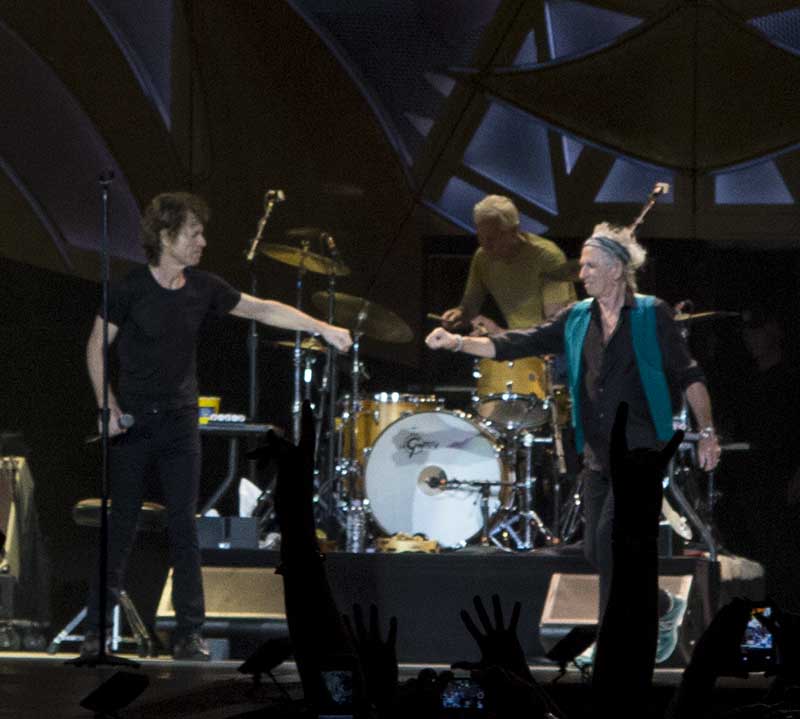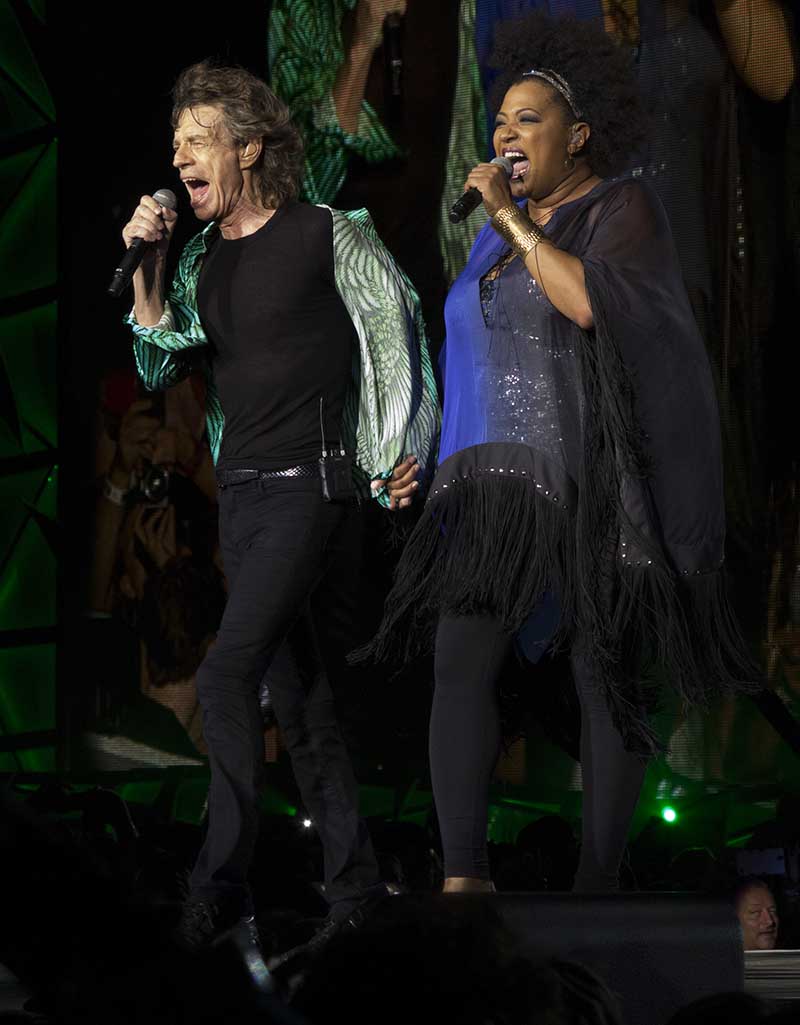 Photos by Jim Pietryga
---
Review by Bjornulf Vik
This was the largest crowd of the tour. I would guess around one hundred thousand people. It had the festival feel because it was open admission, it was warm and nice weather, and it was an endless field by the racetrack. I was so lucky I was driving with good friend Jim into a VIP parking inside the site of the show. This is the first time I have done a concert drive-in, they actually scanned my ticket as I handed it out of the side window of the car. Once inside there were tailgate party and barbecue and all sorts of American style pre-show party.

The girls and guys were more than usual dressed in red, blue and white colors. Some had stars and stripes on their dressing, I loved the girls with bras in stars and stripes, one part with stars, the other with stripes. Also some funny looking male concert goers in hats and other stuff. After all this was 4th of July week-end.

Blankets were out all over. Some were probably from the old golden ages when open admission shows were more common in USA, others were brand new Zip Code blankets. They stayed on the ground throught the show, with bags and all sorts of other stuff you stumbled across in the dark during the show. A couple in front of me wanted a great view and moved back two feet to make space for a better view. They did the first time experience that the gap they made was filled up by several new fans within a minute. An open admission show is conflicting with the basics of privacy distance. You are supposed to be glued to the person in front of you, so that nobody is filling in that gap, and it helps to be tall.

Set list wise the show was almost identical to the Raleigh show. They did "Let It Bleed" and "Wild Horses". Great to see they kept "Out Of Control" in the set. It is much better than the standard "Doom And Gloom", challenging both the band and the crowd with it's complexity performance wise as well as musically.

During the introductions Mick handed Ronnie a large old fashioned bottle of milk. Ronnie drank it as a nod to the long standing tradition that the winning driver of the Indianapolis 500 motor race. The winning driver immediately drinks from a glass bottle of milk after he wins the race & is presented with the trophy. Then Ronnie was not sure where to place the bottle, he took it backstage.

The fireworks started as soon as the show was over, and they lasted for twenty minutes, until midnight. By then I am sure the band was back into their downtown hotel, where Mick could do a selfie of himself with the picture of him placed on the wall behind the concierge. More about that in my tour blog...

Thanks to Jim and Charles for details about Indy traditions. I will not try to explain all the comments Mick made; if you are from Indianapolis and you are into sports they all makes sense.

The VIP parking was just expensive parking "on site". We walked a long way like all the others. It took one and a half hours to exit the site. Another great show, a different one, the sound was crystal clear as I moved around from the front, to the side, and to the mixer. Back at my hotel there were comments like "the best concert I have ever attended". The Rolling Stones should be proud of their Indy visit.
---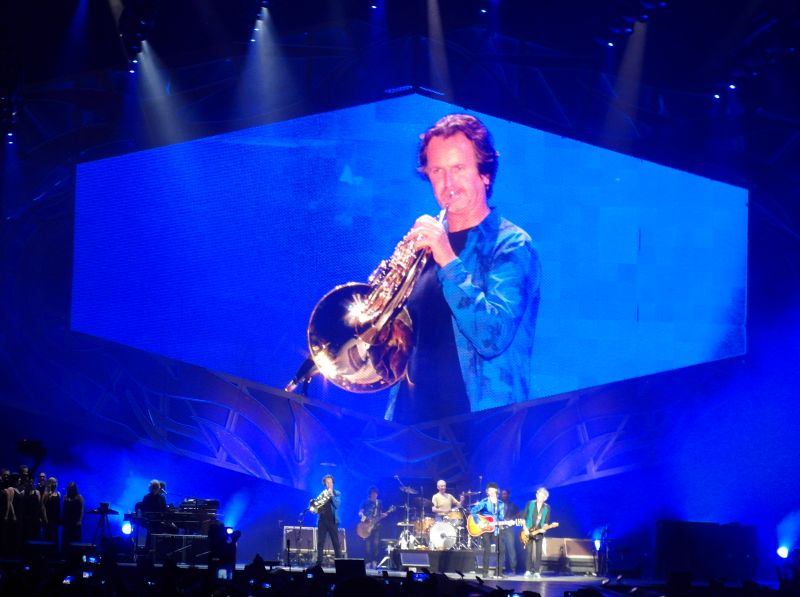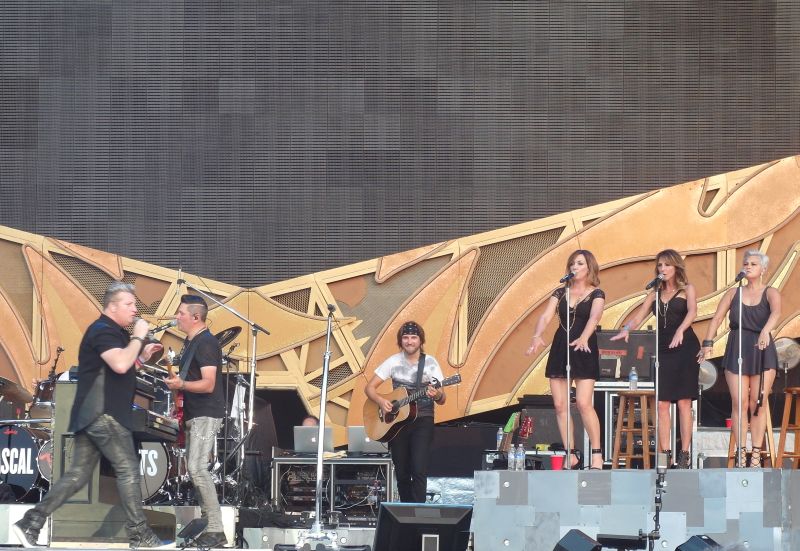 Photos by Bjornulf Vik
---
Review by Robert Bagel
The most special thing about this show for me was the venue of the Indianapolis Motor Speedway. I have attended the famed Indianapolis 500 every year for all but nineteen years of my life, so to see the Rolling Stones here was like a crazy dream come true. The Stones did a nice job recognizing the tradition of where they were, along with putting on an intense show with enough surprises and variety that made one forget where they are, other than at a show seeing the world's greatest rock'n'roll band.

The highlight of the night was Out of Control, and I am so happy they are not afraid to play a relatively recent (1997) treasure like this. With great harmonica by Mick Jagger and Keith firing off huge, sinister sounding chords, seeing this kind of interplay between these two geniuses was astounding. It made me realize that an entirely likely reason the Zip Code tour is so powerful is that Mick and Keith actually seem to be getting along now, enjoying each other's artistic presence, sharing laughs on stage, and working together instead of in spite of each other. For anyone used to prior tours when it seemed more like a competition than a collaboration, or anyone who can recall the forced, awkward moment when they shared a mic during Far Away Eyes for the Scorsese movie, the togetherness now is not only pleasant to see in human terms, but it is making the quality of the music so much better.

Let's Spend the Night Together, Let it Bleed (the supposed fan choice), and Wild Horses were great choices to make the hot Fourth of July holiday setlist unique and memorable. The dreamy rhythm of Let it Bleed fit nicely into the central Indiana night; to listen, then turn around and see the Speedway's pagoda building (familiar from race events) bathed in purplish blue light, the silhouettes of people enjoying the show from a quarter mile away was surreal and wonderful. It was also nice not to have Doom and Gloom in the setlist tonight, though relatively new songs are not to be discouraged!

The Stones weaved the Indianapolis Motor Speedway history into the show on several occasions. The pre-show hype included the main electronic scoring pylon that usually shows race position instead declaring in maximum font, START ME UP. Mick also acknowledged that there was a Rolling Stones car in this year's 500 mile race, as a picture of the checkered flag-tongued, 225 mph ride of driver Justin Wilson was shown on the large video screen behind the stage. During band introductions, Mick gave Ronnie a glass bottle filled with milk, which Wood triumphantly raised and then drank from, imitating the tradition where the winning driver of the 500 drinks milk from a retro looking bottle. The most subtle and endearing nod to the Speedway came from Charlie, who wore a yellow t-shirt for the show. This was a reminder of the army of elderly, part time workers affectionately know as "yellow shirts" who firmly yet kindly keep the race day crowd of 300,000 under control. While the age was right, the job this yellow shirt did tonight laying down crisp and precise rhythms was a great contribution to Speedway history and lore.

The most unusual and intriguing part of the evening was during the slow part of Midnight Rambler (which was deliciously drawn out tonight), when Mick gently sang the lyrics, "Come on in my kitchen, it's goin' to be rainin' outdoors" against the backdrop of the slow cranking suspense created by the guitars of Keith and Ron. I had never seen Mick add lyrics from another song to a Stones original, so this was a first as he borrowed from the Robert Johnson classic blues recording.

The show was followed by lengthy Fourth of July fireworks display, which was a brilliantly calming distraction for the large crowd as it shuffled out of from the stage area and onto the old F1 circuit, down the Hulman straight. Thank you Stones and Indianapolis Motor Speedway, for being great partners to make a holiday that is typically a tremendous pleasure into one that was the absolute best Fourth of July ever.
---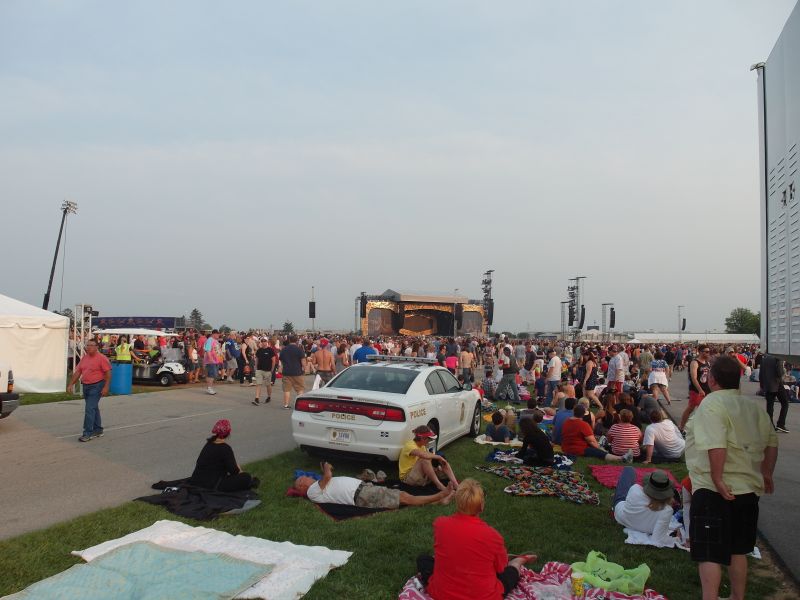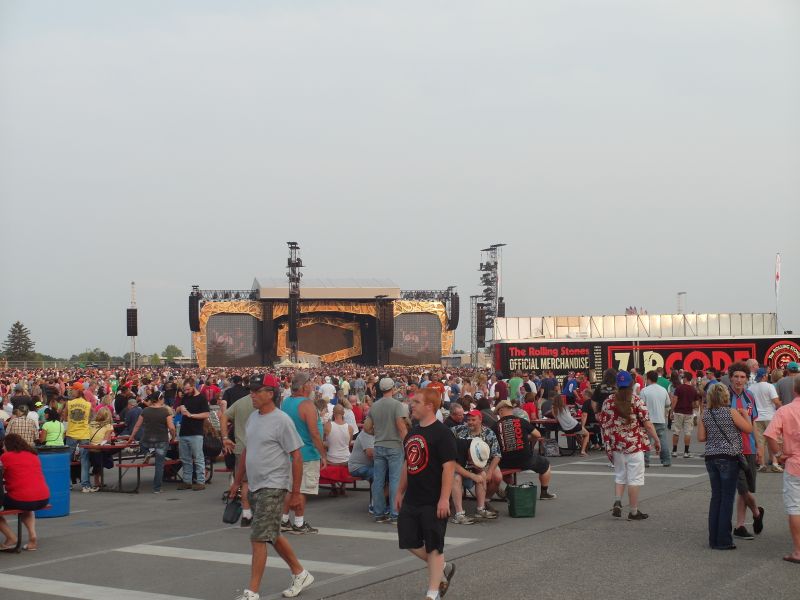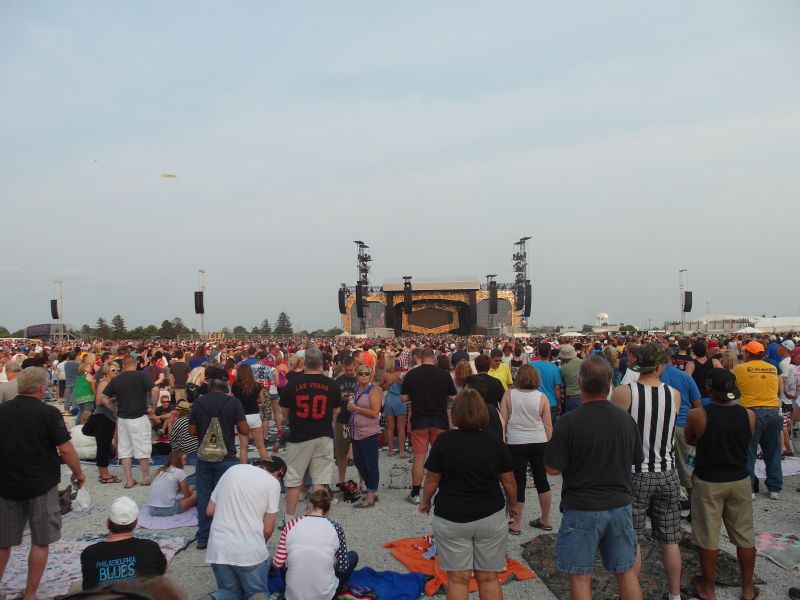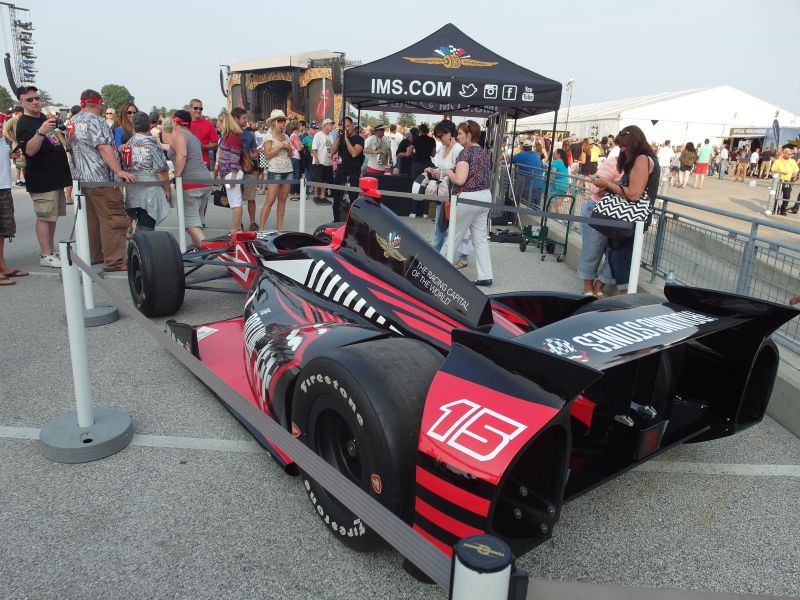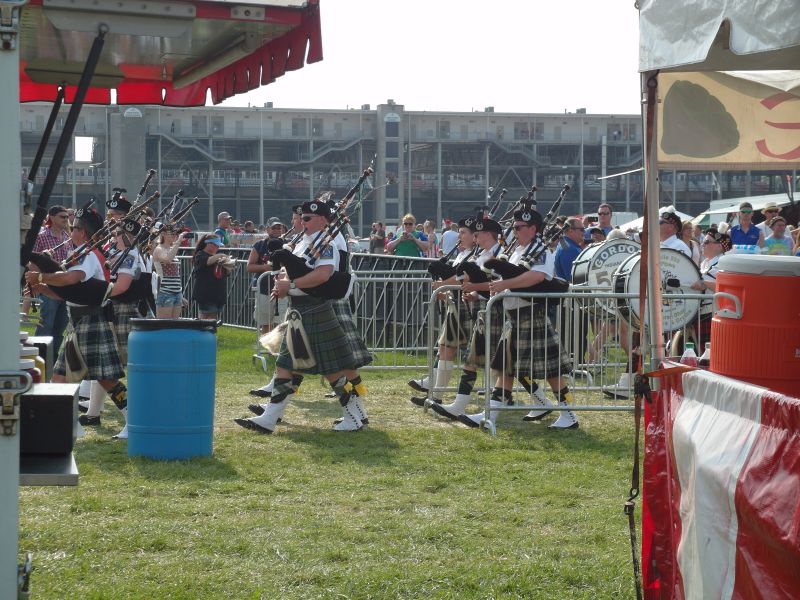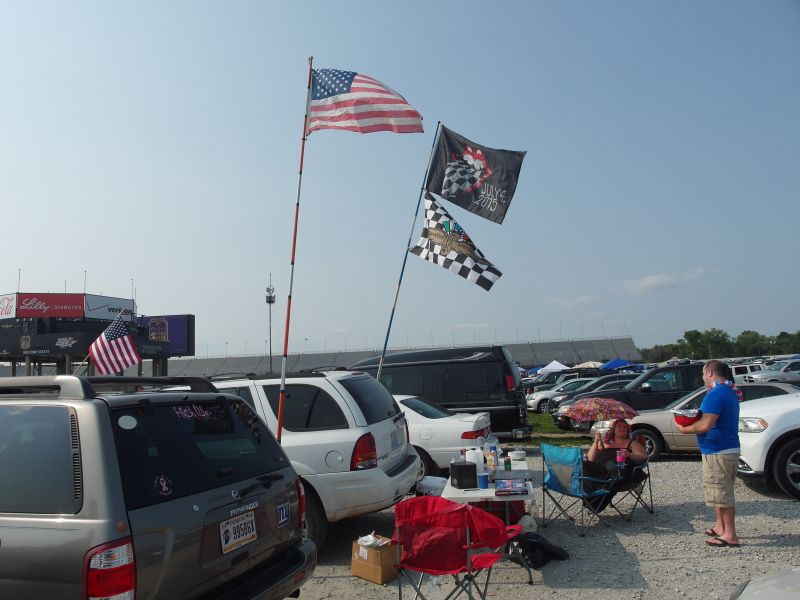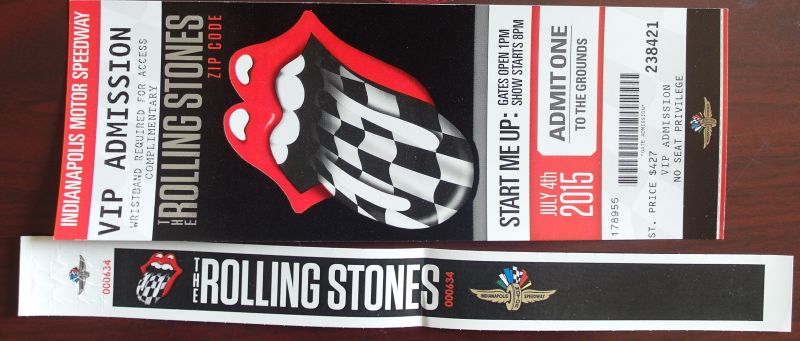 Photos by Bjornulf Vik
---
Review by Dave Kohl
It just keeps getting better. My 3rd show on this tour stretch (Columbus & Milwaukee) and this one was definitely the best. The energy and a crowd to match, along with various fireworks displays in the background and off in the distance made this still another unforgettable Stones night.

The signs were there that "The band's on stage and it's one of those nights!". The extra parts on some of the songs. Even a reprise after the end of You Can't Always Get What You Want when Keith started playing it some more and the band kicked in, as well as with Satisfaction at the very end.

As always these days, Midnight Rambler was the highlight. This one went for what seemed 15 minutes with "extra" harmonica blasts from Mick. He took over as only he can. More of those moments where you think if that was the only song they played and walked off the stage it would have been worth coming to the show.

OK, I'll admit it. Late in Rambler I rubbed at my eye to help to see. I realized that I was rubbing away a tear. A tear of joy. I'm too old to admit that, but I'm sure those who attend understand.

My next biggest highlight was the amazing version of Out Of Control. Was glad to see it at the start, but now hoping it stays right there in the set so others can take it all in for the remaining show. You would swear it has been a fixture from the way they played it, capped by an incredible harmonica spot from Mick.

Next, I must say that Keith's version of "Before They Make Me Run" was probably the best one I have ever seen. He and Ronnie were totally feeding off the huge crowd and they sent it right back to us during this one.

The Sticky Fingers set was excellent, as always, although they threw me by reversing the order and doing Wild Horses prior to Bitch. Even though I was hoping for a couple of others, when they are done this well it's fine with me.

Gimme Shelter was the best of the later portion of the show. Lisa Fischer did one of her better solo spots of late and she and Mick were sharing the vibe incredibly well during the later part.

This was perhaps the most vocal and enthusiastic Stones crowd I have been in in quite a while. They fed off the band which sent it back to us the entire evening. It was a challenge to see across the level field a lot of the time, but just being there and enjoying the superb sound (at least for us in the silver section about 10 rows back from the rail on the Keith side) was just fine.

The hassle of getting there by 4:30 and dealing with the sun and crowd became worth every minute for this show. The huge 20 minute fireworks display that started from behind the stage before the Stones took their final vow was more a reflection of a tremendous evening and experience than anything else.

So glad I'm going to Detroit for the next show!
---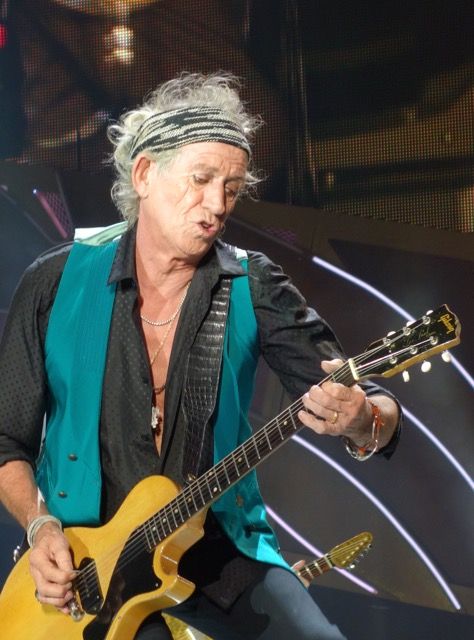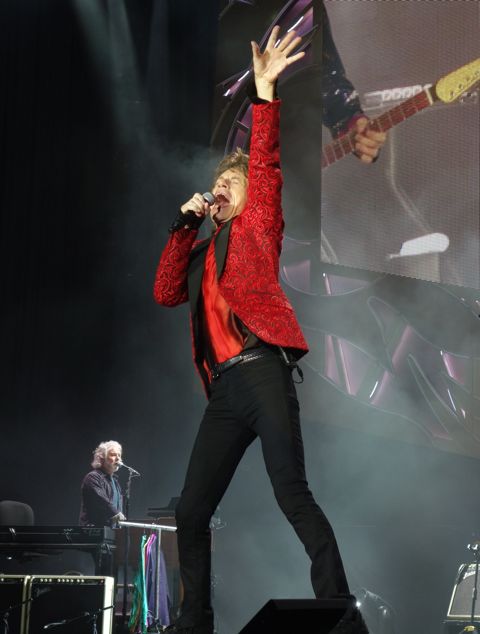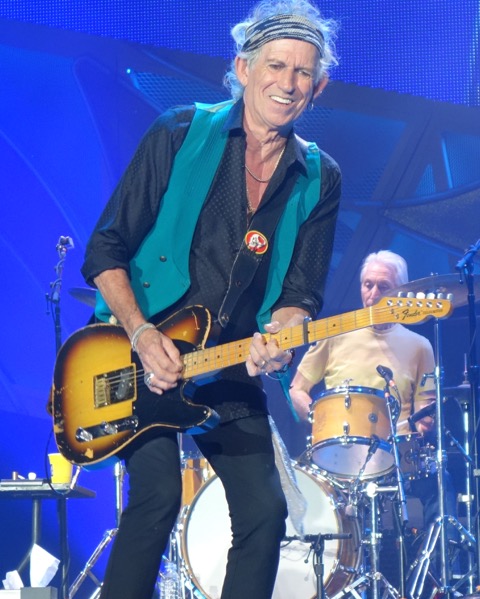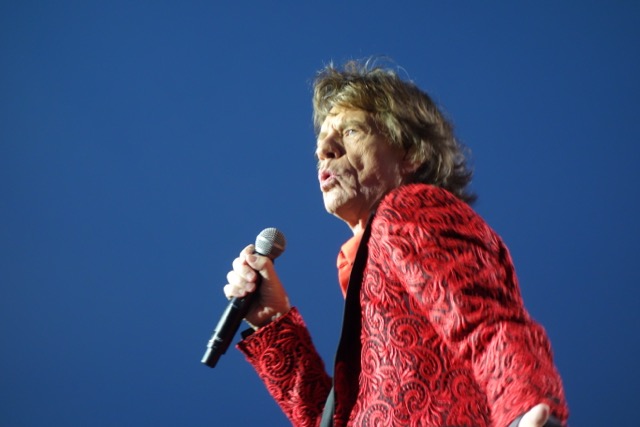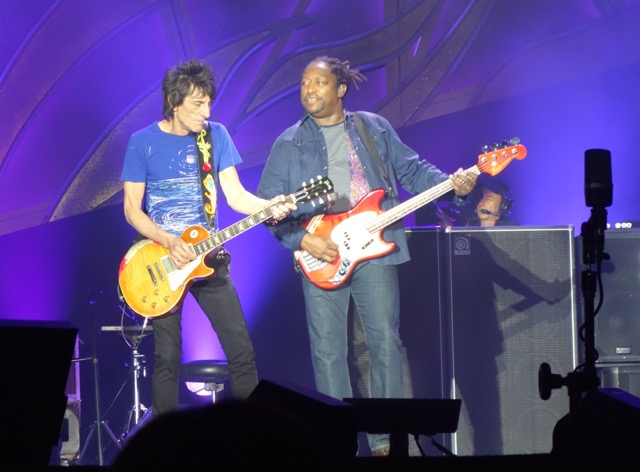 Photos by Klaus Lauterbach
---
Review by Paul Huber
I have seen the Stones about 40 times, beginning in 1965. I have seen great shows and some not so great. The one in Indy was one of the best in my opinion and I do not understand some of the grumpy reports that seem to have nothing to do with the performance itself. I know people on this site tend to exaggerate the "greatness" of each performance; I don't think I am one of them. I can say with all honesty that seldom does a show go so flawlessly - there were almost no mistakes. Other than Keith doing one solo that sounded like it belonged in another song, he was outstanding. And Ron Wood seems not just reborn, but played at a level I have never experienced before (and didn't think he was capable of).

I was at the last Indianapolis show ('94?) and the audience was terrible. I remember Mick quipping, "I guess you didn't like that one either". I believe someone in the band said they would never play Indy again. So, did they have something to prove on Saturday? If so, they rubbed Indy's face in it.

In addition to perfect renditions of every song, the sound, at least where I was standing (three quarters back in the first section near the catwalk), was excellent. Others have noted that "Out of Control" and "Midnight Rambler" were extraordinary, but I will add that "Let It Bleed" and "Wild Horses" were also flawless and seemed to have new life. I went to this show questioning whether I really wanted to go to all the trouble and expense to hear these songs yet again. But the energy in this show, the quality of the performance, made this the most satisfying show I have seen in the last decade.

BTW. No one has mentioned that Keith fell down running back to the center of the stage. Hope he is OK. (There is a fan video posted at the Indianapolis Star.) This brings up my final point. Once, when Keith went out to the far end of the stage, Mick looked over, saw where he was, and had a very apparent concerned look on his face. He moved over in that direction until he seemed satisfied that his friend was OK. Also, at the Keith's little ad-lib at the end of YCAGWYW, Mick gave him a little fist bump.
---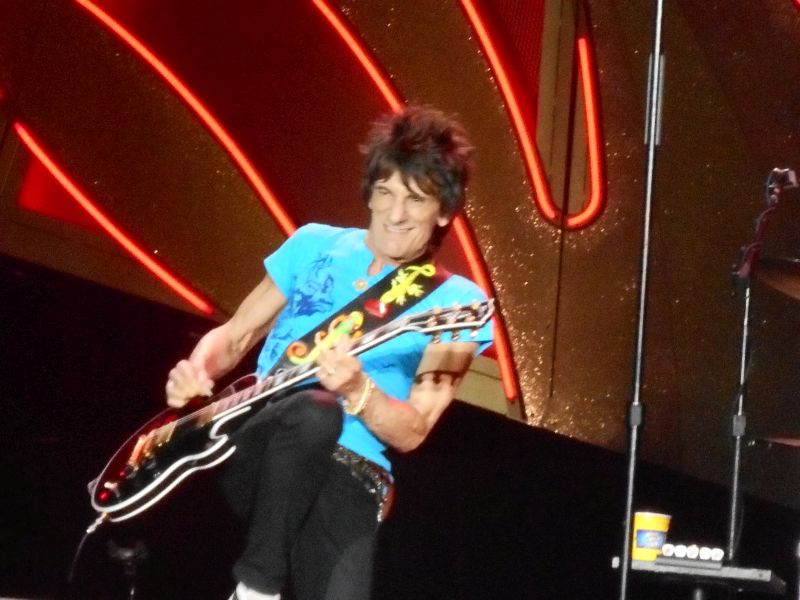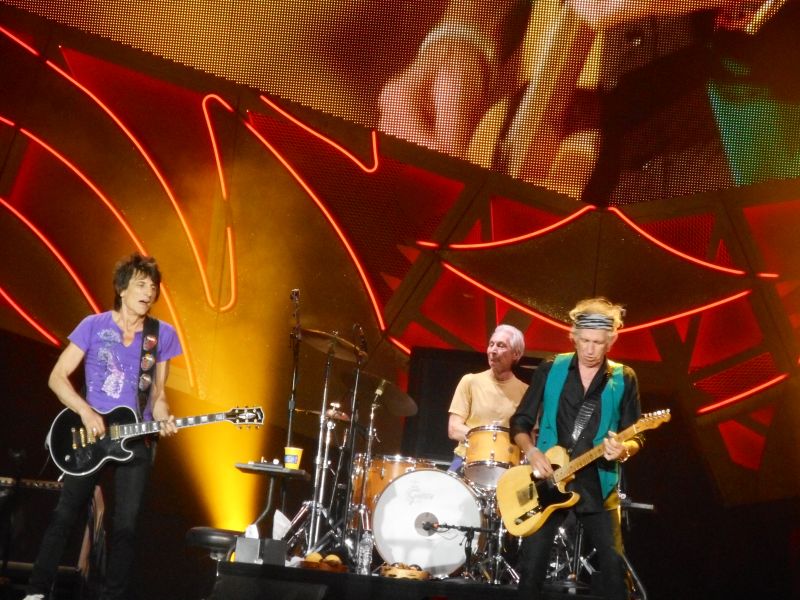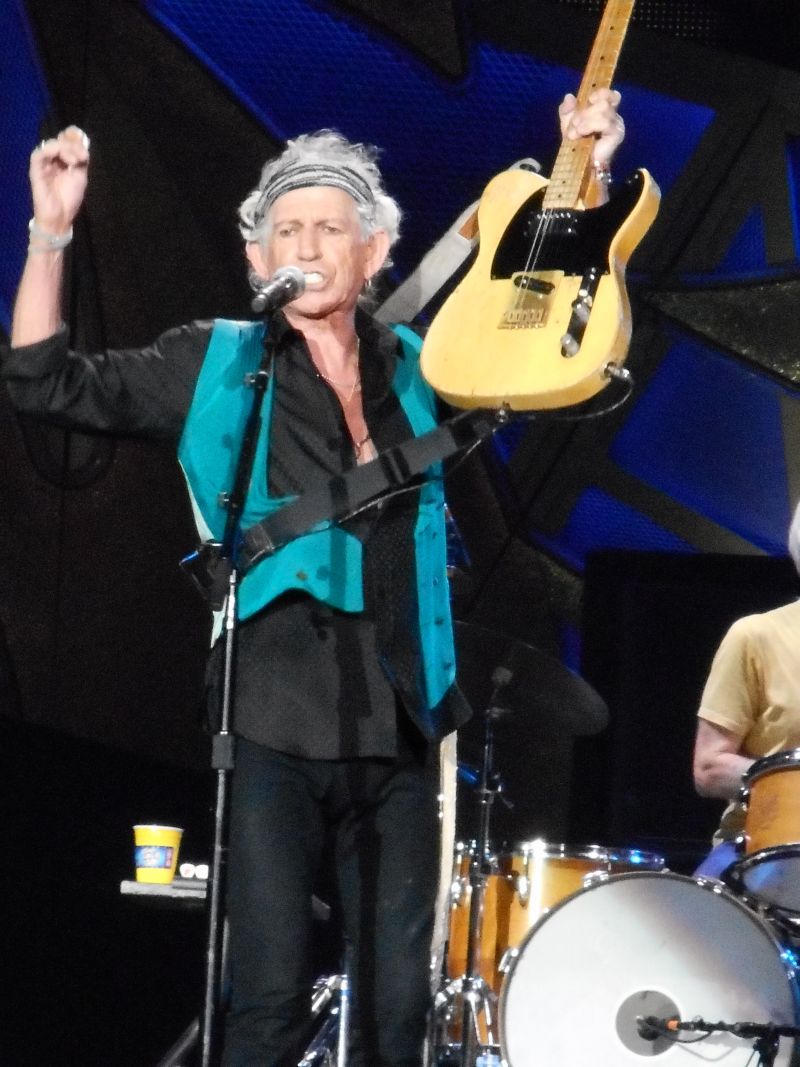 Photos by Alex Panin
---
Reports please!!!
Please send your comments, reviews, links and more to:

[email protected]
---
Links
... coming ...
---
This page will change over the next few days, as you and other fans send reviews, set lists and reports. Please send your e-mail to IORR. Thanks! For details and great photos from the Rolling Stones and their World Tour get the IORR magazines.




It's Only Rock'n Roll 1980 - 2015
© The Rolling Stones Fan Club Of Europe