---
These are the latest Rolling Stones news and updates for you! IORR is a non profit fan club run by fans for fans. All parts of the It's Only Rock'n Roll web site is copyright of The Rolling Stones Fan Club. When using information from this site, please include a reference to IORR and the main web address www.iorr.org.
---
---
The Rolling Stones
Ralph Wilson Stadium
Buffalo, NY, USA
Saturday July 11, 2015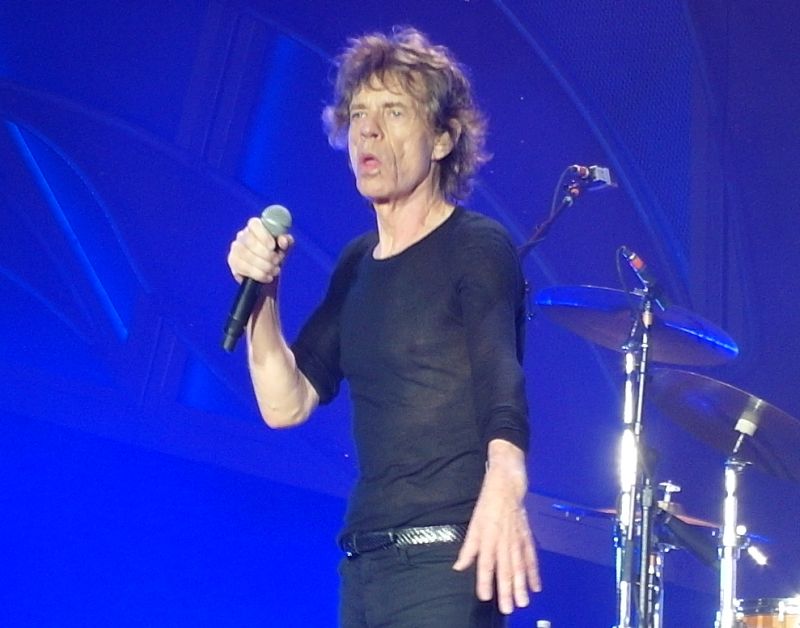 Mick Jagger live at Ralph Wilson Stadium, Buffalo - Photo by Bjornulf Vik
---
The set list
Jumping Jack Flash
It's Only Rock'n Roll
You Got Me Rocking
Tumbling Dice
Out Of Control
Wild Horses
Can't You Hear Me Knocking
Let's Spend The Night Together (by request)
Honky Tonk Women
--- Band introductions
Before They Make Me Run (Keith)
Happy (Keith)
Midnight Rambler
Miss You
Gimme Shelter
Start Me Up
Sympathy For The Devil
Brown Sugar
--- Band off stage
You Can't Always Get What You Want (with choir)
Satisfaction
---
Show start :  9:25pm
Show end   : 11:40pm

---
---
Review by Robert Bagel
The Rolling Stones did a lovely job finishing the U.S. part of Zip Code with a show that did justice to the notion that this could be their last U.S. concert for a while (that "last ever" notion is pretty damn tired, isn't it?). Ralph Wilson Stadium was jammed with fans, and to a Wilson newbie like myself the place looks small from the outside (you could not even see the stage from outside the venue), but is deceptively large as much is below ground level. Mick took advantage of being in the home of the football Buffalo Bills, working the Tom Brady shtick once again, saying he was staying in the Tom Brady suite, but "the pillows were deflated". It is somewhat humanizing that Mick does not miss the opportunity to knock Brady, suggesting maybe he's a bit jealous like any other male on the planet (with the possible exception of Eli Manning).

You Got Me Rocking had a welcome return to the set, clean, efficient, brief and' powerful, a rock song that socks you in the face and then is over. Oh how many such songs are yet to be written by the Glimmer Twins--it is just one trip to the studio away. Why must the world watch Neil Young or Springsteen be prolific in their twilight years, while what are clearly the best musicians on the planet (anyone who has seen a show on the Zip Code tour knows this) stand idle in their song writing? The craziness and drama of this decade is pretty obvious, and this band does not want to weigh in on it?! They contributed something dark and introspective, summing up society in every decade (A Bigger Bang was genius, and the world will eventually figure that out) except this one. It is high time.

Out of Control was in the set again like at Indianapolis, and it is as good a song as the Rolling Stones have ever done. Mick's Little Walter like harmonica is great, and the song ebbs and flows between soul and heavy metal. It makes me wish we somehow get a fresh live recording of this; perhaps there is room for more under the iTunes umbrella, beyond the recent Sticky Fingers Live release from the recent show for the elite and celebrities in Los Angeles.

Let's Spend the Night Together was the fan choice; it seemed a bit slow and my first impression was that it maybe lacked energy, but in fact it was an entertaining version that seemed to fit perfectly into a mellow summer evening in Buffalo. Buffalo seems quite nice, and it is hard to imagine it's hellish snows and impossible weather on a warm summer night. It made me think of what a special night this was for the city, how seasonally there are few such opportunities as this.

The Zip Code tour's love fest between Mick and Keith seemed intact tonight as they interacted well on Out of Control, Midnight Rambler (after which Keith applauded, made clear he was directing it at Mick, and the continued to applaud), and Satisfaction. The on stage relationship seemed unaffected by the odd timing of this week's announcement that Keith is releasing his third solo album in September. If Mick announced a solo album with two dates remaining on a Rolling Stones tour, can you imagine the backlash of, "Typical Mick, he's so selfish, he does not care about the band, etc, etc"? Maybe there is a method to Keith's madness and he is just clearing the way for the Stones to record. That idea is optimistic. And to conclude on the subject, Keith's album title of Cross-eyed Heart is strangely reminiscent of Paul Westerberg's 1992 recording Dyslexic Heart. Keith has pinched as much from Westerberg as he has from Muddy or Don Covay. If you want a clear example, compare the cover of Richards' Main Offender to the Replacements album Don't a Tell A Soul (that is Paul W on the cover).

Sympathy for the Devil seemed especially good tonight, and somehow I had a renewed appreciation for the feather costume wrap that Mick wears at the start of the song. He looks like a big crimson chicken as he dances in the outfit, and it is totally ridiculous. But it works. Count the feather costume prop up there with 1975's inflatable penis or the sorcerer like suit from Voodoo Lounge. Only Mick can pull off something like that and still look cool. Speaking of looking cool, after many shows I must ask why has Keith been consistently wearing green and blue Nikes with white soles, shoes that seem more the style of a octogenarian shuffleboard player in Florida, and not the style of the coolest and best guitar player in the world?

I thought Can't You Hear Me Knocking was disappointing, a paint by numbers version that did not possess the soul of versions from recent tours. Karl Denson tries hard and he is doing well, but his sax solo made me miss Bobby Keys badly once again. It made me think back to the long, drawn out version in Philadelphia in 2013, with Keys and Mick Taylor casting their spells to make the song seem toweringly larger than life. Tonight's version simply did not compare.

I am already regretting that I did not plan to go to Quebec for the last show on the tour (and they call them "postal codes" in Canada, not "Zip Codes" as in America). My enjoyment in writing about the band (note, writing about The Rolling Stones, and not writing about inanities such as ticket prices, personal travel experiences, masturbation, or doughnuts as you may sometimes sadly see by contributors to this space) knows no bounds, and I have faith that before long they will be back and all of us can once again celebrate this extraordinary group of performers.
---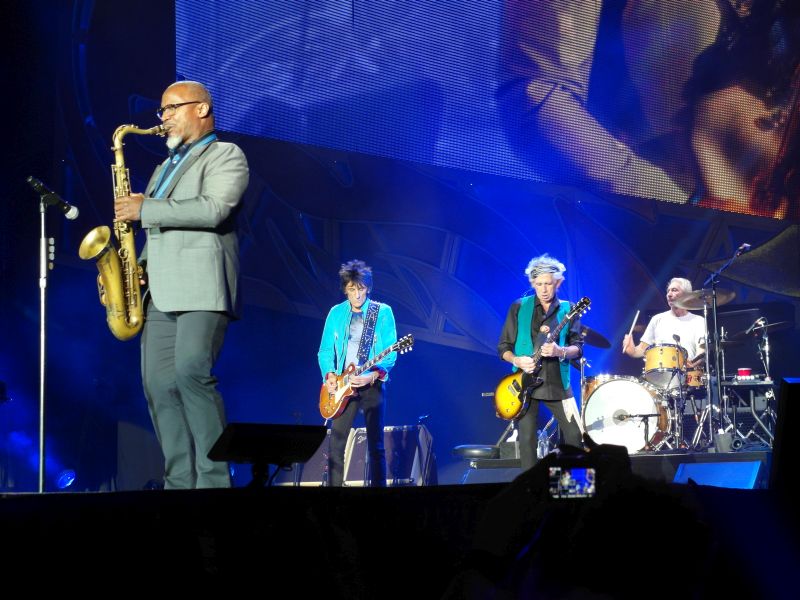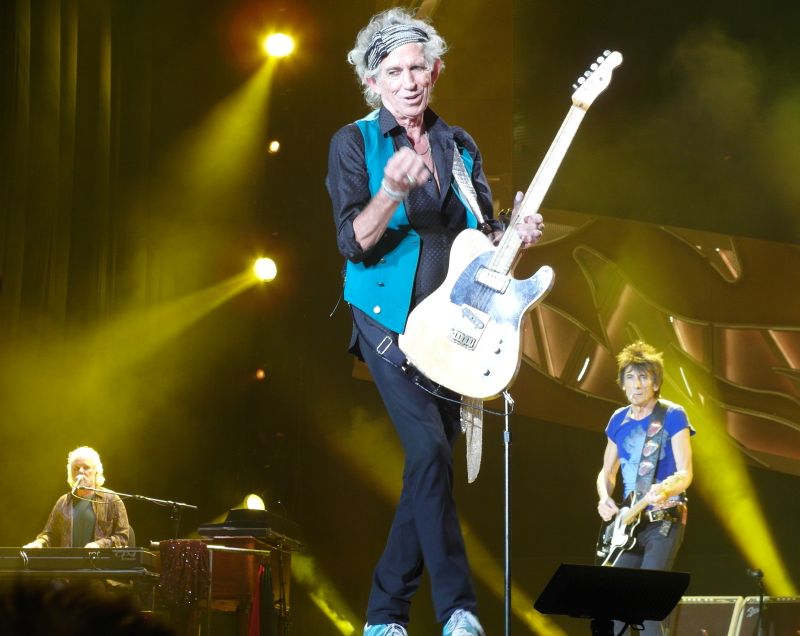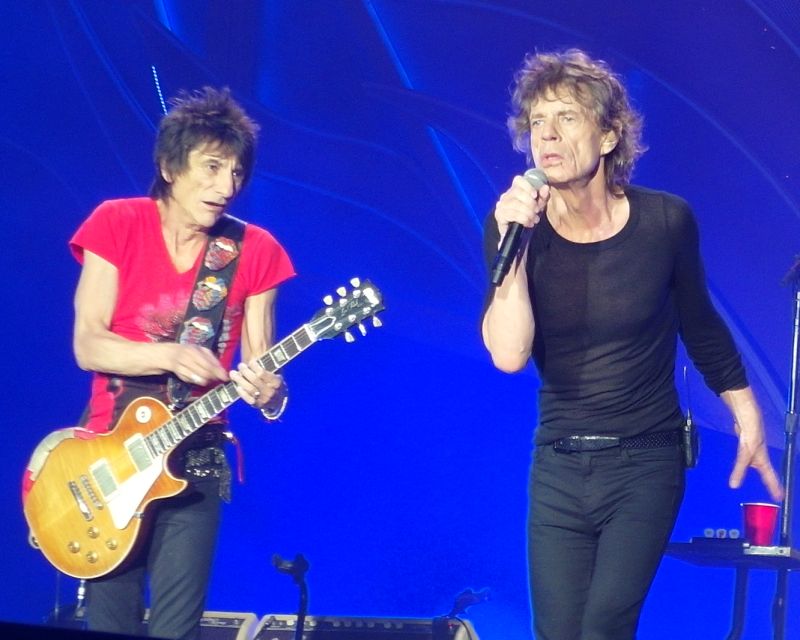 Photos by Bjornulf Vik
---
Review by Craig Allison
I have been a Stones freak for 50 years, seen every tour since '69. I have seen a number of Rolling Stones performances that were peak, off the charts shows: the Ya-Yas shows at MSG, a white lightning show in Minneapolis '72, right up through an all-timer at SBC park in '03. I fronted a killer blues band for thirty years, and on and on. However, last night in Buffalo(I flew in from California), I do believe I witnessed the most incredible Rolling Stones performance I have experienced. As other reports have stated, the band is actually getting better, clearly. The degree of tightness, the extraordinary timing, the pure joy of playing for 60,000 adoring fans was very obviously 100% for real.

My idol Keith was both on fire and sublime; super-loud smokin', distorted tone that he varied with subtle yet colorful playing. Charlie played at a level of virtuosity and power beyond his typical rock- solid company. Ronnie added great licks and boundless energy. And what is there to say about Mick Jagger; he defies all sensibilities and showed pure human feeling for his mates and the crowd. His vocals were spot on, totally on pitch (he usually songs just a hair flat,) and his physical movement and energy was simply incredible, along with excellent humor. And these guys played 1000 gigs in their first three years, 63-66!!

By 2015, an awful lot of people on this planet have seen the musical phenomenon called the Rolling Stones, and I bet they even have fans at the South Pole. But my overwhelming thought that I need to share is this: When the inevitable end does come for the (Time Waits for No One) band, this world will never, ever again see an act like theirs, guaranteed, a magic product of an era, musical roots, and an internal chemistry that combines chaos and the highest degree of professional standards. The energy they have burned to accomplish this is easily equivalent to building the Pyramids! I was almost in tears in the final moments, but what can I say other than my joy at living in the time of the amazing, one and only Rolling Stones! Thank You So Much!
---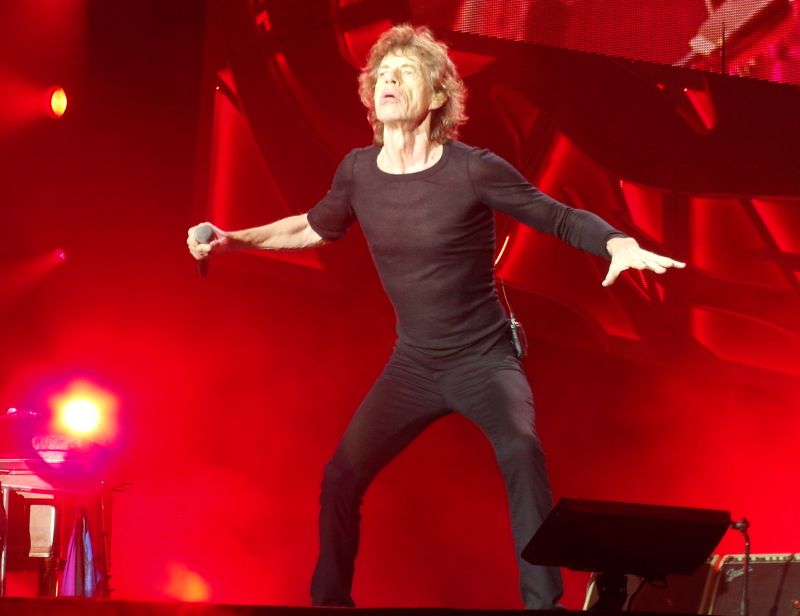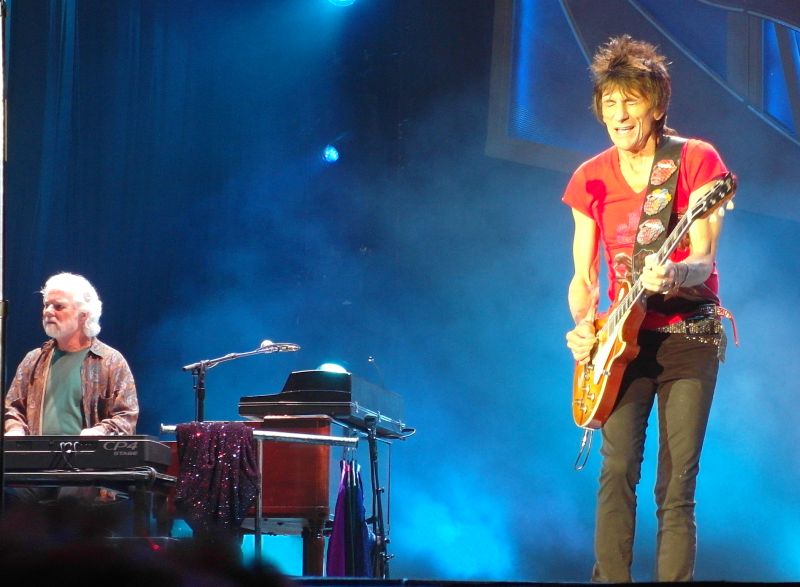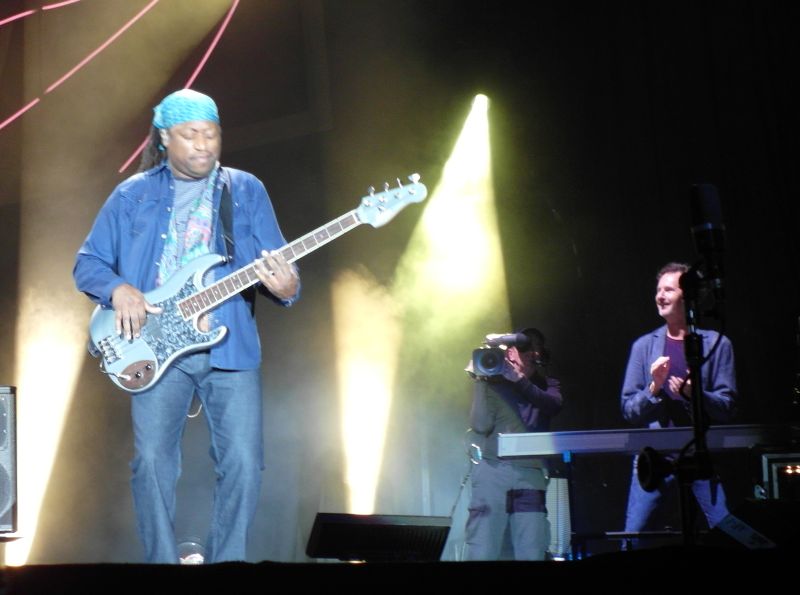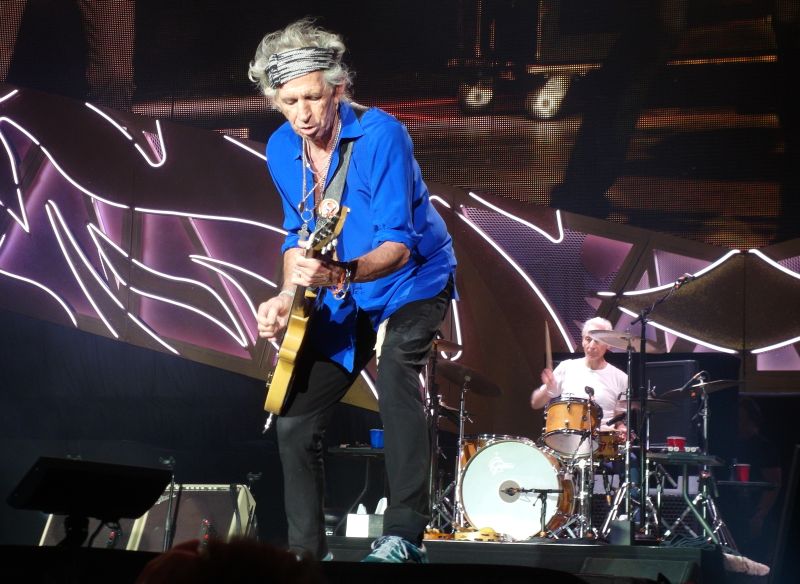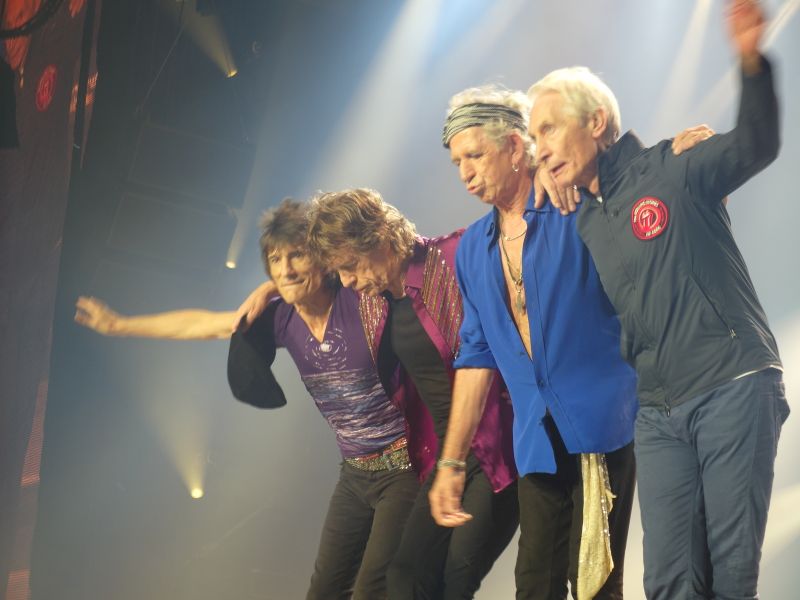 Photos by Bjornulf Vik
---
Review by Dean Goodman
Instead of "Rip this Joint," we got "You Got Me Rocking." Instead of the whole "Super Freak," we got just a couplet. Don't get me started on "Wild Horses." Mick archly summed up that song, "That's your ballad."

The boisterous Buffalo/Rochester/Ontario crowd deserved better, but I doubt any of them were complaining afterwards. The Stones, particularly Ronnie, delivered another energetic performance juiced with good on-stage vibes and witty banter. And warhorses like "Honky Tonk Women," "Miss You" and fifth Stone Lisa's endless solo show on "Gimme Shelter" had the masses singing and dancing along for the whole evening.

My personal highlight was finding Patti and the daughters standing behind me. No need to go into detail, but Patti had eyes only for Keith and she was bursting with pride the whole time.

Speaking of pride, I sometimes get the sense that the only time Keith feels unqualified respect for Mick is when he plays the harp. During "Out of Control," Keith was like a purring cat as the two did their little musical duel center-stage. And after "Midnight Rambler" (13:45), Keith pointed at Mick and applauded. Actually, the harp intro was a little longer than usual because Keith was fussing about backstage.

I had rather hoped - naively - for something special for the final U.S show, especially given the surprises unveiled at Detroit. "Rip this Joint" would have been the obvious choice, though how many attendees would have picked up on the Buffalo name-check? Having visited Rick James' grave at Forest Lawn, it did occur to me that we might get "Super Freak," so I was pretty stoked when Mick started singing it. A pity he did it briefly and unconvincingly.

I decided to pay a little more attention to Ronnie "Wings" Wood this time, and indeed he shone on the likes of "You Got Me Rocking," "Out of Control" and "Can't You Hear Me Knocking?" Right at the end of "Satisfaction," Ronnie got in Mick's way and gave a "Yikes!" look to Keith, who was focused on his guitar playing and ignored him.

Speaking of intruding on other people's space, Charlie found himself sandwiched between Keith and Mick during "Can't You Hear Me Knocking?" Mick was standing directly behind Charlie on the riser, and occasionally banged on the kettle drum with his maracas. I wonder how Charlie felt about this? (It used to drive me nuts when people touched stuff in my cubicle.) I guess Charlie was in a good mood overall since he even walked to the beginning of the catwalk by himself during the intros. Ronnie, by the way, was his usual flamboyant self during the intros, and Mick sarcastically remarked, "He's never done that before."

Mick's joke writer (Matt Clifford?) provided yet another joke about Tom Brady. I would have preferred something dark about O.J. Simpson's mention among the famous Buffalo Bills around the stadium.

Other notes:

Keith went MIA during Darryl's bass solo: wish I could do that.

It was a church choir on YCAGWYW, which explains a lot.

Next time the Stones play "the Ralph," park for free at the corner strip mall anchored by Burger King, and walk 20 minutes.

Well, one show left - at a festival. I'm holding out a stirring rendition of the "Titanic" song as a tribute to Celine Dion.
---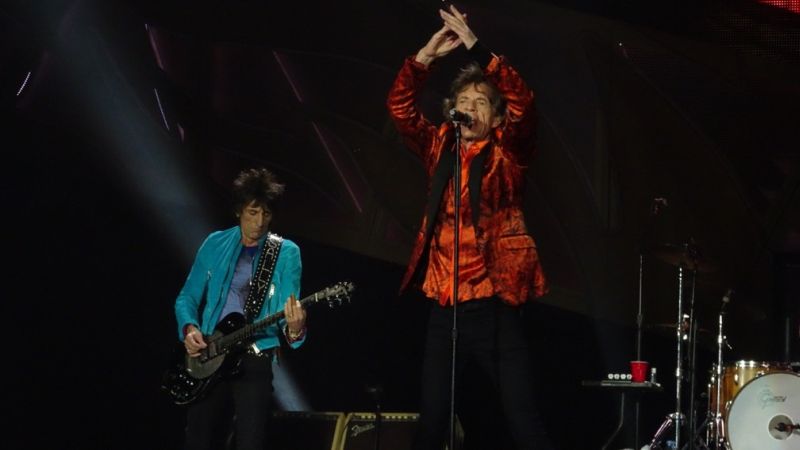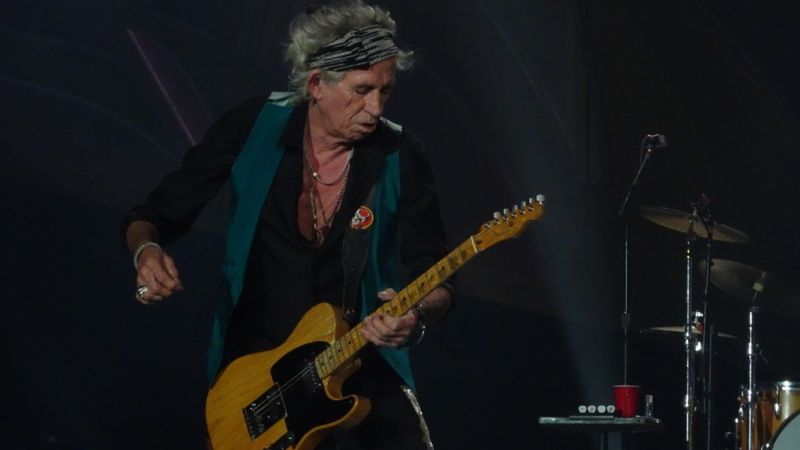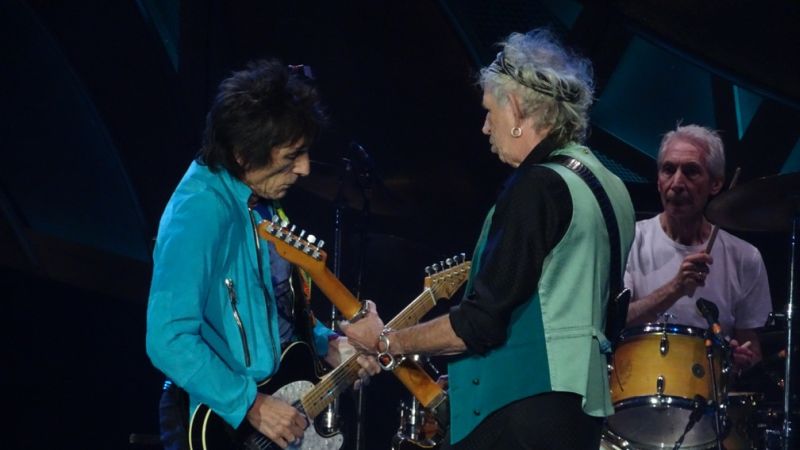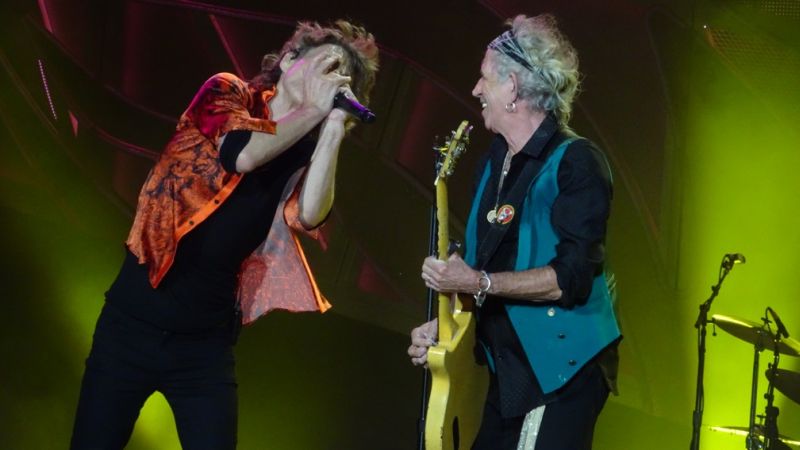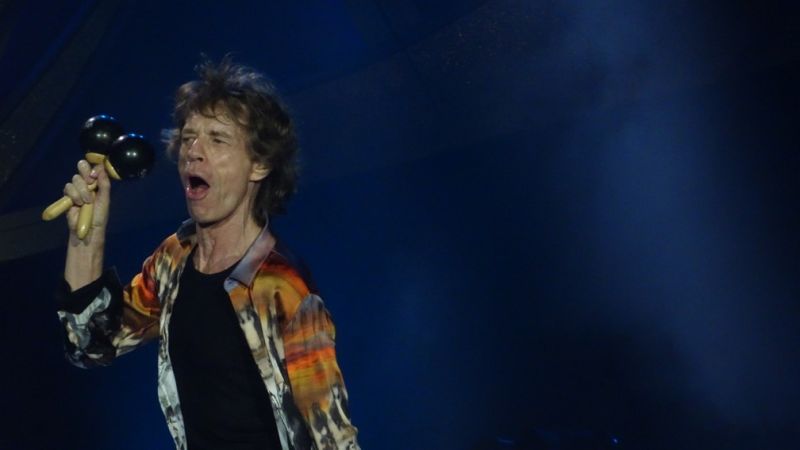 Photos by Hendrik Mulder
---
Review by Sparkly Top
Wow! Ecstasy and withdrawal combining as I type this on the plane back to San Francisco! I caught three shows on this tour, San Diego, Kansas City and Buffalo. Each time the band got better and I got closer! Last night blew me away. Out of Control, Midnight Rambler, Can You Hear Me Knocking and Keith on fire at the opening Jumping Jack Flash. Wild Horses is always ecstatic.

Although I have very often been up close in many arenas in my almost 70 shows, I have never been as close as 2nd row, a few seats from the catwalk, at a stadium show with 60,000 + people. To be able to interact with the band and watch the energy waves spread out and up is truly a magnificent thing. The band were having such fun and there was joy and comradie in their playing that was intense and noticeable. Keith threw several picks in my direction, none of which I was able to grab, but no matter.

Thank you Rolling Stones, for being such an important and joyous part of my life and for making so many people so happy, BV, it was great to see you again and say hi, and thank you too, for making my Rolling Stones experience something it could never have been without this Board over the last 18 years.

Come back soon, boys, millions already miss you.
---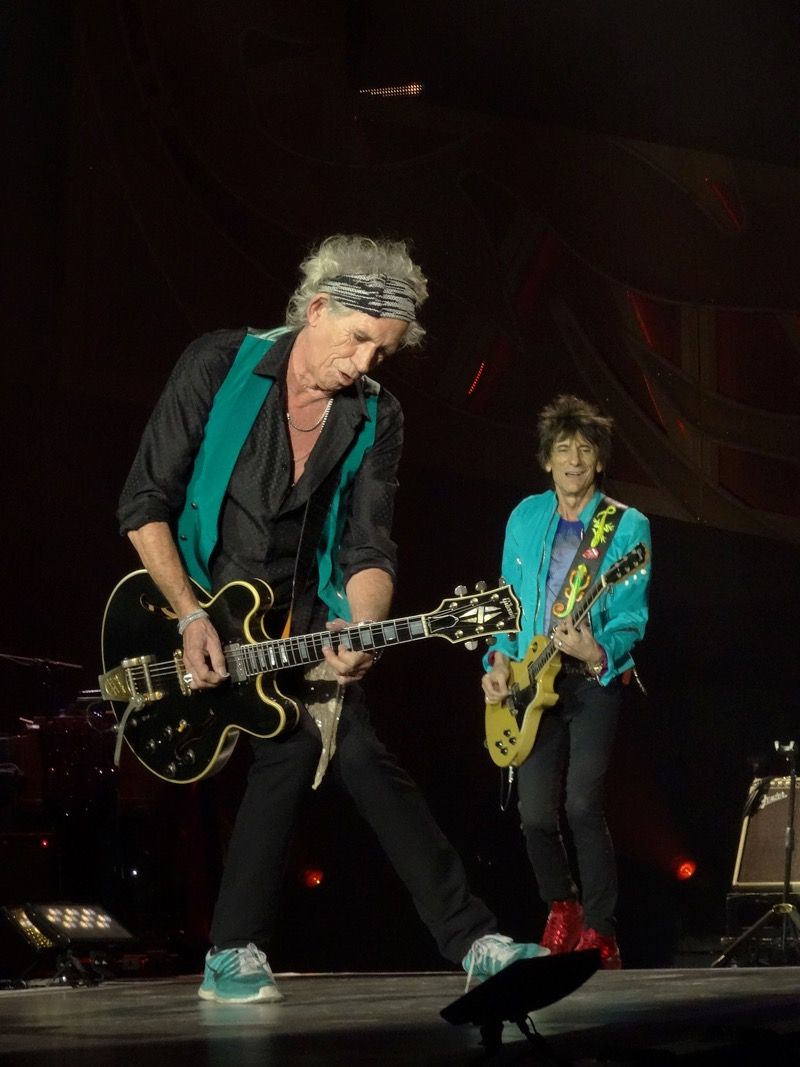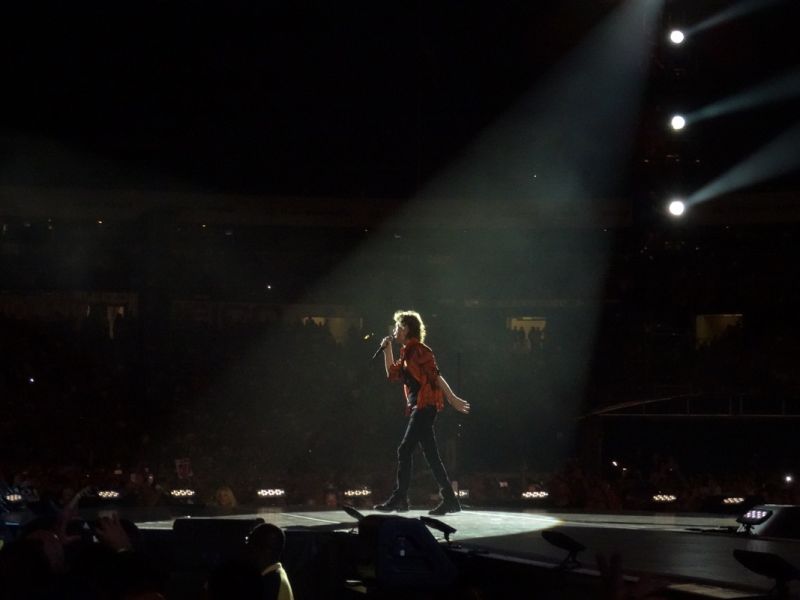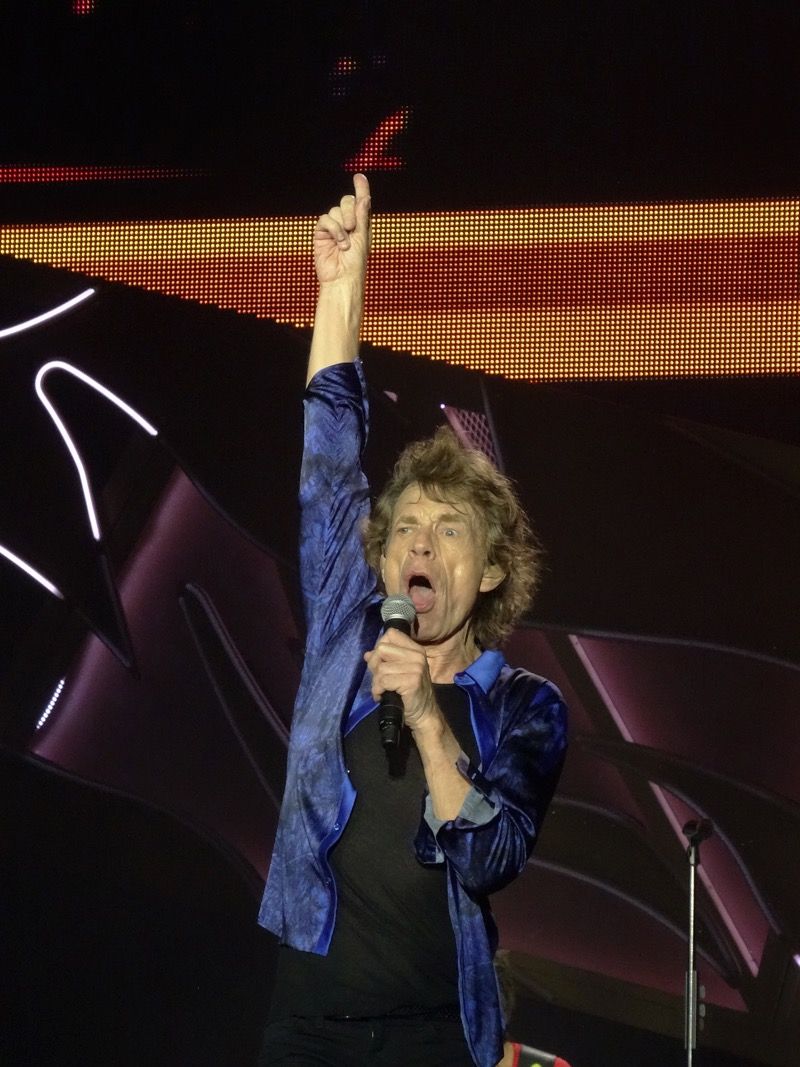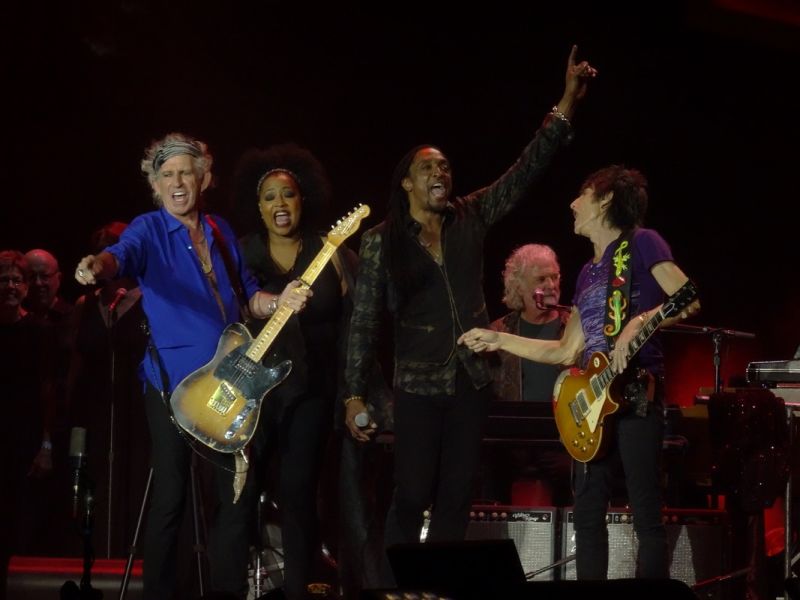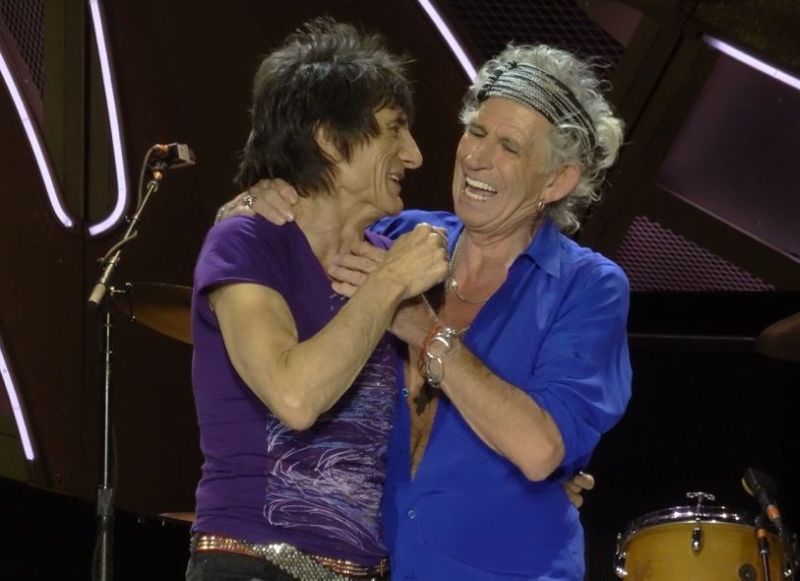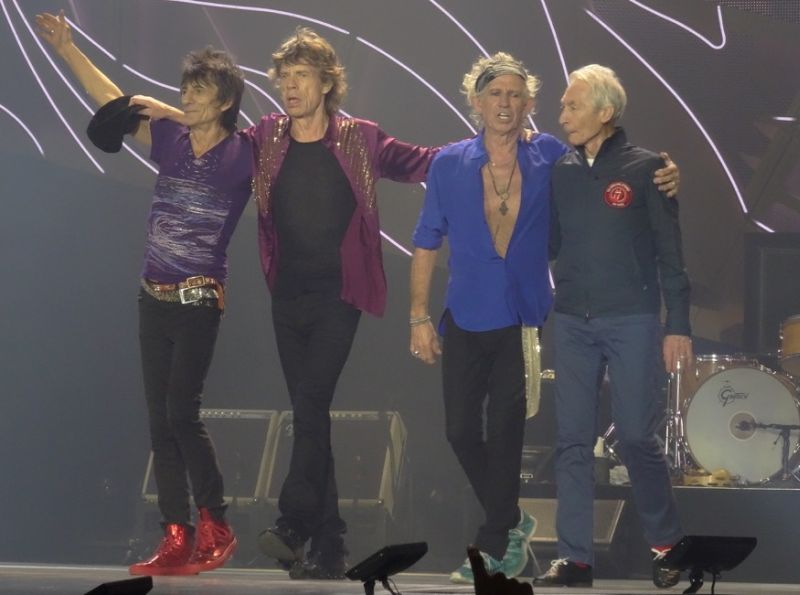 Photos by Roderick Keur
---
Review by Adam Kowalik, Akron NY
This was my 4th time seeing the boys and first time in the United States. I live just outside of Buffalo so I always had to go to Toronto to see them. This is as close as they could possibly come to me.

It was almost like a dream because the weather was perfect. 80 and sunny and just cool enough after the show to not where a long sleeve shirt and still feel comfortable.

I brought a few friends that have never seen the boys and all of them had said hands down the best concert they have every attended.

Jumpin' Jack Flash - literally blew the stadium away. The guitars were very loud but so crystal clear. Charlie's drums where just perfect and Micks voice was strong as ever.

It's Only Rock N' Roll - Just great the band was all smiles and you could see the interaction between musicians of pure joy and love for what they do.

You Got Me Rocking - Surprised me as it was rarely played on this tour but very strong. Keith's guitar solo was one of the best ones I have ever heard.

Tumbling Dice - Lovely and the horns and Lisa and Bernard were great. Matt Clifford was dancing behind his keyboards as he was thrilled to be apart of the madness.

Out Of Control - Great live song and the interaction between Mick on the harmonica and Keith was excellent.

Wild Horses - Finally got to hear this one live and Keith was very good on back vocals.

Can't You Hear Me Knocking - Strong guitars and Karl did a great solo. Ronnie really brought the song to a first place finish as his solos were nothing but amazing all night.

Let's Spend The Night Together - Request song that won and I voted for it because it was one of the first few Stones songs I had ever heard and loved and it brought me back to all the fun nights of going to High School football games back in the good ole days.

Honky Tonk Women - LOUD - so great watching everyone sing along.

Band Intros were great and I love how Keith escorts Charlie to the front and Mick trys so hard to get Charlie to walk as far out into the audience as he can.

Before They Make Me Run - Keith was very strong on this tonight. The guitar solo Ronnie provides which weaves around Keith's rhythm chords is like a painting that is so good it would never sell.

Happy - My favorite song and yes it makes everyone Happy just to hear the Man sing his signature song. Very Strong by Keith and he did get some words mixed in the second verse but he is so sharp he laughed it off and we all love it every time.

Midnight Rambler - No words can describe hearing the blues master piece live. Ronnie really shredding that guitar. Keith kind of disappeared for about 30 seconds behind the amps during Woody's first solo. Had me a little worried for a second but then we all knew everything was ok.

Miss You - Mick was strong on this and Tim had a very jazzy sax solo. Darryl was fantastic on the bass. In my opinion I think the only bassist that could compete with Mr. Jones is Jimmy Ashhurst.

Gimme Shelter - Keith really taking his time at the beginning to make sure the intro was just perfect. Lisa was great as always as she made her way down the runway to sing that signature line.

Start Me Up - Keith very loud on guitars from here right to the finish. Thundering version of this 1981 Classic.

Sympathy For The Devil - My friend Charlie thought Mick looked like a rooster with that feather cloak he wore. Keith shook the stadium with his first chord in the chours. Charlie seemed a little off at the start of the intro but it sounded like something new and I thought it was cool. One great thing about a "Real Live Band" is the opportunity to try a different take on a song live and sometimes it sounds better than other live versions or even the original recording for that matter.

Brown Sugar - Keith came in strong but Charlie missed the cue so when Keith continued going Mick was signaling Charlie when to come in than it got rolling. Karl did good but right before he started the solo I looked up at the heavens and yelled BOBBY. Really missed him but the memories will live on even for those like myself who have had the opportunity to meet him.

You Can't Always Get What You Want - Williamsville Church choir sang and did a beautiful job. Even my friends actually shed a tear during this song. The crowd singing along is always so wonderful to hear. It is an experience like know other.

Satisfaction - right before the song I could see Keith's wife hand him his guitar and give him a kiss and he was ripped through the intro to send the audience for a touchdown.

I had to rank this concert as just as good as the others if not the best one I have seen by the band. They all brought there A game tonight and ran it in for the win.
---
Review by Rick Pierce
This show was fantastic! As Robert indicated in his review it was a beautiful night, my first trip to the Ralph. The stadium from the outside looks like a large high school stadium or at best a small college stadium, until you get inside and realize must of the seating is below ground as the stadium sits in a bowl, probably 20-30 feet below street level. I must say the opening act, St. Paul and the Broken Bones was really good. Mr. Janeway is a really good front man and this band was right on. Great start to a great night.

The Stones took the stage around 9:30 and would not leave until about 11:45 so it was a late night, but a great night. JJ Flash was smoking right out of the gate so they were off to a flying start. In Pittsburgh, muddy sound and some bum notes led to a sloppy start, but not here in Buffalo. Keith's amp was cranked to the max. Many times as in other shows on this tour he would drown out Mick's vocals and Ronnie would be hard to hear in the mix. Still, bum notes from Keith would be easily recognized as his guitar dominated the sound, but they were so few and far between that you can honestly say he is playing as well or better than he has been in at least a dozen year.

IORR was played right on, might have been a bit forgettable, but that's because there were no missteps along the way. I told my friends that I did NOT want to hear You Got Me Rocking and even mentioned on this board that song should be retired. Well, we got, but I must admit the version was tight, hard rocking, and short. Out of Control was certainly a highlight with Mick's harmonica and Ronnie's wah wah. Wood has been exceptional on this tour, maybe not as lyrical as Taylor, but picks up nicely for Keith and yet adds a lot to each song. His solos have been good. In the past I have heard him butcher Tumbling Dice or Start Me Up, but not this tour. He adds to it and his solo on Can't You Hear Me Knocking, although not as sweet as Taylor's, was actually done very tastefully and moved the song along as Mr. Jagger likes. This number clocked in right around 7 minutes, not the beautiful 11-12 minute Taylorized version of two years ago. Wild Horses was also done tastefully and rather short. At the end, Mick said with a twinge of sarcasm, "There's your ballad" as we know he really doesn't like to perform more than one or two ballads. The crowd loses its energy and causes him to expend more energy to return them to their high level of excitement. I knew then we would not get Moonlight Mile which bummed me out, but Knocking followed which was nice to hear.

Rambler was another highlight as Robert pointed out Keith's applause directed at Mick for this song. I have attended 18 shows over the years since '81 (yeah, I know many of you have gone to many more than that). This is the FIRST time I have EVER seen Keith recognize Mick in such a way. It was really heartwarming and deserved. Mick was tremendous during this song with his dancing, harp playing, and singing. Wow! Always a highlight and was real special tonight. A guy in the parking lot afterward asked me for the highlight. I said without hesitation, "Rambler." He said I was right on. The usual closeout of the show was really good and as Robert indicated above, "Sympathy" was "tastefully" done. Funny thing, I attended the Blue and Gold hockey scrimmage of rookies and second year players of the Buffalo Sabres the night before. Their much ballyhooed rookie, Jack Eichel skates out to start the scrimmage to Sympathy. Just before the faceoff, Mick begins with "Please allow me to introduce myself" and the crowd went wild, for Eichel, for the Stones, or for both, probably. This crowd was totally jacked the entire night as my section in the upper deck did not sit down the entire night. Great mix of generations too.

All in all, a great show to end the tour in the U.S. They are as good now as they were 12 years ago on the Forty Licks tour. Don't believe me… check them out either in South America or Europe in the coming year. Freakin' awesome.
---
Review by Bob Achtziger
Needless to say the 2015 Zip Code tour was quite a surprise when it was announced earlier this spring and was very apprehensive about "Stadium shows" considering I am a lot older and less tolerant from the heyday stadium shows of the 90's and some of the venues on this tour were logistical nightmares to navigate and coupled with possible inclement weather can put a damper on the festivities since tailgating is part of the stadium experience. With 8 shows without any rain under my belt for this tour I was hoping to keep the streak alive and the Buffalo show was without a doubt a great way to end the US leg of the tour. The parking lot at Hammers across "The Ralph" was the place to be with live music and radios blasting Stones music all day and the weather was picture perfect for this huge party with family and friends traveling from everywhere on the globe.

The show opened up with a very high energy level from Keith's opening riffs of Jumping Jack Flash that again sent chills down my spine and to include You Got Me Rockin to the setlist created another level of intensity to the show as the place really started rockin! Replacing Doom and Gloom with Out of Control was no doubt a stroke of brilliance as the crowd went nuts and was a flashback to their last show in Buffalo in 1997 when it was called Rich Stadium and the song was newly released. The pulse of the lighting during this song no doubt creates an adrenalin rush that a hardcore Stones fan will experience during other key songs. CYHMK sorely misses Bobby Keys sax solo but still a great song when played live. The fan vote of Let's spend the night together was another great choice and created a flashback for me as I remember hearing that song for the first time on the Ed Sullivan show when Mick had to change the lyrics to satisfy the hypocrite TV executives and now may have heard it for the last time as a live version.

I was a little disappointed with Keith's' setlist as he did not stray from his two same songs the entire tour and a change of his two songs would have added some increased intensity during the tour but yet I realize I should remain "Happy" and I at this stage of the tour it's great to hear "anything" from Keith.

The remainder of the setlist was played with played with a level of intensity that again raised the bar and perhaps they realized that this really may be the last show on US soil and then I really started soaking that in as the show edged toward the end. My Rolling Stones journey started at MSG in NYC on November 28, 1969 which no doubt mesmerized me and 221 shows later I absorbed the last song Satisfaction like I would never hear it live again and watched the final bows with very "mixed emotions".

Departing Buffalo the next morning was very bittersweet as the signs in the airport "Welcomed" Stones fans from around the world and a few moments later as my plane is roaring down the runway listening to the Exile on Main street album and out the window I see the Stones jet parked as my plane headed to the clouds and saying to myself "Wow.......... The Rolling Stones have brought so much musical enjoyment to so many people for 53 years and now may finally be over and it's been a life changing hell of a ride! "
---
Review by Cardiff Giant
It was my 38th show, but first since 2013 in Philly. I had not watched too many videos from this tour, only read some reviews and tweets and kept up on the setlists. I came in with a hunch and a hope for Out of Control and Can't You Hear Me Knocking, so I was very pleased. Live version of Out of Control from 'No Security' has been getting play in my car lately, and it was my first song for the road trip to Buffalo. Mick on harp always makes for a great song, especially live in person, and we got some signature moments at Ralph Wilson Stadium.

Great atmosphere outside the stadium, tons of tailgating, great energy. Long lines at the merchandise stands, with lots of items selling out in the popular sizes. I can only imagine the final sales numbers each tour for merchandise. We were pumped to see St. Paul and the Broken Bones, and they did not disappoint. Awesome band, great songs, Paul Janeway is fantastic and from our seats in Sec. C, Row 17 (Keith's side) the crowd really seemed to appreciate them much more than most opening acts at Stones shows. I was shocked at how the stadium was very full before the sun went down and openers were on stage. Nearly impossible to get up into the concourses, packed, packed packed....and everyone moving slow. Oh well... It was electric, all night.

The opening video montage for the Stones on this tour is fantastic...That final minute before your know they are about to burst on stage is beyond description. Keith strides out of the darkness, blasts the opening chords of Jumping Jack Flash and away we go, with Mick now up front and the crowd was nuts....all night, standing. Guitars loud, clear and firing... Right from the get-go, I kept thinking all night how effortless they make it look. Mick is incredible, as everyone always says, but watching Keith, Ronnie and Charlie is a whole other type of amazing too. They are each such original unique characters, nothing else like them, individually or as a whole. Music just pours out of them with so much genuine energy and craft. Yes, we see so many songs over and over, but it's always fresh to me, with little twists and tweaks to notes, tempos, beats. It's Only Rock and Roll was its usual rollicking ride, with Keith hitting the Chuck Berry runs. I'm usually in the minority who writes about my love of You Got Me Rocking, but I think it works live, especially when you're up close. Keith, again, is fun to watch and listen to on this, and Mick works the crowd. Keith's solo was tight, loud, and always with a new little flourish at the end. After the song, Mick welcomed everyone, "Anyone hear from Rochester?..NYC?...Ontario?...Cheektowaga?...Tonawanda?"...Then he mumbled something about remembering all these damn towns, or such.

Next was Out of Control and it was superb. Mick's wild moves, first harmonica solo and the growing snarl of the song built up to a classic duel between Keith's guitar and Mick's harp, face to face, like two boxers going toe-to-toe, I have it on video and it was an iconic moment for the Glimmer Twins....Loved it! And I get a kick out of moments when Keith has that look of connection and appreciation for Mick's talent. He always says blues harp is when you see the "pure, unadulterated Mick Jagger." Tumbling Dice was its usual strong crowd pleaser, and Keith gave a hip thrust and sly smile at the end.

Mick then said they'd play a couple of songs from Sticky Fingers, and I had a hunch one would be Can't You Hear Me Knocking, but first up it was ballad time, and Wild Horses. It's a warhorse, but for good reason, it's just a beautiful song, and was played great by all. And then Mick introduced Can't You Hear Me Knocking. I think it cooked and I think Karl Denson is great on sax. I miss Bobby Keys, because there's only one Bobby Keys, but the backup players for the Stones, especially horns and Darryl Jones, know how to jam. Denson is more of a jazz guy, and it shows. His solo fit great, and he got a point and smile from Keith at the end. Ronnie's solo was top notch as well. He and Keith looked effortless so many times all night and were bringing it...Piercing, loud and hot. Great image during the solo as Mick climbed up on the riser behind Charlie to play maracas.

Mick did a funny spot saying they wanted to pay tribute to local music, and he hit a quick bit of native son Rick James' "Superfreak".... Fan vote song was Let's Spend the Night Together, and then on to Honky Tonk Women, with Keith doing some nice bending on a few notes. Time for band intros and Mick began by giving love to Buffalo , thanks to "Terry and Kim" (Pegula), owners of the Bills, and his visit, with Charlie to the "Frank Lloyd Wright house" and for a great hotel but the "Tom Brady suite" had deflated pillows. Intros of Ronnie "Wings" Wood and huge ovation for Charlie who stepped out front for bows thanks to a nudge and escort by Keith and then teasing from Keith as he came to the back. Big cheers for Keith ...is there a more unique genuine person than Keith??... Before They Make Me Run and Happy were pretty hot and rocking. Loose, ragged, but the beat, the rhythm, the soul were all standing out. I hope Keith does some solo shows when his album comes out. Happy ended with Keith coming out on the center runway and jamming.

Midnight Rambler clocked in at 14 minutes....How does it get much better than that? The usual hot ride, and Mick taking the crowd all the way as the leader, while the band drove the train, and it was a freight train performance, a new tempo and speed that was a change from 2013. I loved it. Intense. Mick's moves were iconic as always. The song ended with Keith pointing to Mick and smiling, for another knockout performance.

Miss You gave us a shot of funk, and Darryl's solo was accentuated by Mick's yell at the break, and a deep bullfrog voice from Mick of something that sounded like " I can't stand no more.", Tim Ries did a blistering sax solo as Mick, Ronnie and Mick headed out to the mini-stage to mug for the crowd. Keith jogged back to the main stage with no problems, looking like a teenager, even though he certainly does not look like a teenager. His headwrap on this night was a classic gypsy meets baglady, meets I don't know what... All I know is, it was pure Keith Richards and looked awesome!!!! Gimme Shelter was a powerhouse. Keith out on the runway, Mick farther out, and Lisa Fischer going out past Keith to join Mick, taking her spotlight moment. The crowd was on fire for it. Nice job by Lisa back on the main stage with Keith too. Start Me Up began with a blast of pyro over the stage and the crowd kicks it up another notch. Then it was Sympathy for the Devil, bathed in red light, flashpot pyro on the wings of the stage, Mick in the feathered long coat. Great visuals, great mood, great performance. Guitars turned all the way up as Keith drills his chords and solo. Keith went out on both wings, for an iconic visual as the flashpots and smoked engulfed him. He eventually smiled on his way back to center stage, waving his arms to see his way through the heavy smoke. Brown Sugar brought the main set to a close, and Ronnie added some nice flavor with unique staccato notes in some fills. Mick out on the mini-stage, he truly gets a crowd of 55,000+ wrapped around his finger at each show. Amazing.

Encore time and You Can't Always Get What You Want was beautiful to open with the local choir from a church in nearby Williamsville, but nearly came apart as Keith and the beat went their separate ways...Who cares. They got it back together after quite a rough patch, Charlie laughed with Darryl once the engine room was back in time, and Keith and Mick even shared words and laughs late in the song during Ronnie's solo, always a good sign that chemistry is hopefully on a good course. Charlie ended with an effortless crossover back-and-forth of both hands and sticks to the drums, he's a physical marvel just as much as Mick, but in a different way.

Satisfaction finale was just that, a fun rocking blast. Keith out on the runway for a solo and lots of smiles and looks to the fans. Mick worked the crowd one final time, logging his final meters of running, dancing, gyrating and fist pumping in a 2-plus hour performance/workout, and the show ended with a fireworks show over Orchard Park on the final notes and beats. Crowd goes wild, band takes their bows, and there's nowhere else to be in the world on this night. Well done, as always, there's not much else to say.

Throughout the show I kept thinking how amazing it is that these guys keep cranking,.. The music and showmanship literally just pours out of them .. All of them !! In their own unique ways. To listen and to watch -- it's incredible. Tight , ragged, funky, sloppy, deep grooves, soulful, bluesy, rocking, twangy, jazzy, fun, menacing, sexy, evil, happy, ... They are all those things , and isn't that what Rock & Roll is all about? ... It's certainly what the Rolling Stones are all about and there is NOTHING else in music or entertainment like them, and there never will be.
---
Review by Alton Knauff Erie, PA
Perfect weather made for enjoyable drive from Erie. Met a few fans from Buffalo area and New England and had a enjoyable time tailgating. I enjoy people watching and it is nice to see people of all ages attend.

I was worried about where my seats were. Only paid $77 for them but really turned out to be pretty good. This is my 6th Stones show. Saw them '81 and '97 in Buffalo and '89, '94 and '99 in Cleveland. Missed out seeing them in 2000's due to life getting in the way. Figured I saw them in '99 and that would be it. Was very happy to hear Buffalo stop and got tickets in late March or early April. Big fan but skeptical if they still have it.

I believe they still do. How on earth Mick can run around at almost 72 and sound great is beyond me. Ronnie impressed me with energy. Keith is Keith. Love him no matter what. Charlie sounded strong. I really was impressed with Darryl Jones. He sounded really good. Band has for most part been together for 21 years and sound great. Was a magical evening which left me depressed next day because it is over. Only complaint I can make is setlist. Being a more diehard fan I would love to hear lesser played songs. I will take what I get at this point and love it. Show seemed a little more plain than past shows I have seen. No inflatables or anything. Still a great show though. If you have chance to see them and are skeptical because of age, don't be! Do yourself a favor and go. Hope this wasn't the last time!
---
Review by G.M. Spates
Buffalo, New York, was my third and last show on this American Zip Code Tour, having seen the Stones in Columbus, Ohio and Pittsburgh, Pennsylvania before that. The Buffalo show was clearly the best of the three, one of the best performances I have ever seen, and a fitting conclusion to the 2015 U.S. tour.

While none of the three shows that I saw on this tour, quite had the set list that I had hoped for, the Buffalo show was 10 on a scale of 10 in terms of the energy of the band and the proficiency of the performance.

I thought there were glitches in the performance of Bitch in both Columbus and Pittsburgh. And the Choir in YCAGWYW in Pittsburgh sounded flat and one dimensional, with necessary reverb seeming to be missing. There were no such problems in Buffalo. And while the closing renditions of Satisfaction in both Columbus and Pittsburgh, were better than the Stones accomplish in most of the arena performances I've seen over the years, where Keith has a tendency to "lay down" on Satisfaction end solo; there was none of that in Buffalo.

The Rolling Stones are normally such a well oiled, consistent rock 'n roll machine, it is sometimes hard to judge one show against another. But when Satisfaction is the closing song, which it has normally been since the Bridges to Babylon tour, where it was unusually out of place as an opening number; I often tend to lend a lot of weight, when judging the Stones performance, to the length and intensity of the extended jam ending of Satisfaction.

On July 11, 2015 in Buffalo, the Stones finally provided a performance of Satisfaction to a level that I have always hoped to see live, which was on a par with The O2 performance of Satisfaction on Four Flicks (the gold standard), as well as the Live at Hyde Park performance. What a great performance of Satisfaction!!! That's why for me, the Buffalo show was one of the greatest Rolling Stones performances I have ever seen, having seen them more than 20 times on every US tour since 1975.

Sometimes, you actually get what you want!!!!! OH YEAH!!!!

Come back soon!!
---
Review by N. Cheechoo, Innisfil, Ontario
There's nothing quite like the anticipation of seeing The Rolling Stones. It's like Christmas when you were a kid. This was my 11th Stones show overall including two Toronto club shows (Phoenix and Palais Royale) Fortune has indeed smiled on me over the years. This was my second show on the Zip Code tour, having been to Detroit a few days earlier. I wasn't sure how this could top that, especially since I was able to sneak into the front row for several songs at Comerica Park. This time my seats were a little further back, but I was no less excited on this beautiful Western New York evening.

Straight to my seat, no beer stop this time (I already had a few at the tailgate and I didn't want to have to leave my seat once the show started, to go to the trough) The lights dimmed, the video intro, boom, fireworks and then Keith starting off Jumpin Jack Flash!! If there's a better song to start off with, I haven't heard it yet (It certainly isn't Start Me Up)

I won't get into an entire rundown of the setlist. I was hoping for Dead Flowers, but we got Wild Horses and I was thrilled to hear that too. CYHMK straight after and I loved it. No it's not the same without Bobby Keys but Karl Denson does an admirable job with the sax work. Song vote winner Let's Spend the Night Together. I'd never heard this one live before and I knew it would win when I saw the selection of 4 songs available for voting. The other reason I knew it would win is that my good friend Dave who loves the Stones and loves that song and has also never heard it live before, couldn't be at the show due to work commitments. Oh well, that's how it rolls sometimes Dave!!

The highlight I guess would have to be Midnight Rambler. I know everyone always says that here but it really is an event within an event. I didn't time how long tonight's version was but it was fantastic and I hope I get to hear it again soon. My other highlight was Gimme Shelter. I rank the performances of this song higher than the two occasions I saw it on the 50 & Counting Tour. Lisa puts her heart into that song every night they play. I loved it. One of my favorite Stones songs for sure.

There's always songs you wanted them play and they didn't and you know what? it really doesn't matter. (To steal a line from Keith and alter it ) When you're at a Stones show your just happy to be there and your just happy to hear anything. Big hand for the band tonight!!
---
Review by Scott Sigel "aka" Sighunt
I believe that this is the first time I have ever submitted a concert review on IORR (and part of me wonders if it will be the last review I write). As my memory escapes me at times, I believe that the Buffalo show on Saturday night was my 15th Stones show since the early 1970's. I've tried to catch them at least once or twice on every concert tour (I missed the No Security tour as I could not work it out in my schedule and chose NOT to attend A Bigger Bang).

I have been lucky to catch the Stones on some great nights over the years, the memory of each show staying with me for months. Their music has provided the soundtrack for my life-carrying me over in good times as well as bad. Fast forward to July 11, 2015 (7/11 a special day being my brother's birthday, and sadly the date my dad passed away in 2003).

It was the perfect conditions to catch a Stones show at the Ralph: the weather was beautiful, my seats were great, and in attendance were family and friends of mine. My 14 year old son and I sat together. This was his second Stones show since Toronto in 2013 and the last time we both saw them. As I commented on a post on this board a few years ago, I was not particularly blown away by that show. I thought the Stones put in a lackluster, ragged, and sloppy performance-not one of my fav's. The main reason that it was special was because my son was with me to share a great father and son weekend. So, it was with some trepidation that I bought tickets for the Buffalo show in July 2015.

Therefore, I walked into the Ralph with pretty low expectations (thinking that I was going to just clock in another show to watch the Stones go through the motions and add to my ticket collection; having seen many shows, I'm a tough critic). In attendance were my wife (who had not seen them since Steels Wheels in Syracuse, NY and she sat with a close friend in section 138) and several friends of ours (all sitting in different sections of the stadium having bought tickets at different times). Many were newbies to the experience and may have gone just to see "rock legends" strut their stuff. I mean, how long are these guys gonna be around, right? It was an event that they could cross off their bucket list. Anyway, my son and I originally had seats on the floor in back of section K with a very obstructed view -a scaffold in front of us had cut off the whole left side of the stage from view. I took a chance, called security over, and asked if I could upgrade my seats. In a manner of minutes, my son and I were sitting in the first three rows of section K-dead center! Great upgrade and perfect seats. Alright- it was almost show time. A stranger took a great picture of my son and I with the stage behind us (posted on IORR) for a memento.

The waiting ended, at about 9:25, the Stones hit the stage in a blaze of glory and opened up with a smoking version of Jack Flash-the likes of which I haven't heard played with piss and vinegar in many a year. I knew from the first number, this was going to be a memorable show. It is no exaggeration to say that the Stones turned in great performances of just about every tune featured that night. Without giving a blow by blow description of every song, the highlights for me were energetic versions of Out of Control, Can't You Hear Me Knocking (which really gelled at this concert), Gimme Shelter (with great vocal back-up by Lisa), and one of the best versions of Midnight Rambler that I have heard in years (even without Mick Taylor!)-all these tunes played with passion and conviction by the band. As I was watching this, it was clear to me that I was witnessing a great, memorable show for the ages. My son turned to me and said something like, "Dad, I think this show is better than the show we saw in Toronto." He wasn't kidding. Other highlights: the band appeared to be having a good time interacting with each other. And Mick Jagger-what can you say about this guy? He is a freak of nature, bopping around and dancing with the energy that you would see with somebody more than half his age! Criticisms: The only thing that comes to mind is that I would have liked to have heard a couple more tunes from Sticky Fingers (this tour was in support of that album, right?), particularly Moonlight Mile which has escaped me from the set list for many years now. Another observation: Compared to the show I saw a couple years ago in Toronto in which Keith Richards was the weak link, he was definitely more focused and playing well in Buffalo. Note to Keith: We all know that you are a legend in your own mind, but If I am a customer who is paying good money for floor seats, could you pose a little less and play guitar.

Three quarters through the set, I also realized that this could possibly be the last Stones show I ever attend, so it was with mixed emotions (pardon the pun) that I took in the encore "You Can't Always Get What You Want" with sadness and pride-trying to slow down time, savoring and enjoying every moment. However, in the next few minutes, my son and I were fist pumping our way through Satisfaction-both displaying shit eating grins on our faces and loving every minute of it. Thank you Rolling Stones for providing me with so much happiness in my life. If this was indeed the last show I were to attend-wow-what a way to go out!
---
Reports please!!!
Please send your comments, reviews, links and more to:

[email protected]
---
Links
---
This page will change over the next few days, as you and other fans send reviews, set lists and reports. Please send your e-mail to IORR. Thanks! For details and great photos from the Rolling Stones and their World Tour get the IORR magazines.




It's Only Rock'n Roll 1980 - 2015
© The Rolling Stones Fan Club Of Europe