---
These are the latest Rolling Stones news and updates for you! IORR is a non profit fan club run by fans for fans. All parts of the It's Only Rock'n Roll web site is copyright of The Rolling Stones Fan Club. When using information from this site, please include a reference to IORR and the main web address www.iorr.org.
---
---
The Rolling Stones
Le Festival d'ete de Quebec
Quebec, QC, Canada
Wednesday July 15, 2015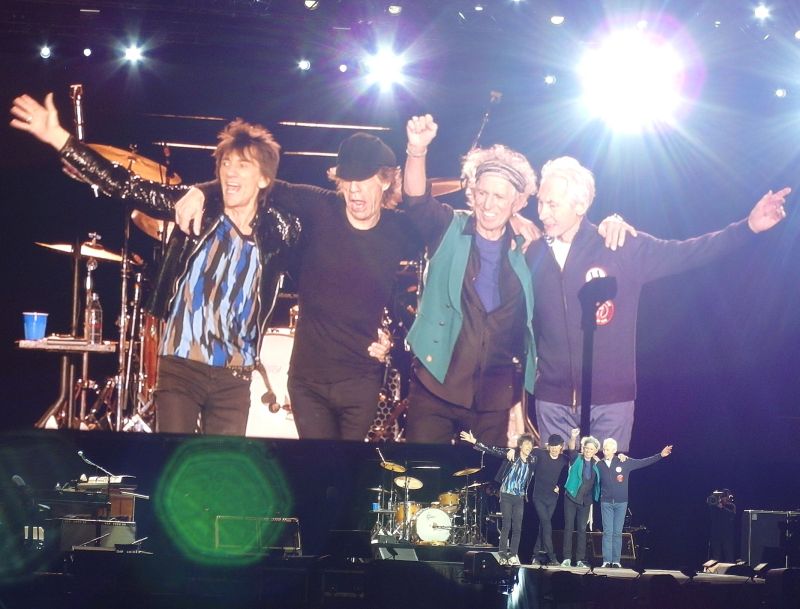 The Rolling Stones final bow in Quebec - Photo by Bjornulf Vik
---
The set list
Start Me Up
It's Only Rock'n Roll
All Down The Line
Tumbling Dice
Street Fighting Man (by request)
Wild Horses
Bitch
Honky Tonk Women
--- Band introductions
Before They Make Me Run (Keith)
Happy (Keith)
Midnight Rambler
Miss You
Gimme Shelter
Jumping Jack Flash
Sympathy For The Devil
Brown Sugar
--- Band off stage
You Can't Always Get What You Want (with choir)
Satisfaction
---
Show start :  9:30pm
Show end   : 11:37pm

---
---
Reports please!!!
Please send your comments, reviews, links and more to:

[email protected]
---
Review by Dean Goodman
The last time I saw Keith Richards and Charlie Watts, they were exiting the stage past the drum riser arm in arm. That tender moment pretty much summed up the conviviality and relaxed nature of the whole tour. Everyone seemed happy the whole time. There was little apparent drama, although some might wonder if that explained the relative paucity of musical fireworks.

Indeed the Quebec show won't go down as the most memorable outing. It may end up being best remembered for the cold wind (which delivered crystal-clear sound to people across the river in Levis) and in turn for the audience's general lack of enthusiasm. Still, it was a good-natured crowd, and no one annoyed me, which must be a historic first. The so-called VIP area in front of Ronnie's half of the giant stage was packed. I was comfortable near the back of the section with some friendly ladies, and probably watched about half the show on the screen, averting my gaze when Lisa filled it.

The onstage players were wrapped up against the elements, including Darryl and the backing singers in scarves. Mick put on a leather jacket during "Street Fighting Man," which was again the musical highlight - even if it wasn't as riveting as in Kansas City. Am I the only one who is still half expecting a blow-up hound to swallow him? Funny how things are seared in the memory 25 years later. On both this song and "Midnight Rambler," I liked the focused powwows that Mick, Keith and Ronnie formed center-stage.

Keith was grinning all night, notwithstanding the snafu right at the start of set opener "Start Me Up." The noted monoglot even tried out some French on the locals. "Ça va?" he asked at the start of his set. "Say no more." And afterwards, he cracked himself up after saying "Merci." He explained, cryptically, "I get around."

Mick, by the way, told us that we were "tres chics" and he introduced Ronnie as "le roi du poutine," which got a good laugh. Apparently it was the Stones' 13th visit to Québec since 1965. He asked if anyone was from Trois Rivieres, and I yelled "Yeah!" by virtue of the wonderful baguette avec brie et pomme I had for lunch in the pretty town on the way up from Montreal.

It's fair to say that the Sticky Fingers section has been a bust on this tour. Great promo, guys! The band seemed intent on playing every song EXCEPT the handful that we really wanted to hear. So the folks in Atlanta were pretty damn lucky to get "You Gotta Move." Tonight, Mick described "Wild Horses" as the "first and only slowie."

I was going to do a whole review on Matt "Zelig" Clifford, but I wasn't close enough this time. As you can tell from their interaction during the intros, Matt is clearly the teacher's pet and in turn the chief cheerleader. Others might liken him to "the other guy" in the Style Council, or "that other guy" in the Pet Shop Boys. I guess I'm jealous: I want to get up on stage and sing and dance and clap stand behind a keyboard that may or may not be plugged in.

A special shout-out to all the folks I met on the tour. See y'all real soon, maybe over a Caipirinha or a Malbec.
---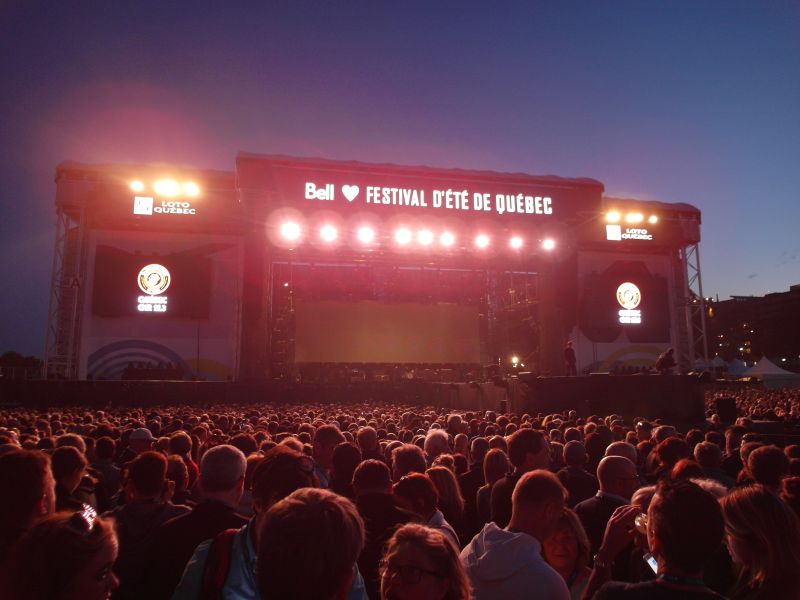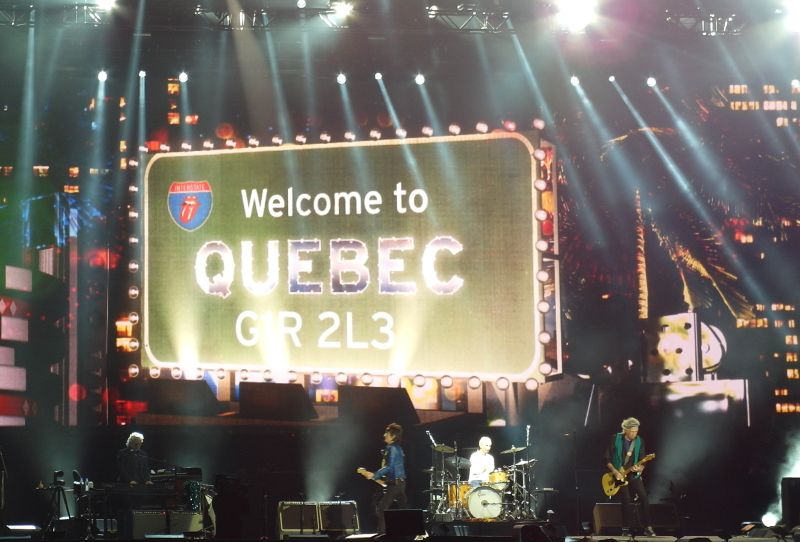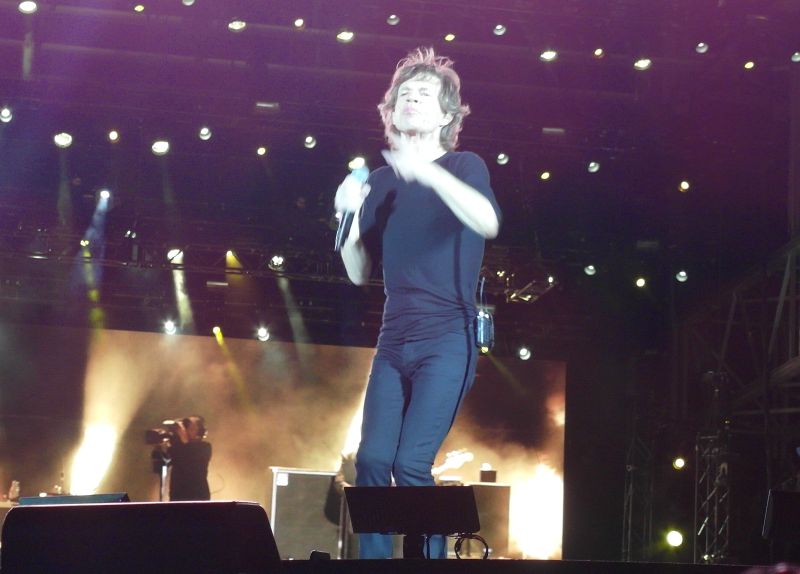 Photos by Bjornulf Vik
---
Review by Bjornulf Vik
I had been walking and biking Quebec all day, enjoying all the beauty of the city and the areas around it. At 4:50pm I returned my bike downtown, and soon after 5pm I found myself climbing the 402 steps from the riverside up to the concert plateau. Shortly after, at 5:23pm to be precise, the sound of Keith Richards' guitar was in the air. Soundcheck! I had to delay my return to the hotel for a while. They did "All Down The Line". Then they did "Street Fighting Man". Great! Another take of the song, just a bit. Mick was saving his voice during the soundcheck so I was a bit worried, but at show time there were no worries. Then they did a bit of "Wild Horses", then ending the soundcheck with the complete version of "You Can't Always Get What You Want". So I had a rough idea of what would come later this evening.

It was a record crowd of 93,000 people, probably the largest crowd of this tour, even larger than Indianapolis. The stage was extremely high. My estimate would be 3,5 meters i.e. 10-12 feet. Nobody was in front of the B-stage. It was a dark black hole. looked strange, like in Abu Dhabi last summer. This stage was even higher than in Abu Dhabi.

The other thing to mention was the weather. It was great sunshine from a blue sky during the day, but as the sun lowered the temperature decreased from 24 into 12 degrees C i.e. too cold for a T-shirt. I had my jacket on for the first time since Buffalo, before that I can't remember last time I used my jacket on this tour, but it must have been California in May, two months ago.

The first half of the show I thought the sound was not so clear. I did not hear Mick's voice clearly. Did they turn him down? Same with the guitars. But they played great, no worries. The venue was packed beyond any limits. Far too many people in the area but nothing to do with that. Just stay in your spot and no worries.

For the first time in as long as I can remember Mick had to put on an extra jacket, the green one, early in the show. Normally he is stripping down as the show is going on. Ronnie and Keith stayed dressed with jackets through the show, and Charle had a long sleeve white jersey.

Mick was talking in French through the show, and it seems like the crowd loved it. Keith did only two words, then he said "Say No More", and he got an ovation that lasted forever. The biggest ovation for the entire tour. As always he was a bit shy about it, but then he was on with his usual two songs.

The crowd seemed so quiet in front of me. I had the entire VIP section in front of me, I was near the mixer, next to the beer sales, a small table with two young girts that seemed to be a lot more into the show than many others around me. Almost no hands in the air for an hour or so, but that changed a lot during "Midnight Rambler". Everybody loved it, thanks to Mick and his energic dancing, and also thanks to the guitars that were tuned up a lot by now, the crowd had a wake up call and I started to see more hands in the air.

The rest of the show was lound, clear and brilliant. No details to be mentioned. They played every song like they have done at their best this summer. For the final bow, everybody was hugging and shaking hands on stage like they would go away for a long time. Keith hugged Charlie deeply, before the final bow, I saw so much love and friendship during the final bow. It was a great memory to take home, knowing that it might take a while until I see them again, but this was not the last show ever. As they walked out of the stage, on their way to the waiting short flight back to nearly Montreal, I was happy, relaxed, saying goodbye to fans, friends and crew members. Thank you Rolling Stones, crew and fans for making a great summer in Stoneland!
---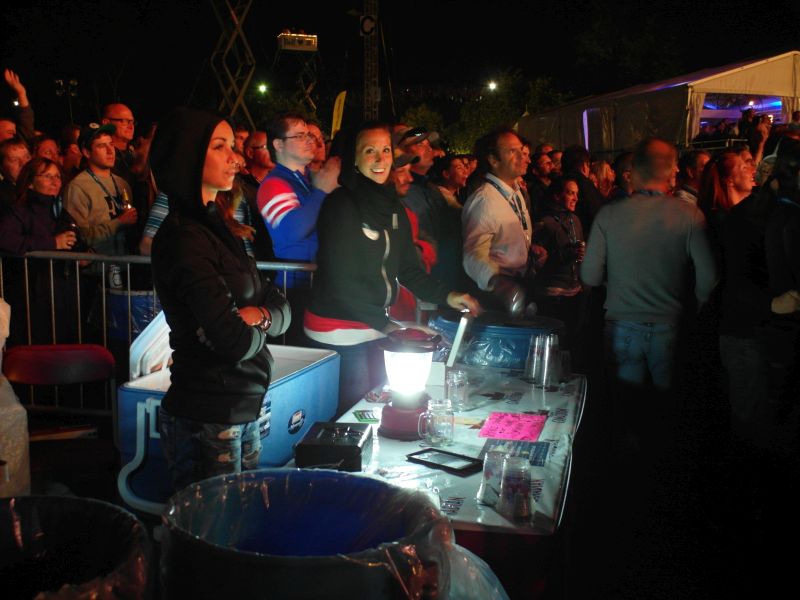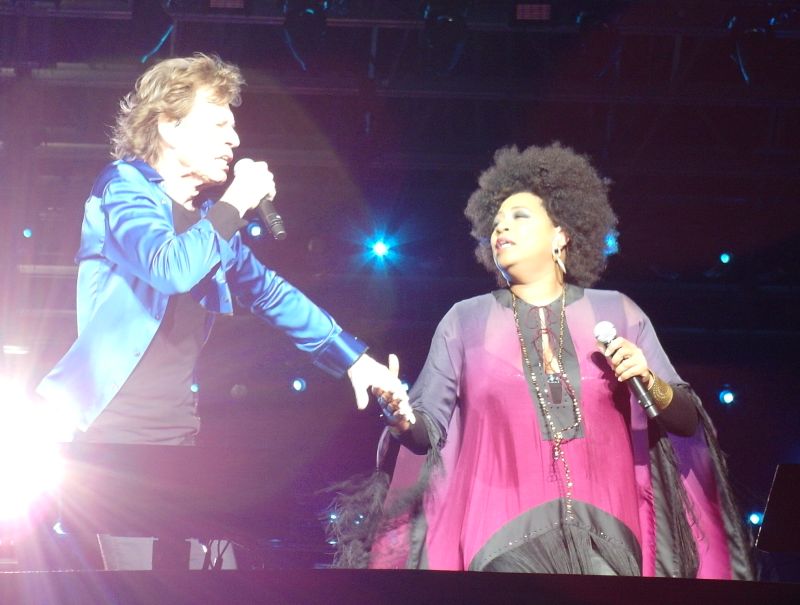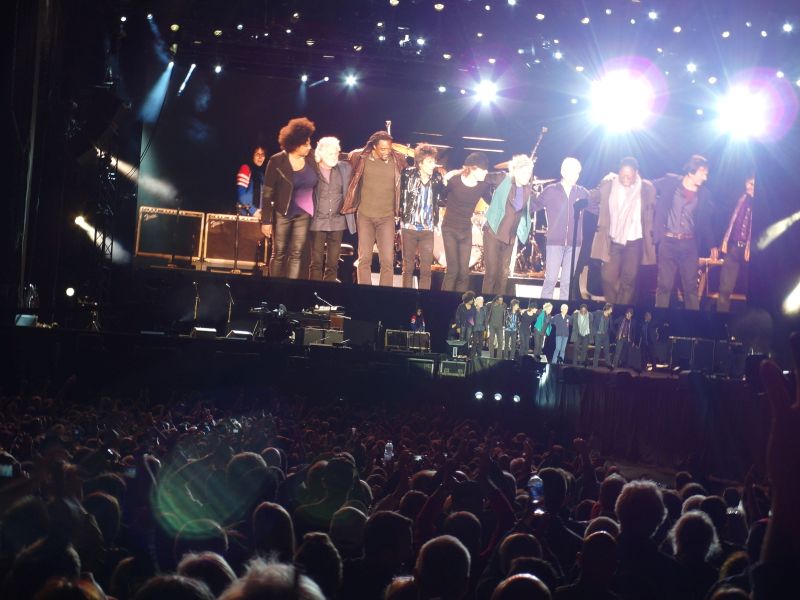 Photos by Bjornulf Vik
---
Review by Jim Johnston
My daughter and I arrived Monday afternoon and had a great time touring the city and taking in some of the Festival shows prior to Stones. This was the third time we have seen the Stones together - Moncton in 2005 and Toronto in 2013.

The weather was great! A little cooler than the previous days but not bad. Arrived and lined up at 5 - were directed to the rear entrance - there was a stream about 200 people a minute heading past us down the line right until the gates opened - some people didn't get in! The set up was pretty good and everything flowed smoothly.

The crowd was rocking but it was not a true Stones crowd - and you could feel the lack of energy and I am sure the Stones did too! The first opener from Quebec did a good job getting the crowd warmed up but the second band came across like they were playing a funeral and most of the crowd stop listening and were just chatting amongst each other.

Great set and sure glad Doom and Gloom had fallen off the set list. Keith was really on - the best I have heard him play in the four shows I have seen - my daughter thinks he must be getting intravenous vitamins! Sound was a little quieter than I expected. For me the highlight was Gimme Shelter. There was not a song I was disappointed with and sure glad I had a chance to see them again and sure hope to see even more of them!
---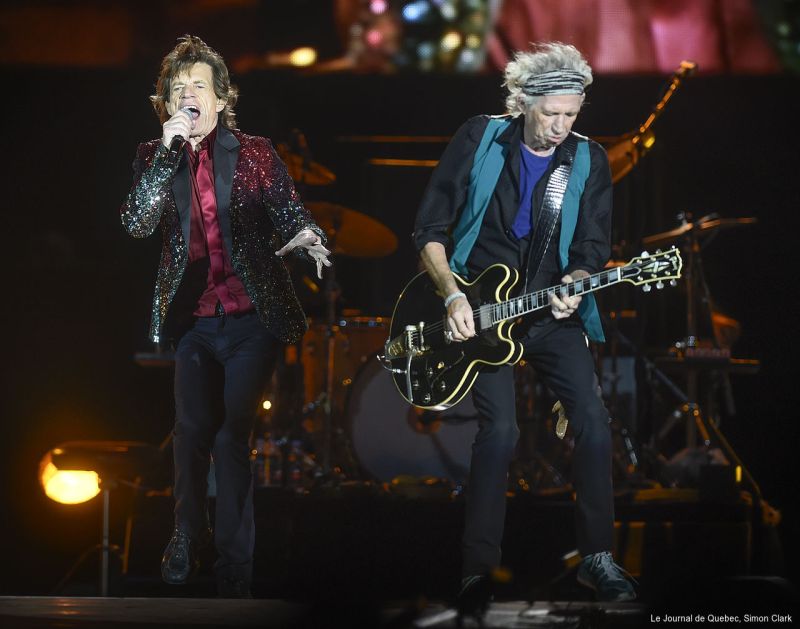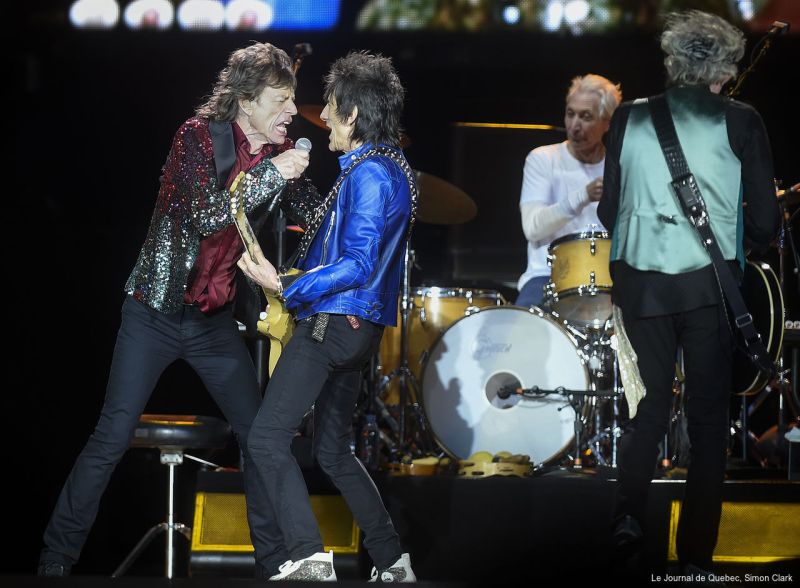 Photos from Internet
---
Review by Michel Werthenschlag
For those of us, Stones fan, that are not serial concert goers (i.e., the lucky few who attend all of the concert of a given tour) but nonetheless go to at least one gig per tour, each new concert is an opportunity to look back at the past few years and be grateful to be able to enjoy, once again, the treat that the Rolling Stones are. Personally, I've been following them live for three decades now, since my first concert in Longchamp in 1995. I was joking with another fan that I felt sorry my kids wouldn't probably get to see them live (my oldest is 7). He responded that I shouldn't worry, that they'll probably go to see them with their own kids.

I had last heard the Stones live for their two dates at the Prudential Center. Both concerts had been fantastic and from the reviews I had heard in the press and the reviews from fellow fans, it seemed like the band had only gotten once again better.

The Plains of Abraham, the bucolic site of Wednesday concert, where 93,000 fans had taken place, was a lovely setting for the last date of the Zip Code tour and my 13th Stones concert. In a clear, yet chilly, night, the Stones delivered a very solid performance, with flashes of brilliance and a consistency that seems to now be the hallmark of the band in its 6th decade (!). And what a treat to watch them with dear family members (hey bro! hey Murr'!).

The first few songs were solid, if not phenomenal. The crowd went nuts after the opening notes of "Start Me Up". Not the best version I heard, but the fans didn't seem to care. It's "Only Rock N' Roll" followed. Ronnie seemed to be having the time of his life, jumping up and down in his blue jacket while Keith made the song sound dangerous and heavy. "All Down The Line" was next. A slower version of the original (hey, these guys are past 70) but with great soul and a fantastic job from the horn section.

Mick seemed to want to start it slowly and I can understand -- the chilly wind blowing on the plains must have made things a little harder for him, but as the concert progressed, his voice got better and better, reaching highs I had dearly missed in the previous tour (when it wasn't unusual to have him just "rap" the words of some songs without really singing them). "Tumbling Dice" was next. Same old, yet always a treat, subtly reminding him why Charlie is such a great musician. The fan's requested song was "Street Fighting Man". I was hoping for "Doo Doo Doo (Hearbreaker)" but SFM sounded great. The guitars had a stripped out, no frill sense of menace and really sounded great.

"Wild Horses" was next, slow and beautiful. "Bitch", the other Sticky Finger's pick of the night, was phenomenal. It's probably my least favorite song of Sticky, yet they way the band played it was absolutely amazing. They made it into a groovy gem, with some great interplay between Rock, Keith and Darryl and a sweet solo from Keith. If you can find it on YouTube, go watch it. It's that good.

"Honky Tonk Women" still sounded fresh and compensated its lack of imagination with Ron's enthusiasm and Chuck's solo full of soul. Keith's 2-song set came up next, with an excellent "Before They Make Me Run" and a solid "Happy". It's always strange to see Keith barely playing the guitar anymore on his "singing" set (it seems to be the case since the 2005 tour) but at least, it makes him more focused on the words, though fortunately, he still bungles them once in a while. The opposite would have me worried!

It was then time for "Midnight Rambler". A fantastic version of the Stones's very own Rock Opera/Drama with Mick on the harmonica. The last time I heard it live, Mick Taylor was there, adding some precious licks to an already well-oiled version, but I have to confess that Ronnie didn't need a sidekick. He held his own. And what a sight to see Mick, Keith and Ronnie, playing off each other!

Next was "Miss You", probably the best version I've heard live, thanks to some very inspired solos from Darryl and Tim Ries, and Mick asking "Vous voulez chanter un peu avec moi?" Tim's saxophone in the clear, windy night, was truly spectacular, building on Darryl's bass, which, for once, reminded me of Bill Wyman's swing. It sounded like a completely new song.

"Gimme Shelter" was excellent. The opening riff always gives me the shill and had the crowd rousing. Lisa didn't disappoint.

"Jumping Jack Flash", just like "HTW", still sounded fresh, with phenomenal complicity between Ronnie and Keith. The band just seemed to have so much fun. How much longer can they tour? Nobody knows, but one thing is certain: they love what they do and are still having a blast so I don't see them stopping any time soon.

"Sympathy For the Devil" was very, very good. Keith solo, albeit short, sounded great and Ronnie licks were spectacular. Even Mick's voice sounded unbelievable (check it for yourself on YouTube). I was thinking to myself: How can I still be impressed with a song that I've heard thousands of time?

"Brown Sugar" was great and it was sad not to hear Bobby Keys blasting through his solo, though Karl Denson did a great job.

The encores were a perfect way to cap a beautiful night, with a choir-led You Can't Always Get What You Want (which had a beautiful gospel-y sound in the end) and a solid Satisfaction that Keith didn't seem to want to end, with an amazing solo that reminded us that he still is this Chuck Berry's loving old cat nicknamed Keith "The Human Riff" Richards,

The concert over and the Plains quiet again, it was hard not to feel incredibly grateful that this brilliant, treasured band is still around, and we're here to witness it.
---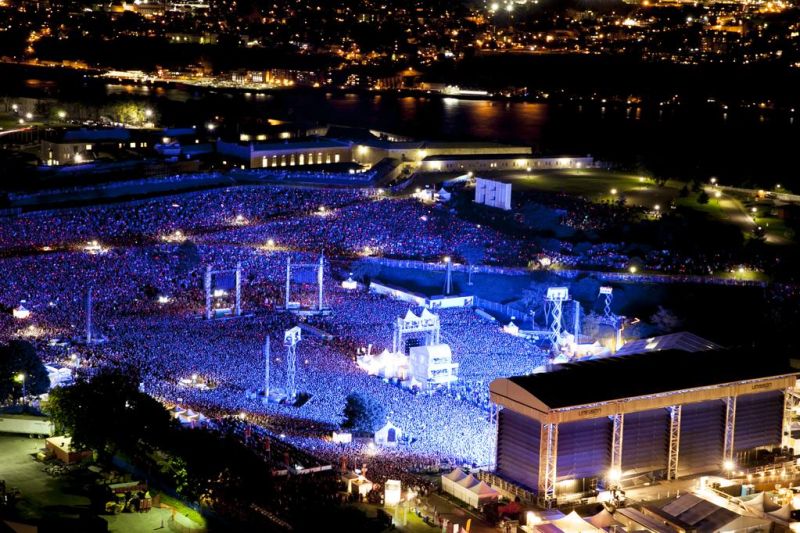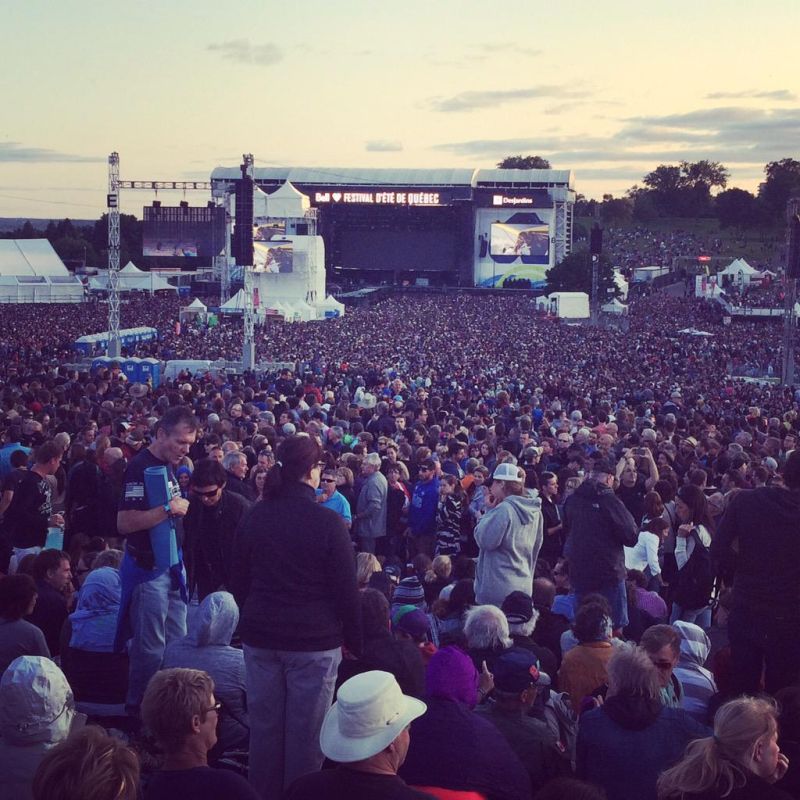 Photos from Internet
---
Review by Carter Snow
I am a sixteen year old Rolling Stones fan. I went to Quebec with my parents and my friend Jack.

After a dinner of "rabbit wings" and grilled cheese in old Quebec, my parents and my friend Jack and I headed for the long line snaking around the water fountain just outside the wall. My parents then left to go to the VIP section, where they had tickets. Jack and I were left to scratch and claw our way to the stage through 93,000 Stones fans. Working our way through the massive crowd, we finally found an open spot on top of a tarp that had been placed on a puddle. We were about 100 feet from the end of the B stage, on Keith's side. This was a great angle to watch the show from and our view was unimpeded due to the wet ground that no one else wanted to stand on.

The Stones opened up with a classic in "Start Me Up," which set the tone for the rest of the night, as they played all of their typical concert songs. "Street Fighting Man" won the fan vote and was solid. Keith played his usual two songs of "Before They Make Me Run" and "Happy." The two highlights of the show followed "Midnight Rambler," with Darryl Jones doing a killer solo during "Miss You." Although he hardly gets any notoriety, he is an amazing bassist and an integral member of the band. Next, Lisa Fischer strutted out on the catwalk and had the crowd roaring when she hit her otherworldly high notes in "Gimme Shelter." The encore started with "You Can't Always Get What You Want" and ended the show with "Satisfaction." Despite having it as my ringtone, the opening riff never gets old and watching Keith hit those chords live sent a chill down my spine.

Although they didn't appear to be at the top of their game and the set list was the usual, the Rolling Stones did not disappoint. I was hoping for some more obscure tracks, but I can't complain because it truly is one of the greatest thrills to watch this band play. It made it even better that tickets were selling for $100 each, making it much more affordable for kids to attend. I have been to one other show at the TD Garden in Boston, where almost everyone there was over the age of 40. This time around, the Stones really showed they're prowess with a huge turnout of fans spanning four generations.
---
Links
---
This page will change over the next few days, as you and other fans send reviews, set lists and reports. Please send your e-mail to IORR. Thanks! For details and great photos from the Rolling Stones and their World Tour get the IORR magazines.




It's Only Rock'n Roll 1980 - 2015
© The Rolling Stones Fan Club Of Europe