The Rolling Stones
Toronto rehearsals 2005
---
These are the latest Rolling Stones news and updates for you! IORR is a non profit fan club run by fans for fans. All parts of the It's Only Rock'n Roll web site is copyright of The Rolling Stones Fan Club. When using information from this site, please include a reference to IORR and the main web address www.iorr.org.
---
---
Rehearsals in Toronto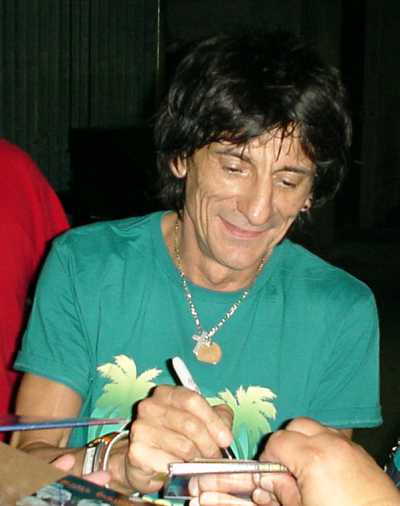 The rehearsals for the upcoming Rolling Stones 2005/2006 world tour will as usual take place in Toronto, Ontario, Canada. The stage building and preparations are currently done at a special location in Pearson International Airport in Toronto, while the Stones have rented a private school to do rehearsals for a month or so starting up July 14. These pages will keep you updated with rehearsals informations, and will be updated often. If you have reports or comments please send email to

[email protected]

.
Sunday July 10
Equipment and crew is slowly arriving to Toronto. Stage building is being prepared at Toronto Pearson international airport, at a special location. The Stones are expected to arrivie in a few days to start reherarsals at a private school rented for the Stones.
Thursday July 14
The Rolling Stones are all in town. First day of rehearsals. They had a party after the initial rehearsals. Mick met up with Bruce Springsteen in a local bar. Bruce had a show at the Air Canada Centre tonight.
New songs rehearsed
Chuck Leavell is updating his Tour Diary on ChuckLeavell.com, telling bits from the Toronto Rehearals. So far - during the first two weeks of rehearsals - Chuck is reporting they have tried out live versions of Rough Justice, Streets of Love, Back Of My Hand, Rain Fall and Sweet Neo Con from their new album.
Monday Aug. 1
After Sunday off they are now back in rehearsals with the full band of 13 people i.e. Mick, Keith, Charlie and Ronnie, plus Chuck Leavell, Darryl Jones, Lisa Fischer, Blondie Chaplin, Bernard Fowler, Bobby Keys, Tim Ries, Michael Davis and Kent Smith. Running through Sympathy For The Devil a few times, then one of the new songs (Neo Con?) five times, then Memory Motel and more. The band is sounding better than ever and they have still almost 3 weeks of reheasals to make it perfect.

Tuesday Aug. 2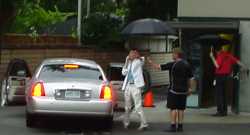 Mick arrived to the rehearsals site as rain, thunder and lightening were making it rough in Toronto today. Waiting fans took shelter under whatever they could find, but did not leave their spots. Mick got shelter from an umbrella brought by security, from the very same thunders that probably hit the Air France flight at Pearson Airport at the same time. Lots of planning at the rehearsals site today, not so much playing. Still they had some interesting selections today as well, including Paint It Black, Hand Of Fate, Sister Morphine, 19th Nervous Breakdown and Loving Cup.

Wednesday Aug. 3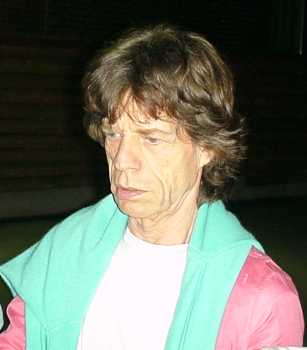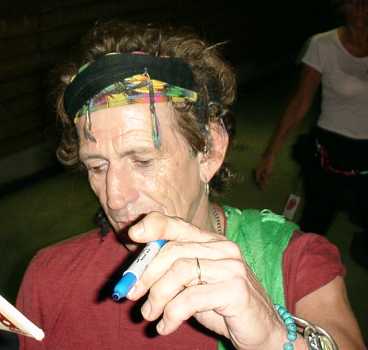 They brought back memories from the Bridges To Babylon tour today, as they reheased two of the most popular songs from that tour - Out Of Control and Saint Of Me. Other songs rehearsed tonight are Miss You, You Can't Always Get What You Want and Love Train, plus more takes of a couple of the new songs.

Thursday Aug. 4
Bluesy day at rehearsals today. Mick did not sing that much, so his voice got a rest. But what we heard was still pretty strong. Keith tried out some of his own stuff. And the beauty of rehearals - where else can the Rolling Stones do a 20 minutes blues intro with raw dirty guitars by Keith and Ronnie, backed by Charlie only at times, then jumping into the real 10 minutes verson of one the new songs? Not on stage may be, but if we are lucky the short version will get to us. Hang Fire was rehearsed three times. First instrumental with chorus, then Keith on some vocals, then full version with Mick on vocals. Sounds great and ready. They did more blues, and also something that sounds like "Sweet Neo Con". Then Paint It Black closed the night. And they did Moonlight Mile of course!
Friday Aug. 5
Keith cranked up the rehearals night with Thru And Thru. Then an instrumental take of something that must be a new Keith song. Then two takes each of our great favorites Gimme Shelter and Street Fighting Man. Keith did some blues and then three takes of a new song. Then the warm-up was over and they were in for the long stretch of tonight. First Harlem Shuffle. This song seems like it wants it's place in the set list. Then Aint To Proud To Beg and Rocks Off. Everybody Needs Somebody To Love is a typical theatre song, so may be they are planning to bring it up to the bigger levels as they did it tonight. Then some more new stuff. Don't be worried about this being the oldest greatest hts kind of tour. They are rehearsing lots of new stuff as well... All Down The Line is a fast rocker you just have to love every time. Then another theatre favorite we might get on the bigger venues as well - Worried About You. Just as the falsetto of Mick closed the song, he was out of the house ten minutes later. The rest of the band stayed behind for a while and did a couple of songs with Keith. With well over three weeks in Torono and a little less than two weeks to go they are now closer to nailing a new and interesting set list.

Saturday Aug. 6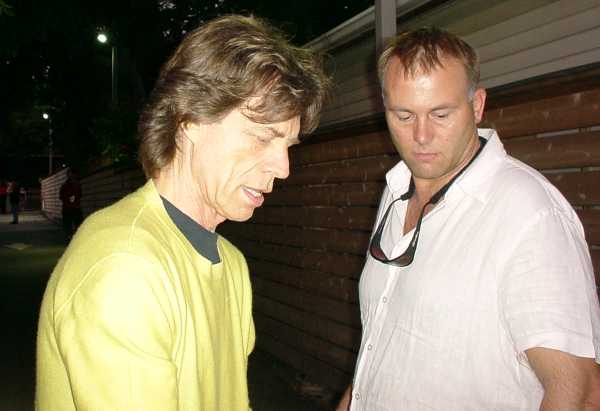 Special day for the Stones today at the rehearsals site, with photo sessions and other non-rehearsing activity. They arrived as usual. Mick left early, and those hardcore fans who waited all day and not just showed up by the clock were all rewarded with great signatures, some even dedicated tonight. Totally relaxed atmosphere when there are not so many people around. Keith did some jamming until midnight, then left in a hurry. Those fans who paid close attendion by the barricades tonight were actually told how to be in for a special treat next week.
Sunday Aug. 7
No rehearsals today.
Monday Aug. 8
This has been a full day running through a complete set of songs. Not just testing out individual songs, but also running through the songs back-to-back. What a great set of songs rehearsed tonight!
Sympathy For The Devil
You Got Me Rocking
Shattered
Tumbling Dice
Rough Justice
Memory Motel
Beast Of Burden
Heartbreaker
Blues
All Down The Line
Infamy (Keith) x 2
Paint It Black
Miss You
Oh No, Not You Again
Satisfaction
Out Of Control
Start Me Up
Jumping Jack Flash (with applause from the outside fans)
Brown Sugar
You Can't Always Get What You Want
Tuesday Aug. 9
Time to leave the rehearsals site for queuing at the Phoenix Concert Theatre. Few people at the rehearsals site tonight. The Stones did rehearse, but few details are available. For the club show details see the Phoenix Concert Theatre reviews and comments pages.
Wednesday Aug. 10
Club show today! The Rolling Stones did a soundcheck at the Phoenix Concert Theatre in the afternoon. Then they return to their residences in and around Toronto. They arrive back to the Phoenix as the doors opened for the fans around 7pm. For reports, set lists and photos from the club show tonight see the Phoenix Concert Theatre reviews and comments pages.
Thursday Aug. 11
Late start for rehearsals today. Keith did Infamy. Then they worked for a long time on Sway. And Moonlight Mile. Those tracks sound fantastic with lots of great guitars - just can't wait to hear that real live in a crowd! Then Rough Justice, Waiting On A Friend, Get Up, Stand Up, Paint It Black, Worried About You and Infamy (Keith).
Friday Aug. 12
They rehearsed half of the set instrumental tonight, but it was a great set of songs still:
Live With Me
Oh No, Not You Again
She's So Cold
Bitch
Infamy (Keith)
--- Break. Then instrumental:
Honky Tonk Women
Miss You
Night Time (Is The Right Time)
Paint It Black
19th Nervous Breakdown
Out Of Control
... and more!
Saturday Aug. 13
Great final rehearsals night in Toronto. They did the following songs among others:
Midnight Rambler
Get Off Of My Cloud
Mr. Pitiful
Neighbours (two times)
Sway (four times)
Heartbreaker
Shattered (two times)
Going To A Go Go
Rough Justice
Dan Akroyd was guest at the rehearsals. Sure they had great fun on the final night. As they left some time after midnight Dan Acroyd came out acting as Ronnie's bodyguard. "No autograps, just pictures" he said. Then Ronnie posed for fans shooting photos for a while, before he started the longest lasting signing time ever seen. He signed a lot. Then into the van, while Dan Akroyd took over the role as traffic organizer, in complete control, dressed as a Blues brother of course, and making sure the van got safely out of the rehearsals site. Where are we going, Dan shouted to Ronnie. Unfortunately we could not here what they said. So they dissapeared into the Toronto night downtown while the fans waiting out there every day for four weeks and three days had happy faces, and also a bit sat, because we knew it was all over in Toronto for now.

But next is Boston!
---
Sunday Aug. 14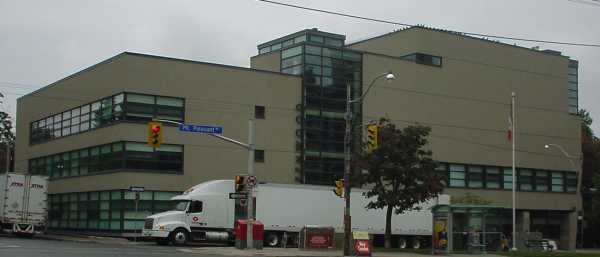 Five large vans have arrived to the rehearsals site this morning. They are currently moving out all equipment. Goodbye Toronto. Hello Boston. PS. More details about the rehearsals in Toronto the past five weeks to show up here soon.
Toronto rehearsals song list
This is a list of commonly rehearsed songs in Toronto. They will not play all these songs on the tour, but you may expect to hear a lot of these songs still. May be not in Boston, but for sure later on during the tour. Like at arena shows, other stadium shows, MSG, and other places they dare to bring up new and rare stuff.
19th Nervous Breakdown
Ain't To Proud To Beg
All Down The Line
Beast Of Burden
Bitch
Brown Sugar
Dead Flowers
Everybody Needs Somebody To Love
Get Off Of My Cloud
Gimme Shelter
Going To A Go Go
Hand Of Fate
Hang Fire
Harlem Shuffle
Heartbreaker
Honky Tonk Women
Jumping Jack Flash
Live With Me
Loving Cup
Memory Motel
Midnight Rambler
Miss You
Moonlight Mile
Neighbours
Out Of Control
Paint It Black
Rocks Off
Saint Of Me
Satisfaction
Shattered
She's So Cold
Sister Morphine
Start Me Up
Street Fighting Man
Sway
Sympathy For The Devil
The Worst (Keith)
Thru And Thru (Keith)
Tumbling Dice
Waiting On A Friend
Worried About You
You Can't Always Get What You Want
You Got Me Rocking
And they rehearsed a lot more songs. This is just a partial list of what they rehearsed most often.

Songs from the new album rehearsed a lot:
Rough Justice
Streets of Love
Back Of My Hand
Infamy (Keith)
Other new songs rehearsed:

Cover songs rehearsed:
Get Up, Stand Up (Bob Marley & Peter Tosh)
Mr. Pitiful (Otis Redding)
Night Time (Is The Right Time) (Ray Charles)
---
Links and references
Contact IORR
If you have information, corrections, additions or comments, please send e-mail to [email protected]. Thanks!
The IORR magazine
For exclusive reports and pictures from the Rolling Stones rehearsals, club shows, tour and more see the IORR magazines.




It's Only Rock'n Roll 1980 - 2005
© The Rolling Stones Fan Club Of Europe