---
These are the latest Rolling Stones news and updates for you! IORR is a non profit fan club run by fans for fans. All parts of the It's Only Rock'n Roll web site is copyright of The Rolling Stones Fan Club. When using information from this site, please include a reference to IORR and the main web address www.iorr.org.
---
---

The Rolling Stones
Radio City Music Hall, New York, NY
Tuesday, March 14, 2006
The set list
Jumping Jack Flash
It's Only Rock'n Roll
Shattered
Oh No Not You Again
Tumbling Dice
Worried About You
Gimme Shelter
Midnight Rambler
--- Introductions
This Place Is Empty (Keith)
Happy (Keith)
You Got Me Rocking
As Tears Go By
Get Off Of My Cloud
Sympathy For The Devil
Honky Tonk Women
Start Me Up
Brown Sugar
You Can't Always Get What You Want (encore)
Satisfaction (encore)
---
Review by Cardiff Giant
To see the Rolling Stones on the marquee of Radio City Music Hall.....an amazing sight. I walked the outside of the hall late in the afternoon and came upon the band entrance. Heavy security and just a handful of fans hoping for a glimpse of the Stones arrival. One by one, everyone pulled up to the side doors. Quick waves from each bandmember and then inside for soundcheck. I snapped a few photos and got out of the brisk winds to head down to Walter's near MSG for the pre-party.

Arriving back for the show with my buddy, we went inside..I was the only person pulled aside for a metal detector wanding....But I still got my camera in !!! My first event at Radio City....what a beautiful venue. The lobbies were packed, the open bar was a hit. We made our way up to the 3rd mezzanine for our seats dead center in the 5th row....great view....and very unique...being up above in the center...but still very close (relatively) to the stage. It allowed you to watch the band work...especially Charlie. A very roomy front stage extension out into the crowd....Would we have a b-stage set???...hmmmm.

B-52's did a very solid job. I was happy to see them perform....Roam was great. And of course, Love Shack and Rock Lobster. Before the Stones hit the stage, Robin Hood's chairman took the stage along with board member Harvey Weinstein to thank everyone for coming to the show.

Finally, the lights dimmed and, as I expected, the Stones massive video screen appeared on the back of the stage....the cosmic opening video and we blast into Jumping Jack Flash. Keith immediately strides right up to the front edge of the stage extension...A poweful opening. You could feel how special this night was. Sound was great...loud, clear with lots of guitars... It's Only Rock 'n Roll was again...loud, solid and high energy. The band was on point right from the get-go.

Mick introduced a song about New York....Shattered !!!! ...and they nailed it musically. Mick shortened up the verses...but Ronnie, Keith and especially Charlie and Darryl were ripping up the song....but it wasn't sloppy. A great tight rocker. Ronnie was on tonight. Oh No Not You Again--- tight and hot...similar to Fort Lauderdale the other night, but not as perfect....but still....a great version. Keith just lives inside this song and creates new riffs. Tumblin Dice...A heavy dose of high energy... the horns were soaring, Keith used the room...literally...He went stage left and just leaned on the wall as he played. An intimate venue for sure....It's officially a theatre show when you have a wall to lean against!!!!

And then...I got something I hoped for, but figured might be a longshot. Keyboard brought to the front of the stage.... Could it be????.... My first time....Worried About You !!! Oh how sweet! Mick takes a seat... and proceeds to hit us with the falsetto magic. And to have this song at this show....WOW!!!! Bay-beeeee! They hit a home run. And Mick went super low for "why you do that baby?" Ronnie's solo was slow, and measured and that made it work. Patience and feel. Way to go Ronnie. And the song just built and built...and built.... Just awesome. Mick was on fine form. What a performance.

And to go into Gimme Shelter, outta that?.....oh my. powerful playing all around. Lisa at the center with Keith...that playful flirting always something to see, just before Lisa belts the solo that makes the crowd erupt. And once again, Mick just gives it his all. He runs past a line...no big deal, he turns it into a little scat ad-lib and he and Lisa just go from there.

Now, with Shelter barely finished...I hear the low blues notes...and we're ready for Midnght Rambler?....are you joking? This show is now officially perfect in my book. I check my watch....this goes 11 minutes. I have now developed on this tour, an involuntary reaction....when those little notes start and Mick hits his first harp drag....I start yelling....I go crazy. Rambler kicks ass, any time, every time...period. Keith hit some fast licks in the middle that were totally on feel... Mick played harp and threw in plenty of "don't do thats" as he barely took his mouth off the harmonica. The long jam brought Mick's duck walk out...all across the front of the stage.... The crowd participation was great. 'Radio City say oww"... oww..... "Say oww.oww.oww...owww.owww...owww....oww-wwwwww"...and Charlie proceeds to blast the snare in Mick's vocal rhythm. snap-snap-snap-snap -snap-snap-snappppp...And when the "hit and run" lines came...Charlie broke his usual character of smooth, swinging stickman, and looked like a robot as he crashed his array of cymbals. Stiff armed swings and turns of his head and shoulders...One of the coolest things I've ever watched from C. Watts !!!! Rambler is always a huge highlight with me, like you can't already tell. !!!!

Band intros....and we get Keith front and center. "Hey New York City....back again. Nice room ya got here!!! " ...This Place is Empty was full of soul. The visual of Keith alone, up front...always gets me. Happy was ripping. Keith jumped around early on some lyrics...but who cares. The house was jamming on this one. He was the human riff. An arm flick to the right and a kick with the left leg..Go on Keith!! He ended the song all the way at the front extension...on his knees. And then headed to the back with that spinning, skipping bounce that just makes you smile.

Sure enough, we're getting a b-stage....Radio City-style. Charlie's drum kit slides forward and the band is playing the middle of the orchestra level. The screen is turned off...and the big curtains are lowered in the background. Here we go. You Got Me Rocking was nasty, Keith just didn't want to stop. No Chuck Leavell up front...he played keys from the main area. A bar band is rocking this joint.

Then the stool comes out for Keith....oh yeah, this is special. What song would it be??? ..Several possibilities. And we get... As Tears Go By. Amazing song to play on the b-stage. Smart too. The older crowd in the expensive seats can get into it. Mick's vocal....so much feeling. Charlie swings..and that has made this song so great on the tour. Keith and Ronnie on acoustic. This show continues to cement itself as an all-time classic. ...Another oldie....yeah, why not....Get Off of My Cloud !!!! Sure, we've been hearing it for many shows....but it's in this environment, in this setlist, that makes it so special. A perfect capper on the b-stage. The crowd went nuts for it. Those "seniors" down front couldn't help but dance and shout with the Stones.

Sympathy on the main stage...and the video screen fills with red and black. Crowd is fired up. Keith with big, blaring notes. And as the jam builds, Mick and Keith start "the Climb".... two stairwells on either wing of the theatre, leading up towards the mezzanines. Mick goes up one...Keith up the other....and Keith keeps going....and going...and going... and stays there for a good while !!!! This is just too much. I was soaking in this kinda stuff all night. A stuffy boring show for charity??....yeah, right! How 'bout a night for the ages. It ain't just setlists and solos...It's the whole package. And this proves it. Once Mick and Keith were back at "sea level"...the song exploded. Mick rushed the front edge so fast and with so much aggression He was pouring himself to the crowd...and I can't believe how so many in the front were not going crazy...I think many of the VIPs in the big money seats were in plain shock and amazement at the performances they were getting. The Stones had kicked it into ultra-overdrive. Get out of our way....we're here to kick some ass.

Honky Tonk continued the bash. Keith getting into it. The crowd loving it. "divorcee in New York City" get big cheers. Tennis great John McEnroe shown on the screen jamming out.

Start Me Up featured plenty of energy..It's so much better as a stretch run selection in the setlist. Ronnie was, again, solid on the solo. Brown Sugar capped off the main set with Bobby Keys' signature sax blast and plenty of rock and groove.

The encore brought the house up even higher...You Can't Always Get What You Want was connection for everyone..band, crowd...the whole place. Ronnie nailed his solo...again. Mick's singalong was full of soul and rhythm "You Can't always get what you want!! ....yeah, yeah....yeaaahhh! ... you can't always get"....etc.. Mick did a lot of hand slapping in the front row. No barricade. Two fans held on to Mick for a long time...I'm sure he was freaked a bit, while trying to keep the song going.

Satisfaction had Keith enticing the crowd before cranking out that famous open. Mick worked the whole stage. Ronnie went to these three kids in the front, and was motioning them to strum his guitar as he crouched near them....They didn't understand and just slapped his hand. Oh well. Keith was all smiles. The song was so exuberant.... ending a great US tour. The confetti blast covered the whole front stage extenstion and even rained down on Mick and Ronnie. What a visual spectacle. Mick just stood there in control, his final pose, as the confetti hung over him. Charlie handed one stick to Ronnie who hand delivered it to one of the kids up front. Ronnie then flicked numerous picks into the crowd and blew kisses. The final bow, and Mick and Keith were the last to leave, on either side of the stage. Keith went to the front and hand delivered picks to two lucky fans, before walking out the back.

An amazing night....you'd be hard pressed to see a better 19 song set. Some gems...Some great combos...(Worried, Shelter and Rambler...all in a row.) A b-stage that was so perfect. Not to mention Shattered and all the rest. And that climb by Mick and Keith. So many great memories at Radio City. Sound was fantastic, musicianship was top notch...Energy of the crowd was much higher than I expected. I think only the Stones could do that in a benefit show of this type. And our little gifts are great...event t-shirt, poster and Robin Hood program. Just a perfect night and a perfect conclusion to this part of the tour.
---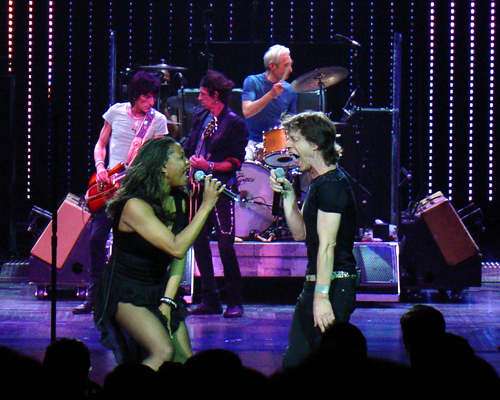 ---
Review by Larry Bingo
I was lucky to get two tickets for face value last night, we sat in the upper balcony 3rd row, wonderful seats.

The show started off with a bang with JJF, the sound was fantastic in Radio City. The Stones moved on to IORR and Shattered, Shattered was played tightly and had that gritty NYC feel to it.

The 4th song of any Stones concert is the make and break area, we were hoping for something similar to MSG 1-20-06 show, a breakout tune. Instead, we got ONNYA. To be honest, it took a little wind out from my sails. I think The Stones might have sensed that as well from the crowd?

They tried to kick it up a notch following with Tumbling Dice. Again, nice tightly played song. Mick steps up to the plate and does a beautiful version of Worried About You. His vocals in Radio City were brilliant, Mick was on all night long. The crowd was playfully returning the Falsetto..Baaaaby. A nice exchange between Mick and the crowd.

OK, here's where the night takes a complete 180, from the first notes of Gimme Shelter till the very end, The Rolling Stones not only kicked it up a notch, they went full steam ahead.

Gimme was loaded with energy, and Midnight Rambler was epic. The perfect song to get the NY crowd to act and feel a little mischievous.

This Place is Empty had a nice bar room feel to it. Happy was Happy. You Got Me Rockin was tight and played very well.

As Tears Go By was a brilliant number, very emotional, you could feel the crowd soaking it in.

After the acoustic ATGB, They came back with Get Off My Cloud, that got everyone dancing again.

SFTD, wow!!! They tore the roof off Radio City with that one, one of the better versions you'll hear. I really have to stop here and acknowledge how well Ronnie Wood played all evening, he was loud in the mix and it seemed like he was taking over and being the lead man on guitar most of the night. Hats off to Ronnie.

The rest of the night was your standard close the show Stones tunes that were played with lots of raw energy, a nice way to end the night in a special venue in NYC.
---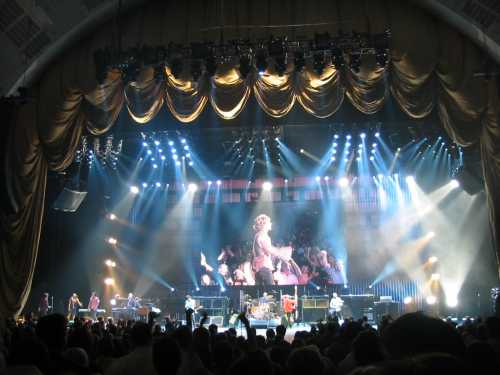 ---
Review by Michel Werthenschlag
The Last Time? You Can't Always Get What You Want? I Can't Get No Satisfaction? A charity event for 5,000 people after playing in front of 2 million people in Brazil? Quite a context for another NY show for the Stones.

NYC has always been central to the Stones, with fantastic performances (Welcome to NY 1972, the best live Stones' concert EVER recorded) and so many NY-related songs (Honky Tonk Woman, Doo Doo Doo, Shattered). Is the magic going to happen again? Every concert I go, I wonder and I'm convinced it can't top the previous one. I last saw them a couple of months ago at the MSG where our boys had been plain amazing. They had left me with memories of a fantastic Ain't Too Proud to Bed and a power Paint it Black. I was almost scared to risk losing such a great impression. Well, Stones' fans need not worry, the boys took care of business. They did it again. In such a beautiful and mythical venue, it was hard to miss, let's face it. The opening act, the B52's warmed up the room with some classic hits like Love Schack ("This is a song that was made popular by us") and the always cheerful voice of her singer. So sad Sheryl Crow couldn't be there. Some quick corporate talk came next with the chairman of the Robin Hood NYC Charity followed by a simple yet powerful speech by Harvey "Mr. ex-Miramax" Weinstein. It's 9:15 PM. Stones' time.

The opening note of Jumping Jack Flash start to blaze and the beautiful velvet curtains on the stage start to shiver. The Jag is in top shape, no doubt about it. Sitting in Row VV, I have a fantastic view and Mick looks younger than ever, it's quite spectacular. As for the sound, it's basically the best I've had at a rock concert (I guess Carnegie Hall doesn't count): no saturation, perfect mix, perfect balance – a dream. No transition, the opening note of It's Only Rock n' Roll. Chuck Berry is in the place. All the suits and ties start to shake. Corporate America is rocking! The Stones already won the battle. Solid version, classic, excellent riff by Keith; Ron looks pretty good and sober tonight.

Mick starts chatting a little bit. "The next song is about New York". I'm hoping for Doo Doo Doo Heartbreaker. It will be Shattered, not my favorite song from Some Girls but an excellent rendition and some killer groove. Definitely sharp tonight. Then, first title from A Bigger Bang, the already classic Oh No Not You Again. I just love this song. Witty lyrics, classic riff and excellent solo by Ronnie. Like I said, a classic Stones' song already. Back in 1972 and Tumbling Dice. One of my favorite Stones' song from my favorite album, Exile. Very good performance and special mention to Charlie. His drum's part is like Keith's Start Me Up solo. A must.

At this point, as the roadie brings a keyboard, I have a clue that Worried about You is going to be next. One word: magnificent. Mick's falsetto voice ("Bayyyyyyybeeeeeee") and the whole atmosphere in the room made this song very special. Definitely one of the top 10 live songs ever heard from the boys. Beautiful solo, great great performance by Mick and the impression of being in a small theatre with talented musicians playing for us. And what these talented musicians are the Glimmer Twins, how much more can you ask? Well, what about Gimme Shelter? Another solid version, great signing by Lisa. Keith gave this slow yet powerful, almost out of time riff, that makes this song one of Let It Bleed's greatest. Wait a minute, Let It Bleed? Yup, it's time for Midnight Rambler. Flawless. Rhythmic session precise as a sharp and powerful like a bulldozer. Changes of pace. Great solos and great complicity between Keith and Ronnie. Mick is all over the place. Running. Shouting. Muttering. Flirting with the audience. Shoving the microphone in his pants. Balancing his butt. THE rock star. Who the #$%& is Bono? Then, the classic Keith's interlude. Cute version of This Place is Empty, definitely a good ballad and a very approximate version of Happy. Keith starts with the wrong lyrics. Repeats them and never quite got on track with the right couplets. Who cares, as long as he's Happy, right?

Mick comes back with a bang and the unique Radio City's B stage. At that point, I felt like there were just in front of me. Amazing. Great version of You Got Me Rocking with a real cool half-acoustic, half-electric riff by Keith and a sweet solo by Ronnie. Yup, you read me right, Ronnie was tight yesterday night. Some missed notes, but just a few and overall a great performance.

Acoustic guitar comes up. I think Angie, it will be As Tears Go By. Great choice. The mood is very melancolic, very intimate with Mick singing like a 20-year old and Keith playing like an old Bluesman. A very unique moment. Then, another gem from the 1960's with Get Off of My Cloud. Much better version that MSG 2 months before, with a tight rythmic session. I just realize _again_ the depth of the Stones' song repertoire, ranging tonight from 1966 to 2005. At that point, it's warhorses time. We know what to expect, no more surprises. Excellent Sympathy for the Devil, with Radio City flashing with deep, red satanic lights. One of my most memorable Stones' experience comes next, when Mick and Keith, each at an opposite side of the stage, start walking up the stairs, up, up and up, to get as close as they can to the balcony. Amazing moment (see the pictures) with His Majesty Keith the Riff, in full light. At that moment, Radio City is like a mix of the Phantom of the Paradise and some voodoo New-Orleans blues club. Mick wants to throw himself in the crowd ("the most well behaved we've ever had") and Keith likes it up there. Radio City starts to shake.

Then come, Honky Tonk Women (excellent), Start Me Up, Brown Sugar and encores of You Can't Always Get What You want and Satisfaction. Confetti explosion (see picture) and a mix of excitement and melancholy. Having seen such a memorable show, already over. 2 hours is just too short. You Can't Always Get What You Want? Ending the set with titles about frustration? I told you, a bunch of liar. With the Stones, never a hint of not getting what you want. It's only Rock n' Roll. You know the end. See you in the Fall with a new setlist?
---
Review by John Collins
Just got back to SWEET HOME SECAUCUS from one of the best nights of my life with my favorite person in the world…Uncle Jim. This was my early graduation gift from him and it was the best gift I've ever gotten!!! Mick was on FIRE tonight! He was running all over the stage, jumping like crazy and walked up the sides to the mezzanine section along with Keith. Setlist follows: JJ Flash… nice jacket choice, tonight Mick…BLUE and SILKY!!!
IORR
Shattered!!! Highlight…Mick punches for tough, tough, tough, tough, tough, tough
ONNYA
Tumbling' Dice
Worried About You!!! Cool funky dancing by Mick…Great job on guitar Ronnie!
Gimme Shelter!!! Lisa's skirt blew up like Marilyn Monroe during Rape, Murder…Highlight
Rambler!!! I thought Mick was going to fall dead b/c there was so much energy put into this…Highlight!
Intros
This Place Is Empty
Happy
You Got Me Rocking
As Tears Go By…I prayed to God that I would get this one thanks guys…Wonderful job! Highlight
Get Off Of My Cloud!
Sympathy For the Devil…This is where Mick and Keith walked up to the mezzanine…best Sympathy!
Honky Tonk Women…nice place for this…the boys were really changing it up tonight!
Start Me Up…HAH! Uncle Jimmy…they fooled you! Never underestimate SMU! Nice kicks by Mick
Brown Sugar
You Can't Always Get What You Want
Satisfaction!!! OMG…this was so energy packed…Mick was CRAZY!!!! Punching and jumping…phew!
Final Bows and Goodbyes…
Thank You So Much Uncle Jimmy for one of the best nights of my life and for taking me to all these Stones concerts over all these years and for being an uncle that no kid's can compare with and thank you Stones and ROCK ON!!!
---
Review by Thomas McTaggart
Well, Just starting to roll out of my fog from the evening earlier. Don't suppose the open bar had anything to do with that. Another trip from Philly to see the BOYS. As Keef would say and did, " Nice Room". Radio City was really beautiful and the seats were comfy too. Not that I did much sitting in them. Dancing Baaaaaaaay BEEEEEEE. The sound in this place was very good and the sightlines from the first balcony were quite good. The gift shirt was an added bonus and much appreciated. All for a good cause, right.

On with the show. The B-52's were quite good. I actually wish they had played longer. And this is coming from a guy who normally would not check out the opening act. I figured since the tickets were a small fortune I may as well get my moneys worth.The usual second leg of the tour start with a very high energy JJF and into IORR. The energy to me was very high throughout the show although I thought that the Baltimore gig was all in all better. I felt that the element of surprise adds something which was definitely there in MD and the sound was equally as clean. I knew when I heard IORR that there wouldn't be much in the surprise department and the fact they only played 19 songs worries me and bothers me too. What happened to the days where they played 22 and 23 a night? Don't take it the wrong way I still enjoyed myself.

The highlights for me were Shattered - fast and tight. Worried About You was really incredible. It just sounded so clean and I just can't seem to find my way. I don't understand why they don't venture into more stuff like this as they have sooo much awesome material and the crowd loved this one. It's not like they play it and it is not well received. What happened to the risk raking? Beautiful version of As Tears Go Bye. Acoustic and everyone sucked this one up too. It really was a good venue for this song. I know many don't seem to like You Got me Rockin' but I thought it was played very well and the guitars were clear and loud. Charlie was banging away! Rambler is always good and Shelter rocked.

Keith's set was the usual two with this place is empty which I really like the last few times I heard it and Happy which IMO Keef was kind of off on last night. Oh well. I was hoping for Little Tand A or something else but he seems pretty set. After the B stage it was on to the usual and I must admit I did fell a little let down. The Stones played another great show and I love them but I was really looking for something a little more in the song dept. They had been adding new material on this second leg and thought they might keep that up instead they cut the song count down . I was hoping to hear Laugh I almost Died. Amongst others but it seems the warhorses are really digging in.

I did stand and dance the whole time as usual. OWWWWWWWWWWWW. We will have to see what the European leg brings. Don't know if I am going anywhere yet.

Other highlight of the night were John's Pizza in SOHO and returning to the car to find that NY's finest had towed it and that it would take almost 2 hrs and $185 to get it back even though it was NOT a tow zone. Can any one say scam the out of state people. At the time very bad, but it will probably add to the story in a few years, ya know. Looks like I bit the Big Apple and got a few maggots. The night just got a little more expensive on an already very expensive night.
---
Please send your show reviews and comments by e-mail to: [email protected].
The reviews will show up here soon! Thanks!
---
Thanks to Jim Pietryga and Michel Werthenschlag for great picture from the show!
---
The IORR magazine
For exclusive reports and unique high quality pictures from the Rolling Stones tour and more see the IORR magazines.
---




It's Only Rock'n Roll 1980 - 2006
© The Rolling Stones Fan Club Of Europe