---
These are the latest Rolling Stones news and updates for you! IORR is a non profit fan club run by fans for fans. All parts of the It's Only Rock'n Roll web site is copyright of The Rolling Stones Fan Club. When using information from this site, please include a reference to IORR and the main web address www.iorr.org.
---
---

The Rolling Stones
Tokyo Dome, Tokyo, Japan
Wednesday, March 22, 2006
The set list
Jumping Jack Flash
Let's Spend The Night Together
She's So Cold
Oh No Not You Again
Sway
As Tears Go By
Tumbling Dice
Rain Fall Down
Night Time Is The Right Time
--- Introductions
This Place Is Empty (Keith)
Happy (Keith)
Miss You (to B-stage)
Rough Justice
Get Off Of My Cloud
Honky Tonk Women (to main stage)
Sympathy For The Devil
Paint It Black
Start Me Up
Brown Sugar
You Can't Always Get What You Want (encore)
Satisfaction (encore)

Richie Kotzen (Warmup) : 7:00pm -  7:30pm
Rolling Stones         : 8:05pm - 10:05pm

---
Review by Toru Aoki, Tokyo, Japan
Don't stop and let's work! They don't wind down slowly.

Yeah, this is the first show of ABB tour of Japan. Oh, you sweet thing! Make me act so funny, make me spend so much money. Make me feel real loose like a long necked goose. But that's a what I like!

Let's make a brief view.

After Humble Pie like warm-up band who did "losing you", Stones showed up at 20:08. There were On Stage seats tonight but 5 rows behind us in our block were completely empty. Very curious. I suppose people would get golden circle seat at ticket counter on the day. Ronnie wears blouson. Keith in black suit with emerald green shirt. Mick in red jacket with black inner. Charlie wears red tee shirt.

She's so cold. It was only Chuck Berry type tonight. Oh no not you again. Very good lighting work. As tears go by. Keith plays mellow 12 strings. Rain Fall Down. I was surprised that Mick's guitar played main role of this song. Night time the right time started on 8:49 and ended on 8:54. Lisa stole the show. Mick introduced "On drums oh on guitar Keith Richards." It was very funny seeing the guitar container trailed along behind B stage. Paint it black. Keith had Telecaster. I remembered he played it with acoustic guitar 16 years ago at this venue. Brown sugar. With Japan's scenery and naked black woman against the wall. Lisa was real Ikets.

Tumblin Dice was top the list of tonight. I have been waiting my life for this song. Full band, sense of unity with audience and beautiful lighting work. Cap with Lisa was so cute. Once in a blue moon there is such wonderful groove as this song. Nothing is left to be desired. Ronnie fitted in with this song as if he was a guitarist of the original recording session for Tumblin Dice. Audience was good participation irrespective of age and sex. Yes, under thirties were excited, too. Both guitar players had Telecasters. He did also very good job on Sway.

Though I am not over fifties, I am always energized by Stones. Every time I attend the show, they make my spirit lift up. Shrinking work forces, soaring health costs and collapsing pension systems are clear in Japan, so seniors have to be healthier, longer-living and keep on working after reaching their retirement age. Now Stones is touted as a rising sun for baby-boomers in Japan because there are no words "lassitude, old or retirement" in the dictionary of Rolling Stones. They are not CEO or CFO but still working in the field. As long as they keep on rolling, why not make Japanese fifties or sixties start over again? Let's drink to the hard working people!
---
Review by Tom Marlowe, Tokyo, Japan
Having yet to purchase a ticket and fearing I would arrive too late from work on this cool rainy night, I was about to give up and turn back home. I am glad I didn't. I arrived on time and luckily was to be able to score a ticket outside Tokyo Dome. Tonight was vintage high-voltage rock by the master showmen, and the crowd was on its feet throughout, from the opening Jumping Jack Flash to the encore Satisfaction This was the third time for me to see the Stones play in Tokyo Dome, having also watched them perform previously in 2002 and 1995.

Hearing them perform She's So Cold and As Tears Go by was a real treat because I don't believe the Stones have ever played these two songs at any of their concerts I have attended, including those at the LA Forum as well. Other great numbers tonight included many of their staples: Tumbling Dice, Start Me Up, Paint it Black, and Brown Sugar. I was able to purchase an S ticket, which to my good fortune turned out to be rather near the B-stage, where I was able to get a close-up view of their performances of my favorites, Get Off My Cloud and Honky Tonk Women.

Mick Jagger used quite a bit of Japanese in addressing the audience, and the crowd responded enthusiastically. Keith and Ronnie supplied the raw horsepower with their guitars and Charlie was on his game as usual. The only drawback tonight was that the cavernous Tokyo Dome is not the best venue for a concert. All in all though, it was a highly enjoyable show.
---
Review by Mitsugu Machida
The opening act Richie Kotzen played Jeff Beck Group's 'Shapes of Things' and Rod Stewart's 'I'm Losing You' (originally performed by the Temptations), both of which Ronnie Wood played on the original records. Does Kotzen usually play those stuff for his show? Or did he pay homage to Ronnie at this special occasion? I don't know.

For the Stones, the set list is great tonight. Right from the first show, they played top three of my wants: Sway, As Tears Go By and Night Time Is The Right Time. In particular, Night Time. I was worried very much that they may not play this song in Japan if they thought Ray Charles is not so popular here. I felt happy as a Ray Charles fan. Great version, play it more! Lisa reminded me of fabulous Margie Hendricks.

Apart from music, Mick made a very topical reference, probably only for tonight. On the day before the show, Japan won the championship for WBC. I'm not talking about boxing. It stands for World Baseball Classic. For the last couple of weeks, this international sporting event crazed Japanese people, and it still does. Mick congratulated Japanese crowd by saying in Japanese 'Congratulations to Japan for winning the championship, scoring 10-6. That's marvelous.' Thank you Mick, you made us proud again!
---
Review by Tom Hayes, Minamiuonuma-shi, Niigata-ken, Japan
The first two reviewers have got things about right. It was weird to have so many empty seats, the Dome is not the best place for a rock concert, and Keith opened up Paint It Black with a surprisingly powerful intro on electric guitar.

For once the sound at the Dome was more than halfway decent, but after the B-stage set Keith's guitar just disappeared and didn't return until the encore(s). For the last three or so songs of the main show I couldn't hear Keith at all unless he was taking a lead, while Ronnie was incredibly loud, as loud as I've ever heard a guitar before. When Ronnie would drop out the songs just kind of sat there, which is generally the case when Keith sits out, so as a long-term Stones fan this was pretty interesting.

Also, someone please has to let us all know what kind of guitar Keith played on Satisfaction. It was white and looked like a Fernandez Ravelle Elite. He got great sustain from it, and we know Keith is not exactly famous for sustain.

I could have used at least a few of those special moments when the band can't remember where they are in a song, but those moments didn't crop up. Maybe the Stones were keeping the rubber to the road to make up for the thousands of empty seats, hoping to generate more interest for the other Tokyo, Saitama, Sapporo, Nagoya and Yokohama shows.

As always, the Japanese audience was polite but totally into it. The party animals behind me knew the lyrics better than Mick did, for the most part. It is still a total mystery as to who the opening band was. No one seemed to expect them, no one seemed to miss them when they were gone.
---
Review by Masatoshi - Keith - Fujishiro, Kawaguchi City, Japan
I and my wife went to first show at Tokyo Dome without our kid who like Stones. In today's show my wonder is that I saw a lot of empty seat in stand seat. This phenomenon has never been seen before in our country's stones concert. The expensive ticket will be one of the reasons. My area is a ticket of S-seat 18,000yen(USD150) and golden circle seat is 38,000yen(USD320). In my area a lot of old people, who have enough money, gathered compared with past Tokyo shows. In a certain meaning this is a good thing for old music lovers. Because young people , who have a lot of free time, can have much opportunity to purchase platinum ticket like Stones and old guys tend to lose their chances to see favorite band. In another aspect it means poor guys must give up seeing Stones. This issue will be discussed among Stones fans, promoters and members.

Anyway tonight is the first time show from Licks tour and is a special night. Most surprising songs are "She is so cold", "As tears go by", and "Sway". though I already know these songs are played in this tour. Especially I was very impressed with when they played "As tears go by" , as I almost expected to be played "Angie"(very usual but not my favorite song). "Night time is night train" is also very impressive for me. I could feel that players really enjoy playing the song. Of course Lisa's high tone voice is one of the attraction.

Next time I will to Saitama super arena and make a report in this web again.
---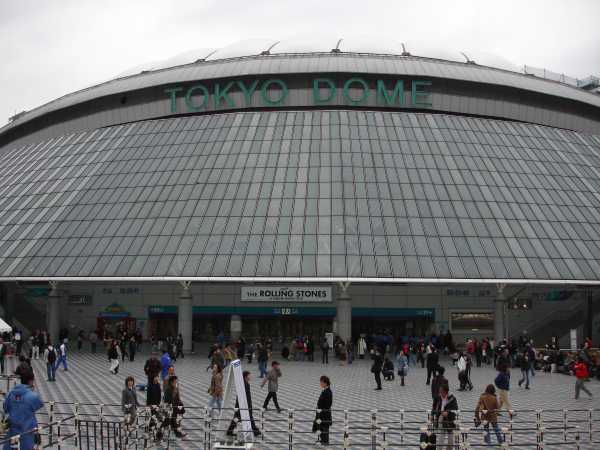 ---
Please send your show reviews and comments by e-mail to: [email protected].
The reviews will show up here soon! Thanks!
---
News links
Thanks to Axel Schumacher for news links!
---
The IORR magazine
For exclusive reports and unique high quality pictures from the Rolling Stones tour and more see the IORR magazines.
---




It's Only Rock'n Roll 1980 - 2006
© The Rolling Stones Fan Club Of Europe