---
These are the latest Rolling Stones news and updates for you! IORR is a non profit fan club run by fans for fans. All parts of the It's Only Rock'n Roll web site is copyright of The Rolling Stones Fan Club. When using information from this site, please include a reference to IORR and the main web address www.iorr.org.
---
---

The Rolling Stones
Madison Square Garden, New York, NY
Wednesday, January 18, 2006
The set list
Jumping Jack Flash
Let's Spend The Night Together
Oh No Not You Again
Love Is Strong
Rocks Off
Worried About You
Rain Fall Down
Midnight Rambler
Tumbing Dice
--- Introductions pt. 1
Gimme Shelter
--- Introductions pt. 2
This Place Is Empty (Keith)
Happy (Keith)
Miss You (to B-stage)
Rough Justice
Get Off Of My Cloud
Honky Tonk Women (to main stage)
Sympathy For The Devil
Start Me Up
Brown Sugar
You Can't Always Get What You Want (encore)
Satisfaction (encore)

Metric (warm-up) 8:00pm -  8:50pm
Rolling Stones   9:40pm - 11:45pm

---
Review by Ron Blank, Brussels
The day was extremely windy and wet as one big storm came in from the Southeast with unseasonable warmth and heavy rain, and another one blew in from the Northeast. The latter one being The Rolling Stones as they continued their 2006 Tour with their next stop after their reportedly wonderful shows just up the coast in Boston last weekend.

I made it to Walter's Bar in Manhattan to meet some old friends and also to make new ones. The short walk in the aftermath of the rain down 8th Avenue from the hotel was over just as it was getting tiresome as I dodged a lot of water still on the street corners. But it was great seeing everyone getting primed for the show. Lots of out of towners just like me, as I had come yesterday from Brussels. Not too soon either, as the storm made air traffic at JFK extremely poor this afternoon, and it would have been a scramble making it from the airport the short distance to Manhattan (even though it can take 90 minutes in normal traffic) and getting to the pre-show event on time.

The backup musicians, the Metric, are from Canada and are a new Indie sound. But they were 'not ready for primetime' yet from what I heard. The female singer gave it a valiant effort and her band had lots of energy but all their songs sounded the same to me. They should keep trying and they might be able to play the big arenas again in a few years.

For my first time viewing it, the arena stage and staging is very different from the massive, over the top exhibition of the outdoor stadium show that I saw in Ottawa last August. From my seat right by the runway 12 rows back in Section 2 it was a great view though with a perfect perspective on the action to come.

The world-famous Madison Square Gardens houselights finally dimmed at 9:40 PM and the show that I had waited an eternity finally began. Jumping Jack Flash is an incredible way to begin any Stones show and it was perfect - not too long and hard-driving to the end. Then it was quickly into Let's Spend The Night Together, done the way that I remember it from the Bridges to Babylon tour when I heard it last.

Between songs, Mick asked how many had seen them the last time at the Gardens in September. By the roar from the crowd it was obvious there were a lot of veterans attending tonight. Mick said that they would have to change the setlist up a bit! Then they played Oh No Not You Again off A Bigger Bang. A really fun song.

The true meaning of what Mick was saying was shortly to become evident when he announced Love is Strong from Voodoo Lounge! Wow! This hasn't been played live since 1995 I believe and it was absolutely great. Why don't they play it more often? Then it was almost straight into Rocks Off. What an opening five numbers!

It was then time for a slowdown section. We saw an electric piano being wheeled out by the roadies. The guy next to me asked if it was going to be Memory Motel. I said I didn't think so and I offered As Tears Go By might be it. But then Mick sat down, instead of Tim Ries at the keyboard, and he said they were going to do Worried About You. Fantastic! I saw them do this one live the last time at the Cirkus in Stockholm in 2003 and it was great then. Mick sang a beautiful falsetto throughout the first part and then they had a bridge and chorus. He went back to the falsetto and then it was time for another bridge before the solo. Ronnie stepped forward and with Mick sitting beside, encouraging him and motioning for him to keep it going, Ronnie nailed it. I thought it was better than the Four Flicks version. We'll have to await a bootleg to find out but we were sure it was fantastic. The whole song was very well received by the surprised MSG crowd.

The newest single Rain Fall Down came next for us to enjoy. It is a great song and Darryl has a great bass solo that everyone liked.

Then it was Midnight Rambler's turn. How could it not be played at the Gardens? The version we saw and heard tonight was absolutely wonderful. It went on for close to 11 minutes and I personally have never heard a more driving ending to the song after the big centre section. It went on and on and Keith was on fire. No problems from his end of the stage tonight!

Mick then decided it was time to introduce everyone, even though Ronnie and Keith obviously said that it was the wrong time. He introduced the backup singers and the horns. Then Keith began the slow staccato introduction to Gimme Shelter. Great! We were really entertained by Ms Fischer doing an incredible job on her part. Just before she started her solo, Keith kneeled in front of her and bowed down his head. She reached over and cupped his chin with her hand. Very touching! Then she proceeded to raise the Gardens roof before Mick came back in and the two of them lasciviously took the song to the ending. It sure is great that they have put it back into the setlist, at least for the time being.

Mick then introduced everyone else and Keith got Charlie to come out for just a moment to take a bow. Then he scrambled back to the drumset but he asked for the mike. Mick handed it to him and he said "thank you"

Keith's songs were This House is Empty and an incredibly loud Happy. He looked to really be in a great mood.

The rest of the concert tonight was the standard arena show list, with four songs on the B-Stage and then coming back to finish with Sympathy, Start Me Up, Brown Sugar and then the encore of YCAGWYW and Satisfaction. The volume was increased for them, which really didn't have to occur as my ears were ringing badly enough as it was already. Suffice to say, I need some real quiet time before Friday's show.

The band were in the sweet spot tonight, obviously enjoying being at the Gardens, which Keith pointed out during his set meant so much to the band. We had to agree. It was very special for me for the first time at MSG. The crowd is just different. The Gardens even sells champagne and strawberries to you if you wish while you are seated. Where else does that happen? Also, I saw at least one celebrity tonight, when John McEnroe came in and sat six rows in front of me. I'm sure there were others.

All in all, a spectacular night, the Stones conquered their fans once again and we went home happy and eager to recharge before the next show. Can life really get any better?
---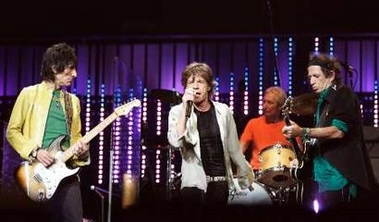 ---
Review by Cole - NYC
The first half of the set might be the best half of a show I have ever seen. Seriously.

JJF - Electric opening as per usual
LSTNT -- I think IORR would've been better here, but it kept momentum following JJF.
ONNYA -- whoa, 3rd spot?? awesome
Love is Strong -- you're kidding me... wow... did not see it coming. Tour debut!!
Rocks Off -- Dear Lord! We certainly are changing it up tonight. On fire!
Worried About You -- Ok, are you trying to kill me? Is this going to be the last show ever? Another debut! BaaaaayBeeeee! I saw it coming when they set up the keys out in front of the stage... I crossed my fingers and after the first few notes... we're off!
Rain Fall Down -- Daryl nails the bass solo; glad to see him get a solid recognition from the crowd
Midnight Rambler - Strong; my favorite live tune
Tumbling Dice - Great song... everyone seems ready for a possible 10th song before Keith's set.
Intro -- Everyone wondering why no Night Time or Mr. Pitiful
Gimme Shelter -- Keith rips in to it midway through intros!!!! I lost my mind... that was it for me... never seen that before
Intro -- Daryl to Keith -- Charlie says "Thank You!"
TPIE -- It's not a concert without a slow Keef tune
Happy -- Not the best version I've seen, nonetheless it got the crowd back crackin'
Miss You -- Standard, nothing special about it -- lowlight of the night for me
Rough Justice -- It wouldn't be ABB tour without it!
GOMC -- Would prefer Respectable here, but still stellar!
HTW -- All the divorcees in NYC are going nuts
Sympathy -- So good! So solid! So right!
SMU -- Kept the energy going! When will SFM make its entrance??
Brown Sugar -- Ya Ya Ya -- WOOOO; MSG is rocking

Encore:
YCAGWYW -- Felt like a singalong at an intimate party in club!
Satisfaction -- scooted out the door midway through!

Can't wait for Friday! 2 more debuts??? Let's hope! The Boys are rocking! Grab a ticket if you can. Keith and Mick seemed sooo in to it! Ronnie played some good licks, but seemed to hang back. Look for more Ronnie on Friday.
---
Review by Robert Bagel, New York City
I think this was the best Garden show since 1998. The Stones seemed focused on the music, and played a great mix of old and new numbers. While the fall shows could get a bit bogged down with a respectful cover song, instead of Bob Marley or Ray Charles, the Rolling Stones played their own stuff!

After a great Oh No not You Again, with Mick perfectly handing off the song from witty vocal part to an explosive Chuck Berry guitar solo by Keith, the band played Love Is Strong, reminding us of how underrated this song is. Rocks Off was a treat beyond the usual All Down the Line/Tumbling Dice Exile reference that we have been spoiled by. With NY ballet season now in full force, it was an absolute thrill to see Mick deliver the "I was making love last night, to a dancer friend of mine" line. Introductions were nicely broken up, where some were done before Gimme Shelter, and some after. Mick gave Charlie the chance to speak during intros, to which Charlie graciosly took the mic, said "Thank you.", and then handed it back to Mick.

Keith's playing This Place is Empty was so superior to The Worst, it is a song anyone who knows it from the new record seems to love, and it connects with the crowd. The set list is dizzying, as Worried About You (first time I have seen it since the Aragon Chicago 2002), Rain Fall Down, and Rough Justice were also in there. The Stones pushed the song selection tonight, and the result was unusually wonderful. It is easy to say that this evening was just about near perfect, from the New York City atmosphere, a town that takes the Rolling Stones as their own (and as Keith said, "It's about as close to home as you can get"), to the fact that the special Hurricane CDs were available in the concourse for a $5 donation to the Red Cross (great cause, great hard to get Stones recording).

And best of all, we get to do it all over again on Friday!
---
Review by Peter Lacres, Belgium
New York is unquestionably the most exciting city in the world with Broadway, Central Park, Theaters, Fifth Avenue shopping and of course, the Rolling Stones!

This was my 3th Stones show of the Bigger Bang Tour and my first one in MSG... It was amazing, I really liked the show and the seats were close to the stage.

Although the sun is shining right now, yesterday the rain was falling down until late in the afternoon but the Rolling Stones made it all good.

After a rocking cool intro, I was impressed by Love Is Strong and Worried About You remimd me of some club gigs of the last tour.

The small stage included a fast version of "Rough justice" and the Stones played Satisfaction as last song and yes, we are very satisfied after last night. Up to the second show.

New York is really the place to be right now for Stones fans around the planet. There's so must history and I came all the way down to NY because MSG is a small venue compared to the big Stadiums in Europe.

The party at Walters Bar are not be missed just as the Tim Ries Concert tonight.

Let's have a look at you!!!
---
Review by Witz
First off. let me say I had no plans to even attend last nights show, content to see them only once on this pass thru my home town, however, a good friend called me in the morning and said he had an extra ticket that I could have -- for free! How could i pass that up! Section 84! So, let me just say a public "THANKS, Steve."

As Keith would say, "Ok, on with the review." Another great night with three tour firsts: We got Love is Strong, with some great harp playing by Mick, we got Worried About You (a personal live first for me over the last 25 years and 20 plus shows). Anyone who is not a Stones fan, who might ant to claim they are "mailing it in" at this point, need only watch the passion with which Mick belts out this one. It was like "That's How Strong..." at Roseland, but i digress. The third tour first was possibly one of the biggest surprises ever ... Charlie speaks! We got a "thank you" from him after Mick introduced him!!!!

As for the intros, there was major f**k up. Halfway through, Keith launched in to Gimme Shelter?! What's going on? Mick hurriedly ran to the front of the stage and we were off. After the song (and I must say as great as Lisa is, I thought she was better on Sunday night in Boston), Mick said something like "where were we" and finished the intros. Kind of nice to see them ad lib a bit!

On the subject of tour firsts, Keith did NOT say "Its good to be here...", but nonetheless put on a great set. And another welcome change, no You Got Me Rocking, as we got a great Get Off My Cloud and "Rough Justice" on the B stage. If I can make a request for tomorrow, how about As Tears Go By and a different new song instead of Rain Fall Down. RFD reminds me of Might As Well Get Juiced -- I got it live once, enjoyed the rare treat, but once was enough.

So far on this tour I have seen them 4 times and each time I always had a nice gem in my back pocket ... the knowledge that there was one more show to go on my personal tour agenda. Unfortunately, I think Friday night is my last "one more time" on this go 'round (though as I found out yesterday, you never know). If it is, it has been great fun and, hopefully, there is at least one more round of "one more times" in my future. Can anyone say 2009?
---
Review by Chris
I must say this was the best sounding show I have heard since 1989. This show was just rocking from start to finish. Jumping Jack Flash was just nailed and the guitars were on fire. Lets Spend the Night together was a low point. It just looked like they weren't into it as much as the other songs. When we got Oh Not Not You Again in the third spot I knew something was up. People know this song now so the crowd is getting into this one more and more.

Mick hit it right on Love is Strong. WOW! WOW! it was better than in 1994/5. Once I heard Mick say " I am going to show both tits on this one" something was up. Worried About You was just wonderful. Mick was brilliant on both vocals and keys. What a treat!! Rocks Off kept the force going. The band really enjoys this one Bobby played some great horns. Rain Fall Down gets better and better. And thanks to Daryl for a great solo. Did Bill Wyman ever get a solo ?

Midnight Rambler jammed for over 10 minutes. I think they have to play this one at the Garden. I believe it has become a tradition. Lets hope the tradition continues. There was no 10th song or " tribute" this time as we have become accustomed to. Instead we got the introductions which were rudely interrupted by Keith laying the opening chords to Gimmie Shelter. This was the best version of Gimmie Shelter I have heard since 1989. The sound and mix were both just right. We then got the rest of the introductions and Charlie stood up to say " thank you." " This is about as close as it comes to home" along with something I really didnít understand was the introduction to This Place is Empty. Happy! The song title says it all for the crowd reaction.

Miss You isn't doing much for me anymore but I still manage to sing along. I think Gimmie Shelter fit in better here ( like they did on Licks Tour back to the main stage). Rough Justice is just rocking. Get Off of My Cloud is one of my favorites. Charlie pounding away. What a great B stage night. The floor was just packed up against the rails. Keith walked up to the front of the B stage smiled, hit the chords for Honky Tonk Woman, and then, the crowd took over. " I laid a divorcee in New York City" got everyone screaming.

Then we got the war horses part. Sympathy is always a treat. Start Me Up is a driving force. Brown Sugar stood out. Bobby always gives us such a great solo. Was my favorite of the " war horse" set. You Cant Always Get What You Want is a great sing along. I would rather see an up tempo tune here. All the momentum is towards rockers Satisfaction is a great closer. Keith let it loose on this one Overall this show was at the top of my list. The sound was much improved. I would also like to thank Shirley for being such a great host at Walters. Next stop ....... Baltimore.
---
Review by Russell Rowland
Something felt off last night. Yes, there were some amazing songs/moments where the band was on fire and focused: Midnight Rambler, Rough Justice, Rocks Off, Honky Tonk (!!). And the setlist was a real treat. But overall, I felt a certain lack of focus and energy -- and I think I have to lay most of it on Keith and Ronnie. There were many musical miscues and chord screw ups -- sadly, these are more and more standard at Stones shows these days -- and most of them were due to one or the other. I could even swear I saw Keith scold Ronnie (twice) after his dreadful solo in Start Me Up. But who's Keith to say anything: at $450 a seat, don't you think he should nail the intro to Brown Sugar once in a while? 'Nuff said on that.

Mick, bless his soul, sounds better than ever and just always puts on a great show. I wonder if he ever gets frustrated with what's going on behind him. I'm hoping for a better show Friday night. I thought the MSG show in Sept was once of the best I've ever seen.
---
The four worst seats in MSG by Don Greene, New York, NY
All I can say is there was four us sitting in the worst seats in MSG when at 9:30pm we were surrounded by a host of MSG security. Due to the storm (Howling thru the Metro area all day long.) several record company types did not show. By 9:35pm, after a weird elevator ride, and confusing "I can't believe it" conversations there we were sixth row center in front of the small stage (elevated for the main stage) as the champagne dudes floated by we were treated to such a different show. (I have seen them in this venue at least ten times) Mellow yet exciting. A set of classics by the classics with a few great surprises. The biggest being our relocation of seats. To the band Thanks. To MSG, the place is magical! Could only happen there. Truly the premiere concert venue in North America.
---
Please send your show reviews and comments by e-mail to: [email protected].
The reviews will show up here soon! Thanks!
---
News links
Thanks to Axel Schumacher for news links!
---
The IORR magazine
For exclusive reports and pictures from the Rolling Stones tour opening see the IORR magazines.
---




It's Only Rock'n Roll 1980 - 2006
© The Rolling Stones Fan Club Of Europe