---
These are the latest Rolling Stones news and updates for you! IORR is a non profit fan club run by fans for fans. All parts of the It's Only Rock'n Roll web site is copyright of The Rolling Stones Fan Club. When using information from this site, please include a reference to IORR and the main web address www.iorr.org.
---
---

The Rolling Stones
Madison Square Garden, New York, NY
Friday, January 20, 2006
The set list
Jumping Jack Flash
It's Only Rock'n Roll
Let's Spend The Night Together
Oh No Not You Again
Sway
As Tears Go By
Rain Fall Down
Ain't Too Proud To Beg
Gimme Shelter
Tumbing Dice
--- Introductions
This Place Is Empty (Keith)
Happy (Keith)
Miss You (to B-stage)
Start Me Up
Get Off Of My Cloud
Honky Tonk Women (to main stage)
Sympathy For The Devil
Paint It Black
Brown Sugar
You Can't Always Get What You Want (encore)
Satisfaction (a la Mustang Sally) (encore)

Metric (warm-up) 8:00pm -  8:45pm
Rolling Stones   9:40pm - 11:40pm

The Rolling Stones paid tribute to Wilson Pickett tonight by replacing the lyrics of Satisfaction with "Mustang Sally" at the end of the encore.
---
Review by Ron Blank
New York City on Friday, 20th January was nothing like it was just two days ago. It was sunny and bright with warm temperatures. It's spring! Of course, as soon as the Stones depart it will probably get cooler and wetter again.

Wednesday's show had been spectacular, with the added bonuses of Love is Strong and Worried About You being thrown into the mix. I couldn't wait to hear if tonight we would hear Sway for just the second time on the tour.

The backups Metric took a lot of criticism in some circles for their performance on Wednesday. So I decided to miss them tonight, save my ears and attend a pre-show VIP party instead for Fan Asylum. Even though the drinks and food were good, it was a tad low-key, so as soon as it was finished at 8 PM, I headed downstairs to the floor in the Gardens with some new friends to find out whom else we could see on the ramp between the two floor sections. There were two 'Rattlesnake Inn' VIP parties going on under both sets of stands, and if you were patient, you could see a lot of New York City's beautiful people wandering between the two events. It was a great place to see them, but I didn't see any VVIPs (Very, Very Important People). There were lots that probably did modeling as a primary career but no movie stars or sports heroes. Perhaps I turned up at the wrong moment, or their disguises were too effective! Later on during the show, we did spot Martin Scorsese standing behind Charlie backstage. John Lithgow, the actor, was also standing in the first row of section 4.

Wednesday's concert didn't start until 9:40, so I silently hoped they would begin a little earlier tonight as I had an early morning plane to catch to Chicago via Atlanta. So it was with some trepidation that I felt when the MSG houselights finally went out at 9: 38 PM.

Immediately we were overwhelmed by the extremely loud video introduction. Sitting in the 3rd Section 5th row with my Fan Asylum ticket, I could tell this was going to be very, very close! As soon as the taped intro section was over we could see the band through the screen. The roadies lifted it up, Keith strode through and then hit the first chords of Jumping Jack Flash. Is there truly any better song to start a concert? The rest of the group formed up quickly in their usual places and then out of the back strides Mick singing "I was born..." The crowd gets even louder and the show is off.

IORR was inserted into the show before Let's Spend the Night Together. It was a great Chuck Berry-fest of guitars that went on and on. After LSTNT, Oh No Not You Again came fourth and it was just as great as on Wednesday.

The big surprise of the evening came next when Mick said they were going to do a song they had only ever done once live. It was Sway! The crowd were ecstatic, and if Columbus was a bit lukewarm to it as some reports have stated, that was certainly not the case at MSG. Ronnie's solo was exquisite and I felt chills up and down my back as I finally heard it performed live. At the end, the gleam in Mick's eye told us everything about how he thought it went!

As Tears Go By was then played. The twin guitars, played while sitting on stools, while Mick crooned the words were wonderful.

Then we had the new single Rain Fall Down. It was followed by another surprise. Ain't Too Proud to Beg! Wow! We were roaring out all the words and Keith's solo was perfect. What a treat to hear!

We had two more surprises in the setlist tonight. Start Me Up was inserted into the B-Stage second spot, replacing Rough Justice. The second song after they got back to the mainstage, instead of Start Me Up, was Paint it Black! Wonderful choices tonight Chuck and Mick! Ronnie's sitar sound was singing out pure and clean and Keith was nodding to him in acknowledgement. Charlie's drums kept pounding and they took it to a beautiful high climax.

If I had to be pinned down, I would say that Wednesday's show was the dress rehearsal for tonight. The pure energy in the Garden, the band's interplay and weaving throughout, complimented by Mick's incredible singing and youthful energy were real treats. He also brought Lisa out on the runway between the crowd during Gimme Shelter and they really seemed to be pulling out all the stops for this one. It just felt that we had reached another plane above what I had thought was one of the top 5 shows that I had ever seen on Wednesday! How do they do it?

Mick dispelled any rumours about this being the last time at MSG early on, when he said that they would be back. In his words, they were not going to be pulling a Messier and hanging it up! (Mark Messier retired as the Captain of the New York Rangers NHL hockey team on 12 Jan) That certainly got a roar of appreciation from the crowd.

It has been an incredible two concerts at the world's most famous arena. It's now on to Chicago in the morning, and to wait until Monday when the band hits the stage of the United Center. Can they top what they did here tonight? Let's see.
---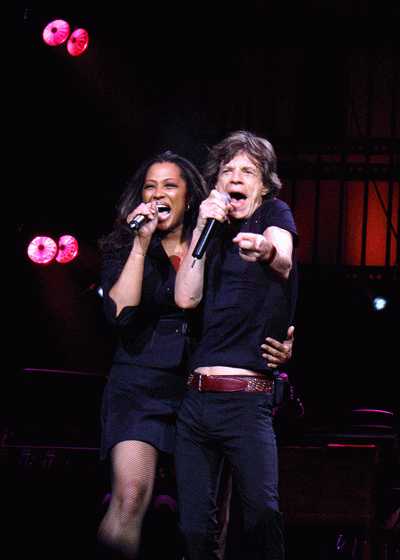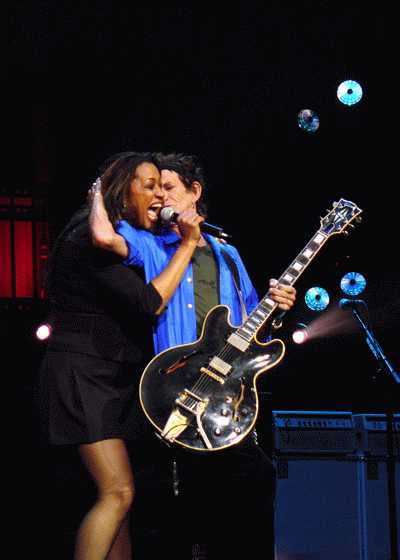 ---
My 10 seconds of fame with Keith
Review by The Soul Survivor
You know, the mind works in a strange way. Before the show, I had this vibe that this might be the last show in NY. Well if it was, it was monumental.

Sat in the loge first row adjacent to the stage (again proving the point that it makes no sense to pay $450 a seat when they are there for the taking nightly). Then, during Brown Sugar, Keith comes over and he and I (on air guitar, of course) jam away for several minutes . . . AND THEN HE SMILES, GRABS MY HAND, GIVES ME A 1-20-06 GUITAR PICK AND WE SALUTE EACH OTHER!

WHAT CAN YOU SAY?
---
Review by C Hamrak
It was a star-studded evening with many big surprises. Among the famous celebrities present were Ed Bradley (CBS 60 minutes), Bruce Willis, Martin Scorsese and John Lithgow.

The first big surprise was Sway. It was played well and Mick' s voice sounded exceptional. The second and biggest thrill was an acoustic version of As Tears Go By, I could not believe my ears. I have surely died and gone to heaven! What an incredible rendition! The third and final surprise was Get Off My Cloud which was played on the smaller stage. The crowd went nuts!

They played three songs off their new album Rain Fall Down, Oh No Not You Again and This Place is Empty. Rain Fall Down was great, however I would have preferred to hear Rough Justice instead of Oh No Not You Again. Keith of course was always true to form.

The crowd at Madison Square Garden.. the best. Even Mick said that their favorite place to play is New York!

The band was tight, Mick's voice outstanding, Keith, well he's Keith, Ronnie absolutely rocked the house and Charlie, fantastic. Another great show. I pray that this was not my last show, but if it was, I can be at peace. How couldn't you be having heard As Tears Go By. UNBELIEVABLE!!!
---
Review by Cole, NYC
Let me begin by saying that the arena was electric. The crowd was totally in to it. As I expected post-Wednesday show, Ronnie was on tonight. Mick even acknowledged him as Ronnie "extremely focused" Wood during intros.

1 Jumping Jack Flash -- never a let down at any slot during a Stones show
2 IORR -- I wanted this in the 2nd slot on Wednesday; happy to see it here
3 Lets Spend the Night Together -- Solid again
4 ONNYA -- Some more movement in the setlist from 5 to 3 to 4.
5 Sway -- Ronnie nailed it. Absolutely nailed it. Anyone who says otherwise is crazy.
6 As Tears Go By -- Biggest crowd pleaser of the night imo. The cheers were deafening
7 Rain Fall Down -- I'm not a big fan of this one, but again, Darryl is the man
8 Ain't to proud to Beg -- Wow. Did not expect this here. Could this be a tune up for the Super Bowl in Motown?
9 Gimme Shelter -- Ripping, rocking, firing on all cylinders. Vocals on high.
10 Tumbling Dice -- For a minute I thought we'd get Rambler again; slightly disappointed no harmonica tonight. Can never complain about Dice though
11 Intro's.. no mishap here.. although I held my breath wondering if Keith would rip in to Rambler.
12 This Place Is Empty -- Did this seem shorter to anyone else?
13 Happy -- Much better than Wednesday; Sounded sweet.
14 Miss You -- Again, not a fan, but the word is that the song is timed for the B-stage
15 Start Me Up -- Surprise! When was the last time SMU came in anywhere in the middle like this??
16 Get Off Of My Cloud -- Really really good.
17 HTW -- Mick played with the lyrics a-bit here a la Love You Live; Loved it Live here too
18 Sympathy -- OWWWWWWWWW
19 Paint It Black -- Awesome; a suspected a change here with SMU going to the B-stage. Thought maybe Street Fightin' Man, but still no go on that one yet.
20 Brown Sugar -- The Riff-man loves this one and he was all over the stage
21 YCAGWYA -- Serves as a great encore and everyone loved it.
22 Satisfaction -- Again, I slipped out during it, and I thought I was risking a possible 3rd encore by leaving, but I think we all know by now that the boys are pretty set with the last 2 songs.

In sum, loved seeing Sway, As Tears Go By and Aint Too Proud to Beg. The band was really really tight tonight. Wished for a harmonica song, but I think the guitars, vocals, and Charlie rev-ing the engine made for an outstanding show. The crowd was loving every minute of it. Thanks a million Stones!
---
Review by Cardiff Giant
So my 25th show all-time and 3rd at the Garden...I just had the strongest feeling they would play Sway tonight. They rehearsed it in soundcheck on Wednesday. It seemed so right.

This show may not have lived up the extra high expectations but it was still extremely strong with lots of electricity. I was not at the Wednesday show so I can't compare.

Jumpin Jack Flash started things off with a real blast of energy and the crowd was ready to roll. Within the first few minutes of the show we could see Martin Scorsese behind the drum kit, taking in the show. Almost 100% sure it was him ! It's Only Rock n Roll was back in the set at the #2 spot and Keith carried the energy with hard, sharp staccato riffs. As always Mick was phenomenal and you could tell he was really making things special at the Garden..He loves it. Jagger asked the crowd, "who was here the other night?..who was at Giants Stadium?...we're gonna change the setlist a little bit"...big cheers. Let's Spend the Night Together was great to hear...My first time since '97 and it was a great rendition. Mick welcomed the crowd and said, "our last show at MSG for a little while...but we're not hanging up the jersey like Messier"...sweet !!! Oh No Not You Again was tight and that rhythm is always great. Mick introduced it by saying "we played it at Julliard"

Then the moment we all hoped was coming. MIck said it was time for a song "we've never really done...oh, I guess we did it once..." and I knew what it was! Sway !!!!! ...yes....what a moment. And the crowd loved it. They picked the perfect night to play it. Obviously it can't duplicate the original with Mick Taylor. But it was a hot song.. the vocal by Mick was great, the groove was there..Ronnie had his moments. Just the special vibe to hear a song we've all wished for. And from there, we go into As Tears Go By. It started out a bit rough, but when the tempo locked in it was tremendous. The acoustic guitar by Keith on a stool. Mick's singing was fantastic. He really adds a nice beat to the vocal that makes the song magic. Great atmosphere. I'm spolied, I saw Tears Go By in Montreal... but wow...it was great to get it again. And when the lyrics started, the crowd erupted. The slinky funk of Rain Fall Down was next. Darryl's solo got Keith to take notice..He was admiring Darryl's groove.

Then it was another great surprise gem...at first I thought I heard someone hit a few notes of Beast of Burden. But wait... Introduced by Mick, "we want play one by the Temptations..Ain't Too Proud to Beg."..yesssss. I saw it in Detroit and to get it at MSG was special. The crowd was groovin' ...The whole band was on fire. Bernard and Lisa were stellar and they were doing that signature Temptations side-to-side dance step...just great. Mick added some nice falsetto.

And we dive right into Gimme Shelter. Maybe the highlight of the night. A powerhouse. Guitars...vocal...the crowd...Charlie's beats...and of course Lisa Fischer brings down the house. As she comes center stage she inches her way up behind Keith, who reaches back and wraps his arm around her and gives her a peck as she starts to belt out her solo.....The crowd was going crazy. A top notch performance by everyone on that song....Bravo!!!

Tumblin Dice was also way hot! ... A song that sometimes is routine was really cooking. Again, this was a night where Mick had such command and was giving it his all, song after song..He was fired up for NYC. At some point Mick commented on how great the crowd was. "We always say that every place is the best...but we all know New York City is the best place to play!".... huge cheers.

Band intros brought us a big ovation for Bobby Keys...Ronnie "extremely focused" Wood..Charlie "Bang boom wham??" Watts..and a nice bow out front from Charlie. He returned to the drums and did an extended funky solo and backbeat as Keith was introduced and did his bows. Keith said, " hey new york, we gotta stop meeting like this...happy new year." and with a flick of the cigarette we were into This Place is Empty....I just enjoy this song live, so much. Happy was a nice full groove...a little different and Keith continues to belt out the vocal...almost a gospel sound in a few spots.

Miss You brought the moving track out to the b-stage. Lots of funk...Keith is getting into this groove. As the song ended he did a few nice cutting notes. A bra landed on stage and Keith picked it up and was discussing it with Darryl...lots of laughs. A great move to the have Start Me Up on the b-stage..It really had the energy and was firing up the crowd. Mick caught a bra and didn't miss a beat as he was singing. He tossed it back onto the bass drum. Get Off of my Cloud got the crowd singing along and rocking the Garden. Keith was digging into Honky Tonk Women with a nice heavy open. Again, the crowd was wild. Divorcee in New York City was a huge hit, of course. As they got back to the main stage, Sympathy for the Devil was cooking up...The extra heat was missing early on but as the song progressed, the energy was building and Keith found his spots. Paint it Black was nailed right on. Keith's open and Charlie's booming beat. Now you could see Keith's daughters and I think Mick's girls too, dancing it up behind the amps. The keyboard work from Chuck Leavell and Tim Ries was great, Ronnie's sitar style sounds were great and the crowd again...was eating it up. Brown Sugar closed the main set with a great energetic performance from Mick..great dancing all over the place. And he dropkicked his waterbottle into the crowd. Mick thanked us for being a "great fucking audience" as the band took their leave.

Encores got underway with You Can't Always Get What You Want. Great energy, great everything. Ronnie hit a nice solo...didn't sound like a high pitched cat scream, as he sometimes does. It was a solid, groove and riff. Nice job. Background singers were great...they really stood out here. Lisa and Bernard had the power of a full choir..that was pretty special. And the finish of Satisfaction was outstanding .... The highlights were Keith unleashing some nasty licks as he prowled the left wing of the stage near the background singers.... I love it when he hits the zone and goes with hard fast rhythm riffs that just kick it up.... He was nailing some sweet stuff. Piercing and full of little twists...and then to top it off...as Mick and the background singers hit the final rounds of singing "Satisfaction"...repeatedly...Mick gave a signal for quiet from Lisa and Bernard and right in time with a rocking beat, Mick transformed it into "Mustang Sally" as a tribute to Wilson Pickett who just passed away...WOW...that was great. Mick and the singers doing Mustang Sally as the band keeps churning out the powerful groove. And Mick said, "that's for Wilson Pickett..." what a great moment. MIck finished the song by dancing across the front of the stage in a huge flurry of motion...his feet barely touching the ground...a classic Mick moment....when you see him do moves that are amazing, even for him...just total freestyle as he gets wrapped up in the groove. What a great finish to a great night. Final bows and Charlie is getting ribbed by Lisa and Bernard, it almost looked like they were tickling him. Huge smiles on the final bow. Charlie and Mick with big waves to the crowd.

Another historic night in the Garden. I was thinking during the show about the history of this band in this venue. When they played songs like Let's Spend the Night Together, Sway, As Tears Go By, GIMME SHELTER (WOW), Paint it Black.... you have to appreciate how special nights like this are...and the New York crowds are just amazing..the band feeds off of it... Mick was especially in tune with that vibe. Cherish a show like this....The Garden is a type of gold standard for the Stones...no doubt.
---
Review by Gerard Russo
I just got back from the Stones concert at Madison Square Garden, New York!! I have to say the Stones rocked the Garden to its timbers. It was one of the best concerts I have attended ( of course its just varying degrees of greatness).

Mick did a real cool thing....When he was singing Satisfaction at the end of the song he started to substitute the words Mustang Sally........in tribute to Wilson Pickett who died just the other day. Im not sure if everyone realized it. I really thought that for an encore the Stones were going to sing Mustang Sally. Well anyway you had to listen for Micks subtlety... it was so sublimed....and so so cool.............
---
Review by Witz
Well, my wild ride needed last night capped off by my third show of the week. Not a bad week when you consider that I got five tour debuts and three personal debuts! I had thought Sunday was a great show and then Wednesday topped it, but last night the Stones outdid themselves. After hearing rumors of a Sway sighting at the Wed. soundcheck, I felt like we would get it and, of course, we did! After hearing about the numerous lyrical, musical and tempo gaffes in Columbus, I have decided that either I have no ear for music or they fixed all of them as Sway was awesome in the Garden. Following it up with As Tears go By made it even better! Rain Fall Down, notwithstanding, the great stretch continued when they debuted Ain't Too Proud to Beg, right after it. From my point of view it was a great 4 song set. I think the latter two were Super Bowl rehearsals and will likely appear in the same order that night in a nod to their new album and Motown.

As always there were the usual kudos to New York from the boys. As a native New Yorker I will accept them as sincere, and based on the shows they put in here, it shows that they do indeed love playing this city.

I have to say, not only was this the best of the five shows I have seen this tour, but I have to think this goes to the top of the list of must have boots from 2005/06.

Although I accept that I have no more shows to see this tour, Mick did offer this tidbit last night, "This is out last night in New York . . . for a bit." Hopefully, they will squeeze in one more pass thru the Big Apple!

On another note, although there were no Stones sightings at BB Kings, the after show, show was a lot of fun. Ivan Neville show was so funked up I felt as if I was at a concert in the mid-70's and Billy Preston or Sly and the Family Stone might appear. So, I guess I shouldn't have been surprised when Bernard belted out a great version of Thank you for Letting me Be Myself. You Gotta Move was another highlight. Bruce Willis played a pretty goof harp, also.

All in all five pretty good hours of music. Time to take a nap!
---
Please send your show reviews and comments by e-mail to: [email protected].
The reviews will show up here soon! Thanks!
---
News links
... coming ...
---
Thanks to Jim Pietryga for the great photos!
---
The IORR magazine
For exclusive reports and pictures from the Rolling Stones tour opening see the IORR magazines.
---




It's Only Rock'n Roll 1980 - 2006
© The Rolling Stones Fan Club Of Europe