---
These are the latest Rolling Stones news and updates for you! IORR is a non profit fan club run by fans for fans. All parts of the It's Only Rock'n Roll web site is copyright of The Rolling Stones Fan Club. When using information from this site, please include a reference to IORR and the main web address www.iorr.org.
---
---

The Rolling Stones
Centre Bell, Montreal, QC, Canada
Tuesday, January 10, 2006
The set list

Jumping Jack Flash
You Got Me Rocking
She's So Cold
Tumbling Dice
Oh No Not You Again
As Tears Go By
Rain Fall Down
Midnight Rambler
Night Time Is The Right Time
--- Introductions
This Place Is Empty (Keith)
Happy (Keith)
Miss You (to B-stage)
Rough Justice
Get Off Of My Cloud
Honky Tonk Women (to main stage)
Sympathy For The Devil
Start Me Up
Brown Sugar
You Can't Always Get What You Want (encore)
Satisfaction (encore)
---
Review by Andy Hunter
Nice start to the concert with "Jumping Jack Flash". The crowd went nuts and so did I.....

Mick finally nailed the lyrics to "She's So Cold". A great raw song with lots of passion and energy. The crowd could feel it.

As Tears Go By. At this point I must admit that my spirit left my body and I was just floating. A wonderful gem and a treat to hear.

Rain Fall Down. This song live rocks!!!!

Midnight Rambler. What can I say? They jammed for 10 minutes and this more than makes up for only having 20 songs.

This Place is Empty. Keith announces that he is gonna play a tune that is new and never done before. The crowd goes nuts and no one goes for a piss break. This is a awesome song live. I am sure he is planning to play this for sometime to come. You're gonna love it!

Happy. A great rocking tune. I think the 37 days off did Keith well. His voice was crisp and clear and he sang with all his heart. I LOVE THIS MAN!!!!

No track wrecks tonight A great tight show with lots of energy and passion..... and the boys could feel it!

Thanks to Chuck for putting together an awesome set list!!!
---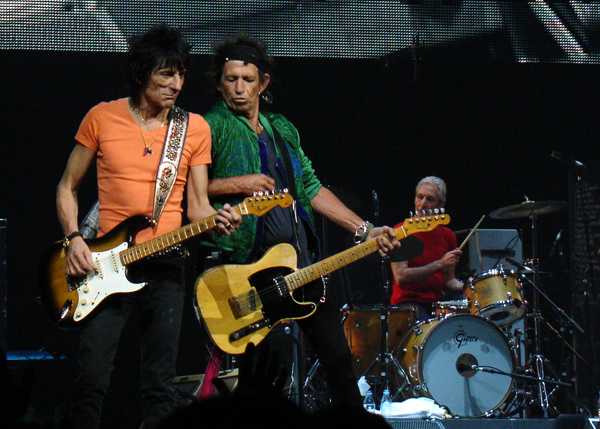 ---
Review by Yves Lavoie, Beloeil Qc
What a great way to start the New Year in Montreal. First thing I did when I entered the Centre Bell was a visit to the very busy T-shirt booth. I was surprised to see that there was a Tshirt made especially for Montreal. The same colors as the Montreal Canadiens hockey team, but with the tongue instead of the team logo.

Anik Jean, a local new comer to the music scene in Montreal was the opening act. She did her best despite the fact that a lot of the seats were empty when she started. The crowd seemed to enjoy her performance from the fifth song or so. Her producer is Donald K Donald who is apparently a friend of Michal Cohl. That's why she was selected. I think she would do better in a smaller venue.

After a very long break, the Stones took the stage and first surprise, JJ Flash as the opener instead of the usual Start me up. Very good way to start, reminded me of the No Security tour in 1999. I was very happy to hear As tears go by. It was the first time I heard that song live and I wasn't disapointed. Keith surprised us too by playing This Place is empty on a stool and back on his legs for a very good version of 'happy'.

At one point during the show Mick told the crowd, I know why you are here tonight, it's because you didn't want to watch the political debate on TV with all the leaders. There is an election here in Canada ont the 23rd of january. Mick as usual kind enough to speak some French to the local crowd. Midnight Rambler was another highlite of the show. Very well delivered and more than 10 minutes long. It as nice to see Mick in good health, when he came to Quebec city in 1998, he has throat problems and in 2003 in Montreal he had a cold. Hope to see the Stones again soon.
---
Review by Gary Miller
Unbelievable show!

Saw them in Denver in November and this was better. Highlights include a devastating Midnight Rambler, Lisa on night time and Keith's two new songs.

U2 was through Montreal at the end of November and the talk in my office this morning is how the Stones blew them away!

On to Las Vegas.........
---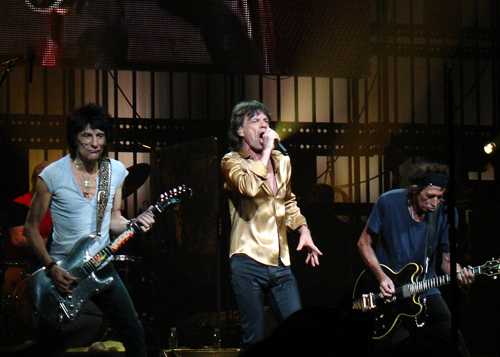 ---
Review by Roger Judd, Jr.
WOW! Who said these guys are too old to rock??? They are still the GREATEST ROCK'N'ROLL BAND IN THE WORLD!. What a treat: JUMPING JACK FLASH to open up! They usually play this song near the end or as an encore. It was just the beginning of a fantastic concert. Mick was in great shape as the rest of the band. What a delightful surprise to hear AS TEARS GO BY! They have rarely done that great song live in the last 30 years and I believe it was only the second time on this Tour. Mick interacted often with the crowd in French. Then Keith gave us a world premiere with THIS PLACE IS EMPTY and followed-up with HAPPY for the first time on this Tour!!!! Montrealers were spoiled! Lisa was just fantastic on NIGHT TIME IS THE RIGHT TIME. Great rendition of MIDNIGHT RAMBLER. Best I have ever heard since the 1975 Tour and was worth the ticket price alone! The moving to the B-Stage is just awesome. Never seen such a thing before. I would have loved to hear IT'S ONLY ROCK'N'ROLL but hey, what can I say? THE ROLLING STONES JUST ROCK'N'ROLLED ALL EVENING! Great sound, great stage, flawless performance. Best concert I have seen since their 1981 Tour. MUST SEE SHOW OF 2006!
---
Review by Tim D
Great show, band was on tonight, nice mix up of the setlist. As Tears Go By (done acoustically). highlight of the night.
---
Review by by Cardiff Giant
An amazing show, my 24th all-time, the kickoff the second leg of the tour. We were sitting towards the back dead center on the floor, a few rows in front of the b-stage. And we knew we would be on the rail for the b-stage songs... And here's another great thing that happened thanks to being in those seats. Before the Stones came on, longtime road manager Alan Dunn was heading our way escorting some VIP fans...they must have had connections to the band. I made a point to say hello to Mr. Dunn, having never met him before, and tell him what a great tour it has been. He said, "we'll see"...to which I replied, "this is my 8th show on the tour and they're all fantastic." He could have just nodded and said thanks. Instead, he immediately handed me a setlist sheet for the night, and asked if I was with anyone. He then gave a sheet to my friend. I quickly scanned the sheet, very happy with what I saw...Tears Go By, Midnight Rambler, This Places is Empty, Happy....wow! At the same time I continued chatting with Alan, he was very friendly, and I was feeling bold, so I asked him what the chances were of getting a Charlie Watts drumstick....I told him I'm a huge Charlie fan...which I am. We talked about how Charlie throws them into the crowd at the end of the show, but on this tour, not at the b-stage because the band plays on the way back to the front. Alan said "let me see what I can do. Getting sticks he's used could be tough, but maybe other sticks.." I was more than grateful for anything he could do. I had a good feeling about this. But to use that famous phrase from KR, "on with the show"

The band hit the stage with tons of energy and the crowd was on fire. Jumpin Jack Flash- Great in the opening spot...shades of No Security in 1999. Keith was nailing it right from the start. He was filling with great riffs. Smiles on all their faces....you knew this show would be great. Opener Anik Jean is near us watching the show in awe. Michael Cohl is also nearby, next to the camera platform, watching. Looked like lots of family and friends were there from Canada, I'm guessing. You Got Me Rocking- A lot of people don't like it...I always do. Keith again with rhythm riffs that I like. She's So Cold- a nice tight version...Mick was on with the lyrics! Tumblin Dice-steady as always, the horns were sharp. Oh No Not You Again- always great to hear.

Now for the trifects of the night...starting with As Tears Go By- Keith on a stool playing acoustic. Mick singing his heart out. Charlie's rhythm was sharp.... I had straight on view of the three original Stones...very powerful on this song. History.

Rain Fall Down was next... Nice groove...funky.... I saw it's debut in Philly and it's grown and getting better. I love it

Midnight Rambler- was incredible. Mick was blowing harp so powerful right off the top. Keith kicks in and we're off. The pocket with Charlie and Darryl was so evident. Wow. The crowd was going nuts. Fast slow, back and forth...many changes, more than usual. When Mick came down the ramp to lead the crowd, "Everybody say Owwww!"...the crowd did the best sing along I've heard. Mick dragged it out. Finally stopping the song for a great pause and cheer. Thunderous. Well ya heard about the Boston....Wham.... Charlie was blasting the bass drum. Super. When we got to the "Don't do thats"...Mick was adding a nice ad lib of "chick..chick..chaa... Chick...chick..chaa"....Awesome.

Night Time was another song totally on fire...you could tell it was the first night back after the holiday break. Lisa Fischer was electric..up a notch from her usual great performance.

Band intros and Charlie had stepped off stage, and nearly missed his intro...big laughs from Mick and Charlie. Keith takes over, and having already seen the setlist I know' what's up. Keith greets us all with a "Happy New Year....great to see everyone...great to see anyone"...classic. "But we could be here all night." He then acts confused, but not really..."ummmm, oh yeah....new one...This Place is Empty"...Yes. Keith made this one soar. Right on. So true to the song. He's on acoustic. Powerful debut. Just great. Happy was next- and Keith hit another home run. He didn't do a ton of memorable stuff on guitar for Happy, but he's so focused on the vocal. Best ever I've seen on this song and maybe best Keith vocal on any song I've seen...period. He was really singing his heart out. so cool.

Miss You brought the band back to us at the b-stage...when they arrived, Keith was really into the song. A nice surprise...He was playing a lot of funk. Rough Justice was tough to start...Chuck Leavell came out and tried to count into it...Finally Keith just took it. nice rocking version. I got great pictures of the band. Get Off of My Cloud- was a party. Lots of energy. Honky Tonk- took them back to the front. ..rockin'

As they got back up front, Alan Dunn returned and handed me a brand new pair of Vic Firth Charlie Watts signature drumsticks....What a gesture....could not thank him enough. Now that is a gift for all-time. Sticks that came from Charlie's personal stock, backstage...incredible....thank you Alan.

The rest of the show, I was smiling !!! Sympathy for the Devil was burning up, as always. Start Me Up- moved to the stretch run --it really brought the crowd up a notch. A hard groove and Ronnie added a screaming solo.... Brown Sugar --tight and tremendous

The encores of You Can't Always Get What You Want- a party...Keith was all smiles...and the band was locked in. Keith in a blue t-shirt...He looks like a teenager when he's in a t-shirt. It make him look like a kid....I don't know why. Something youthful, it's uncanny. Satisfaction- Keith was so eager to jump in he started the riff before his guitar was turned up...and then he still nailed the open. He went with some real deep riffs. Charlie played a very rapid fire beat early in the song that I've never heard before. They really do add new twists to the classics...Ya gotta keep your ears open and really hear it. During the final stretch, Keith worked the wings and just launched into blistering fast Chuck Berry solos...just great. He came to the background singers and just ripped it up, playing right in their faces. He crouched down in front of Lisa and was teasing her, his head at level with her waist....wow. Of course, she was teasing Keith during Night Time as he sat down on the drum riser and played....at one point he rose to his feet and flashed a big grin, answering her challenge. Those moments make a show for me. So ...Satisfaction comes to a close...and Charlie, again, is ending with this great new machine gun ending....not the usual final flourish...but a deliberate, speedy, four beat barrage for measure after measure...it was sweet. the confetti rained down and the final bows again brought big smiles and big laughs from Charlie...they all bust each other up at the end on the bows. What a finish. Watch out Boston and NYC...these next shows look to be amazing. I'll see at the Garden next Friday. And thanks again to Alan Dunn for a great act of generosity to a grateful fan.
---
Review by Tom Wylygan
This is my 8th time seeing the Stones (all in Montreal) and it was my favorite show of all. I always think that, with age, they won't be as exiting as the last time around, but I was wrong again.

The sound was excellent and all the songs were played perfectly. As Tears Go By was amazing. Midnight rambler took me over the top.

When they came out to the B stage, that was it. they took myself and the arena into a frenzy which lasted the rest of the show. great sing along to Get Off Of My Cloud. So cool about 10 seconds into Sympathy when the crowd started the chant WHOO WHOO. After their bow at the end, I did not see one person leave. A standing ovation continued until the lights came on. I was hoping for one or two more, but it didn't happen. It's O.K. rest up guys. If the rest of the tour is like this show, there will be a lot of happy Stones fans. See you in three or four years.
---
Please send your show reviews and comments by e-mail to: [email protected].
The reviews will show up here soon! Thanks!
---
News links
---
Thanks to Jim Pietryga for great pictures!
Thanks to Axel Schumacher for news links!
---
The IORR magazine
For exclusive reports and pictures from the Rolling Stones tour opening see the IORR magazines.
---




It's Only Rock'n Roll 1980 - 2006
© The Rolling Stones Fan Club Of Europe