---
These are the latest Rolling Stones news and updates for you! IORR is a non profit fan club run by fans for fans. All parts of the It's Only Rock'n Roll web site is copyright of The Rolling Stones Fan Club. When using information from this site, please include a reference to IORR and the main web address www.iorr.org.
---
---

The Rolling Stones
Hollywood Bowl, Los Angeles, CA
Tuesday, November 8, 2005
The set list
Start Me Up
Shattered
She's So Cold
Tumbling Dice
Rough Justice
Rain Fall Down
It Won't Take Long
Bitch
Night Time Is The Right Time
--- Inrtoductions
Slipping Away (Keith)
Infamy (Keith)
You Got Me Rocking (front stage)
As Tears Go By (front stage)
Get Off Of My Cloud (front stage)
Sympathy For The Devil
Paint It Black
Honky Tonk Women
Brown Sugar
Satisfaction
You Can't Always Get What You Want (encore)
Jumping Jack Flash (encore)
Show start :  8:45 pm
Show end   : 10:45 pm

---
Review by Dean Goodman
Two days after Los Angeles Times pop music critic Robert Hilburn declared that U2 were the greatest rock n' roll band in the world while bemoaning the decline of the Rolling Stones, Mick, Keith & Co. reclaimed the title at the Hollywood Bowl on Tuesday, delivering a set that could be described as extraordinary and possibly edgy.

Hilburn's caustic review of the Stones' woeful Anaheim show, which was mostly on the mark, possibly stirred the ever-so-conservative Stones to take risks. When was the last time they played three songs in a row from their latest release, including a world premiere? And let's not forget the belated unveiling of "As Tears Go By," a tune they had been performing in soundchecks for a good month.

I must admit the show was special for me, marking my 150th Stones gig, just 1.6 miles from my house (though parking was still a challenge), so I was hoping for something just a wee bit memorable.

Out of the gate, Mick was on fire, sprinting to the end of the catwalk during "Start Me Up" as if he were about to dive into the audience. Thankfully, he braked in time, because otherwise Johnny Depp would have had to catch him, and Depp spent most of the show seated, staring impassively at the proceedings. Seated next to Keith's manager, Jane Rose, who performed the difficult task of singing along while taking photos, Depp did loosen up a little for Keith's set and the "b-stage" portion, but he split before the encore. Other celebs included Jack Nicholson, Michael Keaton, DreamWorks honcho Jeffrey Katzenberg, Jimmy Rip, and Lauren Graham of "Gilmore Girls," who I think I've seen before at a Stones show. I tried to catch her eye, but it's difficult competing with a 62-year-old grandfather.

Mick noted that a lot of famous people were in the crowd, but "too numerous to mention. But they'll all be up on stage for the big finale."

His performance was flawless, apart from "You Can't Always Get What You Want," when he missed his line about "I went down to the demonstration." He was incredibly relaxed, particularly trading jokes, and giggles with Ronnie. When Charlie's riser was being rolled back after the b-stage set, Mick gave a hand by pushing it with his leg. And after Mick introduced Keith to the crowd, Ronnie whispered something in Mick's ear, and Mick looked as if he were about to pee his pants. He embraced Ronnie and they both stared at Keith, trading schoolyard snickers.

"Rough Justice," "Rain Fall Down" and "It Won't Take Long" was a difficult combo for anyone unfamiliar with the new album. This was a pointed response to Hilburn's complaint that the Stones need to challenge the audience by playing more new material. This argument has its merits, though I'm surprised that so many legitimate fans appear to have been lulled into expecting and wanting just the hits. After some suspicions, I can more or less confirm that the dominant guitar part of "Rain Fall Down" is approximated on stage by Chuck, which means that Mick is essentially wearing his guitar to look good. He introduced the next song as "Won't Take Long," which confused me for a good second or two, and he kept close to the TelePrompTer. For a world premiere the performance was spot on. It's not the most memorable song on the album, but I relate to the vitriol.

During the introductions, Charlie ventured a few feet in front of his riser. Keith introduced "Slipping Away" as "the same ol', same ol." A few pals who were seeing the Stones for the first time were appalled by his set, and it's hard to defend with other than a "Keith is Keith" comment. His "Slipping Away" guitar solo took him to the edge of the catwalk, where he may have been showboating for the benefit of Mr. Depp. Either way, it was the best performance to date.

And then we move along to "As Tears Go By," which found Mick in a rare nostalgic mood, recalling that it was "very, very ancient," and one of the first tunes he and Keith ever wrote, and that they gave it to "someone else" to record first -- poor Marianne, not even deserving of a shout-out. Keith propped himself on a stool, playing acoustic along with Ronnie, who was in cheerleader mode for the benefit of the people on his side of the pit. Mick was really digging the words, totally focused on the task at hand. It truly was a mindblowing occasion, not exactly "Gomper," but still a much-needed addition to the set list.

They followed with "Get Off Of My Cloud," with Mick reading from a simple cheat sheet containing the words "LIVE," "PHONE" and "SICK." The crowd loves this song, any excuse to wave fists in the air, Nuremberg style.

After the home stretch, songs that possibly rescued the show for audience members not as hardcore as long-suffering fans, it was all over by 10:45 p.m. Johnny Depp was safely in bed with his hot chocolate and teddy bear, but the rest of us were basking in the realization that we contributed to a historic occasion.
---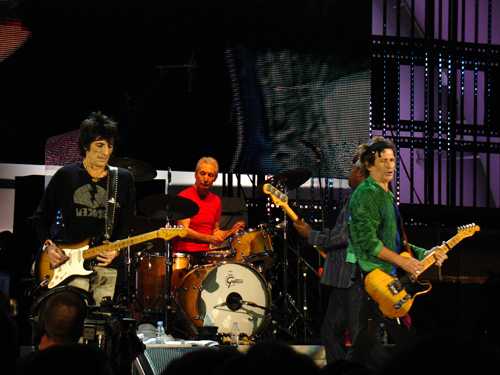 ---
Review by Michael Sold
We have been treated again like stars. The Stones continued to have a speical set at the Bowl with new entries like As tears go by and a new song from bigger bang. To me the two bowl shows have been the highlight of our personal tour. I cannot say that one or the other was better. Both shows to me were outstanding. The stage and the set was like an arena, but the sound was so perfect on both nights. All of them joked on stage and they had a lot of fun playing there. Quite of few stars have been there. Jack Nicholson on both nights seemed to enjoy the shows as well. I wish we would receive something similar in Europe.
---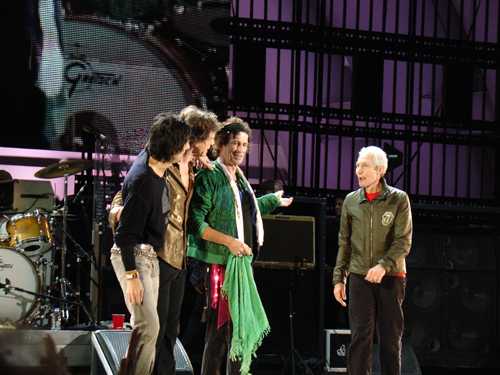 ---
Review by Tom Jordan
My obsession for seeing the STONES began in "69" at MSG in NYC. I have not missed a tour since then and have had many memorable times at the party. Last night at the HB was a shot of salvation and the Boys in the end delivered. "Start Me Up" was a stumbley , "Shattered" got me going but, for an LA crowd I think that it missed the mark ( NYC song) , "She So Cold" was warm but, fun, and "Tumbling Dice" is a tune that I could live with never seeing them play again. The sense that on this night the RS may be going through the motions, and cashing checks was beginning to set in. Unfortunately, over the years I have seen them do a few shows that I felt like that.

A BIGGER BANG began with "Rough Justice" and when they hit it with "Rain falls Down" one of my favorite off their new CD, the show was on." It Won't Take Long" was Ballsy & Bluesy, and "Bitch" was Sticky Fingers at it's best.

"Night Time Is the Right Time" classic and soulful with the entire band working hard like Ray Charles would be proud to see. Keith's spotlight set was fun although I would love to see him do "She's My Little Rock & Roll" or "Happy", but "Slipping Away" and "Infamy" worked for the break. Bedlam began to break out at the HB with the front stage set, "You Got Me Rocking", and it did, for the first time breaking out " As Tears Go Bye" and slamming home with " Get Off My Cloud" had the crowd up and rocking.

SFTD was black magic with MJ stalking the stage in black garb and hat , cool pyrotechnics and Keith spinning and playing classic Beggars style riffs. This ditty started an on slot of Stones power tools, PIB was dark and powerful, HW was edgy, BS rocked with Bobby Keys blowing and the crowd going, "Satisfaction" was a classic crowd pleaser and Yea Mick you are sixty and still doing that song. YCAGWYW was like an old bottle of Laffitte Rothchild wine that needed some airing but, had a good clean finish, a signature JJF said good night all. The STONES still throw the best parties and IORR but, I Like it, Yes I Do. The next party in town is at the Forum in March of 2006 I plan to Be There!
---
Review by Gricha and Nikita Safarian, Belgium
Hey my 11 year old son and I flew from "rainy" Brussels to "sunny" LA to see the Stones. So of course we attended the 3 shows, Angel Stadium and the two Hollywood Bowl.

Everything (and its opposite) has been said already on these 3 gigs so we'll focus on a few points of details only.

First to see the Stones 3 times in a row is the demonstration that no two Stones shows are alike. Even for the two Hollywood Bowls, these were entirely different concerts, on the set list standpoint of course but also on the way the public reacted to the entire show.

Coming from Europe, it was very funny for us to realise that a concert in California does not start around 8 or 9 pm but rather around 3 PM, in the parking lot of the venue. Be it Angel Stadium or Hollywood bowl, people start arriving early in the afternoon, set up tables, stereo, barbecue, wine, champagne and that's it, the fiesta has begun 4 or 5 hours before the show.

Depending of your location in the parking lot, you hear between 2 to 4 different Stones songs at any given time. We tried to get attraction by playing some non Stones songs (Stereophonic, Fiona Apple) from our car's stereo but it did not played loud enough!!!!

This plus the wonderful climate puts you in the perfect mood when the time comes to reach the venue. And at Hollywood Bowl, the next surprise is that half the place is an open air restaurant!! What they call the "garden" seat are in fact little squares of 4 chairs where waiters are standing ready to dress a table and bring you food and drink…..

The assistance is quite funny, my son was beside Clint Eastowood for a while and did not even realised before seing in on the screen half an hour later.

Then, the best is of course to come, the Stones hit the stage and there goes the dream for the next 2 hours……

We are telling you, if they play again at the muddy Werchter stadium in Belgium, we won't even bother to think about going there…..
---
Please send your show reviews and comments to: [email protected].
The reviews will show up here soon! Thanks!
---
The IORR magazine
For exclusive reports and pictures from the Rolling Stones tour opening see the IORR magazines.




It's Only Rock'n Roll 1980 - 2005
© The Rolling Stones Fan Club Of Europe