---
These are the latest Rolling Stones news and updates for you! IORR is a non profit fan club run by fans for fans. All parts of the It's Only Rock'n Roll web site is copyright of The Rolling Stones Fan Club. When using information from this site, please include a reference to IORR and the main web address www.iorr.org.
---
---

The Rolling Stones
PETCO Park, San Diego, CA
Friday, November 11, 2005
The set list
Start Me Up
You Got Me Rocking
She's So Cold
Tumbling Dice
Oh No Not You Again
It Won't Take Long
As Tears Go By
Midnight Rambler
Rocks Off
Night Time Is The Right Time
--- Introductions
Slipping Away (Keith)
Infamy (Keith)
Miss You (to B-stage)
Rough Justice (B-stage)
Get Off Of My Cloud (B-stage stage)
Honky Tonk Women (to main stage)
Sympathy For The Devil
Brown Sugar
Jumping Jack Flash
You Can't Always Get What You Want (encore)
Satisfaction (encore)
Show start :  9:00 pm
Show end   : 11:10 pm

---

---
Review by Ola Dunk
Three good reasons why this was such a great show. First "Oh No Not You Again". The sound was so clear, and the song was so fresh and strong. The guitars were filling in perfectly. Forty plus years of Stones history wrapped perfectly into a great new song.

But next was something even better. "It Won't Take Long" was up for bids for the second time ever, and the crowd just loved it. Knowing this is a brand new song I was really impressed how well it went. And when Ronnie took center stage and did a great everlasting solo on his guitar, then I was in Stones heaven.

Yes it could get even better. Mick said they would do an old song. A very old song. One of the first they made ever. He commented that Keith had got a stool. And there he was, Keith, right in front of Charlie, on a stool, with his 12-string acoustic. And all by himself he made the opening of "As Tears Go By". Fantastic sound still in the venue. Keith was tuned to maximum and he played it perfect. Then Mick is on: "It is the evening of the day...". I can feel my hair is rising. Unreal. And you can hear I am not the only one. The entire venue is making a big big roar as the song is developing. Then Charlie is on, and then the rest of the band. As we all are nailed to the floor listening to Mick and his voice, almost like his 60's voice, I realize this is another Stones heaven.

So I had it all. Three fantastic songs in a row. An almost full moon in a clear and cold night. Keith with a fantastic strong voice I have hardly heard before doing "Slipping Away". Then another great "Jumping Jack Flash". This set list is getting better and better. And thanks to the great San Diego crowd, they will continue playing "As Tears Go By" during every show, because it got such a great reaction.
---
Review by Bill Gerwig, La Mesa, CA
What can you say but .......... STONES!!! What a stage show and production. What a show. Petco Park is a phenomenal facility for a concert and what a band to start the new tradition of shows in San Diego's newest venue
---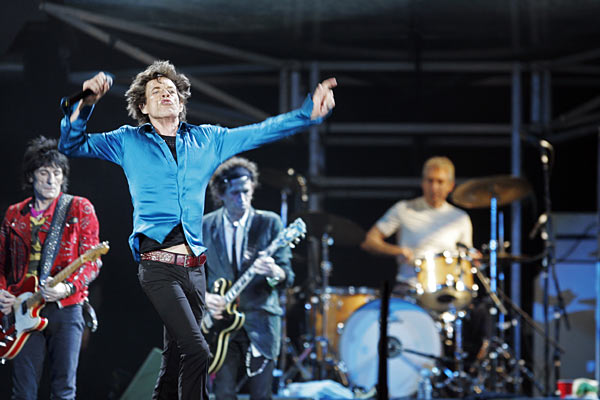 ---
Review by Brad Jones
Nearly 3 years to the day since the they last visited, the Rolling Stones once again tumbled into our fine city to christen our baseball field, Petco Park with its' first concert experience. I was a little fearful that the huge woven steel awnings would send the sounds of guitars and percussion bouncing all over us in a muddled mix, but, to their credit, the band was here early this time to put in a complete sound check. The efforts were evident very quickly, as Start Me Up and You Got Me Rockin' exploded into the clear downtown San Diego night as a clean, well-mixed wave of pure Stones bliss. I was hoping to hear personal faves Shattered and Angie, but it is a credit to the band that each night's set list contains surprises for every audience, and the new singles Rough Justice and It Won't Take Long made it easy to get over any of the classics I might have missed. The high point for me had to be Midnight Rambler, which was drawn out to its' bluesy best. If I closed my eyes, I could literally feel the energy I first felt when I would hear the locomotive-like jam from Get Your Ya-Ya's Out! The B-stage was another creative innovation that took their mid-stadium mini-jam to a new level. The crowd just ate it up, and were ready for the big finale of their classics Jumping Jack Flash and Satisfaction. This time, in the wide outdoor atmosphere, the band could let the pyrotechnics fly, with skyrockets, and columns of fire that took the show right over the top! The boys bid us farewell, but not goodbye, since it was clear that the Stones still could deliver the goods with the best!
---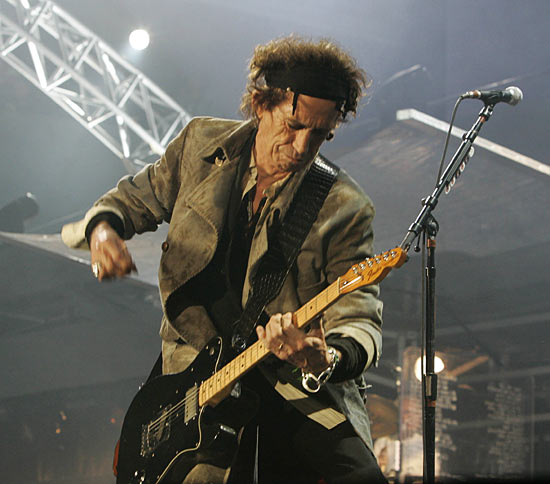 ---
Review by Michael Sold
San Diego proved to be another highlight on our 7 concert tour on the west coast. Now back home we have to wait until next year. Anyway San Diego crowd was much better than Anaheim and you felt it right from the first moment the Stones came out on stage. We had 9th row quite on the side, but a very good view to the stage. Mick and Keith came quite often to our side. Rocks off was the change. The sound quality again was wonderful. Back home after flying directly out of LA and to Zurich I am still wearing the fancy wrist band you received for the floor in San Diego. The crowd pleaser was As Tears Go By and Midnight Rambler, of course once they moved back to the main stage the audience went wild, while already some people left the place which we can never understand. The b-stage was quite far back in the field and once They went back to the main stage Mick said: That was a long ride....
---
Review by Bobby Asea, San Jose
ďHello Ladies and Gentleman. I donít know if you are Ladies and Gentleman, but frankly I donít give a damn.Ē

This was the initial address to the audience from Keith before he broke into his two token songs on Friday night in San Diego. I always enjoy listening to Keith because of his sense of humor and cleverness. He never lets us down.

Observations of mine that stood out for this concert are:

Mick and Keith once again ruled the night. Mick was in full gear with endless energy. What I loved seeing this time was his spinning in full circles as if he was recreating his ode to James Brown from the early days.

Speaking of the early days, we were treated with gems like As Tears Go By and Get Off Of My Cloud. I am thrilled that they touch on that shinning era of their musical career.

Keith was on fire as well. He entertained us immensely with his constant body expression that is fueled by his unique guitar playing. I noticed it was he that most acknowledged the fans in the Onstage section. He made it a point to let them know that he was well aware of their presence.

Another trademark of the Rolling Stones music is the ancient art of weaving that Keith and Ronnie perfect so well. As always they were working it to the hilt. Where else can you find two great guitar players creating this kind of art? They are simply the tops at it .

Another cool treat for the eye, was how often Mick, Keith and Ronnie changed their attire during the show. It seemed that they switched out their jackets as often as their guitars. They put on some very well fitted and colorful threads that are only meant for royalty.

Being from out of town, I was thrilled to see the electricity that was spread all over the downtown area of San Diego. Knowing the Rolling Stones were in town was all it took for the locals to throw parties galore. The section which is called the Gaslight District was particularly ablaze. As I was walking down the street toward the stadium I could hear Stones music blasting form corner pubs. There were even scantily clad female dancers, rocking out to the blaring sounds of the Stones on rooftops. That was entertaining to many by passers until the men in blue put an end to it. For the next show Iím in the Onstage section for a once in a lifetime experience at the San Francisco show. Life is good when the Rolling Stones are here.
---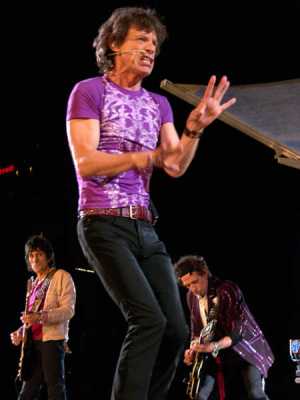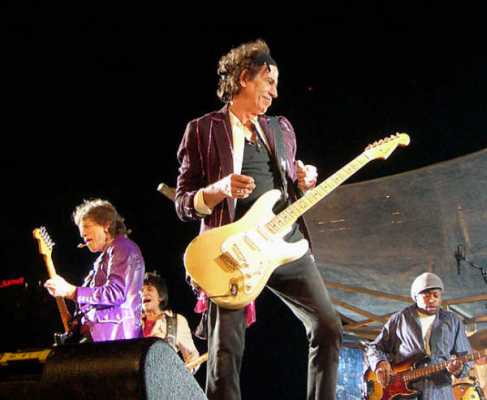 ---
Review by Bill Pearce
I traveled from Austin Texas to see the Stones Concert in San Diego. 14th row center tickets!!!! The stage structure and pyrotechnics was literally directly above our heads.

The show was Fantastic! Iím 50 years old and it was the best concert Iíve ever attended. Stones were never better. Itís hard to believe Mick is still moving across the stage as he did in his 20ís!

Itís now more than 2 weeks after the concert and Iím still hoarse from yelling & singing along!!! Please send your show reviews and comments to: [email protected].
The reviews will show up here soon! Thanks!
---
News links
Thanks to Harold Colson for great B-stage photos!
Thanks to Bernd M and Philip Bajo for news links!
---
The IORR magazine
For exclusive reports and pictures from the Rolling Stones tour opening see the IORR magazines.




It's Only Rock'n Roll 1980 - 2005
© The Rolling Stones Fan Club Of Europe