---
These are the latest Rolling Stones news and updates for you! IORR is a non profit fan club run by fans for fans. All parts of the It's Only Rock'n Roll web site is copyright of The Rolling Stones Fan Club. When using information from this site, please include a reference to IORR and the main web address www.iorr.org.
---
---
The Rolling Stones
Boston rehearsals
August 27 - September 2, 2002
For the earlier rehearsals this summer please see the separate pages on the Toronto rehearsals and the Palais Royale club show.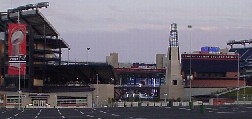 This page will bring you details from the rehearsals of the Rolling Stones in Boston. Pictures and details from the new stadium show will appear here little by litte over the next 12 hours. Please see the IORR forum Tell Me, plus the IORR news, plus the IORR Tour dates and revews for all the details. Patience please.
Warning! The following will tell you a lot about the songs The Rolling Stones might play in Boston Sept. 3-8, just like IORR told you five years ago about the tour rehearsals in Chicago Sept. 1997. If you plan to go to Boston, and want to have the set list, and everything else, as a surprise, then please do not read on! You have been warned! If you are among the millions of fans who can't go to Boston, then this is how it might be - book your travel to another show now - and enjoy the greatest rock'n roll band in the world!
Saturday August 31
The Gillette Stadium was guarded like Fort Knox Saturday night. Nobody were allowed anywhere near the stadium, not even in the parking lot, not even on the connecting roads. The greatest rock'n'roll band in the world were putting their final touch on their "Licks" world tour.

The rehearsals were real loud, and could be heard 2-3 miles around the stadium in Foxboro. Local residents thought the Stones were on their radio, but they soon realized the band was on their doorstep reheasing.

The Stones brough back their backbone songs tonight, their warhorses. The sound was unique and the visuals were fantastic, Wherever you are seated in the stadium on Thursday, you will get maximum satisfaction. Monkey Man was a treasure, and Angie was sparkling.

We were late on arrival, as they had done Brown Sugar and Tumbling Dice while we messed around on the highways in Syracuse. But as we get closer, Honky Tonk Women was all over the area. Loud and clear as the water of a mountain river. Due to the shape of the new stadium, like a horse shoe, sound is not bounced around in any way our directioin, so all over the area, for miles, you could here it all clear.

Rushing in to the parking lot, we found out this as top secret. Not like in Chicago 97, when we could enjoy the rehearsals outside Soldier Field. This time they said everything wss private property, even the state owned road system, so we had to play hide and seek to get to see and hear these great rehearsals.

Rock And a Hard Place was great as usual.

Angie simply sparkling. When you get to see the stadium show, you will understrand what I mean. I don't want to spoil all the secrets.

You Can't Always Get What You Want another great song. They are doing the solid stuff tonight, the songs they know so well. They just have to make sure they can still do them perfectly, still some bits they have with a twist.

Monkey Man with great slide by Ronnie. Sure that guy can do the slide guitar perfectly.

Then I Can't Turn You Loose, an old cover song originally recorded by Otis Reddingt in 1965. This is a real great party song. And as I had to get the original recording by Otis Redding to check it out, I must say this version is keeping the spirit of the original, with the brass parts, still it has got a fresh and fun twist, that is proving the Stones are the masters, even of the cover songs.

Gimme Shelter was very different. Slower, with more blues, different guitars intro, and even Lisa did her part differently. May be they improvised tonight, may be it was just for the set tonight..

Then a break.

Keith did Slipping Away. I love that song. Then he started Happy with new vocals, as if he was singing to the rest of the band what he was supposed to say in normal spoken words. The he said "Oh sh..." (sorry about the language) and they did it again from the beginning.

Sympathy for the Devil

Midnight Rambler

It's Only Rock'n Roll

Street Fighting Man

Jumping Jack Flash

Start Me Up

Satisfaction

As you see, they have filled in the backbone of the stadium show now. Few missing pieces. But there will be something bin the middle, and some parts in-between. This is just the core songs.

Boston Sept. 1, 3:55pm + Sept. 3, 8:30am
IORR/Bjornulf
---
Sunday September 1
The Rolling Stones left their hotel at usual time in the early afternoon, but did not start rehearsing until it was all dark. They wanted to see how the visuals worked, as well as the rest of the concept.

They have reherarsed approx. 130 songs in Toronto, so there was no point in repeating those. Special songs that will show up at the actual show will most probably get a final rehearsal at the pre-show rehearals on the day, i.e. in the afternoon, just before doors open. Now it was time for the final dress rehearsals of the most commonly played songs, those who still will be the backbone of all shows.

It really sounded as if the band had been on tour for quite a while. They did not play as loud as last night, but it was still easy to hear all bits outside the stadium area.

As it started to rain slightly when they were about to do the small stage rehearsals, they did not finish those songs, just played through most of "Star Star", and then fiddled around a bit with the opening of "Little Red Rooster".

I am not sure if it is correct to review rehearsals. They are not ment to be judged or evaluated. The band sounds great, and they are now ready for the tour. The visuals work great, and the stage is very nice.

Enjoy the Boston shows, or wherever you may hook up with the Stones later on, some place on this world tour!

Boston Sept. 2, 2:20am + Sept. 3, 8:30am
IORR/Bjornulf
Saturday
Aug. 31
6:30pm - 10:10pm
Sunday
Sept. 1
8:05pm - 9:50pm

?????
.....
Brown Sugar
Tumbling Dice
Honky Tonk Women
Rock and a Hard Place
Angie
You Can't Always Get What You Want
Monkey Man
I Can't Turn You Loose
Gimme Shelter
----------
Slipping Away (Keith)
Happy (with restart) (Keith)
Sympathy for the Devil
Midnight Rambler
It's Only Rock'n Roll
Street Fighting Man
Jumping Jack Flash
Start Me Up
Satisfaction

Brown Sugar
Start Me Up
It's Only Rock'n Roll
Don't Stop
Honky Tonk Women
Rock and a Hard Place
Angie
You Can't Always Get What You Want
Monkey Man
I Can't Turn You Loose
Gimme Shelter
Slipping Away (Keith)
Before They Make Me Run (Keith)
Sympathy for the Devil
-----
Star Star (small stage, incomplete)
Little Red Rooster (small stage, bit only)

¨
---
This page will feature all reviews, comments, photos, set lists and more as supplied by loyal and die hard fans of The Rolling Stones.
If you have visited this page recently please update your browser by refresh, update, or similar functions in case your browser or your computer connection is still keeping and old version of this page. This page will change continously over the next few days.
To help supply all the great reviews and setlists to fans all over the world, and to preserve them here, as well as the best parts in the IORR magazines, please send your e-mail to IORR. Thanks!
---
See the comments by DEmerson (Coyote Sunrise) about the Gillete Stadium rehearasls too!
---
For details and great photos from the Rolling Stones and their World Tour get IORR 45 due out by mid September 2002, just after the first 3 shows in Boston!




It's Only Rock'n Roll 2002 -
© The Rolling Stones Fan Club Of Europe