The Rolling Stones
Living In A Ghost Town
---
These are the latest Rolling Stones news and updates for you! IORR is a non profit fan club run by fans for fans. All parts of the It's Only Rock'n Roll web site is copyright of The Rolling Stones Fan Club. When using information from this site, please include a reference to IORR and the main web address www.iorr.org.
---
---
The Rolling Stones released their new studio song "Living In A Ghost Town" worldwide Thursday April 23. The new song is recorded in Los Angeles, London, and in isolation. The official video was released on The Rolling Stones Youtube channel at 7pm BST the same day, i.e. 20:00 CET (Central European Time), 3pm EST (US East Coast Time). For discussions about the new single please see the forum pages:

Living In A Ghost Town - IORR Tell Me Forum pages
---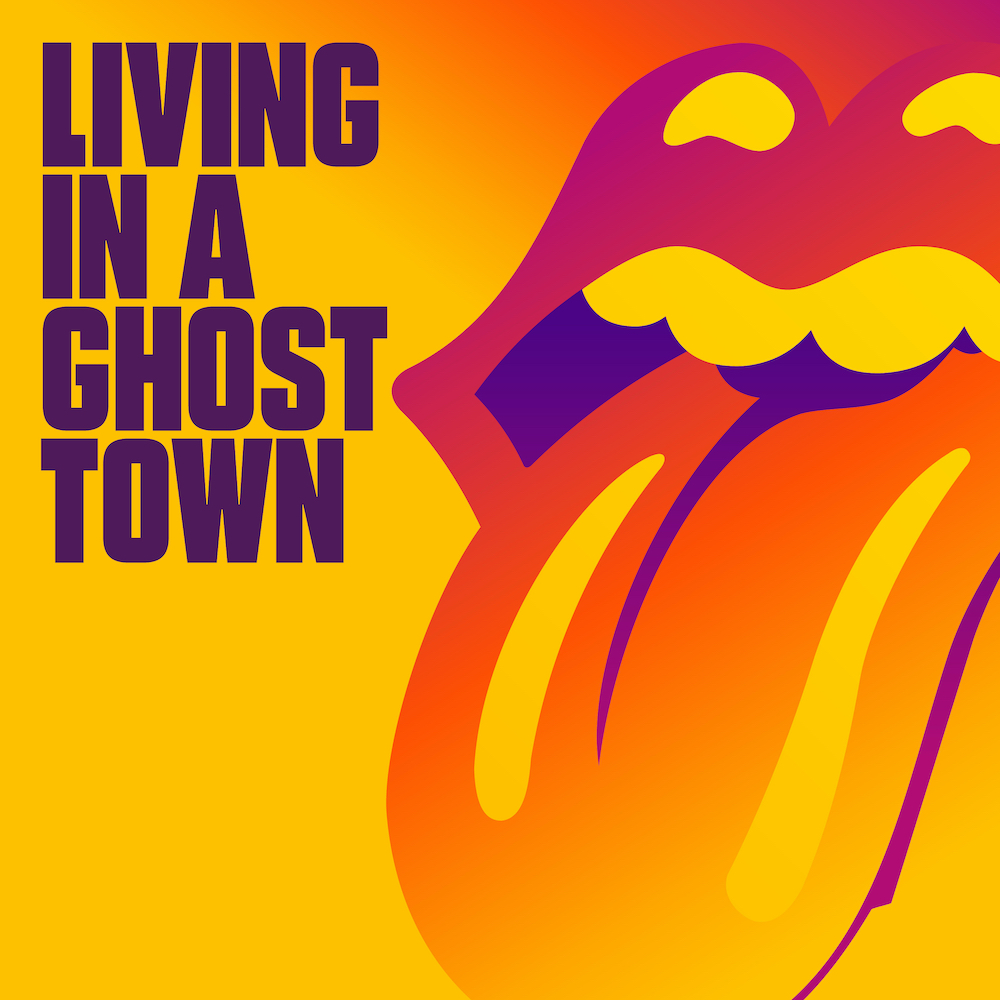 ---
Videos
---
Video production
Joe Connor has directed the latest Rolling Stones "Living In A Ghost Town" music video possibly one of the most comprehensive, artistic documentations of the crisis from across the globe filmed with collaborators in LA, Toronto, Oslo, London, Osaka, Cape Town and even Margate. Drawing inspiration from the undiscriminating and global impact of COVID-19 on our cities and towns, Joe had the idea of using his spherical fisheye lens as a metaphor, both for 'home' - the goldfish bowl we all now find ourselves living in – and as a way to represent the now empty-looking planet.

Commissioner: semera khan at Polydor Records
Production Company: Just Fred
Executive Producers: Alexa Haywood / Fred Bonham Carter
Director: Joe Connor
Contributing Photographers:
Cape Town : Hloni Coleman
Osaka : Samantha Milligan
London : Joe Connor
Los Angeles : Nick Walker
Margate : Amer Chada-Patel
Oslo : Kristian Engelsen
Toronto : Janick Laurent


Editor: Joe Connor
Colourist: Richard Fearon at Black Kite Studios Ltd

---
Video locations
Toronto, Canada:
0:13 Spadina & Queen
0:39 Yonge & Dundas and then into Dundas station before cutting to Piccadilly Circus
1:32 Dundas St Toronto
2:20 and a few other times you see the CN Tower
2:32 driving on the Gardener and Lakeshore Blvd
3:20 Bathurst street down by Front all the way up to King Street
3:43 Blue Jay walk area, between Ripley's, CN Tower and Rogers Centre
2:54 CN Tower and Rogers Centre area Toronto

London, UK:
0.02 Oxendon Street past the Odeon Haymarket, across Panton Street and ending at Coventry Street
0:04 Piccadilly Circus and Regent Street
0.17 Air Street, corner with Piccadilly
0.18 Trafalgar Square facing National Gallery
0.22 Regent Street heading North
0.48 Picadilly Circus
1.02 Regent Street
1.35 South Bank Centre - Hayward Gallery (Yellow stairs)
1.48 View from public terrace of St Magnus House, Lower Thames Street facing South across the Thames
1.55 Leadenhall Market
2.07 Hungerford Bridge heading South
2:37 Tower of London, London, UK (Tree - Middle Tower / 68 Lower Thames Street)
2.58 Old Compton Street, Soho
3.08 Corner of Rupert Street and Winnet Street, Soho, facing Raymond Revue Bar

Osaka Japan:
0:32 Zutenkaku tower
0:37 Tennoji temple (entrance gate)
3:23 Osaka Jou (Castle)
x:xx Main Street, Shinsekai

Oslo, Norway:
0:59 Prinsens gt. Oslo
Cape Town, South Africa:
2:09 Sea Point promenade, Cape Town, South Africa (Glasses - 'Perceiving Freedom' art installation by artist Michael Elion)
Thanks to everyone who have been helping in on locating the various locations in the official video, including Chris (London), Ben (Toronto), Per-Arne (Oslo), Sjoerd (Osaka). Feel free to send e-mail if you have info about locations still not listed here. Thanks!
---
Official products
Living In A Ghost Store by RollingStone.com
---
Lyrics
"Living In A Ghost Town"

I'm a ghost
Living in a ghost town
I'm a ghost
Living in a ghost town

You can look for me
But I can't be found
You can search for me
I had to go underground
Life was so beautiful
Then we all got locked down
Feel a like ghost
Living in a ghost town

Once this place was humming
And the air was full of drumming
The sound of cymbals crashing
Glasses were all smashing
Trumpets were all screaming
Saxophones were blaring
Nobody was caring if it's day or night

I'm a ghost
Living in a ghost town
I'm going nowhere
Shut up all alone

So much time to lose
Just staring at my phone

Every night I am dreaming
That you'll come and creep in my bed
Please let this be over
Not stuck in a world without end

Preachers were all preaching
Charities beseeching
Politicians dealing
Thieves were happy stealing
Widows were all weeping
There's no beds for us to sleep in
Always had the feeling
It will all come tumbling down

I'm a ghost
Living in a ghost town
You can look for me
But I can't be found

We're all living in a ghost town
Living in a ghost town
We were so beautiful
I was your man about town
Living in this ghost town
Ain't having any fun
If I want a party
It's a party of one

---
Links
---
Please send any info you might have!
If you have information, corrections, additions or comments, please send email. Thanks!
---
This page will change over the next few days, as you and other fans send reviews, set lists and reports. Please send your e-mail to IORR. Thanks! For details and great photos from the Rolling Stones and their World Tour get the IORR magazines.




It's Only Rock'n Roll 1980 - 2020
© The Rolling Stones Fan Club IORR