The IORR Travel Guide 2007
Werchter, Belgium
---
These are the latest Rolling Stones news and updates for you! IORR is a non profit fan club run by fans for fans. All parts of the It's Only Rock'n Roll web site is copyright of The Rolling Stones Fan Club. When using information from this site, please include a reference to IORR and the main web address www.iorr.org.
---
---
Introduction
These pages will supply information about the cities the Stones will be visiting this summer. To read about each individual city please select the actual city link in the IORR travel guide pages. If you have information for these pages please send e-mail to

[email protected]

.
Nearest big city
Brussels - approx. 30 km from Werchter.

Leuven - A smaller city approx 10 km from Werchter, 30 km from Brussels. The home of the famous beer brewery Stella Artios.
How to get to the city
Fly or train or car.
How to get to the venue
Train from Brussels to Leuven. 20 minutes from Brussels. Or may be 20 minutes from Brussels airport. The airport in Brussels is half-way between Brussels and Leuven. There are direct trains from Brussels airport to Leuven. No need to go via Brussels to Leuven unless you want to see Brussels.

De LIJN (Bus company) is normally supplying extra bus service from Leuven to the Werchter festival site, but they state that they will not do this service now. Try taxi or car or other transportation.
Travel information
Tickets
Venue maps
It is just a big field with trees in the background.
Recommended hotels
Leuven.
Leuven tourist for an hour or two
As you arrive at the Leuven train station, walk straight, follow the street "Bondgenotenlaan". After 5-10 minutes walking you arrive to the "Grote Markt". The "Grand Place" of Leuven. Enjoy it! Get a cafe table. Order a beer and a snack. Make sure you see the golden bell ringer on top of the church, ringing the bell every 15 minutes. See the remarkable town house of Leuven, also on the Grote Markt. Then walk back towards the railway station along the street "Bondgenotenlaan". Watch the architecture. Amazing houses. Great buildings. If you have an extra hour in Leuven walk the city, smell the Stella Artois brewery, being all over the city, watch the buildings, a lot being architectually unique. Then as you arrive back to the railway station, check out the meeting point where Stones fans are having beers, talking about great moments and preparing for the show!
Meeting place for fans
Cafe de la Gare, Martelarenplein, Leuven
This is a bar & restaurant right on the main square outside the train station in Leuven, across the street of the bus station. There are many bars and restaurants on the square. As you arrive at the train station and you are facing the square, go to the right side corner. Look for the two "Stella Artios" signs. See picture below.

The "Cafe de la Gare" is approved by the IORR Editor, which means it has got plenty of great beers, lots of space, a bar inside, plus easy access to transportation towards Werchter whenever you feel it is important to go there. They have four trappist beers (monestery beers) out of six available, which is pretty unique. They have got Chimay, Westmalle, Orval and Rochefort. Try them out, but remember they are very strong on alcohol, approx 2-3 times stronger than a regular lager/pilsner. Then, as you are more into a regular beer, try out Strella, Leffe (strong) and Kriek (cherry beer, a must to try it, great taste).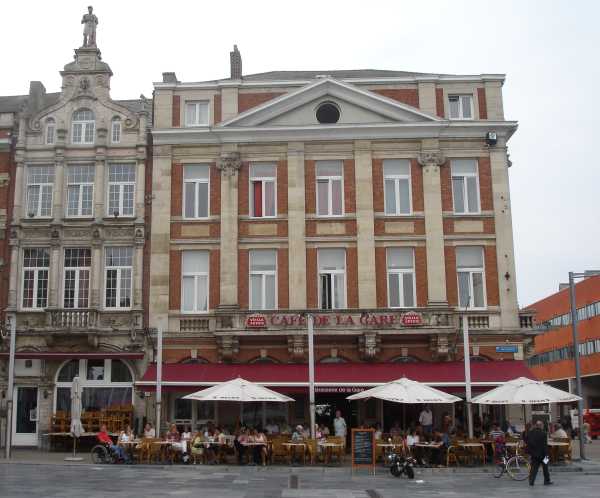 Brussels in two hours
So you arrived into Belgium for the Stones, and you have a few hours extra to check out Brussels. No worries. It is easy to get a quick look at the most important parts of Brussels in two hours for a "turbo" Stones fan that are mostly into getting home or just "there", but have a few hours to spend.

Take the train to the Central Staton. Walk five minutes to Grand Place. It is on the UNESCO list, and once you sit down with a beer at the bar/restaurant CHALOUPE D'OR - a.k.a. DE GULDEN BOOT you know why. Order a KWAK or a KRIEK beer. Enjoy Grand Place. Stay there for an hour and just relax. Then walk over to see Manneken Pis. And to Ilot Sacre. Watch the buildings. Enjoy a meal if you are stacked with money. And if you have an extra hour, walk over to the other side of the Central Station, to Palais Royal and Parc de Bruxelles. Great sights.
Beers in Belgium
It is a fact. Belgium beers are unique. More than 1,000 breweries, some say 1,300. Anyway, don't leave Belgium without having tasted some of their great beers. Starting up with the mild regular lager beers, try out Stella Artois and Jupiler. The beers everybody is drinking. Then try out some of their more tasty beers, but please note that they are strong on alcohol, very strong. That is why they are called "double" and "triple". The following are some general hints and advices on beers in Belgium.

CHIMAY. Highly recommended. First Bleu. Also Brune, and Triple.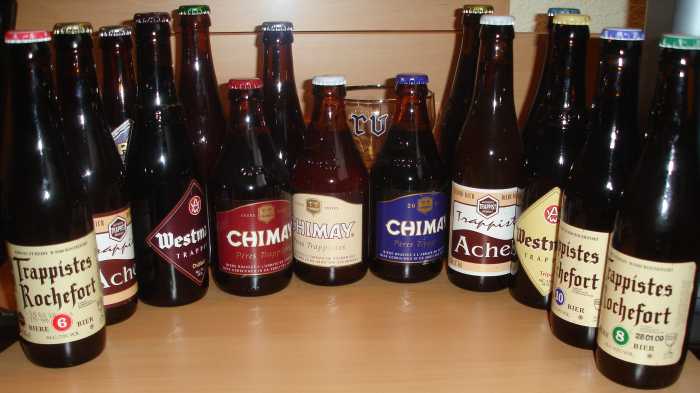 The above is a "family picture" of the great Trappistes beers, i.e. the monestery - monk beers. Many many thanks to a great IORR member who kindy supplied these beers, so that they could be carefully tasted, in-between the rehersals.
Grand Place is on the UNESCO list, which means you have to visit it, take a beer, a waffle (with strawberries of course) and enjoy the life there. Whatever you do, wherever you go, Grand Place is important, well may be not as important as the Stones, but still...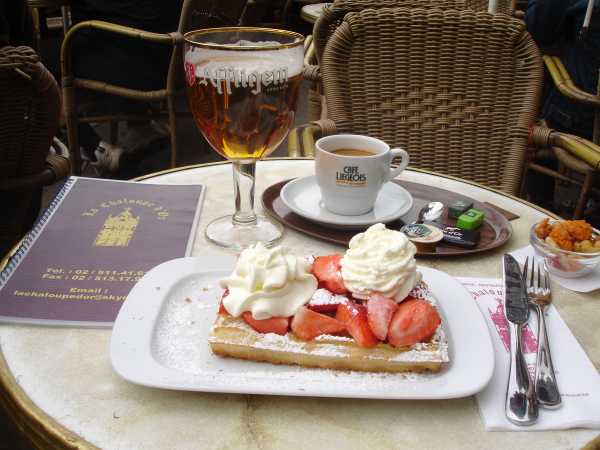 The above is a typical Brussels Grand Place breakfast. It will cost you 20 Euro but it is all worth it. There are many restaurants and bars on Grand Place but for some reason I always return to LA CHALOUPE D'OR - a.k.a. DE GULDEN BOOT (Dutch/Flamish). Highly recommended - and if it full - it is always - just hang around for 5-10 minutes, and you will have a table there, because nobody can afford to have numerous beers on Grand Place! By the way - LA CHALOUPE D'OR has got these beers (I have checked out them all): Kwak, Kriek, Affligem. Plus a few more.
City map
Tourist links
Other local events
General
Thanks
---
For more Stones news see IORR 57 of March 2007!
Make sure you have got the IORR T-shirt for this summer!
---




It's Only Rock'n Roll 2007 -
© The Rolling Stones Fan Club Of Europe