The IORR Travel Guide 2007
Warsaw, Poland
---
These are the latest Rolling Stones news and updates for you! IORR is a non profit fan club run by fans for fans. All parts of the It's Only Rock'n Roll web site is copyright of The Rolling Stones Fan Club. When using information from this site, please include a reference to IORR and the main web address www.iorr.org.
---
---
Introduction
These pages will supply information about the cities the Stones will be visiting this summer. To read about each individual city please select the actual city link in the IORR travel guide pages. If you have information for these pages please send e-mail to

[email protected]

.
Nearest larger city
Warsaw
How to get to the city
By plane (Okecie Airport), by train (Central Station)
Tickets
How to get to the venue
From airport 15 minutes by bus (public transport)
From Central Station 20 minutes by bus (public transport)
Travel information
If you want to use a taxi, please use ONLY so called radio taxi companies (official registered taxi's corporations) for example with short phone number: (+48) 229622.
Venue info and maps
Sluzewiec Hippodrome, Pulawska Street, Warsaw
Sting and Duran Duran appeared on stage on Sluzewiec Hippodrome a few years ago.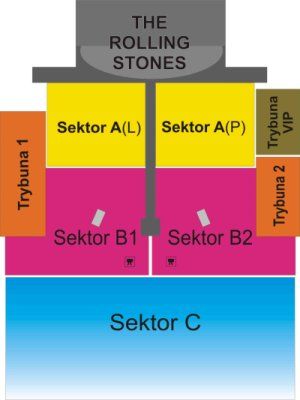 Recommended hotels
IBIS hotels (especially at Ostrobramska street with good prices) or Novotel next to the airport which is very close to the concert area.
Recommended bars/restaurants
The Sphinx restaurants - a main sponsor of the Stones concert in Warsaw. Food is cheap, good, safe, Stones music in background and now even special Stones menu.
Meeting place for fans
City map
www.mapki.pl/warszawa
Other local events
Tourist links
General
Recommended drink: Polish Vodka!
---
Thanks
Thanks to Wojtek Socha and Konrad Midura for info.
---
For more Stones news see IORR 57 of March 2007!
Make sure you have got the IORR T-shirt for this summer!
---




It's Only Rock'n Roll 2007 -
© The Rolling Stones Fan Club Of Europe