The IORR Travel Guide 2007
Gothenburg, Sweden
---
These are the latest Rolling Stones news and updates for you! IORR is a non profit fan club run by fans for fans. All parts of the It's Only Rock'n Roll web site is copyright of The Rolling Stones Fan Club. When using information from this site, please include a reference to IORR and the main web address www.iorr.org.
---
---
Introduction
These pages will supply information about the cities the Stones will be visiting this summer. To read about each individual city please select the actual city link in the IORR travel guide pages. If you have information for these pages please send e-mail to

[email protected]

.
Nearest larger city
How to get to the city
By airplane to Landvetter Airport, see www.sas.se, with Ryanair (www.ryanair.com) to Save Airport take the airport bus to Gothenburg Central Station. By train, see www.sj.se, or bus www.eurolines.com or www.swebus.se.
Tickets
ticnet.se
How to get to the venue
With local buses or streetcar, see www.vasttrafik.se, also se www.goteborg.com. The nicest way of getting around in Göteborg, if you don't want to walk, is to take the tram. The city has 204 trams, wich operate 11 routes; number 1, 3, 6, 8 and 14 take you to the Ullevi Stadium. You can buy a ticket from the driver or at "Tidpunkten". For further information please go to www.vasttrafik.se or call +46 31 771 41 43 00.
Travel information
Venue maps
Recommended hotels
Hotel Gothia, www.gothiatowers.com. Also see www.choicehotels.se
Recommended bars/restaurants
There are a lot of bars and restaurants on Gothenburg's main street Avenyn, a short bit from the concert venue.
Meeting place for fans
City map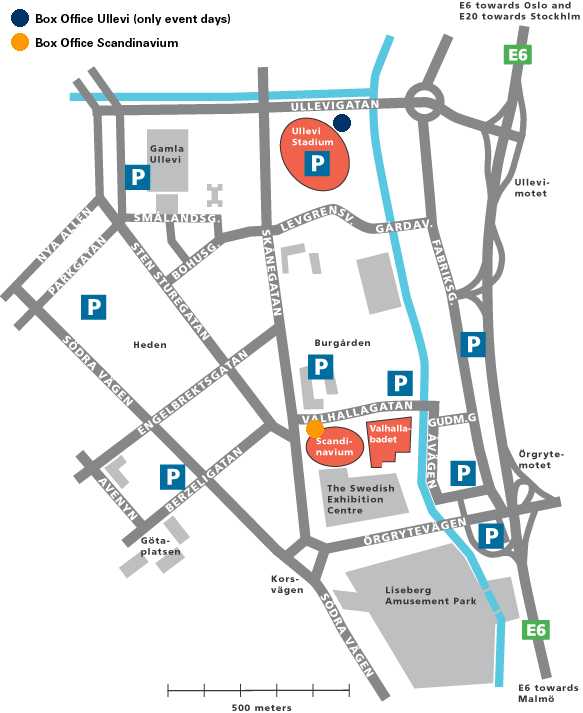 Göteborhg
Other local events
Liseberg Theme Park, see www.liseberg.se
Tourist links
General
---
Thanks
Thanks to Thomas Böhlmark!
---
For more Stones news see IORR 57 of March 2007!
Make sure you have got the IORR T-shirt for this summer!
---




It's Only Rock'n Roll 2007 -
© The Rolling Stones Fan Club Of Europe