The IORR Travel Guide 2007
Frankfurt, Germany
---
These are the latest Rolling Stones news and updates for you! IORR is a non profit fan club run by fans for fans. All parts of the It's Only Rock'n Roll web site is copyright of The Rolling Stones Fan Club. When using information from this site, please include a reference to IORR and the main web address www.iorr.org.
---
---
Introduction
These pages will supply information about the cities the Stones will be visiting this summer. To read about each individual city please select the actual city link in the IORR travel guide pages. If you have information for these pages please send e-mail to

[email protected]

.
Nearest larger city
Frankfurt (am Main)
How to get to the city
Frankfurt's airport is the largest in continental Europe and offers direct flights to many European and North American cities and other parts of the world. Also, you may take the train which is fast and efficient in Germany. The airport Hahn is quite remote like two hours by bus, served by Ryanair.
Tickets
eventim.de
How to get to the venue
The best way to get to the stadium is by train. The Commerzbank Arena is 2 stops away from the main train station (6 minute ride) or, coming from the opposite direction one stop away from Frankfurt airport (4 minute ride). There are trains a least every 15 min. See www.rmv.de The normal ticket price from the main station is 2,20 EUR.

If you come by car from outside Frankfurt follow A3 or A5 to motorway intersection "Frankfurter Kreuz", go east on A3 to exit "Frankfurt Süd", follow signs (with football) to stadium. It has 4 parking lots.
Travel information
Venue maps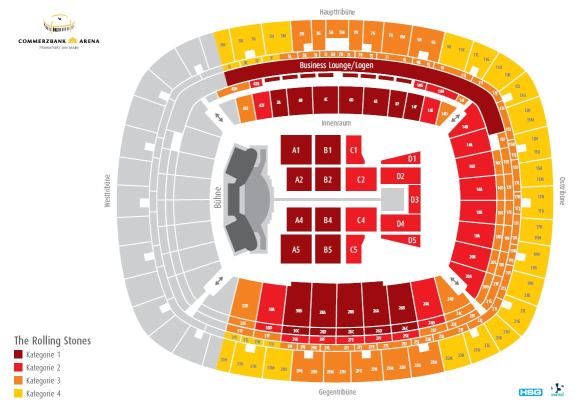 Recommended hotels
Frankfurt is a fair city and has many hotels from 0 to 5 stars. The part of town called Niederrad lies between stadium and city centre and offers some reasonably priced hotels. Fastest to reach after concert, one train stop. One stop further is the city centre where you can chose hotel according to the size of your wallet. There is Sheraton in the airport. You can walk right into it from Terminal 1. Not cheap. Find hotels www.hrs.de, www.hotel.de.

There is a new small designer Hotel calles Goldmann 25 Hours with prices about Euro 60,- to 100,- and you can check in 24 hours. The hotel is located in the Hanauer Landstrasse , where the Frankfurter Club and Bar scene has his place.
Recommended bars/restaurants
The tradisionell Restaurants and Bars are in Sachsenhausen the old style distrikt of Frankfurt in the center of the city.

On the Hanauer Landstrasse are the modern scene clubs and designer Bars. Recomended: The Coccon Club - got last year the titel: Best Club in the World 2006. And also the King Kamehameha Club is good for a visit.
Meeting place for fans
Dauth-Schneider
Neuer Wall 5-7 / Klappergasse 39
D-60594 Frankfurt am Main, Germany

This place looks great and traditional and you get to see the local stuff and also the area. Inside and oustide both works fine in case of unstable weather. And they have plenty of food as it seems. Plus access by S-bahn which is the tram, then you see the city as you travel around.

HOW TO FIND US

Walking: Take any Bridge crossing the river, direction "Alt-Sachsenhausen". You´ll find the main entrance next to the northside "Affentor-Haus" ("Affentorplatz").

By Car (Don´t drink and drive!): From Kurt-Schumacher-Straße crossing the river at "Alte Brücke" or from Lange Straße crossing the river at "Ignaz-Bubis-Brücke" choose direction CarPark "Alt-Sachsenhausen" at "Walter-Kolb-Straße". CarPark open 24 hours.

With Public Transportation: With S-tram-Lines S2, S3 or S4 to "Lokalbahnhof" or Tube-Lines U1, U2, U3 to "Südbahnhof". With Bus- Line 46 to "Frankensteiner Platz" or Lines 30 and 36 to "Affentorplatz". Tram-Lines 14 to "Dreieichstraße" or Line 15 or 16 to "Lokalbahnhof".
A nice and original place to sit in & outside in Sachsenhausen is "Dauth-Schneider". it's over 150 years old and is located right next to the genuine tourist traps of Sachenhausen (beware, there are plenty!) The main stuff (Stöffche) is Appelwine, but of course you also get good beer and typical hessian food.
City map
Other local events
Tourist links
General
---
Thanks
Thanks to Neil Ebden and Günter Pausch!
---
For more Stones news see IORR 57 of March 2007!
Make sure you have got the IORR T-shirt for this summer!
---




It's Only Rock'n Roll 2007 -
© The Rolling Stones Fan Club Of Europe