The IORR Travel Guide 2007
Dusseldorf, Germany
---
These are the latest Rolling Stones news and updates for you! IORR is a non profit fan club run by fans for fans. All parts of the It's Only Rock'n Roll web site is copyright of The Rolling Stones Fan Club. When using information from this site, please include a reference to IORR and the main web address www.iorr.org.
---
---
Introduction
These pages will supply information about the cities the Stones will be visiting this summer. To read about each individual city please select the actual city link in the IORR travel guide pages. If you have information for these pages please send e-mail to

[email protected]

.
Nearest larger city
Düsseldorf
How to get to the city
By air: direct to Dusseldorf International Airport www.duesseldorf-international.de. via Cologne or via Weeze (budget airlines use this airport, it's approx. 80 km from Dusseldorf) Brussels, Amsterdam and Frankfurt are also good, connections by air or train.

By train: from all over Europe to main train station Dusseldorf Hauptbahnhof
Tickets
eventim.de
How to get to the venue
Venue: LTU Arena (formerly known as Rheinstadion, LTU arena is totally new, built on the site of the old stadium) Address: LTU arena LTU-arena-Str. 1 40474 Düsseldorf www.ltuarena.de

By public transportation: from Dusseldorf train station or Altstadt (the tram stop is called "Heinrich-Heine-Allee", it is an underground stop "U-Bahn") tram U78 to "Arena/Messe-Nord". The subway in Dusseldorf is actually a tram travelling underground in some places. During events, trams leave about every 2 - 5 minutes. It takes about 15 - 20 minutes by tram from the train station to LTU arena. Sometimes concert/event tickets include tram/bus fare (I'm not sure about the Stones tickets, will check).

By car: via Autobahn (highway): from the North via A52 and A3 from the West via A44 and A57 from the South via A57 and A59 Right next to the LTU arena there are the exhibition/trade fairgrounds "Internationale Messe Dusseldorf", both are well-signaled throughout the city. For your navigation system use "Flughafen Dusseldorf" as LTU arena is still new. LTU arena is located 3 km from Dusseldorf International airport. A taxi from the airport takes about 10-15 minutes to LTU-arena and costs approx. 10 Euro. From Autobahn A44 take exit AS 29 Messe-Nord/Stadion or Messe-Nord/Arena direct to LTU arena. - Parking: follow signs to parking area P1, parking during concert events usually costs about 5 Euro. There are 22,000 parking places available.
Source: LTU arena website.
Travel information
Venue maps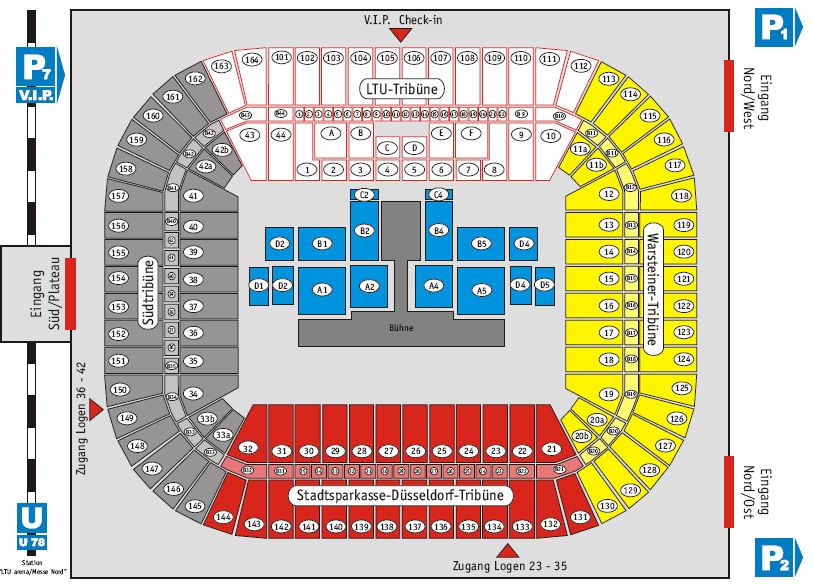 Recommended hotels
4/5 star: Steigenberger Parkhotel, Interconti Koenigsallee
- there are many hotels in Dusseldorf and in the area, the tourist board offers booking hotels or rooms (see "tourist links")
- prices range from cheap (basic rooms) to very expensive, during trade fairs and the like hotels increase prices considerably
- there is a youth hostel on the other side of the river Rhine, facing the Altstadt, reasonable prices http://www.jugendherberge.de/de/jugendherbergen/visitenkarte/jh.jsp?IDJH=442 (only in German)
- backpacker hotel(s) - http://www.backpackers-duesseldorf.de/ and www.hotel-hillesheim.de http://www.hostelscentral.com/stadt-751.html (hostels and cheap hotels)
Recommended bars/restaurants
Anywhere in the "Altstadt" (old town) is good, all kinds of restaurants and pubs, cafés etc. right next to Altstadt on the River Rhine, there is the "Rheinuferpromenade", nice terraces to sit and have a coffee, with a view of the river and the Altstadt, also good for "people-watching".

Some typical Dusseldorf pubs (esp. for Dusseldorf beer "Altbier"):
Das Uerige - http://www.uerige.de (a personal favourite)
Brauerei im Fuechschen - http://www.fuechschen.de/ (a personal favourite)
Brauerei Schumacher - http://www.schumacher-alt.de/ (in German)
Brauerei Zum Goldenen Ring - http://www.goldener-ring.com/
Zum Schluessel - http://www.zumschluessel.de/ (in German)
Meeting place for fans
Bar Engel
Altstadt (old town)
Bolkerstr. 33, Düsseldorf
City map
Other local events
Tourist links
General
If you like beer, you're in the right place. There are several nice pubs and brewery-owned pubs, "Altbier" is typical, it's a top-fermented dark beer - but don't ever ask for a "Koelsch" (beer from Cologne) in Dusseldorf, even if some pubs sell it! There's a friendly rivalry between the two cities Cologne and Dusseldorf. If you like typical / traditional German food, the breweries serve simple meals which are quite good.

for eating & drinking: http://www.duesseldorf.de/eng/tourism/discover/gastronomie/index.shtml

Shopping: Koenigsallee is the street with all the expensive luxury shops, the Altstadt and other areas have small shops and boutiques

Parks: Hofgarten, medium-size city park with lawns and a small pond, near Altstadt and Koenigsallee
---
Thanks
---
For more Stones news see IORR 57 of March 2007!
Make sure you have got the IORR T-shirt for this summer!
---




It's Only Rock'n Roll 2007 -
© The Rolling Stones Fan Club Of Europe