The IORR Travel Guide 2007
Budapest, Hungary
---
These are the latest Rolling Stones news and updates for you! IORR is a non profit fan club run by fans for fans. All parts of the It's Only Rock'n Roll web site is copyright of The Rolling Stones Fan Club. When using information from this site, please include a reference to IORR and the main web address www.iorr.org.
---
---
Introduction
These pages will supply information about the cities the Stones will be visiting this summer. To read about each individual city please select the actual city link in the IORR travel guide pages. If you have information for these pages please send e-mail to

[email protected]

.
Nearest larger city
Budapest
How to get to the city
Plane - the city has got two airports, next to each other. Ferihegy 1 is used by low fare airlines (the biggest are WizzAir and SkyEurope), and Ferihegy 2 is used by normal fare airlines. You can get to the city by bus line No. 200, which stops at both of the airports. The endstation is at Kobanya-Kispest, from that take metro line No.3 to Deak ter, which is approximately the city centre.

Train - international trains arrive at Keleti palyaudvar (Eastern railway station). Timetables at http://www.elvira.hu/elvira.dll?language=2 Coach - Eurolines terminal at Nepliget (stop of metro line No.3)

www.elvira.hu international and domestic timetables and prices

By bus
www.volanbusz.hu international and domestic timetables and prices

By car
Almost every motorway and big main road heads to Budapest.
You can take M7 from Croatia, Slovenia, and southern Austria, M1 from Vienna, Slovakia, and M3 from Eastern Slovakia, Ukraine, M5 from Romania, Serbia.
viamichelin is a good choice to plan the trip to Budapest by car.
Tickets
ticketpro.hu
How to get to the venue
Puskas Ferenc Stadium (former Nepstadion) - it's nearly in the city centre, just take metro line No.2, stop Stadionok (stadiums).

The stadium is near the center of Budapest, on the Pest side. Metro: Red Line or M2, station: Stadionok

Tram: number 1 and 1/A

Bus: lot of bus lines passes the venue

Details, timetables and itineries of Budapest public transport: www.bkv.hu
Travel information
homepage of the transport company, with all the timetables - www.bkv.hu
Venue maps
Recommended hotels
Recommended bars/restaurants
Meeting place for fans
Rolling Stones Pre Party
2007. July 19, 21.00
Venue: Trefort Kert, Astoria, Budapest
web: www.stoned.hu
See more info below.
City map
Tim Ries Rolling Stones project
July 18, 2007
Budapest, Hungary
Jazz Garden
Tim Ries with the Olah Kalman trio

July 19, 2007
Budapest, Hungary
Nyitott Muhely
Tim Ries with the Olah Kalman trio

See the official Tim Ries web site for gig details and more.
Other local events
July 19:
ROLLING STONES PRE PARTY AND FAN GATHERING! Trefort Kert, Astoria, Budapest Live Show presented by STONED (100% Rolling Stones) Hungarian Official Rolling Stones Tribute Band.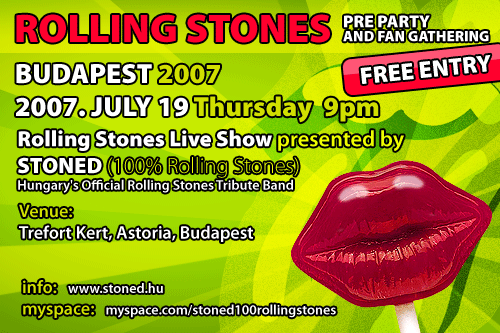 Tourist links
General
Sziget Fesztival - greatest summer festival in Central-Eastern Europe, this year from 8 to 15 August.

Zold Pardon - it's a cool open-air place near Petofi bridge, there are live concerts every night until the middle of September, mostly hungarian bands, but most of them pretty good. Entrance fee is only 100 HUF (about 0.4 EUR).
---
Thanks
Thanks to David Lang and Arpad Jokay for info!
---
For more Stones news see IORR 57 of March 2007!
Make sure you have got the IORR T-shirt for this summer!
---




It's Only Rock'n Roll 2007 -
© The Rolling Stones Fan Club Of Europe