The IORR Travel Guide 2007
Bucharest, Romania
---
These are the latest Rolling Stones news and updates for you! IORR is a non profit fan club run by fans for fans. All parts of the It's Only Rock'n Roll web site is copyright of The Rolling Stones Fan Club. When using information from this site, please include a reference to IORR and the main web address www.iorr.org.
---
---
Introduction
These pages will supply information about the cities the Stones will be visiting this summer. To read about each individual city please select the actual city link in the IORR travel guide pages. If you have information for these pages please send e-mail to

[email protected]

.
Nearest larger city
Bucharest
How to get to the city
By plane: Bucharest has two airports: Henri Coanda ( Otopeni ) for regular airlines and Aurel Vlaicu ( Baneasa ) for low-cost airlines. Take a taxi ( only official taxis ! ) to the centre of the city or directly to your hotel. By train: You arrive at the main station ( North Station ); it is well serviced by the underground train ( metro ). Or, take a taxi ( official ! ) to your hotel. By car: the traffic in Bucharest is real bad. Be careful.

International air companies: TAROM, AUSTRIAN Airlines, CSA Airlines, Malev, Turkish Airlines, Alitalia, Air France, KLM, Iberia, Delta Airlines, Brussels Airways, British Airways, Olympic Airways.

Low cost companies: BLUE AIR (from Italy, France, Spain, Belgium, Germany, Turkey), Sky Europe (from Austria, Italy), Wizz Air (from UK, Italy, Hungary)

There are also trains to Bucharest - North Station.
Tickets
ticket-web.at
How to get to the venue
The best way: from any point of the city: go to the nearest underground station; go towards line 1 ( one ), station " Piata Muncii ". Then take a walk on Boulevard Basarabia; after a 15 minutes walk you will find on your left hand side a nice park which includes the "Lia Manoliu Stadium" The public transport is almost off by midnight; there is no info about some special lines for the concert. So, after the concert you may want to stop for a beer in a bar near the venue, then walk to nearest taxi station. Anyway, be ready for a nice midnight walk in the hot summer night...
Travel information
The public surface transport is bad; therefore everybody is using the personal car which makes the traffic awful between 5 and 7 pm. You can rely on the metro or, take a long walk. The taxi is cheap; 10 euros will take you from the city center to the venue, only if you prefer to wait in the car instead of anything.
Venue maps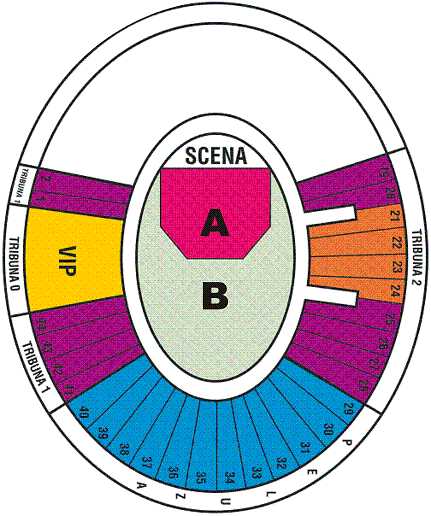 The Lia Manoliu Stadium is the biggest stadium in Bucharest; the access is via Boulevard Basarabia and "Maior Coravu " street. Take a look at the venue map; areas 34 and 35 are oriented to Boulevard Basarabia ( see map), while the stage is opposite.
Recommended hotels
Tulip Inn Times is the cloesest hotel from the stadium, 2 minutes walk from the metro station and from bus station (bus number 104)

The hotels are ok, slightly better in each class than other European cities. Try to book via an agency; it is cheaper than at the desk. Bucharest is not a big tourist attraction; there is no special crowd in summer; by contrary, everybody is running out from the heat.
Recommended bars/restaurants
A lot of friendly, open air bars and restaurants. Near the venue, in the park, under the trees, you will find some nice open air bars with excellent beers. Try Brown Sugar at only 15 mins walking time or 5 mins taxi drive from the venue: www.brown-sugar.ro
Meeting place for fans
City map
http://www.salutbucuresti.ro/planoras/index.php
Other local events
Tourist links
General
Travel pacakage by Explore Travel - tickets and hotel: Rolling_Stones_Bucharest.doc
---
Thanks
Thanks to Gabriel Chirion and Dragos Pirnog!
---
For more Stones news see IORR 57 of March 2007!
Make sure you have got the IORR T-shirt for this summer!
---




It's Only Rock'n Roll 2007 -
© The Rolling Stones Fan Club Of Europe