The IORR Travel Guide 2006
Vienna, Austria
---
These are the latest Rolling Stones news and updates for you! IORR is a non profit fan club run by fans for fans. All parts of the It's Only Rock'n Roll web site is copyright of The Rolling Stones Fan Club. When using information from this site, please include a reference to IORR and the main web address www.iorr.org.
---
---
Introduction
These pages will supply information about the cities the Stones will be visiting this summer. To read about each individual city please select the actual city link in the IORR travel guide pages. If you have information for these pages please send e-mail to

[email protected]

.
Nearest big city
Vienna
How to get to the city
Vienna is linked by air with all major European cities. The airport is approximately 20km east of the city. There are frequent Bus and speedtrain services ( every 30 minutes ) to the Hilton city air terminal. This air terminal is in the 3rd district very close ( walking distance ) to the city center ( 1st district ).

Buses also go from airport to Südbahnhof (south train station) and to Westbahnhof (west train station). The price is about 6-7 EUR. From Südbahnhof, take tram "O" (as in Oscar) to PRATERSTERN and switch to tram 21 to Stadion.

If from the airport you take the bus to the Hilton City Air Terminal, you can switch to subway lines U3, U4 and also "O" to PRATERSTERN.

People arriving by train: Vienna has two major train stations: SÜDBAHNHOF (south train station) and WESTBAHNOF (west train station), depending on the direction you're coming from.

From SÜDBAHNHOF to stadium. Take tram "O" to PRATERSTERN and switch to tram 21. To go downtown from SÜDBAHNHOF, walk to the nearby subway stop SÜDTIROLERPLATZ and take U1 to KARLSPLATZ or STEPHANSPLATZ.

From WESTBAHNHOF to stadium: Take subway U3 to STEPHANSPLATZ, U1 to PRATERSTERN and then tram 21. To go downtown from WESTBAHNHOF, take subway U3 to STEPHANSPLATZ.

If you got your concert ticket via oeticket.com, it can be used for public transportation between 2 hours before show star and 4 hours after show end (in case they perform random checks).
How to get to the venue
The Ernst Happel Stadium is in Viennas 2nd District in a recreation area called the Prater. The adress is A-1020 Meiereistrasse. Best access is from the city center with Subway U1 to Praterstern and then with Tram 21 to the Stadion. There is also Bus services 80 and 84A from other points in the city to the Stadium.
Travel information
Vienna is still one of the safer cities in Europe, with less crime than in other big cities. Still one should watch out for pickpockets etc. The 2nd district with the famous Ferris Wheel in the fun park Prater, is a bit of a red light district - lots of certain bars etc. and one should be carefull especially at night. The easiest way to get around the city is the subway. There are 5 subway lines U1, U2, U3, U4 & U6. For sightseeing there is tours available and also a Hop on Hop off Bus, which is probably the easiest way to explore the city.
Venue maps
Recommended hotels
If you want to be close to the venue take a Hotel in Vienna´s 2nd District - postal code 1020. There is lots of smaller 2 and 3 star hotels - simple accomodation, nothing special, but at reasonable price.

Recommended:

Etap Hotel ***
Franzosengraben 15
1030 Vienna
tel: 0043-1- 7984555
fax: 0043-1- 7984555-25
email: [email protected]
it´s a new 3 star hotel with good value for money. Their rate is around Euro 39 for a single room and Euro 46 for double, without breakfast. The location is in the 3rd district in a smaller industrial area. Within a few minutes walking distance you have the Gasometer, a new prestigeous appartement complex with a big shopping center, cinema and a subway station. From this subway station Gasometer it´s only about 10 minutes by U3 to the heart of the city ( Stephansplatz ).

Also see other hotels in the Accor Chain, including Ibis, Mercure, Sofitel, Novotel etc.
Recommended bars/restaurants
Schweizerhaus
Prater 116
1020 Vienna
Vienna´s famous beer garden - serving the legendary Czech Budweiser draft beer ( this is the real one - not the american remake ), and the speciality of the house: Stelze - rear knuckle of pork. Although the place is big, it is always full, so you may have to wait a while to get a table. A must!

Bettelstudent
Johannesgasse 12
1010 Vienna ( in the center of the city, 1st district )
very popular restaurant, also for drinks only.

Bermuda Bräu
Rabensteig 6
1010 Vienna
a good place to have a few drinks - in the center of the city, whith a lot of other bars, pubs etc. around.

Flanagan´s
Schwarzenbergstrasse 1-3
1010 Vienna
nice irish pub in city center
Meeting place for fans
City map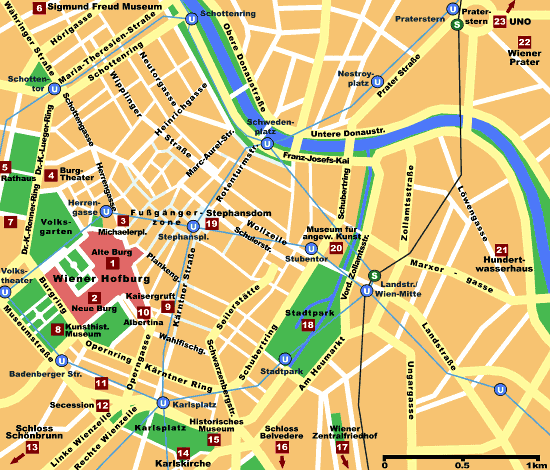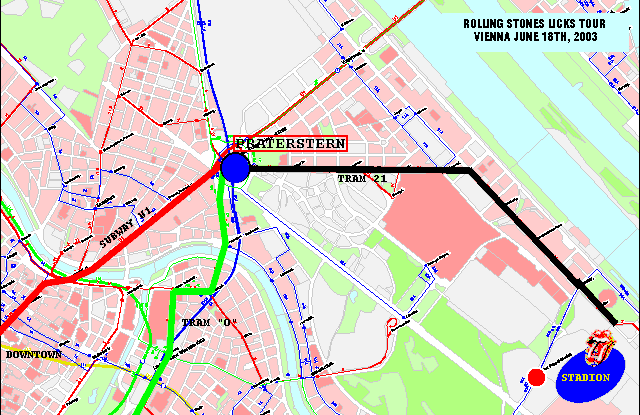 Tourist links
info.wien
Other local events
General
Thanks
Thanks to Ernst Happel and Bajo Philip for information!
---
For more Stones news see IORR 55 of March 2006!
---




It's Only Rock'n Roll 1980-2006
© The Rolling Stones Fan Club Of Europe