The IORR Travel Guide 2006
London, UK
---
These are the latest Rolling Stones news and updates for you! IORR is a non profit fan club run by fans for fans. All parts of the It's Only Rock'n Roll web site is copyright of The Rolling Stones Fan Club. When using information from this site, please include a reference to IORR and the main web address www.iorr.org.
---
---
Introduction
These pages will supply information about the cities the Stones will be visiting this summer. To read about each individual city please select the actual city link in the IORR travel guide pages. If you have information for these pages please send e-mail to

[email protected]

.
Nearest big city
London
How to get to the city
Picadilly Line underground/tube approx. 45-60 minutes from Heathrow to central London (price approx. 5 pounds), or the Heathrow Express 15 minutes from Heathrow to Paddington (price approx 15 pounds).
How to get to the venue
Twickenham by foot

The scenic route from Richmond to Twickenham: Richmond town centre is quite pretty as you probably know, and a route I would suggest is for people to walk is through the town centre and across Richmond Bridge and down St Margarets Road. This gets you to the Chertsey Road, and Twickers is just a couple of roundabouts further down that road. If you yourself know the area then you will know that there is absolutely nothing around the Stadium itself, it really is in a most bizarre location - in a residential area and right off one of the major roads in and out of south-west London.
For streetmaps see also streetmap.co.uk. The POSTCODE that you type in to get you to the approximate area is TW10.
Twickenham/Richmond from Heathrow
There is fast bus that goes between Heathrow and Kingston, it is the 726 Heathrow Express. Both the 285 (which is slower because it twists and turns through the suburbs ans makes more stops) and the 726 Heathrow Express leave from the central bus terminal in Heathrow. The fare for the 285 is 70 pence, the fare for the 726 is £1.40. The 285 takes approx 1 hr 15 mins from Heathrow to Kingston, the 726 takes 45 minutes.

Also, there is another option. There is a tube station very close to Heathrow called HATTON CROSS, there is also a big bus station there. From the central bus terminal at Heathrow there is a FREE bus connection to the Hatton Cross station, because Hatton Cross is technically still within the perimiter of Heathrow. From there you can get a bus direct to Richmond.

The difference between (a) taking either the 285 or 726 to Kingston and then jumping on the train a couple of stops to Richmond and (b) taking the shuttle bus to Hatton Cross and from there a bus to Richmond will be negligible - a few minutes at most.
Twickenham/Richmond by train/tube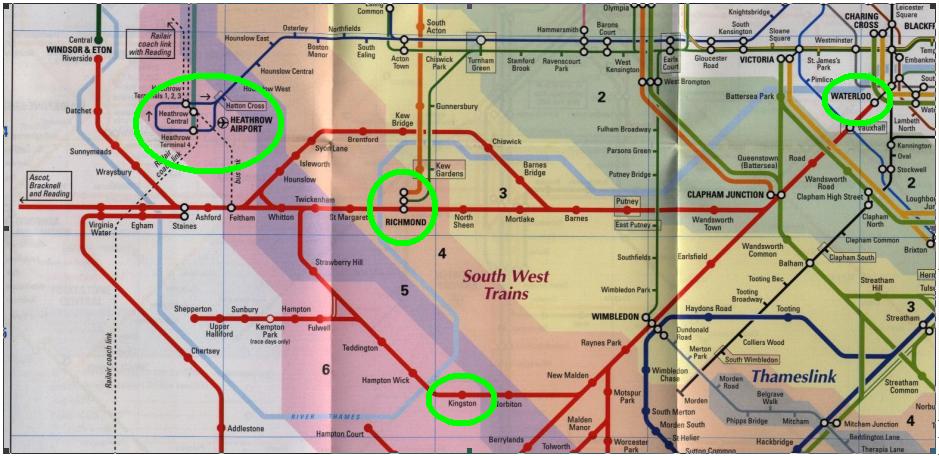 Travel information
British Rail trains run from Waterloo Station to Twickenham.

London Transport - bus and underground

267 runs from Hammersmith to Twickenham
Venue maps
Recommended hotels
Map of London with hotel links Victoria is a nice area that is central to all three venues: Hotels around Victoria Station
Twickenham hotels:
The Richmond Hill Hotel (Richmond) or The Petersham Hotel , (Richmond), both these hotels are only 15 mins bus / 30 mins walk from the stadium, and Richmonds a really cool place, with excellent bars/restaurants along by the River Thames....(ask Mick, he lives there!!)

Theres very little accomodation, in Twickenham itself, apart from B and B's , so i'd definetly try out Richmond or nearby Kingston (15 mins further up the river.) Try these sites for local tourist info:
General on hotels
Recommended bars/restaurants
Meeting place for fans
This is information about fan meetings in London, Sheffield and Cardiff. Bob Drummond and Martin Elliott are organizing a series of fan meetings and a boat trip, all non-profit for fans. Check out their web site for many details: Stones Fans UK 2006. The following is a summary of the events:

Fri Aug 18 - The Rollin Stoned at the 100 Club (not a Bob / Martin event but recommended)
Sat Aug 19 - Jack Horner pub get-together from 6pm
Sun Aug 20 - Cabbage Patch Pub then Twickenham 1
Mon Aug 21 - Thames Boat Trip (8pm to midnight)
Tue Aug 22 - Cabbage Patch Pub then Twickenham 2
Sat Aug 26 - Sheffield Yates' Bar
Sun Aug 27 - Yates' Bar then Sheffield Don Valley Stadium
Mon Aug 28 - Cardiff Yard Bar & Kitchen
Tue Aug 29 - Yard Bar then Cardiff Millenium Stadium
City maps
UK and London maps
Tourist links
Tim Ries Rolling Stones Project
The Tim Ries Rolling Stones Project are performing great jazz versions of Rolling Stones songs when Tim is not on stage with the Stones. Bernard Fowler on vocals, and Michael Davies is there too. Highly recommended!
They are performing in London on August 21st at Ronnie Scott's, 47 Frith Street, Soho, tel. 0207-439 1118.
The Rolling Stones Fan Convention
Monday August 21st sees Stones.Con - The Rolling Stones Fan Convention at the Bonnington Hotel, Southampton Row, London WC1. On sale will be a huge selection of Stones records, CDs, memorabilia, posters and ephemera from the worlds leading Stones dealers. Also witness the Ali Zayeri Stones museum and the Philip Townsend Stones photo archive live at the show. Opens at 10 am and promises to be a Bigger Bash!

How to get to the Bonnington Hotel, Southampton Row, London WC1: The nearest tube stations are : Russel Square (Piccadilly line) and Holborn (Piccadilly line). The nearest mainline station is Euston - come out of the station, walk straight ahead across Euston Road and you'll walk directly into Southampton Row - The Bonnington is approx ten minutes on your left. The no. 91, 59, 68, 168 and 188 busses go past the hotel. The hotel is very close to Oxford Street and Tottenham Court Road - From Oxford Street turn left into Tottenham Court Rd and first right into Great Russell Street, walk straight for ten minutes and you'll come to Southampton Row and the Bonnington Hotel is straight in front of you.

Refreshments and food are available at the hotel with many resteraunts and pubs close by. As well as a myriad selection of Rolling Stones items available there will also be a great selection of other 60s and 70s records, CDs, posters and ephemera! Bring along your memorabillia and rarities to be valued free of charge
Other local events
General
About London and hotels
The problem with London it is so big. Nothing is really central. It depends on what you like.

Central might be anything from Paddington and Queensway and all the way over to Tottenham Court road. You can follow this in an axis that follows Bayswater Road, which extends to Oxford Street at Marble Arch. And the Central line on the tube is following the same path underground. Queensway, Lancaster Road, Marble Arch, then 2-3 more stops before you get to Tottenham Court Road. It's one hour walking, and it is all central London if you see what I mean.

If you like shopping then may be staying in the Marble Arch to Tottenham Court area and Soho or Picadilly Circus area is ok. But hotels are more expensive these places. Paddington is cheaper, many hotels, a lot of them TOO cheap and dirty, but it is closer to Wembley. There are direct tubes (underground) from Paddington to Wembley, and they take 15-25 minutes, more than one choice.

Twickenham is closer to Heathrow, also close to Richmond. Not many hotels there.
Thanks
Thanks to Linda Raeburn and Paul Strachowski for information!
Additional information by Bjørnulf Vik and Adrian Luscombe.
---
For more Stones news see IORR 55 of March 2006!
---




It's Only Rock'n Roll 1980-2006
© The Rolling Stones Fan Club Of Europe