The IORR Travel Guide 2006
Bergen, Norway
---
These are the latest Rolling Stones news and updates for you! IORR is a non profit fan club run by fans for fans. All parts of the It's Only Rock'n Roll web site is copyright of The Rolling Stones Fan Club. When using information from this site, please include a reference to IORR and the main web address www.iorr.org.
---
---
Introduction
These pages will supply information about the cities the Stones will be visiting during the tour. To read about each individual city please select the actual city link in the tour dates pages of the Spring 2006 and Summer 2006 pages. If you have information for these pages please send e-mail to

[email protected]

.
Nearest big city
Bergen
How to get to the city
Fly into Bergen directly or via Oslo, capital city of Norway. Oslo is 500 km away across the mountains, 1 hour flying or 8 hours driving from Oslo. Or take the train, great scenic travel across the mountain area.

Airliners and trains:
Tickets
Billettservice
Sold out show but just go there. On show day you will get a ticket still some way.
Show details by BergenLive.no
Ticket details
The show is outdoor open admission all standing no seats at all. See area maps. For some strange reason those tickets printed out by the Postal Offices in Norway have got seat and row numbers. But there are no such seats/rows. Those tickets are of course valid as a general entrance ticket for the show, at the given category as shown on the ticket. There is a Front Of Stage (FOS) area on Ronne side also called Golden Circle.

Ticket prices are NOK 2075 (Golden Circle), 1095, 795 including sales fees, equivalent to approx. Euro 250, 140, 100. The Golden Circle area in the front of the stage will have separate toilet facilities and bar.
How to get to the venue
Walking distance 10 minutes from the city center Fiskebryggen.
Travel information
Bergen city is tourist city number one in Norway. The city between seven mountains. Check out the tourist sites.
Venue maps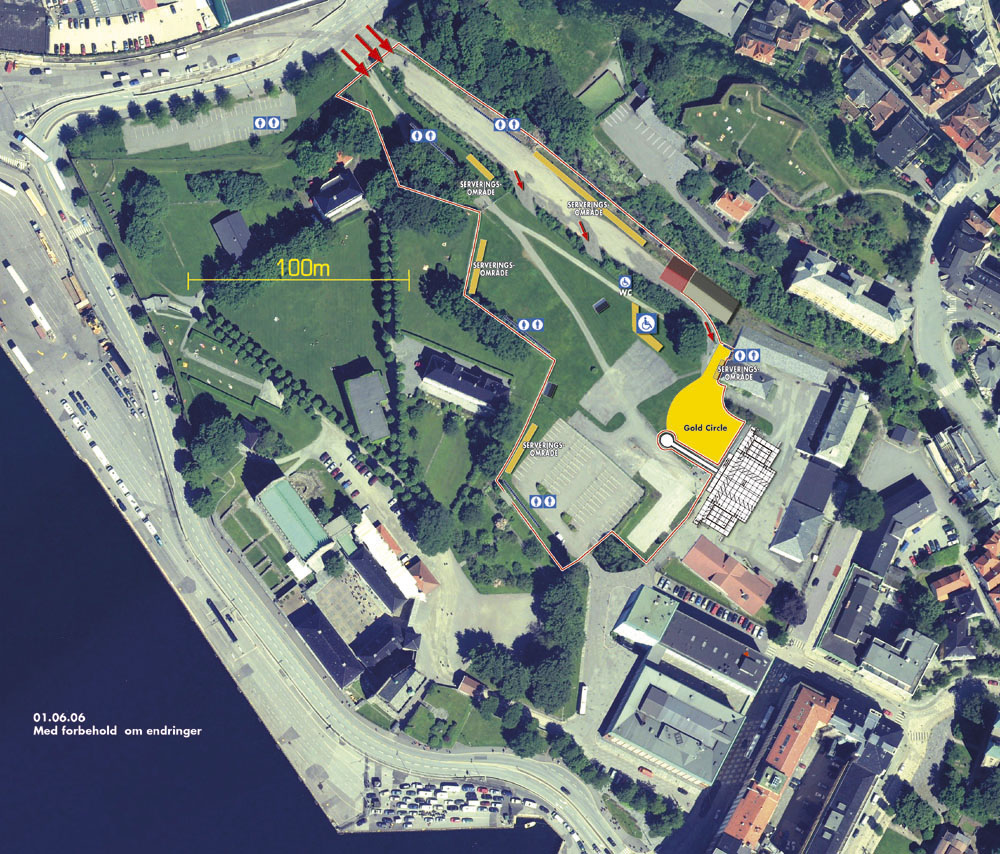 Koengen is an outdoor area, part of an old fortress area called Bergenhus. In this area you do also find Håkonshallen, famous in Bergen.
Recommended hotels
All sold out they say but try the signs saying "Rom" (room) which means someone is hiring out a room in their private home. Great and local alternative. Or ask the tourist office, located in the center of the city, at Bryggen.
Recommended bars/restaurants
Meeting place for fans
Dickens : Right on Festplassen in Bergen, next to Hotel Norge.
Also, if it is getting too crowded here, try the following, which is next door:
Logen hagen - the outside area of Logen. See the map below.
Festplassen is three minutes walk "righ" of "Fiskebryggen, slightly uphill, oppsite direction of Bryggen/Fløyen, and in front of Lille Lungegårdsvann.
After-party with Chris Jagger
Logen Teater, Øvre Ole Bulls Plass, Bergen. Ole Bulls Plass is the same as Festplassen i.e. right next to Dickens.
After-party starting at 10pm on Friday and ready for all Stones fans coming from the Koengen show. Ticket price NOK 270 i.e. approx 35 Euro.
For tickets and details see: AFTER STONES PARTY
City map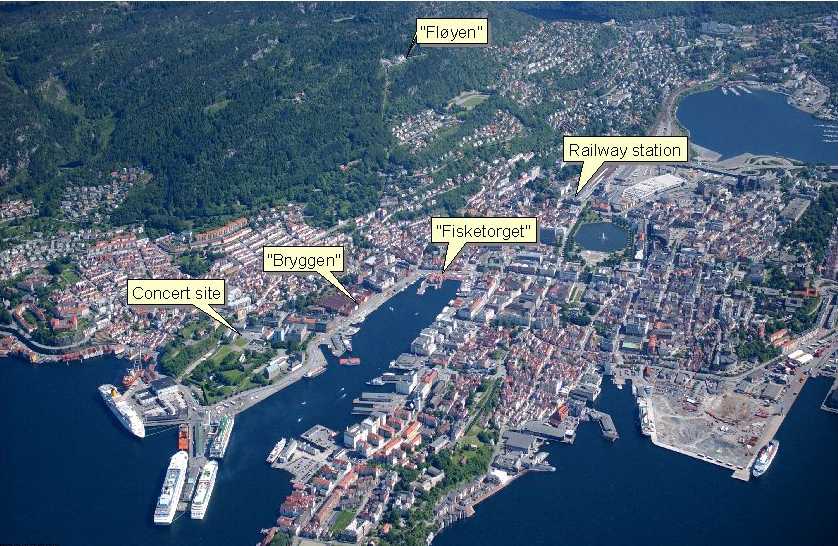 Tourist links
Check out the Bergen Official Tourist site

Bergen is on the UNESCO world heritage list of the greatest places on earth to see. Check out Bryggen
Other local events
... coming later ...
General
... coming later ...
Thanks
Thanks to Harald Bratseth for great photos and info! Also thanks to Torstein Oliversen of Midnight Ramblers.
---
For more Stones news see IORR 55 of March 2006!
---




It's Only Rock'n Roll 1980-2006
© The Rolling Stones Fan Club Of Europe