---
These are the latest Rolling Stones news and updates for you! IORR is a non profit fan club run by fans for fans. All parts of the It's Only Rock'n Roll web site is copyright of The Rolling Stones Fan Club. When using information from this site, please include a reference to IORR and the main web address www.iorr.org.
---
---
The Rolling Stones
St Mary's Stadium
Southampton, UK
Tuesday May 29, 2018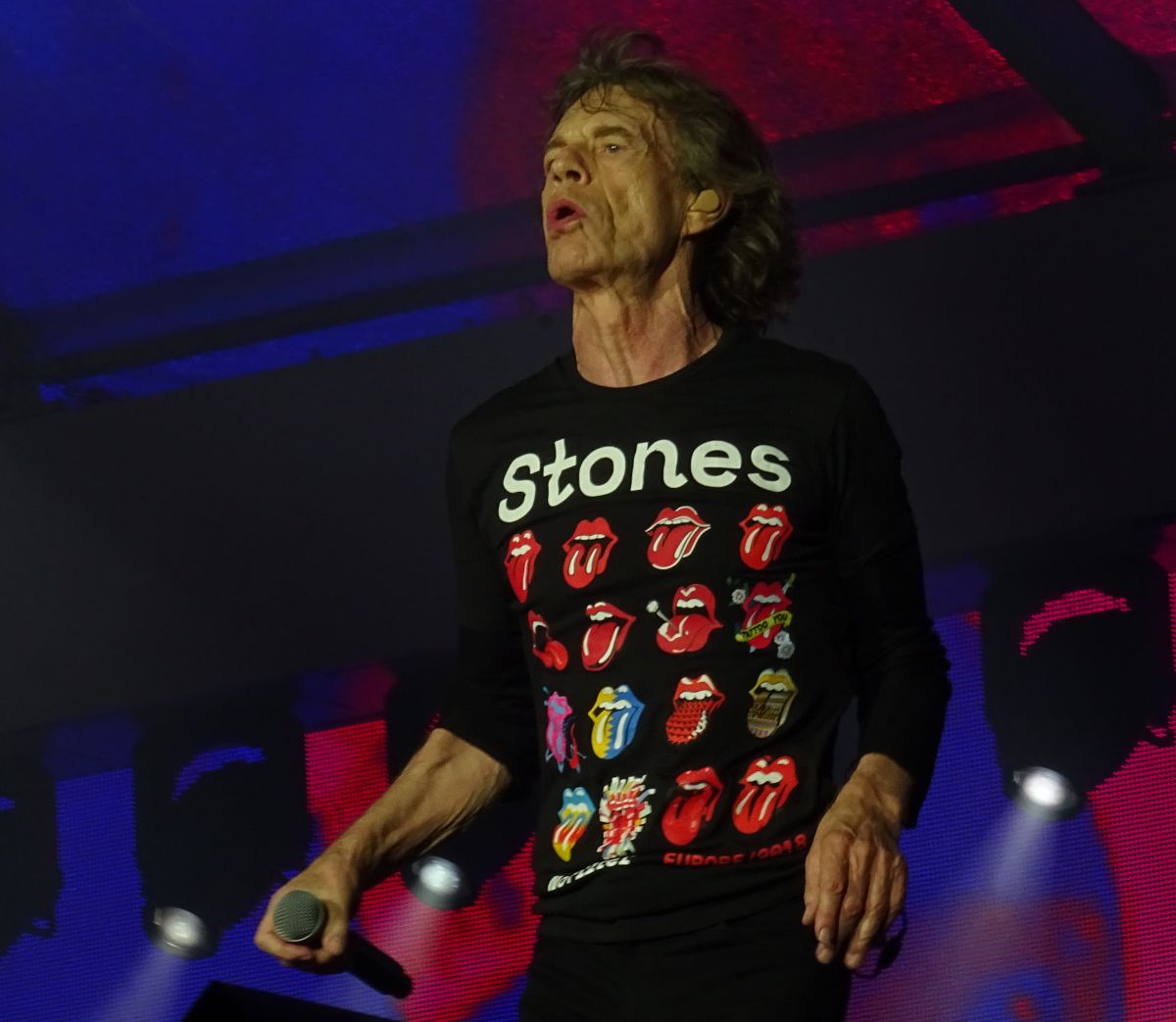 The Rolling Stones live at St Mary's Stadium, Southampton, UK, Tuesday May 29, 2018 - Photo by Bjornulf Vik
---
The set list
Start Me Up
Let's Spend The Night Together
Tumbling Dice
It's Only Rock'n Roll
Just Your Fool
Under My Thumb
Sweet Virginia
You Can't Always Get What You Want
Paint It Black
Honky Tonk Women
--- Band introductions
The Worst (Keith)
Before They Make Me Run (Keith)
Sympathy For The Devil
Miss You
Midnight Rambler
Jumping Jack Flash
Brown Sugar
--- Band off stage
Gimme Shelter
Satisfaction
---
Show start :  8:19pm
Show end   : 10:16pm

---
Pre-show info and live comments:
Southampton UK 29-May-2018 Rolling Stones No Filter live updates
---
Reports please!!!
Please send your comments, reviews, links and more to:

[email protected]
---
Review by Simon Ward
When I first saw rumours that the Stones were going to play in Southampton (on IORR, of course) at my hometown team's stadium, I thought it was extremely unlikely. The greatest rock 'n' roll band in the world, and one I had followed as passionately as the Southampton team for three decades, in a provincial football stadium? It couldn't, wouldn't happen.

But the rumours were right (as nearly always), and on my dad's 69th birthday too. So I scrambled to try to get a Lucky Dip, failed, so settled for General Admission. I knew, as a few thousand people discovered on Tuesday night, that the Stones would fill a lot of St Mary's, so any seat in the house would be pretty good.

Then the ticket sales didn't look so great, the Lucky Dips reappeared, so I bought two and chanced on being able to sell my other tickets, which I did with a day or two to spare. So Dad and I made a familiar journey, via my 91-year-old grandparents, who still proclaimed the Stones as "just a racket" all these years after their just-released first LP was being played in their house.

We went to the Lucky Dip window more in hope than expectation. It couldn't, wouldn't be our luck to score great tickets. I was thrust a handful of envelopes to choose from. On opening my chosen one, I had to read and re-read the ticket: No Filter – Pit B. So we made our way onto the pitch where we had seen so many memorable games played out over the years.

The Vaccines definitely won some new fans, including me, with a tight, energetic support set. Singer Justin Young, who like me grew up on the Stones and the Saints, absolutely got what a special occasion this was.

And so to the main event, and another powerful display from a band who seem to have a point to prove with this extended trip around their home country. Highlights for me were Start Me Up, which despite another flubbed intro from Keith is always my preferred opener; the revived Under My Thumb, which has definitely got its groove back, if not its original lyrics; the singalong Sweet Virginia; a snarling, menacing Paint It Black, which had the tempo right and saw Mick grabbing his mike stand like he used to when Dad was watching him on black and white TV; Keith's set; the tour de force that is Midnight Rambler 2018; and a prowling, electrifying Jumpin' Jack Flash.

A couple of very minor gripes: there were a few fluffed intros, and poor Sasha Allen either needs to get a new microphone or have a word with the sound guys, as once again her solo vocal on Gimme Shelter was completely lost, robbing the song of one of its most climatic parts. But this was another triumphant night and I still almost cannot believe Mick Jagger was onstage in my stadium quipping about "Skates" (people from Portsmouth) and "Scummers" (those from Southampton) and my football team's fortunes. My dad was at the Gaumont Theatre the last time they played the city, though he claims not to remember any of it, perhaps because it was the 60s, but I have 'acquired' the programmes so I know he was. As we drove home, I said to him: "People think I'm mad for going to more than one show but they've still got it". He leaned over and replied: "They've never lost it".
---
Review by Simon Emmerson
There was no song vote for this gig and rumours began spreading about Mick's voice and this led to speculation that the gig might be cancelled.I had almost convinced myself not to go. Glad I came to my senses and got in the car and made the four hour plus drive.Heavy traffic and flash floods just made me more determined to get there. By the time I arrived at the seaside town the rain had stopped, and we even got a bit of brief sun. Thankfully the weather remained fine for the concert.

Met up with a good friend at the Standing Order pub, and made some new friends too. Stones talk with fanatics like myself. Plenty of tickets apart from the pit still available at the Box office, five hours before show time. Get a Gold circle. Security is rather lax at Pit B, and the Pit wristbands are the same colour as Gold circle wristbands. Walk straight into the pit and up to the front rail.

The support band played a well received set. The lead singer Justin, also a Saints fan tells us he was born just around the corner and was thrilled to be playing at Saint Mary's and opening for the Stones. Might check out their latest cd, it sounded pretty good.

A Mexican wave goes around the small stadium. At 8.15 pm the forty year plus wait is over and the Stones are back on stage. Keef plays the opening riff of Start me up in the wrong key. Not sure many noticed, the packed out crowd were so excited to see the boys. Looked around the stadium and it was full, those tickets must have shifted during the last few hours.

So many highlights in this show. Lets spend the night together with the Glimmers briefly sharing the microphone. Not the time to get an out of focus photo. Keef looks so cool in that black leather, what a star!

The camera guy keeps getting in the way and the monitors occasionally obscure the view. But it's great to be so close and see the whites of their eyes. Front row at a Stones show is a very special place to be. Plenty of smiles from Keef and Ronnie to the front row. Even a cheeky grin from Mick. Scrambles going on for guitar picks behind me. A real cross section of ages and nationalities in the pit.

Mick is so socialable, humorous and appreciative this tour. Never heard him talk so much. He tells us they last played in 1963 and they shared the bill with the Everly brothers and Bo Diddley. And thats nicely into Just your fool. What a harmonica player he is. The ultimate performer, dancing and gyrating for 2 hours, amazing.

Impressed with Matt Clifford. Brilliant on keyboards and the french horn. He was singing along and entertaining the front rows. Quite a showman these days.

Under my thumb just gets better and better. Was this song really recorded in 1966? Sounds so fresh.

One of my favourite bits of tonights show was Sweet Virginia. Sweet, sweet harmonica, and lovely acoustic guitar by Mick.

Band introductions are always entertaining. Ronnie seems to get the biggest cheer and there is a bit of an ole ,ole cheer going on. And keef is introduced as coming from West Wittering. I wonder if he is holed up there over the next few days?

Mick reminds us that him and Keef were both in jail not so far from here. That gets a bit of a laugh from some of the crowd.

Keef set is delivered perfectly and he reminds us that the Worst is from Voodoo lounge.Hope he digs out All about you real soon. An amazing concert! A triumphant return to this port. Sadly I will miss Coventry because I will be stuck on a narrow boat on the local cut. Roll on Manchester.
---
Review by Bjornulf Vik
I have been flying in through Heathrow airport for my UK visits on this tour. Last week it took nearly two hours of travel between Heathrow and my London Stadium location in Stratford. The Rolling Stones performed in front of some 160,000 fans during the two London shows last week. This week I was flying in through Heathrow yet again, but rather than taking the tube through London, I took the National Express bus to Southampton. The travel time was almost the same, around two hours. The distance in time might have been the same, but Southampton was nothing like London. St Mary's Stadium takes some 38.000 fans, less than half of one of the London Stadium shows. As I walked into the stadium, I realized this would be almost like an arena show. The extended stage was stretching far into the other side of the stadium, and the GA section was so small. Also, good news for many Lucky Dip ticket holders, quate a few of them got PIT tickets, I saw lucky faces in the pit.

I was in my hotel room during the day, as the rain was pouring down. Then I went over to the meeting place during the early afternoon, during a break in the rain, and half way there I got caught by another shower. I made it to The Standing Order pub, but I was pretty soaking wet. Luckily it was a warm and friendly place, I met many friends I have been on Stones tours with since the 80's. Also I got to meet new friends. For me, the show start early afternoon, when you move towards the venue, you make sure your body is properly taken care of with food and liquid, also trying to meet friends, talk about the shows and the band, picking up the latest rumours, plans for the next shows, and just preparing for the night. By 6pm I am on my way to St Mary's Stadium.

We would not get any more rain tonight, not until after the show was over. We were lucky. I had my adidas extreme poncho that can take showers for hours, but I did not use it. It was warm, humid, and in less than two hours The Rolling Stones would be on stage.

The Vaccines was a great opening act, I loved their strong guitar sound, and their songs were great. After an extended last song, they managed to finish 7:45 sharp, so that the stage crew could prepare for the Stones.

At 8:18pm I see the usual sign of the final stage checkout, and just one minute later the screen goes black&white, and they are on! We get a new opening song. Every night for the four shows on this tour, there has been a new opener. Dublin had "Sympathy For The Devil ". London-1 had "Street Fighting Man". London-2 gave us the starter "Jumping Jack Flash". Tonight we got "Start Me Up". What's next as a starter? "Tumbling Dice"? Who knows? For me, any starter is just a wake-up call, the band members move around on the stage, pose to the cameras, trying to capture all of the stadium in one song, they might actually use "Let's Spend The Night Together", that would be great.

The show in Southampton was just as great as the two shows in London. I am enjoying the greatest and most extensive UK tour I have been following since 1990, and it is still just in the beginning. If you are still sitting on the fence, just go get a ticket, Lucky Dip or any other ticket. Their sound is great and strong. Everybody is focused. Mick is enjoying making jokes in his own language, from his heart, withouth having locals to translate into a language he has to read from the monitors. He is joking about "Anybody from Portsmouth?" - the "rival" city, half an hour driving from Southampton, knowing he will get all the locals from Southampton to make big noise. Still I wonder how many are from Southampton, how many did the 20 miles / 30 km ride from Portsmouth, or from the areas around, or from London. It seems like most of the fans are local, and their age is younger than the average crowd in other cities.

I had been watching the drummer of the warmup band "The Vaccines", how he kept driving the songs, almost like the drummers of our local brass bands marching in the streets, but with a much higher pace of course. Then I was watching how different Charlie is playing, energy wise, always with an eye on Mick or Keith, some times he could perform with just one drum stick I thing, for Charlie it is all about timing and simplicity, not about power or quantity. Especially on Midnight Rambler, watching the interactions between Charlie and the band members is amazing, they never loose an eye on each other, because every performance is different from the one before. Which is one of the many reasons why some of us keep following this great band.

"Paint It Black". May be it is the greatest song for me at every show, except for may be "Fool To Cry" on London-1. Such a strong performance. Even if we are not in South America or Spain, "Paint It Black" is still a "jump song". I see fans next to me jumping up and down, I see Mick rush up and down the extended stage with his microphone stand, making impressions, emotions, singing great, backed by great guitars and the rest of the band.

As the show finished, there are drum sticks and picks flying in the air. I am focused on making a picture of the final bow, but right next to me there seems to be something going on. Loads of security are on altert for the situation, and they push me by the rail. Then after a while I see two fans shaking hands as friends, they even hug, and one of them are now the owner of the drum stick Charlie just threw out, they came to an agreement obviously, as you can't split a drumstick into two... Why do we love these guys so much that quite a few of us dive into the ground for their drum sticks and picks, also constantly searcing for best available tickets, and attention from the band members? Because It's Only Rock 'n' Roll... But we like it!
---
Review by Dean Goodman
To the surprise of absolutely no one who saw the second London show, the Rolling Stones maintained their musical and athletic energy on what Mick drily called "the sunny South Coast."

Their first Southampton show since 1966 - also a World Cup year, he noted - was expected to be a soggy affair with lightning. But apart from some barely perceptible rain drops during "You Can't Always Get What You Want," we got lucky yet again. It was only at about 11 p.m., just as I was returning to my Airbnb, that the heavens opened ever so slightly. I was in Southampton for four days, and the forecast was wrong on every single day.

Bleak forecasts about the Stones' latest outing would appear to be off the mark as well. I don't want to jinx anything but with four shows down it would appear we are bearing witness to one of the most robust tours of their modern era. Special credit must go to Ronnie Wood, who outclassed Mick Taylor and every other guitarist on the planet with his daring displays of virtuosity and rhythm. This was particularly evident on a song like "Midnight Rambler," which has devolved into a showcase for Mick's dancing, but now offers a sparkling Ronnie interlude.

Keith proved a generally effective foil, though I confess I covered my face and shook my head when he blew one of the first notes of the opening song, "Start Me Up" and carelessly bulldozed through the opening riff of "It's Only Rock 'n Roll." As always, he redeemed himself with "The Worst," which got a slightly new beginning: "You know I said from the first …" Several times during his spotlight, fans tried to get an "Ole! Ole!" chant going, but Keith is in the zone and doesn't want to be distracted. Ronnie, on the other hand, basks in the approbation.

One of the highlights, inevitably, was "Sweet Virginia," with Mick stripped down to his essentials - acoustic guitar and harmonica - bringing country to the country. This was played during the slot reserved for the canceled song vote. It was preceded by "Under My Thumb," which could almost be a reggae song, and by the blues selection "Just Your Fool." So that's quite the eclectic trilogy. Another highlight was a fierce performance of "Paint It, Black," with Mick prowling the catwalk grabbing his mike stand with both hands and sneering at the folks in the pit.

I didn't detect any vocal issues, but I seemed to be the only person on the planet who missed Mick's alleged deficiencies in London. He told us that the Stones first played Southampton in 1963, opening for Bo Diddley and the Everly Brothers. The Gaumont is now the Mayflower which, coincidentally, is presenting a staging of the play "War Horse." For perhaps the first time on stage that I can remember, he spoke of his criminal past, recalling that he and Keith spent time in the nearby jail (in Chichester, in 1967, following the Redlands bust). Indeed, Southampton was almost a hometown show for Keith, whom Mick introduced as being from "West Wittering, Sussex."

I moved back through the crowd for the second half in order to take in the spectacle and survey the masses. The stadium is tiny in Stones terms and wasn't quite sold out. "Miss You" remains the crowd favorite, thanks to the catwalk theatre. "Gimme Shelter," on the other hand, should probably be dropped. Sasha proved completely ineffective, and I don't think it was her fault. She appeared to be singing her heart out but I couldn't hear a thing even though I was 10 feet away from her. Judging by the muted reaction to her solo, I'd say I wasn't alone. Either the sound guys are powering down for the night, or she needs to find a microphone that does a better job of capturing her vocal. Or, we can just slot in "Street Fighting Man" although I prefer a slower-tempo song before "Satisfaction."

I must give special mention to the Vaccines, the opening band I was most excited to see on this tour. I've seen the British rockers before, in Los Angeles and will see them again in October, but it was a special opportunity to see them play before a proud hometown crowd. Their generous 40-minute set seemed to win over some new fans with tunes you can find on Youtube, such as "Teenage Icon" (the set opener), "Norgaard," "Post Break-Up Sex" and "All in White" (the moody set closer).
---
Review by Alwyn
This fourth show in 2018 was a bit of a nostalgia trip for me as I lived in Southampton from '64-'68, too young then to see the Stones live in 1963 on their first visit (as noted by MJ last night) or in 1966 (their last visit). Those old gigs were at the Gaumont theatre, a 2,300 seat venue. Its now called the Mayflower (again MJ mentioned this).

Southampton was one of the departure points for the Mayflower, the ship that brought the Pilgrim Fathers to the USA in 1620. A port city, it was also the home port of the Titanic, and just behind the St Mary's Stadium where the Stones played in 2018 is a largely unused railway line where trains came from London carrying passengers right to the Dock for the Transatlantic ocean liners. So enough of the local history…. Except that in a very chatty evening, MJ also mentioned that 1966 was also a World Cup soccer year (when England, hosting the tournament, won). So is 2018, which England won't win! Southampton's club, the Saints, were promoted to the top UK league in 1966 – they just survived in that league this year, and again MJ noted this by mentioning their new manager Mark (Hughes).

Southern England is experiencing a warm early summer this year, and some thunderstorms as a result, so there was some nervousness about rain. It had rained all morning at my house, 40 miles away, but by the time we (H, H and me) arrived at the Stadium the water from the day's heavy rain in Southampton had passed and we enjoyed gig in the dry. The rain started as we walked out and was torrential on the drive home. Keith's rainstick certainly worked!

The stadium is small, 30,000 for soccer, and with many of us on the pitch/floor the stage almost reached the half-way point. This was the best value GA ticket ever, as close as most Golden Circle tickets, and the small (and very full) stands were close also. It was a bit like an outdoor Arena. Easy access with few queues, although as we entered through a "VIP" tent we didn't get the wristband needed to get into the stadium proper to get to the Pit. Luckily we found out about this mistake well before the band came on and we could warn others.

There had been rumours before about cancellation, all prompted by no song-vote, and Mick's apparent cold/laryngitis/pneumonia/etc. in London. Of course the gig happened. I did think Mick was trying to protect his voice, allowing Bernard to cover some of the whoops and oh-yeahs, but apart from frequent use of tissues and the occasion spitting to clear himself, there was no sign of any real problem. In fact he danced and ran more than at the London shows, and with some "moves" from many years ago. I hope he can continue to recover and all the shows go ahead as planned.

It is odd to consider after 56 years, but I think that the band need a very strong audience reaction to the first number to really fire them up. They started with Start Me Up, appropriately if that is the case. Four gigs this year, four different opening songs. Keith mis-hit the first chord, corrected it, and then we were off. Great reaction from the audience, and I could see smiles and grins on stage – like they were saying "this audience is great, lets give 'em a great show team". And it was a great show, at least from close-up. Lots of smiles, interactions, energy etc.

Yes there were a few errors as others have noted, but insignificant and counted on the fingers of one hand. The whole band was in great form in this 4th gig, stretching-out a few times, extending solos or choruses. The "non standard" songs included Under My Thumb (which I think sounds beautiful now and is a great evolution of the arrangement and sound from 1966 to today) and Sweet Virginia (less acoustic, but also very beautiful). Still Your Fool was high powered – short and sweet. Maybe they could play a few more of that short length??

Rambler stood out (again) – the blues/rock opera which comprises mainly an extended jam. Ronnie especially was on top form with great solo bits here and elsewhere. I thought Keith's guitar sound a bit over-distorted, but it could be my ears. Miss You was a major crowd pleaser, including Darryl's bass solo, Tim's sax solo, and Mick, Keith and Ronnie's royal progress down the catwalk to a middle stage that was closer to the rear of the stadium than you will ever see anywhere else. That could be a great title for the live CD of this tour "Closer Than You'll Ever Be" – or did someone use that already?

In Paint It, Black Mick was in 1966/7 proto-punk mode. Glaring and daring; punching and pushing; provoking. Check out those '67 tour photos with some from this tour. Talking of '67, Mick mentioned that he and Keith had spent a night in jail here back then – a consequence of the Redlands bust. Redlands is in the small village of West Wittering, only 30 miles along the coast, and Keith was introduced as "from West Wittering". Judging from the cheers there were plenty of other people from that direction, including a large party who arrived at the stadium with his son and daughter.

There was a breeze on stage, gently rocking the speakers. But that doesn't excuse the low amplification for Sasha's solo on Gimme Shelter, and not for the first time this year. She was really belting it out, so a recurring technical issue maybe? The start of Shelter, the start of the encore, also had an interesting element: Keith strode out and started the song before Charlie was at his kit, and was playing a little slowly, so that when Mick arrived back on stage he stood in front of Charlie and encouraged him to speed-up… and I thought that in this band the drummer followed the guitarist!

The breeze also blew Chuck's long grey locks all around his face from time to time, almost hiding his features. But, shockingly, the breeze disturbed Charlie hair and he looked slightly dishevelled… even a showing of his colourful socks during his introductions cannot hide my concern over the Elegant "Basher from the North Circular" looking a little ruffled. Didn't impact his playing one iota of course.

So the fourth show of this tour maintained the high standard from Dublin and London – of playing, of energy, of enjoyment for the fans. The band really is firing on all cylinders, picking-up from last year in Europe. And so are the fans.
---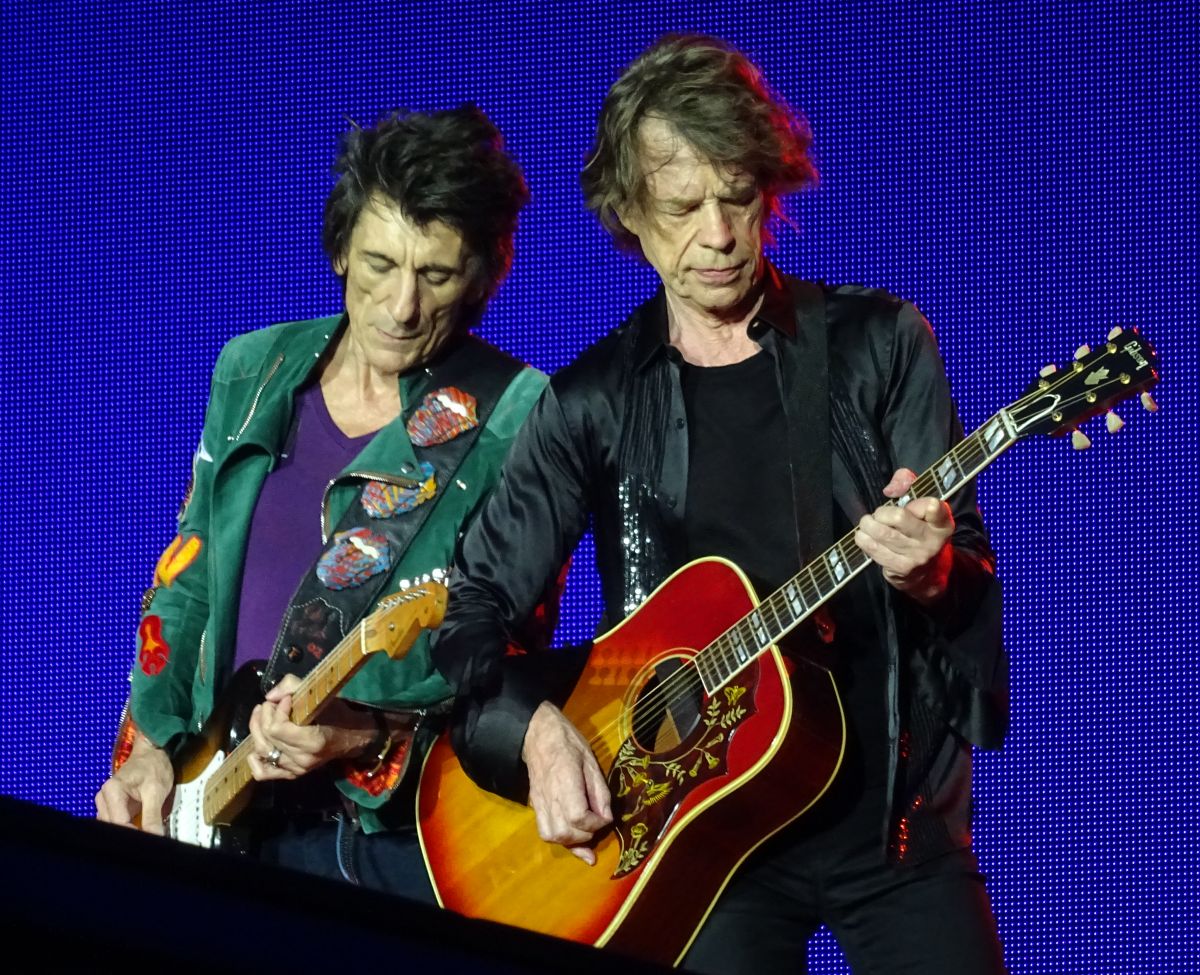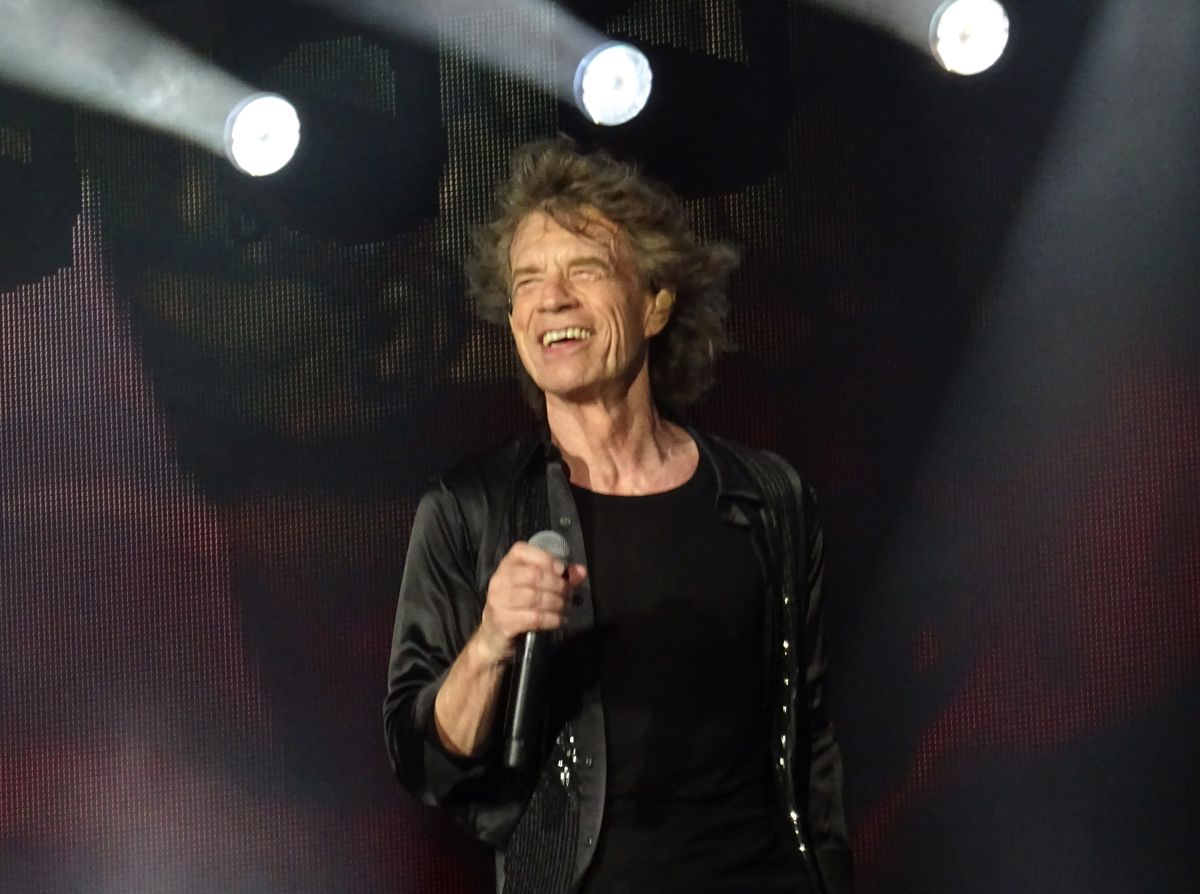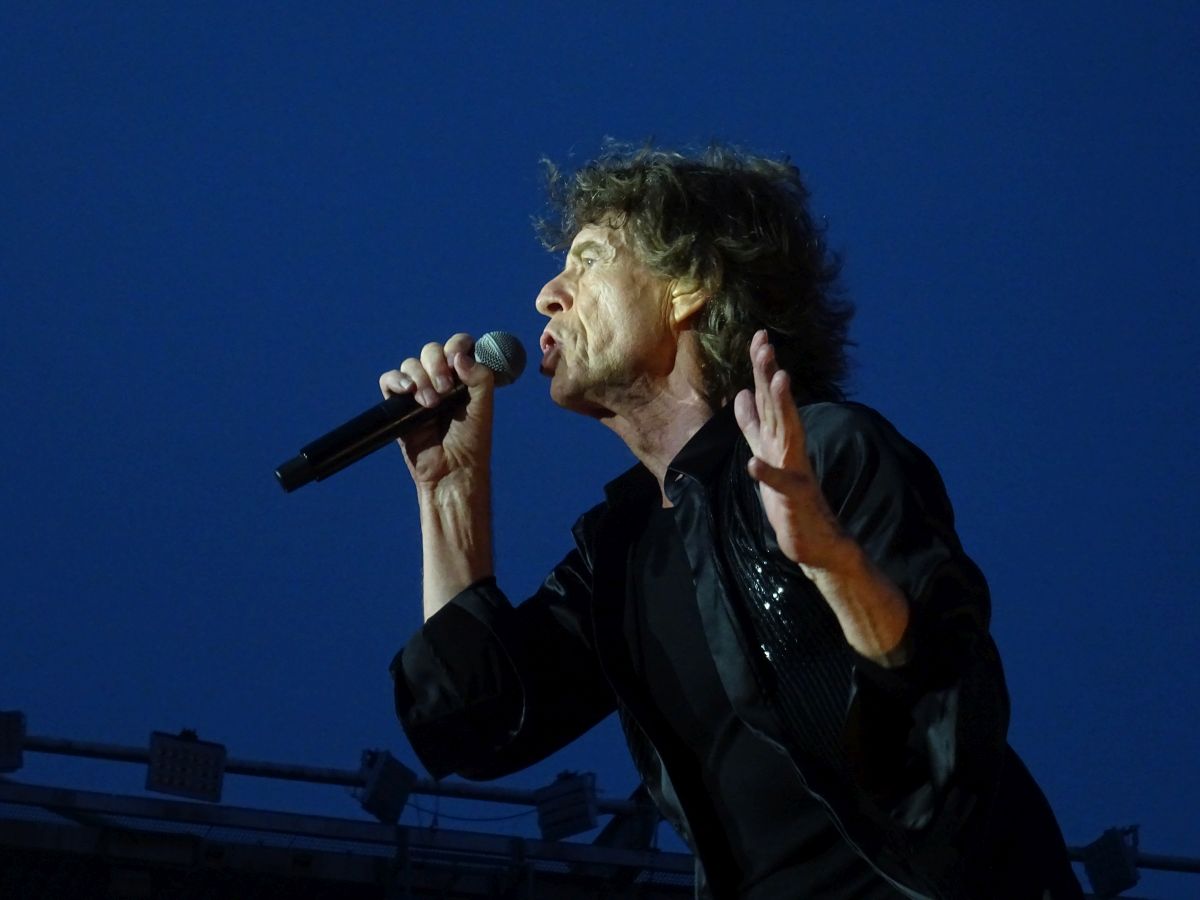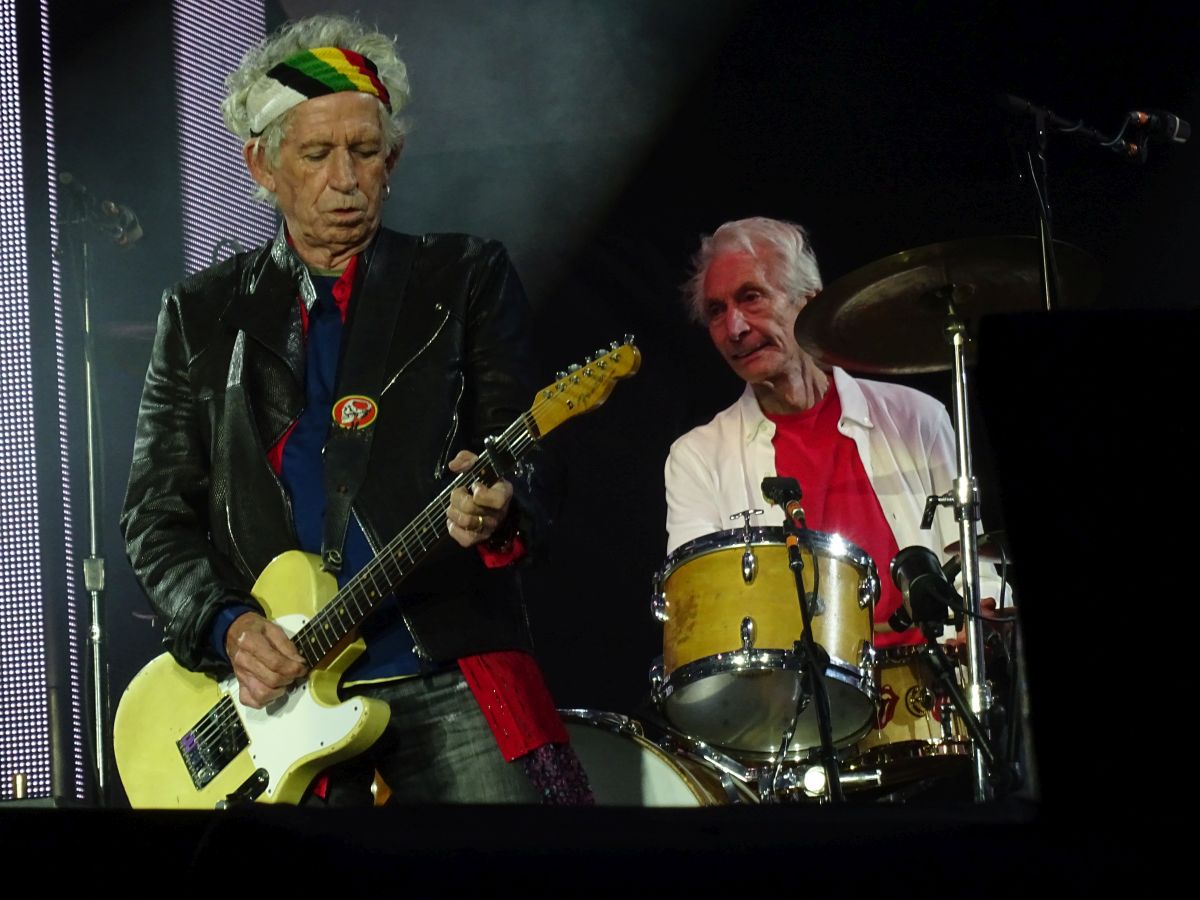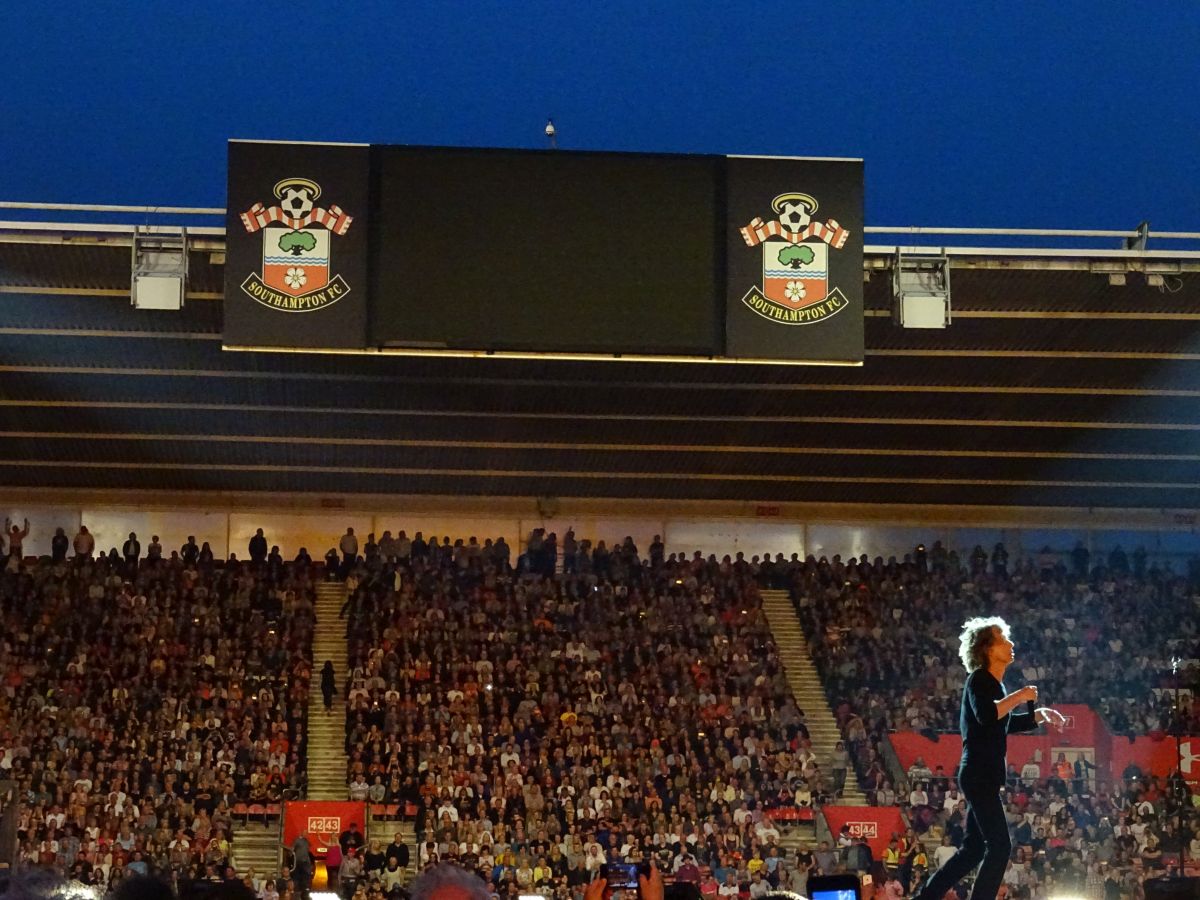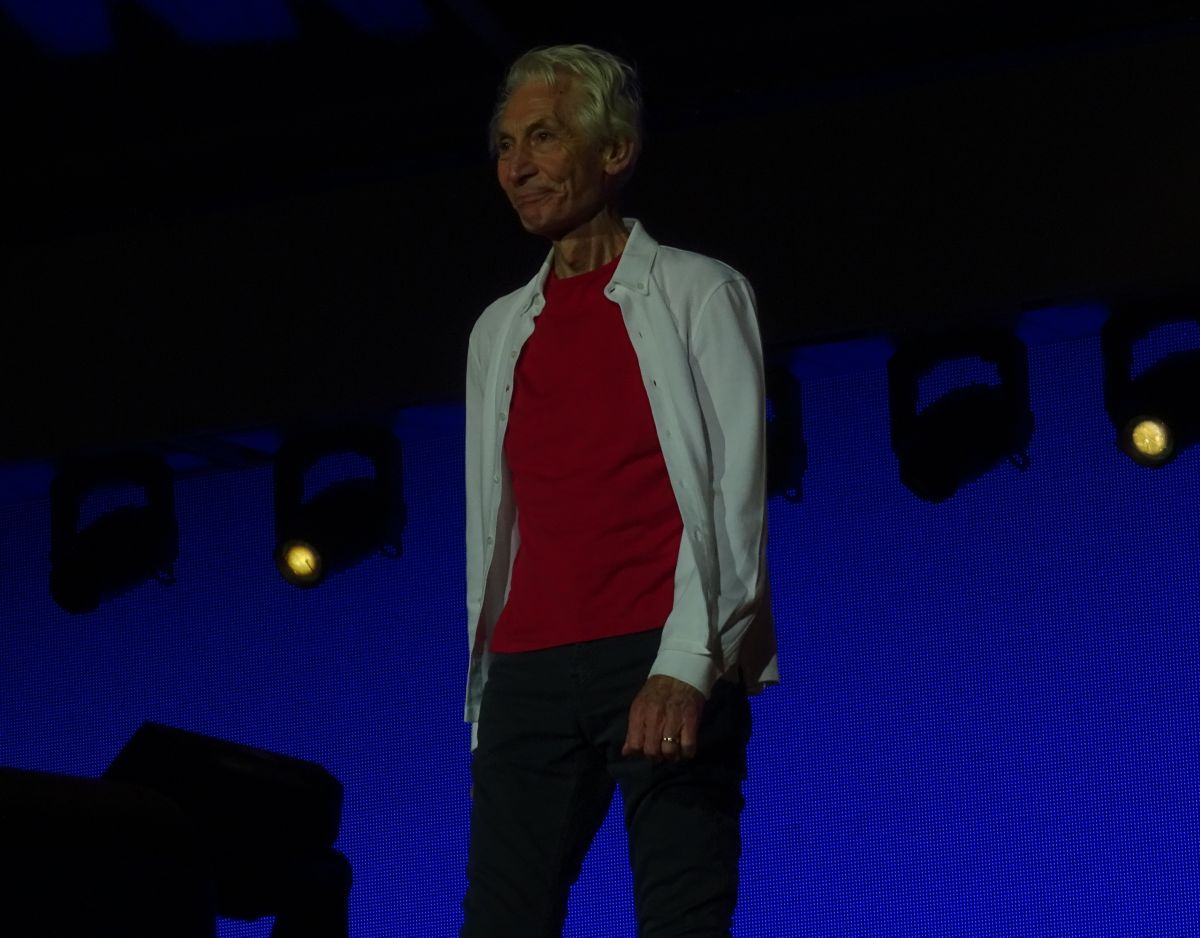 Photos by Bjornulf Vik
---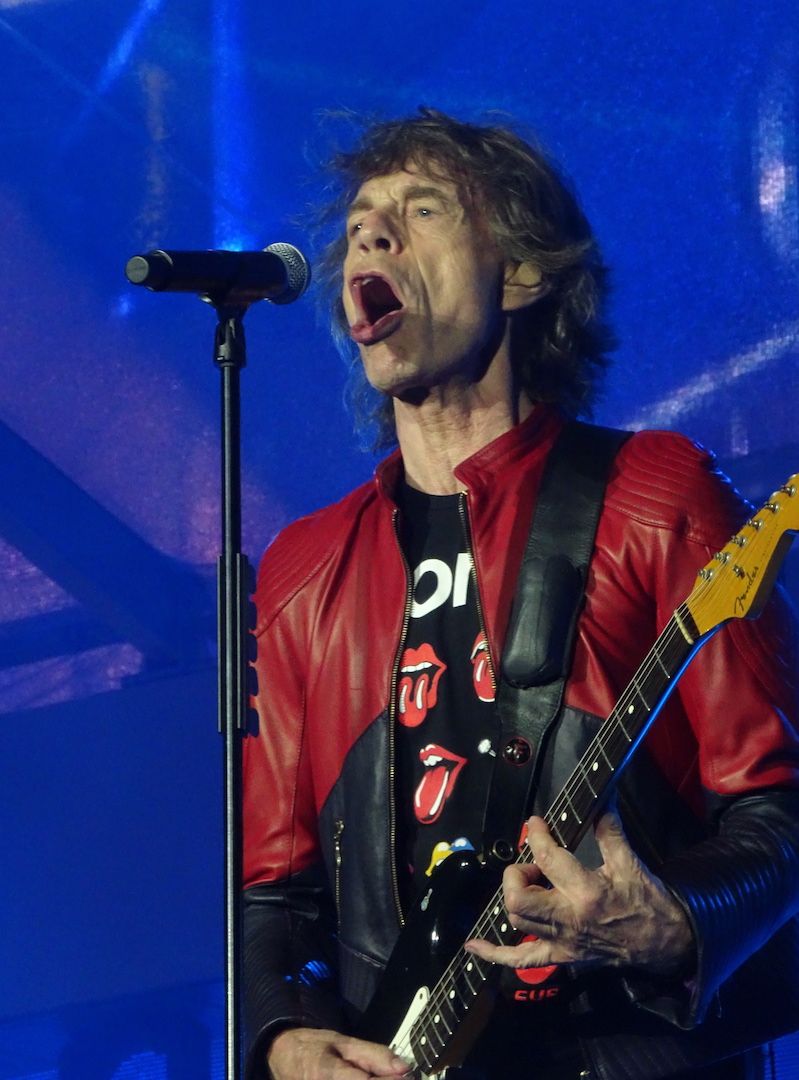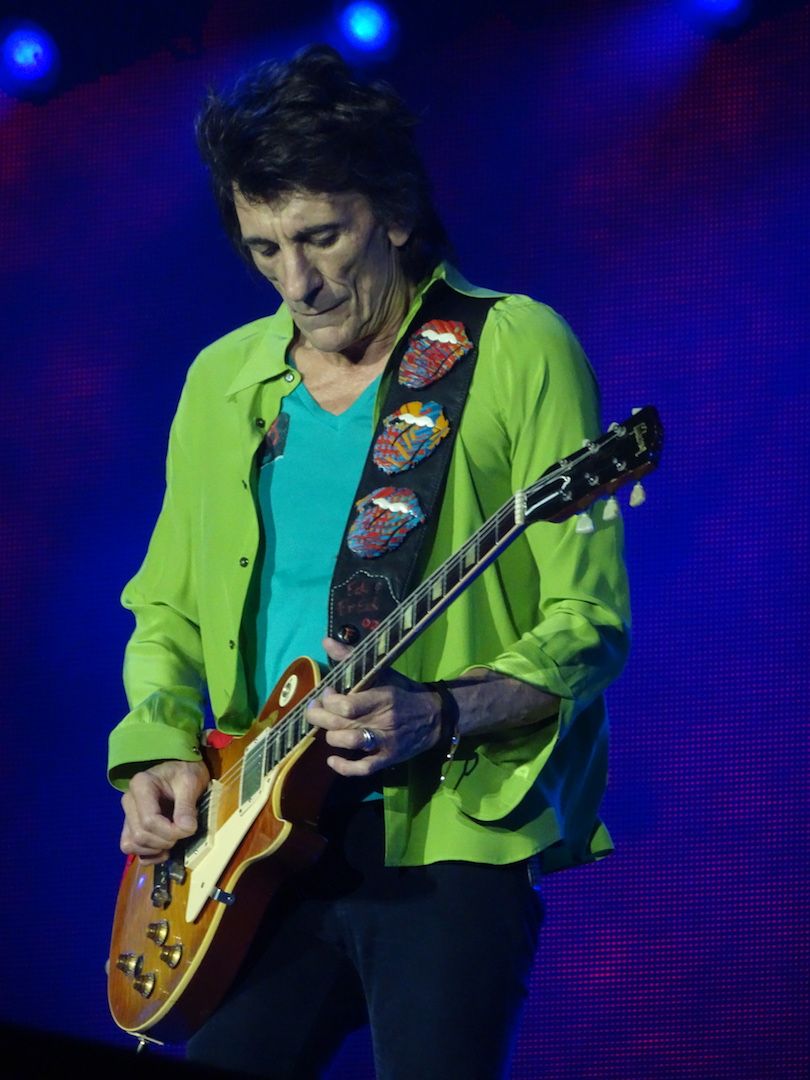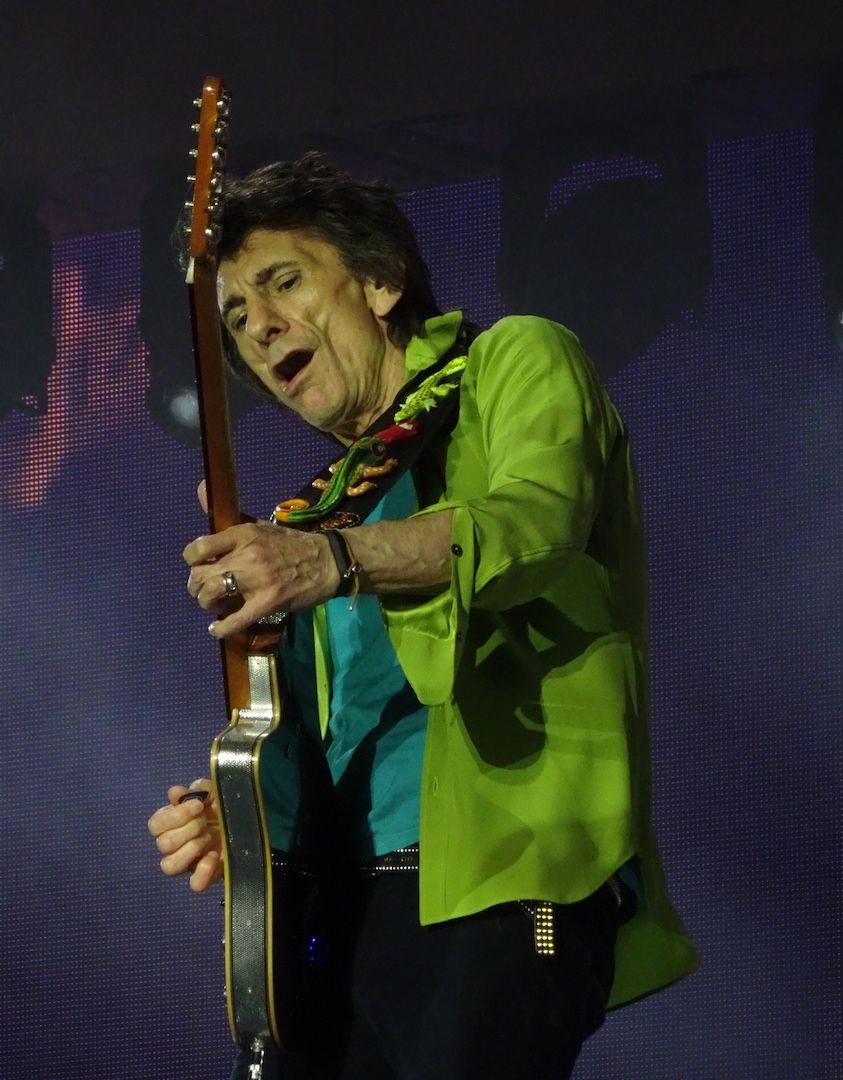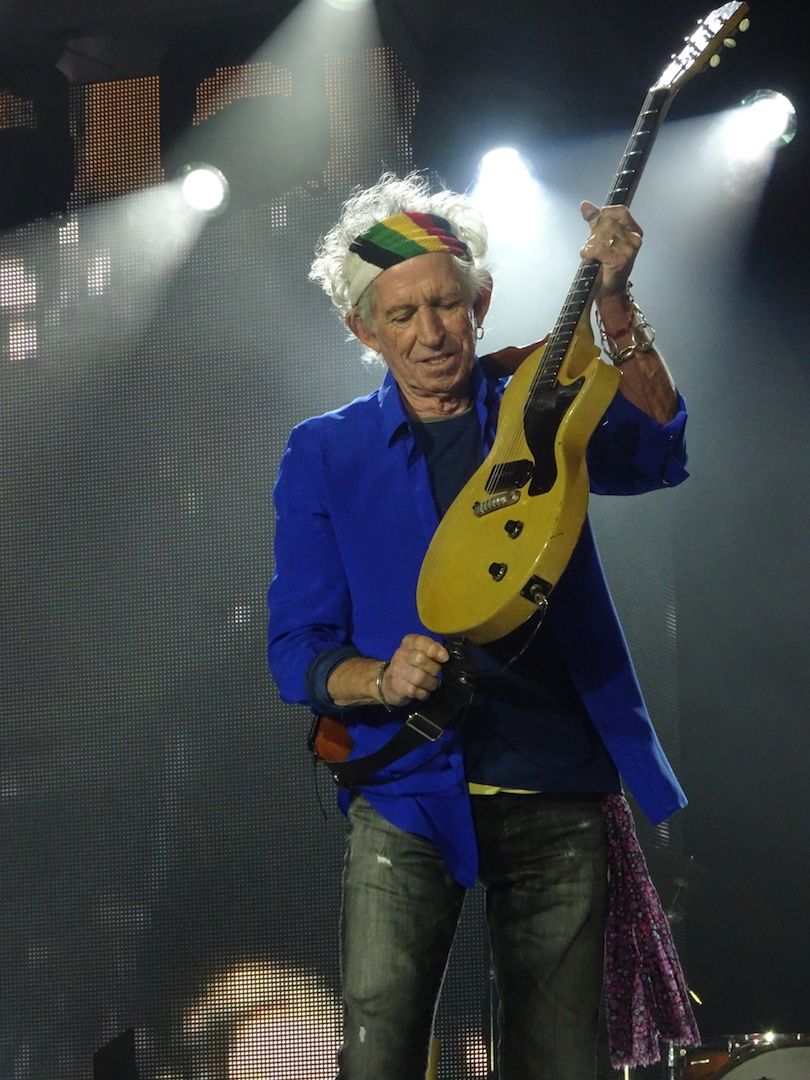 Photos by Hendrik Mulder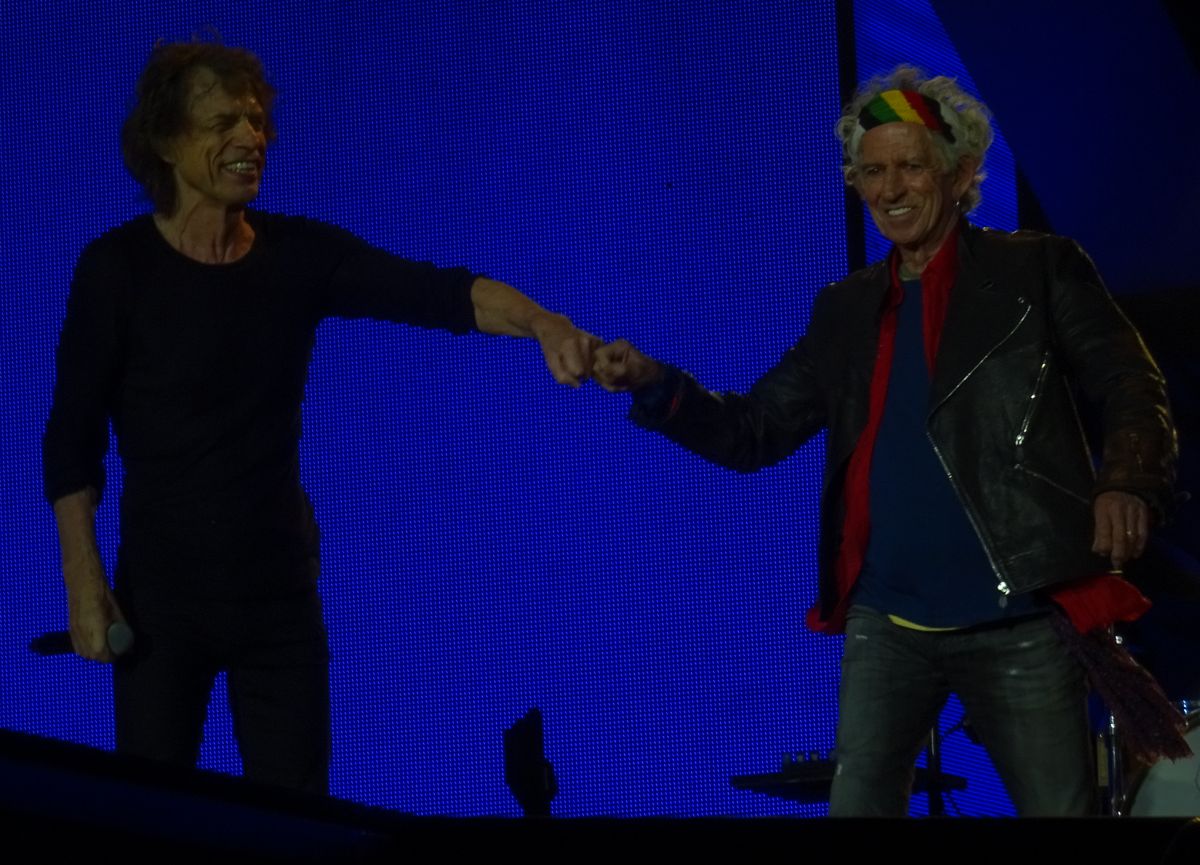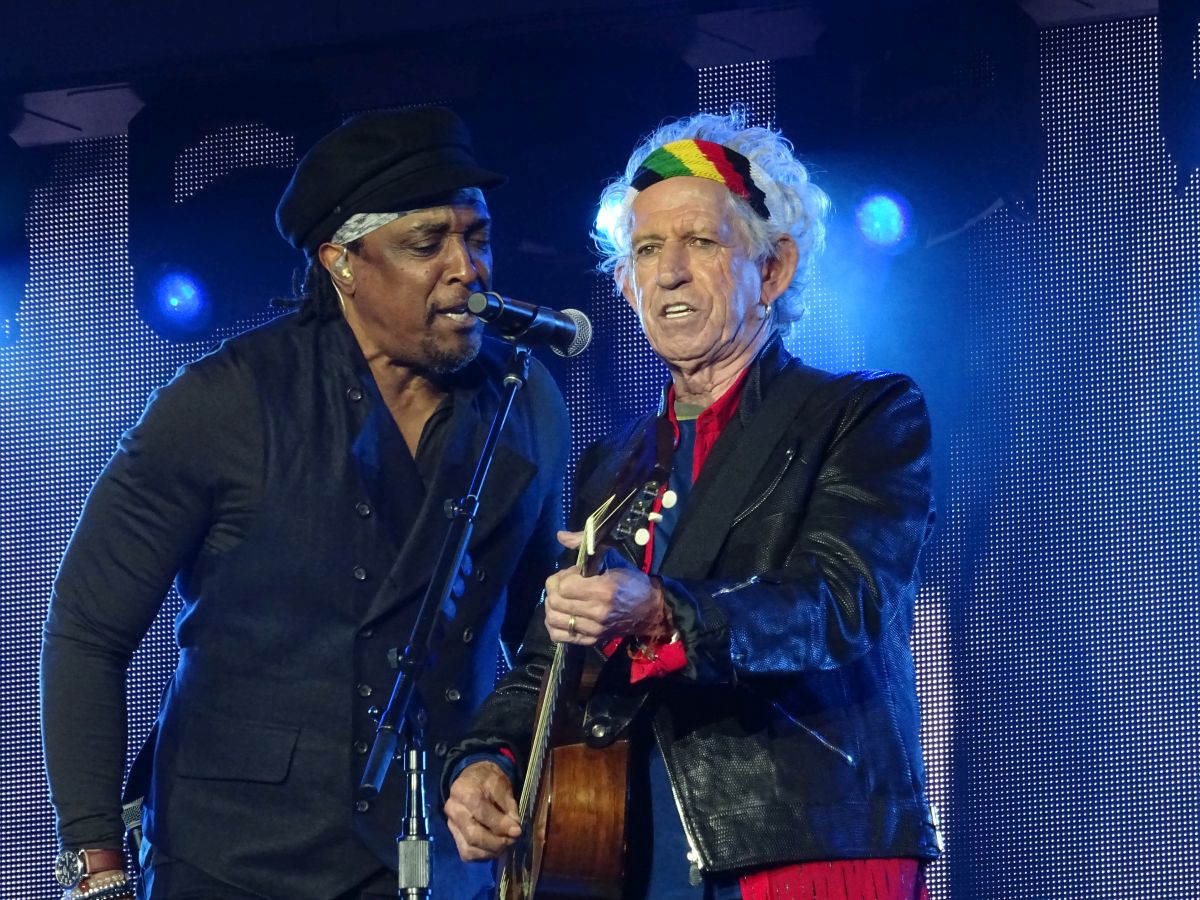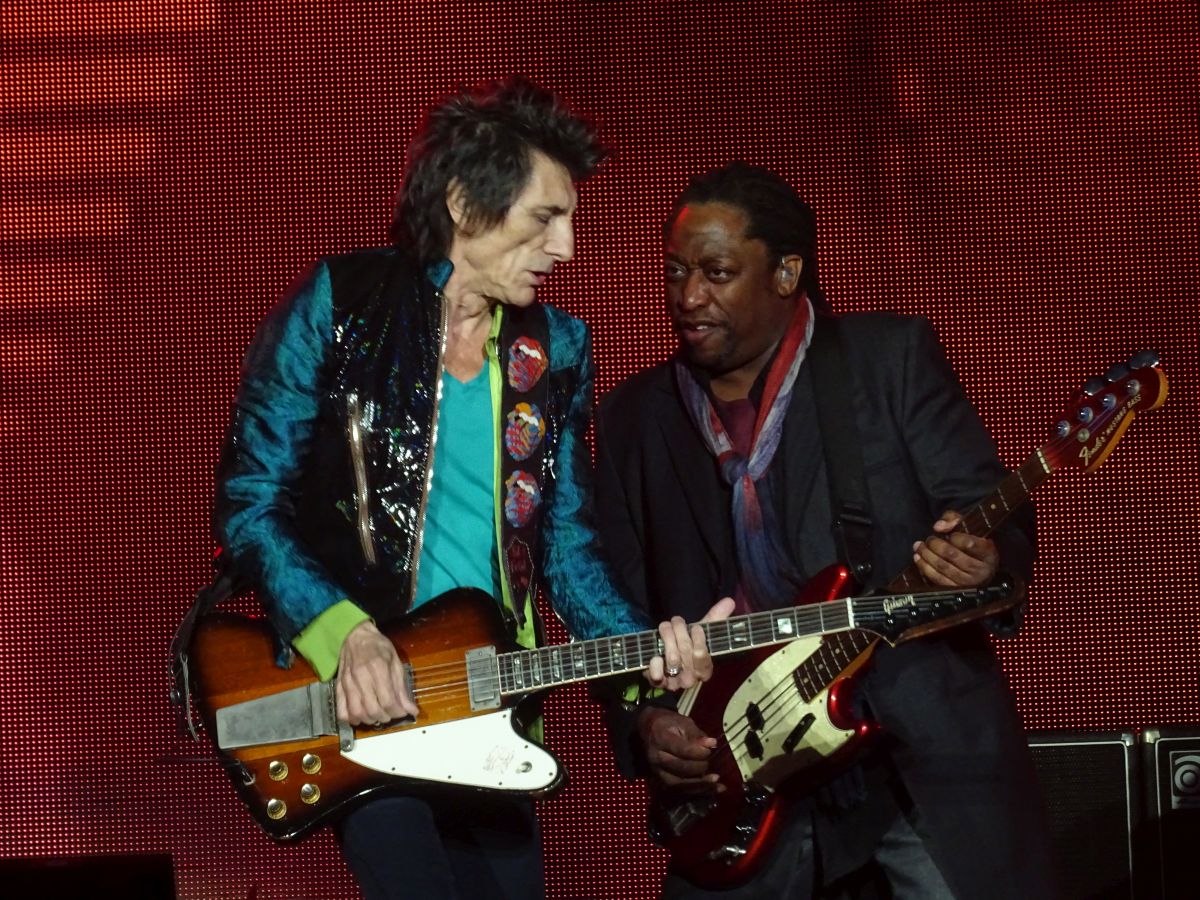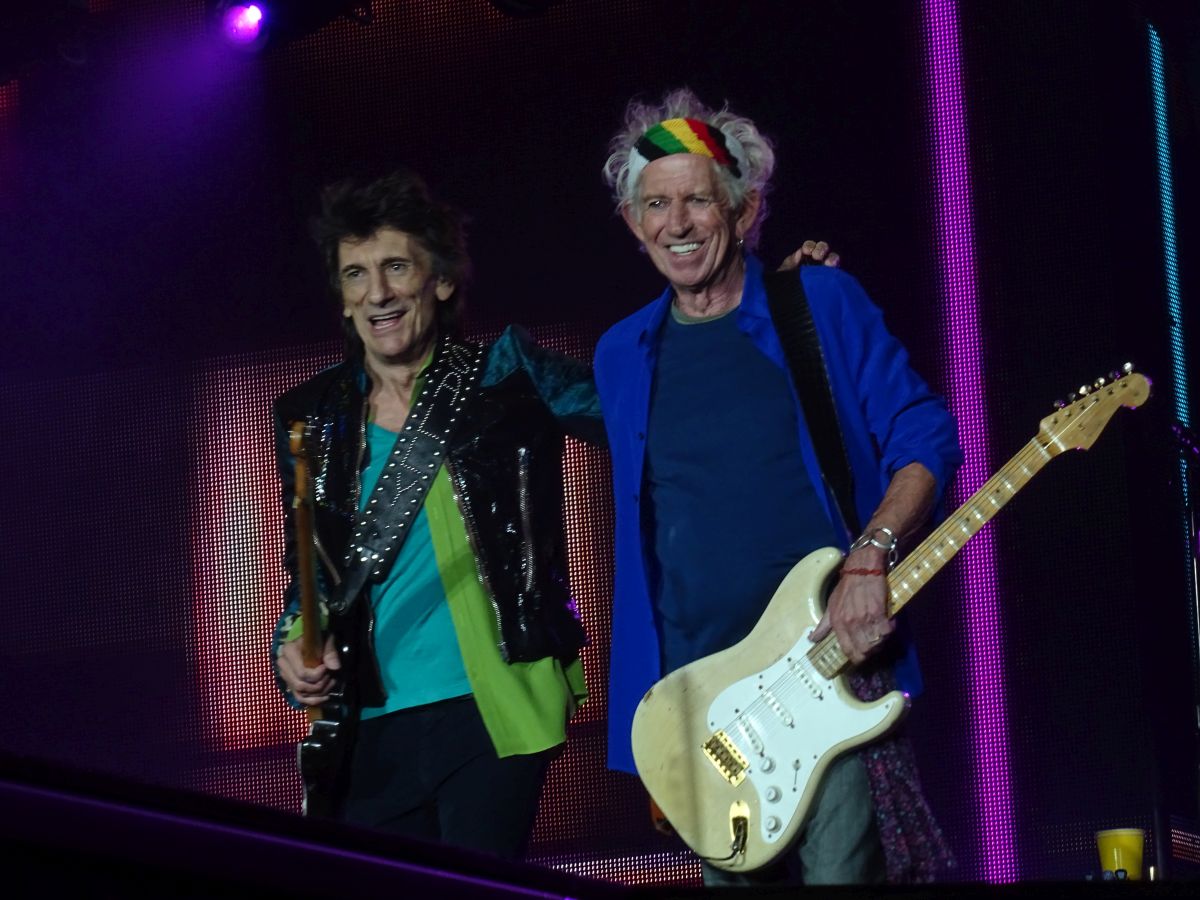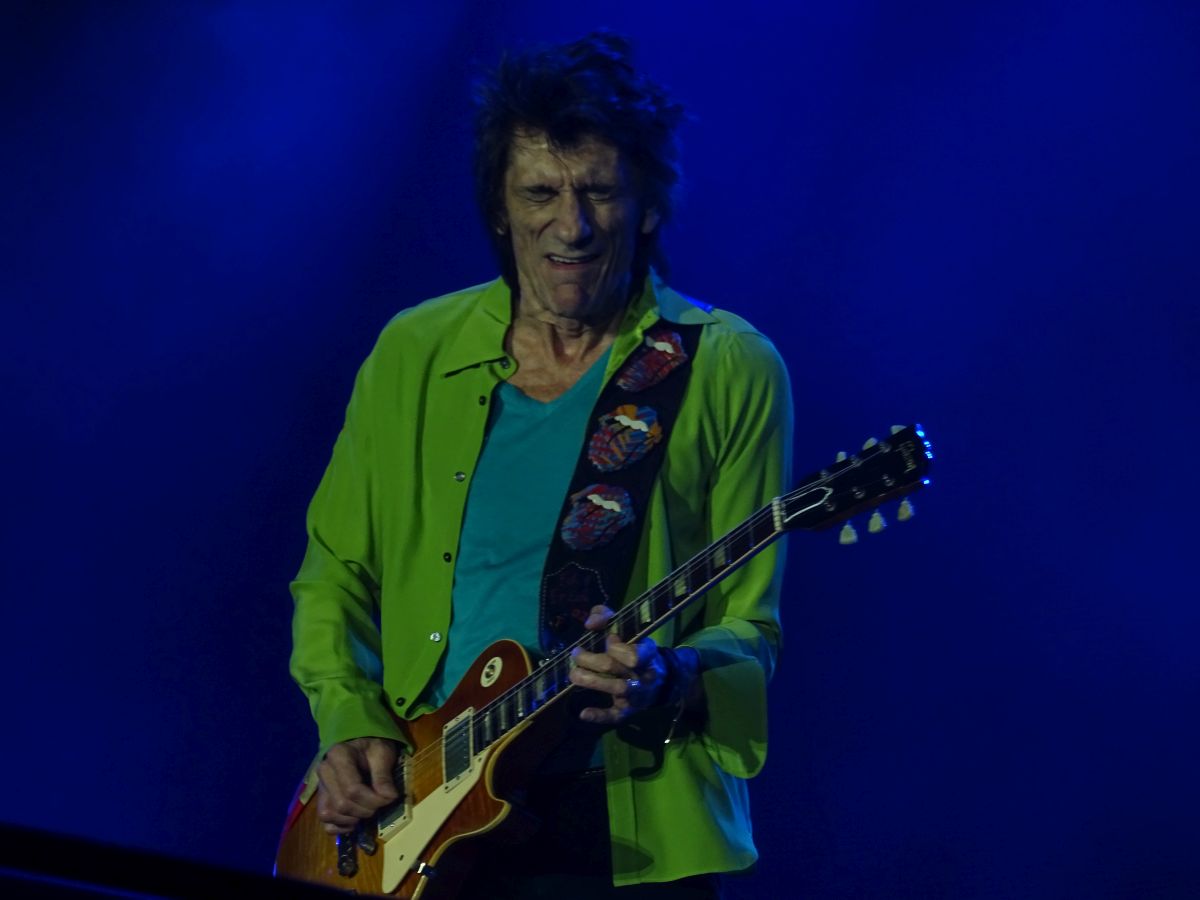 Photos by Bjornulf Vik
---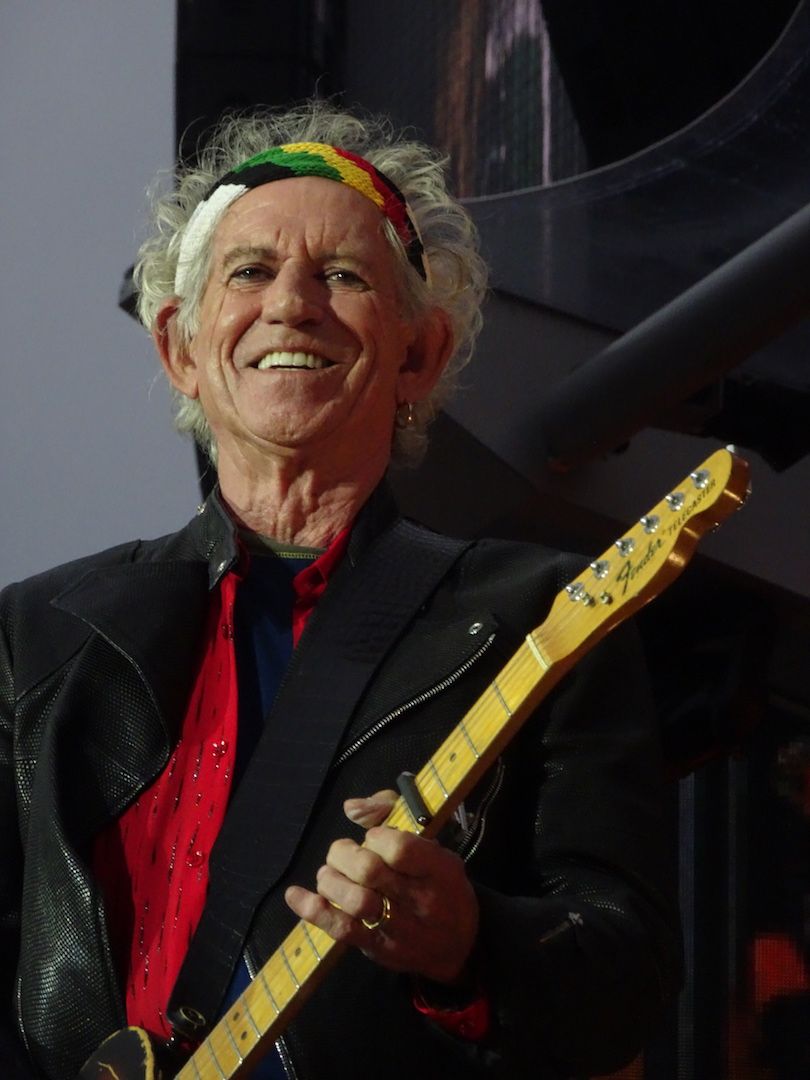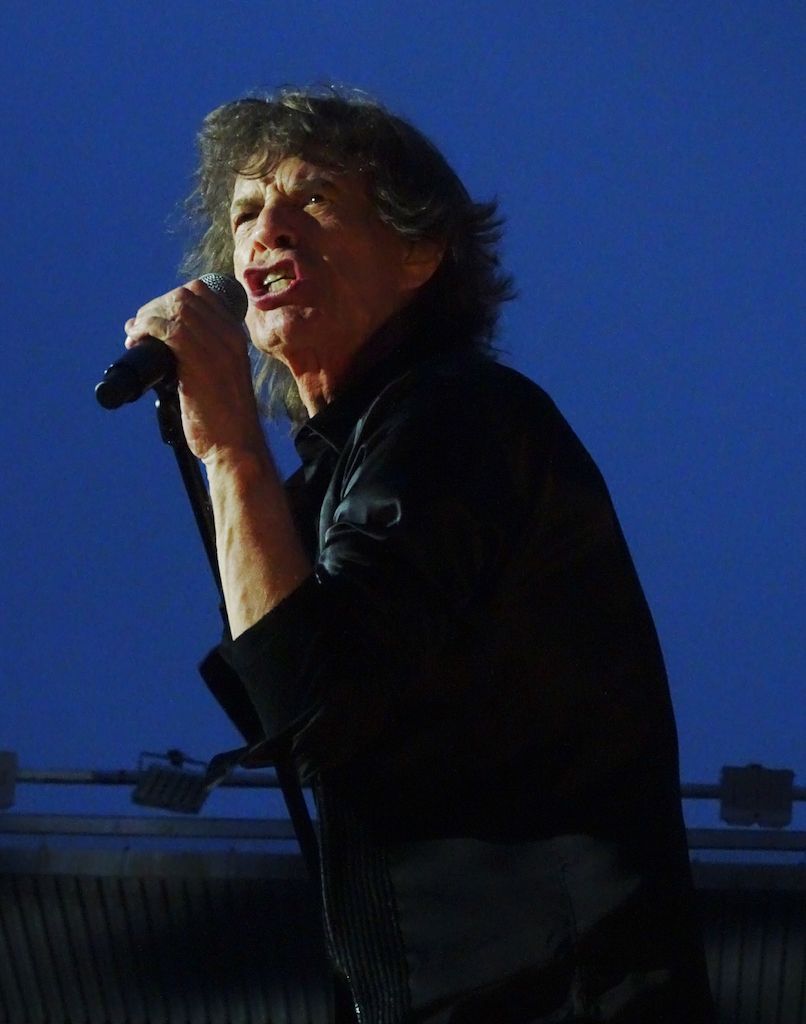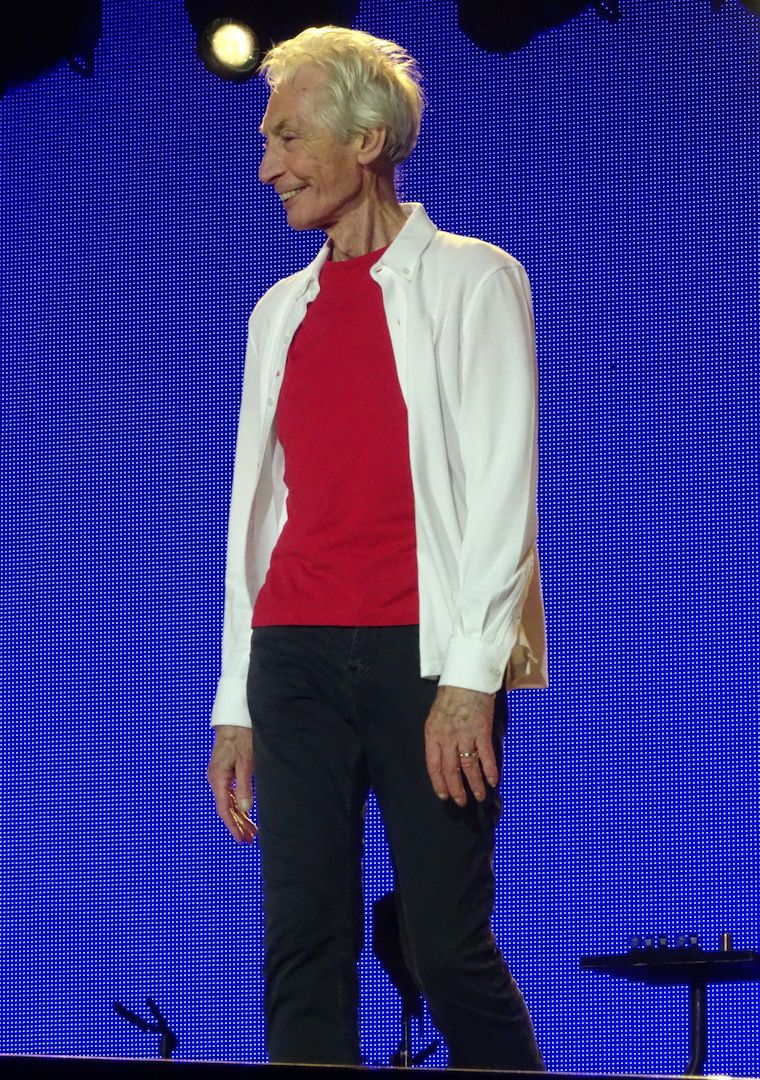 Photos by Hendrik Mulder
---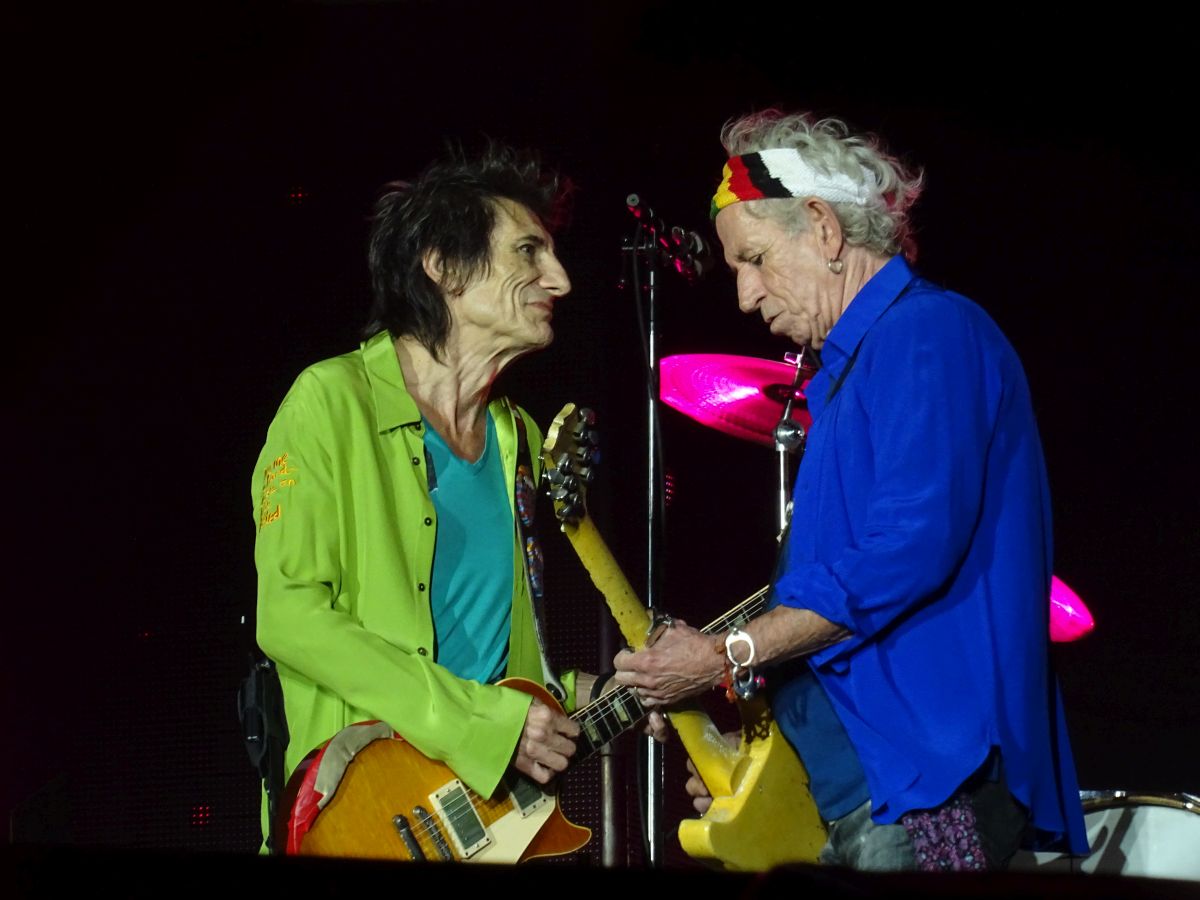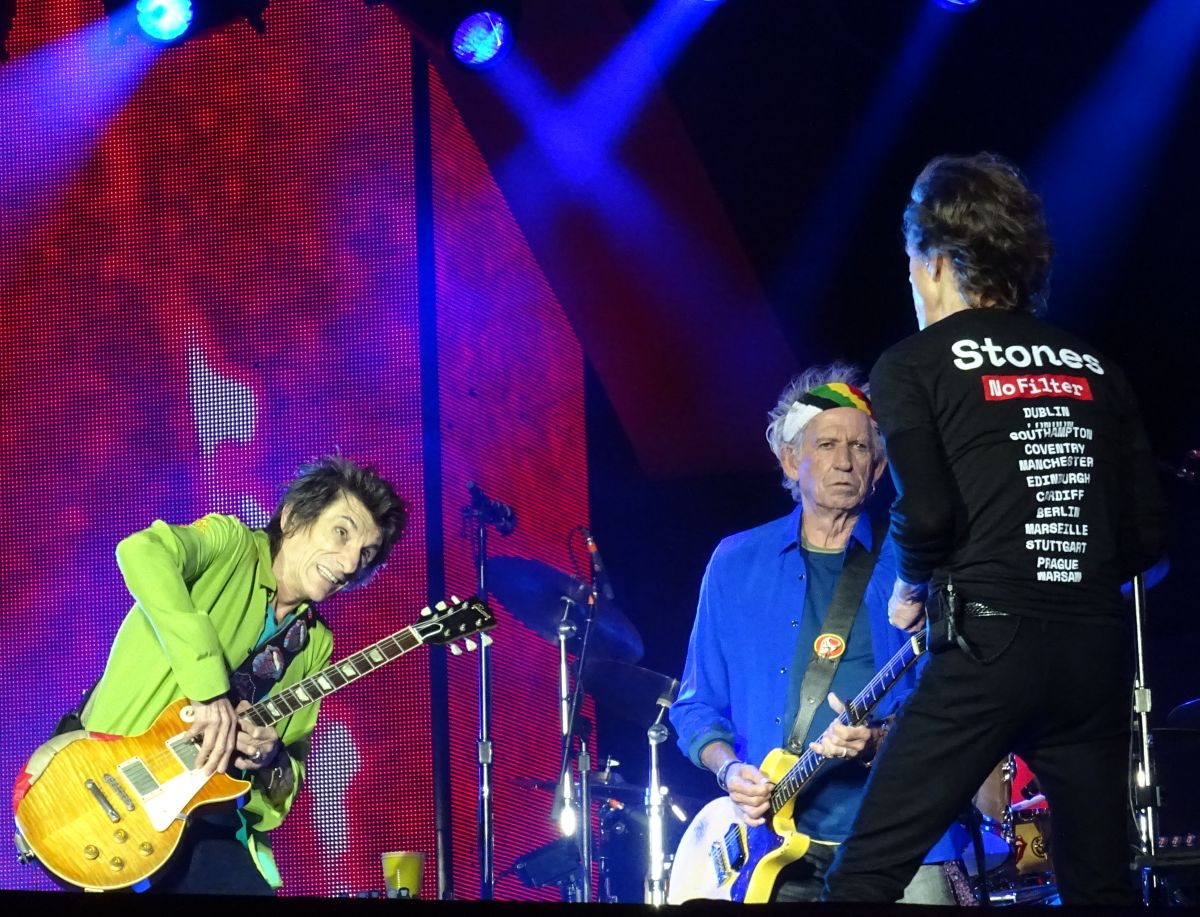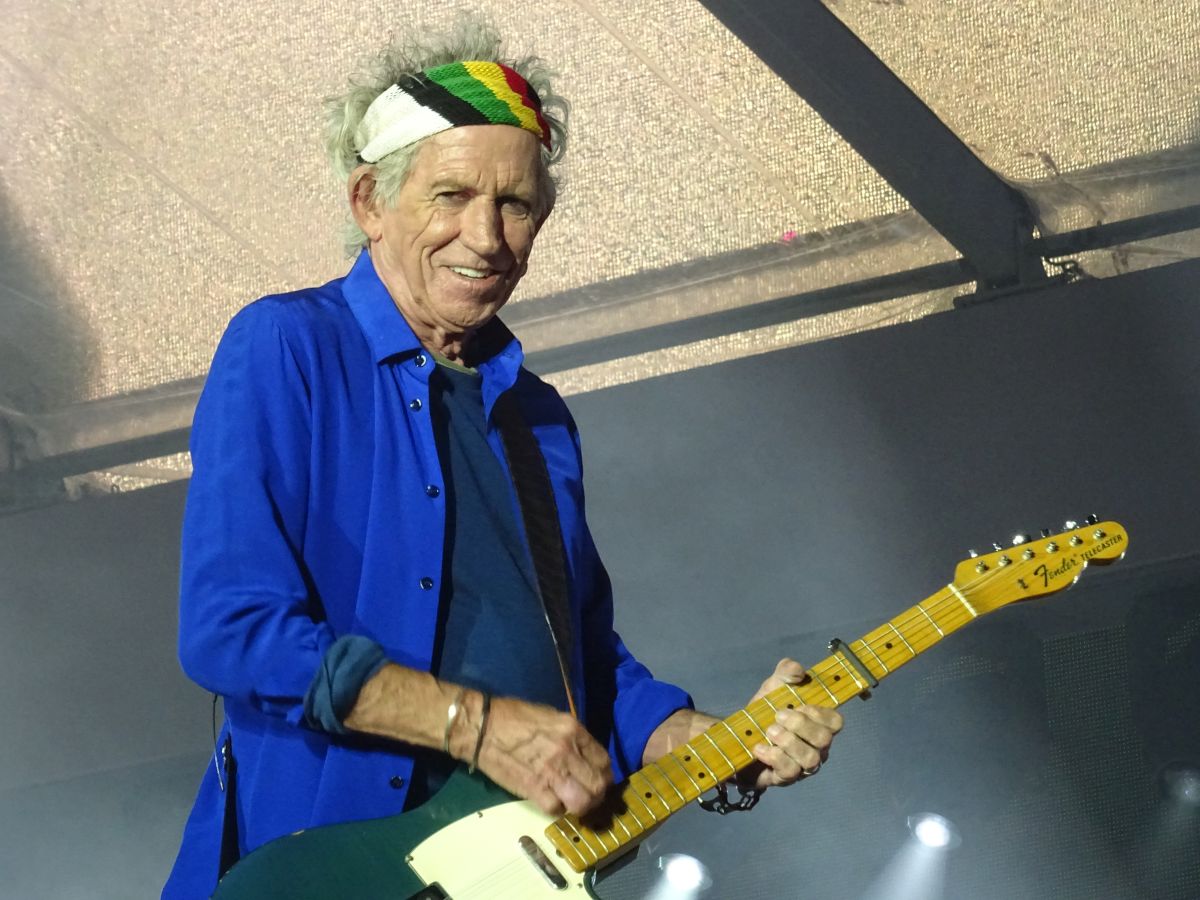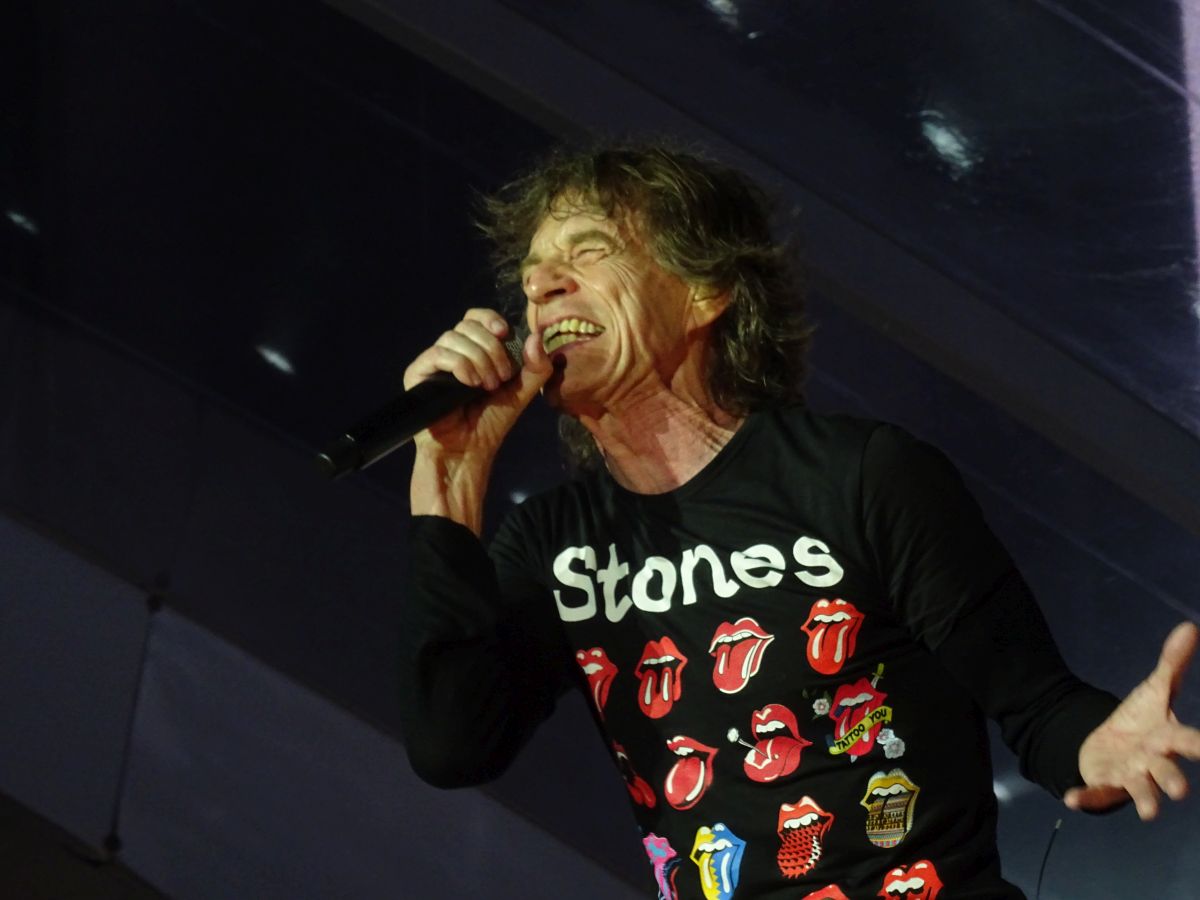 Photos by Bjornulf Vik
---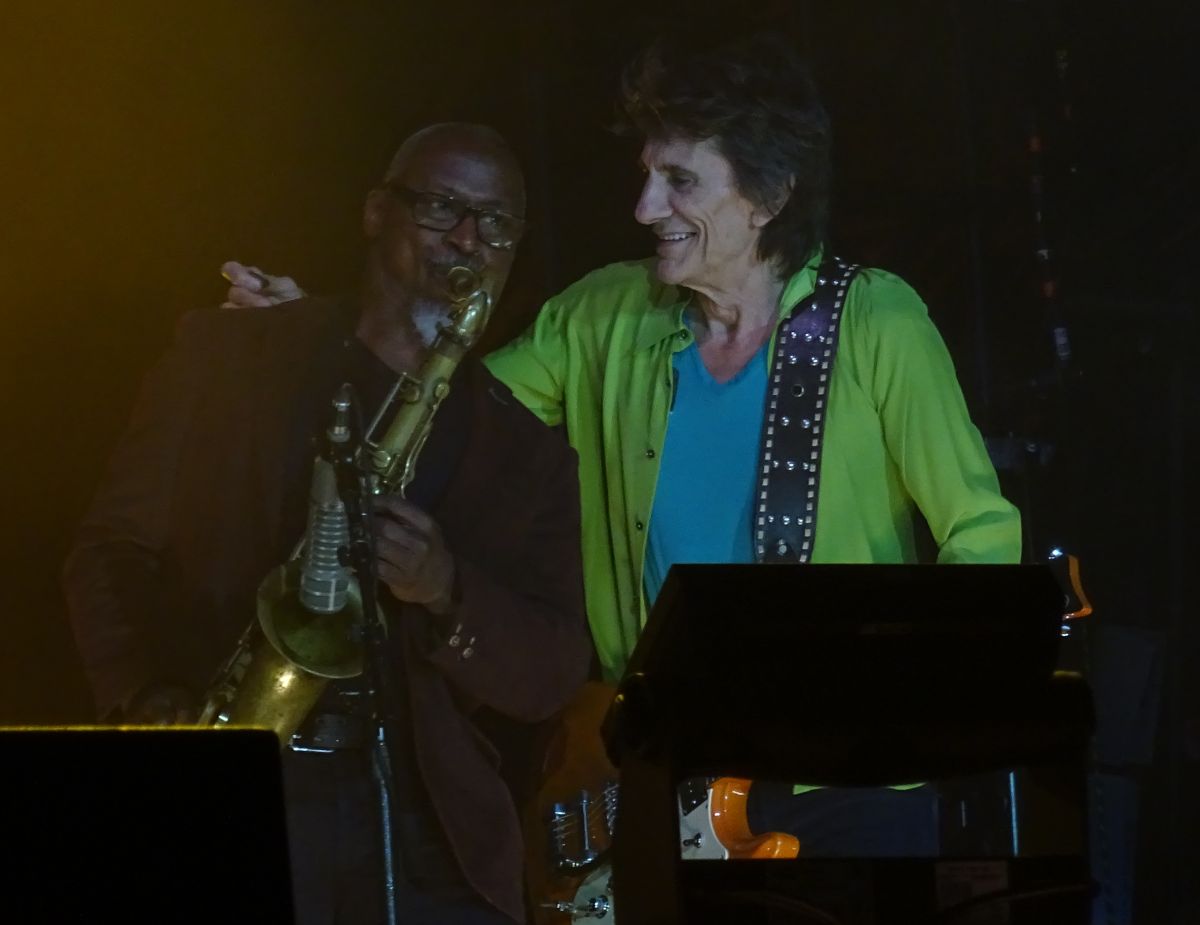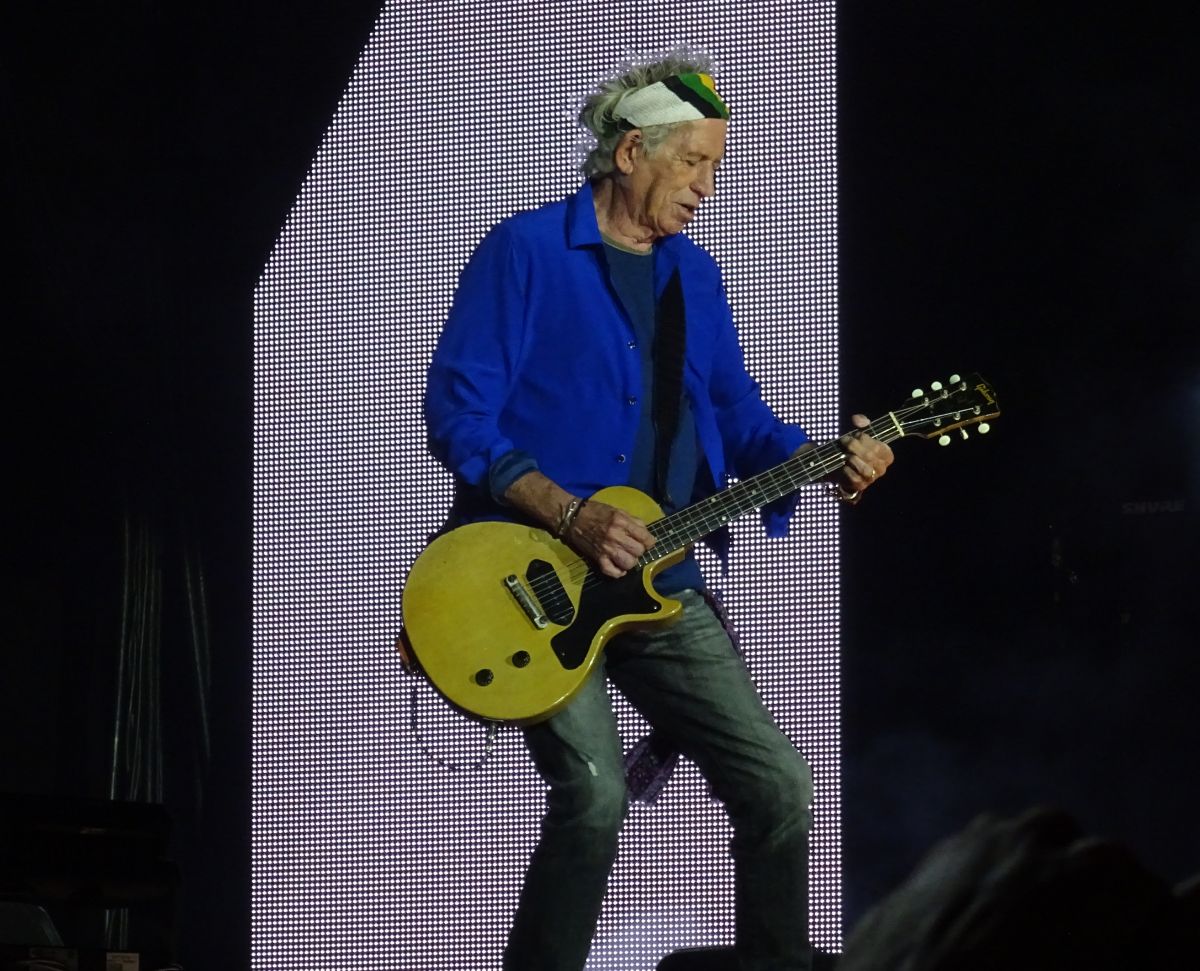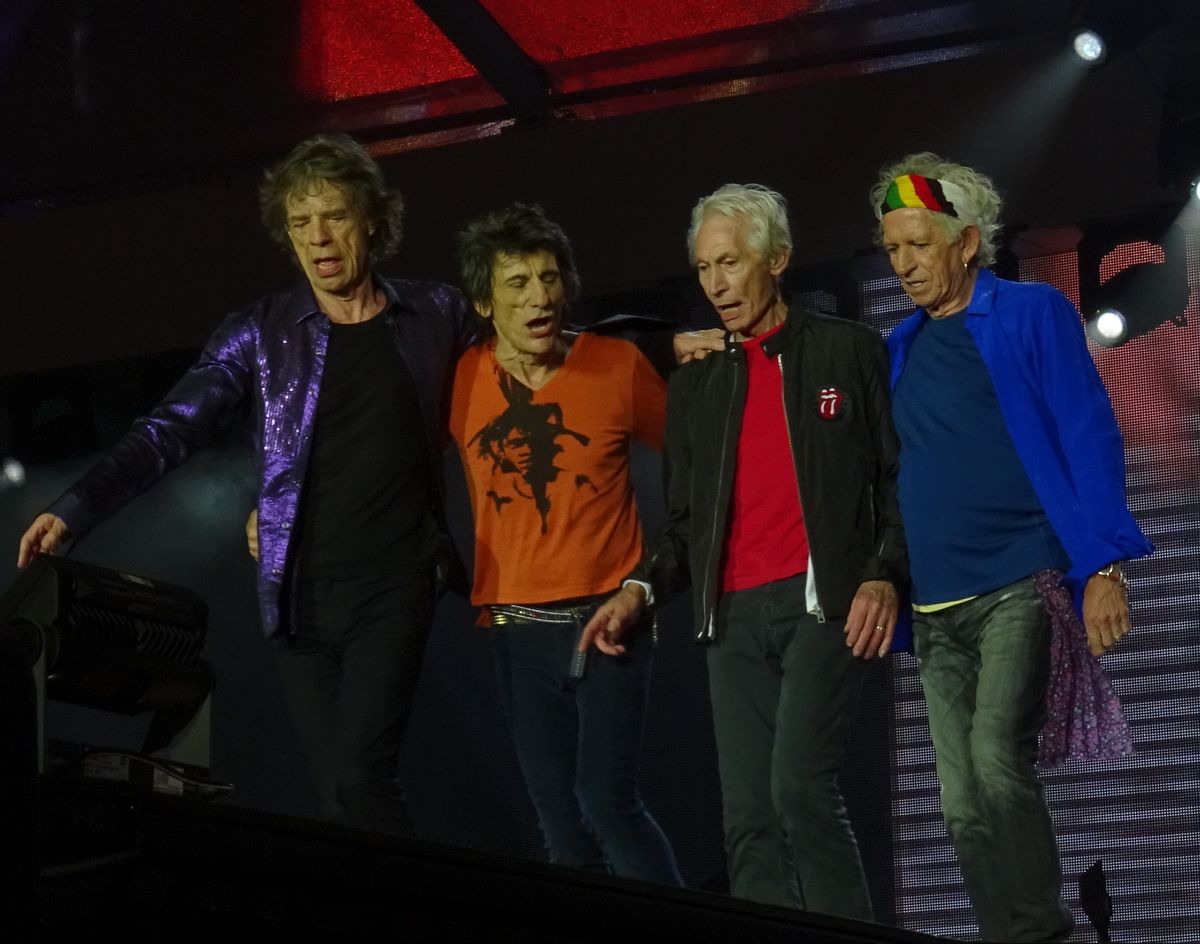 Photos by Bjornulf Vik
---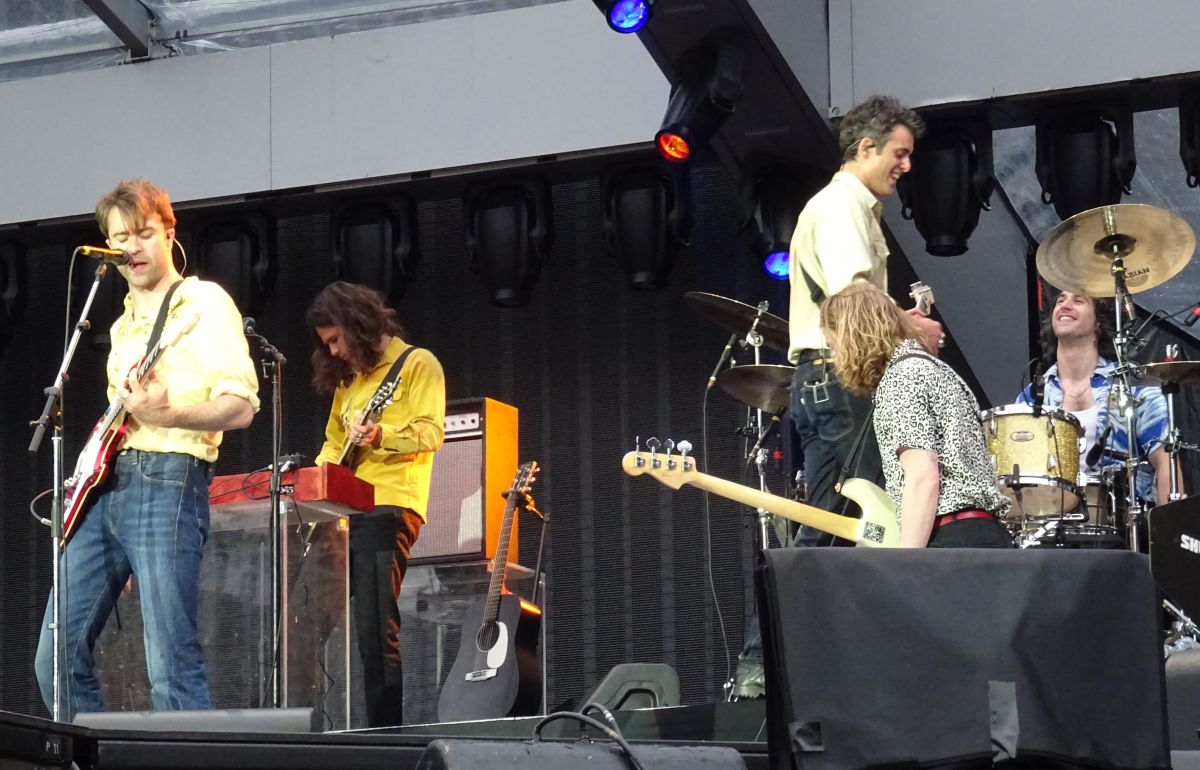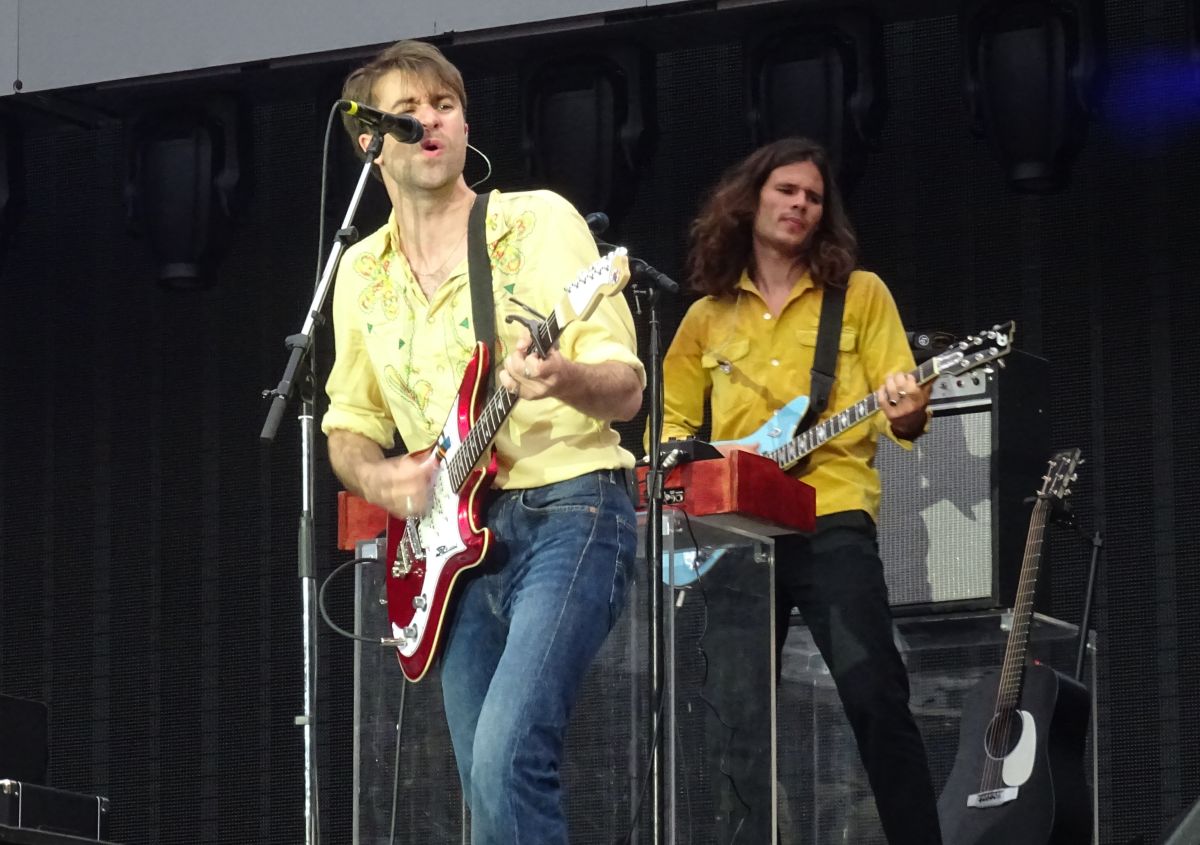 Photos by Bjornulf Vik
---
This page will change over the next few days, as you and other fans send reviews, set lists and reports. Please send your e-mail to IORR. Thanks! For details and great photos from the Rolling Stones and their World Tour get the IORR magazines.