---
These are the latest Rolling Stones news and updates for you! IORR is a non profit fan club run by fans for fans. All parts of the It's Only Rock'n Roll web site is copyright of The Rolling Stones Fan Club. When using information from this site, please include a reference to IORR and the main web address www.iorr.org.
---
---
The Rolling Stones
Esprit Arena
Düsseldorf, Germany
Monday October 9, 2017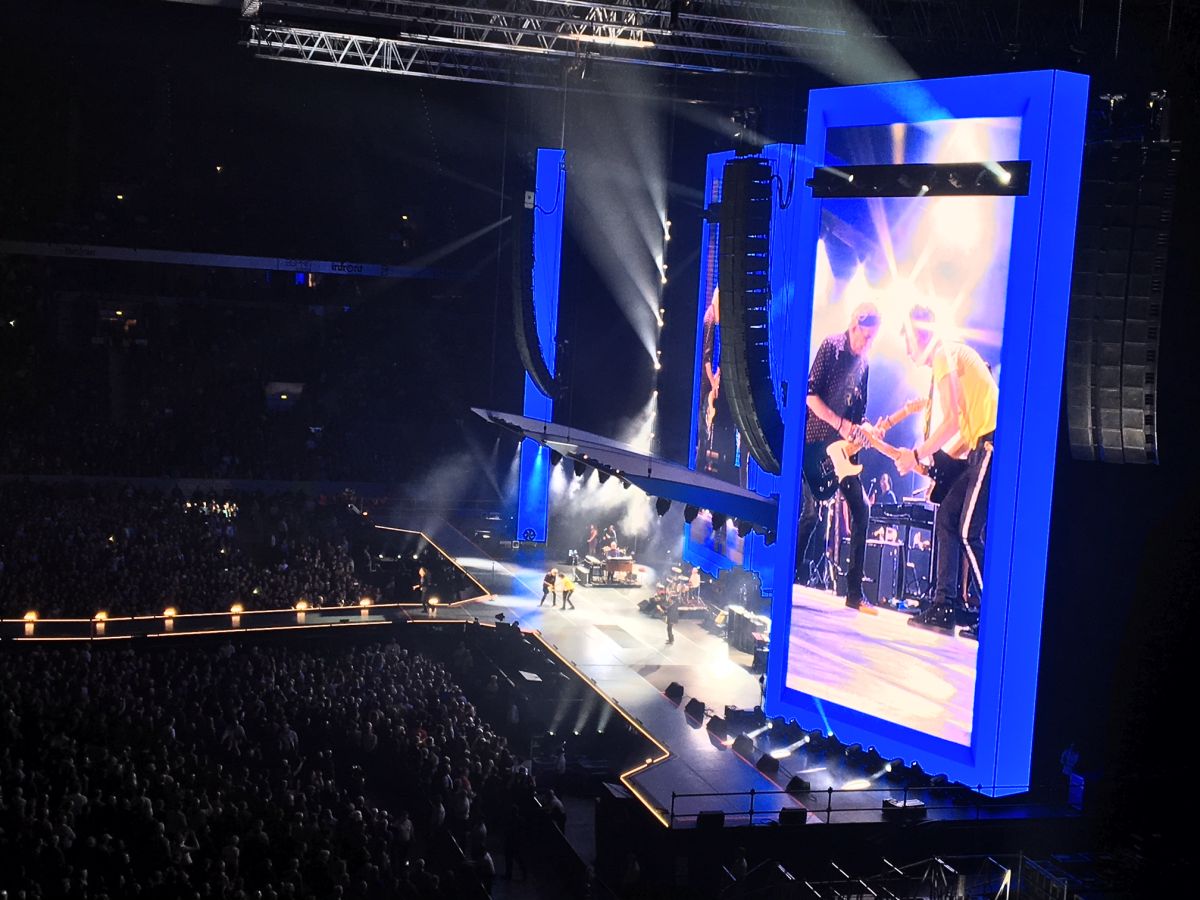 The Rolling Stones live at the Esprit Arena, Düsseldorf, Germany, Monday October 9, 2017 - Photo by Dirk Wiefel
---
The set list
Sympathy For The Devil
It's Only Rock'n Roll
Tumbling Dice
Just Your Fool
Ride 'Em On Down
Bitch
Get Off Of My Cloud
You Can't Always Get What You Want
Paint It Black
Honky Tonk Women
--- Band introductions
Happy (Keith)
Slipping Away (Keith)
Miss You
Midnight Rambler
Street Fighting Man
Start Me Up
Brown Sugar
Jumping Jack Flash
--- Band off stage
Gimme Shelter
Satisfaction
---
Show start :  8:28pm
Show end   : 10:35pm

---
Pre-show info and live comments:
Düsseldorf Germany 09-Oct-2017 Stones No Filter live show updates
---
Reports please!!!
Please send your comments, reviews, links and more to:

[email protected]
---
Review by Dirk Wiefel (schwonek on iorr)
Tonight my son saw an incredible band - the Stones. My son is 5 and we will never forget this great show. Hamburg blew my mind but tonight was tight, electric, breathtaking. When you look at the setlist then Bitch and GOOMC seemed to be the highlights. For me Honky Tonk Woman was the highlight. So sharp and crunchy. Yummy! Keith was on fire and an authority. It is often the regular songs that suddenly catch me. Like Paint it black. Another well performed song. The boys are just so tight! The train is running.

As the tour progresses I fall in love with Slipping Away. A true gem and I really like it so slow. Thank you Keith.

My son really enjoyed Brown Sugar and that great sax solo! And just the way Mick never stops to make us sing and love the Stones. What a gift that the Stones are still out there and inspire young and old people alike. Next up for me is lucky dipping Paris 3.

PS: This is an honest review.
---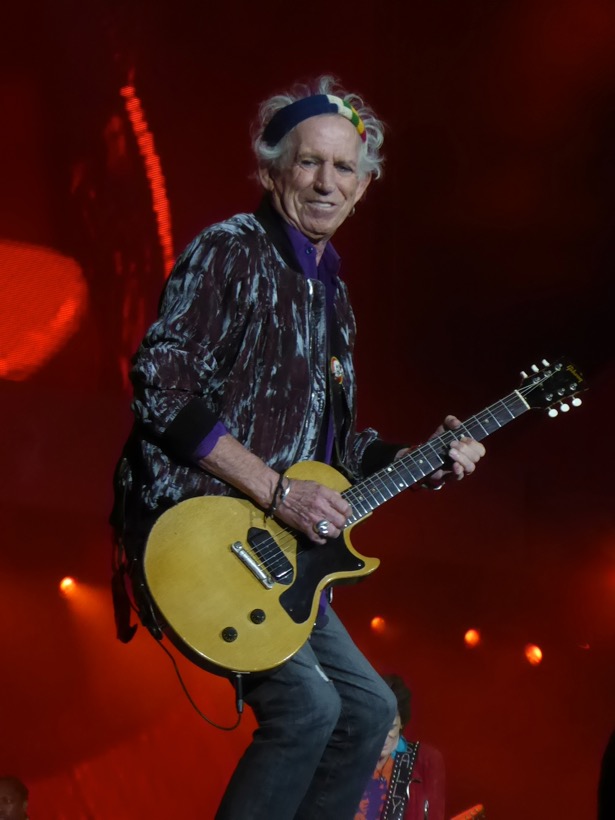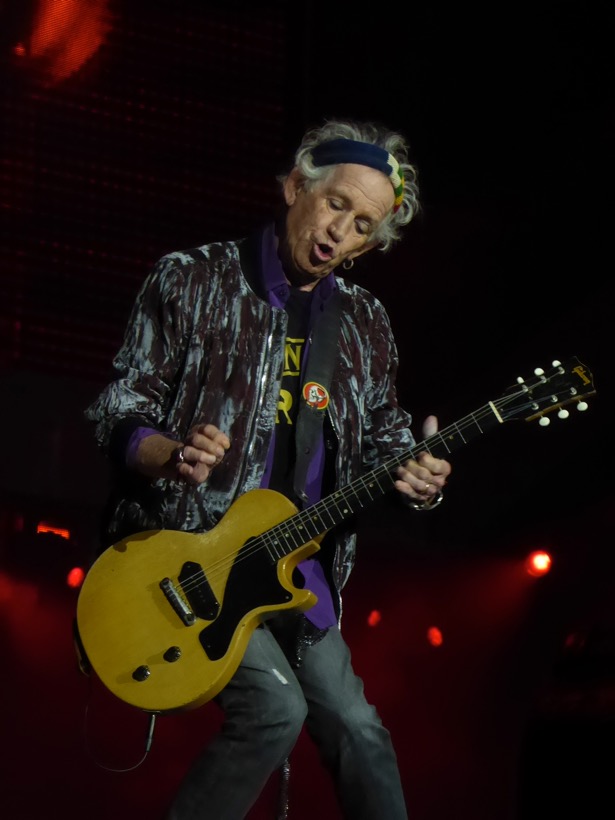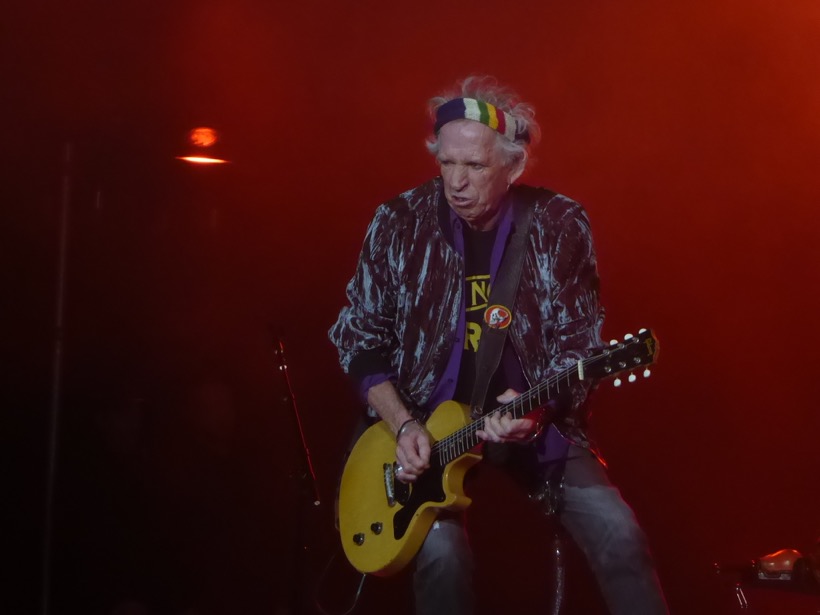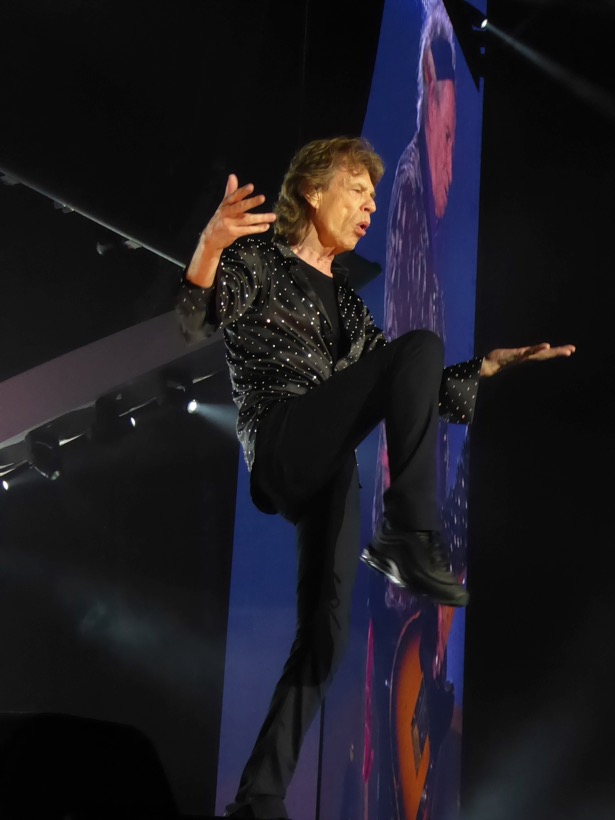 Photos by Neil Ebden
---
Review by Bjørnulf Vik
The break between the shows in Copenhagen and Düsseldorf was highly needed. I had four days at home when I could sleep and live at normal hours. Then down to Düsseldorf Sunday evening, with the same procedures as I followed three years ago, when they played exactly the same Esprit Arena during the "14 On Fire" tour. Like in 2014, I stayed in Ratingen, 7-8 minutes taxi drive from the airport. Working 8-17 on show day in my hotel room, there was little room for tourist activity, but I managed to do a quick trip to see the Rhein river, and to have an altbier in Altstad. May be it is a bit risky to take a taxi to a show at 5:30pm, but it took just 20 minutes. I was inside the Esprit Arena shortly after 6pm. The efficiency of the Esprit Arena and the Düsseldorf Messe area is impressing!

I know they go on stage at 8:3pm, so I have a couple of hours for socializing and meeting up with friends and people I bump into on the tour. First I check out my "seat" i.e. the access path to my location of the show. Security is working smooth, so I know I can get back there with no worries at 8pm. There are many fans here tonight who also went to the Hamburg and Munich shows. Those shows were just a month ago, but with four weeks on tour across Europe, they do still feel a bit distant in time. I get to talk to Carl Denson, he is a very nice anmd down to earth guy. Some complain that they should not play Brown Sugar, because Bobby Keys is not here anymore, but I think Carl is doing a great job on the tenor saxophone, balancing the solo true to the original Bobby Keys solo, still adding a flavour of his own style.

Shortly after 8pm I am in my position. I can see Pierre and the rest of the crew fine tuning the guitars and the setup. The stage is dark, but the yellow screen with the tongue is there, and when you know the crew members you also know their silhouettes. Then the final stage check at 8:25pm. Three minutes later there is a roar, as the band can be seen behind Charlie's drums. There is a lot of piano playing at the beginning of "Sympathy". The large high raised seated Esprit Arena is lit up by thousands of mobile phone lights. The opening of "Sympathy For The Devil" is magic, and I am sure no Youtube video may ever reproduce the exitement we all share that moment, when Mick is walking up front, start singing, and few seconds later, Ronnie and Keith is up there too.

The blues songs are getting better and better. It still makes me wonder how they can play two blues songs in such a massive setting, when blues normally belongs do a tiny little dark club, but they sound great and the crowd love both "Just Your Fool" and "Ride 'Em On Down". "Bitch" is a familiar song if you go to many shows, still, they don't play it too often, so I am busy following each band member, how they play, how they interact, the guitars, and then it is over as quicky as they are always ending "Bitch".

Next is the vote. They will do "Get Off Of My Cloud". Mick says they haven't done it in a long time, so they will reherase it right now on stage... Then he says "Who's gonna start it?" "Charlie", he says, and Charlie does the famous "Get Off Of My Cloud" drum start, they are on.

The rest of the show is predicable like the sunrise day. Still, there are so many great moments to enjoy. Ronnie is shining many times, as he is venturing the walkway up front when he is doing his solo playing on several songs. One time he is running back from the walkway, quickly passing Mick, and just continue running all the way to Sasha, then he slow down and finish the solo. Keith is tuned up so sharp and loud that you can't miss any note he is playing, even if you are outside the venue. Mick is all over, at all times, stripping down from multiple layers as he is getting warm. Charlie is enjoying life on his elevated drum kit, usually in company with Ronnie and Keith. For this show, actually, it seems like they stray close to Charlie for many songs, not just on "Midnight Rambler".

The row of shows that started in Amsterdam and Copenhagen has been getting just better and better. They know what they are doing by now. They are well rehearsed and safe. The crowds are easy to play, and the indoor venues enhance the crowd noise to an extended level. It sure is hot like crazy inside, so I am down to my T-shirt, but being inside is still great when you know the weather is unstable outside.

At the end of Satisfaction I am slowly moving towards the exit area. I see the final bow, then, as the band is leaving, I start running. Well, the "Messe" area might be efficient, but I am not sure how easy it is to get a taxi still. I run, and I run, I am behind the stage, realizing I am going the wrong way. So much for crowd control. Then we are stopped. A large line of some 20-30 security people, holding a thin plastic rope, they are keeping the backdoor exit open for the Stones. Then 20-30 cars are leaving in a rush, I see Mick's car, Ronnie, Charlie, Keith, family members and everyone else they rush out in the "quick exit" procedyre. Then thye open up the rope, we get fireworks, the band is gone, and we all leave. I run for another 15 minutes, finally I find the train station, and I get a taxi in one minute. Ten minutes later I am at my hotel, ordering a highly needed "Frankenheim Alt". I am tired, but I can't sleep for a while still, with all these great memories.
---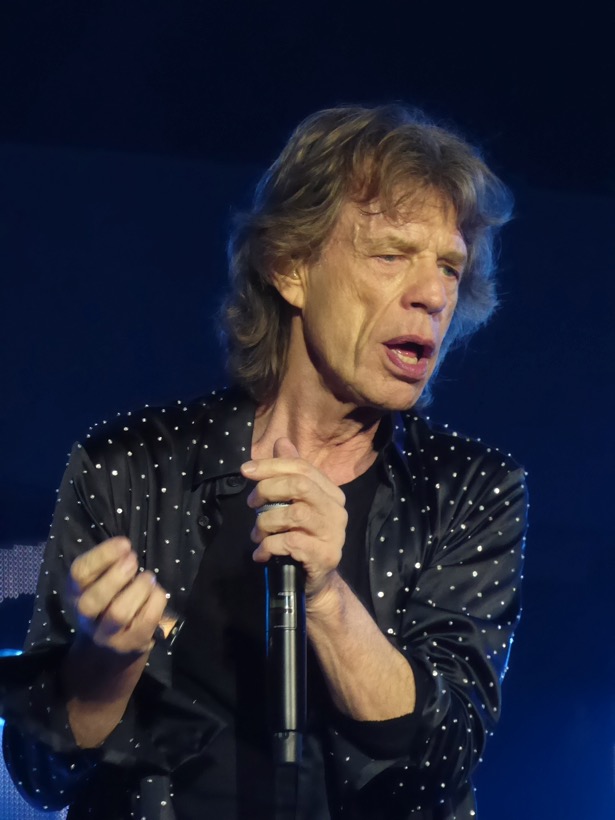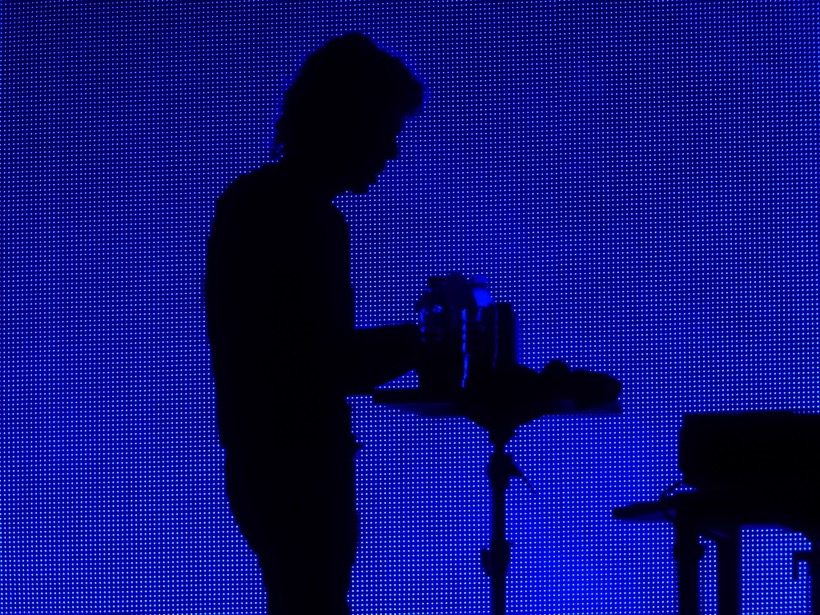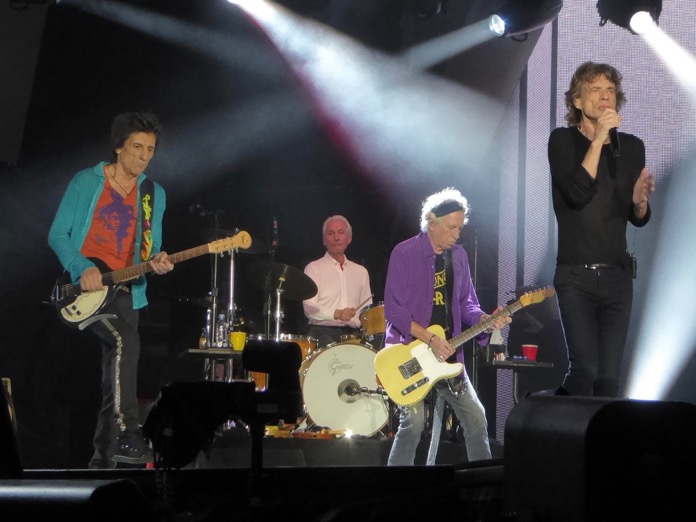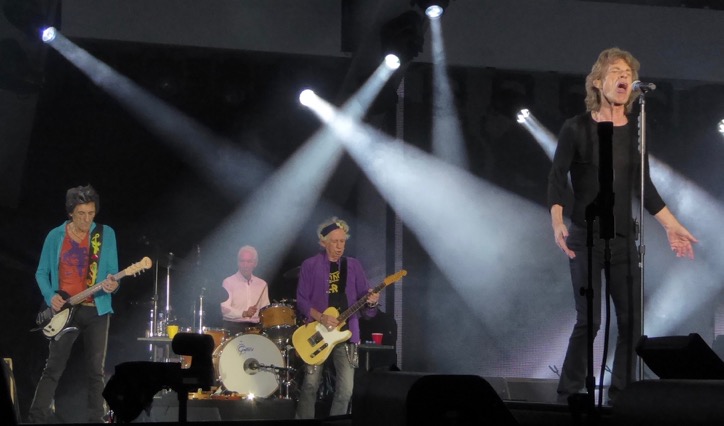 Photos by Neil Ebden
---
Review by Rob Goossens (RG on IORR)
It was my third show this tour after Barcelona and Amsterdam. I was in the pit, Keith side, standing between very nice people with a lot of love for the Stones. I've seen some stones friends again and met some very nice new people. I visited the gig together with my girlfriend, her first Stones show ever. She was so impressed and felt very, very satisfied after the show. By now she finally understands why I am such a big fan of this band!

The sound in the pit was great in my opinion and I really loved Keith's solo on sympathy, Mick was in shape and shows again why he is the biggest entertainer the world has ever seen: his moves, his running, his face expressions and interaction with the audience. There is absolutely now better frontman! GOOMC really kicked some ass and Bitch was a nice surprise. I have read some comments about the 'slow' MR version, but I didn't noticed that. After street fightening man, it looks like Mick was a bit emotional when he helds his hands for his face a few seconds. A very warm and unique moment. Paint it Black (again) and Gimme Shelter were my personal highlights in Dusseldorf.

I am looking forward to my next stop which will be Arnhem on Sunday.
---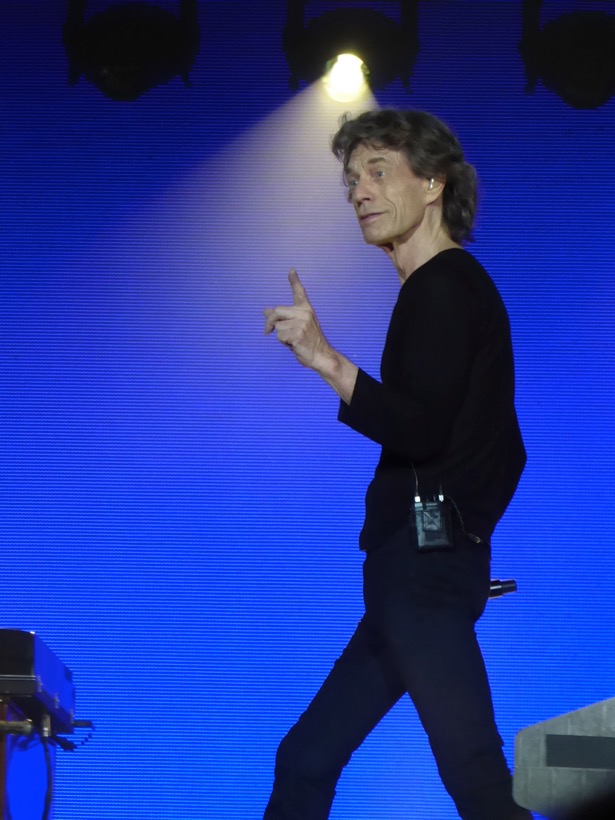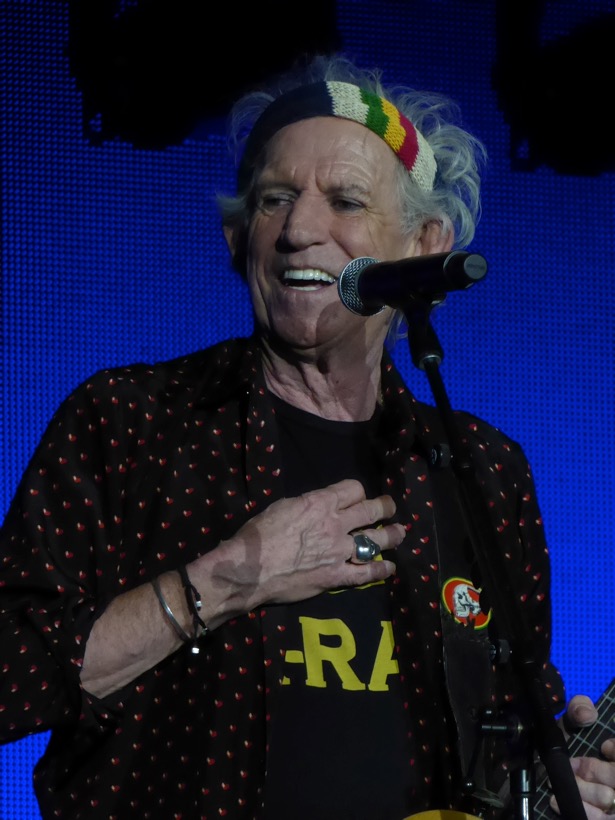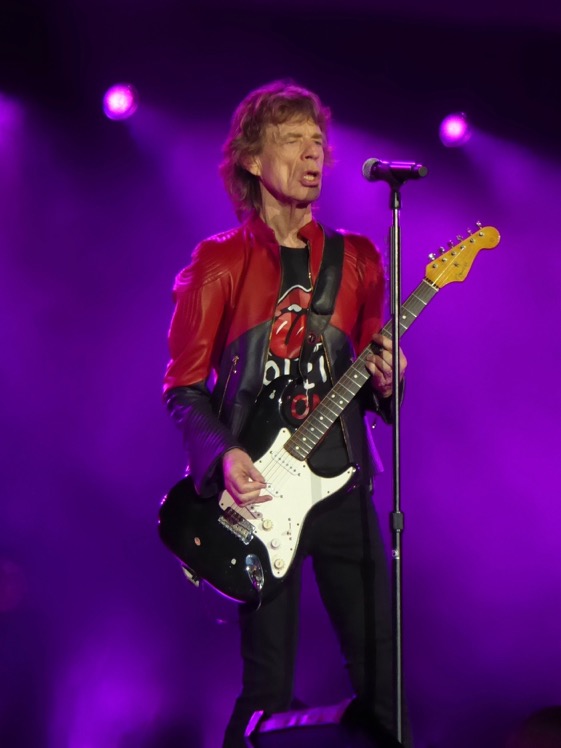 Photos by Neil Ebden
---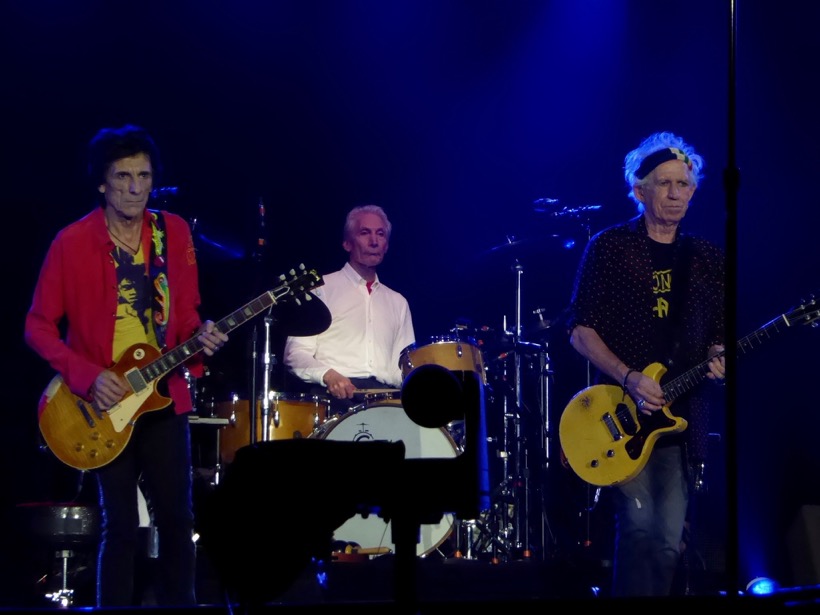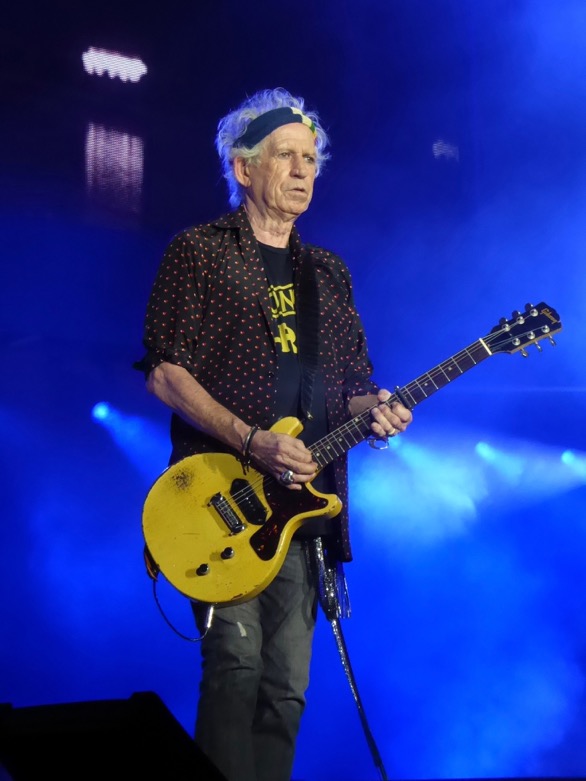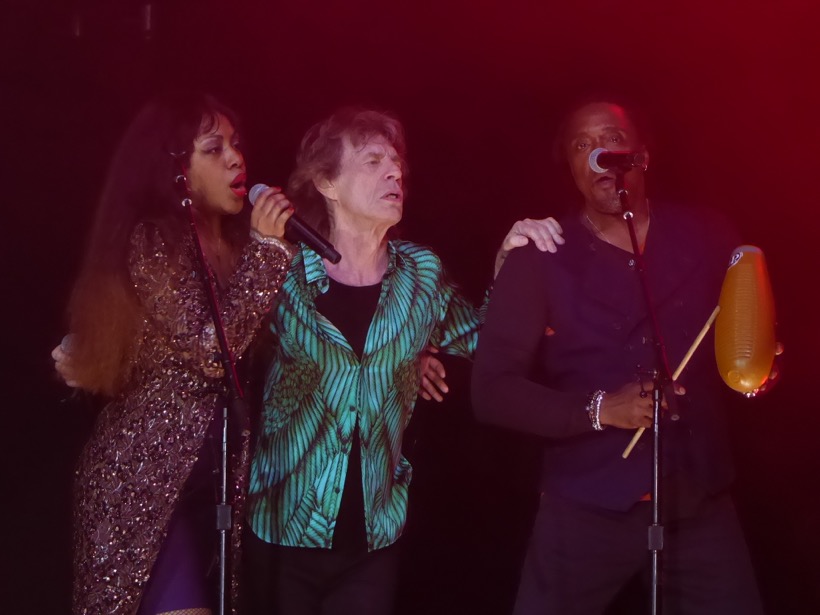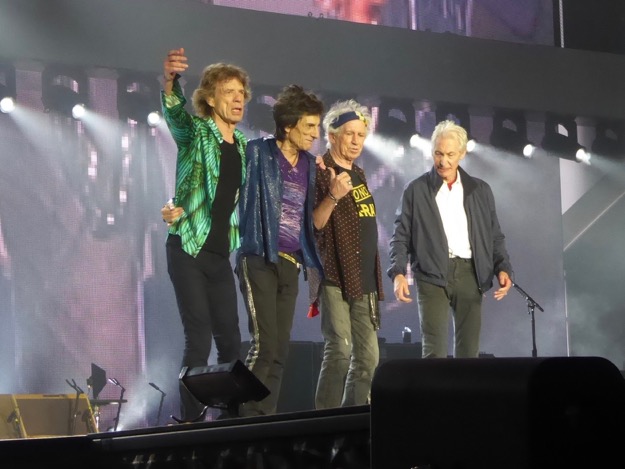 Photos by Neil Ebden
---
This page will change over the next few days, as you and other fans send reviews, set lists and reports. Please send your e-mail to IORR. Thanks! For details and great photos from the Rolling Stones and their World Tour get the IORR magazines.