---
These are the latest Rolling Stones news and updates for you! IORR is a non profit fan club run by fans for fans. All parts of the It's Only Rock'n Roll web site is copyright of The Rolling Stones Fan Club. When using information from this site, please include a reference to IORR and the main web address www.iorr.org.
---
---
The Rolling Stones
Morumbi Stadium
Sao Paulo, Brazil
Wednesday February 24, 2016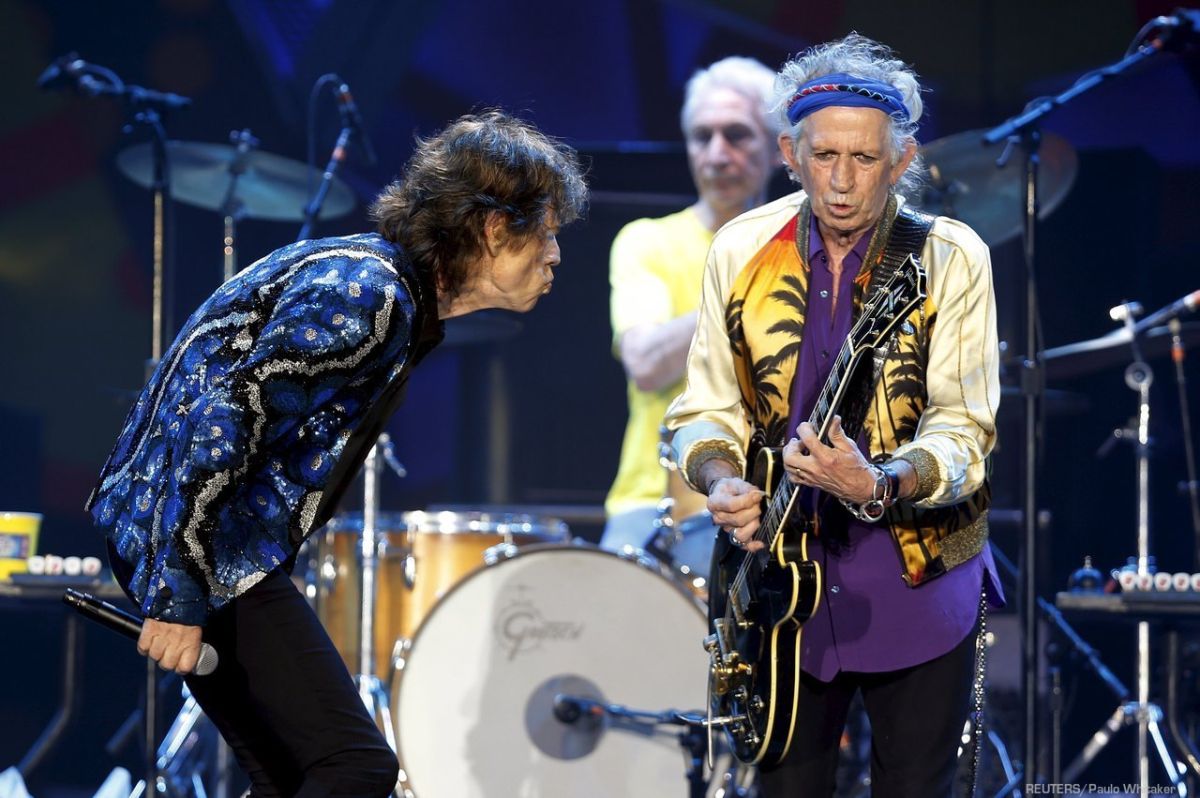 The Rolling Stones live in Sao Paulo Brazil 24-Feb-2016 - press photo
The set list
Start Me Up
It's Only Rock'n Roll
Tumbling Dice
Out Of Control
Bitch (by request)
Beast Of Burden
Worried About You
Paint It Black
Honky Tonk Women
--- Band introductions
You Got The Silver (Keith)
Happy (Keith)
Midnight Rambler
Miss You
Gimme Shelter
Brown Sugar
Sympathy For The Devil
Jumping Jack Flash
--- Band off stage
You Can't Always Get What You Want (with choir)
Satisfaction
---

Show start :  9:12pm
Show end   : 11:33pm

---
Reports please!!!
Please send your comments, reviews, links and more in English, Spanish or Portugese to:

[email protected]
---
Review by Bjornulf Vik
I had decided not to write any review from this show. Just enjoy it, there is nothing more to say. They play so great, with high intensity, the crowds in South America are amazing. They play what I want to hear, and I get to see The Rolling Stones live two times per week. What more can I ask for?

They played "Bitch" as a request song. I thought it was great, because it is from "Sticky Fingers", my first Stones album, the reason why I have followed the band for 45 years now. In my wishful mind I thought the only thing that could top this would be if they played "Sway" one more time some place on this planet. That is my favorite song from "Sticky Fingers", like it is for many other Stones fans I know. With "Bitch" I have got four songs from "Sticky Fingers" on this tour. "Brown Sugar" a safe bet at every show, "Wild Horses" three times (Chile, BA-1, Montevideo), and an amazing version of "Can't You Hear Me Knocking" (BA-2).

I was still high from my dream world about Sway when they started "Beast Of Burden". My favorite from "Some Girls". I played it to pieces back in 1978. Luckily my wife loved it too, otherwise I would have been in trouble. Now I got "Beast Of Burden" live in Sao Paulo. They played it during the BA-3 show too, but to be honest, the shows in La Plata Buenos Aires was so crowd wise intense it was hard to stand still and absorb all the details of the song. Here in Sao Paulo everyone was cool, relaxed, no pushing. The girl next to me had a big smile on her face all through the show, I shared that smile as they played "Beast Of Burden". I waited for the moment when Bernard walk up to the center stage with Mick to sing the duet. Then at the end of the song he did it. He took the long way curving behind Chuck, then walked up next to Charlie and Ronnie, and took the stage front Keith side next to Mick up front. The rapping part was great. But what was even greater was what happened as Beast Of Burden finished. The spotlights went off. I noticed Keith was clapping his hands. Then he walked all over the stage to Bernard, thanked him, hugged him, as saying this was great Bernard!

I was still in heaven for a while, but then I noticed the keyboards in front of Mick. Could it be "Fool To Cry"? Or May be "Memory Motel"? No. It was "Worried Abouth You". Just like they did it at the European Tour opening show in my home town Oslo, Norway two years ago. Great falsetto by Mick, a great song in general, and Ronnie Wood solo.

This great rack of three special songs were wrapped in with two other of my favorites: "Out Of Control" and "Paint It Black". Already, not even half way into the show, I was sure this was one of my best shows on this tour.

The rest of the show was what some might call a "home run". I don't know what it means, but I have a feeling. They took the crowd song by song. The girl next to me was still smiling. Wider and wider. Her selfies must look real great on her Facebook profile, thanks to the Stones.

During "Sympathy For The Devil" I followed Charlie, and noticed how he worked his way into the song, taking over the beat and the drive of the song from the playback congas, with his headphones on. He is driving his drums fast and hard and it takes half a minute or so, then he is owning the beat and is in charge of the song. The rest is up to Keith, and of course Ronnie, Mick and the rest of the band. Sasha Allen was doing some special step dancing up front at the end of "Sympathy". I thought it was fun to watch, she has got many talents, and Mick seems to enjoy his new stage parter during several songs now, walking over to her at times doing a sort of duet next to her and Bernard.

Satisfaction ended at 11:32pm, by Keith, as usual, but then they kept it going for a minute more. Don't rush out at the end of the show, then you will miss such moments. Also, such things as Charlie being the last one hanging around after the final bow, and the last one to leave the stage. But then, as soon as they are all off stage, I know they will be in their cars within a minute or so. The show is over...

I was out five minutes after the final bow, and got a taxi in ten minutes. Life on the road is great. And on Saturday - Sao Paulo two - who knows? I love Sao Paulo by now...
---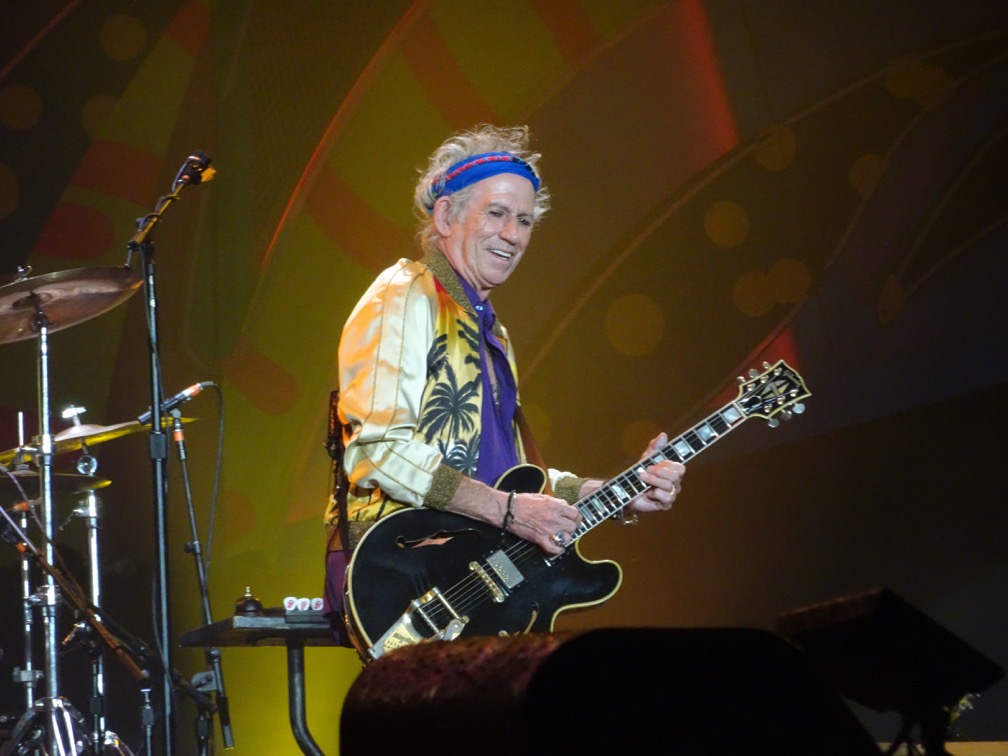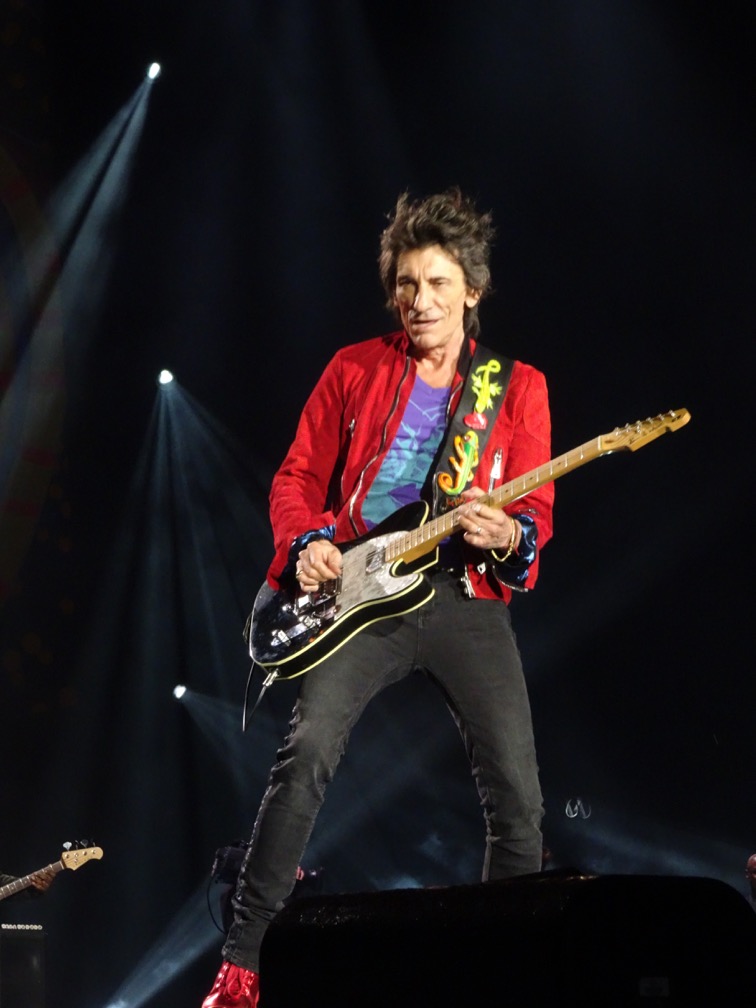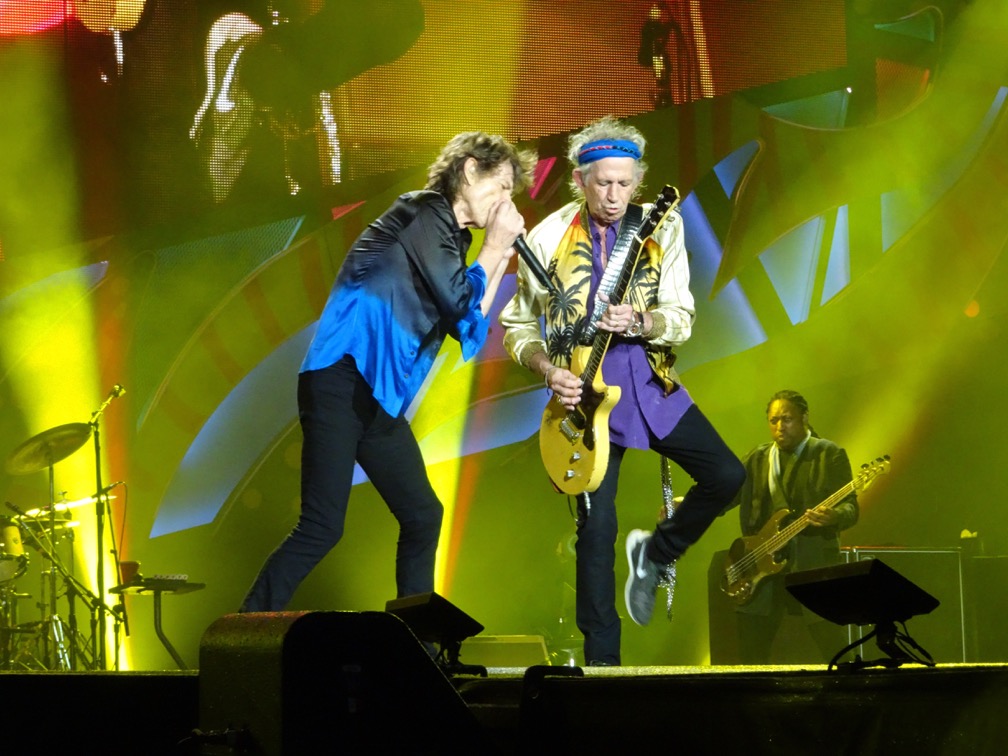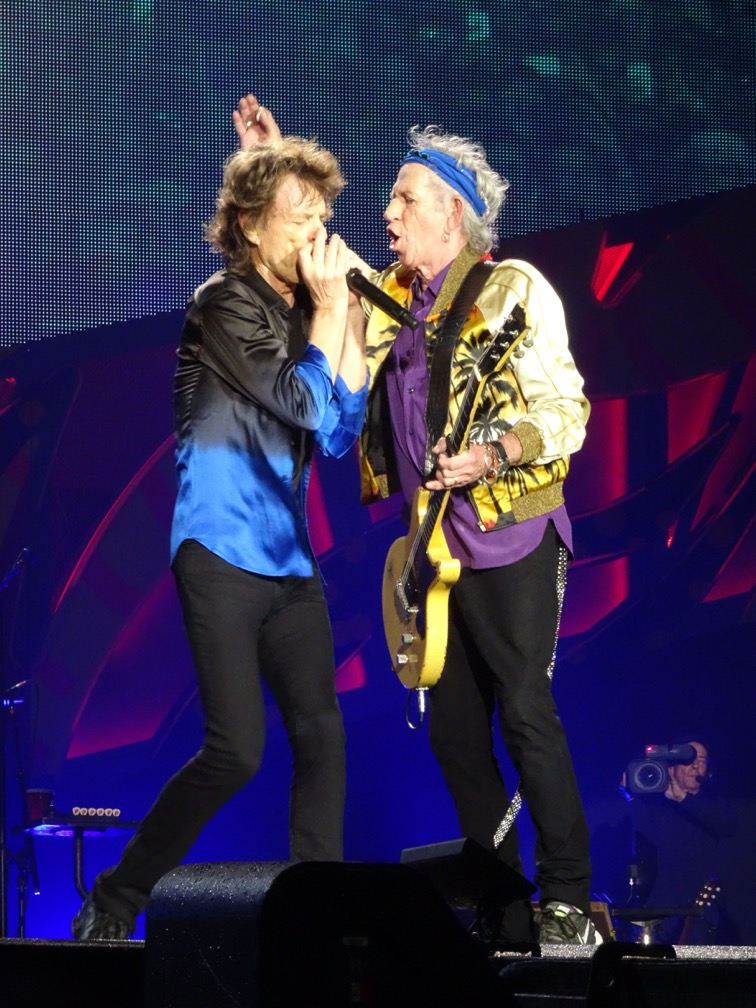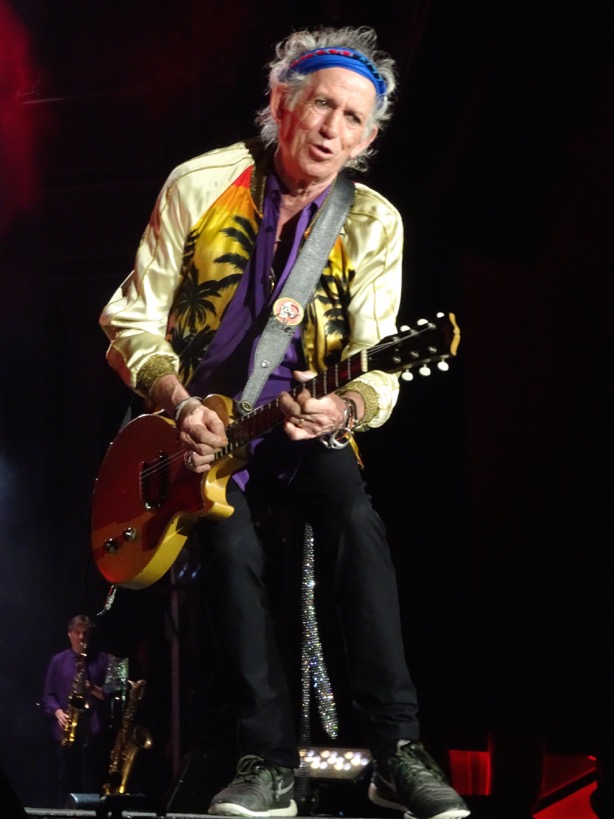 Photos by Klaus Lauterbach
---
Review by Dean Goodman
Uganda's corrupt elections have got nothing on the shenanigans going on in Stoneslandia Tonight we got "Bitch" in the Internet poll, which somehow managed to beat "Shattered," "Rocks Off" and "All Down the Line." Maybe they split the vote and "Bitch" snuck in from behind? Maybe "Bitch" is a subtle form of political protest in Brazil? Anyway, Mick was rewarded with apathy from the thirtysomething hipster crowd, so that serves him right.

The attack of the "Bs" continued with "Beast of Burden," which received considerably more acclaim. The song ends with Mick and Bernard doing some sort of Sam and Dave verbal jousting, which might be taking things a little too far.

As "Beast of Burden" wound down and I was starting to despair that the night's highlights had been and gone, the stage went dark for slightly longer than usual, and I could see a lot of activity culminating in the placement of an additional keyboard. This can mean only one thing: "Worried About You." And so the rather undeserving spectators were treated to one of the best performances of the tour so far.

It's a bold choice at any time. The song takes forever to build from stanza to stanza, and Mick is trapped behind the keyboard singing in an unusual falsetto. No matter, he delivers every time converting the bemused audience into firm believers, and Ronnie makes an effective sidekick.

Overall, a pleasant evening among the appreciative - if placid - crowd. It seemed every guy - in the pit, at least - was short and bearded, possibly part of the Intelligensia, and often accompanied by an attractive Brasileira. Maybe they own "GRRR!" but evidently not "Tattoo You." They were happy to be spectators, and there was no significant chanting.

Things started off a little rusty on the usual openers, not that I really minded. And Bernard, the secret weapon on stage, missed his cue at the start of "Out of Control," leaving Mick hanging alone awkwardly on the humming bit.

"Gimme Shelter" was a problem. Sasha seemed to have a frog in her throat, and I'm getting a little tired of the anticlimactic ending to her "rape, murder" spotlight. I believe it's called a "ruined orgasm" in BDSM parlance. Since she is rarely on stage otherwise, one wonders if it might be a wise budget decision to drop the song and leave the show's backing vocals entirely to Bernard?

We got extended versions of "Brown Sugar" and "Satisfaction," the latter clashing nicely with the fireworks. Mick playfully shoved and Keith at the end of "Brown Sugar," and Charlie seemed to be in on their joke. Just as I was wondering why "Jumpin' Jack Flash" was sounding anemic, Keith got a new guitar from Pierre. Problem solved.

I finally heard Matt Clifford after all this time, doing excellent maracas on "Brown Sugar." One area where he could improve is the horn intro on "You Can't Always Get What You Want." It's a classical instrument and he needs to dress appropriately, ditching the sweaty t-shirt for a tuxedo, or something similarly formal.
---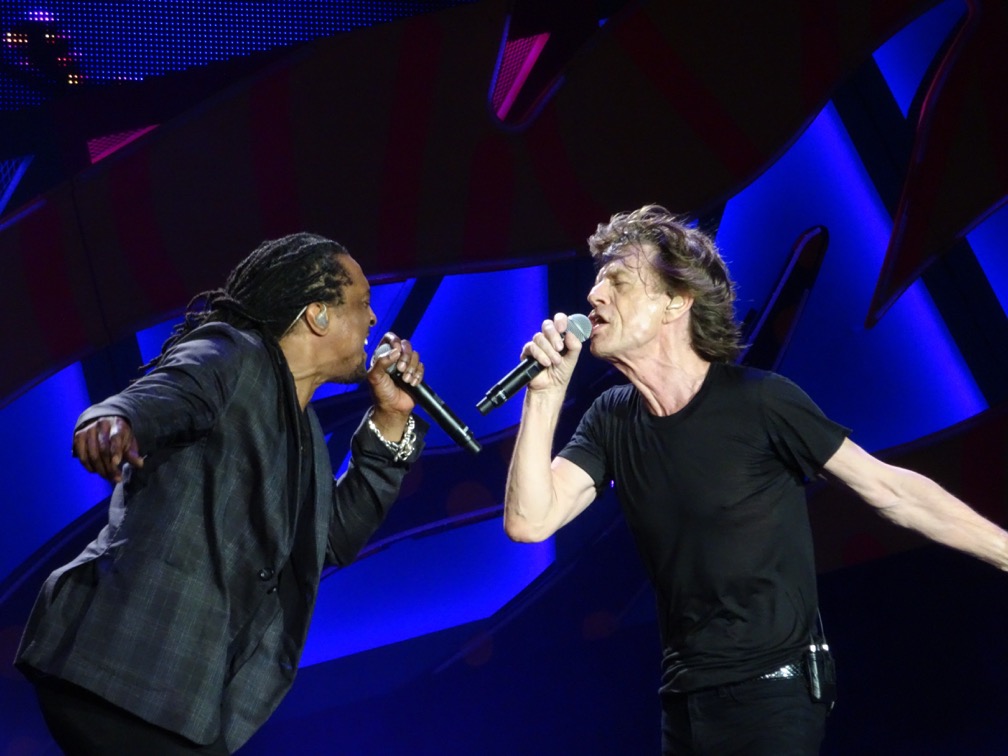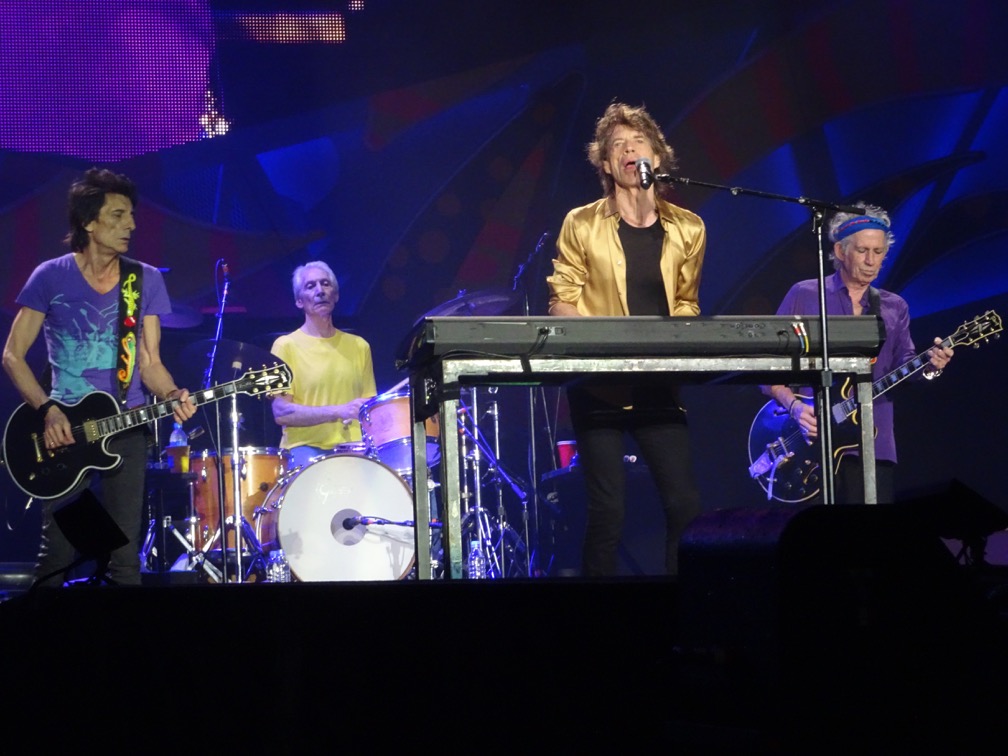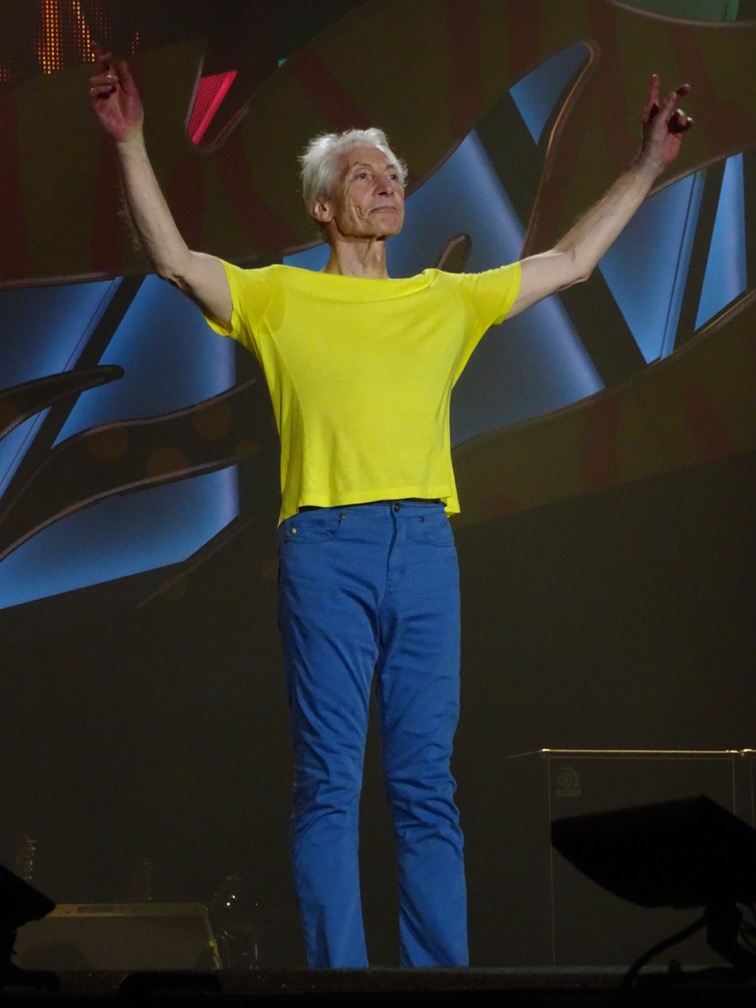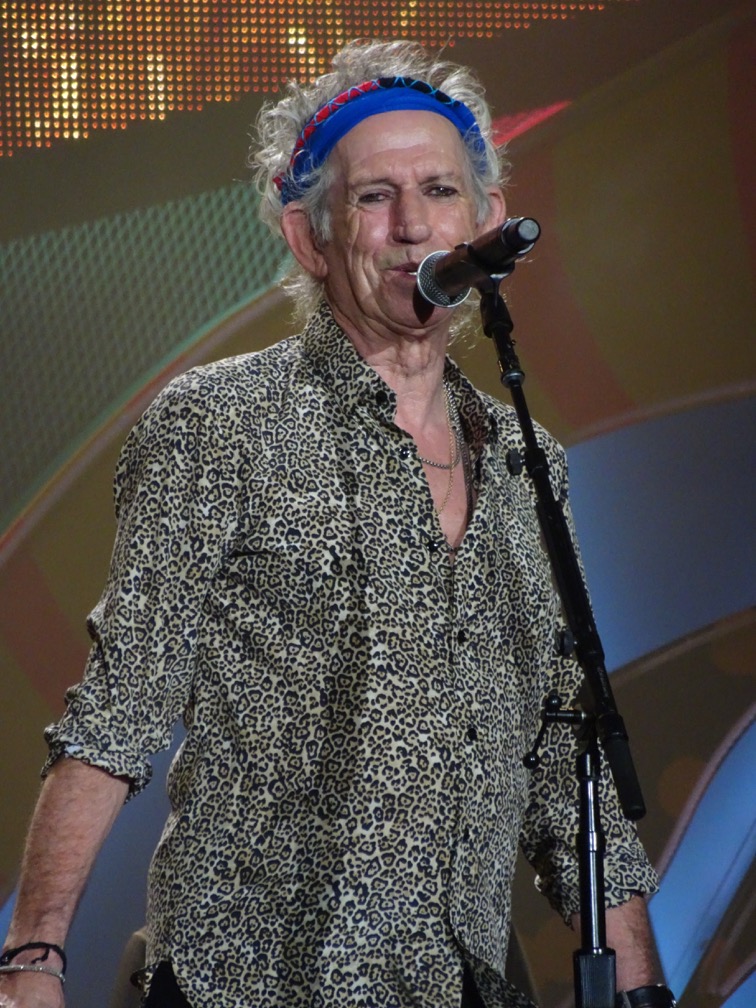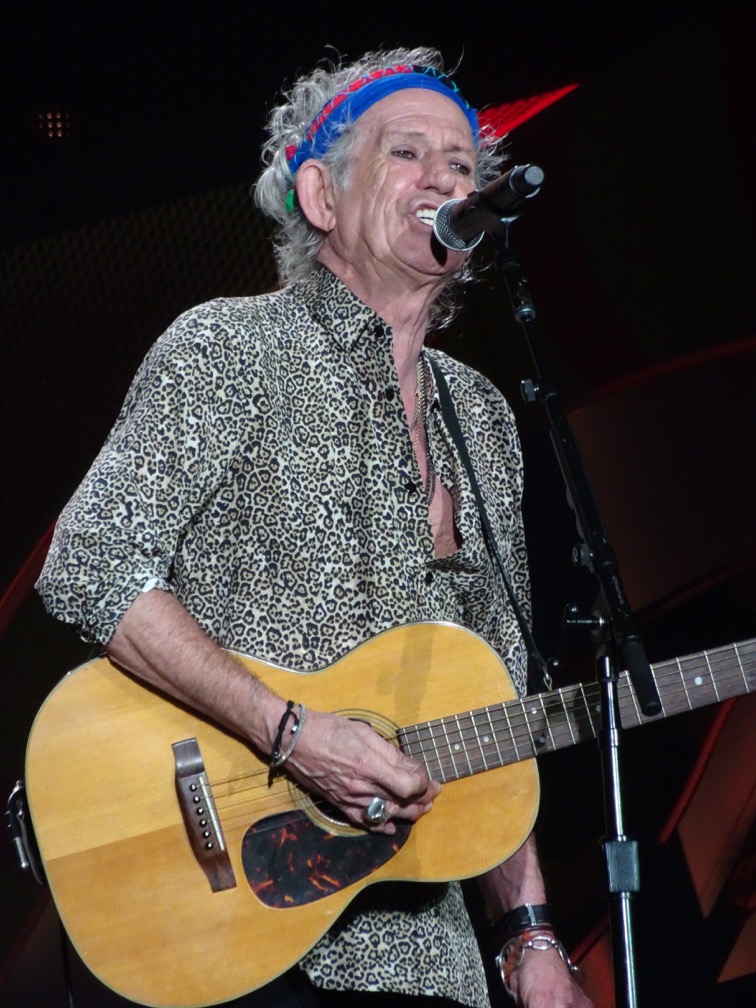 Photos by Klaus Lauterbach
---
Review by Alwyn Welch
Sao Paulo is a mega city of over 35 million people. It seems to stretch for ever – at least 30 miles with endless tower blocks, and traffic. Its at 2,500 ft above sea level, so when we arrived at the inner city airport, flying-in between the apartment buildings, it was refreshingly cool compared to Rio – only 27 degrees C!

I don't think we saw the sun for more than 1 hour in the 4 days we were in SP – and we saw some rain, including for the first time on this trip light rain when the band was on stage, not that it interfered with the crowd's enjoyment, or the band's performance. Getting to the gig required negotiating the SP traffic – luckily we had a van, courtesy of my mate Ulisses, with a driver who knew every back road.

When the Morumbi stadium was built, that area of SP was open fields – it's a good 10 miles from those now. With no roof, a wide pitch area, and gently sloping stands, the sound on the pitch was again excellent – thanks Dave N and team. I guess the view from the back was a bit distant. The crowd seemed a little older than Rio, but very friendly: no real pushing or pressure. Access to the stadium was much much better than La Plata – to get in and out.

There was no late start this evening: the only technical glitch being when Keith was getting distortion on JJF and needed a change of guitar – I'm guessing the radio link had a low battery. The screens behaved: presumably someone discovered waterproof tape or WD-40 to seal up the connectors from the earlier rain.

This was the last of the 5 gigs for us on this tour: we have heard 30 different songs. 14 are played every night, so another 16 to keep it interesting, and we know from the voting lists there are another 8 or 10 well rehearsed. For these largely "novice" audiences that's not a bad selection.

Tonight we got Worried About You, a real surprise and a great version. When I saw Mick's keyboard coming out I knew what was coming – much to the surprise of the Paulinistas around me. It was another beautiful emotional performance from Mick was strong support all around.

We also got Beast of Burden with another duet from Mick and Bernard – its good for him being a bit more prominent on stage – Bernard has been working with Mick for over 30 years, most of his career to date I think. Keith seemed to being going into economy-drive mode on the main riff occasionally – its very interesting how leaving spaces in music can sometimes say as much as the notes themselves.

Ronnie was again on top form – thankfully the unpleasant gutter press comments a couple of days ago haven't distracted him. Let's face it, who would bring their expectant wife into Zika Virus land (we haven't been bitten at all in the cities luckily) and to expose her to the rigors of touring. A set-up photo with some bimbo is the unacceptable face of fame.

There were again excellent versions of Rambler, Silver, Paint it Black, JJF. But in truth it is hard to pick out individual numbers. The whole performance, every performance, has been superb. The band really is on top form. There was plenty of ad-libbing on song structures – the nods and cues, the different lengths of passages, show that there is no recorded backing track (except for percussion on Sympathy). Only one real stumble when the band didn't follow Keith at one point on Happy: a quick recovery and I bet few noticed.

How does Charlie, approaching 75 years, play in 30 degree heat (that's 86 in dollars) and high humidity for well over 2 hours and still look fresh and cool. How does Mick dance, and shimmer, and sing, even falsetto, and run for the whole gig. After their occasionally less than 100% healthy lives, how do Keith and Ronnie play and perform so well?

Again Sasha took over the catwalk and projected real power and emotion on Shelter. Karl is firmly in the groove of Keys-inspired, but not copied, solos. Tim plays a long powerful solo on Miss You, looking frazzled at the end, and rather a lot of keyboards. Darryl can be underestimated, and having a brief bass solo brings his contribution to high profile.

Matt fills in some interesting spaces on keyboards, percussion and French horn (and I think organises the choir – who tonight I didn't hear too well – standing too far from the mikes perhaps?). Chuck continues to play much more complex piano, I think needing less to hold it all together as Ronnie and Keith are on top form, and that is a pleasure to hear.

So, despite the mega city, the traffic, the rain – this Sao Paulo gig was a great way to finish off our mini tour. We've had a great time, met some super people, some new friends and some old ones, and got thoroughly exhausted. Thanks to all of those, even the ones we may have pissed-off unintentionally.

I am full of admiration for the professionalism of all the touring party I have meet and seen in operation. It takes a lot of people and hard work to put 4 Stones plus 8 musicians on stage every 3 or 4 nights. They have a delicate balance between security, privacy and friendliness and without exception do that very well. So its "tchau" from Alwyn and Hamzah until the next time!
---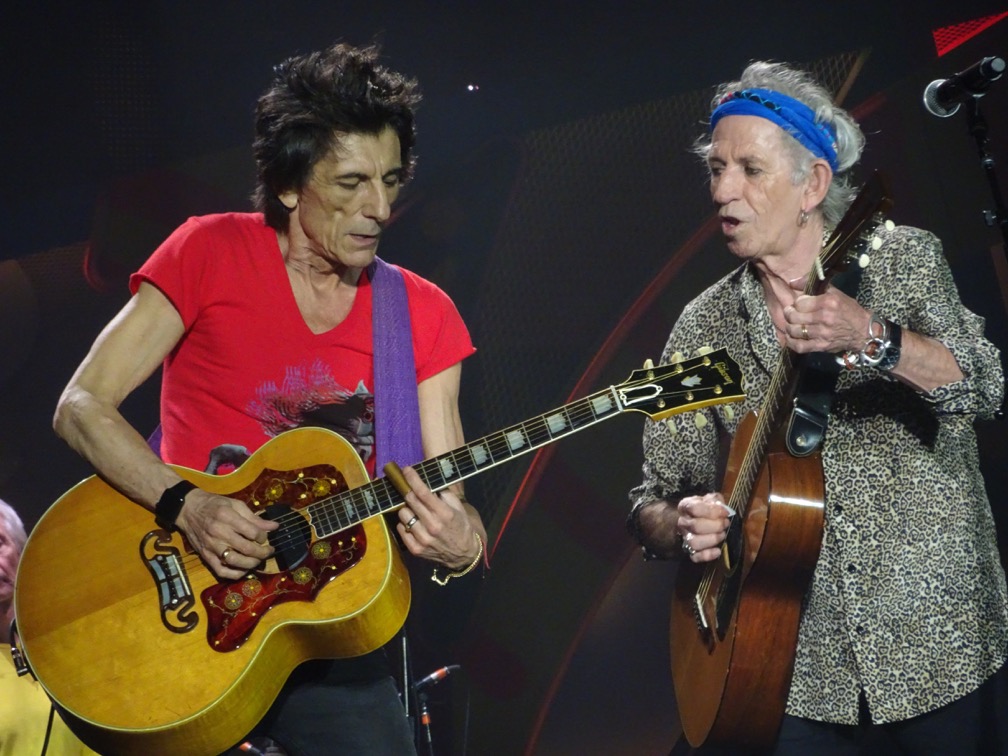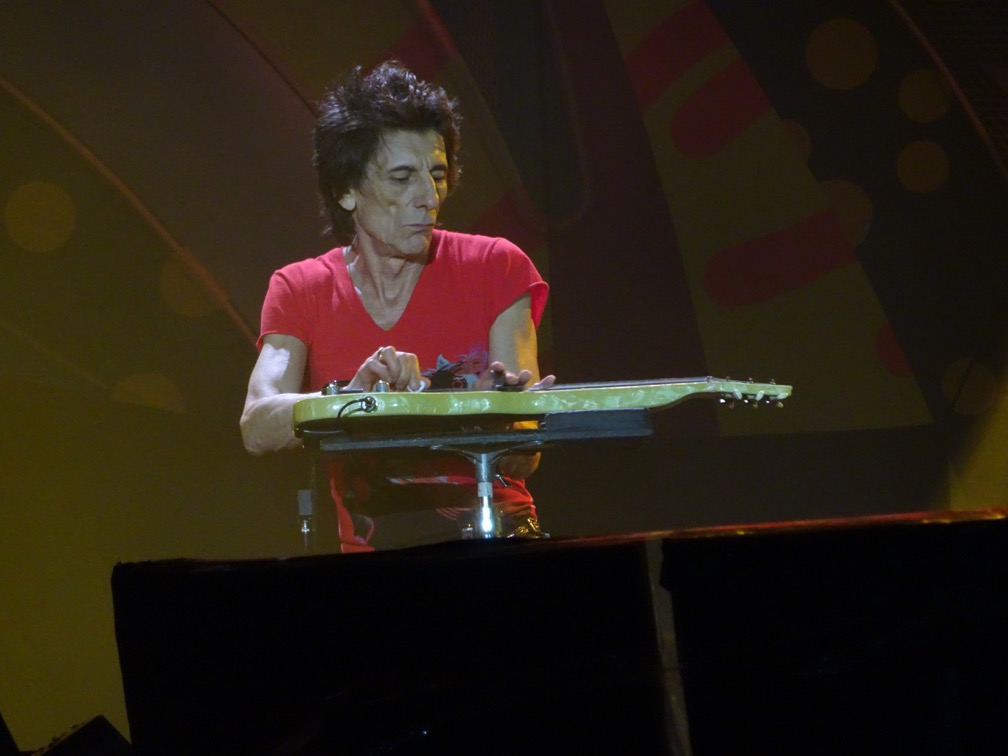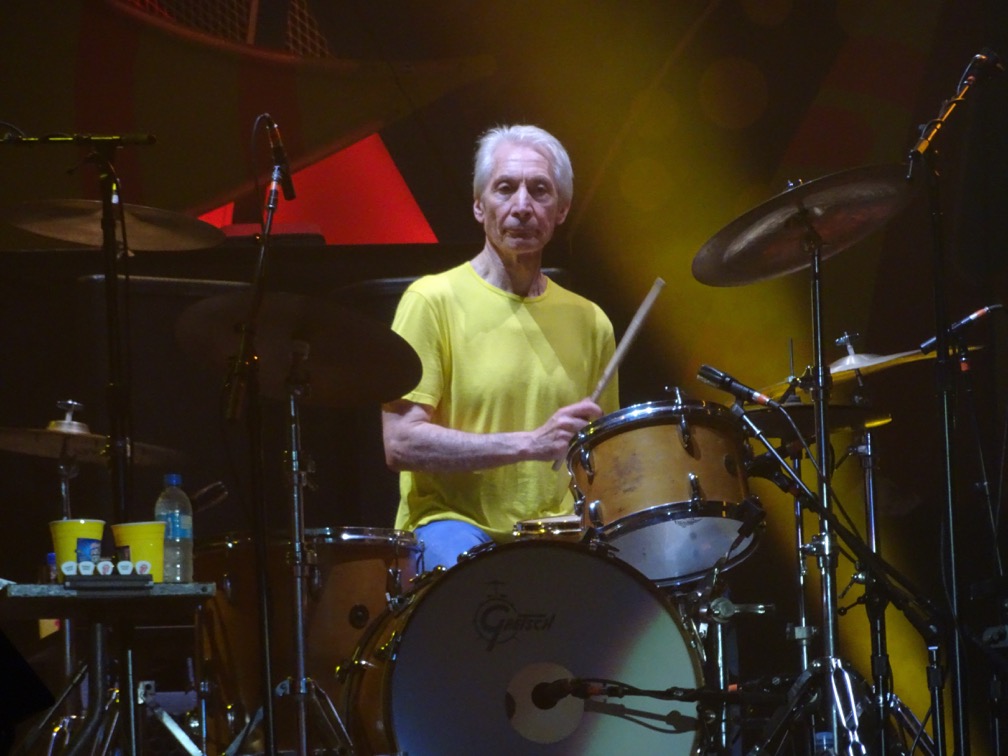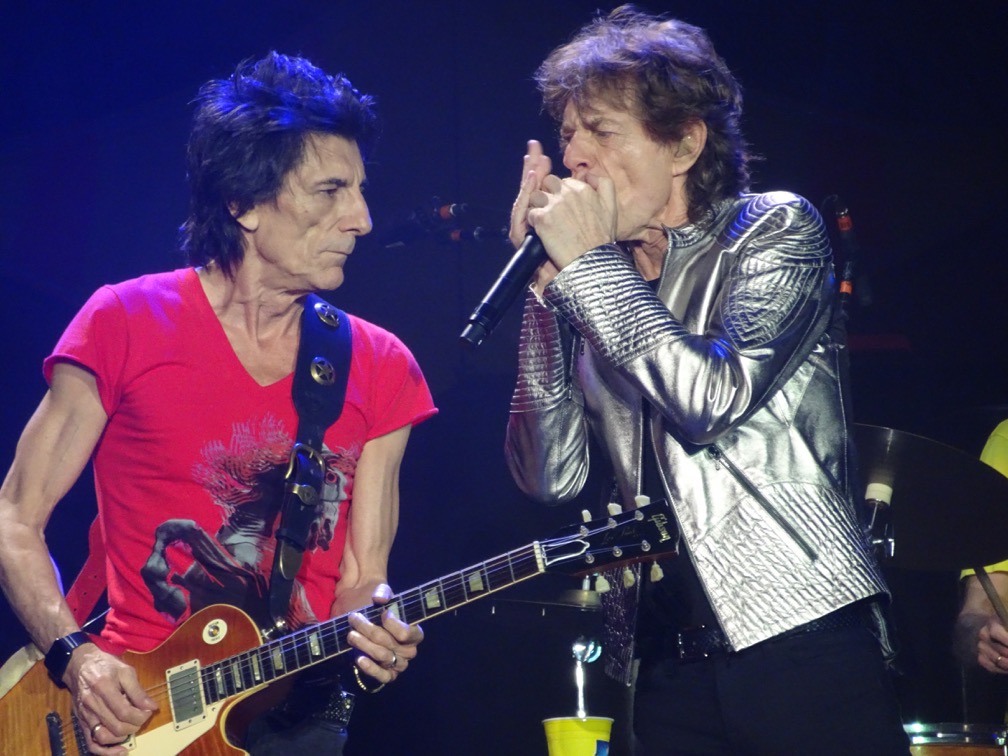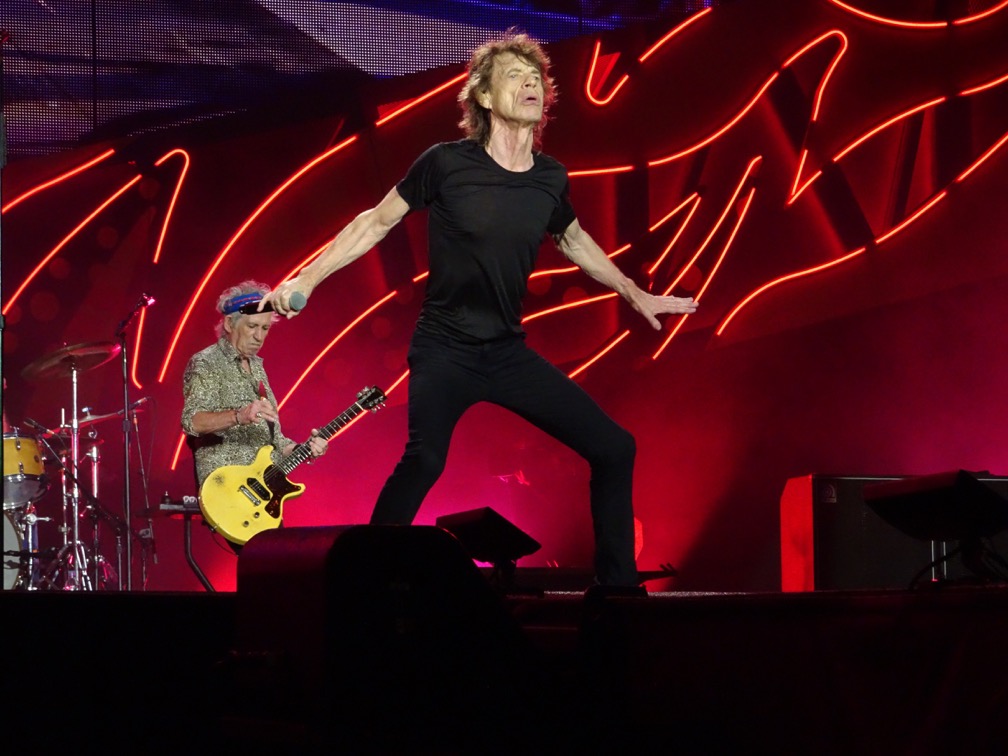 Photos by Klaus Lauterbach
---
Review by Marcelo Sonaglioni
Oooh São Paulo! Heat, sweat, getting feverish, paracetamol and aspirin overdose, you name it...

Following the Stones´ on tour is such a treat, but then get ready for it! I left Rio feeling quite sick, but got much better when arriving to Sao Paulo´s Tieté´s bus station yesterday after the 6-hour night bus ride, and then a quick subway trip straight to the downtown area, where I´m staying. A city I´m very familiar with, by the way. As a matter of fact I´ve always loved Brazil and their people, so I was very much looking forward for the Stones´ first show this time in Sao Paulo this tour.

It wasn´t actually that hard to get to Morumbi Stadium (eventually not as close as the Pacaembú, where the Stones played in 1995 during the Voodoo Lounge Tour, their first time ever in the country). We got heavy rain again before the show, but nothing stopped the band from getting onstage at about 9.15. The Morumbi looked quite packed (with about 60.000 people attending), and the show turned out to be almost as good as the previous one of the tour, only that the Rio one got much better sound overall.

Last night´s song ``by request`` was Bitch (and not Rocks Off, the one I really wanted), but the very surprise happened to be Worried About You, with Mick on piano, eventually. Looks like the general crowd didn´t know it anyway. Seems like most of the audiences, as usual, are only into the hits. To sum it up, this is a hits tour, and that´s what the general public wants. In other words, let´s just say 90 percent of the audiences now are made of regulars which ``just want to see the Stones``, no matter what. Not that there´s anything wrong with that, by the way. As for the remaining 10 percent, those must be the ones who are really into the band´s music and history, and not just the hits. A concert for tourists, that is. But who cares as long as you have a good time, right? I mean, I cannot ask them to play Cool Calm and Collected. Not even Ventilator Blues or Sparks Will Fly, now can I?

Once again there were lots of Brazilians coming from all over the country (and it´s a such a big one, you know), as well as part of the steady base from all over the world who have been following the tour. And Olé! Next stop is Sao Paulo (again) next Saturday. See you around!
---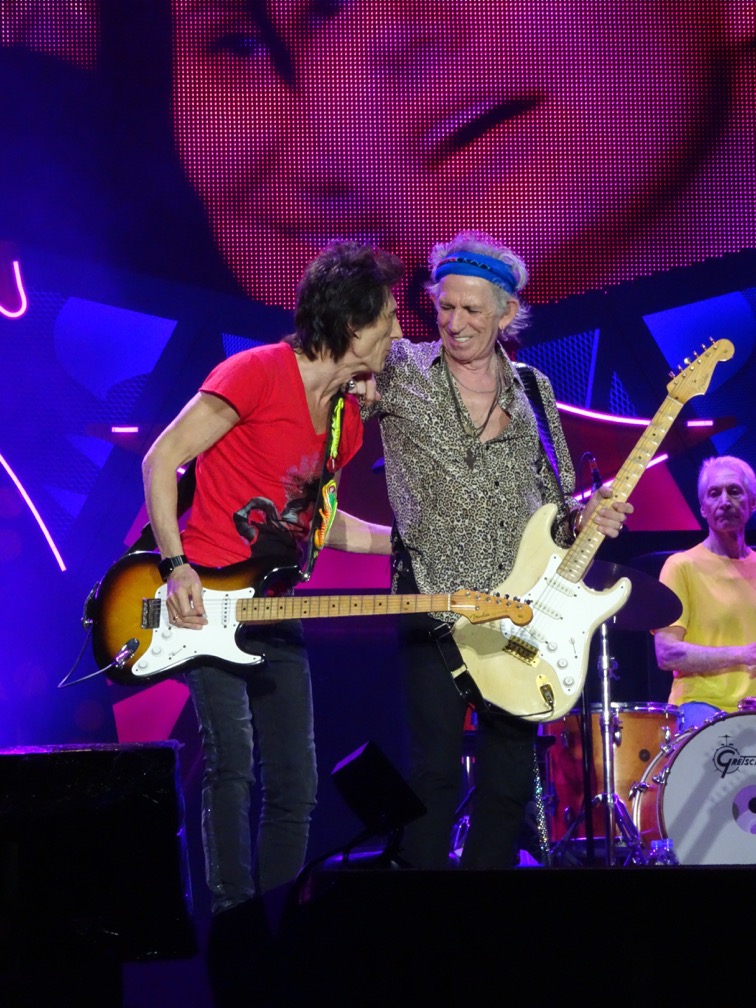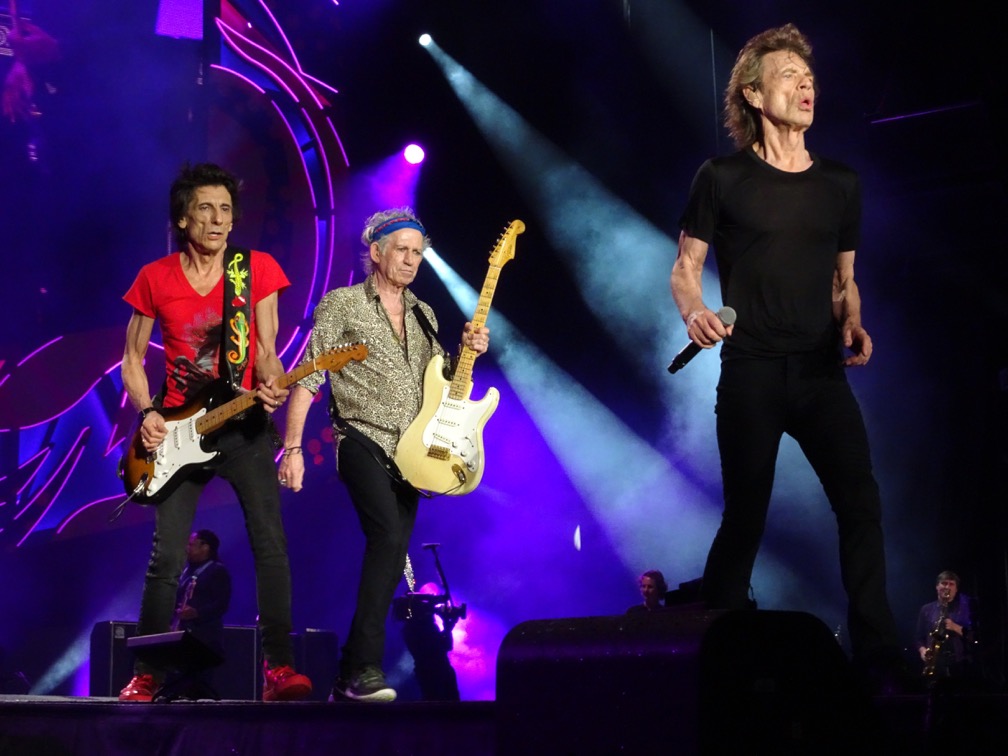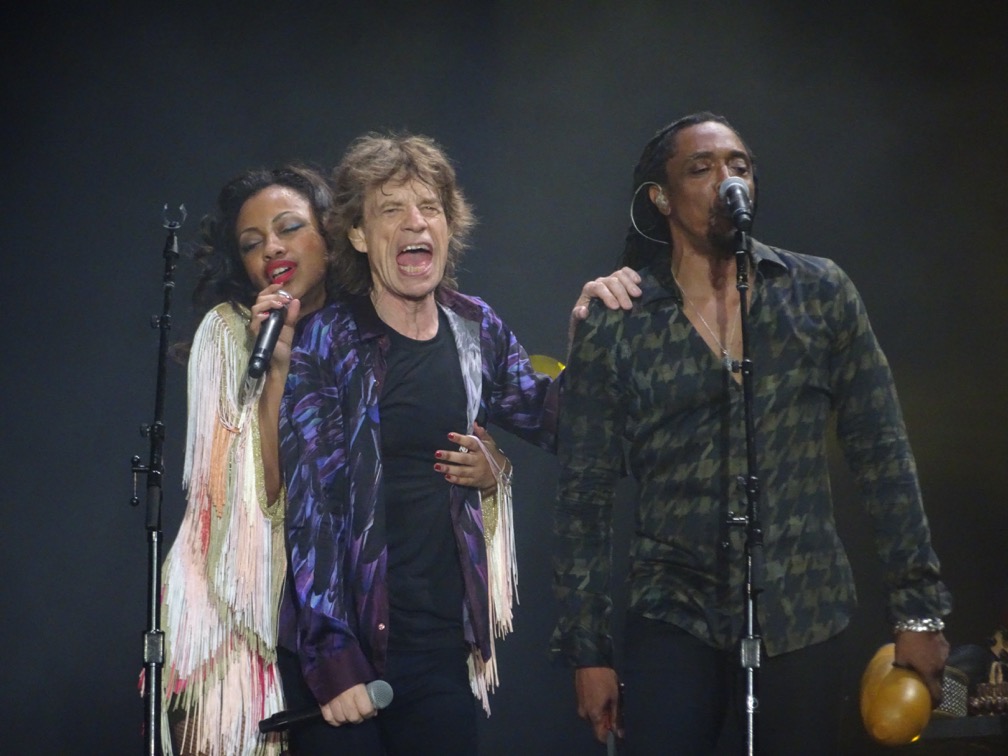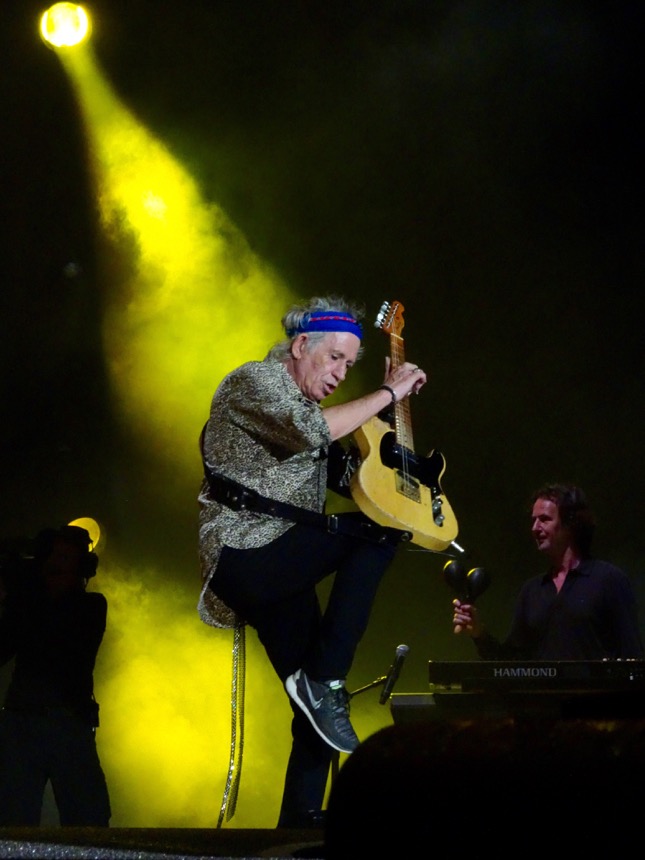 Photos by Klaus Lauterbach
---
Review by Andrea Chelsoi
On the 24th of February I attended the 4th and final show from my list of The Rolling Stones South America concerts.

City looked a bit scary, especially in the downtown area where I am staying. The city of São Paulo is considered the seventh most populous city on Earth, a huge megacity that has become too crowded and full of traffic, even the sky is not completely clear from the pollution in the air.

After arriving at 6am I got some sleep and then relaxed doing some more editing until the show later on.

I met Marcelo and we traveled on the very modern metro and an overpopulated bus towards Estadio Do Morumbi where we arrived shortly after 6. It started pouring and the skies were black.

I had to wander around for a while to meet Tony and Gabor, my company for the concert.

Around 8pm we made our way inside the stadium. It's very very big, everything is big here and still we found some areas not so crowded where we could get a good view and even some wifi.

Tony and I went live on Periscope and made a little intro for the show and discussed the tour so far. You know, like they do on TV before an event, I even squeezed in some advertising for my videos, I think it even worked and it was a lot of fun.

I kept broadcasting from time to time and at one point I had 380 viewers, pretty good for a first attempt.

By this time I got pretty used to the show, still I had some nice surprises with the band playing some of the rare songs.

I summarized each show in a word so far: Buenos Aires was the most intense, Montevideo the most relaxed, Rio had the most soul and Sao Paulo was the grand finale.

Midnight Rambler was long, people sang beautifully and I enjoyed dancing to the music of the fantastic band while having the feeling I will see them again somewhere. During Honky Tonk Women I was running around dancing and being happy.

After the show we found each other into the mass of people and slowly left the stadium.

At one point we got on a bus full of weird people, the bus didn't seem to stop at any station and from time to time we could see police cars and policemen walking around with guns. The city has a very weird vibe.

We gathered with the German and Argentinian friends for a little after-show rendez-vous in a very relaxed empanadas bar, watched the video from Rio and made a plan to continue the series of videos from the tour even if I will not be there, might turn out to be something fun :)

At one point we had our friends from overseas Richard and Kahoosier joining live on video. What is half way around the world for adventure people like us?

I received a big confidence boost from Hauke before saying goodbye...for now.

I left the area together with Erika and Tony talking about our experience in Europe and South America and finding out that although we live in such a big world it doesn't take a lot to bring nice people together.

VIDEO from about the first show in Sao Paulo
---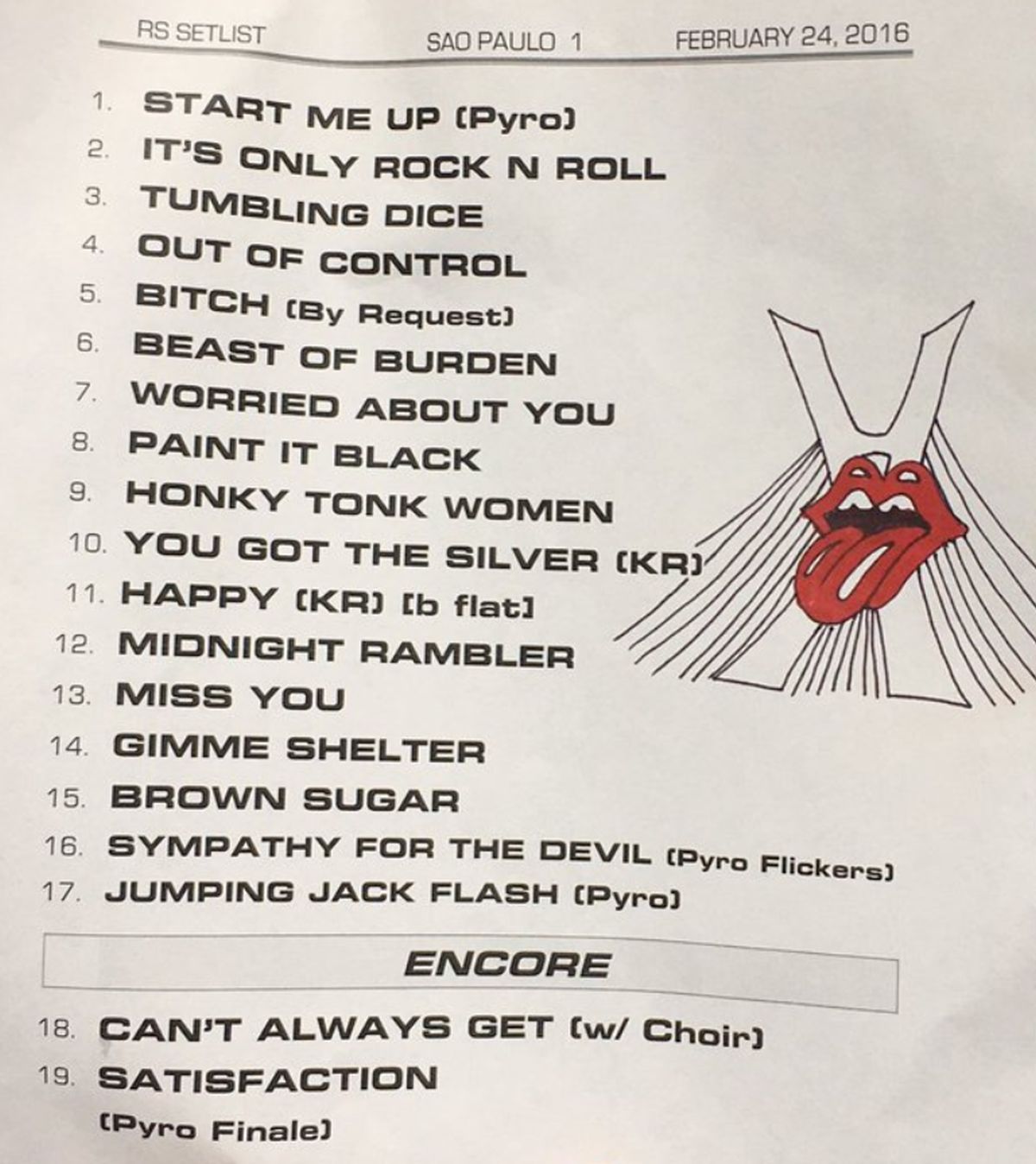 ---
This page will change over the next few days, as you and other fans send reviews, set lists and reports. Please send your e-mail to IORR. Thanks! For details and great photos from the Rolling Stones and their World Tour get the IORR magazines.